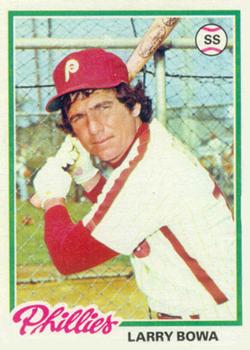 ---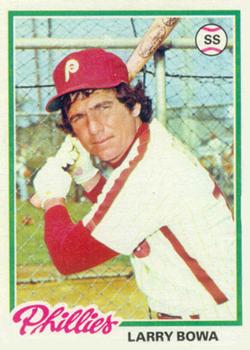 The Philadelphia Phillies' World Series victory in 1980 was the culmination of a long rebuilding process. From 1968 to 1974, the Phillies suffered through seven straight losing seasons and had six different managers. While things seemed grim, the Phillies had a plan. They drafted well and stocked their farm system with good players, many of whom reached the big leagues and contributed to the Phillies' future success. The first seed of the 1980 championship season was planted 15 years earlier with the signing of an amateur free agent named Larry Bowa, who eventually became a premier shortstop and one of the finest players ever to don the Phillies' pinstripes.
Lawrence Robert Bowa was born in Sacramento, California, on December 6, 1945. His father, Paul, played and managed in the St. Louis Cardinals farm system. According to Bowa's mother Mary, "Larry first had a baseball in his hand when he was 18 months old. It was always baseball."1 Bowa attended McClatchy High School, where he played basketball. He was cut from the baseball team three years in a row, apparently because the coach thought Bowa was too small. Nevertheless, Bowa played American Legion baseball. After graduating from McClatchy in 1963, Bowa attended Sacramento City College, where he played baseball and was named All-Conference in 1964 and 1965.
While at college, Bowa caught the attention of Eddie Bockman, the Northern California scout for the Phillies. One day, Bockman attended a doubleheader in which Bowa, known for his fiery temper, was ejected from both games. As Bockman recalled, "I caught him as he was going over to the bus. He was still upset. You know him—throwing helmets, trashing bats. I told him, 'I'll be back to see you. You'll be a pretty good player if you can stay in the game.' He asked who I was. When I told him that pretty much quieted him down."2 Bockman never came back to see Bowa, but the two met again when Bowa was invited to a Phillies tryout camp in 1965. Bockman liked what he saw in the young shortstop: "He behaved himself and he played like hell."3 The scout invited the 5'10", 160 pound infielder to join the Phillies-sponsored Winter League team he managed.
During the 1965 World Series, the Phillies brass met in Los Angeles. Bockman brought an eight-millimeter film of Bowa to show farm director Paul Owens. Owens tacked a bedsheet to the wall while Bockman loaded the projector. As the film played, Owens complained that "Something is wrong with the focus. When the kid runs it's all a big blur." Bockman told his boss nothing was wrong with the focus: "You should see him run. Even in person, he's a blur."4 When Owens asked how much it would cost to sign Bowa, Bockman thought $1,000 might get it done. The two men laughed, knowing at the time young players were getting huge signing bonuses. Bockman assured Owens that all Bowa wanted was a chance to play. The Phillies signed Bowa for $2,000.
Bowa spent the 1966 season with the Phillies single-A team at Spartanburg, SC. "The first bleepin' game, we're playing in Greenville against the New York Mets team. I had a really good spring training and I felt like a stud. The line on me was—this guy from nowhere, he got $2,000, he's a prospect. First game we faced Nolan Ryan. Four punchouts. I had no prayer. I figured if this is what professional ball was going to be, I had no chance."5 In Bowa's defense, Ryan struck out 18 batters that day. The 1966 Spartanburg Phillies finished with a record of 91-35 and at one point won 25 games in a row. Bowa and second baseman Denny Doyle were a sparkling keystone combination. Bowa finished the 1966 season with a .312 average and 23 stolen bases.
Bowa rose through the Phillies' system quickly. Despite missing all but 29 games of the 1967 season due to military service, Bowa split time between Bakersfield and AA Reading. Bowa spent the entire 1968 season at Reading, playing in 133 games and hitting .242. His Reading manager, Frank Lucchesi said, "He tends to get sour on himself. He was hitting something like .140 in June and was afraid he was going to be sent out. I sat him down and told him the things that were going to get him to the big leagues were his legs, his glove, his arm, and his hustle. I told him he was my shortstop for the season, no matter what he hit."6
In 1968 the Phillies fired manager Gene Mauch and replaced him with Bob Skinner. In late March 1969, Skinner hinted Bowa would make the major-league roster. Skinner believed Bowa was ready for the majors in every aspect but swinging the bat: "He's got the arm, the glove, and the speed. He's our fastest runner and I wouldn't be afraid to play him in centerfield if the situation arose. I know he'll go after the ball. We feel he'll have excellent utility value to the ball club and in the meantime we'll see if we can get him straightened out at the plate."7
Surprisingly, Bowa told Skinner on the last day of spring training that he did not want to spend the 1969 season with the Phillies. "I didn't want to make the ball club that soon. They wanted me there as a utility player. I wanted to play every day."8 Skinner told Bowa to go to Eugene, the Phillies' Triple A club, and learn to switch-hit. Skinner said that this was the only way Bowa would make the major leagues as a regular. At Eugene, Bowa was reunited with Lucchesi. "We went out every day and hit, hit, hit. All of a sudden, toward the middle of the year, I started getting into a groove."9 Lucchesi added, "You don't learn switch-hitting sitting on a major-league bench."10
The Emeralds won the PCL Southern Division championship with a league-best 88-58 record. Lucchesi praised Bowa and Doyle as "the best double-play combination in the league."11 Bowa hit .287 and stole 48 bases. Before the end of the 1969 season, the Phillies named Lucchesi their manager for 1970. Despite the Phillies' 63-99 record, Lucchesi was optimistic about his new job since he was bringing his double-play combination to Philadelphia. Lucchesi praised Bowa: "I've never seen a kid turn to switch-hitting and do the job he did this past season. Two or three years ago, anybody could knock the bat right out of his hands, but no more. Of course, his speed helps, but he made tremendous improvement from both sides of the plate. He keeps improving as a base-runner too."12
During spring training in Clearwater, the Phillies, who planned to wear new uniforms in 1970, wore their old-style uniforms. Bowa was given number 6, which had been worn by Johnny Callison in 1969. When the team came north, they debuted their new-style uniforms at a public workout in Connie Mack Stadium the day before the season opener. The Phillies gave Bowa his now-familiar number 10. Bowa could not hide his excitement about being in the big leagues: "There's nothing like it. It's kind of hard to believe—but here I am."13
The Phillies opened their final season at Connie Mack Stadium on April 7, 1970. Bowa made his major-league debut that afternoon, leading off against the Cubs' Ferguson Jenkins. In his initial at-bat, Bowa popped out to shortstop and finished the day 0-for-3 as Chris Short blanked Chicago, 2-0. The following afternoon, Bowa singled off Ken Holtzman for his first major-league hit and later doubled to spark a Phillies rally.
But Bowa suffered through a 0-for-21 slump in mid-April and was hitting .152 on May 1. One writer said that "misery was watching Larry Bowa swing a bat."14 Bowa wasn't getting on base enough to utilize his speed. He only had one stolen base in three attempts. "I got to the point where I wondered if I could play up here." 15 Despite the negative press, Lucchesi never gave up on the young shortstop. One day Lucchesi called Bowa into his office: "He had his head down because he thought he was being shipped out. I was sitting down behind my desk. I stood up, walked over to him, put my hand on his shoulder, and I said, 'Larry, forget what's in the paper. You're my shortstop tonight, you're my shortstop tomorrow, and you're my shortstop next week. You're going to be my shortstop all year. Someday, you're going to prove me right that you're going to be one hell of a shortstop. Just remember that. Now get out of here.'"16
The vote of confidence was just what Bowa needed. He worked on his hitting every day with coach Billy DeMars. Gradually his batting average improved, getting above .200 by early June. On July 11, at Wrigley Field, Bowa went 4-for-5 with a triple and three singles in a 10-4 Phillies win. A three-hit game against the Astros at Connie Mack Stadium on August 23 raised Bowa's average to .248. On Labor Day, Bowa got his first career game-winning hit to beat the Cardinals in the second game of a doubleheader. From September 2 to 22, Bowa fashioned an 18-game hitting streak. On September 26, Bowa went 4-for-5 versus the Cubs in a 7-1 Phillies win, which elevated his average to a season-high .255. On October 1, the Phillies played their final game in Connie Mack Stadium before a sellout crowd of 31,822. One fan hung a banner that read BOWA: ROOKIE OF THE YEAR. (He was third in the voting.) Bowa finished the 1970 season hitting .250 with 137 hits and 24 stolen bases in 145 games. He also fielded well, committing just 13 errors, breaking the rookie shortstop record set by Ernie Banks. After the season ended, Bowa married Sheena Gibson, and the couple settled in Largo, Florida.
On April 10, 1971, the Phillies played their first game in Veterans Stadium in front of 55,352. In the bottom of the first inning, Bowa got the first hit in the new stadium, a single to right field off the Expos' Bill Stoneman. The Phillies won the game, 4-1. Bowa got off to a fast start in 1971, and was hitting .371 on April 16, but soon fell into a 3-for-33 slump. Gradually he improved but admitted, "I don't want to be just a shortstop who hits .240 or .250. I want to be better than that."17 Despite his problems with the bat, Bowa went 47 straight games, from June 4 through July 19, without an error. He also set the major-league record for fielding percentage (.987) and fewest errors by a shortstop (11 errors in 159 games). Bowa batted .249 in 1971 as the Phillies finished last in the NL East with a record of 67-95.
The Phillies struggled mightily in 1972. After a fast start the team lost 19 out of 20 in May and June, and quickly settled into the cellar. However, Bowa provided a few bright spots. He had two consecutive three-hit games in early June and on August 18 hit his first major-league home run, an inside-the-park blast off the Astros' Dave Roberts at Veterans Stadium. After the game Bowa commented that "It wasn't a home run where you could enjoy it. The next one I'd like to enjoy it, run slow around the bases. I had to earn that one."18
The Phillies fired Lucchesi in July and replaced him with General Manager Paul Owens. While the Phillies improved marginally, some problems were brewing. On August 23, the Phillies trailed the Braves 7-0 when Owens took a slumping Bowa out of the game, which angered the young shortstop: "I hit the ball hard twice and he takes me out of the game. He [Owens] tells me I need a rest. That's weak. I don't buy it. If he doesn't think I can play he ought to trade me to somebody who wants me. If they don't appreciate me here then get rid of me."19 Owens responded by saying, "Tell him to bleep in his hat, the dumb bastard. I'm trying to give him a rest. Some people aren't smart enough to understand anything."20 Owens and Bowa eventually worked out their differences.
Despite Steve Carlton's 27-win season, the Phillies finished last in 1972 with a 59-97 record. Once again Bowa hit .250 for the season but led the league with 13 triples. In the field, he committed only nine errors, won his first Gold Glove, and was named to The Sporting News NL All-Star fielding team.
The Phillies hired Danny Ozark as manager for 1973. Despite several new players and a young nucleus already in place, the Phillies languished around fifth place most of the season. Bowa again started slowly with the bat and was hitting only .195 on June 4. On July 25, in a game against the Expos, Bowa fractured a bone above his left ankle as he tried to steal second base. Bowa missed the entire month of August but returned to the lineup in the second game of a Labor Day doubleheader at Shea Stadium. Bowa finished the 1973 season with a .211 average as the Phillies finished last in the Eastern Division for the third consecutive season. Although nothing came of it, there was talk that the Phillies were considering trading Bowa in the off-season.
Following the 1973 season, the Phillies traded pitcher Ken Brett to the Pirates for second baseman Dave Cash and sent Denny Doyle to the California Angels. For the first time in his career, Bowa worked with a new second baseman. Cash was the best thing to happen to Bowa and the Phillies. He brought a positive attitude to the team and his "Yes We Can" mantra caught the fancy of the players and fans. Suddenly the 1974 Phillies played winning baseball and spent the entire month of June in first place. They stayed in contention most of the summer before fading in late August. Cash and Bowa became one of the best double-play combinations in baseball, as the duo led the National League in double plays three consecutive seasons (1974-76). The Phillies arguably had the best infield in baseball in 1974: "Name me a better one," said Ozark.21 Bowa, Cash, and Mike Schmidt were named to the All-Star team. Bowa enjoyed his finest season to date in 1974. He played in all 162 games, batted .275, had 184 hits, and stole 39 bases. He also hit his first out-of-the-park home run off Mike Caldwell of the Giants at Candlestick Park. Bowa also had a sparkling, league-leading .984 fielding percentage. The future seemed bright for the Phillies, who finished third in the NL East with an 80-82 record, their best since 1967.
Before the 1975 season Bowa signed a three-year, $300,000 contract. Cash observed that Bowa "is just coming into his own. He's a 29-year old with a 21-year old body."22 The two even recorded a novelty record called "Ting a Ling (Double Play)." That season Bowa and Cash became the first NL double-play pair to each hit .300 (both players hit .305) since 1948. Bowa was one of four Phillies named as All-Stars. In the game, Bowa was hit by a pitch and scored a run in the ninth inning as the NL rallied to win. Interestingly, Bowa committed 25 errors in 1975. Nevertheless, the Phillies continued to improve in 1975, finishing second with an 86-76 record.
In 1976 the Phillies finally put it all together. A blazing start carried the team to the division title with a 101-61 record. Bowa hit only .248 but knocked in a career-high 49 runs and played steady defense all season. On June 18 at Veterans Stadium, the Phillies led Cincinnati, 6-4, in the ninth inning. With one out, Tony Perez hit a hard ground ball that appeared headed past Bowa at short for a single. But the little shortstop "danced five feet to his right, went behind the infield line in left field, took the ball on the second hop and without even looking, threw like a quarterback to first baseman Tommy Hutton. Perez was out by a step."23 The crowd of 50,635 gave Bowa a two-minute standing ovation. After the game Bowa commented that "I've played baseball a long time and I don't think I remember anybody getting a standing ovation on a defensive play. I had goose bumps. I looked over at Pete Rose in the Reds' dugout, and he was just shaking his head."24 Teammate Gene Garber added, "It was the greatest play I have ever seen a shortstop make."25 The Phillies were swept by the Reds in the 1976 National League Championship Series, and Bowa hit only .125.
In 1977 the Phillies fielded what many consider to be their best team ever. Gone were Cash and Allen. In their place were Ted Sizemore and Richie Hebner. A strong bench, deep bullpen, and powerful hitting (186 homers – a new team record) carried the Phillies to another Eastern Division title. Offensively, Bowa had a fine season, hitting .280. But the biggest surprise was that the little shortstop hit four home runs. The most memorable came on June 22. With the Phillies leading 10-9 in the seventh inning, Bowa faced Reds' reliever (and former teammate) Joe Hoerner with the bases loaded and lined the first pitch off the back drop in left centerfield for a grand slam. Always the emotional player, Bowa leapt into the air, clapped his hands, and went into his home run trot. He later said, "Joe Hoerner is a friend of mine. I didn't like doing that, but I just couldn't help myself."26 Bowa finished the night 4-for-4 as the Phillies won 15-9. "I know my dad is going to think it's a misprint when he picks up the paper out on the West Coast tomorrow. I'd better call him the morning so he doesn't have a heart attack."27
The Phillies seemed poised to win their first pennant since 1950 as they opened the 1977 National League Championship Series against the Dodgers. The Phillies split the first two games in Los Angeles, then came home to a frenzied crowd that filled Veterans Stadium for Game 3 on October 7. In one of the most memorable games in Phillies history, the Phils led, 5-3, with the bases empty and two out in the ninth inning. With a crowd of 63,719 on its feet, the Dodgers staged a miraculous rally. Vic Davalillo bunted for a single and Manny Mota hit a fly ball Greg Luzinski misplayed in left. His throw to the infield was wild, causing a run to score. Davey Lopes then hit a sharp grounder to third that caromed off Mike Schmidt's glove to Bowa, who grabbed the ball with one hand and fired to first, but umpire Bruce Froemming ruled Lopes safe, and the tying run scored. A huge argument ensued. "I'll never forget that," Bowa said. "Man, Froemming anticipated that just because Schmitty didn't catch the ball, I couldn't throw Lopes out. I went crazy. That was the game. We win that game, we win the series."28 The Dodgers won the game, 6-5, and the next night Tommy John shut down the Phillies in a steady rain to clinch the pennant.
It was a disappointing ending to a fine season for Bowa, who hit .280 and fielded brilliantly, committing only 13 errors in 154 games. He struggled again in the LCS however, hitting only .118. In the offseason Bowa began hosting a talk-radio program on Philadelphia's WWDB-FM and wrote a weekly column for the Philadelphia Journal.
The Phillies won their third consecutive division title in 1978 with a 90-72 record. Bowa had perhaps the finest season of his career, hitting .294 with a career-high 192 hits. Bowa also won his second Gold Glove award and was the starting NL shortstop in the All-Star Game. From July 19-24, Bowa went 15-for-31 over seven games to raise his average from .291 to .314. Still, the Phillies lost to the Dodgers once again in the League Championship Series, and fans began to wonder if their team would ever get to the World Series.
The Phillies shocked the baseball world in December 1978 by signing free agent Pete Rose, believing him to be the missing piece needed to get over the hump and win the World Series. Despite Rose's .331 average, the 1979 Phillies finished a disappointing fourth place. The Phillies fired longtime manager Danny Ozark and replaced him with Dallas Green. Bowa's average dropped to .241, but he still was one of four Phillies to start the All-Star game. He committed only six errors (none at Veterans Stadium) and set a major-league record for shortstops with a .991 fielding percentage. It was the fifth time in his career that Bowa led all shortstops in fielding percentage.
The Phillies were not favored by any expert to win the NL East in 1980. The underachieving team chose to stand-pat and field the same lineup as they had in 1979. As Bowa recalled, "We had ultimatums given to us all during 1980: 'If you don't win, we're tearing this team apart.' It was constantly being written all year. It was like we were on a mission."29 Despite being in contention throughout the season, several veterans, including Bowa, clashed with Green, and resented his "We, Not I" mantra. Following a demoralizing four-game sweep by the Pirates in Pittsburgh in August, the Phillies found themselves mired in third place, six games out. However, they won nine of their next 11 and got to within a game and a half of the Pirates by August 21. But following a poorly played game in San Diego on August 31, GM Paul Owens held a meeting with the team on Labor Day and excoriated the players, even challenging a few to a fist fight. That night the Phillies moved into a tie for first place.
But there was dissention brewing. After losing two out of three to the Expos at the Vet late in the season, Green benched veterans Greg Luzinski, Garry Maddox, and Bob Boone, causing Bowa to criticize the manager on his radio show. He also blasted the Philadelphia fans, calling them the "worst in the world."30 Nevertheless, the Phillies swept the Cubs in their last home series and went to Montreal on the final weekend of the season tied for first with the Expos. The Phillies won the first two games of the series to clinch their fourth NL East title in five years. Bowa finished the season with a .267 average.
The Phillies battled the Houston Astros in what many consider to be one of the best League Championship series in baseball history. In the classic fifth game, when trailing Nolan Ryan 5-2 in the seventh, Bowa led off the inning with a walk, and the Phillies scored five runs to take the lead. The Phillies won the game in the tenth inning to capture their first pennant since 1950. For the series, Bowa batted .316.
The Phillies then defeated the Kansas City Royals in six games. In Game One, the Phillies trailed the Royals, 4-0, in the third inning. With one out, Bowa singled, stole second, and scored on a Bob Boone double. This ignited a five-run inning and the Phillies won 7-6. As Bowa remembered, "We were drained. We weren't doing anything. So I got a base hit off Dennis] Leonard. First pitch. I'm gone. I'm on my own, but Dallas gave me a holds sign because we're four runs down. I had a great jump, but it was a bang-bang play. But I was safe. That turned the game around. Being aggressive."31 In Game Two, Bowa tied a record for most double plays started in a nine-inning game, three. When Tug McGraw fanned Willie Wilson with the bases loaded in the ninth inning of Game Six, the Phillies were World Champions at last. Bowa played well in the World Series, hitting .375 with nine hits and fielding flawlessly.
The defending champions got off to fast start in 1981 and led the NL East with a 34-21 record on June 12. The Phillies were buoyed by newly-acquired Gary Matthews, the pitching of Steve Carlton, and Pete Rose's chase of Stan Musial's all-time NL hits record. But on that day, major-league players went on strike, shutting down the game for 50 days and wiping out 712 games. When the season resumed in August, the season was split into two halves, with the teams in first place at the strike declared first-half champions and automatically qualified for the postseason. Thus, the Phillies were lame ducks in the second half and their play suffered. Bowa still had a fine year, hitting .283 and put together an 18-game hitting streak in September.
In the Divisional Series, the Phillies faced the second-half champs, the Expos. The Expos won the series in five games, winning the final game on October 11 behind Steve Rogers at the Vet, 3-0. In that game, Bowa went 0-for-3, and in what would turn out to be his final at-bat in a Phillies uniform, hit into a fielder's choice in the seventh inning.
Following the 1981 season, manager Dallas Green left the Phillies to become the Cubs' vice-president/GM. The Carpenter family, who had owned the Phillies since 1943, sold the team in November for $21 million to a group headed by Phillies executive vice-president Bill Giles. The Phillies also hired a new manager, Pat Corrales. Change was in the air at Veterans Stadium.
Bowa, now 36 years old, sat down with Ruly Carpenter at the end of the 1981 season to discuss a new contract. Bowa and Carpenter agreed verbally on a three-year deal. Carpenter also said Bowa could ask to be traded if he did not sign. When Giles took over the Phillies, he met with Bowa and offered him a one-year deal. Bowa balked and told Giles about the deal with Carpenter. Bowa insisted upon a three-year contract or a trade. Giles refused to accept those terms.
The feud between Bowa and Giles spilled into the press, where Bowa called Giles a liar. Finally, GM Paul Owens talked with Dallas Green and offered Bowa to the Cubs for their shortstop, Ivan DeJesus. Green insisted that the Phillies throw in a young minor-league infielder named Ryne Sandberg, who had a cup of coffee with the Phillies at the end of the 1981 season. The Phillies agreed, and the trade ended up being one of the worst in Phillies history
Bowa joined a rebuilding Cubs team managed by Lee Elia. Bowa started slowly in 1982 and was hitting .161 in mid-May. But his hitting improved, as evidenced by a hot streak from June 19 to 26, when Bowa went 17-for-27. Included in that streak were four consecutive three-hit games. Bowa finished his first season in Chicago with a .246 average in 147 games. The Cubs finished a distant fifth in NL East with a 73-89 record.
Bowa continued to play well in 1983, hitting a healthy .267. In early May, Bowa had an eight-game hitting streak that boosted his average from .247 to .320. Bowa also led all NL shortstops with a .984 fielding average while committing just 11 errors. Still, the Cubs floundered, finishing fifth once again.
In 1984 the Cubs, after years of frustration, won the NL East title. The team, now managed by Jim Frey, benefitted from fine seasons by Sandberg, Leon Durham, Jody Davis, Bob Dernier, Keith Moreland, Ron Cey, and newly-acquired Gary Matthews. The Cubs also obtained Rick Sutcliffe and Dennis Eckersley during the season to solidify the pitching staff. For Bowa, it was his worst offensive season since 1973 as his average slipped to .223, though he still played well in the field. The Cubs faced the Padres in the League Championship Series, and after winning the first two games at Wrigley Field, proceeded to lose the next three in San Diego. In Game Four, the Padres won, 7-5, thanks to a Steve Garvey ninth-inning homer. In Game Five, the Cubs led, 3-2, in the bottom of the sixth when the Padres rallied for four runs, aided by a crucial Durham error at first base. The Padres won, 6-3, winning their first-ever pennant, and extending the Cubs' 40-year curse. Bowa hit just .200 in the series with three hits in 15 at-bats.
During spring training 1985, the Cubs promoted Shawon Dunston to play shortstop. This led to a controversy between Bowa and manager Frey. Bowa felt the Cubs were disrespecting him by giving his job to an untested rookie. Dunston opened the season at short but struggled and was sent back to Triple A in May. Frey had no choice but to reluctantly turn to Bowa, who responded by hitting .246 as the Cubs fought to stay in contention. In August, Bowa passed Rabbit Maranville for the most games played by a shortstop in NL history. The Cubs planned to honor Bowa at Wrigley Field, but Frey, still feuding with Bowa, cancelled the ceremony. On August 12, the Cubs recalled Dunston and released Bowa.
With just a few weeks left in the regular season, Bowa realized that he may never play baseball again. The only team he would consider joining were the Mets, managed by his former teammate Dave Johnson and in a battle with the Cardinals in NL East. On August 20, 1985, the Mets, in need of a backup shortstop, signed Bowa for the remainder of the season. Mets' General Manager Frank Cashen said "Larry is a proven veteran who has been through the pennant race before. With Ron] Gardenhire getting hurt, we're most fortunate to find a player with Larry's know-how ready to step in and fill the backup role behind Rafael Santana."32
Bowa hit only .105 in just 14 games for the Mets, who eventually finished second behind St. Louis. On October 6, 1985, Bowa played in his final major-league game, starting at second base and going 1-for-3 in the Mets' 2-1 victory over the Expos at Shea Stadium. Despite being offered a guaranteed contract of $250,000 to return to the Mets in 1986, Bowa refused and was granted free agency on November 12. Bowa finished his stellar career with a lifetime batting average of .260 with 2,191 hits. His .980 fielding percentage is 14th best in baseball history for shortstops.
On November 14, 1985, Bowa was hired as manager of the Las Vegas Stars, the Padres' Triple A farm team for a paltry salary of $28,000. The Stars finished the 1986 season with a record of 80-62, won the PCL championship, and featured future major leaguers Benito Santiago, Randy Ready, Mark Parent, and John Kruk. On the major-league level the Padres were wretched, so team president Ballard Smith, impressed with the job Bowa did at Las Vegas, hired him as manager on October 28, 1986. Upon being hired Bowa said, "Don't expect me to be a choirboy. I never have been. But don't expect me to get kicked out of 50 games, either."33
No sooner after Bowa was hired the Padres traded slugger Kevin McReynolds to the Mets and lost pitcher LaMarr Hoyt to drug issues. Other veterans were released, and the Padres entered the season with a young roster and low expectations. The Padres got off to a brutal start in 1987. Following a 9-0 loss to the Phillies on May 17, the Padres fell to 8-30. During the season Bowa was ejected five times. The Padres finished the season with a wretched 67-95 record. The bright spot was the play of rookie catcher Santiago, who hit in 34 straight games towards the end of the season.
Things did not improve for the Padres in 1988. The team got off to another poor start and Bowa was fired on May 27. Destined to spend a summer without baseball, Bowa took a job hosting an afternoon sports talk show on WIP in Philadelphia. But Bowa's career behind the microphone was short-lived. On August 11, the Phillies hired Bowa as their new third base coach. The Phillies, managed by Lee Elia, were in a dreadful season and looking for someone to light a fire under the team. With a week to go in the season Elia was fired and Bowa's future with the Phillies was uncertain. But when Nick Leyva was hired as manager for 1989, he kept Bowa on his staff. Bowa also served under Jim Fregosi, who managed the Phillies from 1991-96. After Fregosi was fired, Bowa too was let go by the Phillies. Bowa's next stop was as a coach for the Anaheim Angels from 1997-99. He then moved on to the Seattle Mariners as the third base coach for the 2000 season.
In 2000 the Phillies suffered their seventh straight losing season, finishing 65-97. Amidst dropping attendance, disgruntled Philadelphia fans demanded that Bowa be brought back as manager. The Phillies listened. On November 1, 2000, Bowa was named the 49th manager in Phillies history. At his introductory press conference Bowa, who was given a three-year contract, said "We have to teach guys how to win and what it takes to win. Work ethic is so important. Being dedicated. Having pride."34
With virtually the same roster that finished last in 2000, Bowa turned the Phillies into contenders in 2001. Led by Scott Rolen, Bobby Abreu, Pat Burrell, and rookie Jimmy Rollins, the team played inspired baseball and battled Atlanta for the division lead all season. The Phillies were in first place briefly in August and as late as September 23 were just a half-game behind the Braves. But the Phillies lost two of three in a crucial series in Atlanta in early October and were eliminated on the final weekend of the season. Still, the Phillies finished 86-76, their first winning season since 1993. For his efforts, Bowa was named NL Manager of the Year by both the BBWAA and The Sporting News.
A slow start doomed the Phillies in 2002. The team languished near the bottom of the division most of the season. Still, the Phillies rebounded in August and finished in third place with a record of 80-81. During the season Bowa feuded with third baseman Rolen, who did not care for the manager's style and the Phillies' refusal to spend money to acquire better players. Rolen was dealt to the Cardinals at the trading deadline in a deal that netted the Phillies very little in return.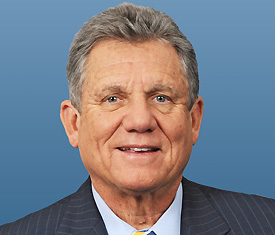 Preparing to move into a new ballpark, the Phillies, realizing they needed to excite the fans, signed free agent first baseman Jim Thome and acquired pitcher Kevin Millwood from the Braves. The Phillies opened their final season at Veterans Stadium with enthusiasm not seen since 1993. Thome did not disappoint, hitting 47 home runs, while Millwood pitched a no-hitter in April. However, the Phillies faltered in September and finished third with an 86-76 record. During the season Bowa dealt with clubhouse dissention caused by Tyler Houston and Pat Burrell. Incensed, Bowa had Houston released in early September.
In 2004 the Phillies moved into Citizens Bank Park. Again the team underachieved and the players complained about Bowa's managerial style. Despite going 18-11 in September, the Phillies fired Bowa on October 1. However, Bowa's fate was sealed when the Phillies were swept in a four-game series against the Marlins in July. In four seasons as manager, Bowa compiled a 337-308 record.
Bowa coached third for Yankees in 2006 and 2007 and served in a similar capacity with the Dodgers from 2008 to 2010. From 2011 to 2013 Bowa worked as an in-studio analyst for ESPN and MLB Network, as well as co-hosting a talk show on Sirius XM radio. In 2014 Bowa returned to the Phillies as bench coach for Ryne Sandberg and continued in that position for Pete Mackanin from 2015 to 2017. Following the 2017 season, the Phillies promoted Bowa to Senior Advisor to General Manager Matt Klentak.
The 2018 season is Bowa's 53rd associated with Major League Baseball and his 34th with the Phillies' organization. He was a career "Baseball man." Bowa was inducted onto the Phillies' Wall of Fame in 1991, as well as being named the shortstop on the Phillies' Centennial team in 1983 and the all-Veterans Stadium team in 2003.
Bowa and his wife Patty reside in Conshohocken, Pennsylvania.
Last revised: November 6, 2018
Acknowledgments
This biography was reviewed by Phil Williams and fact-checked by Kevin Larkin.
Sources
Books
Bowa, Larry and Barry Bloom, Bleep! Larry Bowa Manages (Chicago: Bonus Books, 2008).
Bloom, Barry, Larry Bowa: I Still Hate to Lose (Sports Publishing LLC, 2004).
1971 Philadelphia Phillies Yearbook
2018 Philadelphia Phillies Media Guide
Websites
baseball-reference.com
retrosheet.org
Notes
1 Mike Rathet, "Rising Sons Give Mothers a Warm Glow," Philadelphia Daily News, April 3, 1975, 26.
2 Barry Bloom, Larry Bowa: "I Still Hate to Lose." (Sports Publishing, LLC, 2004), 2.
3 Bloom, 9.
4 Jim Barniak, "Larry Bowa," 1971 Phillies Yearbook, 41.
5 Larry Bowa and Barry Bloom, Bleep! Larry Bowa Manages (Chicago: Bonus Books, 1988), 107.
6 Bill Conlin, "Phillies Tab Super Gnat as Comer," Philadelphia Daily News, March 15, 1969, 27-28.
7 Bill Conlin, "Skinner to Carry 9 Hurlers, Bowa Likely to Make Roster," Philadelphia Daily News, March 29, 1969, 36.
8 Bloom, 12.
9 Bloom, 13.
10 Paul Harvey, "Speedy Bowa Adds Glitter-Switch-Hit Artist for Emeralds," The Sporting News, June 7, 1969, 35.
11 Paul Harvey. "Ems Erase 2 Question Marks, Wear PCL's Southern Crown," The Sporting News, September 14, 1969, 35.
12 Allen Lewis, "Doyle and Bowa Brighten Phillies' Future," The Sporting News, November 8, 1969, 43.
13 Bob Franklin, "Dream comes true for Phillies' Larry Bowa today," Delaware County (PA) Daily Times, April 7, 1970, 15.
14 Bill Conlin, "Bowa Bat Silence is Grim, Not Golden," Philadelphia Daily News, May 1, 1970, 63.
15 Allen Lewis, "Skeptics Take a New Look at Bowa," The Sporting News, September 26, 1970, 17.
16 Bloom, 14.
17 Allen Lewis, "It's a First! Bowa's Two Errors in One Game," The Sporting News, September 11, 1971, 18.
18 Bill Conlin, "No Room for Error on Bowa's Big Night," Philadelphia Daily News, August 19, 1972, 36.
19 Bill Conlin. "Bowa," Philadelphia Daily News, August 24, 1972, 52.
20 Ibid.
21 Ray Kelly, "Phils Crowing Over Infield: 'It's the Best in the Majors,'" The Sporting News, July 20, 1974, 8.
22 Ray Kelly, "Bowa and Cash-A DP Duo With Real Clout," The Sporting News, August 30, 1975, 3.
23 Hal Bodley, "Phillies edge Cincinnati 6-5," The Morning News (Wilmington, DE), June 19, 1976, 25.
24 Ibid.
25 Ibid.
26 Ray Kelly, Jr., "A Dream Becomes a Reality as the Mouse Roars," Camden Courier Post, Jun 23, 1977, 39.
27 Ibid.
28 Bloom, 32
29 Bloom, 34
30 Hal Bodley, "Maligned fans turn on Bowa," The Morning News (Wilmington, DE), October 1, 1980, 29.
31 Bloom, 37
32 Associated Press, "Bowa signs with Mets for rest of the season," The Philadelphia Inquirer, August 21, 1985, 45.
33 Associated Press. "San Diego Gives Reigns to Bowa," Philadelphia Daily News, October 29, 1986, 110.
34 Bob Brookover. "Bowa returns to Phillies as team's manager," The Philadelphia Inquirer, November 2, 2000, 55.
Born
December 6, 1945 at Sacramento, CA (USA)
If you can help us improve this player's biography, contact us.
https://sabr.org/sites/default/files/BowaLarry.jpg
600
800
admin
/wp-content/uploads/2020/02/sabr_logo.png
admin
2018-11-06 13:00:45
2021-09-22 18:41:11
Larry Bowa