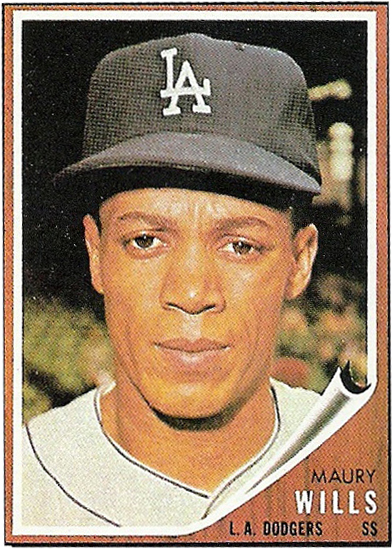 ---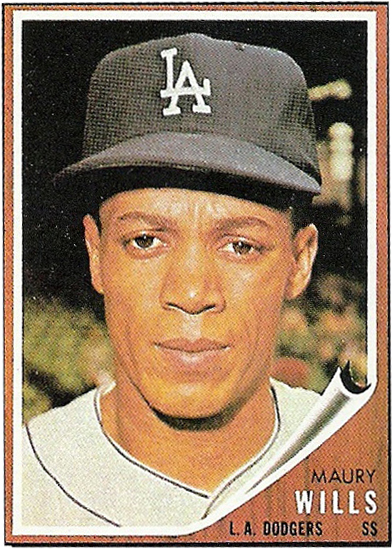 Harsh sunshine beat down on the Los Angeles Coliseum floor. Two men, drenched in sweat, practiced baseball drills while local temperatures soared past 100 degrees in the spring of 1960. Maury Wills, an eager Dodger infielder, and Pete Reiser, an enthusiastic LA coach, worked together for nearly two weeks.
"You can't quit," Reiser said over and over to his pupil. "You have to keep at it. These things don't come overnight."1
"Overnight?" What did Wills think about that? … Overnight? … Ever?
Wills had endured a long and often frustrating road to the major leagues. He toiled eight seasons in the minors and nearly quit a few times. The Dodgers finally called him up in June of 1959. The rookie batted .260 over 83 games and helped LA win the National League pennant. He hit .250 in the World Series; the Dodgers knocked off the Chicago White Sox in six games.
But Wills began the 1960 season in a funk. Dodgers manager Walt Alston started pinch-hitting for him as early as the third inning. Discouraged, Wills asked Reiser for help. The coach, a former Brooklyn Dodgers phenom, told Wills to meet him at the Coliseum the following morning.
Reiser stood on the pitcher's mound at the Dodgers' home field and threw one ball after another, yelling at Wills to hit each offering to the opposite field. At one point, Wills complained about the heat wave. Reiser brushed off his pupil and kept going. "Would you rather take a little heat here with the Dodgers or go back to the 'bus and wool-shirt circuit' in Spokane (one of the many minor-league stops for Wills)?" he asked.2
That comment probably made Wills cringe. No way did he want to go back to the minors, not at the age of 27. He had spent enough time riding the bus and playing ballgames in rickety parks for crummy pay and lousy meal money.
The slump continued. These things don't come overnight. Eventually, he broke out of it and earned back his starting job. Baseball writers voted him 17th for the National League MVP that season. The hard work had paid dividends.
Wills went on to play 14 big-league seasons and retired with 2,134 hits and a .281 batting average. Of course, he also stole bases. He did that better than almost everybody, retiring with 586 thefts. Wills led the National League in steals six times, broke the single-season mark, and earned a Most Valuable Player award. Fans in LA, and often in other stadiums, yelled, "Go! Go! Go!" as soon as he reached first base. Usually, he took off, daring the opposing catcher. Former Dodgers executive Buzzie Bavasi wrote in his memoir that Wills "was electrifying in his prime, in the early '60s."3
Born on October 2, 1932, in Washington, D.C., Maurice Morning Wills grew up in the district's Anacostia neighborhood, along with four brothers and eight sisters. His father, Guy Wills, born in 1900 in Maryland, worked as a machinist at the Washington Navy Yard and part-time as a Baptist minister. His mother, Mable Wills, born in 1902, also in Maryland, worked as an elevator operator.
Maury began playing organized baseball at age 14, in a local semipro league. He starred in baseball, basketball, and football at Cardozo High School in Washington, earning all-city honors in each sport as a sophomore, junior, and senior. On the diamond, Wills pitched and played third base. He also got married during his senior year to his high-school sweetheart, Gertrude Elliot. The couple had six children and later divorced.
Several colleges liked Wills for his gridiron skills. He played quarterback on offense, safety on defense, and kicker on special teams. Wills, though, opted to pursue a professional baseball career. "Football was my first love, but baseball was my true love," he explained.4
Wills signed with the Dodgers in the summer of 1950. The young ballplayer had hoped for a $6,000 bonus. Brooklyn scouts Rex Bowen and John Curry offered him a new suit of clothes. The negotiations continued. Finally, the scouts got up to leave. Bowen offered $500. "Take or leave it," he said. Guy Wills thought about it for a second. "We'll take it," he said.5
Wills reported to the Hornell (New York) Dodgers of the Class-D Pennsylvania-Ontario-New York League, in 1951. He batted .280 and stole 54 bases. The Dodgers promoted him to the Class-C Santa Barbara Dodgers of the California League in 1952. Wills, though, felt comfortable in New York and asked to stay there for one more season. He did and stole another 54 bases.
In 1953, Wills split time between the Pueblo (Colorado) Dodgers of the Class-A Western League and the Miami Sun Sox of the Class-B Florida State League. Combined, he hit .286 in 111 games and returned to Pueblo the next year. He put together another solid season and earned a promotion in 1955 to the Fort Worth Cats in the Double-A Texas League. It was a tough campaign. Halfway through, Wills' batting average had dropped to .220. The Dodgers demoted him back to Pueblo in 1956. "It was a bitter pill to swallow and nearly caused me to lose faith in myself and my career," Wills said.6 Even so, he hit .302 and stole 34 bases during his Pueblo encore.
The Seattle Rainiers, a Pacific Coast League club, purchased Wills' contract on a conditional basis. The 24-year-old hit .267 in 1957 and stole 21 bases. The Dodgers exercised their claim on the journeyman prospect and in 1958 assigned him to the Spokane (Washington) Indians, also in the PCL. Manager Bobby Bragan, a former big-league catcher, mentored Wills. "He took a big interest in me and just being around him made my baseball life worth living," Wills said. "I had just about given up on myself."7 Bragan improved Wills' attitude and encouraged him to switch-hit. The natural right-hander could reach first base even faster by batting left-handed. Why not try it? Bragan asked.
Wills replied, "Bobby, I'll try anything once."8
Within a few weeks, Wills had the hang of it. "You're a switch-hitter now, kid," Bragan said.9 But Wills worried that he might be stuck forever as a minor leaguer. In the spring of 1959, the Dodgers once again sold him, again on an option basis, this time to the Detroit Tigers. Wills, playing mostly in B games, went 11-for-23, and stole eight bases. The Tigers, though, had traded for shortstop Rocky Bridges. Wills returned to the Dodgers, who sent him back to Spokane. "But I didn't feel despondent," Wills said. "Being in spring training with the Tigers and having a chance to make the big leagues was the greatest experience I had had in my career."10
The Dodgers needed another shortstop. Pee Wee Reese, a future Hall of Famer, had retired after the 1958 season. One option was Bob Lillis, who like Wills, had languished in the minors for several years. Lillis batted .391 in 20 games for LA in 1958. He began slowly in 1959, though, and lost his job. Don Zimmer, a six-year veteran, took over as the starter. Zim, however, broke a toe in early June, and Bragan recommended Wills for a promotion to Los Angeles.11 Wills, batting .313 with 25 stolen bases at Spokane, not surprisingly, said, "I sure was hoping to get a chance to play in the majors."12
Wills played his first game for the Dodgers on June 6, 1959, and went hitless in four at-bats. His batting average stood at a meager .175 after one month in LA Finally, he began to rap groundballs that eluded infielders. Thanks to a burst of speed, he beat out plenty of throws to first base from opposing shortstops and third basemen. His batting average began climbing. Zimmer, meanwhile, returned from his toe injury but battled a season-long funk. He hit only .165 in 97 games and went to bat just one time in the World Series. Wills played in all six games.
On April 8, 1960, the Dodgers traded Zimmer to the Chicago Cubs for pitcher Ron Perranoski, infielders Johnny Goryl and Lee Handley, and $25,000. Wills struggled until he began practicing with Reiser under that blazing sun. By the end of the season he had hiked his batting average to .295 and stolen a league-high 50 bases. No National League player had swiped 50 bases in one season since Max Carey notched 50 for the Pittsburgh Pirates in 1923. "It was like magic," Wills wrote about his sudden hot streak. "My entire attitude had changed from that of despair to one of eager anticipation. I couldn't wait to get up to the plate."13 The Dodgers finished 82-72, good for fourth place.
Wills enjoyed another solid season in 1961. (The Dodgers dealt Lillis to the Cardinals early in the campaign.) His batting average slipped from the previous campaign, to .282, but he still led the league with 35 stolen bases. He made his first All-Star team, won his first Gold Glove and finished ninth in the MVP voting. Los Angeles ended up 89-65, in second place, four games behind the Cincinnati Reds. Hints of the glorious, but brief, reign of LA left-hander Sandy Koufax had emerged. The 25-year-old from Brooklyn battled control problems in his first six seasons. He won 18 games in 1961 and led the National League with 269 strikeouts.
The Dodgers moved out of the oddly shaped Los Angeles Coliseum (251 feet from home plate to the left-field wall) after the 1961 season and into Dodger Stadium. The new ballpark favored pitchers, especially on cool nights when the heavy marine layer moved in from the coast. Koufax and Don Drysdale, a hard-throwing right-hander and a hometown product from LA's San Fernando Valley, were primed to form a dynamic 1-2 pitching combination.
Wills supplied speed and bursts of energy. He set a goal of stealing at least 50 bases in 1962 and reached that mark by the 104th game, on July 27 against the San Francisco Giants. His self-confidence had soared. "Every time I get on base, I feel like I'm going to make it when I go," Wills said. "I've eliminated in my mind the fear of failure."14 How much did Wills mean to the LA offense? One late-summer game offers an example. On August 26 against the New York Mets, he walked, stole second, and scored on a Tommy Davis single in the first inning. Two innings later, he reached on an infield single, stole second, sprinted to third on a Willie Davis bunt, and raced home after Tommy Davis hit into a double play. In the sixth, Wills ripped an RBI double, stole third, and scored on a Jim Gilliam single. "Thus did Maury Wills, perhaps the greatest base stealer in modern baseball history, demonstrate once more his tremendous value to the Los Angeles Dodgers," according to one article.15
Off the field, Wills enjoyed playing his banjo in the team clubhouse, on the team plane, and in nightspots from LA to Las Vegas and New York City. He also liked to mingle with Hollywood movie stars. He claimed to have had an affair in 1962 with actress/singer Doris Day, who was a big Dodgers fan. "Doris Day is a lovely lady, and we did see each other," Wills wrote in his 1991 book, On the Run. "And, yes, we were lovers."16 The two met at Dodger Stadium and began dating, according to Wills. Rumors began to circulate throughout the summer. The whispers grew louder. Day and Wills were both married. Plus, Day being white and Wills being black mattered to many people in early-1960s America.
Reporters asked Wills about the relationship. Bavasi ordered Wills into his office and "made it clear that the club wouldn't look kindly on the public relations nightmare likely to ensue if white fans learned that one of the team's star players was dating America's girl-next-door," Michael Leahy wrote in his book The Last Innocents, about the Dodger teams of the Koufax-Wills era. Bavasi ordered Wills to stop seeing Day.17 (Day in her autobiography wrote that she and Wills were simply friends and that "we certainly saw each other alone anywhere."18)
Wills agreed to Bavasi's temperamental demand and kept running. He stole 46 bases in 51 attempts by midseason. Could he break Ty Cobb's single-season mark of 96, set in 1915 for the Detroit Tigers? No major leaguer had even stolen 60 bases since George Case swiped 61 for the 1943 Washington Senators.
Stealing bases nearly every day didn't come easy. Wills' hamstrings burned from all the sudden starting and stopping on the basepaths. He kept running. Some opposing groundskeepers packed sand into the clay around first base to make the dirt soft and slippery and more difficult for Wills to get traction. He kept running. Wills stole four bases on September 7, giving him 82 for the season and breaking the National League mark of 81, set by Bob Bescher of the Cincinnati Reds in 1911. He was closing in on Cobb.
Late in the year, Commissioner Ford C. Frick tossed Wills a curveball. He said that Wills would have to break Cobb's stolen-base mark in 154 games, the same number of scheduled games in 1915. Due to expansion, the National League lengthened its season to 162 games in 1962. The American League did that the previous year, also following expansion. (Cobb actually played in 156 games for the Tigers in 1915. Two games ended in ties, and the Georgia Peach notched a stolen base in one of them.)
Wills ran past Cobb on September 23, stealing two bags in a 12-2 loss to the St. Louis Cardinals and getting to 97 thefts, in the Dodgers' 156th game. "As far as I'm concerned, I was right on schedule," Wills said. "He (Cobb) did it in 156 games and what's good enough for Cobb is good enough for me."19 He also declared, "I'm going for 100 steals."20
Wills reached the century mark on September 26 in a 13-1 shellacking of the Houston Colt .45's in game number 158. He did not steal a base in the next four games, all Dodgers losses. LA, which had taken over first place on July 8, picked a bad time to go cold. The Giants, meanwhile, had gotten hot. They caught the Dodgers on the final day of the scheduled season. Both teams ended the regular campaign with impressive 101-61 won-lost records. A best-of-three playoff would determine the NL pennant winner.
San Francisco won the opening matchup, 8-0, and Wills did not steal a base. LA took the second game, 8-7; Wills notched steal number 101. The Giants, despite Wills going 4-for-5 at the plate and stealing three bases, took the pennant in the third game by knocking off the Dodgers, 6-4, on October 3 at Dodger Stadium "It's horrible, and it's true," Wills said afterward. "But you just can't understand it. It's like a nightmare."21
Mostly, though, Wills enjoyed a dream season for the Dodgers. He not only stole a record 104 bases, opposing catchers threw him out just 13 times.22 He also set a major-league record in 1962 by playing in 165 games. He went to bat 695 times and hit safely 208 times for a .299 batting average. Wills topped the NL with 10 triples. And he smacked a career-high six home runs. Writers voted him the league's Most Valuable Player. "This is the best award a player can get," Wills said.23 All that running and sliding, though, left Wills battered. Late in the season, Los Angeles Times columnist Jim Murray wrote, "His body is so bruised he constantly looks as if he had just crawled out of a plane wreck."24
In his book It Pays to Steal, published in 1963, Wills asked himself rhetorically, "Do I think I'll ever steal 104 bases again?" He answered, "No, I can't believe I did it to this day. I don't see how I can ever come close again. The physical beating I took is more than I want to endure."25
Indeed, Wills swiped just 40 bags in 1963. He still led the National League in that category, although catchers threw him out 19 times. The shortstop batted .302, just a little bit higher than in 1962, but he played in 31 fewer games and scored 47 fewer runs. Even so, the Dodgers, thanks in large part to Koufax (25-5, 1.88 ERA, 306 strikeouts, and 11 shutouts), captured the league pennant. The team finished 99-63, six games ahead of the second-place St. Louis Cardinals, and swept the New York Yankees in the World Series. Wills batted just .133 (2-for-15) in the Series with one stolen base and one run scored.
The 1964 Dodgers slumped to 82-80 and finished tied for sixth place with the Pittsburgh Pirates. Koufax made only 28 starts but went 19-5 with a 1.74 ERA. Drysdale compiled an 18-16 won-lost mark despite posting a 2.18 ERA. Wills hit .275 with 53 steals and led the league for the fifth straight year. Poor offense did in the Dodgers, who averaged just 3.7 runs scored, third from last in the 10-team National League. Tim McCarver, a longtime catcher for the Cardinals and other teams once said, "We used to kid around that a Dodger rally consisted of a Maury Wills bunt for a single, Wills stealing second base, Wills moving to third on a sacrifice, and then Wills scoring on a wild pitch."26
The Dodgers rebounded in 1965. They went 97-65 and captured the NL pennant. Koufax set a major-league record with 382 strikeouts. He and Drysdale combined to win 49 games. Wills didn't steal 100 bases, but he did swipe 94. He hit .286 and scored 92 runs. Late in the campaign, Philadelphia Phillies manager Gene Mauch said, "Maury Wills is the greatest slider and the quickest starter in the history of the game. He gets the base stolen the first five feet. He's the most unafraid runner I've ever seen."27 Wills enjoyed his best World Series that year. He batted .367 (11-for-30) against the Minnesota Twins and stole three bases but was caught twice. The Dodgers knocked off the Twins in six games. Koufax pitched brilliantly, going 2-1 with a 0.38 ERA.
It figured that some pitchers and catchers might eventually catch up with Wills. He admitted as much during the 1966 season and mentioned strong-armed backstops Jerry Grote of the New York Mets and Randy Hundley of the Chicago Cubs. "The pitchers have come up with some new moves, which make it more difficult to get a good jump. When (the catchers) throw 10 inches over the bag, I'm dead."28 Wills swiped 38 bases in 1966 but was caught 24 times. He batted .273. Rarely inclined to take a walk, he posted just a .314 on-base percentage and scored only 60 runs. Once again, Koufax led the Dodgers to a pennant. He went 27-9, struck out 317 batters and fashioned a 1.73 ERA. Writers voted him baseball's Cy Young Award winner for the third time. The Baltimore Orioles swept LA in the World Series, allowing just two runs and 17 hits over the four games. Wills hit a woeful .077 (1-for-13). LA infielder Jim Lefebvre said, "We couldn't do anything right."29 Wills said, "I'm embarrassed, but I'm not ashamed."30
To make matters worse, Dodgers owner Walter O'Malley had organized a postseason goodwill trip to Japan. The Dodgers would play a series of exhibition games against Japanese teams. Several players, including Wills, asked for permission to skip the event. O'Malley told the shortstop that he had to go. Wills played a few games and then went AWOL. His right knee ached, and he wanted doctors in Los Angeles to check it out. First, though, he stopped off in Hawaii and played his banjo at a couple of shows starring Don Ho and Sammy Davis Jr. He said, "I've been relaxing here. Right now, I don't know when I will return to the mainland."31 He added, rather brazenly, "The Japanese trip was important to Mr. O'Malley, and I suppose he's rather bitter about me leaving."32
O'Malley, probably already in a foul mood after Koufax announced his retirement on November 18, ordered Bavasi to ship Wills out of Los Angeles.33 Bavasi wrote that O'Malley told him, "Not only did he embarrass the Dodgers, but he embarrassed the nation of Japan."34 Bavasi sent Wills to the Pirates in exchange for Bob Bailey and Gene Michael. Wills couldn't believe it. He had found a home in LA, and now he had to leave. "I don't want to be traded," he said. "I've spent all my life playing for the Dodgers. The Dodgers are my life."35
Wills spent two seasons in Pittsburgh. He tied a career high by batting .302 in 1967, but stole only 29 bases, his lowest figure as a major leaguer. The Pirates, a team that featured standout players including Willie Stargell, Roberto Clemente, Felipe Alou, and Donn Clendenon in addition to Wills, finished the year 81-81, in sixth place. Wills swiped 52 bases the following year, but the Bucs dropped to 80-82, ending up again in sixth place.
That fall, baseball held an expansion draft to fill rosters for two new National League teams, the Montreal Expos and San Diego Padres. Montreal took Wills with its 11th pick, the 21st overall selection. The infielder lasted 47 games north of the border. He batted a lowly .222, although he did steal 15 bases. Expos owner Stephen Bronfman lit into the shortstop. Wills had gone from the Dodgers to the Pirates and then to the Expos. And, he didn't enjoy life in Montreal. "He played like he didn't give a damn, and he didn't," Bronfman said.36 Wills even retired from the team for a short time. Expos general manager Jim Fanning said that Wills requested on June 2 to be placed on the voluntarily retired list. "We had a nice visit and there is no doubt in my mind that he is sincere," Fanning said.37 Wills said, "I'm not bitter. … I just feel it's time for Maury Wills to retire."38
Wills sat idle for only a few days. "I informed the Montreal club that I realized they had a great investment in me, and after thinking it over I knew I didn't want to walk out on my obligation," Wills said in a June 7 newspaper article.39 Exasperated, the Expos traded him back to the Dodgers, along with Manny Mota, in exchange for Ron Fairly and Paul Popovich. Team executive Al Campanis had lobbied to bring Wills back. O'Malley was less certain.
No one was happier than Wills. He heard about the deal while the Expos were on the road in San Diego. Wills hopped into his car and headed up to LA for a Dodgers game that evening. Apparently, all was forgiven. O'Malley sent a note down to the Dodgers clubhouse: "Welcome back, Maury."40
Dodgers pitcher Don Sutton also welcomed Wills back. "The first time Maury Wills walked into our dressing room, there was a different air in the clubhouse," Sutton said. "We knew we had someone to take charge … to bust his tail for us."41 Back in his baseball comfort zone, Wills hit .297 in 104 games in LA and stole 25 bases to give him 40 for the season.
He explained the situation in Montreal. "The (Los Angeles) pitching helps my game a lot. Good pitching keeps the score close enough that my type of game has more impact."42
Wills played another two seasons with the Dodgers. He hit .270 with 28 steals in 1970 and .281 with 15 thefts in 1971. The Dodgers finished in second place both years. Sutton, Claude Osteen, Willie Davis, and Wes Parker led the way. The oft-traded Dick Allen enjoyed a big year in 1971, his only year with the Dodgers. He hit .295 with 23 homers and 90 RBIs, big numbers for the LA teams of that era. The Dodgers also called up a talented player out of Kansas named Bill Russell. The Dodgers were grooming the former outfielder to take over at shortstop. Wills, 38 years old in 1971, knew it. The team held a Maury Wills Day at Dodger Stadium late in the season, But, Wills told the crowd, he didn't plan on retiring.
In 1972, "They just put me on the bench, and paid me," he said. "Bill Russell was the new shortstop."43 Wills played in only 71 games and went to bat just 132 times. He hit a woeful .129, stole one base, and knew the end was near. He got the bad news while playing golf at Yorba Linda Country Club in Orange County, California. A TV reporter with a camera crew walked up to Wills and told him that he had been released. A shocked Wills fought to find the right words. "These things happen," he said. "I've had a fine career. I'm happy to have been a Dodger."44 He told Los Angeles Times writer Ross Newhan that he wanted to play another season. "I simply believe that 1972 was not a true indication of what I can still do if I am in shape and active," Wills said.45
Instead, he took a job broadcasting for the NBC Game of the Week. His son Bump Wills broke in as an infielder with the Texas Rangers in 1977 and played six seasons in the big leagues. Maury made it known that he wanted to manage in the major leagues. Bavasi encouraged him to take a minor-league managing job before accepting a major-league gig.
The Seattle Mariners thought Wills was ready. They hired him as skipper on August 4, 1980, to replace the fired Darrell Johnson. Mariners President Dan O'Brien said, "I think (Wills) was the best baseball man available."46 The Mariners were mired in last place and had lost 20 of their last 24 games when Wills stepped into the dugout. The 47-year-old skipper felt confident that he could turn things around in the Pacific Northwest. "It shouldn't take longer than a week or 10 days to know what every player can do," he said.47 But the losing continued. Seattle went 20-38 to wrap up the campaign. That included a seven-game winning streak in September.
Managing didn't get any easier in 1981. The players lacked speed and didn't play sound baseball, Wills complained. "I lost my patience," he wrote in On the Run. "It was a lousy team. It was the Mariners."48
O'Brien let Wills go after the Mariners suffered through a 6-18 start in 1981. Some players felt relieved. Designated hitter Richie Zisk said, "Something had to be done on a positive note. (The firing) will change the atmosphere here. It was depressing."49 Reporters hammered Wills for his curious decision-making. Among his list of supposed blunders: He called for a relief pitcher but had forgotten to tell anyone to warm up. He said outfielder Leon Roberts would be his starting center fielder. The problem? The Mariners had traded Roberts more than a month earlier. Another time, he called infielder Dave Edler into the manager's office and demoted him to Triple A. Then catcher Brad Gulden walked by. On a dime, Wills demoted Gulden instead of Edler.50 Steve Rudman of the Seattle Post-Intelligencer wrote that Wills made "unconscionable strategic mistakes, third-grade, sandlot mistakes. And he compounded his mistakes by claiming to know all or by blaming somebody else."51
Later, Wills reconsidered Bavazi's recommendation. "Contrary to what I thought," he wrote, "I really needed managing experience below the major-league level, to learn how to organize, how to delegate responsibility, and how to deal with the press."52
Wills needed to address a much bigger problem. His life had descended into a fury of drug and alcohol abuse. He battled addiction for several years. "He spent more than $1 million on cocaine, sometimes, staying high for 10 days at a time, locking himself in his home alone for months," according to a Los Angeles Times article.53 Los Angeles police arrested him in December 1983 on suspicion of car theft and cocaine possession.54 Wills went into and out of rehab. He wrote in one of his books, "I didn't care if I died."55 Former Dodgers Tommy Davis and Don Newcombe and team executive Fred Claire encouraged him to get sober.
The Dodgers invited Wills to spring training as a baserunning and bunting instructor in 2001. He served in that capacity, first at the team's facility in Vero Beach, Florida, and then in Glendale, Arizona, for about 15 years. He also coached and served as a broadcast analyst for the Fargo-Moorhead RedHawks, an independent team. The Washington, D.C., Sports Hall of Fame honored Wills in 2013, and a youth baseball field in his hometown was named after him. The Country Music Hall of Fame in Nashville even put one of his banjos on display.
Wills said he no longer worries about getting into the Baseball Hall of Fame in Cooperstown, New York. He stayed on the Hall of Fame ballot for 15 seasons and never earned more than 40.6 percent of the vote. (75 percent is needed for induction.) In 2014, he missed out on induction by the Hall of Fame Golden Era Committee, the revamped Veterans Committee.
As of 2018 the former speedster lived in Sedona, Arizona, apparently at peace after all the turmoil that plagued him for decades. In January 2016, Wills told a Los Angeles Times writer, "Through my program of recovery, I've learned to be grateful for where I am, and how wonderful my life is."56
Wills died on September 19, 2022, at his home in Sedona, surrounded by family. He was 89 years old.
Dodgers manager Dave Roberts recalled Wills as a friend and mentor, who tutored him on the art of base stealing during Roberts' playing days with the team from 2002 until the Boston Red Sox traded for him on July 31, 2004. The two stayed in touch through the years. "So, this is a tough one for me," Roberts said. "He just loved the game of baseball, loved working and loved the relationship with players. We spent a lot of time together. He kind of really showed me to appreciate my craft and what it is to be a big leaguer. He just loved to teach. I think a lot of where I get my excitement, my passion, my love for players is from him."57
Sources
In addition to the sources cited in the Notes, the author also consulted baseball-reference.com.
Notes
1 George Vescey, Baseball's Most Valuable Players (New York: Random House, 1966), 146.
2 Maury Wills and Steve Gardner, It Pays to Steal (New York: Prentice-Hall, 1963), 30.
3 Buzzie Bavasi and John Strege, Off the Record (New York: Contemporary Books, 1987), 91.
4 Maury Wills and Mike Celizic, On the Run: The Never Dull and Often Shocking Life of Maury Wills (New York: Carroll and Graf, 1991), 61.
5 Ibid.
6 It Pays to Steal, 35.
7 It Pays to Steal, 36.
8 It Pays to Steal, 27.
9 On the Run, 82.
10 On the Run, 89.
11On the Run, 92.
12 Frank Finch, "Maury Wills from Spokane Joins LA," Los Angeles Times, June 6, 1959: 16.
13 It Pays to Steal, 54.
14 Zane Chastain, "Maury Wills Gallops on His Own, Claims He Has No Fear of Failure," Daily Herald (Provo, Utah), June 29, 1962: 12.
15 Associated Press, "Fabulous Maury Wills Stages Great Base-Running Display to Steal Show for Dodgers," Standard Speaker (Hazelton, Pennsylvania), August 27, 1962: 16.
16 On the Run, 198.
17 Michael Leahy, The Last Innocents: The Collision of the Turbulent Sixties and the Los Angeles Dodgers (New York: HarperCollins, 2016), 50.
18 A.E. Hotchner, Doris Day: Her Own Story (New York: William Morrow and Co.), 203.
19 Associated Press, "Maury Right 'On Schedule,'" Hobbs (New Mexico) Daily News-Sun, September 24, 1962: 6.
20 Milt Richman, Associated Press, "Wills Sets Steal Mark, Yanks Edge Near Flag," Tyrone (Pennsylvania) Daily Herald, September 24, 1962: 8.
21 Charles Maher, Associated Press, "It Wasn't Easy; But They Did It," Index-Journal (Greenwood, South Carolina), October 4, 1962: 8.
22 The St. Louis Cardinals' Lou Brock broke Wills' single-season mark in 1974 with 118 steals. Rickey Henderson as of 2018 was the single-season stolen base leader. He swiped 130 bases for the Oakland A's in 1982.
23 Joe Reichler, Associated Press, "Maury Wills Named NL Most Valuable Player," Bakersfield Californian, November 23, 1962: 27.
24 Jim Murray, "Thief of Bags, Dad," Los Angeles Times, September 10, 1962: 41.
25 It Pays to Steal, 73.
26 Steve Delsohn, True Blue: The Dramatic History of the Los Angeles Dodgers, Told by the Men Who Lived It (New York: William Morrow, 2001), 50.
27 Jim Murray, Los Angeles Times News Service, "Maury Wills' Destination: The Hall of Fame," Honolulu Star-Bulletin, September 12, 1965: 40.
28 Tom Adelman, Black and Blue: The Golden Arm, the Robinson Boys, and the 1966 World Series That Stunned America (New York: Little, Brown and Company, 2006), 87.
29 Black and Blue, 206.
30 Milton Richman, United Press International, "Alston Proud of Defeated LA Dodgers," Deadwood (South Dakota) Pioneer-Times, October 19, 1966: 4.
31 Associated Press, "Maury Wills Seen in Hawaii," Santa Cruz (California) Sentinel, November 8, 1966: 11.
32 Associated Press, "Maury Wills Returns Home After Leaving Dodger Tour," Fort Myers (Florida) News-Press, November 12, 1966: 11.
33 Black and Blue, 225.
34 On the Record, 99.
35 Black and Blue, 225.
36 Jonah Keri, Up, Up, and Away: The Kid, the Hawk, Rock, Vladi, Pedro, le Grand Orange, Youppi!, the Crazy Business of Baseball, and the Ill-fated but Unforgettable Montreal Expos (Toronto: Random House Canada, 2014), 32.
37 Associated Press, "Maury Wills Quits Expos," Palm Beach Post (West Palm Beach, Florida), June 4, 1969: 19.
38 Joseph Durso (New York Times), "Maury Explains," Battle Creek (Michigan) Enquirer, June 5. 1969: 21.
39 United Press International, "Maury Wills Rejoins Expos after Three-Day Retirement," Ogden (Utah) Standard-Examiner, June 7, 1969.
40 On the Run, 231.
41 Associate Press, "Maury Wills Makes Dodgers Go-Go," McComb (Mississippi) Enterprise-Journal, June 24, 1969: 6.
42 Dan Foster, "Mysterious Maury Wills," Greenville (South Carolina) News, June 27, 1969: 50.
43 On the Run, 234.
44 On the Run, 236.
45 Ross Newhan, "Maury Wills Put on Waivers, Wants One More Season," Los Angeles Times, October 26, 1972: 55.
46 Republic News Service, "Mariners Give Wills Long-Awaited Chance to Manage," Arizona Republic, August 5, 1980: 32.
47 Associated Press, "Johnson Fired; Maury Wills Named Mariners' Manager," Hartford Courant, August 5, 1980: 64.
48 On the Run, 279.
49 Associated Press, "Seattle Players Agree It Was Time for Change," Elmira (New York) Star-Gazette, May 7, 1981: 20.
50 Associated Press, "Maury Wills May Not Have Been Ready to be Major-League Manager," Greenville News, May 11, 1981: 15.
51 Steve Rudman, Seattle Post-Intelligencer, "A Comical Trip Through Wills' Seattle Command," as printed in the News-Press (Fort Myers, Florida), May 17, 1981: 53.
52 On the Run, 281.
53 David Shaw, "High and Away, Up and In," Los Angeles Times, April 7, 1991: 266.
54 Associated Press, "Friends Say That Maury Wills Is a Man in Trouble," Ithaca (New York) Journal, December 29, 1983: 13.
55 On the Run, 288.
56 Bill Shaikin, "Justice for Hall," Los Angeles Times, January 15, 2015: 41.
57 Rowan Kavnrr, "Dodgers' Dave Roberts has 'heavy hear'' after death of mentor Maury Wills," Fox Sports, September 21, 2022 (https://www.foxsports.com/stories/mlb/dodgers-dave-roberts-has-heavy-heart-after-death-of-mentor-maury-wills)
Born
October 2, 1932 at Washington, DC (USA)
Died
September 19, 2022 at Sedona, AZ (USA)
If you can help us improve this player's biography, contact us.
https://sabr.org/sites/default/files/WillsMaury.jpg
600
800
admin
/wp-content/uploads/2020/02/sabr_logo.png
admin
2012-01-04 20:27:05
2022-11-28 20:58:50
Maury Wills