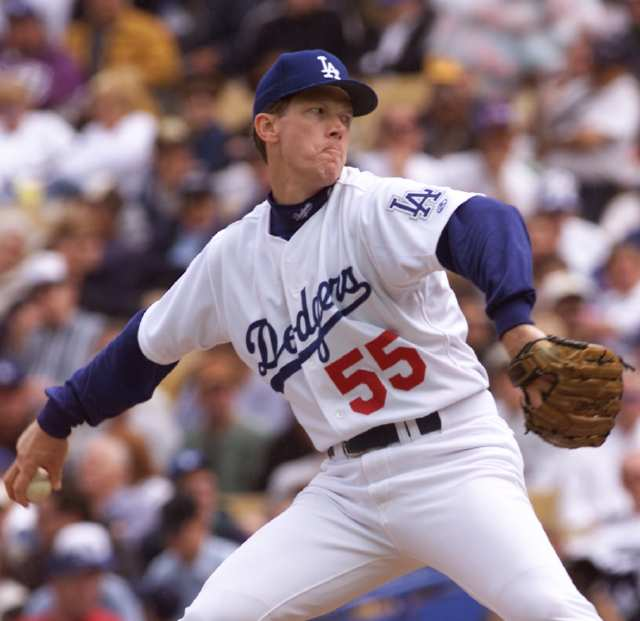 ---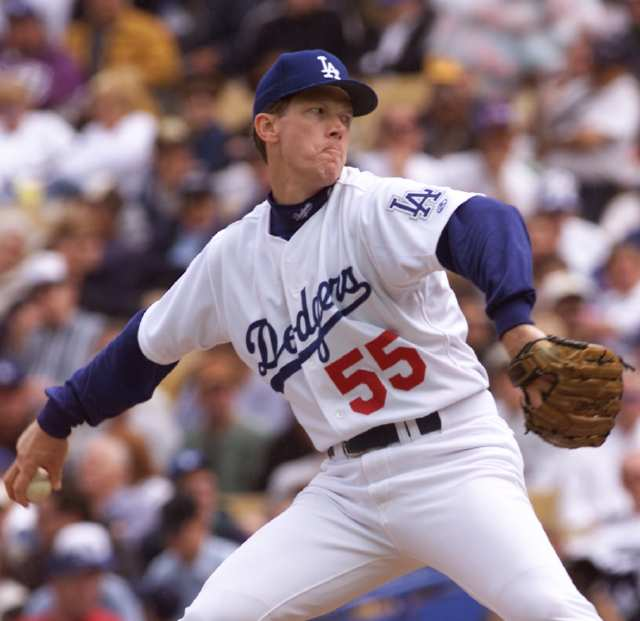 On October 20, 1988, the Los Angeles Dodgers were on the verge of winning it all. They held a comfortable lead over the Oakland Athletics in the World Series, three games to one. LA was in a good spot for sure as its ace, Orel Hershiser, was the starting pitcher. After Kirk Gibson's dramatic pinch-hit home run in Game One delivered a victory, Hershiser blanked the A's in Game Two, 6-0. Dodgers' fans were dreaming of a world championship, and Hershiser delivered. He struck out nine on his way to a complete game, 5-2 victory. The Dodgers were world champions!
Hershiser's stat line for the Series was indeed impressive, with a 2-0 record, 17 strikeouts, two complete games, and a 1.00 ERA. "As long as we all live, none of us will ever see any pitcher accomplish what Orel has done; he'll go down in history," said Gibson.1 Oakland manager Tony La Russa concurred. "He's every bit as good as the season he had."2
What Gibson and La Russa were referring to was the monster season Hershiser had in 1988. He led the National League in wins (23), complete games (15), and shutouts (8), and his ERA was 2.26. All of which landed him the Cy Young Award, recognition as Major League Player of the Year and NL Pitcher of the Year by The Sporting News, MVP of both the NLCS and World Series, a Gold Glove, and Sports Illustrated's pick as Sportsman of the Year. True Value should have as much hardware. Perhaps Hershiser gave the appearance of a bookkeeper or a librarian with his tall, gangly, bespectacled frame. But the right-handed hurler could throw the pill. Perhaps his biggest accomplishment was that from August 30 to September 28, he did not surrender a single run. The scoreless streak covered 59⅓ innings, breaking the record set by another Dodger 20 years earlier, Don Drysdale (58⅓ innings).
"Well, I was a little worried about Game Five," said Hershiser. "I just didn't want it to be my one bad outing, a game that would have everyone saying maybe the rest of it was lucky."3 As it happened, that worry was totally unfounded.
Orel Leonard Hershiser IV was born on September 16, 1958, in Buffalo, New York. He was the oldest of four children born to Orel Hershiser III and Mildred Hershiser. Orel owned a business that printed newspaper advertising inserts. His business kept the family on the move, as they relocated from Buffalo to Detroit to Toronto to Cherry Hill, New Jersey, and finally back to Detroit.
After graduating from Cherry Hill East High School, Hershiser enrolled at Bowling Green State University. While living in Toronto, he had learned to play hockey and turned himself into a fairly good defenseman. Bowling Green was strong in both baseball and hockey. Hershiser leaned toward the diamond instead of the rink. He was named Outstanding Pitcher in 1979 and threw what still stands as the school's last complete no-hitter, beating Kent State 2-0 on May 4, 1979.4 Hershiser posted a 6-2 record his junior year, and was recommended by bird dog Mike Trbovich to Los Angeles scout Boyd Bartley. The Dodgers selected Hershiser in the 17th round of the free agent draft on June 5, 1979.
Hershiser was assigned to Clinton (Iowa) of the Class A Midwest League, where he posted a fine 4-0 record. But the Dodgers viewed him as more of a relief pitcher than a starter, and for the next four seasons he toiled in the bullpen at both Double-A San Antonio (Texas League) and Triple-A Albuquerque (Pacific Coast League). While in San Antonio, he met the former Jamie Byars, whom he married in 1981 after a short courtship.
Los Angeles called Hershiser up to the big leagues and he made his debut on September 1, 1983, pitching two innings in relief of Fernando Valenzuela to earn a save. The Dodgers clinched the NL East Division with the 4-3 victory over San Francisco.
After the 1983 season, Hershiser played winter ball in the Dominican Republic. There he worked with pitching coach Dave Wallace, and together they made Hershiser a complete pitcher. "What sets him apart is his intelligence," said Wallace. "He comes out knowing what he wants to do and makes the adjustments he has to make and makes them quicker than anyone I've ever seen. He'll adjust from pitch to pitch. It takes some pitchers an inning or two to figure out what they're doing wrong. He's really broken his pitching down — his mechanics, opposing hitters. He watches and studies and just has a feeling for pitching."5
Hershiser made the Dodgers team in 1984, but was relegated to long relief work. Injuries to Jerry Reuss and Rick Honeycutt opened the door for him. On June 29 he defeated Rick Sutcliffe (the eventual NL Cy Young award winner) and the Chicago Cubs, 7-1. It was his first complete game in the major leagues and he struck out eight. During the game Hershiser began a streak of 34⅓ scoreless innings, which ended on July 24.
As impressive as Hershiser was in his first full season, he took greater strides in 1985 when he posted a 19-3 record and a 2.03 ERA. He had a rocky beginning to the season, but righted the ship against reigning NL West Division champion San Diego, pitching a two-hitter against them on April 21, and a one-hitter on the 26th. His 19th victory came on October 2 against Atlanta. The win clinched the division title for the Dodgers. "I could watch my teammates celebrate in the dugout," said Hershiser. "It was like I was a fan, watching them."6 After the Dodgers took a two-games-to-none lead on St. Louis in the NLCS, the Cardinals came back to take the series. Hershiser won Game Two, but was not as effective in Game Six, surrendering four earned runs in 6⅓ innings with one strikeout.
Over the next two years the Dodgers sank in the division standings. Hershiser pitched to a 30-30 record. Manager Tommy Lasorda gave him the nickname Bulldog, in an effort for Hershiser to have a tougher attitude on the hill. He was in the midst of five straight seasons (1985-89) with over 230 innings pitched. Hershiser picked up a great deal of his pitching acumen from Lasorda. "Tommy taught me a lot about pitching," he said. "I didn't mind if he second-guessed my pitch selection, because it was almost a Socratic method: 'Why did you throw that?' I would learn things like don't throw off-speed to a left-hander with a man on first base because he wants to hit the ball to the right side anyway."7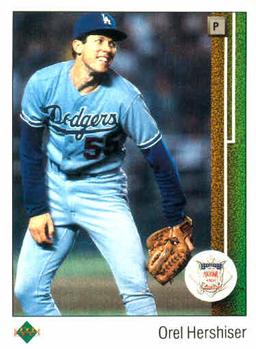 As Hershiser took the mound on September 28, 1988, in San Diego, he needed nine shutout innings to eclipse Drysdale. "It was the best I've ever seen him pitch," said the Padres' Tony Gwynn. "Oh-for-four, I grounded to second base each time, each time on a sinker, although he set me up differently each time. He sure as heck knew what he was doing out there."8 When Hershiser tied the mark, he asked to be removed from the game, out of respect for Drysdale. But Lasorda and pitching coach Ron Perranoski persuaded him to go for the record. Hershiser pitched 10 scoreless innings in the game, which San Diego eventually won, 2-1 in 16 innings. When Drysdale was told that Hershiser wanted to be taken out of the game, he said, "I would have gone out there and kicked him in the rear."9
Hershiser displayed his leadership qualities in the 1988 NLCS against the New York Mets. He pitched in Games One and Three and got two no-decisions. But he came back in Game Four to pitch one-third of an inning of relief to earn a save. In the deciding Game Seven, Hershiser pitched a complete-game shutout, scattering five hits in the 6-0 win. "We expected to win another world championship, and didn't," said Mets skipper Davey Johnson. "I've got a bad taste in my mouth, but I don't fault the guys for anything. Orel Hershiser is unbelievable. He seemed to be in every game we played."10
In 1990 after just four starts, Hershiser felt stiffness in his right shoulder. Preliminary tests indicated that there were tears in the tissue that looked as if they had been "pounded with a hammer." His heavy workload was believed to be the cause of the discomfort. Dr. Frank Jobe performed reconstructive surgery. Although estimates of Hershiser's return were sketchy and often varied, it was not until May 29, 1991, that he made his next start.
Hershiser posted losing records in 1992 and 1993 (he led the league in losses with 15 in 1992) although he was strong as ever, topping 200 innings pitched each season. The 1994 season ended prematurely on August 12 when the players struck. The postseason was canceled. The result was 894 games being washed away. Hershiser was a free agent, and he had his choice of many suitors. "(The Dodgers) told me we're not going to re-sign you because we have other plans," Hershiser recalled. "I told them, 'Are you serious? I can still pitch.' They wanted me to retire and join the organization. I said, 'No, I can really still pitch. You guys haven't seen any offseason workouts because of (MLB's) lockout.'
"They said the only way we want you to come back is if we get a hometown discount. I think they offered me something under $1 million. Little did I know that they'd already gone out and signed Hideo Nomo from Japan and they didn't have any money to bring me back."11
Cleveland did not outbid other teams for Hershiser, but the Indians offered him the best chance at winning. He signed a two-year deal and joined a starting staff of Dennis Martinez, Charlie Nagy, and Bud Black. Cleveland pounded its opposition, clinching its first postseason since 1954, on September 8, 1995 and winning 100 games. Hershiser went 16-6 with a 3.87 ERA. From July 15 to the end of the year, he posted an 11-2 record. But he contributed more to the team than his pitching ability. "It's like he's got eyes in the back of his head," said rookie pitcher Chad Ogea. "He can be talking to you and bring up a situation in a game that just happened that you didn't even notice and he'll explain it to you. He's very knowledgeable and very easy to talk to.
"I look at the things he does, and that's who I want to model myself after, not necessarily because he's Orel Hershiser, but because of the way he pitches, his mental presence and his work ethic."12
Hershiser provided postseason experience as well, beating Boston in Game Two of the ALDS, and winning two games in the ALCS against Seattle. He surrendered just two earned runs and struck out 15 in the two wins, earning him MVP honors. "I don't throw the ball real differently from a lot of guys in the game. I just happen to be getting away with my mistakes at this time of year," Hershiser said after the Game Five win.13
The Indians advanced to the World Series after dispatching Seattle in the ALCS. Hershiser went 1-1 against Atlanta in the series, as the Braves toppled the Indians in six games.
Cleveland won the American League Central Division the next two years. Hershiser was a solid contributor to the pitching staff. He was 15-9 in 1996 and 14-6 in 1997, making him and Nagy a formidable 1-2 punch at the top of the rotation. Cleveland returned to the fall classic in 1997, against the Florida Marlins, and came up short in the seven-game series. Hershiser was knocked around by the Marlins, as he posted a 0-2 record and an 11.70 ERA.
A free agent, Hershiser returned to the senior circuit in 1998, posting an 11-10 record with the San Francisco Giants. The next year he moved on to Gotham. At age 40 (Hershiser turned 41 toward the end of the season) he was still slinging the horsehide for the New York Mets. He won 13 games in 1999 (tying Al Leiter for the team lead) and notched his 200th career win on July 22 at Montreal, a 7-4 victory. New York was the wild-card team in the 1999 playoffs. The Mets dispatched Arizona in four games in the NLDS, but lost to Atlanta in six games in the NLCS. Hershiser was relegated to bullpen duty in the postseason.
Bulldog returned to the Dodgers in 2000, signing a one-year contract. But after only six starts, he was waived on June 27, 2000. "I understand and support the club's decision of giving me my release after the way I performed," he said. "I am grateful I was given the opportunity to play for the Dodgers this season." Hershiser retired from baseball with a major-league record of 204-150, a 3.48 ERA, and 2,014 strikeouts. Hershiser shined during the postseason. He posted records of 1-0 in the LDS, 4-0 in the LCS, and 3-3 in the World Series.
Hershiser did not stray from major-league baseball, joining ESPN as an analyst in 2001. He then moved back to the field, serving as the pitching coach for the Texas Rangers from 2002 to 2005. He returned to ESPN in 2006. He was an analyst for the Little League World Series for ABC before joining the Sunday Night Baseball crew in 2010. As of 2017, Hershiser was in his fourth season of providing analysis for Dodger games on SportsNet LA.
Hershiser moved to Las Vegas after he and Jamie divorced in 2005. He resides in Las Vegas with his second wife, Dana. Hershiser has taken part in poker tournaments. "There's the strategy of dealing with what you have," he said of the game. "Some days you may not have your 90-mph fastball, and you have to rely on your slider and your changeup. Well, in poker, you have to play the cards you're dealt, so that means adjusting your game accordingly — and adjusting your game relative to whom you're playing against."14
After Hershiser's big year in 1988, he and Jamie were invited to the White House for a state dinner on November 16, 1988, honoring British Prime Minister Margaret Thatcher. Among the other guests were Henry Kissinger, Tom Selleck, and Mikhail Baryshnikov. "It's around midnight and we're walking down the long hall in the White House that goes from the ballroom to the front door," said Hershiser. "While we're walking, I'm telling Tom Selleck and his mother that we feel like Cinderella at the ball, and that if we don't hurry up, our limousine is going to turn into a pumpkin. When our car pulls up, a marine opens one door for Jamie, and I help her with her dress, and then I walk to the other side of the car where another marine is holding the door for me.
"Now this marine is just like me, about my age. But he's standing there, staunch and upright, his chin out, like I am some head of state. So I decided to make a little joke and, and I put my hand in my pocket, pull it out, and say 'I'm sorry, but I don't have any singles.'
"The guy never cracks a smile. He just says, 'That'll be all, Cy Young.' "15
Hershiser may not have been a head of state in 1988, but for certain he was baseball royalty.
Last revised: November 12, 2018
A version of this biography will be included in an upcoming SABR Digital Library book on the 1995 Cleveland Indians, edited by Joseph Wancho.
Notes
1 Dave Nightingale, The Sporting News, October 31, 1988: 10.
2 Ibid.
3 Ibid.
4 Bowling Green State University 2016 Baseball Media Guide, 51.
5 Gordon Edes, Los Angeles Times Magazine, April 9, 1989: 39-40.
6 Gordon Verrell, Sporting News, October 14, 1985: 15.
7 Steve Wulf, Sports Illustrated, December 19, 1988: 69.
8 Wulf: 63.
9 Ibid.
10 Joseph Durso, New York Times, October 13, 1988: D26.
11 Paul Hoynes, Cleveland.com, accessed October 14, 2015.
12 Tim Warsinskey, Cleveland Plain Dealer, July 30, 1995: 10D.
13 Bonnie DiSimone, Cleveland Plain Dealer, October 16, 1995: 4S.
14 Bill Ordine, Baltimoresun.com, February 23, 2008.
15 Wulf, 62.
Born
September 16, 1958 at Buffalo, NY (USA)
If you can help us improve this player's biography, contact us.
https://sabr.org/sites/default/files/HershiserOrel.png
600
800
admin
/wp-content/uploads/2020/02/sabr_logo.png
admin
2018-11-12 14:59:47
2020-04-09 14:38:39
Orel Hershiser