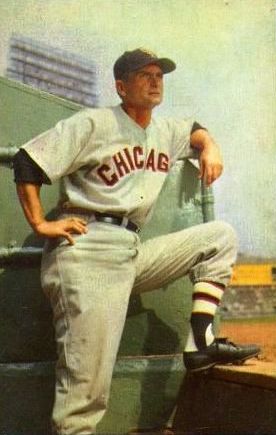 ---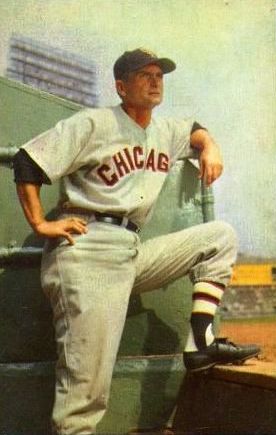 Paul Richards was one of the most celebrated managers who never won a pennant. He took on seemingly hopeless building jobs in Chicago, Baltimore, and Houston and succeeded every time in laying a foundation for the club's future success.
He developed young stars, including Brooks Robinson, Joe Morgan, Rusty Staub, Billy Pierce, Nellie Fox, and Minnie Minoso. Some of his innovations were decades ahead of his peers. He calculated on-base percentages before that statistic had a name (he called it "batting average with bases on balls"), was the first manager to enforce pitch counts to protect young arms, and invented a huge catcher's mitt to handle knuckleball pitchers.
In his first eleven seasons as a major league manager he was ejected more frequently than anyone else in history, once in every 23 games. One umpire said he had "the foulest mouth in the major leagues," but he taught Sunday school in the Baptist church in the off-seasons. He was a seven-handicap golfer — some people thought golf, not baseball, was his favorite sport — but he was a habitual cheater, so flagrant that some friends refused to play with him. His daughter called him "a con artist," and he conned family, friends, players, owners, fellow golfers, and sportswriters.
Paul Rapier Richards was born on November 21, 1908, in Waxahachie, Texas, a small town 30 miles south of Dallas. His father, Jesse Thomas Richards, was a schoolteacher turned storekeeper; his mother, Sarah Della McGowan Byars, was a widow with four children from her first marriage.
Young Paul tagged along after his older half-brothers, Ernie and Bill Byars, who were avid baseball players. When Jesse Richards noticed his little son's interest in the game, he taught Paul to read the box scores before he started school. The boy watched major league teams — the Tigers, Reds, and White Sox — in spring training at Jungle Park, a few blocks from his home. Although the family was far from rich, Jesse bought Paul the Rolls-Royce of baseball gloves, Rawlings' $8.50 Bill Doak model, the first one with a formed pocket. (The price is equivalent to more than $100 today.) A childhood friend remembered, "He would play baseball nine hours a day."
In June 1923 Waxahachie High's third baseman got sick and coach A.A. Scott (known as "Double-A") put eighth-grader Paul Richards in the varsity lineup for the last two games of the season. The fourteen-year-old went hitless in eight at bats, but one sportswriter said he "fielded the hot corner in great style." Richards joined a powerhouse team that claimed nine consecutive state championships from 1919 through 1927. Beginning in Richards' freshman year, the Indians won 65 straight games, said to be a national record. Five of his teammates from the small-town school reached the majors at least briefly. Double-A Scott called Richards the best player he ever coached.
Nicknamed "Sleepy" because of his classroom habits, Richards was team captain in his junior year, playing third base and pitching — with both arms. Although he had one year to go before graduation, Richards had used up his athletic eligibility after his junior season because he had played as an eighth grader. He dropped out of school and accepted a $1,000 bonus from Brooklyn scout Nap Rucker.
The seventeen-year-old took his first train ride when he reported to Brooklyn in May 1926 to join the "Daffy Dodgers" managed by Wilbert Robinson. He was sent to Pittsfield, Massachusetts, in the Class A Eastern League, unusually fast company for a professional rookie. He lasted less than a week; by one account, he slugged his manager, Neal Ball, after Ball chastised him for being picked off base. He was demoted to Crisfield, Maryland, in the Class D Eastern Shore League.
Richards began a six-year climb through the minors. He was immediately tabbed as a prospect; the St. Louis Browns drafted him after his first Class D season, then Brooklyn bought him back two years later. He proved to be a .300 hitter who led two leagues in home runs and was an all-star nearly every year. In 1930 Richards' career reached its first turning point. The Class B Macon Peaches were overstocked with infielders. Richards wanted to stay in Macon because he had a girlfriend there, so he volunteered to catch when two of the team's backstops were hurt. Eventually his skill behind the plate would be his only distinction as a major league player and would establish him as a candidate to manage.
The second turning point of his life came in 1932. Brooklyn had used up his minor league options and would have to keep him or trade him. Perhaps buoyed by the prospect of moving up, he got married. His bride was a slender, brown-haired nineteen-year-old from Waxahachie, Margie Marie McDonald. They were married on Valentine's Day 1932 and spent their honeymoon at spring training. The couple had two daughters: Paula, born in 1939, and Lou Redith, born in 1945.
Richards got into his first major league game on April 17, 1932, catching his minor league battery mate Van Mungo at Ebbets Field against the Phillies. But the Dodgers had another 23-year-old catcher, Al Lopez, with two years' big league experience. In June Brooklyn sold Richards to Class AA Minneapolis, at the highest level of the minors. The Minneapolis Millers' manager, Donie Bush, had already managed three major league teams and won the National League pennant with the 1927 Pirates. He became Richards' most important mentor.
Minneapolis won the American Association pennant in 1932 with a veteran club that included several former major leaguers. Bush impressed Richards with his tough discipline of the veterans and with his knowledge of the game's fundamentals, especially defense and base running. Richards was named the league's all-star catcher as he batted .361 with 16 home runs and 69 RBI in 78 games.
After the season Minneapolis sold Richards to the New York Giants. Bill Terry had succeeded the aging tyrant John McGraw as manager and was overhauling the roster of the sixth-place team. Terry acquired another Texas catcher, Gus Mancuso, from the St. Louis Cardinals to be the regular. Richards caught only 36 games and batted .195/.222/.230 in ninety plate appearances; three doubles were his only extra-base hits. The Giants won the 1933 pennant, but Richards did not play as they beat Washington in the World Series.
The NL most valuable player was Giants lefthander Carl Hubbell, who posted a 1.66 ERA, the lowest since the Deadball era, while reeling off a league record 45 consecutive scoreless innings. Richards caught 34 of those innings. "King Carl" taught the backup catcher a lesson that stuck for life. Hubbell said his screwball was such a devastating pitch because it was a change of pace. When Richards became a manager, he insisted that every pitcher try to develop a change-up.
Richards was a close student of Bill Terry: "He had no feelings for the ballplayers, no particular friends except those who courted him." Terry concentrated on pitching and defense, drilling his players on the fundamentals and on avoiding mistakes. Richards' assessment of Terry could have described his own approach to managing. Like Terry, he kept players at arm's length and believed "most games are lost rather than won."
After Richards batted just .160 in limited duty in 1934, Terry sold him to the Philadelphia Athletics on waivers. Connie Mack installed him as the regular catcher, but he hit just .245 and clashed with "the Lean Leader" over his handling of the seventh-place team's young pitchers. Following the 1935 season Mack traded him to the Class A Atlanta Crackers. It was the third turning point that shaped his life.
Atlanta won its second straight Southern Association pennant in 1936, with Richards batting cleanup and contributing 14 homers and a .937 on-base plus slugging percentage. He was the only unanimous choice for the all-star team. After the Crackers fell to third place in 1937, club president Earl Mann named the 29-year-old Richards player-manager. Mann said later, "Richards was a managerial natural if ever there was one." Richards led the Crackers to the pennant in 1938 and The Sporting News honored him as minor league manager of the year. Atlanta won again in 1941.
When World War II came and several hundred major leaguers traded their flannels for military uniforms, the 34-year-old Richards signed to play with the Detroit Tigers in 1943. He was exempt from the draft because of a knee injury. Richards' bat did not come alive against wartime pitching. From 1943-1945 he hit just .236 with 11 home runs. But he gave the Tigers a strong defensive catcher with a powerful throwing arm; the majors' leading base stealer during the war, George Case, named Richards the toughest to run against. He also served as an unofficial pitching coach for manager Steve O'Neill and was credited with developing the wild, hot-tempered young left-hander Hal Newhouser into the AL's most valuable player in both 1944 and 1945.
Detroit lost the 1944 pennant on the last day of the season, but won in 1945. The Tigers and their World Series opponents, the Cubs, were so depleted by war that Chicago writer Warren Brown quipped, "I don't think either of them can win it." Richards enjoyed the highlight of his major league career in Game 7. His bases-loaded double in the first inning drove home three runs as Newhouser beat the Cubs for the championship.
Richards spent another year with the Tigers before he returned to the minors in 1947 as manager of the AAA Buffalo Bisons. He gained a reputation as a ferocious intimidator of umpires; one year he was ejected fourteen times and sportswriters nicknamed him "Ol' Rant and Rave." He led Buffalo to the International League pennant in 1949 with a roster of castoffs known as the "nine old men." When the owners offered him only a one-year contract, he moved west to manage the Pacific Coast League Seattle Rainiers. Seattle stumbled home in sixth place, but Richards finally got the big league job he had been preparing for since he organized elementary-school teams as a boy in Waxahachie.
After the 1950 season Chicago White Sox general manager Frank Lane hired the 42-year-old Richards to take over a club that had not had a winning record in seven years. Lane had already made his reputation as a frenetic trader, but he took Richards' advice on many deals, bringing in players Richards had seen in the minors. The best of them was Orestes Minoso, a Cuban outfielder who was the first black player on the White Sox; they were only the third AL team to integrate. Richards and coaches Doc Cramer and Ray Berres recreated the little second baseman, Nellie Fox. Richards tutored another wild young lefty, Billy Pierce, who cut his walks by nearly half while pitching more innings than the year before. Minoso, Fox, and Pierce became stars as the 1951 White Sox posted the first of seventeen straight winning seasons.
Chicago reeled off a fourteen-game winning streak in May and improbably climbed to the top of the standings. Following Donie Bush's teachings, Richards pushed his players to be aggressive on the bases. They led the league in steals and Comiskey Park fans began shouting "Go! Go!" whenever a man reached base. The team was called the "Go-Go Sox" for decades. One sportswriter gave Richards his enduring nickname, "The Wizard of Waxahachie." But the club slumped in June and July and wound up in fourth place with an 81-73 record.
Richards' first season in Chicago was one of public triumph and private tragedy. His younger daughter, Lou Redith, died in August of a congenital heart ailment, shortly before her sixth birthday. His mother died three weeks later.
The Sox were chasing the Yankee dynasty and the pitching-rich Cleveland Indians. New York and Cleveland finished first and second every year from 1951 through 1956. The White Sox were third from 1952 through 1956. After four years in Chicago, Richards moved on to a new challenge.
The lowly St. Louis Browns — they had been doormats so long that "lowly" seemed like part of their name — escaped to Baltimore in 1954. The new Orioles played like the old Browns; they lost 100 games. At the end of that season the club's owners, a group of local business leaders, hired Richards to build a winning team. It was not a rebuilding job, because the Browns had never been built. Richards insisted on complete control of baseball operations. He was named general manager as well as field manager. No manager since John McGraw had exercised such total authority except Connie Mack, who owned his team.
Richards was not shy about using that authority. He traded the Orioles' lone star, fireballer Bob Turley, to the Yankees in a 17-player deal that was the largest in big league history. The trade brought the Orioles an eventual all-star catcher in Gus Triandos, while Turley helped the Yankees win the 1955 pennant and won a Cy Young Award three years later. When local sportswriters and fans complained that Richards had handed the Yankees another pennant, he responded, "What concern is it of mine who wins the pennant? I need to get the Orioles out of seventh place."
It took him six years to lift the Orioles above .500, but he stuck to his plan: build through the farm system, concentrating on young pitchers. He kept the scouting and farm director he inherited, Jim McLaughlin. Although the two arrogant, stubborn men squabbled constantly, it was the best decision Richards ever made. McLaughlin believed in a scientific approach to appraising young players. He was one of the first to use cross-checkers to put a second pair of eyes on every prospect. One of his scouts, Jim Russo, said McLaughlin was "years ahead of his time."
Russo said Richards believed in "teaching, teaching, teaching, 24 hours a day." Richards wrote an instructional book, Modern Baseball Strategy, that was published by Prentice-Hall in 1955. He insisted that all players be taught the same techniques from the top to the bottom of the Orioles' organization. He prepared a small instructional manual for minor league managers and coaches, a bible that others — including McLaughlin disciples Harry Dalton, Earl Weaver and Cal Ripken Sr. — later expanded into a larger book called "The Oriole Way." It guided the club's player development for decades as the Orioles became the winningest team in baseball from the 1960s to the '80s. A later Oriole catcher, Elrod Hendricks, said the Oriole Way meant "never beat yourself.… We let the other team make mistakes and beat themselves, and when the opportunity came we'd jump on it." It was the gospel according to Richards: Most games are lost rather than won.
Richards lavished cash on bonus babies, but only pitcher Milt Pappas enjoyed a long and productive career. Eventually the Orioles' owners wearied of the profligate spending. After the 1958 season they hired Lee MacPhail from the Yankees' front office and stripped Richards of the general manager's job. Club president James Keelty went out of his way to soften the blow, saying, "Richards is the best manager in baseball."
That winter Jim McLaughlin posted a sign on his office wall: "Home grown by 1960." The young Orioles grew up on schedule to challenge the Yankees for the 1960 pennant. The "Baby Birds" featured rookies Jim Gentile, Marv Breeding, and Ron Hansen in the infield along with 23-year-old "veteran" Brooks Robinson, and a "Kiddie Korps" of pitchers no older than 22: Milt Pappas, Chuck Estrada, Jack Fisher, Steve Barber, and Jerry Walker, with veterans Hoyt Wilhelm and Skinny Brown. They clung to first place as late as September 9 until New York took command of the race by winning its last fifteen games. The Orioles' second-place finish was Richards' best as a manager. Both the Associated Press and United Press International named him the American League Manager of the Year.
The development of the Orioles' Kiddie Korps was the highlight of Richards' career, but he had made his reputation by resurrecting the careers of failed pitchers. Hal Newhouser was the most prominent example. Despised by teammates for his surly disposition, he learned control of his temper and his fastball under Richards' tutelage and went on to the Hall of Fame. Richards brought a sore-armed right-hander, Saul Rogovin, to the White Sox, and Rogovin led the league in ERA in 1951. One batter described Arnold Portocarrero as "a puff-ball artist"; after Richards overhauled the right-hander's repertoire, he won fifteen games for the Orioles in his only successful season.
The youngsters referred to Richards as "Number Twelve," his uniform number. Brooks Robinson recalled, "I thought he was God, really." But he was hardly a benevolent father figure. Infielder Fred Marsh said, "There was a look fathers used to give their kids, where you just backed off when you saw it. Richards had that." He seldom spoke a word of encouragement and relied on his coaches — especially his alter ego, Luman Harris, whom the players called "Twelve-and-a-half" — to deliver his messages.
In 1961 Richards kept his club in third place but could not catch the Yankees and Detroit Tigers. He left the Orioles on September 1 to join the expansion Houston Colt .45s as general manager. The chance to build the first major league team in his home state was an irresistible challenge for the most prominent Texan in the game.
The Colts and New York Mets would begin play in 1962. Richards later wrote that the new franchises faced "the most hopeless conditions that two teams could possibly encounter." There was little talent available in the expansion draft. The Mets loaded their roster with over-the-hill stars, including several former Brooklyn Dodgers who would appeal to New York fans. Richards tried to take the best young players available, but the pickings were slim. The hitters he drafted had combined for just 22 home runs in 1961; his pitchers had won a total of thirty games.
The Mets were famously bad, losing a twentieth-century record 120 games in their inaugural season. The Colts were not bad enough to become famous. They lost 96 and finished eighth in the ten-team National League. Richards assembled a cadre of scouts and instructors, many of whom had been with him for years, and began developing young talent. Houston signed Joe Morgan, Rusty Staub, Larry Dierker, Dave Giusti, Mike Cuellar, and John Mayberry. Richards drafted Jimmy Wynn from the Cincinnati farm system. Every one of them was a future all-star.
In 1965 the team moved into the Astrodome, the world's first domed stadium, and changed its name to "Astros." More than 2 million fans sampled indoor baseball, attendance second only to the Dodgers. The dome, not the team, was the attraction; the Astros finished ninth for the third straight year, ahead of the Mets.
The visionary behind the Astrodome was the club's co-owner, Judge Roy Hofheinz. A swashbuckling and overbearing former mayor of Houston, Hofheinz clashed with Richards over the judge's interference in baseball matters. Hofheinz fired his general manager after the 1965 season. He also dismissed manager Luman Harris and dumped most of Richards' hand-picked coaches, minor league managers, and scouts. Hofheinz's new front-office team eventually traded away all of the future all-stars Richards had stockpiled. The Astros did not make it to postseason play until 1980.
On the day Richards was fired, sportswriter Mickey Herskowitz remarked, "Paul, the judge is his own worst enemy." Richards replied, "Not while I'm alive."
Out of baseball for the first time since he was seventeen years old, Richards toured the 1966 spring training camps looking for work. He had never been fired before, but he had watched other old baseball men making the same rounds like boys who were passed over when their fellows chose up sides on the playground. The Atlanta Braves hired him as director of player development, and soon promoted him to vice president with responsibility for all player personnel.
Richards again surrounded himself with his familiar cast of cronies. Eddie Robinson, a Texan who had played first base for him with the White Sox, signed on as farm director. In 1968 Luman Harris was named manager. Richards had inherited a strong core of players including Henry Aaron, Joe Torre, Felipe Alou, and Rico Carty. He added several young pitchers and position players to the mix and converted knuckleballing reliever Phil Niekro into a successful starter. When Torre balked at a pay cut in the spring of 1969, Richards traded him to St. Louis for former MVP Orlando Cepeda. The Braves squeaked in to the championship of the National League's Western Division in the first year of division play. It was Richards' only title, but the "Miracle Mets" swept Atlanta in the best-of-five playoff series.
In 1966 the Major League Baseball Players Association hired a Steelworkers union economist, Marvin Miller, as its first full-time executive director. Miller led a revolution that transformed the structure of baseball, eventually liberating players from the reserve clause that had given teams a lifetime grip on players for ninety years. Baseball owners and executives reacted first with outrage, then with panic, as Miller began chipping away at their control over "their" players. Richards was one of the loudest and most reactionary voices. He called Miller "a little mustachioed four-flusher" and said the union chief only spoke for "a handful of greedy players." He prophesied, accurately, that free agency would "be the end of baseball as we know it."
The Braves slipped backward for the next three seasons after their "half-pennant" in 1969, and Richards was fired in 1972. At 64 he did not find another job. He spent most of the next three years on the golf course before he opened a new door, teaming up with Bill Veeck, the irrepressible impresario who was trying to return to the game by buying his hometown White Sox. After fifteen years away from baseball, Veeck called Richards "my security blanket." Veeck's prospectus for investors listed Richards as director of player personnel and owner of 5 percent of the team.
When American League owners approved Veeck's purchase of the franchise — by a single vote on the third ballot — he changed his mind and made Richards the manager. He had often said he would want Richards as manager if he was stuck with a bad team, "because he gets the most out of 'nothing' players." But Richards was 67 years old and hadn't managed in fifteen years; most of the Sox players were young enough to be his grandsons.
The 1976 season was a disaster. The White Sox, largely a collection of "nothing" players, lost 97 games and finished last in the American League West, Richards' only time in the cellar. Some players complained that Richards offered no instruction, didn't come out for batting practice, and put on his uniform only a half-hour before game time. The Sox general manager, Roland Hemond, recalled, "Paul's heart wasn't in it." The best evidence of that: He was not ejected from a single game for the only time in his 21 seasons as a minor and major league manager.
Veeck brought in a favorite from his Cleveland days, Bob Lemon, as the new manager in 1977. Richards stayed on as a scout and, eventually, farm director. In 1978 Veeck hired a sore-armed minor league infielder, Tony La Russa, to manage the Knoxville farm club. The next year the 34-year-old La Russa became manager of the White Sox. La Russa later said, "Paul Richards' influence was a career-maker for me." The old wizard told him, "Trust your gut, don't cover your butt." La Russa said, "I've lived with it ever since."
The skyrocketing salaries that came with free agency drove Bill Veeck out of the game. After Veeck sold the White Sox in 1981, Richards joined his protégé and close friend Eddie Robinson, who was general manager of the Texas Rangers. Robinson said, "I don't like to say he worked for me. We worked together." Richards served as a scout, troubleshooter, and adviser.
In 1982 Margie Richards was diagnosed with terminal liver cancer; she died the following year. The couple had been married for 51 years. After Eddie Robinson was fired, the Rangers kept Richards on the payroll as a special assistant, evaluating minor and major league players and working with young pitchers. But he had little influence in the organization; he had, in effect, been pensioned off. He spent his days on the golf course at the Waxahachie Country Club, adjacent to his home. He shot a 73 when he was seventy years old, then went to the hospital for an emergency appendectomy that night. He survived colon cancer and an aneurysm.
On May 4, 1986, Richards finished his daily round of golf, then returned to the thirteenth hole to replay a shot he had botched. He often did that; he would say there is no such thing as too much practice on the fundamentals. Other golfers found him slumped in his cart alongside the fairway, dead of an apparent heart attack at 77.
Richards' baseball career spanned seven decades, from Ty Cobb and John McGraw to Tony La Russa and Joe Torre. Sixteen of his players became big league managers. Some, such as Dick Williams, credited him as an important teacher; others, including Torre, despised him. Earl Weaver, who began managing in the Orioles' farm system when Richards was GM, said Richards taught him the nuances of base running and cutoff plays. Weaver was acclaimed as an innovator for keeping detailed statistics on his players, just as Richards had done.
Wherever Richards went, he nurtured young players, even if he didn't stay around to see them blossom. And he ignited controversy, because he believed he was the smartest man in baseball. The New York Times' Leonard Koppett wrote that Richards "thought he was smarter than everyone else, which in itself is neither unusual nor necessarily unpleasant. But he gave you (or at least me) the impression that he thought you were too dumb to understand how smart he was."
While Richards drilled his players constantly on the fine points of baseball — aggressive base running, throwing to the right base — he also said, "It's a simple game. You throw the ball. You hit it. You catch it…. The simple things in baseball number in the thousands. The esoteric? There is none."
Sources
This biography is adapted from The Wizard of Waxahachie: Paul Richards and the End of Baseball as We Knew It, by Warren Corbett (Southern Methodist University Press, 2009). Among the principal sources are two oral history interviews with Paul Richards, one in the collection of the Texas Sports Hall of Fame and the other in the author's files; an unpublished manuscript by Richards, in the author's files; The Sporting News, Chicago Tribune, Baltimore Sun, and many other newspapers, magazines, journals, books, and oral histories.
Interviews with Paula Richards, Brooks Robinson, Eddie Robinson, Roland Hemond, and Tony La Russa.
John Eisenberg, From 33rd Street to Camden Yards (Contemporary Books, 2001).
Donald Honig, The Man in the Dugout (Follett, 1977).
Edgar W. Ray, The Grand Huckster: Houston's Judge Roy Hofheinz, Genius of the Astrodome (Memphis State University Press, 1980).
Robert Reed, Colt .45s: A Six-Gun Salute (Gulf Publishing, 1999).
Paul Richards papers and scrapbooks, in the collection of Paula Richards.
Richards, Modern Baseball Strategy (Prentice-Hall, 1955).
Paul Richards, untitled journal of the 1950 season, in the Ellis County Museum, Waxahachie, Texas. The journal contains his calculations of "batting average with bases on balls," later known as on-base percentage.
Born
November 21, 1908 at Waxahachie, TX (USA)
Died
May 4, 1986 at Waxahachie, TX (USA)
If you can help us improve this player's biography, contact us.
http://bioproj.sabr.org/bp_ftp/images4/RichardsPaul.jpg
600
800
admin
/wp-content/uploads/2020/02/sabr_logo.png
admin
2012-01-04 20:03:28
2012-01-04 20:03:28
Paul Richards