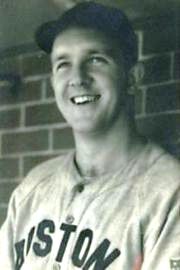 ---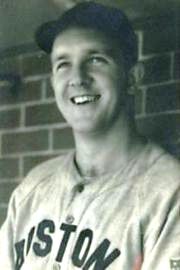 The 6-foot-5, 225-pound right-handed pitcher saddled with the seemingly unfortunate nickname Pinky was born in Waterbury, Connecticut, as George Rowland Woods on May 22, 1920. Every standard source presented the year of his birth as 1915, but after being asked why he was playing high school ball at the age of 23, his brother Francis confirmed in writing that family and city records both are clear as to the 1920 birth year.
He was the second oldest of four sons born to John J. and Margaret Woods. John was a city fireman in Waterbury for 41 years. Margaret worked as an inspector in a factory for a while during World War II, but for the most part was a housewife kept busy with the four children. The oldest son was John, then George (Pinky), Arthur, and Francis (Frank), a retired educator who in 2009 lived in Prospect, the next town over from Waterbury. The Woods parents lived their whole lives in Waterbury.
All four Woods boys attended St. Mary's parochial school in Waterbury and all graduated from Crosby High School. The March 1, 1938, Hartford Courant reported that Crosby High's "flashy right forward" Pinky Woods and team center Brady were the "aces" of the win over Fairfield in the Class A state basketball tourney. A couple of months later, the May 22 Courant reported on the 16-0 baseball game that Woods threw for Crosby against the Gilbert School of Winsted. It was his second outing against Gilbert; he'd no-hit them earlier in the year. His high-school record was 24-4.
Woods, who turned 18 on the day the story ran, was large and often able to dominate opposing high schoolers. In additional to baseball and basketball, he was on the dance committee all four years of high school, and a member of the Catholic Youth Organization. In both his freshman and senior years, he was on the glee club and the football team, but not the years in between. His pitching earned him a baseball scholarship to Holy Cross College in Worcester, Massachusetts, where he had the opportunity to play under former Red Sox player and manager Jack Barry for three seasons. Woods threw a no-hitter for the Holy Cross freshman team against the Fall River Apprentice school, and scouts from both the Cleveland Indians and the Boston Red Sox were already looking him over. The direction his life would take began to change. "Baseball was the last thing on my mind when I started off in life," he told Baseball Digest in an article printed in February 1953. "I studied three years for the priesthood, mastering Greek and Latin, and when I changed my mind about becoming a priest I took a position teaching history and English. I also tutored English."
Jack Barry also coached a team in Vermont during the summers, the Rutland Royals in the semipro Northern League (a circuit of eight clubs in Vermont, New Hampshire, and New York – not the Class D pro league in the upper Midwest). After Pinky's freshman season, Barry invited him to play summer ball in Rutland and Pinky accepted, doing that in the summers of 1939 and 1940. That's where he met his future wife, Mary Catherine Sheridan, who worked in a local store. In those days, many of the residents of Rutland rented rooms to the players, and Mary Catherine's aunt rented a room to Woods.
A Rutland Royals publication said that while Woods "occasionally is wild, he is fast developing good control and seems to improve as the season progresses." Looking toward the future, the Royals writer predicted that he would go far but that "If his baseball talent is not acceptable for the Big Top, he will settle down and become a teacher and coach." [Rutland Royals publication, Rutland Historical Society] In 1940, we do know that he pitched 13 games, with a record of 8-5 and a 4.19 ERA in 101 innings.
At other points in his early life, Woods claimed to have also pitched for teams in Sherbrooke, Quebec, and North Adams, Massachusetts. Provincial League scholar Christian Trudeau said Woods may have been on the 1938 Sherbrooke team, saying, "During their 'outlaw' days, from 1935 to 1939, it was quite common for Provincial League teams to recruit from New England colleges. To preserve their amateur status, most of them used fake names." [E-mail correspondence from Christian Trudeau on January 16, 2009]
After posting an 18-0 record pitching for Jack Barry at Holy Cross in 1940 and 1941 (an article in the June 6 Harvard Crimson called him Holy Cross's "mound ace"), Woods was signed to a professional contract by the Red Sox and left college after his junior year. He developed under the watchful eye of Red Sox farm director Herb Pennock, who first assigned him to Scranton – but when he finally caught up with Scranton on the road (having gone to Scranton, since he was not told that that the team was in Springfield, Massachusetts, at the time), he found that manager Nemo Leibold had never been told to expect him. Leibold told him to go back to Scranton. Four days later, the team returned and he was told there was no spot on the roster for him, so he was instructed to report to the Canton Terriers, a Red Sox affiliate in the Middle Atlantic League. When Woods got there, manager Pat Patterson asked him where he'd been. The team left by bus for Charleston, West Virginia, at 6:00 the next morning, arriving at 6:00 P.M. just in time for a night game. He started doing some running in the outfield, only for Patterson to yell at him to save it, since he was going to start that very night. Woods had been shuttling here and there looking for his first assignment in pro ball. It had been 24 days since he'd last pitched. Woods laughed that they loved him in Charleston, because he set a league record that night – walking 15 Charleston batters. [Braven Dyer article in Baseball Digest, September 1952]
Woods threw 124 innings (7-7, with a 3.56 ERA) in his first season of pro ball. He was no slouch at the plate in Class C, batting .362 for Canton. On June 14, 1941, he and Mary Catherine were married in Rutland. According to James Davidson of the Rutland Historical Society, the society holds scrapbooks with Rutland Royals box scores and the 1941 scrapbook contains a note that Pennock was in the stands watching the team on June 14, since he was in town for the wedding. The family maintained a residence in Rutland until 1960.
It didn't take Woods long to make the majors. In 1942, he labored through a 13-11 year (3.75 ERA) with the Class A1 Memphis Chicks of the Southern Association, but had to leave the team in August due to an injury he'd suffered on the basketball court back in 1937. His hitting suffered, just .169 at the plate. Woods had broken his big toe on his right foot playing basketball for Crosby and he had apparently re-fractured it, requiring several operations and, ultimately amputation of one of his toes early in 1943. The loss of his big toe had one beneficial result for his baseball career – the Selective Service System transferred him from 1-A to 4-F and he was exempt from military service. Pinky's brother Frank told sportswriter Joe Palladino of the Waterbury Republican American, "We've heard a lot of talk recently about a bloody sock. You should have seen Pinky. He had a bloody sock every time he pitched." [E-mail correspondence, December 23, 2008]
1943
Woods was advanced to Louisville (Class AA, American Association) for the 1943 season, and he got off to a good start, according to sportswriter Tommy Fitzgerald, who wrote in The Sporting News (May 27, 1943) that he had become "the most consistently successful starting hurler." At the time, he was 2-2, with one of the wins a two-hitter against Toledo. On June 11, he threw a six-hitter against Minneapolis, striking out 11. His record with the last-place Colonels stood 3-5 with a 3.31 earned run average when he got the call. The Red Sox needed pitching help and liked what they had heard from Colonels manager Bill Burwell, so they brought up Woods shortly afterward, officially trading rookie right-hander Andy Karl for him. Karl had been 6-13 for the Colonels in 1942, and was 1-1 for Boston.
Woods' debut came in Philadelphia. He started the second game of the June 20 doubleheader against the Athletics. He threw the first three innings, giving up four hits and walking three, departing the game with the Red Sox down 4-1. The Globe murmured, "Woods was not impressive in the item of control or 'stuff on the ball.' He was replaced by Lou Lucier." Boston recovered and won the game, sweeping the doubleheader, but the first-game win went to Mace Brown. Woods appeared in 23 games, starting 12 and finishing seven. He finished his first year in the major leagues with a mark of 5-6 (4.92 ERA), the most disappointing loss being a July 30 game against Detroit, when he seemingly had the game won with two outs in the ninth. He gave up four runs, walking in the tying run and then seeing the bases cleared when Mace Brown came on in relief. Woods earned a bit of a footnote in the Red Sox/Yankees rivalry as the starting and losing pitcher in the second game of the September 12 doubleheader; the loss was the fifth in as many games as the Yankees swept the five-game set at Fenway Park, something they didn't do again until August 2006.
Pinky invited his youngest brother, Frank, to come up and visit, and Frank stayed at Pinky's apartment in Kenmore Square. Introduced to the head usher, he could come to the park every day for a week and find himself a seat, meeting many of the ballplayers and having a "marvelous experience" he still remembered with great pleasure 65 years later. He visited again the following summer.
Pinky's best game that season was his last, a 6-1 win over the Tigers in Boston on September 28, earning him a big headline in the Boston Post: WOODS IS HERO OF SOX' 6-1 TRIUMPH. The one run was unearned; Woods also collected "three well-stroked singles" and drove in three runs. The Boston Herald headline read: PINKEY'S ARM, BAT FOIL DETROIT, and the game story began, "George Pinkey Woods, Holy Cross's gift to the current Red Sox, big fellow and stout eater, blinded the Tigers of Detroit, 6 to 1, yesterday at Fenway Park, drove in three runs with his own lusty bat. … When the money was down, Woods turned on his fine stuff."
The Christian Science Monitor's Ed Rumill quoted Joe Cronin as seeing Woods headed for a good career. "He really has pitched grand ball for us," Cronin said. "Why, on the last western trip, he was my best pitcher. He won three games and should have won twice that number. He has developed very quickly in just a few weeks." [Christian Science Monitor, September 29, 1943]
At the plate, Woods hit .222 (8 for 36, all singles) and drove in five runs – three of them in the September 28 game. In his two remaining seasons with the Sox, despite accumulating 90 at-bats, he drove in only one more run. His career batting average after 85 games and 12 major-league at-bats was .190.
Woods never had a winning record on the mound in the majors. He was 4-8 (3.27) in 1944 and 4-7 (4.19) in 1945. He struck out 124, but bases on balls (206 in 378 career innings) hurt him consistently. He walked almost five batters per nine innings pitched. He faced a total of 1,675 batters and gave up 190 runs (167 earned).
In his first month on the job, what seemed to some an eccentricity earned Woods a few inches in The Sporting News. The Red Sox were economizing on rooms, four players to a room in their mid-June visit to Washington. The Senators played a considerable number of night games at Griffith Stadium at the time. Each morning the phone rang at 8 A.M. and George picked it up, saying nothing more than "Thank you." It was a simple wakeup call that he had booked, but unexpected enough by his roommates that they asked him why the phone calls when they all needed their sleep. "Oh, I'm always hungry again by 8 in the morning, and I have to eat three times a day to keep going, so I can't afford to miss breakfast." [July 29, 1943] Though his weight is listed at 225, he reportedly weighed 280 during the summer of 1943.
The 1943 wrapup in the October 7 Sporting News stated, "George Woods, brought up from Louisville, showed pitching ability and a stout heart."
1944
In early 1944, the draft board came calling again, and Woods was due to be inducted on January 24, but the toe amputation (the report indicated that he had had "a couple of toes amputated") brought about another rejection. Woods reported at 232 pounds, and brought his weight down to 220 by the beginning of April. He was one of the first to report for duty at spring training in Medford, Massachusetts, getting some early work in. Dubbed Boston's "champion trencherman," Woods was expected to win a regular place in the rotation if he could "control his appetite. … George believes he can cut off a few more [pounds], by eating only one steak, instead of two, after a day of exercise." (The Sporting News, April 6, 1944) Before the season began, Ed Rumill wrote that Woods "looks like a winner." [Christian Science Monitor, April 6, 1944]
That Woods would be with them was good news to a Red Sox team that had lost pitchers Joe Dobson, Mace Brown, and Dick Newsome to military service. But his performance was disappointing – even against the draft-depleted lower-quality opposition of the war years. The ERA was fine but losing eight games in 1944 while only winning four left much to be desired. He started the year well, with a 6-1 win over the Yankees in the second game of the season, but didn't win another game until June 14 (a five-hit shutout of Philadelphia – the only shutout of his career), and then went until August 27 before he won his third. One gem in between, however, was the 1-1 tie game in Detroit on July 26, called due to rain in the top of the eighth. Woods was the victim of another tie game on August 17, also against the Tigers, this time in Boston, a 3-3 game called after five.
It was a start-and-stop season, in a way; sometimes working exclusively in relief, there were three stretches where Woods went three weeks between starts. By season's end, though, he'd thrown 170 2/3 innings, his career high, and appeared in 38 games. Interestingly, both he and Tex Hughson were known for their collections of action figures.
1945
Both Woods and Wood (as in Joe Wood, Smoky Joe's son) were contenders for the 1945 team, and both struggled in the springtime. Pinky was late to show up, reporting on March 23. There were apparently complications with his wife's pregnancy. It was first reported that Margaret had undergone an operation and later that she had given birth to their son at their home in Rutland, Vermont. A daughter, Mary Margaret (born November 8, 1942), preceded the newborn boy, George Robert Woods (born March 20, 1945). When Pinky did show up at the Red Sox spring training camp in Pleasantville, New Jersey, he showed up in shape – he'd lost a reported 42 pounds, "by dieting and hard work … trim as you make 'em." [Boston Evening Globe, March 24, 1945] It was written that his old uniform didn't fit him anymore.
Pinky's worst game was reflected in the eight walks he dealt the Yankees in the final four innings (a Johnny Lindell grand slam contributed to six runs scoring in the top of the ninth) of a 15-13 Red Sox victory in a Red Cross benefit game on April 7 at Pleasantville, New Jersey. Eight days earlier, he'd walked six Yankees in the final three innings of a game in Atlantic City which New York won, 15-14. On April 17, the Sox let Joe Wood go. George's first win came when he threw the last six innings of the 13-inning nightcap of a twin bill in Philadelphia on April 29. He pitched exceptionally well in relief to start the season, throwing 13 2/3 innings of scoreless ball. This helped earn him a start on May 24, and he won that one, though he gave up his first couple of runs of the year.
Woods went onto the voluntarily retired list sometime in June, apparently due to a chipped bone in his pitching elbow. Surgery by the doctor used by both St. Louis ballclubs, Dr. Robert Hyland, was successful and Woods declared, "He sure knows his stuff. I can thank him for my new arm." He was placed on active status again by the Red Sox on July 28, and started on August 5. It was a loss, as was the game on August 11 when "Georgie" Woods (per the Hartford Courant headline writer) gave up five extra-base hits – and two others – for five runs. He lost yet another game on the 15th – though he might have had a new arm, he wasn't throwing the ball as well as one would have hoped. Woods started against the Indians and won on September 6 and against the White Sox on September 17; both times the Bosox jumped out to sizable early leads. Postseason postmortems wondered if he'd be among those coming back in 1946.
Pinky did play eight more seasons, but never made it back to the major leagues. In early April 1946, the Red Sox sold him to the Indianapolis Indians but Woods announced he would not report and would retire from the game instead. As it happens, within just a few days he changed his mind and did report, compiling a record of 7-6 (3.14) in American Association play. He opened the '47 season with the Indians once more, but was sold to the Hollywood Stars after appearing in just four games. Pitching in the Pacific Coast League for Hollywood, Woods won 13 games against 10 losses, albeit with a mediocre 4.47 ERA. He'd done well enough early in his stay, though, that he was named to the PCL All-Star team.
The following year, 1948, Woods became one of those rarities for a pitcher: a 20-game loser. Lack of control continued to haunt him, and he walked batters left and right. On June 10, though, he doled out but two bases on balls. A brief news story in the June 23 Sporting News noted that he "had better control of his deliveries than his bat" – in four official trips to the plate, he threw his bat, three times right at the opposing pitcher. There was no intimation of intent but he wound up the day 2-for-4, and beat Los Angeles, 13-4. Being in Hollywood got him on the silver screen at least once, as one of the ballplayers in the Jimmy Stewart film The Monty Stratton Story.
Not only did Woods lead the league in losses (he was 15-20, with a 4.52 earned run average); he also led in walks (167), hit batsmen (12), and wild pitches (13). But he started a league-leading 41 games and led the PCL in innings pitched. The Stars finished in sixth place. And hired Woods again for 1948.
Woods turned it around in '48 and won 23 games (and 12 losses), with a 4.12 ERA, pitching almost the same number of innings but cutting his bases on balls to an even 100. Life in Hollywood also got him in a posed photograph in the March 8, 1950, issue of The Sporting News, the photo headlined "Stars and Starlets in Hollywood Sendoff." It was prescient billing – Pinky was shortly packed off to the Padres in San Diego. There he had a 10-11 season, with six defeats in a row coming at the hands of the Angels – the same team he'd beaten five straight times for the Stars in 1949.
Woods returned to the Stars for three more seasons (12-9, 11-9, and an abbreviated 0-1 final year in 1953). Through a misunderstanding he was briefly suspended in 1951, but was reinstated after he explained to manager Fred Haney that his right elbow was the cause of the problem, not unwillingness to pitch. He talked about retiring as 1952 opened, but gave it another year, at one point pitching back-to-back shutouts (May 18 and 31), then lost a 1-0 game to Los Angeles on a squeeze bunt on August 4. On the 13th, he was honored by fellow residents of Culver City with a day in his honor, shared with Mike Sandlock and Frank Kelleher. Woods announced his retirement for good in December.
But then he popped up once more, come springtime. He opened the season with the Stars, but appeared in only two games, throwing 9 2/3 innings and giving up eight hits and three walks. The Stars released him before the first roster cutdown at the end of April. Oakland's manager Augie Galan expressed some interest in him, but Woods didn't want to leave the Los Angeles area.
He also didn't seen to want to return to Rutland; directories in Rutland show Mrs. Mary C. Woods still living there, but soon dropped the annual reference to George as "employed Hollywood, California."
As it turns out, Woods enjoyed a little bit of action on the silver screen. He was one of many ballplayers who appeared in 1949's The Stratton Story, played an unnamed baseball player in the 1950 film Three Little Words with Fred Astaire and Red Skelton, and had a small part the same year in Kill the Umpire with William Bendix. In 1951, he played a policeman in the film Father's Little Dividend, which starred Elizabeth Taylor and Spencer Tracy. Late in 1951, he helped out Katharine Hepburn with a bit of offscreen work as well. "MGM asked me to teach Miss Hepburn how to pitch for Pat and Mike, so I did," Pinky said. "She'd never seen a baseball but by the end of two months of daily tutoring she could pitch as well as any gal – and some guys. MGM didn't use the scene, but I don't feel Miss Hepburn lost anything. She has as pretty a knuckler as I've ever seen." [Baseball Digest, February 1953]
Woods was a man of quite varied interests. Jeane Hoffman quoted him in the February 1953 issue of Baseball Digest as telling her, "In 17 seasons of pro ball I've held roughly 34 offseason jobs. I have been an agent for Yellow Cabs, installed a landscape sprinkling system, operated a restaurant, worked for Railway Express, been a librarian, a short-order cook, offered gift suggestions, held an apprentice license at a pharmacy, acted in movies, been a scenario writer, and become the recognized crossword puzzle expert of the Pacific Coast League." He stressed that it was not because he was unable to handle a steady job, but because of his many interests. After six years with the Stars, Hoffman wrote, Pinky was "taking root and growing moss."
Fellow Hollywood Star Chuck Stevens said that "Pink" had a steady position as a public-relations man for a bank in the Hollywood area of Los Angeles. Stevens didn't know much about his family, saying that he never discussed his first marriage and was, generally, speaking, a very private man. "It was a very close-knit ballclub and everybody knew everybody's family but Pink, he was one of the few guys on the ballclub that was private in that area. He had a woman that he met out here." [Interview with Chuck Stevens, December 1, 2008] Stevens was right, said Frank Woods. Pinky's brother couldn't remember the name of the bank, but knew he'd been the vice president of public relations for many years. "Pinky was a charmer, and that was a job that was almost written for him. He was very successful at it." One of the school directors who worked under Frank in Connecticut honeymooned in California and looked up Pinky, who treated him and his bride to a helicopter tour and took them to a number of places. "He became a Pinky Woods fan, I'll tell you that!" [Interview with Frank Woods, December 26, 2008]
Mike Sandlock, who often caught Woods, recalled him as "a real competitor. … He was around the plate all the time. He kept control of his game pretty good." Gene Genovese, another teammate, said, "He could be wicked on the sidearm pitch because of his long arm and big frame." Everyone called him Pinky or Pink, but none of the ballplayers interviewed knew quite how he acquired the nickname. "He could get short-fused at times," one recalled. Another said perhaps it was the way he pitched, he was always a bit of a "red-ass." Another, referring to a different part of his anatomy, suggested in a partial sentence, "Maybe the size of his…" It turns out that the explanation is even a little more unique. Frank Woods said that George was given the name Pickles shortly after birth. He made so many funny faces that the nurses in St. Mary's Hospital thought of the 57 varieties slogan of Heinz Foods. When he began school, some of his young classmates confused Pickles with Pinky and little George never corrected them, so the new nickname stuck.
It was in Los Angeles that Woods died on October 29, 1982. His brother understood that he died of heart failure, and that he'd been ill for some time before his death. As a major leaguer, Woods was one of the stingiest pitchers with the gopher ball. Here's a guy with a 13-21 record, but in 378 2/3 major-league innings, he allowed only 13 home runs. That, writes Joe Palladino, is "a staggering ratio of one home run allowed for every 29 innings pitched, or approximately one every three games, plus a few batters. Sandy Koufax allowed one home run every 11 innings, Nolan Ryan one every 17, Roger Clemens every 13, Pedro Martinez 12, Bob Gibson every 15 and Greg Maddux every 14. Yes, Woods' stat comes out of the war years when many of baseball's greatest stars were missing in action, but you have to go back to baseball's Deadball Era to find similar numbers." [E-mail correspondence from Joe Palladino, December 23, 2008]
February 1, 2011
Sources
Thanks to Dick Beverage and to Joe Palladino.
Interviews with Chuck Stevens, Gene Genovese, and Mike Sandlock were all conducted on December 1, 2008.
Interview with Irv Noren on December 20, 2008.
Interview with Frank Woods was on December 26, 2008. Frank added more material by mail in early 2009.
Thanks as well to Chuck Piotrowski and to James Davidson of the Rutland Historical Society. Additional thanks to Christian Trudeau of the University of Windsor.
Born
May 22, 1920 at Waterbury, CT (USA)
Died
October 29, 1982 at Los Angeles, CA (USA)
If you can help us improve this player's biography, contact us.
http://bioproj.sabr.org/bp_ftp/images5/WoodsPinky.jpg
600
800
admin
/wp-content/uploads/2020/02/sabr_logo.png
admin
2012-01-04 20:47:23
2012-01-04 20:47:23
Pinky Woods