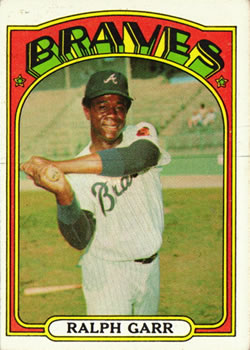 ---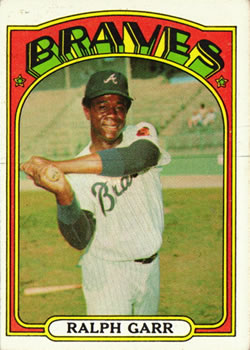 Longtime Los Angeles Times columnist Jim Murray once wrote that Ralph Garr was as hard to get out as an impacted tooth.1 Getting "The Road Runner" out was an especially difficult task in his signature year, 1974, in which he won the National League batting title, hitting .353. This came after finishing second to Joe Torre in 1971 and Billy Williams in 1972.
"I was glad, I was blessed…that I won one," Garr said. "That one was very instrumental in my career…I didn't win a batting title in Double A, but I won one in Triple A, then I won one in the Dominican Republic. I had won one in college and I wanted to win a batting title in the major leagues to show that I was the type of guy that could win one."2
As Murray put it in 1980, "No one ever bounded into major league baseball with a more resounding hit barrage…813 hits in his first full four years, an annual tattoo of 219, 180, 200 and 214 hits. Only Ty Cobb matched it. [Stan] Musial had 20 fewer for that period. [Willie] Mays, 135 less, and [Hank] Aaron nearly 100. [Ted] Williams was not even close. They were measuring Ralph for a suit at Cooperstown before the ink was dry on his bonus. Even Cobb's lifetime 4,191 hits seemed hardly safe."3
Ichiro Suzuki, who later amassed 924 hits in his first four years in the majors, had a comparable batting style. Both he and Garr were lefty swingers who used their speed to leg out many infield hits, including choppers and bunts. Though Garr did not sustain his excellence over the long haul, he nonetheless put up more than 1,500 hits across his 13 years in the majors, with a .306 lifetime average.
Ralph Allen Garr was born on December 12, 1945 in Monroe, Louisiana. His parents were Jesse Garr Sr., a construction worker, and Annie Mae Garr (maiden name Lyons). Ralph was the fifth oldest of their eight children. He had six brothers and one sister.
Garr grew up poor. "Like most of us, when you have big families like that, your aunts and uncles that didn't have no children, maybe a couple would stay with them…We had a little three-bedroom…We just tried to make it work…We were poor but we were never homeless, so we just didn't think about it a whole lot and we all just cared and looked out for one another," he said.4
Garr attended Lincoln High School in Ruston, Louisiana, which also numbers the imposing pitcher J.R. Richard among its major-league alumni. He then went on to nearby Grambling State University (then Grambling College.) At first, however, the future All-Star was overlooked by the head baseball coach at Grambling, Ralph Waldo Emerson Jones. Jones, known as "Prez" because he was also the school president, didn't give Garr a chance until the Tigers played against a semi-pro team Garr joined after he graduated from high school.
Coaching the young Garr on the semi-pro squad was Wilbert Ellis, an assistant to Jones at Grambling who was also Garr's Little League coach. By this time, Garr impressed Jones, though, so he received a paper to take home for his mother and father to sign. He had been doing maintenance after high school, but Garr was on his way to a higher education. He became a recreation administration major.
"I wasn't really a great student, but I wanted to work something in I knew something about," Garr said. "I enjoyed working with kids and people, and I wanted to do that…Recreation administration, you could help with the baseball teams…and then you could do some coaching, too. So, that was a good thing for me."5 Garr remains grateful to Grambling for the opportunities it gave him, and he continues to visit his alma mater.6
Though Garr was named to the College Baseball Hall of Fame in 2013, he was not an overnight sensation at Grambling. He got just 21 plate appearances in his freshman year, hitting .247, and became an effective hitter in college only in subsequent years. He grew with experience.
"You just matured more," he said. "You matured. When I first started, I was building my way, and then, as I had success, it became a little bit easier as I played more, and therefore, I was blessed and, no matter what the situation was, I was able to do pretty good. I played well just about everywhere and against everybody."7
Garr said that Jones and Ellis wanted their players to have sharp instincts. Yet, rather than being loose, they wanted their men to focus on hitting and pitching. They weren't so much a bunting squad.8 During Garr's tenure there, the team went 103-11 overall. That included a 35-1 record during his senior year (1967), in which he led the NAIA in batting, and Grambling finished third in the NAIA tournament.9
"Most of the time, we didn't have to score a lot of runs, although we did," Garr said. "We had guys that could really, really pitch." Through 1966, the ace of the staff was Jophery Brown, who pitched one game in the majors with the Chicago Cubs in 1968 before becoming one of Hollywood's top stuntmen. "I played against him in high school," Garr said of Brown. "He was what you called a premier pitcher at Grambling High School and I went to Lincoln High School. When we played against one another, he had some kind of ability, he had a fabulous arm and he was a very good pitcher.
"So, we really didn't have much trouble beating people because, even if we didn't score, most of the time, you weren't going to score either…Our pitching was everything, and we had a lot of good hitters, and we could catch and throw. President Jones, he stressed that all the time. He practiced the right way…catching and throwing and then balance…He taught us so many things that helped us as we played baseball more."10
With regard to the quality of their coaching, Garr echoed another of Grambling's future big-leaguers from that era, Matt Alexander. In 2009, Alexander said, "I didn't know Ralph Garr before Grambling, but I got to know him real well. He was the first player I met who could talk trash and then go out and back it up on the field. He taught me a lot about confidence."11 In return, Garr said of Alexander, "One of the nicest human beings I've ever met…He was from Shreveport, Louisiana, and he was sort of a quiet type guy. He didn't really talk too much or anything, but he was a good baseball player and he still is a good friend as of today."12
Garr's senior-year performance led him to be featured that June as one of Sports Illustrated's "Faces in the Crowd."13 That column put his average as .585, but various sources cite slightly different figures. Garr himself said he batted ".500 and change."14
Garr credited his focus and desire to play in the majors for his breakout season. The Braves selected him in the third round of the 1967 draft. Although the scout of record is Mel Didier, Garr expressed his gratitude to minor-league catching instructor Clint Courtney, who convinced farm director Paul Richards to select Garr. Richards sent Courtney to watch other Grambling players, who didn't impress Courtney. Garr did.
"'You just give me that damn little second baseman,'" Courtney told Richards, according to Garr. "Mr. Richards told Clint Courtney, he said, 'I'm going to draft him for you, and you're going to train him. Okay?' So, anyway, I end up being drafted off of just Clint Courtney. He drafted me in the third round, and Mr. Richards gave me to Clint Courtney, and from then on, that's the way I got to the big leagues. When I got to spring training, nobody worked with me but Clint Courtney. He worked with me every day."15
Upon being drafted, Garr went straight to Austin in the Class AA Texas League. There, he initially played at his college position. However, he wouldn't be there for long.
"I wasn't really that good," Garr said. "Playing second base at Grambling and playing second base in pro ball is a whole different world…I was playing second base for a while there, and…I made five or six or seven errors in the first three or four games, and Mr. Clint Courtney called Mr. Paul Richards, he said, 'Mr. Richards, I tell you, I don't know about that boy playing second base, if we don't get him out of that infield, he's going to get killed, but he's going to hit.' I ended up winning batting titles, and the rest is history."16
Garr was converted to the outfield, playing a few games there with Austin in 1967 before making the move permanent with the Shreveport Braves in 1968. He said that the transition helped him focus more on hitting.17
Garr got his feet wet in the majors in 1968, hitting .286 in 11 games. His first taste of big-league action came that September 3 at Shea Stadium against the Mets. Pinch-hitting for Milt Pappas in the top of the eighth, he faced reliever Ron Taylor and was retired on a 6-3 groundout.
The rookie took advice from the team's veteran star, Hank Aaron, for whom he developed a deep and lasting respect. According to Garr, Aaron said, 'See the ball, this ain't no different. Whatever you did to get you here, that's what going to keep you here…You just do you what you can do, son, and do your best every time you go to the plate.'"18
Garr won consecutive International League batting titles with the Richmond Braves in 1969 (.329 in 106 games) and 1970 (.386 in 98 games). Despite spending time with the big club, he still got enough bats to qualify in both years. In between those seasons, he won the first of three consecutive batting titles in the Dominican Republic. Playing for Estrellas Orientales, he hit .387.
Garr hit .222 in 22 games for Atlanta in 1969. The next year, he batted .281 in 37 games. Then, in the winter of 1970-71, he hit an astounding .457 for Estrellas Orientales. This mark remains a league record, as do his 105 hits and 58 runs scored that season – in just 56 games.19 Looking back on this, he said, "It means a great deal because a lot of times when American players would go over there, they figured some came over there just for a vacation, but when I was over there, I went over there to play baseball…so that was a blessing there…It taught me to be competitive and I played against very good ballplayers. They had Felipe Alou, Matty Alou, Jesús Alou, Rico Carty, [Juan] Marichal, they had so many great players over there that I respected so much."20
When 1971 rolled around, it was thought that Garr would compete for the starting job in center field with Sonny Jackson, a former shortstop turned outfielder. However, Carty, who was playing left for Atlanta, suffered a fractured knee while playing in the Dominican League. The 1970 N.L. batting champion (.366) would miss all of 1971 (he had previously missed all of 1968 with tuberculosis.) This left the door open for Garr.
"When I went to spring training, it was my job to lose," he said. "They had given me the job."21
The amount of time he'd already logged in the majors made Garr ineligible to win the N.L. Rookie of the Year Award in 1971. Instead, it went to teammate Earl Williams. For his first full season, Garr hit .343, second in the National League only to Joe Torre, who hit .363 and was named the NL's Most Valuable Player.
Braves Public Relations Director Bob Hope gave Garr a nickname that year: Road Runner, in reference to his speed. Hope asked Warner Brothers for permission to use the name of the famous cartoon bird. The agreement turned out to be a licensed nickname. The Road Runner's image would appear on the scoreboard at Atlanta-Fulton County Stadium. When Garr reached base, Braves fans would cry, "Beep Beep" in imitation of the famous character.22
Garr was indeed very fast and stole many bases in the minor leagues, including 63 for Richmond in 1969. Once he got to Atlanta, however, things changed. Though he could run fast to first base, his career high for stolen bases in a season at the major league level was 35, in 1973. He had 172 in his career.
"Hank Aaron was batting third on the team," he said. "They didn't need no base stealing because Hank Aaron could drive you in from second base or first base as well he could from third base…When he was batting third, if I got on base, I had done my job…and I didn't want to be running all over the place or worried about me stealing a base with him hitting."23
Garr himself had moderate power, smacking just 75 home runs in his career. However, two of them came in one game against the Mets on May 17 – both in extra innings. He became the first player since Art Shamsky in 1966 to achieve that feat.
With Atlanta down 3-2 in the bottom of the 10th against future Hall of Famer Tom Seaver, Garr tied the game at 3-3. Then in the bottom of the 12th, facing Ron Taylor, the first pitcher he saw in the majors, he hit another shot to end it, 4-3.
Both blows came off fastballs. "I hit Tom Seaver out of left center and hit Ron Taylor out of left field," he said. "I always basically hit everything off of the fastball. A lot of people looked for changeups and curveballs…I think Ferguson Jenkins was the only guy that made me look for a changeup."24
Garr hit .387 for Estrellas Orientales during the winter season of 1971-72. Returning to Atlanta, he spent 1972 patrolling all three outfield positions once Carty became completely healthy. He appeared in 134 games and batted .325. Once again, though, he fell shy of the batting crown. This time, it was Hall of Famer Billy Williams who led all of baseball with a .333 batting average.
"I was hoping that I could've won it the first year [1971], but I didn't," Garr said. "I wanted to win one because I wanted Mr. Courtney to be proud of the fact that he gave me the opportunity."25
Garr had 200 hits again with the Braves in 1973, but his average sharply fell that season from .325 to .299 in 148 games. Pitchers started to attack him differently, he said.26
Garr was not known as a defender, with a career fielding percentage of .968. Thus, after the 1973 season, he was almost traded from the Braves to the Phillies for Larry Bowa. The deal fell through, and after that, it was Garr's goal to make 1974 his best year.27 Even though he went hitless in his first four games of the year, he dramatically picked up the pace. He recorded 149 hits before the All-Star break, a feat which remains unmatched as of 2017.
In terms of the opposition looking to get him out, Garr felt there was a lack of strategy against him that year. "They didn't really try to stop me," he said. "I was more of a free swinger. It wasn't really no special way to pitch me because if I made contact, I could run. I'd get a lot of infield hits…If I hit the ball to the left or right of the shortstop, it was hard for him to throw me out."28
This fits with Jim Murray's description. "Ralph Garr hit 'em where they couldn't get. He once had eight straight hits, and four of them never left the infield. If the third baseman played back, he dropped a bunt. If he played in, he chopped it over his head. He went down to first base so fast, the first baseman didn't dare play the hole. On balls hit to deep short with no one on, the shortstop threw to second."29
"I was just aggressive," Garr added. "Most of the time, I was consistent, and I didn't walk a lot…It's hard to walk a lot and get hits. I was blessed to even go to bat a lot of times."30
By the time the All-Star break rolled around, Garr had 17 three-hit games. He also collected four hits in a game twice. He was batting .390 as late as June 9. Pressure wasn't something he was worried about, though. "I just wanted to hit .300 and have a good year," he said. "I tried not to let that bother me."31
Garr made his only All-Star team in 1974. The game was held on July 23 at Pittsburgh's Three Rivers Stadium, and Garr went 0-for-3. Leading off the bottom of the third inning, he pinch-hit for the NL's starting pitcher, Andy Messersmith. Facing future Hall of Famer Gaylord Perry, the Road Runner went down on strikes. Garr then replaced Pete Rose in left field and stayed in through the sixth inning. In the bottom of the fourth against Luis Tiant, Garr hit a foul fly that was caught by shortstop Bert Campaneris. In his last at-bat against another future Hall of Fame pitcher in Catfish Hunter, he grounded out to first baseman Carl Yastrzemski.
Looking back, his performance didn't bother him – he loved being an All Star. "It was great," Garr said. "I just felt that I was blessed to be a part."32
In just his second game after the All-Star break, Garr got four base hits in the first of a three-game series against the Dodgers. He had another four in the final game of that set. Garr collected 41 hits during the month of August.
Injury interrupted Garr's best year as the Braves played the Padres in Atlanta on September 3. Facing Dave Freisleben, the Road Runner reached first on an error by shortstop Billy Almon. Marty Perez, batting second, singled to left. As Garr advanced to second, he injured his knee. Rowland Office came in to run. Atlanta won 7-2, but that was Garr's last game for the next 20 days.
"It just sort of pulled the cartilage on the inside a little bit and stretched the ligament a little bit, so, I remember that," he said. "Back then, they'd give you cortisone shots…so I was able to rehab it a little bit and work on it and build it back up and I never did have surgery. My knees are bad right now. I remember I hurt my knee in Chicago when they had that Disco Night but I was scared to tell them that I had hurt my knee because I was a runner…I was trying to get 10 years in."33
Garr had 204 hits at the time of his injury. He got 10 more when he returned and finished with 214, second only in the majors to Rod Carew. Of those hits, 17 were triples, which led both leagues.
It would have taken a phenomenal hot streak, but had he not been hurt, Garr might have challenged the National League's single-season hit record of 254, set by Lefty O'Doul in 1929 and equaled by his Hall of Fame teammate Bill Terry the next year. This record still stands. At the time, the overall single season hit record belonged to George Sisler, who had 257 in 1920.
After 1974, Garr became the first big-leaguer to double his salary through arbitration. He made $55,000 when he won the NL batting crown. Garr asked the Braves for $114,500, while the team's offer to their star outfielder was $85,000. The arbitrator sided with Garr.
"Mr. Eddie Robinson was the general manager and Bill Lucas was the assistant," Garr said. "I didn't think they really wanted to go [to arbitration] too much, but I said, 'Well…at this point, there ain't no sense in me turning around…You stay at $85,000. I'll stay at $114,500, we'll let the arbitrator figure it out,' and he gave it to me."34
Garr again led the National League with 11 triples in 1975, his final year with the Braves. His average, however, fell back to earth. He hit just .278 in 151 games played that season. "They [the opposition] made adjustments [in 1975] and I think that if I'd have stayed in the league and came back, it'd have been a lot different," he said. "They just got the best of me that time and I don't think I was as focused as I needed to be either."35 On December 12, 1975, Garr was traded to the Chicago White Sox with Larvell Blanks for Ken Henderson, Ozzie Osborn, and Dick Ruthven. There he was reunited with Paul Richards, who had become Chicago's manager.
While spending his first year in the American League, Garr did bounce back, hitting .300 on the nose. The White Sox also spent three games that season playing in shorts. This, however, did not seem to bother him.
"My job was to play," Garr said. "It wasn't my job to say what we played in. It was my job to play baseball."36 When asked about Bill Veeck, the team's maverick owner who hatched the publicity stunt, Garr said, "He was a caring person. Mr. Veeck helped a lot of people. He was sort of a promoter like, he liked his gimmicks and stuff, but people came to the ballpark to watch the gimmicks that Mr. Veeck put on. He was able to do a lot for a lot of people in the game of baseball. He was one of the special owners there, I think, that contributed a lot to all type of people in the game of baseball."37
By Garr's own account, he never did play with a good pitching staff. To him, that made a big difference. The South Side Hitmen of 1977 went 90-72, good enough for third place in the American League West. The offense scored at will that season, putting up 844 runs. The team ERA was 4.25, however, 10th out of the 14 AL teams. No starter under was under 4.00.
"How are you going to beat anybody?" Garr asked of those numbers. "You can't beat nobody like that."38 Supporting his view, the AL West champions that year, the Kansas City Royals, had the league's best team ERA; second were the AL East and eventual World Series champs, the New York Yankees.
Garr again hit exactly .300 in 1977. On Opening Day, the White Sox played the Toronto Blue Jays in the latter franchise's first regular season game ever. He led off in the top of the first, the first hitter ever to face Toronto. Against starter Bill Singer, Garr walked and came around to score on a Jorge Orta sacrifice fly. However, the White Sox lost 9-5. That game is also well remembered for the snow that was on the ground at Exhibition Stadium. With regard to that and playing in cold weather generally, the Louisiana-raised Garr focused on Toronto's positives. "That was a very good addition to the game of baseball. They were very good fans and they were very good people. So, it was a wonderful feeling to be the first batter there and I'll always cherish that."39
Though he remained the primary starter in left field for Chicago in 1978 and 1979, Garr's playing time diminished. His batting dropped off somewhat, to .275 and .269. He did not participate in the Disco Demolition Night of July 12, 1979, in which the White Sox had to forfeit the second game of their doubleheader to the Tigers. His memory of the episode is a promotion that got out of hand: "It was sort of a little scary like, because people were just running on the field and doing everything. They were just going at it. They were just running all over the place just everywhere. You had to get in the dugout to try to get out of people and things because it had just gotten completely out of hand."40
On September 20, the California Angels purchased Garr's contract. They were looking to "beef up their attack for the stretch run."41 Garr hit just .125 in six games for the Halos, being excluded from his new team's first-ever postseason roster.
It was in March 1980 that Jim Murray wrote his column about Garr and his finest years. The veteran still hoped to help the Angels, but he played in just 21 games for California that year. The former batting champion hit .190 as a bench player and appeared in his last major-league game on June 4, going 0-for-1 as a pinch hitter. The team released him two days later.
In the winter of 1980-81, Garr returned to play in the Dominican league for the first time in nine years. He rejoined his old club, Estrellas Orientales, and showed he still had something left: 31-for-74 (.419) in 26 games.
Then, at the age of 35, Garr gave it a last shot in Mexico. He played in 11 games with the Mexico City Tigres in 1981, going 9-for-34. "It was a little different in Mexico than it was in the Dominican Republic. I was an upcoming guy there and I was a downgoing guy in Mexico, and I think that Dominican ball was a little bit better than Mexican ball, but I enjoyed it anyway. I just went over there to do the best I can."42
"Nobody really reached out that much," he said. "I didn't really want to go down to Triple A and stuff like that. I needed to get on with my life and try to get…close to my family and figure out what we were going to do the rest of my life…I'm glad that it happened like that. Then I went out there to a winter meeting with Henry Aaron and that's why I got the job with the Braves."43
After quitting as a player, Garr became part-owner of a doughnut shop in Houston. "I used to have to get in there every morning and make the doughnuts and serve them," he said.44 But at the time, Aaron was Atlanta's director of player development, and he brought in his former teammate as a scout in 1984. Garr has remained in that role ever since.45
Considering the success of the Braves in the 1990s and much of the 2000s, Garr said it would be hard for anybody to match what those teams did. With the team rebuilding as of 2017, Garr praised team scouting director Brian Bridges as being on the right track to help the club once again become competitive.
"We signed a guy last year that I scouted named [Kyle] Muller," Garr said. "He's a big, left handed pitcher out of the Dallas area. Now I'm expecting him to be a good pitcher…I really think that he has the chance to pitch in the major leagues."46
With the help of Bridges and the rebuilding efforts, Garr expected the Braves to be better in 2017. As for what he looks for in a player he scouts, he has his own standards.
"You want him to be aggressive, you want him to have instincts, you want him to have a feel for the game," Garr said. "If he's a pitcher, you want him to have velocity and a feel."47
Garr currently resides in Richmond, Texas. He has been married to his wife Ruby (maiden name Mack) since February 22, 1968. They met at Grambling and went on to have four children together. Keisha, Shonta, and Rae are their daughters. Son Ralph Jr. was a 20th-round draft pick of the Braves in 1990 and played in their minor-league system through 1993. He too became a scout, serving for the Orioles and Cardinals and, as of 2017, the Royals. The Garrs also have two grandchildren.
Looking back on his life and career, this man reflected on his good fortune. "I ain't never went, 'Ralph Garr deserved this or Ralph Garr deserved that.' Ralph Garr worked hard and wanted the people to respect him…I've had so many blessings, so I can't afford to run around and complain."48
Last revised: April 10, 2017
Sources
Grateful acknowledgment to Ralph Garr for his memories (telephone interviews with Corey Stolzenbach, December 29, 2016 and March 29, 2017).
Books
David L. Porter (editor), The Biographical Dictionary of American Sports, Westport, Connecticut: Greenwood Press, 2000.
Pedro Treto Cisneros (editor), Enciclopedia del Béisbol Mexicano, Mexico City: Revistas Deportivas, S.A. de C.V.: 11th edition, 2011.
Newspaper and magazine articles
"Faces in the Crowd," Sports Illustrated, June 26, 1967, accessed via Internet, March 22, 2017, http://www.si.com/vault/1967/06/26/610087/faces-in-the-crowd.
Don Delliquanti, "Two Beeps, a Cloud of Dust," Sports Illustrated, May 10, 1971, accessed via Internet, March 22, 2017, http://www.si.com/vault/1971/05/10/612012/two-beeps-a-cloud-of-dust
Kassandra Merritt, "Baseball great Ralph Garr honored at home-opener," The Gramblinite, March 5, 2015, accessed via Internet, March 22, 2017, http://www.thegramblinite.com/news/view.php/862916/Baseball-great-Ralph-Garr-honored-at-hom
Terence Moore, "Former All-Star Garr left undeniable legacy," MLB.com, February 19, 2016, accessed via Internet, March 22, 2017, http://m.mlb.com/news/article/164916588/ralph-garr-had-a-remarkable-legacy/.
I.J. Rosenberg, "Whatever Happened to Ralph Garr of the Atlanta Braves?", Atlanta Journal-Constitution, April 21, 2016, accessed via Internet, March 22, 2017, http://www.myajc.com/sports/baseball/whatever-happened-former-brave-ralph-garr/mJAKC62HqW9tHm8w3qWSOM/
Matt Vines, "Garr Braved Obstacles to Reach Hall," Shreveport Times, July 31, 2014, accessed via Internet, March 22, 2017, http://www.shreveporttimes.com/story/sports/2014/07/31/garr-braved-obstacles-to-reach-hall/13393241/
Ira Winderman, "The Roadrunner Ralph Garr Is Back in Baseball as a Coach and Scout," Sun-Sentinel (Palm Beach, Florida), May 29, 1985, accessed via Internet, March 22, 2017, http://articles.sun-sentinel.com/1985-05-29/sports/8501210511_1_ralph-garr-black-colleges-doughnuts
Websites
CollegeBaseballHall.org
history.winterballdata.com (Dominican statistics)
lasportshall.com (Louisiana Sports Hall of Fame)
Notes
Born
December 12, 1945 at Monroe, LA (US)
If you can help us improve this player's biography, contact us.
https://sabr.org/sites/default/files/GarrRalph.jpg
600
800
admin
/wp-content/uploads/2020/02/sabr_logo.png
admin
2017-04-10 21:12:36
2021-09-26 15:02:50
Ralph Garr