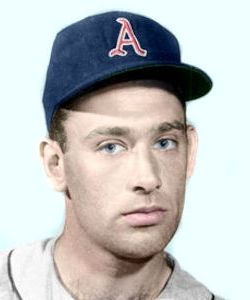 ---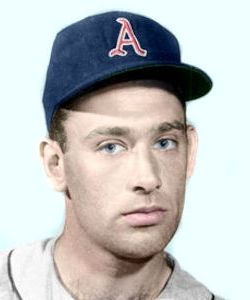 Heralded as the second coming of Whitey Ford, the New York Yankees inestimable ace of the time when he broke into organized baseball, Walter Gary "Rip" Coleman eventually became one of baseball's many might-have-been stories. A fast-balling left-handed pitcher, Coleman was born on July 31, 1931, in Troy, New York, to Walter Donald and Martha Coleman. He enjoyed some successful college ball at both Syracuse and Wake Forest before going undefeated for 11 games for St. Albans, Vt., in the Independent Northern League. Following this, before the 1952 season, the Yankees, who considered Coleman a "real find," signed the 20-year-old to a minor league contract for a $30,000 bonus.1
His debut into organized baseball had come with a flourish. Coleman posted an 11-8 record for the Class A Eastern League Binghamton Triplets, to go along with a sterling 2.69 ERA. He allowed only 98 hits in 147 innings pitched. However, his wildness that season (85 walks) raised warning flags for the southpaw's future potential.
Yet Coleman seemed ticketed for major league stardom. Even before the season ended the downstate press was comparing him to another former Binghamton star, Whitey Ford, who they reckoned "in the same FAST league." In terms of when they started with the club—both well into the season—previous professional experience—Ford two years, Coleman none—as well as other stats such as strikeouts, ERA, winning percentage, shutouts, and completed games, the two pitchers matched up competitively.2 And as if to confirm the mid-season assessment, Coleman threw a one-hitter in the 1952 Eastern League Playoff Championship, to help the Binghamton Triplets win the crown. 3
Bumped to the Triple-A American Association the following year, he spent a couple of ordinary seasons in 1953-54 with the Kansas City Blues, going a combined 22-24 with a 4.30 ERA. The following year, spent mostly with the Yankees AAA affiliate Denver Bears, Coleman compiled a respectable 12-8 record with a 3.76 ERA in the thin air of the Mile High City. But he also had improved his control and tendency to serve up too many gopher balls that the big league club called him up. He made his debut with the Yankees on August 15, 1955.
Though hardly an artistic success, Rip Coleman managed to qualify for a win at Baltimore's Memorial Stadium, going 5⅓ innings in the nightcap of a double-header while surrendering six earned runs on five hits, five walks, and half a dozen strikeouts. The Yankees hammered the O's 12-6 behind Mickey Mantle's two home runs and four RBIs and Andy Carey's pair of doubles and two RBIs.
On August 20, 1955, at Yankee Stadium, Coleman garnered a one-out save. Five days later at Cleveland's Municipal Stadium, he showed the promise displayed in his minor league career with a 7⅔ inning victory in which he walked five and surrendered two earned runs on seven hits. He had beaten future HOF hurler Early Wynn and the sports headlines lionized him that day.4 But Coleman ended the month getting knocked out in the third inning of an eventual 4-3 loss on the road to the lowly Athletics. During the last month of the season the rookie southpaw appeared in six games, half as starter, half in relief. In only one of these games did he figure in the decision, losing to the Boston Red Sox at Fenway Park on September 25. The Sox lit him up for seven hits and three earned runs in three innings.
By any measure—except maybe the 2-1 won-lost record—Rip Coleman's first year in the big leagues could hardly be called auspicious. In just 29 innings pitched, he gave up 40 hits, 16 walks with a dismal 5.28 ERA. And he didn't fare well in his one appearance in the World Series either, the historic seven-game struggle in which the Brooklyn Dodgers beat the Yankees for the first and only time in their history. Coleman pitched one inning in Game Four, the sixth, and the beginning of the seventh in which he gave up three straight singles and an earned run. Coleman admitted that the World Series stage and the bandbox dimensions of Ebbets Field contributed to his dismal performance: "I was terrible. . . . Stengel just got through saying in the meeting before the game that 'We won't use any left-handers here with these short walls'. I've never been so damn nervous in my life."5 Nonetheless, before the 1956 season, observers viewed Rip Coleman as a hot prospect. After turning in an impressive spring training, 12 scoreless innings with only six hits allowed, Coleman was slated as a potential back-of-the rotation starting pitcher. The youngster responded with his statistically best season going 3-5 with a 3.67 ERA. But neither his WHIP nor K/W ratio on the year, 1.574 and 1.00 respectively, were impressive.
Coleman had several memorable starts before the July All-Star Game break. He pitched six shutout innings on May 6, in a 4-0 win at home with Jim Konstanty completing the whitewash; he also pitched six strong innings of one-run ball at Cleveland's Municipal Stadium in a 9-4 New York victory on June 17.6 And on July 3, 1956, Coleman gave up only one run in a 7⅓ inning no-decision in the Bronx against the Orioles. At this point his ERA stood at a shiny 2.49.
But in the second half of the season Coleman pitched infrequently and erratically.7 Chaffing under his relegation to spot starting, middle relief, and mop-up appearances, the young lefty lost his cool late in the season. With one rash act he probably sealed his fate for any future he may have had in Yankee pinstripes. "Being young and stupid" at the time, as he admitted in a later explanation, Stengel habitually called in Tom Morgan to relieve when Coleman spot-started a game, and "in every instance" Morgan blew the game. So in one game when he had a two- or three-run lead and he was being pulled for Morgan, he refused to hand the ball to Stengel on the mound and heaved it into center field.8
Until this incident, the Yankees still considered Coleman a potential major contributor to their pitching staff. Bill DeWitt, the team's assistant general manager, and Tom Sheehan, the New York Giants chief scout, numbered Coleman among the "top flame throwers in the majors," describing the southpaw as "young, strong, getting better." However, his quick lip and temper, plus his inconsistency doubtless helped contribute to his being included in a multi-player post-season trade with the Kansas City A's.9
On February 19, 1957, in a house cleaning move to improve their starting pitching and to add some youth to its roster, New York traded Rip Coleman along with Milt Graff, Billy Hunter, Mickey McDermott, Tom Morgan, and Irv Noren along with a player to be named later (Jack Urban) to the Kansas City Athletics for Art Ditmar, Bobby Shantz, Jack McMahan and Wayne Belardi along with two players to be named later (Clete Boyer and Curt Roberts). Many baseball observers thought that Kansas City got the best of the deal, including former Yankees Irv Noren and Bob Cerv. Both players noted Coleman's potential: "The A's outsmarted the Yanks. Mickey McDermott, Tom Morgan, and Rip Coleman are all capable of having good years," said Noren.10 Cerv agreed: "I know Coleman is a good pitcher. He didn't get enough work with the Yankees and he is the kind of pitcher who needs work to be effective."11
A month later, Coleman was still hot about being banished to Kansas City and outspoken in his dissatisfaction with the Yankee organization in general and Casey Stengel in particular. The manager hadn't given him "much of a chance." Even during spring training Stengel was seeking to get rid of him. He had always felt like "excess baggage" on that club. His salary and World Series winnings added up to $17,000, he continued, "but if I made $77,000 I couldn't have been more miserable. I'll make a lot less money with the A's but at least they'll treat me like a human being." 12
Coleman was apparently correct that Stengel desired to unload him for reasons other than just his performance on the mound. Discussing the trade, Stengel damned his young lefty with faint praise: "Coleman is a young lefthander with a strong arm, and fine control. However, he was only 3-5 with a championship club. I would like to say with Rip, too, I failed."13 Yet, only a week previously, in a conversation with sportswriter Dan Daniel, Stengel claimed that Coleman was "not a Yankee type," a phrase the old professor couldn't really define upon being asked. 14
Despite the Athletics' expectations, Rip Coleman's 1957 season with his new team was a disaster. While he pitched decently in relief, he was a "bust as a starter." In none of his starts after April did Coleman manage to last past the third inning.15
Coleman went 0-7 for the A's in 1957 with a 5.93 ERA and a less-than-stellar combination of 78 hits and walks and only 15 strikeouts in 41 innings. Even in his few strong outings, the luckless Coleman was snake bit. A game he started and finished on May 19 ended after five innings in a scoreless tie. So he entered the record books as the last pitcher to be credited with a shutout in a season in which he failed to win a single game. Earlier that month he had faced the visiting New York Yankees and lost the game in relief. Although allowing no earned runs in three innings, he allowed three unearned runs to score and lost the game by dropping a throw to first in the seventh inning.16
Coleman spent the last two months of the 1957 season with the Athletics' AAA International affiliate Buffalo Bisons where he went 7-5 in 13 starts with a respectable 2.76 ERA. However, his perceived negative attitude and outspokenness continued to dog him: "Buffalo Manager Phil Cavarretta was so disgusted with Rip Coleman's disinterested [sic] performance against Richmond on Friday night that he promised it would be the ex-Triplet's final appearance of the year."17
Optioned along with fellow lefty George Brunet on March 24, 1958, Coleman spent the entire 1958 season with the Buffalo Bisons. He went 9-13 with a 3.27 ERA and, more important, he did so with improved control. In 154 innings, the lefty recorded 125 strikeouts with 46 walks, two shutouts, and eight complete games. Coleman was looking forward to a return to the major leagues in 1959. He had solid performances in spring training and did indeed make it back to the majors.18
He played for the Kansas City A's in 1959, but he had another forgettable season, going 2-10 with a 4.56 ERA for a poor ball club. He continued as a spot starter, especially in double headers, and a reliever with no prescribed role. Even when the southpaw did pitch well during the season, the weak Kansas City offense let him down. On June 19th, for example, he pitched a complete game against the Baltimore Orioles giving up six hits, a walk, and two earned runs—and he lost the game, 2-0.19 Placed on waivers late in the season, the Baltimore Orioles claimed Coleman on September 6, 1959. He pitched four innings of scoreless relief for his new club in three games.
Coleman began the 1960 season with the Orioles and his career slide continued. He pitched four innings in five games, allowing eight hits and five walks and ended his short stay in Baltimore with a disastrous 11.25 ERA. In his only start that season, against New York at Yankee Stadium, Coleman lasted a third of an inning, surrendering two hits, two walks, and two earned runs. In May, Coleman returned to the minor leagues with the International League (AAA) Toronto Maple Leafs (a Cleveland Indians affiliate that year) where he began with a flourish. He shut out the Columbus Jets, 1-0, walking two and striking out seven, and surrendering only one hit, a one-out scratch infield single in the ninth inning.20 He got his no-hitter the following season, a seven-inning 3-0 win over the Richmond Virginians that cemented his position as ace Toronto's ace twirler. Moreover, he improved upon his sterling 2.71 ERA of the previous year, lowering it to 2.42.21
Rip Coleman stayed with Toronto through the 1962 season where he felt appreciated. He finally seemed to relax and to enjoy baseball again. Coleman especially loved playing for Maple Leafs owner Jack Kent Cooke: "You'd find a little extra check for $1,000 in your locker every time you pitched a good game."22
After his retirement from organized baseball in 1962, Rip Coleman became a fixture at Capital District smokers, sports award dinners, and charity events. Coleman was a revered local presence in his home town and became a source of pride to Troy, NY, residents of all ages, especially the young: "I recall Rip would stop in Matt Fitzsimmons store occasionally, and Fitz introduced me one day because he knew I was a Yankee fan. I was embarrassed because I never heard of him. [But it was] very cool to have a ball player in the neighborhood."23
Coleman relocated to New Russia, New York, a small hamlet three miles south of Elizabethtown, New York, where he sold insurance and opened a fishing tackle business.24 In 1997, Coleman moved to Wolfeboro, New Hampshire, where he worked in corporate benefit planning.
Rip Coleman passed away on May 14, 2004 at his home in Wolfeboro. He was predeceased by his parents, his brother, Thomas, and his first wife, Sarah. He was survived by his wife, Nancy, and daughter, Victoria. He was buried in Oakwood Cemetery in Troy, New York.25
Sources
Baseball-Almanac.com
Baseball-Reference.com
Retrosheet.org
Notes
Born
July 31, 1931 at Troy, NY (US)
Died
May 14, 2004 at Wolfeboro, NH (US)
If you can help us improve this player's biography, contact us.
http://sabr.org/sites/default/files/ColemanRip.jpg
600
800
admin
/wp-content/uploads/2020/02/sabr_logo.png
admin
2016-05-26 14:12:22
2016-05-26 14:12:22
Rip Coleman