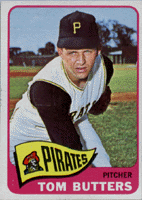 ---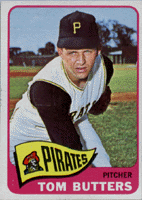 An auto accident curtailed this pitcher's modest major-league career with the Pittsburgh Pirates in the 1960s. But when he moved on to Duke University, Butters became a smashing success. He served as baseball coach from 1968-70 and then found his true métier — The Sporting News labeled him the world champion of fundraisers. Noted sports author John Feinstein quoted a rival fundraiser: "Tom Butters missed his calling. He should have been an evangelist. He could sell hockey pucks on the equator." [1] During his tenure as Athletics Director (1977-98), Butters built the Blue Devils into a national powerhouse. He hired (and retained) legendary basketball coach Mike Krzyzewski while upgrading many other programs.
What's more, Duke's development took place without sacrificing academics or integrity. This is a slippery slope for Division I schools, but Tom Butters remained consistent. He was blessed to work with senior administrators who shared this commitment. A gentlemanly air and good sense prevailed.
Thomas Arden Butters was born in Delaware, Ohio on April 8, 1938. Harold and Florence Butters also had a daughter named Nancy. Florence's maiden name, Thomas, was the source of her son's Christian name. Young Tom grew up as a fan of nearby Ohio State University's sports teams, as well as the Cleveland Indians. In those years, the Tribe was winning pennants with great players like Bob Feller, Lou Boudreau, Bob Lemon, and Early Wynn. Tom remembered, "I played all the sports, whatever there was to play, whatever the season. I was on the basketball team, I ran track, my high school started a football team my senior year. But baseball was my niche — it had my heart."
At age 18 in 1956, Butters entered Ohio Wesleyan University in his hometown of Delaware, about 25-30 miles north of Columbus. "My freshman roommate was Bob Rodgers, later known as Buck in the majors, from Prospect, Ohio, just north of Delaware. He left college after that year — he felt he didn't need it. But I did."
The hard-throwing right-hander had actually already signed with the Pirates some months before, when he was 17. Another distinguished Ohio Wesleyan grad, Branch Rickey, was largely responsible. Rickey had stepped down as Pittsburgh's general manager in October 1955 — but he remained as chairman and also in his quintessential role: talent appraiser. "I had pitched in a game in St. Paris, Ohio and struck out a lot of batters. I attracted one of the Pirates scouts, George Zuraw, and they set up a workout. Bobby Bragan [Pittsburgh's manager] caught me. Mr. Rickey came out of the stands to watch me. He turned away after just a couple of pitches, and I started to go after him. But Bragan held me up and said, 'Son, he's seen what he needs to see!'"
Butters toiled in the minors for six years — control was always the hurler's Achilles heel. This is a brief recap of his climb, including a few selected anecdotes:
1957:
2-7, 5.34, Jamestown (Class D NY-Penn League)
3-4, 5.37, Aguascalientes (Class C Central Mexican League)
"Jamestown folded [on June 25], probably because we weren't very good. The Pirates then sent me and Ken Hinderliter down to Mexico. I think we were the only two Americans in the whole league. [There were a few others — the most notable being former Dodger Dan Bankhead, who clung on in Mexico until 1966.] Ken had a great curve, but the air was light, so he struggled. But it was perfect for me. On August 15, 1957, I threw a no-hitter in Torreón. It was the first one there in many years, and there was a big celebration."
1958:
6-10, 2.83, Clinton (Class D Midwest League)
1-5, 6.00, San Jose/Las Vegas (Class C California League)
1959:
8-5, 4.79, Wilson (Class B Carolina League)
"Alvin O'Neal McBean was one of my teammates in Wilson. He had just another year to go before he made the majors." The standout pitcher on the Tobs that year was Bob Veale.
1960:
7-3, 1.43, Burlington (Class B Three-I League)
1-2, 8.33, Savannah (Class A South Atlantic League)
0-1, 5.79, Salt Lake City (Class AAA Pacific Coast League)
1961:
5-8, 2.99, Charlotte (Class A South Atlantic League)
"I was on loan to the Minnesota Twins organization in '61. I already had several years in and hadn't made the majors, and that was before Curt Flood. We could be moved around."
1962
6-1, 1.80, Asheville (Class A South Atlantic League)
0-2, 2.86, Columbus (Class AAA International League)
"I finally got my degree from Ohio Wesleyan, an unusual combination — religion and physical education. I went for a semester a year, but it might have taken me that long even without baseball!"
Now 24 years old, Butters made his major-league debut vs. Los Angeles at Dodger Stadium on September 8, 1962. Bucs starter Al McBean allowed five runs in just 2 1/3 innings, giving way to Jack Lamabe and Joe Gibbon before Butters came on to start the sixth. Maury Wills greeted him with a single and then took second on a wild pitch. But Tom got out of the inning unscathed, getting Wally Moon on a foul pop and sandwiching a walk to huge Frank Howard between strikeouts of Tommy Davis and Ron Fairly. He then pitched one more scoreless inning before leaving for pinch-hitter Elmo Plaskett. Elmo had risen through the ranks together with Butters over the same six-year period and also made his major-league debut that day.
The rookie appeared in three more games before the season ended. He yielded just one run in six innings and struck out an impressive 10 batters, though he did walk six. He did not earn a decision that year or in six September 1963 outings after going 6-5, 2.69 with Columbus. In 1964, Tom came north with the Pirates after spring training. He was used sporadically out of the bullpen behind McBean (who had converted from starter and enjoyed a career peak as National League Fireman of the Year), Elroy Face (who suffered one of his only two bad seasons), and Tommie Sisk (career-worst 6.16 ERA).
The manager was Danny Murtaugh, whom Butters respected greatly as a leader for his flexible approach to different player mentalities. On May 24, the skipper gave Butters his first big-league start in the nightcap of a doubleheader at Candlestick Park. Tom also picked up his first win. He labored through the minimum five innings, allowing six hits and walking four Giants. He wriggled out of a bases-loaded jam in the bottom of the first and also helped himself by driving in three runs with a groundout and single.
After nine more relief stints, Butters was optioned to Columbus on July 15 along with Bob Priddy, as Pittsburgh called up Don Schwall and one-year major-leaguer Frank Bork. After posting a 5-3, 1.59 record in Columbus, once more Tom returned in September. He went 1-1 in three respectable starts, including a tough shutout loss to 20-game winner Ray Sadecki as the Cardinals surged to the pennant. He notched his only other career win on October 2, defeating the Braves 5-4 at Milwaukee's County Stadium.
But in late February 1965, as Butters headed to spring training, he got in a car accident in Fayetteville, North Carolina — about 90 miles due south of where his future career would unfold. "A lady from Boston was driving way too fast and hit us from behind, ran right into our trunk. My wife had our daughter in her lap, and our son was in the back seat. I turned to protect him. The impact drove me through a four-lane intersection and into a filling station area."
Tom suffered a severe whiplash. He had trouble working out, and in mid-March the club ordered him to rest for three weeks. He hurled his last five games in the majors, all in relief, during April and May 1965. He went 0-1, 7.00, and still in pain, he was placed on the disabled list. The Pirates released him in July 1965 but offered an invitation to spring training the next year. Although Butters has no recollection of it, Pirates broadcaster Bob Prince interviewed him for a Pittsburgh TV special at Terry Park in Fort Myers, Florida in March 1966. "Every time he gets up in the morning he has a severe and intense headache. Every time he runs or pitches in a ballgame he vomits. Why, Tom, why do you try to do it?"
"I've given quite a bit of my life to baseball," Butters said. "It's been good to me. I'd like very much to continue if at all possible. I don't want to go home and feel that I've been shortchanged and that I've shortchanged somebody else by not trying."
However, he abandoned the comeback that spring. In 2004, he recalled, "I got into a couple of ballgames and the pain was so severe when I was throwing that I literally had trouble keeping anything in my stomach. It sounds gross. The pain was somewhat serious. Finally, I came to the realization my childhood dream wasn't going to last." [2]
Tom's final major-league career mark was 2-3 in 43 total appearances. At the plate, he recorded three singles in 15 at-bats (.200). His ERA was a tidy 3.10, and he struck out 85 and allowed just 81 hits (including only six homers) in 95 2/3 innings. However, he did walk 56 and unleash nine wild pitches.
"I was very wild! I walked my share and hit my share. But I was very unusual; even though I threw hard, I also threw a knuckleball, in the majors too, up to 15-20 times a game. I had a lot of motion on it and could throw it for strikes."
Soon after he retired, though, Tom Butters would find his new home: Duke University in Durham, North Carolina. "I had gone back to Ohio Wesleyan and was working as associate director of admissions. I went to Duke to talk about uniform acceptance procedures. Then I took a job there as assistant director of development. I also had responsibility for special events."
In the fall of 1967, Duke's baseball coach, Jim Bly, "dropped dead of a heart attack." Athletic director Eddie Cameron sought to replace Bly with Dick Groat, a star in both baseball and basketball for the Blue Devils in the early '50s before becoming 1960 MVP with the Pirates. Groat declined, since he was developing a golf course in western Pennsylvania — but he said the man for the job, his old teammate, was right there on campus already. [3] Still aged just 29, Butters was named to his new post on January 4, 1968 and started that February 1. [4]
The Blue Devils went 12-19, 14-18-1, and 17-16 in three seasons under Butters, whose squads did not feature any future major-leaguers. "We had no scholarships and were competing against schools who did, so we did all right at about .500." Succeeding him as coach was one of North Carolina's all-time baseball greats: Hall of Famer Enos "Country" Slaughter. [5] "I have too many memories of Enos to count! He was a character, in the nicest sense of the word."
Tom then devoted full time to his role as executive secretary of the newly founded Duke Athletic Fund. The Iron Dukes were formed to help bankroll the university's athletic budget before the dawn of multi-million-dollar television contracts and corporate sponsorships. The group's mission: "Providing Scholarship Support for the Duke Student-Athlete." Butters sought contributions from affluent alumni and community members in return for priority ticket allocation.
"That wasn't a new concept — it's been going on for a long time. But Eddie Cameron asked me to raise funds on a bigger scale. I took the name from the 1938 Duke football team, which was undefeated, untied, and unscored upon."
John Feinstein (a 1977 Duke graduate) observed, "When Butters was hired… Duke was about to start into the greatest athletic depression in its history. Throughout that period, Butters was out raising money… the Iron Dukes were soon on a par with most of the fund-raising organizations in the country."
"'You need three things in order to raise money,' Butters says. 'You need a product you can sell; you need to believe in that product — and I do — and you need to believe in yourself, which I do.'"[6]
He was named assistant director of athletics in 1972 and associate director of athletics in 1976, with the additional post of assistant to Chancellor Kenneth Pye — "the greatest mind I've ever been associated with," said Butters, which is very high praise. By that time, the Iron Dukes were raising close to $500,000 annually, and Feinstein noted that the promotion (plus a raise) came because other schools were looking to lure Butters away. In June 1977, athletic director Carl James resigned, reportedly at Chancellor Pye's request. Butters got the top job. He had to wear both hats for a few years — amid all that workload, he was "a chain-smoking picture of intensity." [7] He was able to delegate his duties with the Iron Dukes and kicked the habit. But in that hectic phase, his fundraising techniques blossomed fully.
"He spoke to 82 persons and asked each for a $100,000 contribution to establish an endowed athletic scholarship. 'Sixty-nine of them gave,' he said. 'That's not bad.'" [8] The program had its critics because the money was not "cash on the barrelhead" — in most cases, the gifts were interest-bearing insurance policies — but Butters felt that long-range planning was the greater good. The interest from each scholarship covered room, board, and tuition for one athlete and slashed the department's operating costs.
Very early on, Butters also announced a theme that would remain constant at Duke: "Frankly, I don't think academics is that much a part of failure to compete successfully." He also said the school would focus on funding sports that offered the most promise for success. [9]
The showcase program was basketball, and in 1980, Butters hired the man who eventually took Duke to the summit: Mike Krzyzewski. "'I was a basketball junkie and I was always preparing myself to hire my next coach. Mike had been 9-17 at Army. But I believed he was the best defensive coach in the country. I think you win on defense.'" A key endorsement came from Bobby Knight, who had coached Krzyzewski (then the Cadets' point guard) before molding an NCAA champion at Indiana. Butters took the chance, saying, "If I was going to do down, Mike was exactly the kind of person I wanted to go down with."
The director stood by his choice through a rocky first few years, especially a slump in 1983 that provoked hundreds of angry alumni letters and even death threats. When times were toughest, he gave Krzyzewski a contract extension that prompted tears of gratitude and total loyalty. [10] One story holds that "years later, when it became clear even to the stupid that Coach K was a tremendous coach, Mr. Butters used to periodically respond to a couple of letters asking the alumnus if he/she still wanted Coach K fired. Rumor has it that those files still exist." [11]
"I answered every letter. There were death threats," Butters confirmed. "Extraordinary at a place like Duke University. But the rest isn't quite like that. Some of the people who'd written me a few years earlier, after we went to the finals in 1986 and had a 37-3 record, then they were writing to me again, saying I needed to pay him enough!"
In 1990, the Boston Celtics sought to hire Krzyzewski, but he decided to remain in Durham. Had Coach K left, the Blue Devils might well not have won their first NCAA crown the next year or repeated in 1992. But he stayed after some soul-searching with Butters. "Sources told the newspaper that he is not ready to give up coaching on the college level or to break the relationships he has developed at Duke. 'I'm not one to drag a decision out,' Krzyzewski said. 'My best friend at Duke has been Tom Butters. Of all the people I've been associated with at Duke, I value his opinion the most.'" [12]
Butters had long awaited that championship. Before hiring Krzyzewski, he had mused, "Eight miles away [at the University of North Carolina in Chapel Hill] sat a legend, perhaps the greatest coach of all time. I was inundated with thoughts of beating Dean Smith. If we couldn't beat him, we could never get to where we were thinking about." [13] Even when the Blue Devils managed to outlast the Tar Heels, they still could not win the NCAA tournament final, losing in 1978, 1986, and 1990. So when the '91 team finally broke through, "obviously I was elated, for Mike and the program. In the semifinals, we had to beat the University of Nevada-Las Vegas, which many people viewed as the best collegiate team ever assembled." And with pride he noted in 2007, "Duke is still the last team to win back-to-back men's titles." (That was just before Florida repeated as champion; as of 2018, no team has done it since.)
Butters' influence was broad; from 1988 to 1994, he was a member of the NCAA Division I men's basketball committee. He was chairman for the last two years of his six-year term. In addition to negotiating TV deals for the Atlantic Coast Conference, he was instrumental in landing the NCAA's first $1 billion package with CBS in 1989. "The previous contract was worth maybe $275 million, so that was a pretty good hump up."
However, Tom's scope was by no means narrowed to basketball alone. Around 1980, football also benefited from his fundraising acumen. Butters formed a symbiotic partnership with the Duke Medical Center for a new press box at the university football stadium. "'There was no way I could justify spending four-five million dollars on something that would be used six times a year. They had a great need for more space. We had a great need. So it was reasonable we put our heads together.' The two teamed up and raised millions of dollars from Duke donors. Butters said the idea of using the building as both a health center and a football facility made the project an easier sell. 'That made people open up their purse strings… in some ways, the idea was beyond its time.'" The Finch-Yeager Building was completed in 1981 and in 1995 it became a year-round sports medicine complex. It still hosts gatherings for the Iron Dukes. [14]
Though football has been in the shadow of hoops at Duke, it did enjoy an upswing for a few years in the late '80s under another fine coaching mind Tom hired: Steve Spurrier. "I always believed you win on defense, I don't care what game you're playing. But Steve Spurrier was so good on the offensive side of the ball that I kind of switched my thinking." [15] In 1996, Tom received a lifetime achievement honor from the All-American Football Foundation, the Gen. Robert R. Neyland Award for Athletic Directors.
Baseball still remained healthy at Duke during the Butters era — the program turned out eight major-leaguers. John Poff, Bob Brower, John Courtright, Mike Trombley, and Ryan Jackson appeared at various points from 1979 through 2002. Scott Schoeneweis and Chris Capuano later became successful pitchers, while Quinton McCracken played in the majors through 2006. "I wouldn't want to single out any one of those players. But we developed a pretty nice program there."
Overarching any single sport, however, was a central view of college athletics. In 1984, Butters collaborated with university president Terry Sanford on another project that was before its time. Sanford, who was also a great public servant to North Carolina and the nation as governor and U.S. Senator, shared the vision of scholar-athletes. The Athletic Policy Manual of Duke University, a 34-page paper, codified their beliefs. In 1985, Butters said, "Intercollegiate athletics is a viable part of a university, but no more viable than other parts. It just happens to be more visible. In this day and age, it is easy to let athletics, with the financial pressure and the greed to win, get out of perspective. And a university that allows that to occur is living on borrowed time." [16]
This remained a vital theme under Sanford's successor, Keith Brodie — who relied heavily on Butters in his quest, as he noted in a memoir. "We were not having problems at Duke, but I firmly believed… that any president of an NCAA institution must take into account the potential for abuse in Division I athletics and take steps to preclude it. To this end, I promoted Tom Butters to a vice presidency, a position which reported directly to me… I wanted his advice at the table when officers came together."
"There is a [fallacious] tendency to assume that people in athletics know only athletics… despite some faculty criticism, Duke clearly benefited from having Tom Butters work with the other senior officers in working on broad issues of policy, and it proved to be good and useful for him and other members of the athletic department to come to a greater awareness of some of the problems the institution was facing and where athletics fit into the overall mission of the university."
"The combination worked well for us at Duke, probably because the trustees and I had full confidence that Tom Butters would maintain the integrity of our athletics program." [17]
Brodie also described an incentive agreement that he worked out with Butters and university controller Jack Adcock, wherein the first $500,000 of athletics-generated budget surplus would go to projects and programs that benefited the student body. The NCAA and ACC changed their policies in 1990 to emphasize sharing/pooling. But in the interim, the windfall profits from Blue Devils basketball financed the development of Duke's infrastructure — academic as well as athletic.
Yet another innovation came in 1986. "Butters named Tom Mickle as Duke's first director of sports services, the forerunner to the marketing and promotions departments now commonplace in college athletics. 'Tom was kind of a pioneer in that,' said Chris Kennedy, Duke's senior associate athletics director. 'Tom Butters thought that Mickle had a lot of ability and that it should extend beyond sports information.'"[18]
A couple of years before, there was a serious overture to hire Butters away — from Ohio State, whose AD, Hugh Hindman, had resigned under fire in February 1984. One report said that the Ohio native had "pole-vaulted to the forefront of the chase," noting that John Galbreath and his son Dan, then owners of the Pirates, were powerful Buckeye contributors. [19] "I can't tell you whether the Galbreaths were involved. But I can tell you there was interest. From my earliest days of remembering how to read, at four or five years old, until now, when I'm 112 (or feel like I am), the first thing I do when I open the newspaper is turn to Ohio State scores."
"I was being considered. But I decided I was right where I needed to be, and they decided that too. I made the right decision."
Another potential opportunity beckoned in 1989. The U.S. Golf Association needed a new director, and Butters actively sought the position. "Face it, his challenges at Duke are over," said Tom Mickle. [20] Butters withdrew his name from consideration, however, by mutual consent with the USGA. He said that there was still plenty of work to do at Duke. "The man who thinks he's caught up will quickly be passed," were his words. [21]
After suffering a heart attack, Tom Butters retired from Duke at the end of the academic year in 1998. As the capstone of his regime, he launched plans for a deluxe new project, which the university named in his honor. [22] The Schwartz-Butters Athletic Center is a six-story tower housing an academic hub for student-athletes and basketball offices. Alan Schwartz, the Wall Street executive whose donation supported the center, played baseball under Butters in 1969-70 and called him a mentor. The tower is connected to the Duke Sports Hall of Fame — which inducted Butters in the fall of 1999. The project was dedicated on April 15, 2000 and forms the heart of the university's athletic complex.
Tom and his wife Lynn (née Evans; Ohio Wesleyan Class of 1960) continued to spend most of their time in Durham. They also had a second home on Florida's Gulf Coast. They were married on July 17, 1960 and became the parents of two children, Bret and Jill. Bret Butters either inherited or learned his father's skill; the stockbroker became a member of Morgan Stanley's Chairman's Club for top producers. Tom said with a chuckle in 2007, "Everything Bret is today, he was at the age of 12. Jill is married to a University of North Carolina guy, so I have to live with that for the rest of my life."
Tom still loved the game of golf, but he had both knees replaced. He also suffered from a lung disease, interstitial pulmonary fibrosis, and so he came to enjoy more sedentary pursuits like reading. He did work out for his health every day, though. Even over the phone, he retained great personal magnetism, rooted in courtesy and a knack for making the current conversation seem special and important. It's easy to picture how he was so effective in his job.
As one would expect, he kept an eye on the Duke athletics scene. The 2006 scandal with the university lacrosse team made national headlines, and Butters underscored what he said in 1985. "Athletics is a small piece of the puzzle, but an important piece. If you mess that up, the repercussions are more visible, the liability is greater. Our school and those kids and those families were tremendously affected."
To the suggestion that it would not have happened on his watch, his response was judicious — but backed by very firm convictions on the meaning of loyalty. "I appreciate that more than I can tell you. I don't want to cast any aspersions on those who are there now. What I will say is that it may have happened — but it would have been under different circumstances."
In his later years, as his lung problems worsened, Butters drove around his neighborhood in a golf cart because walking had become too difficult for him. On March 31, 2016, Tom Butters died at his home in Durham. Over the years he had kept in touch with some old Pirates teammates. In particular, Steve Blass remained a lifelong friend; Blass was there along with family and other friends when the end came.
Except for the results of his effort, the way Butters spoke of his baseball days was right in keeping with his Duke experience. "It was a pleasure to be in a great organization with great players and form such associations. I was privileged to play the game and privileged to play it with those who were there at the time. I didn't get a lot of them out, but I tried!"
Last revised: April 4, 2016.
Acknowledgments
Grateful acknowledgment to Tom Butters for his personal memories (telephone interview, February 21, 2007). Thanks also to Bill Mallon (Duke '73), former Duke sports team doctor and friend of Tom Butters.
Sources
Professional Baseball Player Database V6.0
www.retrosheet.org
www.baseball-reference.com
www.irondukes.net
Photo Credits

Topps Company
Notes
[1] John Feinstein, "Butters Brings In Heavy Bread for Duke," Washington Post, December 25, 1979, page E4.
[2] Glenn Miller, "Pitcher's career came full circle," Fort Myers News-Press, July 18, 2004.
[3] Bob Smizik, "Former Pirate found Coach K," Pittsburgh Post-Gazette, March 31, 2004.
[4] "Tom Butters Named Duke Baseball Coach," Washington Post, January 5, 1968, page D2.
[5] "Duke Names Slaughter," Washington Post, February 16, 1971, page D4.
[6] Feinstein, op. cit.
[7] Ibid.
[8] Gordon S. White Jr., "69 Endowed Scholarships Cut Duke's Athletic Costs," New York Times, May 15, 1979, page C17.
[9] "Duke May Tighten the Pursestrings," Washington Post, August 6, 1977, page C7.
[10] Smizik, op. cit.
[11] www.dukebasketballreport.com
[12] "Krzyzewski to Stay?", New York Times, June 8, 1990.
[13] Art Chansky and Dick Vitale, Blue Blood: Duke-Carolina: Inside the Most Storied Rivalry in College Hoops, (New York, NY: Thomas Dunne Books, 2005), p. 168.
[14] A.J. Carr, "Unusual partnership / Duke building used as health center, football facility," Raleigh News & Observer, September 21, 2001.
[15] Geoff LoCicero, "The Three Faces of Steve," The Carolinian, August 2001.
[16] Mark Asher, "Commitment From the Top Needed to Produce Scholar-Athletes," Washington Post, June 17, 1985, page C1.
[17] Keith Brodie and Leslie Banner, Keeping an Open Door: Passages in a University Presidency, (Durham., NC: Duke University Press, 1996), pp. 16-19.
[18] Bryan Strickland, "Former Blue Devil Tom Mickle Dies," Durham Herald-Sun, April 19, 2006.
[19] Arnie Burdick, "Short Yardage", Syracuse Herald-Journal, May 14, 1984, p. C1.
[20] "Duke's Butters Looking at USGA Directorship," Associated Press, July 1, 1989.
[21] "Butters to Remain in Duke AD Post," Associated Press, July 14, 1989.
[22] "Eponymous Edifice," Duke Magazine, July-August 1998.
Born
April 8, 1938 at Delaware, OH (USA)
Died
March 31, 2016 at Durham, NC (USA)
If you can help us improve this player's biography, contact us.
http://bioproj.sabr.org/bp_ftp/images2/ButtersTom.gif
600
800
admin
/wp-content/uploads/2020/02/sabr_logo.png
admin
2012-01-04 20:41:46
2012-01-04 20:41:46
Tom Butters