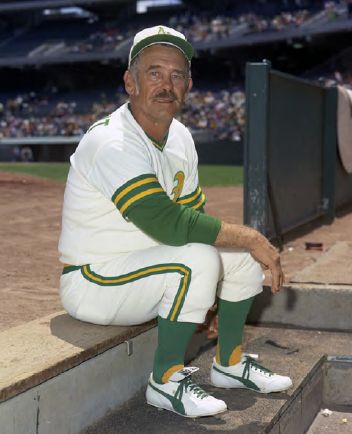 ---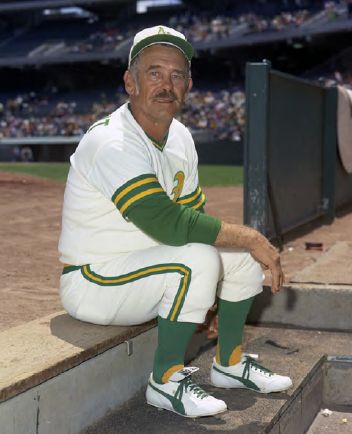 Vern Hoscheit's career in professional baseball spanned six decades. Signed as a catcher by the New York Yankees in 1941, he had little hope of making the major-league roster with Bill Dickey and later Yogi Berra ensconced behind the plate. The Yankees front office took notice of Hoscheit's leadership potential and made him a player-manager for its McAlester (Oklahoma) club at the age of 26. Although Hoscheit never was called up to the big leagues, he ended his minor-league career with a solid .283 batting average. Then he made his mark in the majors as the bullpen coach on four World Series winners. One of baseball's true unsung heroes, he taught the fundamentals of the game to hundreds of players in five different major-league organizations, as well as scores of youngsters in American Legion ball.
Whitey Herzog, who played for Hoscheit in the minors, told The Sporting News, "He was a good manager for young people, a good teacher. He drove the bus, handed out meal money, did the laundry. He'd catch and he'd pitch. He was really the only extra guy we had. I think we carried 16 guys, one for each position, plus the pitchers."1
Player and manager Davey Johnson wrote about Hoscheit in his book on the 1985 Mets, "Vern, whom all the players call 'Dad,' is the greatest coach of catchers I have ever known. We have been friends since I was in the Baltimore organization, where he trained Andy Etchebarren, Larry Haney, and Curt Blefary. He gave Curt an extra three or four years in the big leagues. When he was hired by the Oakland A's, he made Adrian Garrett into a catcher for manager Dick Williams and then his big coup was transforming outfielder Gene Tenace into a major-league catcher."2         
Vernard Arthur "Bud" Hoscheit was born on April 1, 1922, in Brunswick, Nebraska. The first German families had settled in the rural farming community in 1879. By 1915 the town had a bank, a 30-room hotel, and a railroad depot supported by a population of 300. The 1930 US census shows Vernard and his younger sister, Delores, along with their parents, Walter and Elsie (Westerhoff) Hoscheit, living on the family farm in Brunswick. 
Hoscheit played his first organized baseball with an American Legion team, the Neligh Antelopes. He graduated from Brunswick High School in 1939. The 5-foot-9, 190-pound Hoscheit was a natural catcher who also played both the infield and outfield. Known for his strong arm and defensive skills, he was also a good hitter with an instinctual knowledge of the game.
In 1940 Hoscheit was the star catcher for Concordia, Kansas, in the Ban Johnson League, and drew the attention of New York Yankees scout Lou Maguolo, who signed him to his first professional contract. Starting the 1941 campaign with the Norfolk Yankees in the Class D Western League, Hoscheit hit .284 while catching and playing the outfield. Norfolk won the pennant and Hoscheit was named to the All-Star team. 
The next year, Hoscheit moved up a rung on the Yankees' minor-league ladder to the Joplin Miners of the Class C Western League. On May 26, 1942, he married the former Helen Edwards in Joplin. That same night, the newlywed belted a grand slam in the bottom of the ninth to give the Miners a 9-8 victory.     
In November 1942, he joined the Army Air Corps and was stationed at Lincoln Airfield. While serving at Lincoln, he caught for the base's baseball team. Discharged in January 1946. Hoscheit resumed his professional baseball career in 1947 with the Norfolk Tars in the Class B Piedmont League. After hitting .354 in 19 games, he was promoted to Binghamton (New York) in the Eastern League, where he finished out the season.
The following year, Hoscheit split time between Binghamton, Norfolk, and Triple-A Kansas City (American Association).  Named player-manager of the McAlester Rockets in the Class D Sooner State League, Hoscheit batted .335 while guiding his team to the best record in the circuit. Grateful fans presented him with a new car at the end of the season. The Rockets were out of contention in 1949 but captured the playoffs in 1950-51. Hoscheit had the most productive year of his professional career in 1951, hitting .354 with 11 home runs and 109 RBIs. Future Yankee first baseman-outfielder Norm Siebern was a member of the 1951 McAlester club. The 17-year-old rookie credited Hoscheit with being a major influence on his baseball career.
Hoscheit was the first person, other than his immediate family, that Whitey Herzog thanked during his Hall of Fame induction speech in 2010. Herzog, who played for McAlester in 1949-50, wrote of his former minor-league manager in his autobiography, White Rat: A Life in Baseball: "Hoscheit was very good at his job. He could teach every phase of the game and he was just hard enough to make everyone a little scared of him. He really taught me what being a professional baseball player is all about."3
Vern and Helen liked McAlester so much that they lived in town full-time during his four-year run with the team. In 1952 Hoscheit took over as manager of the Joplin Miners in the Class C Western Association. The Miners won the second-half title of a split season and then defeated Muskogee in the league playoffs.
Hoscheit's next managerial post was with the Quincy Gems in the Class B Three-I League in 1953. He was named general manager in 1955, serving as manager and GM of the Gems through the 1956 season. His last year with Quincy was his final season as an active player. Hoscheit told the New York Times, "I hit a ball off the center-field fence and barely made it into second base. Lee MacPhail, who was in charge of the Yankee minor-league teams, told me it was time to retire."4   
From there Hoscheit was assigned to Peoria, Durham, and finally Greensboro, where he held the dual roles of manager and general manager. In 1959 he left the Yankees organization and became a scout for the Baltimore Orioles. Soon after, he was notified that he had been elected president of the Three-I League. Although he neither sought nor applied for the post, he was voted in unanimously by all eight representatives of the clubs in the circuit. He resigned at the conclusion of the 1961 season after serving two terms as president.      
In 1962 Hoscheit returned to the Orioles as a scout, covering Illinois, Iowa, and Wisconsin, while doing double duty as the club's minor-league coordinator. He managed Baltimore's rookie-league team for three years, winning the Florida Instructional League pennant in 1965. Vern also coached the Orioles in spring training during Hank Bauer's tenure as manager.       
Late in the 1967 season, Orioles general manager Harry Dalton asked Rochester Red Wings manager Earl Weaver to recommend new coaches for the major-league club. Weaver said that Hoscheit would be his choice for bullpen coach because he was a no-nonsense kind of guy. On October 3, 1967, Hoscheit was hired, replacing Sherm Lollar, who had been released at the end of the season. Earl Weaver and George Bamberger were also brought on as coaches.
Orioles ace Dave McNally credited Hoscheit and pitching coach Bamberger with helping him battle through control problems. Hoscheit was responsible for the development of catchers Elrod Hendricks, Andy Etchebarren, and Larry Haney. He also tutored Curt Blefary on the finer points of catching when the Orioles decided to use the former Rookie of the Year behind the plate. 
Hank Bauer was fired as Orioles manager in July 1968, and was replaced by Earl Weaver, who kept Hoscheit on as a coach. On September 29 Oakland A's owner Charlie Finley hired Bauer as manager, and Bauer chose Hoscheit as his bullpen coach. Hoscheit resigned from the Orioles coaching staff to take the job.
For the next few years in Oakland, Hoscheit worked under managers Bauer, John McNamara, Dick Williams, and Alvin Dark. Vern always backed up his players and that included bench-clearing brawls. On July 19, 1972, at County Stadium in Milwaukee, three Brewers batters hit catcher Dave Duncan with their backswings and finally Brewers pitcher Jim Colborn nailed him with a curve. Duncan charged the mound as both benches and bullpens emptied on to the field. The 50-year-old Hoscheit, attempting to join the fray, injured his arm while jumping over the high wall in front of the visitors bullpen. Although Hoscheit was unable to participate in the on-field scuffle, the A's players appreciated his game effort.
Oakland went on to defeat the Cincinnati Reds in the World Series. Hoscheit made sure that 64-year-old advance scout Al Hollingsworth received recognition for his spot-on assessment of the Reds players. "If this man does not get the credit he deserves, it is a real shame," Vern told the Associated Press.5 Then, turning to Hollingsworth, Hoscheit said, "They did everything you told us they would."6 Among many observations, the keen-eyed Hollingsworth noted that the Reds scored twice on a pair of two-out bunt singles during their playoff series with Pittsburgh. A's manager Dick Williams took Hollingsworth's advice and played third baseman Sal Bando up to take away the bunt, which he did successfully throughout the Series.     
During spring training in 1973, the A's had a doubleheader scheduled in Mesa, Arizona, but there were no umpires available. Hoscheit, who had done everything at the ballpark during his minor-league days from concessionaire to groundskeeper, went behind the plate for both tilts, earning an extra $200 from owner Finley.
Hoscheit was instrumental in developing Rollie Fingers into one of the game's best relief pitchers. Dick Williams recounted how Fingers had difficulty as a starter:
"The closer it got for him to start – and they went every fourth day not every fifth day – the more nervous and hyper he'd get. He'd last one inning or at the most two or three. Bill Posedel was our pitching coach at the time. We finally stuck (Fingers) in the bullpen. Vern Hoscheit was our bullpen coach and he made sure the reliever, whoever it was, knew who he was going to face.  And he pumped that into Rollie. Then when Rollie got to the mound, I'd ask him, what did Vern say? He said, well, Vern said I was going to face so and so. I said how are you going to pitch him? He said Vern told me this way. Okay, as long as you know. He put him in some games that didn't mean anything, as the score indicated. He did well. Put him in a little tougher situation, he did well. Put him in a save situation – what they call a save situation now – and he did well. So that's how he became a relief pitcher. And he got better as he went along."7
Hoscheit tutored catchers Dave Duncan, Adrian Garrett, and Gene Tenace during his time with Oakland. He was able to take Tenace, an average outfielder, and turn him into an excellent defensive backstop. 
After the 1973 World Series, Dick Williams shocked the baseball world when he resigned. He was replaced by Alvin Dark. On July 9, 1974, Charlie Finley gave Dark permission to fire Hoscheit and third base coach Irv Noren. Oakland was in first place at the time. Dark had previous issues with Noren over the signals he was giving the batters from third base. In Hoscheit's case, he and Dark had been at odds over the team's policy requiring players to sign up days in advance for extra batting practice. Dark said, "This is no reflection on their ability. I want my own people as coaches."8 Hoscheit said, "When you have to work for people like that it is time to get out. Dark is a horse feathers manager and Finley is no good either. He promised us a raise and he never kept his word." 9 
Reggie Jackson, in his book A Season With A Superstar, wrote that when Alvin Dark took over as manager, he rarely spoke to Hoscheit. The A's slugger found it odd that although Hoscheit kept notes on how to pitch to every hitter in the league, Dark never consulted him on pitching strategy. Aside from Wes Stock, the team was purged of every coach who had an allegiance to former manager Williams.
In October 1975, Hoscheit was reunited with Dick Williams, now the manager of the California Angels, who hired him as a coach. Hoscheit initially was the first-base coach. In July, he moved to third base when Norm Sherry took over for the fired Williams as manager.  
Hoscheit retired from baseball after the 1976 campaign. He went back home to Plainview, Nebraska, where he ran a liquor store and managed the local American Legion team. But in 1983 he accepted an offer from the New York Mets to become the team's minor-league catching instructor. That same year, he managed the Mets' Sarasota team in the Florida Gulf Coast League. After the 1983 season Davey Johnson was hired to manage the Mets and he named Hoscheit as his bullpen coach. Johnson had known Vern since his days in the Orioles organization.  
For the next few years, Hoscheit handled the Mets' bullpen duties while tutoring the backstops on the finer points of catching. On July 22, 1986, the Mets got into a fight with the Cincinnati Reds. Sportswriters noted that every player and coach, including the 64-year-old Hoscheit, got into the action, while Mets outfielder George Foster never left the bench. The Mets went on to defeat Boston in the World Series, giving Hoscheit his fourth World Series title as a bullpen coach.   
Hoscheit was popular with the players but he meant business when it came to following team rules. His quote in the 1987 Mets Yearbook said it all: "The bus leaves in ten minutes, be on it or under it."       
Hoscheit retired again in October 1987. But his absence from baseball was short-lived; a few months later he was again named the Mets' minor-league catching instructor. Among his many duties he was called into help recently-acquired catcher Phil Lombardi, who was having difficulty throwing the ball back to the pitcher. Hoscheit advised the young catcher not to look at the ball before tossing it back to the mound. He was able to help Lombardi with his throwing, but the highly touted prospect was unable to adjust to major-league pitching and was soon out of baseball.          
Hoscheit retired from professional baseball for good in 1991, returning home to Plainview. He stayed involved with the game, coaching in the local American Legion team. Hoscheit enjoyed hunting and fishing. He also owned a kennel of hunting dogs. One of his business interests was a celebrity fishing camp in Ocala, Florida, that he co-owned with Whitey Herzog and Davey Johnson.
After a long illness, Hoscheit died at Pierce Manor Nursing Home in Creighton, Nebraska, on June 11, 2007. His wife, Helen, had died in August of 2001. He was survived by his son, Billy Ray Hoscheit; two daughters, Sherri Ann Huigens and Cathy Jean Brodhaugen; a sister; eight grandchildren; and one great grandchild. He was buried in Plainview Cemetery.
Sources
Baseball-Reference.com
Wooldridge, Clyde, Hoscheit Obituary, McAlester News-Capitol, June 16, 2007. Posted on Frank Russo's Deadball Era website. 
Gary Bedingfield's baseballinwartime.com. 
Jackson, Reggie, with Bill Libby, A Season With a Superstar (Oakland: Playboy Enterprises Inc.) (Quote excerpted from the Palm Beach Post August 27, 1975, 30).   
Markusen, Bruce, Baseball's Last Dynasty: Charlie Finley's Oakland A's (Indianapolis: Masters Press, 1998), 116, 211, 305-06. 
Hummel, Rick, "Herzog Retraces his Steps to Cooperstown," St Louis Post-Dispatch, July 26, 2010.
Bergman, Ron, "A's Chopping Block Claims Noren, Hoscheit," The Sporting News, July 27, 1974, 27.
BR Bullpen, Sooner State League.
Telephone interview on August 10, 2013, with Lois Olson (Plainview Historical Society).       
Vern Hoscheit obituary and tribute page, Brockhausfuneralhome.com.  
Vern Hoscheit, Ultimate Mets Website, Ultimatemets.com
Eugene (Oregon) Register Guard 
Gadsden (Alabama) Times  
Lewiston (Idaho) Evening Journal
Milwaukee Journal 
Milwaukee Sentinel
Observer Reporter (Pennsylvania)
Palm Beach Post
St. Joseph (Missouri) Gazette
Dubuque (Iowa) Telegraph-Herald
The Hour (Connecticut)
(Ontario, CAN) Windsor Star   
Youngstown (Ohio) Vindicator
I would like to thank the following people who assisted me with this biography:  
Lois Olson, historian at the Plainview Historical Society.
Lyle Spatz and Rod Nelson for providing the name of the Yankees scout, Lou Maguolo, who signed Hoscheit.
Notes
1 Joe Gergen, "No Fish Tale: Herzog and Johnson in Same Boat," The Sporting News, July 13, 1987, 8. 
2 Davey Johnson and Peter Golenbock, Bats (New York: G.P. Putnam's Sons 1986), 56.
3 Whitey Herzog with Bill Horrigan, White Rat: A Life in Baseball (New York: Harper and Row, 1987), 39-40.
4 Murray Chass and Thomas Rogers, New York Times, November 12, 1983.
5 "Super Scout Helped Beat Reds," Observer-Reporter, October 24, 1972,16.   
6 Ibid.
7 Fay Vincent, It's What's Inside the Lines That Counts: Baseball Stars of the 1970s and 1980s (New York: Simon & Schuster 2010), 69.
8 Associated Press, "Dark Fires A's Coaches After Oakland Tops Tribe," Toledo Blade, July 10, 1974, 17.
9 United Press International, "Dark Takes Charge, Fires Two Coaches," Milwaukee Journal, July 10, 1974, 20.
Born
April 1, 1922 at Brunswick, NE (US)
Died
June 11, 2007 at Pierce, NE (US)
If you can help us improve this player's biography, contact us.
http://sabr.org/sites/default/files/VernHoscheit.JPG
600
800
admin
/wp-content/uploads/2020/02/sabr_logo.png
admin
2012-01-04 19:54:44
2021-03-04 10:54:45
Vern Hoscheit