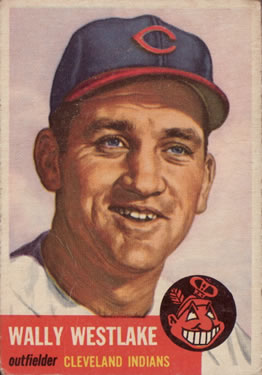 ---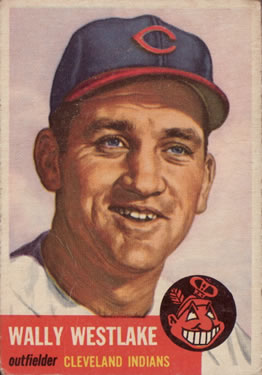 The small town of Gridley, California, was established five years after the Civil War. It would become known for its agriculture, eventually becoming the "Kiwi Capital of the United States." The Northern California community would also be successful in growing such other crops as peaches, plums that would become prunes, rice and walnuts. Gridley became the birthplace of another homegrown product: Wally Westlake. In 1947 the Pittsburgh Pirates baseball club would plant this California product in the outfield of Forbes Field with the hopes of bountiful harvests for years to come. He became a staple in Pittsburgh from 1947 to 1951.
Named after his father, Wally Westlake was born November 8, 1920, of good old English-Irish stock to Waldon Thomas Westlake and the former Helen Holland. Honest, hard-working people whose families had settled in Northern California in the 1880s, Waldon and Helen had three boys and a girl whom they taught to respect others and their property as well as the animals they hunted. Wally became an avid fisherman and hunter. Jim, the Westlakes' youngest son, played in the minors and had one at-bat with the Phillies on April 16, 1955.
Wally carried his parents' lessons with him as he progressed in professional baseball. Stunned by the viciousness and ignorance of some people, he witnessed several instances of anti-Semitism and racism. Westlake recalled how Hank Greenberg, his teammate in 1947, struck up a relationship with a young Jackie Robinson. Hank, who had experienced anti-Semitism first-hand, became one of Robinson's biggest supporters.
Westlake played at the Christian Brothers High School and the local American Legion League in Sacramento, where the family had moved when he was six years old. His play caught the attention of a scout named Ted McGrew, and he was invited to a Brooklyn Dodger tryout camp in Fresno. He would sign as an amateur free agent in 1940 and start his professional career with the Elmira Pioneers, a Class "A" entry in the Eastern League. He appeared in only one game, without a plate appearance. In a recent phone interview, Wally confessed that he was overmatched. The young man wanted to quit and go home. Fortunately, he did not and finished up the year playing at Dayton of the Class C level in the Mid-Atlantic League. Westlake would play in thirty games, hit a couple of home runs, and bat .176. Although these were terrible numbers, the future major leaguer felt comfortable with the level of competition. He spent the entire 1941 season with the Merced Bears of the California League and did reasonably well, hitting .265 with 18 home runs and 85 RBIs over 136 games.
The young slugger from Sacramento earned a promotion to Class AA in 1942 to play for the Oakland Oaks, managed by John Vergez, of the Pacific Coast League (PCL). Westlake hit for an average of .268, clubbed 7 round trippers and produced 57 runs while playing in 169 games. His stats for the 1942 season showed the possibility of a bright future. The Los Angeles Times of April 5, 1942, tipped its figurative hat to his play: "For Oakland, Hugh Luby singled through the box and scored on a triple by Wally Westlake, the rookie outfielder who was one of the home run leaders of the California League last semester."
World War II interrupted his career, taking the young man from 1943 to 1945. While his father saw action against the Germans in France during World War I, Wally would never leave California. He would humorously refer to himself as a "Broadway" soldier.
Westlake would return to the PCL in 1946. The league had been upgraded to Triple-A classification. That year he would play for the legendary Casey Stengel. After fulfilling his military requirement Wally enjoyed a fine season. He credited the "Old Professor" with teaching him more about being a baseball player, both as a batter and an outfielder, than he ever had known before. "There wasn't a move that any player made that Old Case didn't see and talk about afterward. A smart kid never made the same mistake twice. You just can't help but listen to him. But don't laugh at some of his strange mutterings. He won't go for that. He was smart!"
The Oakland squad would finish in second place that season, four games behind their California rivals, the San Francisco Seals managed by Lefty O'Doul. Westlake would enjoy a campaign that witnessed him achieving a .315 average, 7 homers and 57 runs driven in. The Oaks advanced to the PCL championship against the San Francisco club by defeating Los Angeles, only to lose to the Seals four games to two.
Westlake's play at Oakland must have made an impression on Ray L. Kennedy, then the general manager of the Pittsburgh Pirates. The Pittsburgh papers reported on September 26, 1946, that the Pirates would purchase the young outfielder for cash and three yet to be determined players. By this time, Wally was twenty-six and married to the former Rosie Bier. They had one child at the time. Later that year, the Pirates completed the deal by sending four players to the Oaks: outfielder Tommy O'Brien and first baseman Larry Barton, along with pitchers Johnny Hutchings and Gene Lillard.
The Pirates began the 1947 season under new ownership. Barney Dreyfuss' widow decided to sell the club for 2.5 million dollars. Frank McKinney, John W. Galbreath and Tom Johnson became the club's new owners. They would make an intriguing transaction by coaxing former Detroit Tiger great Hank Greenberg out of his short retirement. Part of the bait, aside from making him the first $100,000 player in the National League, was to move in the left field fences at Forbes Field by 30 feet, creating Greenberg Gardens. In his only season in Pittsburgh, Greenberg would manage just 25 dingers due to a nagging back ailment. While the shorter dimensions did not seem to help the old slugger's performance, it was advantageous for a young slugger named Ralph Kiner. Ralph would become a disciple of Greenberg and under his tutelage would launch 51 homers to tie the Giants' Johnny Mize for the National League lead that year. Another batter in the same outfield would also find the altered dimensions to his liking. Shirley Povich of the Washington Post would report in his "This Morning" column on April 30, 1947: "Hank Greenberg, who led the American League in home runs last season with 44 and then moved to the National, where the home run leader hit only 23, is finding the going tough. He isn't even leading his own Pittsburgh club in homers, much less the National League. Wally Westlake of the Pirates has clouted three homers compared to Greenberg's two, and Ralph Kiner, who was the league's home run champion in 1946, hasn't hit one yet."
Of course, Kiner went on to lead the league in home runs, as the dismal Pirates finished the season at 62-92 to tie the Phillies for seventh place. Westlake would complete his rookie season with 17 round trippers, 69 runs batted in and a .273 batting average. This fine debut attracted the attention of none of other than Branch Rickey, the general manager of the Brooklyn Dodgers. Rickey's desire was mentioned in the "Daniel's Dope" column in the New York World Telegram: "Reports involving the Dodgers and the Pirates in a trade which would bring Waldon Westlake to Ebbetts Field for Eddie Miksis are founded almost on wishful thinking. Pittsburgh would be glad to take Miksis but it had no intention of trading Westlake." Ralph Kiner became one of Westlake's biggest backers, calling him "the most underrated player on the team."
The Pirates went to great lengths to improve their club for the 1948 season. During the off-season they acquired first baseman Johnny Hopp and second baseman Danny Murtaugh from the Boston Braves. Then from Brooklyn they picked up Stan Rojek, who had spent his time with the Dodgers as Pee Wee Reese's backup, in addition to Dixie Walker, the "People's Cherce." After a contract dispute, Westlake became the final player to sign for the upcoming season. Finally, the Pirates hired Billy Meyer to take over the club from Billy Herman.
The 1948 season proved successful for several reasons. Meyer won Manager of the Year honors for guiding the Pirates to a fourth-place finish with an 83-71 record, leaving them 8.5 games behind the Boston Braves. Kiner tied Johnny Mize for the National League home run title with 40, as Greenberg Gardens were renamed "Kiner's Corner." Wally Westlake improved upon his rookie season by batting .285, 17 home runs and 65 RBIs. He hit for the cycle on July 30 during a 10-5 victory over the Dodgers.
Unfortunately, 1949 confirmed what many Pirate fans feared, that the team's success was due to career seasons by several players. Many would fall back to earth, returning the team to the second division of the National League. The Pirates fell to 71-83 to finish in sixth place, 26 games off the pace. Even with the disappointing season, Kiner again led the National League in homers, many landing in Kiner's Corner. Westlake improved upon 1948. He would play in 147 games, tag 23 homers, drive in 104 runs and finish with a batting average of .282. He hit for the cycle on June 14, 1949, for the second time in his career. The New York Times reported, "Wally Westlake scored practically a one man victory tonight as he rapped a homer, a triple and a ninth inning double to lead the Pirates to a 4-3 victory over the Braves." His single was not included in the Times account since it did not result in a run.
Branch Rickey became the general manager of the Pirates to start off the new decade. Ever since his Brooklyn Dodger years he had been aware of Westlake's value. During an interview while riding in a car to attend a luncheon honoring Happy Chandler, Rickey told his companions, "We're going to use as many of the kids this year as we possibly can." "The Mahatma" pointed to Wally Westlake as an example. He felt that Westlake was the only player on the roster that would bring fair value on the trade market. Although Kiner was a major star and desired by several teams around the league, Rickey neither liked him as a player nor believed trading him could justify the loss at the gates that a Kinerless team would spell. The Pirate GM's assessment of Westlake's value might have been valid, but his lack of appreciation for Kiner was unwarranted if not irrational.
In 1950, the Pirates' fortunes sank quicker than an anchor being dropped in the middle of the ocean. Wally put together another fine season for the club. He hit one more home run than the previous season with 24, knocking in 95 runs to go with a .285 batting average. His roommate, Ralph Kiner, also had a good season: 47 home runs to lead the league, 118 RBIs, an average of .272–and the Player of the Year Award from The Sporting News. Unfortunately, no starting pitcher posted a winning record, and the team finished in the cellar, at 57-96 and 33.5 games behind the Philadelphia Whiz Kids.
The next year's home opener was held on April 17, 1951. That day 25,894 fans poured through the turnstiles of Forbes Field to brave snow flurries and forty-degree temperatures to watch the Pirates play the St. Louis Cardinals. While the fans sat in flurries, they did not realize that they were witnessing the start of a different flurry on the playing field. That day Westlake sent one high over the Longines clock in leftfield for a 5-4 Pittsburgh victory. Wally was beginning what was arguably his best season at the plate while employed by the Pirates.
Then on June 15, 1951, papers reported that the Pirates announced a trade with the St. Louis Cardinals. Pittsburgh sent Westlake and Cliff Chambers to the Cards for Howie Pollet, Joe Garagiola, Bill Howerton, Ted Wilks and Dick Cole. Although Chambers had pitched a no-hitter that season, he became expendable with a series of ineffective starts. Wally Westlake, on the other hand, was having a torrid season at the plate. At the time of the trade, Wally had hit 16 homers, and driven in 45 runs while posting a .282 batting average and a .569 slugging percentage. Columnist Joe Williams expressed surprise at Rickey's deal involving Westlake at the trading deadline: "Rickey surrendered Wally Westlake in a five-man deal with the Cardinals, a move which invited press box criticism. Next to Ralph Kiner, Westlake was the Pirates' strongest bat. There is no record that Rickey ever lost his shirt in the baseball market." Williams felt that any change by the Pirates was likely to be a good one. Westlake tailed off to finish the year with 22 home runs, 84 RBIs and a .266 batting average. Wally revealed in conversation that the trade affected him psychologically.
At the age of 31, Wally Westlake attended spring training with a team other than the Pirates. Indeed, suddenly reduced to the status of a journeyman player, he spent the 1952 campaign on four different teams. He would play 21 games in St. Louis, hitting only one home run, driving in ten runs and batting a very disappointing .216. Next he was swapped to the Cincinnati Reds along with Eddie Kazak for Dick Sisler and Virgil Stallcup. The New York World Telegram quipped that the transportation costs for the traded players were about the cheapest in the history of the game. That afternoon the Cards were playing at Ebbetts Field, while the Reds were at the Polo Grounds. Westlake would play in 89 games with Cincinnati. He launched 3 home runs, drove in 14 runs and hit a terrible .202. The vagabond finished his season in the American League with the Cleveland Indians. In 29 games, he accounted for a homer, 9 RBIs, and a .216 batting average.
Before the trade to Cleveland, Westlake was asked where he would like to play if traded to the American League. Some thought that his choice would have been the Yankees, especially with the chance of being reunited with Casey Stengel, his former manager in the PCL and one that he credited for saving his career. Hank Edwards, a teammate of his at Cincinnati, recommended the Indians for several reasons: the number of veterans on the club, the ballpark and the management. Wally would be reunited with Hank Greenberg, his old teammate who was the general manager at Cleveland. In a telephone interview, Westlake expressed a deep respect for Greenberg, as both a hitter and a person. Edwards also informed him that the Cleveland ballpark was as nice a place to play as any available in the National League. At the same time, Wally professed his love for Wrigley Field: "You almost wanted to give some of your money back to play there!"
Coincidentally, the trade was made August 7, two days after the Reds played an exhibition against the Indians to benefit local sandlot teams. Like another trade involving Westlake, this one saved on travel expenses. It was said that the Tribe was seeking a dependable, experienced outfielder for their stretch drive, and Greenberg noticed that Westlake was available on the waiver line. To make room for him, the club sent rookie outfielder Jim Fridley to Indianapolis of the American Association. At the time Fridley was having a more successful season than Wally but did not provide the same level of defense. Cleveland skipper Al Lopez remarked, "Westlake is one of the majors' better outfielders." The trade was consumated for $25,000 with two players to be named later. The newspapers pointed out how Westlake was languishing in a horrible season before the trade. To such criticism Wally replied, "I've got no alibis, and I'm just not hitting. I don't know why. I'm in good shape, my weight is down and I feel fine but I'm just not hitting the ball. I can't even hit in batting practice." He went on to express his pleasure at the opportunity to play with the club. "I know we've got a good chance to win the pennant and I'd like to do my share."
With the 1952 season behind him, Westlake went to spring training with the Indians in 1953. He wanted to prove why the Indians were smart in trading for him. Wally would flourish in his role as an additional outfielder. The vet rekindled the ability that seemed lost from his days in Pittsburgh. He hit a homer on May 5, 1953, to break up a shutout by Whitey Ford. Later in the month one of his home runs helped defeat the White Sox. Then in August he would go on a hitting tear. It started with a game played on August 1 against the Philadelphia Athletics. He "batted in two runs in the Cleveland six-run second inning which routed Harry Byrd and tagged the 1952 rookie-of-the-year with his eleventh loss against ten victories." Wally posted a batting line of five hits, which included a homer and four runs batted in. Such clutch hitting was reminiscent of his earlier playing days in Pittsburgh. The Chicago Daily Tribune reported on August 28: "Wally Westlake hit a homer in the 11th inning with a man on base to give the Indians a 4-2 victory over the rival Yankees." The report continued: "Westlake, inserted in the 10th inning as a rightfield replacement got his sixth homer of the season off left hander Bob Kuzava, who took over in the eight." The New York Times reported the continuance on September 3: "Wally Westlake walloped a pair of home runs tonight to pace the Indians to a 6-3 victory over the Athletics. Westlake, a spare outfielder until he started to hit recently, belted both homers off of Harry Byrd and drove in 3 runs. He has hit 8 four baggers this year." Unfortunately, even with Westlake's exploits, the Indians finished with a 92-62 record, good enough for second place and 8.5 games behind the Yankees. Wally would finish with a batting average of .330, 9 homers and 46 RBIs in only 82 games.
The 1954 season was magical for the Cleveland Indians, who would win 111 games, the American League record at the time. Ironically, the end of the preseason would be prophetic as to the outcome of the 1954 season. Before the 1947 season Bill Veeck had decided to move the Indians' spring training site to Arizona from Florida. In his biography, Veeck explained: "… I had already made up my mind to get out of Florida. By arranging for the Giants to come to Arizona with us, I was able to move the next team I had down South, the 1947 Indians, to Tucson." The two teams began a tradition of playing exhibitions throughout Texas and other southern states as they traveled north. This type of travel seemed to appeal to Westlake, who performed some hitting heroics along the way. On April 4, 1954, he hit a home run off Sal Maglie to tie the score in the seventh inning, and his double drove in two more runs leading the Indians to an 8-4 victory over the Giants. He hit another home run the following day in a 10-8 victory.
Wally started the season as the regular leftfielder for the Tribe, but Lopez would eventually bench him in favor of Al Smith, who was faster and could bat leadoff. Then Cleveland experienced a rash of injuries that brought Westlake back into the regular lineup. He returned on June 11, 1954. The Indians won 6-2 that day. Westlake had a homer and a single. He played in leftfield and batted out of the six-hole. Wally went on a streak that would see him produce 16 hits in 51 at bats through June 27. During that span he collected 3 doubles, 3 homers with 11 RBIs during this stretch. Before this stretch, he had only played in 39 of the Indians' first 88 games. Even with his lack of playing time the jovial outfielder served as a positive influence in the clubhouse. Wally was well liked in the clubhouse, as he seemed to have only kind words for everyone. While he was reduced to a limited role up to and after the stretch, Wally still had 26 RBIs.
Wally would recap his career in an interview for The Sporting News of July 7, 1954. Much of the interview centered on how he bounced around the National League before finding a home in the "junior" circuit. It was pointed out how Cleveland took a chance on him because they needed a quality outfielder. It probably did not hurt that former teammate Hank Greenberg was the general manager. When he was asked about his reaction towards the National League letting him pass waivers, he replied, "I was surprised that somebody DID want me. I was darn grateful." Of course the Indians would become the grateful ones. At the age of 33, the National League castoff played a valuable role in the Indians' efforts to end the Yankees' dominance.
The July 7 article contained a little known story. While in a slump during the 1953 season, Wally unknowingly partook in being filmed. At the time this was considered revolutionary. Al Lopez and Hank Greenberg hired the Cleveland Browns photographer to film Westlake in early July of 1953. Wally walked into the clubhouse prior to a night game, when a clubhouse boy informed him that Hank Greenberg wanted to see him. He expected the worst and walked into the room, only to see Greenberg, Lopez and a movie screen. "Sit down Wally. We would like to show you some films." The movies were of him in early July, when he was in a batting slump. The filming was requested by Greenberg and was done by the Cleveland Browns photographer. Westlake was unaware that he was being filmed. Greenberg, Lopez and Westlake critiqued the action on the screen and after thorough analysis; they determined that his swing was both too quick and too long. Their solution was for him to open up his stance.
Like magic, Wally broke out of his slump. While the films might have helped, he was not ready to give them all of the credit. He did see a benefit to them. "I hope they do more movie taking. I think it would be a good idea to take movies of a batter when he is going well too. Then comparisons could be made." He felt, too, that movies should be taken of great hitters like Williams, Musial, and Kiner.
Also in the interview Westlake called it a privilege and a pleasure to play in the major leagues, especially to have roommates like Ralph Kiner and Al Rosen. He noted that they were both highly intelligent men. Wally said that both were all business on the playing field. The difference was that Kiner never showed emotion between the white lines while Rosen did not take it lightly if he missed a pitch.
Of course, Rosen had already established himself as one of the top hitters in the American League. In 1953, after becoming Westlake's roommate, however, he had one of the greatest years any third baseman ever had and was named Most Valuable Player. Westlake refused to take credit. In fact, he was grateful to Rosen: "He helps me more than I help him… he's always encouraging me."
Westlake finished the 1954 season with 11 homers and 42 runs batted in to compile an average of .262 for 85 games. The Indians would win the American League pennant, finishing eight games ahead of the rival Yankees. This would be the only year that Casey Stengel would ever win over a hundred games, but ironically he wound up in second place! The New York Giants swept the Indians in that year's Fall Classic.
The following year, Westlake would play for two teams, the Indians and Orioles. On June 15 the Orioles traded Gene Woodling and Billy Cox for Westlake, Dave Pope, and cash. By July 5, 1955, he would be released after posting a dismal .184 average, no homers and one RBI in 24 games.
The next stop for the journeyman was the Philadelphia Phillies on November 7, 1955. He appeared in only five games in 1956, all as a pinch hitter, and struck out three times. He played the balance of 1956 with Sacramento of the PCL, appearing in 90 games, batting .273, hitting 12 home runs and driving in 50. On February 15, 1957, Westlake at the age of 36 hung up his cleats for good.
With his baseball career over, the former major league outfielder joined the sales force for Tidewater Oil. The work did not suit him. He eventually became employed by A. Teichert & Sons Construction Company, working there as a lead laborer. Being outside was to his liking. Each year the company would conveniently shut down during duck season. Wally would spend this time outdoors, fishing and hunting. One of his favorite fishing spots was located on the Smith River along the Oregon/California border. "We would fish from the bank, use spinning tackle and fresh roe for bait." His favorite fish to catch was steelhead. He landed an 18-pound monster with spinning tackle and a 12-pounder with a fly rod!
In his later years, Westlake continued to live in Sacramento. He had five children: Patricia, Constance, Steve, Cathleen and Joseph. Each of them lived near by. His beloved wife Rosie now lives in an assisted living facility. During his career, Wally was well liked by his teammates. Wally admitted, "I wasn't a great player but a good one." He recounted how it was an honor to put on the uniform.
Baseball also allowed him to meet many people in and out of the sport. For example, when he played for Pittsburgh and Bing Crosby was a part owner, he would hunt on Crosby's ranch outside of Las Vegas and also at his place in Redding, California. He felt privileged to play for several different managers: Casey Stengel, Billy Herman, Marty Marion and Al Lopez. Willie Mays was the best player he ever saw. Ewell Blackwell was one of the toughest pitchers he ever faced: "Guys would come down with stomach aches when he was schedule to pitch." He had kind words for Bob Lemon and Robin Roberts, whom he considered the most intelligent hurlers of his era. As a major leaguer he also considered himself lucky to play with and against several great hitters like Greenberg, Kiner, Williams and Musial.
Waldon Thomas Westlake considered the 1954 season and playing on a team that went to the World Series the highlight of his career. "It was a great bunch of guys and of course you enjoyed winning every day." The Baseball Encyclopedia shows lifetime totals of 958 games played, 3,117 at bats, 848 base hits, and 127 homers, 539 RBIs with an average of .272. As Wally would say, it was fun.
He died at the age of 98 on September 5, 2019.
An earlier version of this biography is included in the book "Pitching to the Pennant: The 1954 Cleveland Indians" (University of Nebraska Press, 2014), edited by Joseph Wancho. For more information, or to purchase the book from University of Nebraska Press, click here.
Sources
In writing this biography, the author relied extensively on three telephone conversations with the subject (February 22, 2006, March 6, 2006, and June 8, 2006), as well as his file at the National Baseball Hall of Fame Library. In addition, the following sources were used:
New York Times (box scores)
Los Angeles Times (box scores)
Chicago Daily Tribune
The Sporting News, July 7, 1954
Gillette, Gary, and Pete Palmer, eds. The 2006 ESPN Baseball Encyclopedia. New York: Sterling Publishing Co., Inc., 2006.
Johnson, Lloyd, and Miles Wolff, eds. The Encyclopedia of Minor League Baseball. 2nd ed. Durham, North Carolina: Baseball America, Inc., 1997.
O'Toole, Andrew. Branch Rickey in Pittsburgh. Jefferson, North Carolina: McFarland, 2000.
Veeck, Bill, with Ed Linn. Veeck as in Wreck: The Autobiography of Bill Veeck. University of Chicago Press, 2001. (Originally published: New York: Putnam, 1962)
Born
November 8, 1920 at Gridley, CA (USA)
Died
September 6, 2019 at Sacramento, CA (USA)
If you can help us improve this player's biography, contact us.
http://sabr.org/sites/default/files/WestlakeWally.jpg
600
800
admin
/wp-content/uploads/2020/02/sabr_logo.png
admin
2012-01-04 20:24:33
2022-04-04 13:52:46
Wally Westlake