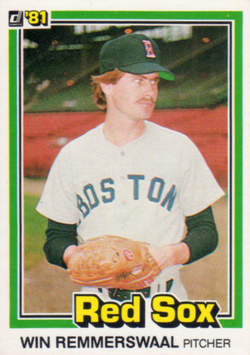 ---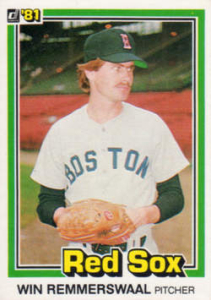 The first European-trained major leaguer was Wilhelmus Abraham Remmerswaal, known simply as "Win." The pitcher from the Netherlands made his nickname come true three times in 22 appearances for the Boston Red Sox in 1979-80. He played just one more season in Triple-A after that, then spent five years pitching in Italy. Red Sox fans – especially those of their Pawtucket farm club – still remember the intelligent and eccentric hurler. Alas, he became a tragic figure. A victim of alcohol abuse, Remmerswaal was confined to a Dutch nursing home from 1997  until his death in 2022.
For much of the detail in this story, we are indebted to several Dutch sources, in particular a 2009 feature by journalist Leo Verheul, who first met the pitcher 30 years before. Win Remmerswaal was born on March 8, 1954, in The Hague, Holland's third-largest city and its seat of government. He was the third of four sons born after World War II to Jacobus "Jaap" Remmerswaal and his wife (whose name is presently unavailable). Jaap, who became an assistant editor, had been a fine soccer player with the club VUC in Wassenaar (a wealthy suburb of The Hague). All four of the Remmerswaal boys – Hans, Harry, Win, and Jerry – were talented athletes too, and all four were sports-crazed. "In the early '60s, [they] could hardly be kept away from the baseball field in Wassenaar, situated directly behind their family home."[1] Honkbal, as the game is known on Dutch soil, was introduced to the Netherlands in 1911. Official competition began in 1922, and the game took off after World War II with the support and encouragement of the United States.
Harry, who followed his father into soccer, played for Spijkenisse in the Hoofdklasse, the top amateur level. This was a Saturday club; Dutch amateur soccer is still divided into Saturday and Sunday competition (teams based in very religious areas do not play on Sunday). Several professional teams scouted Harry, but he didn't make the cut because he lacked the mental toughness to succeed in the Netherlands, a soccer power. It is a little-known fact that Johan Cruyff and Johan Neeskens, the stars of the great 1970s "Clockwork Orange" teams, also played honkbal as young men.
Hans Remmerswaal played second base for the club ADO from The Hague in the Hoofdklasse (this name is also given to the highest division in Dutch baseball). He came close to playing for the Dutch national team in the 1960s. But Win – short for Winneke (Winnie), inspired by Winston Churchill[2] – was the golden boy of the family. His first club team (1970) was SV Wassenaar, but after a year he jumped to Storks, a Hoofdklasse team in The Hague. At the age of 17, he also got his first invitation to play for the Dutch national team. He was a gifted pitcher but could be wild at times. Therefore he wrote in the palm of his glove, "Think before you pitch."
During the 1973 European Baseball Championship, Remmerswaal played a key role in beating the Italian national team. In a preliminary match, Italy took a 6-4 lead in the third inning, but Win "entered the game and threw 6 2/3 innings of spectacular relief. He would yield no runs and only two hits and two walks. He also struck out nine as the Netherlands prevailed 7-6." The Dutch beat Italy again in the final, and Win was honored as the tournament's best pitcher.[3]
Remmerswaal had a very bright mind. Bruce Hurst, a Red Sox teammate, recalled in 2006 that Win could speak seven languages and that he would tell extensive technical stories in the bullpen – for example, why an airplane can fly. In 1974, however, the young Dutchman quit his studies at the Technical University in Delft to chase his dream of becoming a big-league player. First he got a tryout with the Kansas City Royals, but on November 22, 1974, the Red Sox signed him as a non-drafted free agent. Boston's general manager, Dick O'Connell, had spotted him while touring the Netherlands and brought him over.[4] Dutch national coach Cees Herkemij also played a role.
Remmerswaal's first three pro seasons were good if not extraordinary. The slender righty (6'2", 160 pounds) moved up steadily from Class A to Triple-A, moving back and forth between the rotation and the bullpen. He did not typically strike out a great many batters, though he once whiffed 15 at Class A Winter Haven in 1975 (losing the game on three unearned runs). However, his control was usually good. In 1977, starting in all of his 23 appearances for Bristol (Connecticut), Win led the Double-A Eastern League with four shutouts.
During his first years in the U.S., Win had a hard time surviving the life of a ballplayer. He really missed Europe with its different cultures. In a 1978 interview with the Dutch magazine Nieuwe Revu, he talked about the wild parties in hotel rooms, which would be trashed. He had to fight not only ruthless competition for the majors but also himself and the temptations of the baseball culture: pills and booze.[5]
Remmerswaal impressed Red Sox manager Don Zimmer in spring training 1978. Zim said of him and fellow pitcher Joel Finch, "Both these kids throw hard. . .I'd never seen either one of them before today and they showed me something."[6] However, Win's first full year with Pawtucket was a setback. He walked 5.6 men per nine innings, and his ERA rose to 4.47.
During the winter of 1978-79, Remmerswaal played for the Ponce Leones in Puerto Rico. He got off to a strong 4-1 start, but then slumped, finishing at 5-5.[7] Nonetheless, he impressed the local fans. As with so many other players, the Puerto Rican Winter League was a springboard to the majors – even though he had suffered arm trouble there.[8] Pawtucket put Win in the bullpen in 1979, and he pitched the best ball of his career: a 2.05 ERA with seven saves in 39 games. He struck out 93 men in 92 innings. Much credit for his development goes to Johnny Podres, the old Brooklyn Dodger who was then minor-league pitching coach for the Boston chain.
Joe Morgan managed the PawSox from 1974 through 1982. In 2010 he said, "Midway through the season the Red Sox took a pitcher up [Finch] without asking my advice. Win should've been the one. His stats at the time were something like 39 Ks and 19 hits in 41 innings, with four wins. He had a good fastball and slider — plus exceptional control."[9]
John Tudor, the lefty whose surgical pitching helped the St. Louis Cardinals to pennants in 1985 and 1987, was a teammate of Remmerswaal's from 1977 through 1980. He said, "Win had a great arm. He was not so much a pitcher as a thrower, but he didn't have a chance to mature. He had a rubber arm and could throw every day. He'd pitch one day and then the next day he'd be out firing in the outfield. But he kind of abused it."[10]
Boston finally called up Remmerswaal in early August 1979. Three men born in the Netherlands had played in the majors during the 19th century, and Bert Blyleven had reached the majors in 1970. All of them had learned the game in the United States, though; for example, Blyleven moved to Canada when he was two and grew up in California. The various other European-born big-leaguers to that point had also been raised in America. Win was the first honkballer to reach the top.
Remmerswaal made his major-league debut on August 3 at Milwaukee's County Stadium – but apparently he wasn't bothered by nerves. Steve Renko left the game after five innings, and as author Tom Boswell described it, "Zimmer called the bullpen, barked 'Get Win up,' and was told, 'He's out in the bleachers buying peanuts.'"[11]
Two days later, in the nightcap of a doubleheader, Remmerswaal got his first big-league win. Although the Red Sox were up 8-0 after three innings, Dick Drago left the game, and Win pitched the middle three innings of a 19-5 laugher. He pitched six more times for Boston before the season was over and wound up with a 7.08 ERA. "It's not an easy jump from Triple A to the majors," Johnny Podres commented the following spring.[12]
Win did not go back to Puerto Rico for the winter of 1979-80 because his shoulder was injured. He started the 1980 season back at Pawtucket, but even though he wasn't having his best year, in late June the Red Sox recalled him. He got into 11 games between then and early August. His finest outing in the majors came on a Thursday night in early July at Baltimore's Memorial Stadium. Starter Chuck Rainey left after hearing a pop in his elbow while facing just the second batter of the game. Remmerswaal entered and pitched six two-hit innings, striking out five, allowing one earned run, and getting the victory. Peter Gammons of the Boston Globe wrote, "The Orioles were impressed with Win Remmerswaal, particularly his use of his four pitches. 'I think Carlton Fisk has a lot to do with it,' said Ken Singleton. 'Remmerswaal would throw a pitch and one of us would get a decent hack at it. Normally, a rookie doesn't throw that pitch again, but Remmerswaal would come right back with it, which is Fisk's style."[13]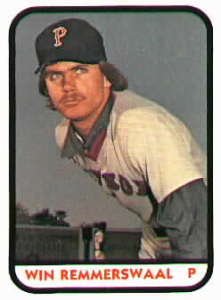 Later that month, Reggie Jackson of the Yankees said, "Remmersmell, or whatever his name is, has the best arm of anyone on that staff."[14] However, Win spent most of August idle. He had a little bit of arm soreness, and after a rainout was going to give him a start at Chicago's Comiskey Park on August 17, continued storms washed that out too. During one game in Cleveland, "Last Call" (the source of this other nickname is unknown) had a female friend deliver a pizza to the Boston bullpen. "The television camera caught the delivery and it was the last supper for Remmerswaal and his bullpen mates. The front office exploded."[15]
Left with long-relief duty, Remmerswaal appeared in his last three games with the Red Sox during September and October. He finished the year with a 4.58 ERA, which brought his lifetime mark to 5.50.
In the U.S., people remember Win more as the flaky guy who often missed team buses and plane flights than for his pitching results. On one memorable occasion (Sunday, September 21, 1980), he overslept before a game in New York against the Yankees. Hailing a cab, he wound up not at Yankee Stadium in the Bronx but at Shea Stadium in Queens. He did not discover until he got to the locker room that a New York Jets football game was taking place there![16] Sometimes Remmerswaal disappeared for days, but every time the team took him back because he was a talented hurler. After one team-jumping incident in June 1981, Peter Gammons wrote, "The good people of Pawtucket are still trying to figure out what Wilhelmus Remmerswaal is doing."[17]
Joe Morgan remembered, "You may know about the uncashed paychecks but the meal money was something else. He loved to sleep and I told him he would forfeit his meal money if he were not in the lobby by 9:30 — but it made no difference to him.
"He told me never to bring him in to relieve before a certain time because the time in Holland was not nearly the same."[18]
"Definitely a different cat!" said John Tudor. "He did all kinds of weird s—t. In one game up in Quebec City, he used a high leg kick and did really well against a good team. The next game he decided to kick even higher and he got killed. He wrote 'Win' on his left shoe and 'Lose' on the right shoe, and he'd hop off on whichever foot happened that day.
"One time I remember him coming back to the ballpark all sunburned after spending a day floating on the lake with a case of beer in an inner tube. In Kansas City, he sent his dry cleaning out one morning — and we were flying out that night, so we weren't going to be there for him to pick it up.
"A good guy, I liked him. One of those free spirits."[19]
Visa problems caused Remmerswaal to miss much of spring training 1981. (He said he was surprised he'd even been missed.[20]) He was out of options, and Boston outrighted him to Pawtucket. Chronic tendinitis in his pitching shoulder ailed Win – it was the beginning of the end of his U.S. career. Stints on the disabled list left him feeling alone and bored, so he started to drink more. Perhaps his only memorable outing that year came in the longest pro baseball game ever, the marathon between the Rochester Red Wings (then an Orioles affiliate) and the PawSox that started on the night of April 18. Win entered in the 18th inning and pitched 4 1/3 innings. He gave up a run in the top of the 21st, but Pawtucket came back to tie it. The game didn't end until the 33rd inning, which took place on June 23.
After going 0-2 with a 5.93 ERA in 20 games that season, it was inevitable that the Red Sox organization would release Remmerswaal. He returned to Europe, where he joined Parma in the Italian Baseball League. There he met the love of his life, Clotilde Zangarini, got married and had one daughter named Alessia. But his drinking habits ruined that marriage. During his years in Parma (1983-85), he was fired because of his alcohol abuse but returned to pitch the club to a victory in the European Cup in 1984. After that he fell back into his old ways. After Parma fired him again, he caught on with Nettuno and San Marino, but those were short stints as well. His time in Italian baseball was over.
In 1989, back at home in the Netherlands, Remmerswaal tried to start a career as a manager with the Hoofdklasse club Amsterdam Pirates. But that year was disastrous; the Pirates were relegated to the Overgangsklasse, the next level down from Hoofdklasse.
The Remmerswaal family lost its three other sons well before their time. Harry killed himself in 1993 because of a broken heart, Hans died of cancer, and Jerry suffered a fatal stroke. In December 1997, Win nearly joined them. Despite counseling and efforts at self-help, his alcoholism continued to plague him and his long-suffering parents. (There was even talk, which Win later denied, that he was living on the streets. [21])
After coming down with double pneumonia and pleurisy, Win wound up in a coma and the doctors gave up on him. After three weeks, however, he awoke – with severe damage to his brain and central nervous system.After that he was confined to a wheelchair in the Sammersburg nursing home. Win's mother died in 2001, and Jaap Remmerswaal, 86 years old as of 2010, was his only regular visitor. When she was a student in America, Win's daughter Alessia came twice a year too. He also made his peace with Clotilde, and love still existed between them.
In July 2006, Bruce Hurst, Win's old minor-league roommate who had a 14-year big-league career, came to visit. He had found out about Win's plight from Diamond Days, the semi-annual Red Sox alumni magazine. "We knew he had problems with his health," said Hurst, "but we've always thought of him." Hurst, then pitching coach of the Chinese national team, stopped by Sammersburg during Haarlem Baseball Week in the Netherlands. Jaap Remmerswaal said it was one of his son's best days. A couple of former Dutch opponents came to visit Win, too – but for much of the time his life was quite lonely.
In November 2010, TV West in The Hague aired An Almost Perfect Game, a touching 20-minute documentary about Win Remmerswaal and his career. Even then, one could see that this man had once been an athlete, and the film clips from his major-league career showed his good stuff (especially a sharp breaking ball). His contorted arm gripped a cigarette holder, and Remmerswaal smoked in a series of fierce, desperate puffs. Tacked to the wall behind his bed are his baseball cards and team photos.
As of 2022, four other honkballers have made it to the majors: Rikkert Faneyte, Robert Eenhoorn, Rick van den Hurk, and Greg Halman. (Didi Gregorius, who was born in Amsterdam, learned the game in Curaçao in the Netherlands Antilles, though his father pitched for the Amsterdam Pirates.) They can thank Win Remmerswaal, who helped spur the game's popularity in his homeland. In An Almost Perfect Game, Dutch journalist Theo Reitsma, a former president of KNBSB (the Dutch baseball/softball federation), said, "He had a great talent from an early age – you could see he was coming up. He worked hard to get there and Dutch baseball owes him the utmost respect for having arrived."
Win Remmerswaal, pioneer of Dutch and European baseball, died after a long illness on July 24, 2022. He was 68.
Originally published in January 2011. Updated on July 28, 2022.
Continued thanks to Joe M. Morgan (letter to Rory Costello, November 15, 2010). Thanks also to John Tudor (telephone interview, December 15, 2010).
More Win Remmerswaal anecdotes
From David Laurila, Interviews from Red Sox Nation, Maple Street Press, 2006.
Mike Tamburro (President of the Pawtucket Red Sox, has been with the club in various capacities since 1977):
Win Remmerswaal is the premier character in the history of the [Pawtucket] franchise, and it's not even close. Win played here in the early 1980s and was Dutch. Dick O'Connell signed him out of a tryout camp in Europe, and in my opinion, Win came here as a tourist first and a ballplayer second. He threw in the 90s and pitched in the big leagues for a while, and he was as colorful as they come.
One of the best [stories] is the time the team was flying back from either Norfolk or Richmond, and had to change planes in Washington D.C. Win was famous for missing team buses, and he never made it onto the plane in Washington. We got back to Pawtucket, and no Win. The next day, no Win. We had no idea where he was. Finally, on the fourth day, he comes strolling into the office. He has a box of cigars for [owner] Ben [Mondor] — he knew Ben liked cigars — and we asked, "Win, where have you been?" He said, "I realized that I was in the nation's capital, and that I may never see it again. So I decided to stay for a few days and look around."
His roommate was Julio Valdez, and they did occasionally rent cars. Now, that was an interesting duo to begin with. One spoke Dutch, the other Spanish — neither had perfect English. They got pulled over because Win was driving on the wrong side of the road. And I think they had rented the car with wrong identification, because neither had a credit card. Somehow they talked themselves out of it — maybe because the cop knew they were ballplayers. Win apparently told the cop, "That's how we drive in Holland. I didn't know."
Another time, Win was driving a rental car down the Mass. Turnpike and ran out of gas. He walked to the nearest town, but instead of going to a gas station he rented another car. He just left the first one sitting by the side of the road. It sat there for a week until they tracked it and found out it been rented by someone with the ball club. They brought it to the ballpark — this was at the end of the season — and left it there. Butch Hobson knew what had happened, so he decided to drive it home to Alabama. When he got there, he just left it in a parking lot near his house.
He was a likeable guy, and very bright. He spoke several languages. Win used to come into Ben's office to call his father, and Ben would tell him he could use the phone in the back room if he wanted privacy. He'd say to Ben, "Ben, we'll be speaking Dutch. It doesn't matter!"
The guys on the team nicknamed him "Poundcake," and a local announcer once asked Win what his biggest dream was. He told the guy that he wanted to be in Fenway Park; it's Game Seven of the World Series, and he's the closer. It's the ninth inning of a close game, and as he comes jogging in from the bullpen, 35,000 fans are chanting, "Poundcake, Poundcake!"
Lou Schwechheimer (Vice President and General Manager, Pawtucket Red Sox)
The first time Win got called up, the big club was in Milwaukee and we went to his place to let him know. It was eight o'clock in the morning, and we had booked him a 10 o'clock flight. We knocked on the door, but there was no response. So we changed his flight to noon, and kept knocking. Still no response. Some time later, Julio Valdez pulls up in their rental car. It's missing the front bumper, and the windshield is broken. We ask Julio if he knows where Win is, and he says let's go in and check. We walk into his bedroom, and we see two black socks sticking out from under the blanket — that's all we can see. We said, "Win, is that you?" He said, "Yeah, it's me." We said, "We've been knocking for a couple of hours — why didn't you answer?" He said, "I figured it was probably you, and that maybe I was getting called up, but if they really want me, they'd be willing to wait."
Ben Mondor (Owned Pawtucket Red Sox from 1977 until his death in October 2010):
Win's brother came from Holland to visit once. After he had been here a few weeks, one of us asked him when he'd be going back. Win said he wasn't sure, but that his brother's visa was going to be running out in the not too distant future. We told him he should check into it, and he asked what would happen when it ran out. We told him they'd send his brother back, so they just let it happen — his brother got a free flight back to Holland. Win just shrugged and said, "He wanted to go home, anyway."
Key Dutch-language information:
Verheul, Leo. "Waar een wilg is, is een weg." (Where there's a will, there's a way.) Originally published in the semi-annual Dutch sports magazine Achilles, April 2009. Available online at (http://www.parool.nl/parool/nl/11/SPORT/article/detail/267992/2009/11/16/Waar-een-wilg-is-is-een-weg.dhtml)
Grateful acknowledgment to Leo Verheul for his permission to draw upon this article, which was nominated for the Hard Gras Literature prize for best Dutch sports story of 2009.
Köhler, Joop. "Win Remmerswaal was de eerste honkballer van Nederlandse makelij in de major leagues." Inside (online Dutch baseball and softball magazine), February 2008: 4-5. (http://www.knbsb.nl/index.php?option=com_docman&task=doc_view&gid=228)
Haggeman, Henny. Eindhovens Dagblad (The Hague, Netherlands), September 14, 2005.
An Almost Perfect Game, documentary film produced and edited by Jan Hermsen, November 2010. (http://www.westonline.nl/video/programmas/10413)
"Hurst en Remmerswaal na 25 jaar weer samen." (Hurst and Remmerswaal together again after 25 years.) Honkbal Week, July 28, 2006. (http://www.honkbalweek.nl/download/leesvoer_28_juli_nr8.pdf)
Other sources
www.baseball-reference.com
www.retrosheet.org
Sporting News Baseball Register, 1981
www.storks.nl
www.paperofrecord.com (small items from The Sporting News)
Photo Credit
The Donruss Company. This photo must have been taken on St. Patrick's Day, because the Red Sox have a tradition of wearing green uniforms to celebrate the occasion.
Notes
---
Full Name
Wilhelmus Abraham Remmerswaal
Born
March 8, 1954 at The Hague, (Netherlands)
Died
July 24, 2022 at The Hague, (Netherlands)
If you can help us improve this player's biography, contact us.
http://bioproj.sabr.org/bp_ftp/images5/RemmerswaalWin2.jpg
600
800
admin
/wp-content/uploads/2020/02/sabr_logo.png
admin
2012-01-04 20:34:28
2023-08-15 12:51:47
Win Remmerswaal