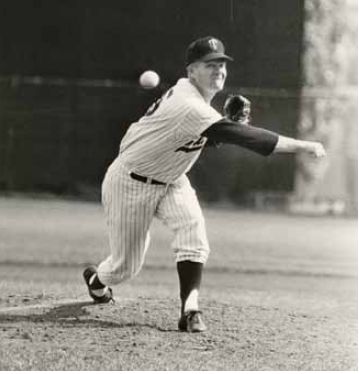 ---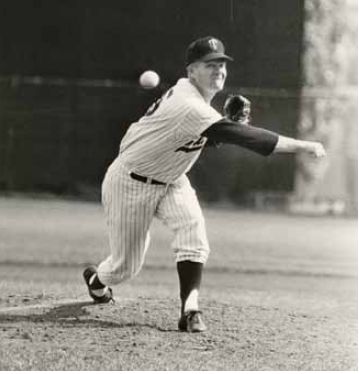 Al Worthington came from a large Alabama family, the seventh of ten children born to Walter B. Worthington, a newspaper compositor, and his wife, Lake Worthington.  After four daughters, the Worthingtons welcomed Allan Fulton Worthington into the world on February 5, 1929, in Birmingham. Walter worked for the Birmingham News for his last ten years and also pitched in one of the local amateur leagues.1 Al became a right-handed pitcher who worked 14 years in the major leagues. Over the course of his career, he hurled for both Chicago teams, both Sox teams, both the New York and San Francisco Giants, and — perhaps fittingly, given all those pairings — he finished his career with the Twins, pitching six seasons for Minnesota.
Al had two brothers who also played some ball. "My two older brothers signed professional baseball contracts, one with the Philadelphia Athletics and the other one was with the St. Louis Cardinals. One brother — Robert Oliver — came out of the Navy and he was 25 or 26. He was a little bit too old, but he played for a while with the Cardinals. He was the younger one. Walter played with the Athletics. In their farm system."2 Walter was a catcher who played in 1939 and 1940 in the Athletics chain, while Robert played three years as a catcher (1946-48) in the Cardinals system.
Al attended Inglenook Elementary School, graduated from Phillips High School, and spent three years at the University of Alabama at Tuscaloosa. At 6-feet-2 and 195 pounds, Worthington also played end on the Crimson Tide's football team, though "Big Al" was considered "lanky" even for a pitcher in those days.3 He didn't play much football, and quit the team in his sophomore year after injuring his left arm and shoulder and finding that it was not healing quickly.4 At age 21, he married Shirley Reusse in December 1950.
"Nobody really wanted me in baseball. That was before they had agents. Dickey Martin worked for the railroad in Birmingham. I pitched against his local team. He called his friend [Nashville manager] Larry Gilbert. They gave me $1,500."5 Martin signed him in June 1951 and Worthington started his career pitching for the Southern Association's Nashville Volunteers. His record that first year was 7-10 (4.57 ERA), but he showed some real promise, throwing a two-hitter against Chattanooga in early September. 
Worthington struggled badly at the beginning of the 1952 season, still pitching for Nashville, now a Giants farm club. Manager Hugh Poland said he was "trying to throw too hard for his own good."6 He righted himself, however, and on August 24 threw a one-run, six-hit, 14-inning game against Little Rock. He finished the season 13-13 (3.54).
On April 1, 1953, Worthington's contract was sold outright to the Giants, though they asked him to begin the year with their Triple-A club in Minneapolis. He was 9-5 with a 2.90 ERA when he was brought up to the big leagues in early July — and pitched back-to-back 6-0 shutouts. On July 6 at the Polo Grounds, he threw a two-hitter against the Phillies and on the 11th pitched a four-hitter at Ebbets Field against the Dodgers. Manager Leo Durocher referred to him as "this kid pitcher."7 Worthington's consecutive shutouts in his first two appearances equaled a major-league record that only three other pitchers had achieved. Worthington was the first to achieve it in the National League since the modern era of baseball began.8 It was the only time all year that Brooklyn would be shut out; Worthington held them to four singles.
Eight days later Al proved he was "not Superman after all," suffering his first loss, giving up just two runs (one earned) to the Milwaukee Braves in a five-inning, darkness-shortened game.9 Then he lost his next seven decisions — all the way until September, when he won his final two games, giving up just one earned run over the two games on the 19th and 25th. The last loss was on September 10 and saw Worthington dole out 11 bases on balls to the St. Louis Cardinals. The two wins to close out the season left him 4-8 for the year, but with a decent 3.44 earned-run average, distinctly better than the fifth-place Giants' 4.25 team ERA. 
In 1954 the Giants won the pennant. The team ERA dropped all the way to 3.09, with starter Johnny Antonelli (21-7, 2.30) and reliever Hoyt Wilhelm (12-4, 2.10) two standouts, while closer Marv Grissom's 2.35 ERA was superb as well. Worthington did not make the club out of spring training, but was brought up midway through the season and wound up 0-2 in ten games, working 18 innings, mostly in relief, from July 29 on. Worthington appeared on the postseason roster, but saw no action in the World Series; he got a one-third share of the World Series earnings.10 He also recalled, "I had a real good seat for that Willie Mays catch! We beat Cleveland four in a row. I wouldn't have pitched anyway, but I had a great seat."11
Worthington spent all of 1955 back in the minors, with Minneapolis. He was 19-10 (3.58), and his three wins and one save were key in helping the Millers win the Junior World Series over Rochester. He played winter ball for Santurce in Puerto Rico, and was 9-2 for the pennant-winning team.
In 1956 Worthington made the Giants out of spring training. He lost his first start for new Giants manager Bill Rigney, 3-2, despite giving up only two runs in seven innings. The Giants finished in sixth place, and to some extent Worthington's 7-14 record reflected the team's. His 3.97 ERA was not much above the team's 3.78, while the club finished a disappointing 67-87. He did lose a full month — almost all of August — due to a sore arm. He was never much of a batter (.137 career average and .165 on-base percentage in 293 plate appearances), but he helped win the September 30 game against the Phillies with two RBIs, one of them coming on his only major-league home run. In 602 big-league games (69 starts), he drove in 15 runs.
In 1957, with the New York Giants still a losing team (sixth place, 69-85), Worthington was 8-11 with a 4.22 ERA (team ERA was 4.01). While in 1956 he had started 24 of his 28 games, he was used more as a reliever in 1957, appearing in 55 games but starting only 12 of them. One of the starts was a complete-game 1-0 shutout of the Phils. Five days later, he worked the first ten innings of a 16-inning win, allowing just two runs and keeping the Giants in the game.
The Giants franchise left the Polo Grounds behind and moved to the West Coast for the 1958 season, playing at Seals Stadium their first season in San Francisco and finishing in third place, with Rigney still at the helm. Worthington had his best season to date, 11-7 (3.63), again with 12 starts, this time in 54 games. He was said to have an "elegant slider."12 It was good to have a versatile pitcher like Worthington — he could start, he could close (17 games finished, with six saves), and he could pitch in long relief (like the four innings of no-hit ball he threw against Cincinnati on June 7.) His sterling work didn't apply against the Milwaukee Braves, who kind of saw Worthington as their "cousin" — his record against them through the end of the 1958 season was 3-13.
In 1959 Worthington signed after a prolonged (and ultimately successful) contract holdout. He was used in 42 games, but with only three starts — and they were his last three starts in the majors. He finished 15 games but for the most part worked middle relief. He threw 73⅓ innings with a 3.68 ERA and a 2-3 won-loss record.
Worthington had to fight for a spot on the Giants' staff during spring training in 1960, and he didn't make it. Instead, on March 29, he was traded to the Boston Red Sox for first baseman/outfielder Jim Marshall. Red Sox pitching coach Sal Maglie knew Worthington well from their time together on the Giants. Maglie said he was "pretty quick and had a good sinker. We plan to use him as a relief pitcher here. He has developed a good slider and curve to go with his fast sinker, and I believe he will help us."13  But Worthington spent most of the season (after five relief appearances in April and one in early May) in Triple-A with the Minneapolis Millers. He'd been hit hard with Boston, to the tune of a 7.71 earned-run average. Larry Claflin of the Boston American wrote that he was becoming known as Al "Worthless." Claflin asked manager Billy Jurges why he was using Worthington so often. "I had to find out about him," Jurges said, and added after a grimace, "I guess I found out." 14
In Minneapolis, Worthington started 11 games and relieved in 26 with an excellent 2.04 ERA (he was 11-9). On August 29 the Chicago White Sox announced the purchase of Worthington's contract from the Red Sox.  On September 8, having just pitched 5⅓ innings in four games, he left the team and went home. He'd won one and lost one, and had given up two earned runs. He said, "I'm home and I'd rather leave why I'm here a personal matter," though he did indicate he might enroll at Howard College.15 It was later said that he left because "the club stole signals from the opposition."16
A nationally syndicated Jim Murray column provided more of the details. Worthington's objections were ascribed to his being "a man of deep religious convictions."17 Worthington had followed evangelist Billy Graham since a 1958 faith meeting, and both Worthingtons were "born again" during the Billy Graham Crusade.18 "I'd been going to church since I was six," he said, "and I'd always wanted to go to heaven, but I'd never understood how."19 "I do not want to do anything that would displease the Lord," he explained.20 Murray wrote that his biggest save was himself. Worthington was active in the Brotherhood of Christian Athletes.
Worthington also said, "As a Christian, I couldn't throw a spitter, and never would. It's an illegal pitch."21
He'd left the ballclub on principle, and it wasn't the first time he'd spoken up when he'd seen or heard something he thought was wrong. In September 1959, with the Giants holding a slim lead over the Dodgers in the National League pennant race, he heard that the Giants were using a spy in the grandstand, armed with a pair of binoculars. He went to manager Bill Rigney. "I told Bill that I had been talking to church groups, telling people you don't have to lie or cheat in this world if you trust Jesus Christ. How could I go on saying those things if I was winning games because my team was cheating?"22 With the White Sox, manager Al Lopez would neither confirm nor deny the spying. Worthington told GM Hank Greenberg, "I can't play for a team that's cheating."23
Worthington wrote a newspaper column discussing his "stage fright" in becoming a closer in baseball, and how the pressure truly got to him. As it happened, Rev. Graham was holding a crusade in San Francisco. A few days, they went back again and this time he accepted Graham's challenge to "break with the old ego-centered life." He wrote that he learned "the more I centered on Him, the less problem I had with my ego and with pressure." The inner tension he had always felt, which often caused him to tighten up, was something he could control through his faith.24 
Around 1961 or so, perhaps still troubled by the fact that he knew White Sox owner Bill Veeck condoned the cheating, Worthington was asked to complete a questionnaire for the Baseball Hall of Fame. Asked if he were to do it all over, would he play professional baseball again, he answered: "Maybe not."25
There was a gratifying moment for the family that April, when Al's wife saved the life of 3-year-old Bruce Whitaker in Birmingham. She'd heard screams from the boy's mother, found him lying in a drainage ditch, and applied artificial respiration.26
Worthington continued pitching, and worked 1961 and 1962 in the White Sox system, in Triple-A both years, for San Diego (9-10, 3.55) and then Indianapolis (15-4, 2.94). "We tried to sell him," GM Greenberg admitted, "but the word was out that he was some sort of cuckoo."27 Though his record in San Diego may not seem that impressive, he did throw three consecutive shutouts in August, the third of which was a 5-0 no-hitter against Hawaii on the 26th. It was the first no-hitter in Padres history. Worthington walked four.
Worthington's work with Indianapolis was good enough to attract interest. The Mets were expected to select him as their first choice in the minor-league (Rule 5) draft that fall. The October 9 New York Times and the Associated Press reported, apparently prematurely, his purchase by the Mets prior to the draft, but he wound up instead with the Cincinnati Reds. The Mets thought they might get him in the second round, but the Reds claimed him for the $25,000 draft price.
Al had a strong 1963 season for Cincinnati, with an ERA of 2.99 over 50 appearances. He was 4-4 with ten saves; he finished 32 of the 50 games in which he appeared.  It was almost as though he had been reborn as a pitcher. His teammates showed a good sense of humor. At a team party late in the season, Worthington's gift was a pair of binoculars.28 Beginning in 1963, Worthington worked six seasons in a row in which he finished with an ERA under 3.00. Those earned-run averages were — beginning in 1963 — 2.99, 2.16, 2.13, 2.46, 2.84, and 2.32. It was quite a run.
Worthington began 1964 with Cincinnati but appeared in only six games (seven innings) at the beginning of the year, giving up runs to the tune of a 10.29 ERA, and got himself sent down. His explanation: "It always takes me a while to get going in the spring."29 He found himself again with San Diego, then a Reds farm club, where he went 4-1 with a 3.18 ERA in ten games. Then the Minnesota Twins bought his contract on June 26 in a straight cash deal. Back in the majors once more, in the American League, Worthington pitched in 41 games for the Twins with a 1.37 ERA, not allowing even one earned run in his first 20 appearances. An AP story said that after 14 years of bouncing around he "finally has a steady job."30 He earned 14 saves. Twins catcher Earl Battey said he had one of the biggest assortments of pitches in the league: "He gives you that big motion and keeps the ball down and throws at the corners … an amazing pitcher."31 
Recalling his best stuff in a 2014 interview, Worthington said, "The best pitches I had? My fastball slid and sink. It was a natural slider that also sunk. I didn't have a thing to do with that. Just put my hand on it. God gave me that. It just sunk. Then I had a curveball. Those were my two pitches."32
The 1965 Twins won 102 games under manager Sam Mele, and won the pennant with ease. Ten of those wins were Worthington's. Pitching exclusively in relief, he worked in 62 games (finishing 38) and his 2.13 ERA was the best on a very good staff. Worthington was credited with 21 saves. Fellow Twins reliever Johnny Klippstein must be noted, too, with a 9-3 record and a 2.24 ERA in 56 games. 
The World Series against the Dodgers went the full seven games. The Twins took the first two but lost four of the next five games. Worthington worked only four innings, in part because Mudcat Grant and Jim Kaat both went the route in the first two games, and Grant pitched another complete game in Game Six. Worthington threw two innings in Game Four and two in Game Seven. Though he wasn't charged with an earned run, he gave up singles to each of the first two batters he faced in Game Four and his own throwing error allowed one of the three runs that scored on his watch. Worthington got two votes (of 24 cast) for UPI's Comeback Player of the Year.
The Twins finished in second place in 1966, but nine games behind the Orioles. Worthington pitched in 65 games with a 2.46 ERA (and a 6-3 record). He was the team's principal reliever, most often the closer, from 1966 through 1968, and in 1968 led the league in saves with 18. He had losing records in 1967 (8-9) and 1968 (4-5) but excellent ERAs, as we have seen. In 1967 the Twins lost the pennant to the Red Sox in the final game of the regular season. Worthington came into the game in relief of starter (and 20-game winner) Dean Chance in the sixth irnning with three runs already across the plate and two men on. He threw two wild pitches, allowing another run to score and putting the Red Sox up 4-2. A fifth run scored on an error by first baseman Harmon Killebrew. Both inherited runners had scored, but without a base hit. The Twins lost, 5-3.
At the end of the 1968 season, Worthington retired from the game. In May 1969, more than a month into the season, he decided to come out of retirement for one more year.33 "Billy Martin got a sportswriter to call me. He asked me to come back," Worthington said. He added, "It was very nice to be wanted. It wasn't easy. It took me a while to get back in shape."34
This time it was his final year — 1969. He made his first appearance June 8. He went 4-1 in 46 games, with a 4.57 ERA in the year he turned 40. The Twins made it to the postseason again that year. There were now league playoffs to win the pennant and the Twins played the Orioles in the best-of-five American League Championship Series. The O's swept. Worthington appeared in just the third game. With the score Orioles 5, Twins 1, he pitched a 1-2-3 fourth inning but after retiring Jim Palmer in the fifth, gave up a double and two singles, and manager Billy Martin replaced him. 
Worthington concluded his time in the majors with a career 3.39 ERA and 110 saves.
In 1970 and 1971, he worked "trying to sell life insurance — but I'm a Christian and when I got a call that someone was sick in a school somewhere, I had to go. So I didn't do very good selling life insurance." There was another call on his services. "Yes, it was. It was the biggest call."35
Worthington was the major-league pitching coach for Minnesota in both 1972 and 1973. He made the New York Times at one point in August 1973, when — in what might seem a reversal of roles — umpire Frank Umont apologized to him for the umpire's abusive language. Worthington thought that Umont was missing pitches and told him to "bear down," upon which Umont "came over to the dugout and started calling me every name in the book."36 
In August 1973 Worthington announced he would take the position of head baseball coach (and, later, athletic director) at Lynchburg Baptist College (now Liberty University) in Lynchburg, Virginia, the university founded by Rev. Jerry Falwell. Bobby Richardson took over as baseball coach for him. Worthington retired in December 1989. Liberty's record under him was 343-189-1. Among the players he coached were four all-Americans, including future major leaguers Sid Bream and Lee Guetterman.
After retirement, "I came home [to Birmingham]." We have a Christian school called Briarwood. It's a big school. I became their pitching coach for a while."37
Al and Shirley had five children — three boys and two girls. His oldest son played at Alabama. He was a pretty good player, but not good enough to attract attention from scouts.
In 2010 Worthington was inducted into the Liberty University Athletics Hall of Fame. In 2012, he was inducted into the Alabama Sports Hall of Fame.
Sources
In addition to the sources noted in this biography, the author also accessed Worthington's player file and player questionnaire from the National Baseball Hall of Fame, the Encyclopedia of Minor League Baseball, Retrosheet.org, and Baseball-Reference.com. Thanks to Rod Nelson for scouts information.
Notes
1 Interview with Al Worthington, May 4, 2014 (hereafter cited as Worthington interview).
2  Worthington interview and correspondence from Al Worthington, May 23, 2014.
3 Baton Rouge Advocate, April 9 and May 25, 1950.
4 Worthington correspondence.
5 Worthington interview.
6 State Times Advocate (Baton Rouge), May 30, 1952.
7 Greensboro (North Carolina) Record, July 16, 1953.
8 The three were Joe Doyle, 1906 New York Highlanders; Johnny Marcum, 1933 Philadelphia Athletics; and Dave "Boo" Ferriss, 1945 Boston Red Sox. In the 19th century, James Hughes of Baltimore did it in 1898.
9 New York Times, July 20, 1953.
10 The value of a one-third share was reported by the Chicago Tribune, October 8, 1954, as just over $3,715.
11 Worthington interview.
12 Associated Press, Boston American, April 18, 1958.
13 Boston Globe, March 30, 1960.
14 Boston American, April 28, 1960.
15 Omaha World Herald, September 9, 1960. Worthington graduated from Samford University, formerly Howard College.
16 Chicago Tribune, November 27, 1961.
17 Trenton (New Jersey) Evening Times, January 29, 1965. The Chicago Tribune of October 22, 1987, said he'd been asked to sit in the stands and send signals.
18 Worthington correspondence.
19 Jack Devaney, "A Bible in the Bullpen," Saturday Evening Post, May 2, 1964.
20 Rockford (Illinois) Morning Star, October 8, 1965.
21 The Oregonian (Portland), October 30, 1968.
22 Devaney, Saturday Evening Post, op. cit.
23 Ibid.
24 The article ran in several newspapers, including the March 7, 1967, State Times Advocate.
25 Interestingly, he did not recall writing this when interviewed in 2014.
26 San Diego Union, April 15, 1961.
27 Devaney, op. cit.
28 Ibid.
29 Hartford Courant, August 13, 1964.
30 The Oregonian, August 13, 1964.
31 Hartford Courant, August 13, 1964.
32 Worthington interview and correspondence.
33 Washington Post, May 24, 1969.
34 Worthington interview.
35  Worthington interview.
36 New York Times, August 30, 1973.
37 Worthington interview.
Born
February 5, 1929 at Birmingham, AL (USA)
If you can help us improve this player's biography, contact us.
http://sabr.org/sites/default/files/AlWorthington.JPG
600
800
admin
/wp-content/uploads/2020/02/sabr_logo.png
admin
2012-01-04 20:44:58
2021-09-23 14:33:01
Al Worthington