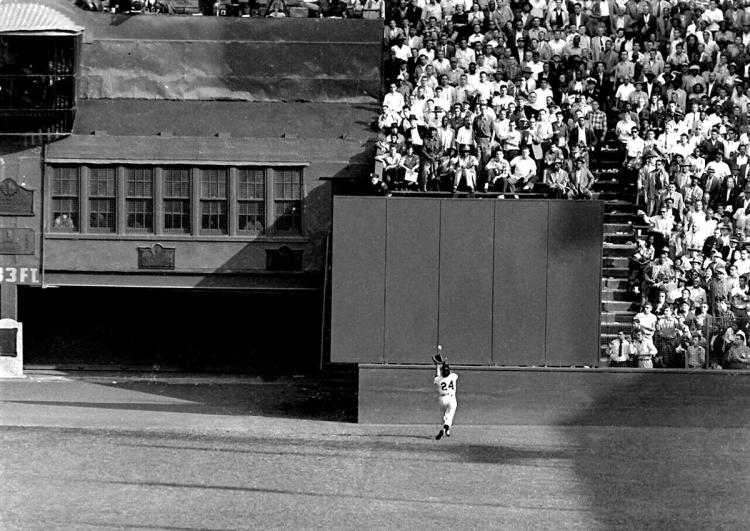 ---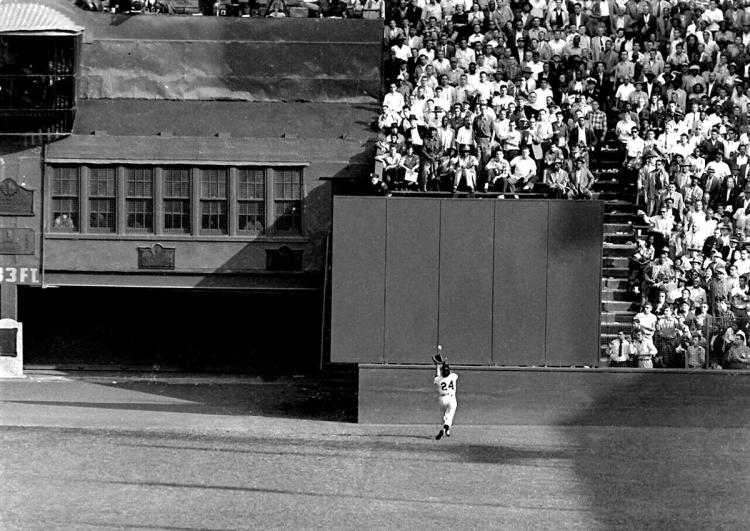 "We were beaten by the longest out and the shortest home run of the year," said an incredulous Al Lopez, skipper of the Cleveland Indians, who had just lost to the New York Giants in Game One of the 1954 World Series, featuring two of the most iconic plays in baseball history.1 Following Willie Mays's over-the-shoulder, run-saving catch in deep center field to preserve a tie game in the eighth inning, Dusty Rhodes belted a walk-off, pinch-hit three-run homer into the short right-field porch in the 10th inning to give the Giants a dramatic 5-2 victory in the Polo Grounds. "It was just another game for us," said Giants pitcher Johnny Antonelli. "We won the pennant with finishes like this all season long."2
According to the Associated Press, the Giants (who were 97-57 during the regular sesason) were 8-5 underdogs against the Indians, winners of a then-record 111 games.3 But a closer look at the squads reveals two very similar teams. The Indians pitching staff was their shining diamond. Two 23-game winners, Bob Lemon and Early Wynn, helped Cleveland lead the American League with a stellar 2.78 earned-run average. New York's pitching staff, though less glamorous than Cleveland's, paced the National League in ERA (3.09), but unlike its opponent relied heavily on its relief corps, the best in baseball. Both squads were average hitting teams that led their respective league in round-trippers.
On a warm autumn afternoon, Wednesday, September 29, 1954, the venerable Polo Grounds were packed with 52,751 spectators. Entertainer Perry Como, supported by Artie White's orchestra, sang the national anthem. Jimmy Barbieri, the 12-year-old captain of Schnectedy's Little League world championship baseball team, threw out the ceremonial first pitch.4
Cleveland wasted no time getting to New York's 37-year-old unflappable curve-baller, Sal Maglie (14-6 during the regular season), who drilled leadoff hitter Al Smith on his fourth pitch. Bobby Avila, who had led the AL with a career-high .341batting average, lined a single in front of charging right-fielder Don Mueller who fumbled it, allowing Smith to scamper to third. After Larry Doby and Al Rosen popped up, Vic Wertz smashed a long fly ball over Mueller's head. It "caromed off the wall," wrote John Drebinger of The New York Times, "and bounded gaily past the Giants bullpen," before Willie Mays gathered it.5 Wertz slid easily into third as Smith and Avila scored, giving the Tribe a 2-0 lead. Giants manager Leo Durocher, expecting the worst, had swingman Don Liddle warm up in the bullpen. But the "Barber," so named for his command of the inside of the plate, shrugged off the two runs and settled down.
New York faced Cleveland's 33-year-old ace, right-hander Bob Lemon, who had recorded a major league leading 148 victories in the previous seven seasons. He squelched a Giant threat in the first with runners on first and third, and cruised into the bottom of the third inning in a scoreless game. Described by Irving Vaughan of the Chicago Tribune as "only steady at times," Lemon struggled with control throughout the game. The Giants Whitey Lockman and Al Dark led off the inning with consecutive singles. Mueller, who enjoyed a career year, batting .342 and leading the NL with 212 safeties, grounded into a force out as Lockman scored. After a walk to Mays, Hank Thompson blasted a single to right, driving in Mueller to tie the game. While Cleveland's Art Houtteman warmed up in the bullpen, Lemon set down Monte Irvin and Davey Williams to extinguish another rally. Lemon, who had been Cleveland's Opening Day center fielder in 1946 before being converted into a pitcher, gathered his composure, and allowed only four base runners (three hits) from the fourth through ninth innings.
New York dodged a bullet in the sixth inning when Wertz led off with a single to right field. Mueller attempted to throw him out at first, but the ball shot over Lockman's head. Wertz should have made it to third, thought skipper Lopez, but the slow-footed slugger's protective shin guard "broke loose and stopped him" at second base.6
Two innings later, the left-hand hitting Wertz faced Don Liddle, who had just replaced Maglie, with two on and no outs. He belted the southpaw's fourth pitch deep into center field. Mays, just 23-years old, took sight of the ball and raced with his back facing the diamond toward the wall in front of the bleachers, just a shade right of center field. Mays "travel[ed] on the wings of wind,' wrote Drebinger, "to make one of his most amazing catchers." Mays, the NL Most Valuable Player in his first full season, spending most of the previous two in the armed forces, whirled around and heaved the ball to the infield as Doby tagged raced to third. "Durocher was standing in front of me in the dugout," former Giants batboy Bobby Weinstein told the author. "He turned around and said 'Oh no.' And then he saw Mays run the ball down."7 After the game, Mays took his fielding exploit in stride, "I had it all the way," he said. "There was nothing too hard about it."8
The forgotten star of what Gayle Talbot of the Associated Press called a "real hard rock of a baseball game" was Giants reliever Marv Grissom, who snuffed out Cleveland's rallies in the eighth, ninth, and tenth innings. Relieving Liddle after Mays's "preposterous catch" of Wertz's flyball, Grissom walked pinch-hitter Dale Mitchell to load the bases.9 After pinch-hitter Dave Pope whiffed, catcher Jim Hegan smashed a deep fly ball to left field. "It looked like a homer," said Al Lopez, "but the wind, blowing from left to right, pulled the ball in."10 With two outs in the ninth, left-fielder Irvin dropped Avilla's pop-up for a two-base error, putting a man in scoring position for slugger Doby, who had topped the circuit in homers (32) and runs batted in (126). Grissom issued an intentional pass to face Rosen, the 1953 MVP, who flied out to end the threat.
In the "throat-clutching" final inning, Wertz led off the tenth with his fourth hit, a double to the gap in left-center. Pinch-runner Rudy Regalado moved to third on Sam Dente's sacrifice bunt. With nerves of steel, "Old Tomato Face" Grissom intentionally walked Pope, then fanned Bill Glynn and induced Lemon, arguably the best-hitting pitcher in baseball, to line out to first to end the inning with the go-ahead run ninety feet from home.11 The Indians tossed away multiple scoring chances and left seven runners on base in the last three innings.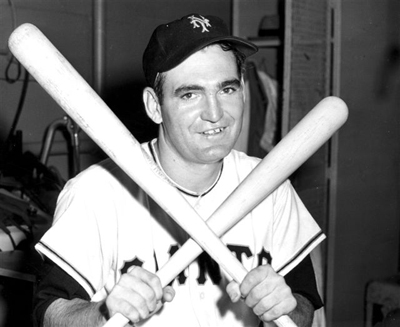 The bottom of the tenth provided, in the words of John Drebinger, a "breath-taking finish to as nerve-tingling a struggle as any world series had ever seen."12 After striking out Mueller, Lemon issued a walk to Mays, who moved into scoring position by stealing second. Lemon issued an intentional pass to play for an inning-ending twin-killing. The next batter, Dusty Rhodes, pinch-hitting for Irvin, swung at Lemon's first pitch and belted a pop fly down the right field foul line. "We all thought the ball was going to twist foul," said Lopez after the game.13 Instead, the ball traveled 270 feet and barely cleared the right field stands, bouncing off a fan, and rolling back onto the field. Rhodes' three-run, walk-off homer gave the Giants a stunning 5-2 victory.
Hailed as a "Chinese homer" (a cheap home run) in the insensitive parlance of the time, Rhodes's round-tripper was just the fourth pinch-hit homer in World Series history and the first to end a game. A poor fielder, Rhodes enjoyed a career-year in 1954, batting .341 with 15 homers and 50 RBIs in just 164 at-bats. He also hit two of the Giants' record ten pinch-hit home runs that season.
"It was difficult to find the No. 1 hero in the Giants' clubhouse," said sportswriter Roscoe McGowen of the New York Times.14 From "team electrifier" Mays and the clutch-hitting Rhodes to Grissom's relentless, pressure-packed pitching, the Giants made a heroic statement in their Game One victory.15
Related links:

Sources
In addition to the sources listed in the notes, box scores for the game can be found at Baseball-Reference.com and Retrosheet.org:

https://www.baseball-reference.com/boxes/NY1/NY1195409290.shtml
http://www.retrosheet.org/boxesetc/1954/B09290NY11954.htm
Notes
Additional Stats
New York Giants 5
Cleveland Indians 2
10 innings
Game 1, WS
---
Polo Grounds
New York, NY
Box Score + PBP:
Corrections? Additions?
If you can help us improve this game story, contact us.
Tags
https://sabr.org/sites/default/files/MaysWillie-1954WS-catch.jpg
600
800
admin
/wp-content/uploads/2020/02/sabr_logo.png
admin
2017-11-22 00:55:56
2020-04-17 13:34:04
September 29, 1954: Willie Mays makes The Catch; Dusty Rhodes homer wins Game One