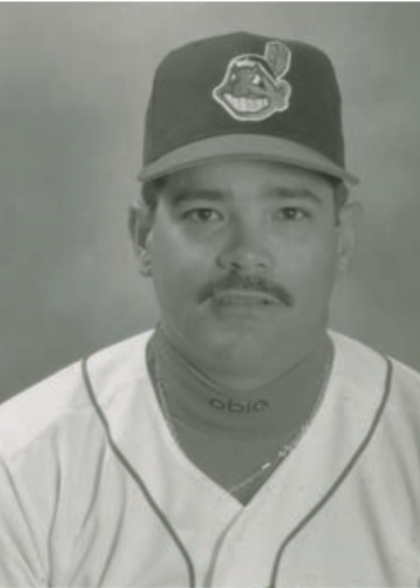 ---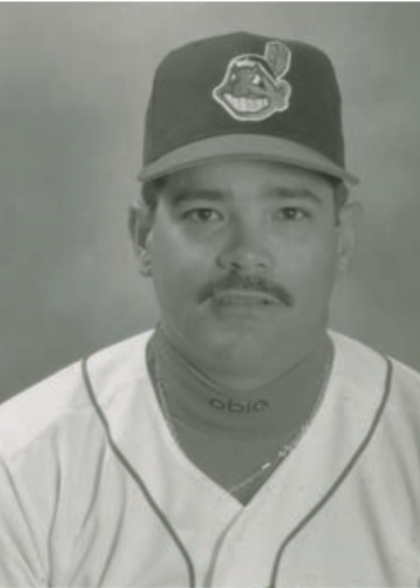 A veteran of 12 major-league seasons, Alvaro Espinoza played a variety of roles for five different teams. He went from prospect with the Minnesota Twins to starting shortstop with the New York Yankees to utility infielder with three other teams. He is best remembered by Cleveland Indians fans as a versatile backup on the 1995 American League champions. He threw out Jay Buhner of the Seattle Mariners on a grounder for the final out in the American League Championship Series, sending the Indians to their first World Series since 1954. In a career filled with unexpected success and disappointment, Espinoza found a perfect role with the Indians as the utility infielder and team prankster. He played with a passion for the game while finding ways make it fun.
Alvaro Alberto Ramirez Espinoza was born on February 19, 1962, in Valencia, Venezuela, the country's third largest city and the hub of a 3-million-strong metropolitan area. His father, Luis, a bus driver, and mother, Matilde, raised five daughters and three sons.1 Alvaro attended the Pedro Gual School in Valencia, where he played baseball, basketball, and soccer.2 As a youngster, baseball was his passion; after school he played in the streets with his friends and two brothers until dark. His family was not poor, but they did not have extra money for bats, balls, and gloves. He made do with no glove, a stick for a bat, and crumpled paper taped together for a ball.3
On October 30, 1978, Houston Astros scout Tony Pacheco signed Espinoza as an amateur free agent to $500-a-month contract with a $3,000 bonus.4 The Astros also signed his older brother Roberto at the same time. The Astros sent them to their rookie league team in Sarasota, Florida. Roberto spent four years in the Astros system before starting a career as a coach in multiple organizations and with the Venezuelan team in the World Baseball Classic. Alvaro spent two years in the Astros organization before being released on September 30, 1980. When he was told that they were releasing him he thought he would not be allowed to play in the United States again. He returned to Valencia, where he worked selling hot dogs out of a street cart.
Espinoza continued to play in the Venezuelan winter league, where he caught the attention of Minnesota Twins scout Hank Izquierdo.5 He wasn't sure he wanted to play again but his father persuaded him to give it another try, and the Twins signed him in 1982. They sent him to their Class-A team in Wisconsin Rapids, Wisconsin (Midwest League), where he played in 112 games, hitting .266 while splitting time between shortstop and third base.
In 1983 the Twins sent Espinoza to Visalia of the Class A California League, where he roomed with Kirby Puckett. Espinoza credited Puckett with helping him learn English by encouraging him to watch television and repeating what he heard. Hitting .319 in 130 games at Visalia while playing solid defense, he established himself as a legitimate prospect for the Twins. At the end of the season he was named to the California League All-Star team. In the winter Espinoza returned to Venezuela to play winter ball with his idol Dave Concepcion, the Cincinnati Reds shortstop and Venezuelan hero. Espinoza credited another former major leaguer, Vic Davalillo, for helping him with his hitting during this time.6
In 1984 Espinoza went to spring training with a chance to win a roster spot on a Twins team that did not have an established shortstop. Even with a good spring, he lost out on his bid to win the shortstop job to Lenny Faedo and was sent to the Twins' Triple- A team in Toledo. There he was installed as the starting shortstop ahead of the Twins' other shortstop prospect, Greg Gagne. In June Espinoza went on the disabled list with 21 stitches in his leg after being spiked at second base. Solid defense was the strength of his game, while his hitting was suspect at only .233 in 104 games. The Twins called him up in September and he made his major-league debut on September 14, 1984, in a game against the Texas Rangers. He entered the game as a defensive replacement in the seventh inning at shortstop, replacing Chris Speier. This was his only appearance with the Twins in 1984; he did not get a plate appearance.
In 1985 Espinoza failed to make the big-league club out of spring training and was the last infielder sent to Toledo. The Twins found their future shortstop in Gagne, making Espinoza's route to the major leagues more difficult. He had a tough year in Toledo, hitting only .229 and reinforcing the Twins opinion that he was ready to play major-league defense but not ready offensively. In August Espinoza was called up to the majors when Gagne went on the disabled list. In his first extended chance in the majors, he hit .263 in 32 games. New Twins manager Ray Miller was impressed with his defense, providing Espinoza optimism for his chances in 1986.
In 1986 Espinoza started the season in Toledo after again failing to make the Twins roster out of spring training. On July 11 he was called up to the Twins, and remained with the team for the remainder of the season. Playing in 37 games, he split time between second base and shortstop. He hit only .214.
Espinoza remained with the Twins organization in 1987 but was sent to Triple-A Portland. A knee injury in late May forced him to miss a month. Though he had a solid year, splitting time between shortstop and third base and hitting .275, he did not receive a September call-up to the Twins. On October 15 he was granted free agency and on the advice of scout Fred Ferreira, the New York Yankees signed him on November 17, as a six-year minor-league free agent.7
Espinoza spent most of the 1988 season with the Yankees' Triple-A affiliate in Columbus, Ohio. On August 4 he was called up to the Yankees and played in three games, going hitless in three at-bats, before being sent back to Columbus on August 12. He had a solid year at Columbus that was noticed by some of the Yankees front office people, who thought he could help the team the following year.
In the spring of 1989, Espinoza was invited to spring training with the Yankees with an opportunity to make the team as a utility infielder. When starting shortstop Rafael Santana went down with an injury in spring training, and the Yankees failed in their attempts to obtain another shortstop, manager Dallas Green named Espinoza the starter. He expected Espinoza to play solid defense but had limited expectations for his hitting. Espinoza's play turned out to be one of the biggest surprises for the Yankees in 1989; he had his best season in the major leagues, hitting .282 in 146 games. Batting second in the order, he was among the league leaders in sacrifices. He credited his improvement at the plate to his work with hitting coach Frank Howard. Manager Bucky Dent, who replaced Green in August, anticipated using Espinoza as his shortstop in 1990.8
Entering 1990, Espinoza was established as the shortstop and went on to play in a career-high 150 games. His offensive production was less than spectacular; he batted only .224 with 2 home runs and 20 RBIs. Espinoza did not work well with new batting coach Champ Summers, who experimented with his stance and eroded Espinoza's confidence. When Stump Merrill replaced Dent as manager and Darrell Evans became the new batting coach, Espinoza continued to struggle with the bat. He was trying too hard to drive the ball rather than making contact and moving runners along.9 The end result was one of the worst offensive seasons for any player in major leagues in 1990.
In 1991 Espinoza was disappointed when Randy Velarde started two of the season's first three games at shortstop. This started some tension between him and manager Merrill that would carry on throughout the season. However, he quickly found himself back in the lineup as the starting shortstop, hitting .441 in the season's first 13 games. He attributed his increased production to the return of Frank Howard as the batting coach.10 But as the season went on, his relationship with Merrill deteriorated to the point of open hostility. Late in the season, Espinoza accused Merrill of benching him so he would not meet appearance incentives in his contract.11 He finished the season hitting .256 in 148 games, but his future with the Yankees was no longer certain.
In February of 1992 Espinoza signed a new contract with the Yankees and went to spring training competing with one of the club's free-agent acquisitions, Mike Gallego, for the starting shortstop role. After failing to trade Espinoza, the Yankees released him on March 18, in a move that saved them over $800,000. The Yankees did not believe he would be happy in a backup role after being the starter for the past three seasons. Espinoza was disappointed on being released but was also thankful for the opportunity the Yankees gave him, stating, "They gave me my chance, it was the best three years of my life. I can't say nothing bad about these guys."12 On April 3 he signed with the Cleveland Indians and was sent to their Triple-A affiliate in Colorado Springs. He spent the season with Colorado Springs, hitting .300 in 122 games, and played in the PCL All-Star Game.
In 1993 Espinoza made the Indians' roster out of spring training as a utility infielder. He played 90 games at third base, 35 at shortstop, and two at second base. He batted .278 with 4 home runs and 27 RBIs. With his value established, he returned to the Indians for the strike-shortened 1994 season. Playing in 90 games, he split time between all infield positions, playing first base for the first time in his career.
In 1995 Espinoza's playing time was reduced because of the emergence of Jim Thome at third base and established players Omar Vizquel at shortstop and Carlos Baerga at second. His role was limited to defensive replacement and occasional pinch-hitter. With more time on the bench, he established himself as one of the team pranksters, with his favorite prank putting a bubblegum bubble on top of an unsuspecting teammate's cap and waiting for him to realize he was the victim of his prank. The Indians won the Central Division championship and faced the Boston Red Sox in the Division Series. It was Espinoza's first chance at postseason baseball. He played in Game Three as a defensive replacement for Thome at third base, getting one at-bat in the ninth inning and flying out to right field in the Indians' 8-2 win.
The Indians won the Division Series and played Seattle in the AL Championship Series. Espinoza appeared in four games, getting one hit in eight at-bats. In the World Series he played in two games, getting one hit in two at-bats. The highlight for Espinoza was a pinch-running appearance in the bottom of the 11th inning in Game Three; with no outs he scored the winning run from second base on a hit by Eddie Murray. The Indians lost the World Series to the Florida Marlins in six games.
In December Espinoza signed a new contract with the Indians and returned to his role of utility infielder for 1996. Playing at all the infield positions, he appeared in 59 games before he was traded on July 29 to the New York Mets with Baerga for Jeff Kent and Jose Vizcaino. Playing mainly at third base, he got into 48 games for the Mets, hitting .306. He filled in at all the other infield positions for the Mets. Though he was not the primary acquisition, he outperformed Baerga with the Mets after the trade. It appeared Espinoza would have a good opportunity to play for the Mets in 1997.
He went to spring training with the Mets in 1997 but was released on March 26. The Mets decided to go with younger players with better range. On April 2 Espinoza signed with the Seattle Mariners as a utility infielder. He performed well as a backup until he suffered a bruised arm and went on the disabled list on May 30. After a short rehab stint with their Triple-A team in Tacoma, he returned to the active roster on June 13. He was hitting only .181 when the Mariners released him on July 14.
In 1998 Espinoza started his coaching career as a minor-league infield coordinator with the Montreal Expos organization. In 1999 the Dodgers hired him as manager of their Florida State League team in Vero Beach. In 2000 and 2001 he was the Dodgers' roving minor-league infield coordinator. In 2002 he worked in the same capacity with the Pittsburgh Pirates organization.
In 2003 Espinoza returned to the major leagues as the infield instructor for the Pittsburgh Pirates. He continued in this role until the end of the 2005 season. In 2006 he was the club's roving minor-league infield coordinator. From 2007 to 2017 he worked as a minor-league infield instructor in the Yankees, Pirates, and San Francisco Giants organizations.
The father of seven children, Espinoza became a United States citizen in 2005. As of 2018 he lived in Florida with his wife, Corimar. In 2014 he was inducted into the Caribbean Series Hall of Fame. In a 12-year career in the Venezuelan League, he hit .368 in his three appearances in the Caribbean Series.
This biography was published in "1995 Cleveland Indians: The Sleeping Giant Awakes" (SABR, 2019), edited by Joseph Wancho.
Notes
1 Joe Maxse, "The Joker Utility Man Espinoza Helps Keep Teammates Smiling," Plain Dealer (Cleveland), September 14, 1995.
2 1986 Minnesota Twins Media Guide, 66.
3 Michael Martinez, "Promising Future With Yankees Doesn't Exclude Espinoza's Past," New York Times, September 12, 1989.
4 Charley Walters, "Smalley Sidelined by Injury to Foot," St. Paul Pioneer Press, March 26, 1985: 2B.
5 Tom Loomis, "Twins' Outfielder Battling Nerves: Eisenreich Promising in Exhibitions," Toledo Blade, March 18, 1984: D 3.
6 Ibid.
7 Bill Madden, "Espinoza Helping Yanks Forget Shortstop Problem," The Sporting News, May 29, 1989: 18.
8 Martinez.
9 Jack Curry, "Baseball: A Yankee and a Met Labor to Round Out Their Mastery of the Game; Espinoza Has to Be a More Selective Hitter," New York Times, March 19, 1991.
10 Jack Curry, "Baseball; Espinoza Goes Beyond His Fancy Glovework," New York Times, April 25, 1991.
11 Jack O'Connell, "New York Yankees," The Sporting News, September 2, 1991: 22.
12 Jack Curry, "Baseball; Double Play: Espinoza Goes and Gallego Is Given His Job," New York Times, March 18, 1992.
Full Name
Alvaro Alberto Espinoza Ramirez
Born
February 19, 1962 at Valencia, Carabobo (Venezuela)
If you can help us improve this player's biography, contact us.
https://sabr.org/sites/default/files/EspinozaAlvaro.jpeg
600
800
admin
/wp-content/uploads/2020/02/sabr_logo.png
admin
2012-01-04 20:42:02
2012-01-04 20:42:02
Alvaro Espinoza