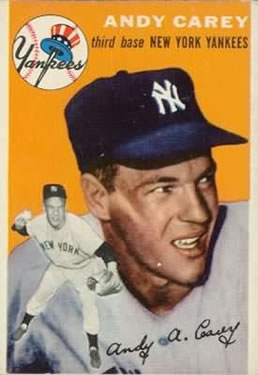 ---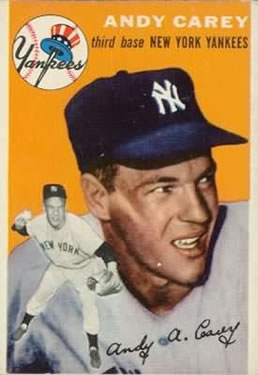 Third baseman Andy Carey had a turbulent Yankee career as one of Casey Stengel's chosen whipping boys and an equally turbulent personal life.
The most famous story about Carey, repeated in many books on Stengel's dynasty, involves his "called shot." In his favorite place to hit, Fenway Park, the Yankees were trailing the Red Sox in the late innings. As Carey stepped into the batter's box, Billy Martin called time from the on-deck circle and walked up to tell him, "The old man wants you to hit a home run and win the game." Carey did. Martin told the flummoxed Boston catcher, Sammy White, "When the old man tells us to do something, we do it."1
Like so many baseball yarns, it didn't happen exactly that way, if it happened at all. Carey hit just one home run against the Red Sox while Martin was with the Yankees. But Martin was not in the lineup that day, June 30, 1953, with the homer only tying the game.2
His name was Andrew Arthur Hexem when he was born in Oakland, California, on October 18, 1931, two days before his future teammate Mickey Mantle. His parents divorced before he was 5, and he never mentioned his biological father. His mother, the former Nola Lloyd, worked as a dental nurse until she married her divorce lawyer, Kenneth Carey, when Andy was 14. Stepfather and stepson bonded over sports.3 "He just told me always to try to do my best," Andy said. "If you're a carpenter, try to be the best carpenter."4 Andy took the name of the man he called Dad.
Baseball scouts first noticed the boy as a star third baseman and pitcher at Alameda High. Several teams offered contracts when he graduated in 1949, but his father advised him to go to college. At the time, baseball's bonus rule required any amateur player who was paid more than $6,000 to stay on the major-league roster or his team could lose him in the draft. Kenneth Carey thought Andy would be better served by playing college ball than sitting on a big-league bench.
Young Carey enrolled at St. Mary's College in Moraga, California, a baseball power since the 19th century. In the summer after his freshman year, he played shortstop for the storied semipro team in Weiser, Idaho, where Walter Johnson was discovered and professional scouts were regular spectators. St. Mary's dropped varsity baseball because of financial pressures, so the Careys began listening to offers from practically every major-league club.
The bonus rule had been repealed (though it was later reinstated), and many clubs were on a spending binge. Yankees scout Joe Devine bid $60,000, the biggest bonus ever paid by the game's marquee team. Carey signed in February 1951, just in time to go to the Florida instructional school where manager Stengel tutored the team's brightest prospects.
The Yankees sent Carey to their Triple-A farm club at Kansas City, a giant leap for a 19-year-old. When he started slowly, manager George Selkirk summoned the rookie third baseman to his office, called him lazy, and lit into him. "He chewed my ass unmercifully," Carey remembered. "I was crying."5 The harangue changed his outlook. "I became a hustling, fighting ball player."6
A 6-foot-1, 190-pound right-handed batter, Carey hit .288/.353/.450 in his first professional season. That won him an invitation to the big-league spring training in 1952. In one of the first workouts, he drew a line in the dirt between the third base and shortstop positions and told star shortstop Phil Rizzuto, "I want you to know this is my side over here. You stay off my side."7
In addition to a smart mouth, he had a hungry one. He learned that he could eat as much as he wanted, sign the check, and the team would pay for it. "I had double-double of everything, and I'd run up bills of $45 to $50." As a result, the Yankees put players on a meal allowance.8
Besides his antics, the cocky bonus baby lived up to his price tag. He rapped out 14 hits in his first 26 at-bats in exhibition play. An Associated Press writer labeled him a "candidate for the No. 1 rookie in the Grapefruit League."9 After a single year in the minors, Carey appeared to be staking a claim to the Yankees' third-base job.
But handyman Gil McDougald started on Opening Day. Carey got into just six games in four weeks before he was sent back to Kansas City. He got another chance in August after infielders Jerry Coleman and Bobby Brown were called into military service. This time he lasted two weeks, going 0-for-16, before he was dispatched to Triple-A Syracuse.
The next spring Stengel announced that Carey would learn to play shortstop, to be groomed as a successor to the 35-year-old Rizzuto. The manager prized versatile infielders like McDougald and Billy Martin, who could handle three positions. Carey wanted no part of that. "I told him I'd rather be a good third baseman than a mediocre shortstop and he didn't want to hear that."10
After winning four consecutive World Series, Stengel reveled in his reputation as a master strategist who shifted players around like so many chess pieces. His pawns weren't supposed to talk back. Carey's resistance ignited a running clash between player and manager that continued as long as he wore pinstripes. Stengel had heard how George Selkirk lit a fire under Carey in Kansas City, so he poked the young player at every opportunity "because he knew if he made me mad, I'd play better."11
Carey stuck with the Yankees for the 1953 season, but when he played — rarely — he was primarily a pinch-runner and late-inning defensive sub. Six of his 13 starts came after the club clinched its fifth straight pennant in September. He sat through the World Series, collecting an $8,280 check, more than his season salary.
Billy Martin spent 1954 in the army, moving McDougald to second base and opening third for Carey, who was draft-exempt because of a congenital back ailment. After recovering from a torn thigh muscle in the spring, he collected two hits in one inning in his first start. He recorded the league's best range factor per nine innings at third base and kept his batting average within sight of .300 all season. In the next-to-last game, he singled in his first at-bat to lift his average to .302. Stengel sat him down and held him out of the finale the next day. He finished with an OPS+ of 121 (100 is average), eight home runs, and more walks than strikeouts.
At 22 he was a productive major leaguer, but could not satisfy his manager. Stengel hectored him about his habit of pulling the ball, insisting that he had to hit to all fields because he lacked the power to clear Yankee Stadium's distant left-center wall. Carey reached double figures in home runs only once as a Yankee and hit most of them on the road. Whenever one of his not-long-enough drives was caught in left field, Stengel would jeer, "Ohh, nice going, Carey. Hey, that was a great four-hundred-foot fly ball."12
"I was his scapegoat," Carey said.13 "And yet I think he appreciated me. He knew that I worked hard, and I was there for eight and a half years, so obviously I had to be doing something good."14
After a slow start in 1955, he decided to try Stengel's way. He shortened his swing and stopped hitting home runs or much of anything else. His average collapsed to .257, and his OPS+ was a weak 87. He did lead the league with 11 triples, but lost his job when Martin returned from military service at the end of August. When the World Series against Brooklyn opened, Carey was on the bench.
In his first Series at-bat, as a pinch-hitter in Game Three, his triple knocked in a run in a Yankee loss. He grounded out in another pinch-hit appearance in the fifth game. "Next year" came for Brooklyn, and the Yankees lost the Series for the first time since 1942.
Two days after Game Seven, Carey married Lucy Marlow, a 22-year-old Hollywood starlet. She had played supporting roles in big-budget movies: Queen Bee with Joan Crawford, A Star is Born with Judy Garland, and My Sister Eileen with Janet Leigh and Jack Lemmon. Like her husband, her name was adopted, chosen by the Columbia studio where she worked. Born Lucy McAleer, she was a niece of 19th century ballplayer Jimmy McAleer.15
The couple spent their honeymoon with the Yankees on a tour of Hawaii and Japan along with newlywed teammates Johnny Kucks and Eddie Robinson and their brides. Lucy and Andy, an amateur photographer, made a film of the trip and distributed copies to other Yankees.
Carey hit three home runs in a game three times on the tour, proving only that Japanese ballparks were cozier than Yankee Stadium. The power surge persuaded him to go back to his familiar, pull-happy batting style. The results were disastrous. In 1956 his average dropped to .237, with a career-worst .649 OPS, and the homers didn't come, either.
Stengel put Carey in the lineup for his first World Series start in Game One against the Dodgers. But he was benched for the second game when Brooklyn's right-handed ace, Don Newcombe, took the mound. In Game Three he fumbled a ground ball, allowing a run to score.
All that was forgotten in the unforgettable Game Five, when Carey's glove helped preserve Don Larsen's perfect performance. Leading off the second inning, Jackie Robinson scorched a line drive at Carey, who deflected the ball on one hop into the hands of shortstop McDougald. His throw barely beat Robinson to first.
Mantle homered in the fourth to give New York a 1-0 lead, then ran down Gil Hodges' drive to left-center with a sprinting backhanded catch in the fifth. Carey opened the Yankees' sixth by slashing a sharp single to center and came around to score the second run on Hank Bauer's single. In the eighth, when everybody knew what was unfolding, Carey lunged to his left to pluck Hodges' low liner off the dirt. Four outs later, Larsen had his perfect game and the Yankees were on their way to another championship.
The next spring Stengel said Carey would have to fight for his job. "I need more punch and more steadiness at third base," the manager complained.16 Stengel gave him plenty of rope, but by the end of May Carey was hitting .216 and soon found himself sharing time with Jerry Coleman and rookies Tony Kubek and Jerry Lumpe.
The dynastic Yankees were a notoriously hard-drinking crew, starting with their manager. Carey was an exception, one of Stengel's "milkshake drinkers" along with Kubek, Bobby Richardson, and Bob Turley. In May 1957 his roommate, Bauer, invited him to join a birthday celebration for Billy Martin. Carey declined and went home to bed. The party ended at the Copacabana nightclub with Bauer accused of slugging a drunk. The charge was dismissed, but Yankees GM George Weiss used the "Copa brawl" as an excuse to trade Martin.
The roster was turning over with newcomers Kubek, Richardson, Bill Skowron, and Elston Howard claiming regular jobs. Carey, still just 25, was never again an everyday player. He started only 70 games in 1957 and 90 in 1958. A case of mononucleosis sidelined him for more than two months in 1959. The emergence of the slick-fielding young third baseman Clete Boyer made Carey expendable, and his New York tenure ended on May 19, 1960, when he was swapped to Kansas City for former Yankee outfielder Bob Cerv.
Carey should have felt right at home; the Athletics' roster included at least nine other former Yankees. Critics said Kansas City was still a New York farm club. It was also a terrible team, on its way to a last-place finish. Carey stepped into the everyday lineup and matched his career high with 12 home runs, but batted only .233.
He was traded to the White Sox in June 1961 and passed on to the Phillies six months later. He refused to report to Philadelphia, opting to retire and keep his offseason job as a stockbroker in Los Angeles. The Dodgers acquired him from Philadelphia and persuaded him to play another year close to home, then released him at the end of the 1962 season, the day after his 31st birthday.
Carey said chronic back pain hastened his retirement. He switched to selling insurance with his own agency in Newport Beach, California. The family lived in the beach community of Corona del Mar. Carey was active in charity work and co-owned a summer camp, Medicine Bow Boys Ranch, in Wyoming.
Lucy and Andy Carey divorced in 1974. Their son, James Kenneth — Jimmy — was a guitarist and hang glider pilot; their daughter, Jennifer, became a singer. Published profiles of Andy Carey, Lucy Marlow, and Jennifer say that Jimmy died at 23 in a car wreck on February 16, 1980. However, on that date an armed robbery suspect identified as James Kenneth Carey, 23, was killed in a shootout with police in Fountain Valley, California. The Los Angeles Times reported that an officer answered a call to a robbery at a Marie Callender restaurant and exchanged fire with the suspect, who crashed his car during a chase and died of a gunshot wound to the chest.17 Their daughter took the name Jennifer James to honor her brother.
Carey married three more times and was divorced twice more. He and his second wife, Carolyn, had a daughter, Elizabeth, and son, Christopher.
After retiring from business, he found a lucrative sideline at autograph shows. "Yankee fans, they remember me," he said. "They still idolize you. It's just amazing."18 In 2005 the 74-year-old fell down the stairs at his Newport Beach home. The accident left him partially paralyzed and robbed him of much of his memory. He was diagnosed with Lewy body dementia, from which he died at 80 on December 15, 2011.
"Imagine a young kid and I'm playing on a team with all these Hall of Famers," he told writer Lew Paper. "I look back and think I was the luckiest guy in the world."19
Photo credit
Courtesy of The Topps Company.
Acknowledgments
This biography was reviewed by Jan Finkel and fact-checked by Kevin Larkin.
Notes
1 Peter Golenbock, Wild, High and Tight (New York: St. Martin's, 1994), 94. Golenbock places the incident in 1956; Carey did not hit a homer against Boston that year. Other writers conveniently leave out any reference to the date.
2 According to the SABR Home Run Log, Carey hit two homers against the Red Sox in 1954, when Martin was in the army, but no more before Martin was traded on June 15, 1957.
3 Lew Paper, Perfect (New York: New American Library, 2009), 205.
4 Associated Press, "Bonus-Rich Carey Hustles Like a Peon," Washington Post, April 2, 1952: 17.
5 Larry Moffi, This Side of Cooperstown (Iowa City: University of Iowa Press, 1996), 160.
6 Paper, 207.
7 Moffi, 161.
8 Ibid., 160.
9 Associated Press, "Carey and Cerv of Yankees Rate With Mizell Among Best Rookies," New York Times, March 23, 1952: 52.
10 Rick Van Blair, "Andy Carey: Unsung Hero of the 1950s Yankee Dynasty," Sports Collectors Digest, May 13, 1994: 144.
11 Moffi, 162.
12 Ibid., 164.
13 Paper, 211.
14 Moffi, 162.
15 Vernon Scott, United Press, "Starlet Lucy Marlow to Wed Ballplayer," Long Beach (California) Independent, October 6, 1955: 28.
16 Dan Daniel, "Carey Must Fight to Hold Third Base Job, Casey Warns," The Sporting News, February 20, 1957: 27.
17 David Reyes, "Armed Robbery Suspect Slain, Officer Wounded," Los Angeles Times, February 18, 1980: II-2; J. Michael Kennedy, "Policeman Cleared in Suspect's Death," Los Angeles Times, March 29, 1980: II-12.
18 Moffi, 167.
19 Paper, 337.
Born
October 18, 1931 at Oakland, CA (USA)
Died
December 15, 2011 at Newport Beach, CA (USA)
If you can help us improve this player's biography, contact us.
https://sabr.org/sites/default/files/CareyAndy.jpg
600
800
admin
/wp-content/uploads/2020/02/sabr_logo.png
admin
2018-07-25 17:08:07
2020-04-09 14:38:43
Andy Carey