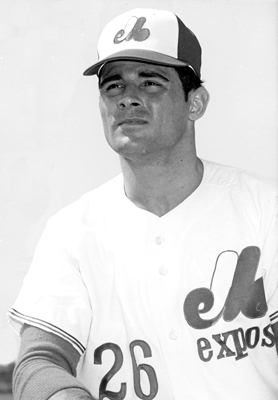 ---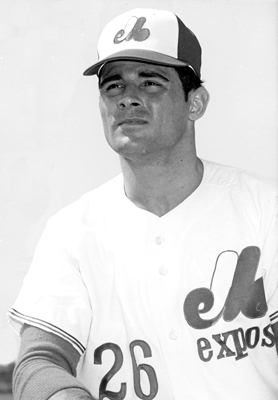 Bill Stoneman started out as a Vandal and ended up as an Angel.
No, Stoney, as he was known, was not a wayward soul who found redemption. Rather, he has had a long, successful career in baseball and business, during which he took some Lip, put a franchise that was barely out of diapers on the map, made some Canadian history, and built a World Series champion for good measure. His varied résumé includes an eight-year career as a major-league pitcher with a fall-off-the-table curveball, a stint in the banking industry, and success in management with the Montreal Expos and the Anaheim Angels.
William Hambly Stoneman III was born on April 7, 1944, in Oak Park, Illinois, a suburb of Chicago, to William Hambly Stoneman Jr. and his wife, Kathryn. His father did mechanical engineering, although he did not have a degree in the field. Bill also had three brothers, Rick, Jim, and John. Stoneman's family had deep roots both in the Windy City and baseball. "My mother's mother and a good friend of hers all attended the Babe Ruth "called shot" game [in the 1932 World Series at Wrigley Field]," he said. "She was a Cubs fanatic."1
The family moved to West Covina, California, east of Los Angeles, in 1954. Stoneman began playing in local Little League and Pony League programs, and, contrary to conventional wisdom, started throwing curveballs while still a boy. "They say that kids shouldn't be allowed to throw curves until they're in their late teens," he said, "but I've been throwing them since I was 10."2 Stoneman took his curveball to West Covina High School, then to nearby Mount San Antonio Junior College, where the local media selected him to the Eastern Conference First All-Star team team.
After one year at Mount San Antonio, Stoneman enrolled at the University of Idaho in 1963, and joined the rotation of the school's baseball team. The club was called the Vandals, but the only things Stoneman broke were the school's record for victories by a pitcher, and the confidence of more than one opposing hitter. In 1965 he led the league in strikeouts and ERA and was chosen to the Big Sky Conference's First All-Star Team. He followed that up in 1966 by leading the Vandals to a 34-9 record and the conference championship, posting a 7-2 record with a 0.45 ERA.
Stoneman put up amazing numbers during his three seasons in Idaho, going 17-10 with a 1.44 ERA and 245 strikeouts in 192⅔ innings pitched. His last start as a Vandal was not memorable, as he lost 3-2 to the University of Arizona Wildcats in the first game of a two-game district playoff. The 'Cats won the next game as well and went on to the College World Series.
Despite that loss, Stoneman's numbers got him some attention, and after graduating with a bachelor's degree in business, Stoneman entered the June 1966 amateur draft. He was noticed by Chicago Cubs scout Gene Handley, who had been sent to scout another player, and Handley recommended that the Cubs draft him. They chose Stoneman in the 31st round, but would have selected him sooner had it not been for human error.
"Somehow [Stoneman's] card was misplaced [on draft day] and we had concluded our draft calls when the card was finally found," explained Cubs vice president John Holland. "It was then we made the call, very much surprised that he was still available."3
Stoneman may have set a record for change-of-address-card usage in 1966 by playing at three levels in three states during his first year as a professional. His first assignment was with Chicago's Rookie-level Pioneer League affiliate in Caldwell, Idaho, known as the Treasure Valley Cubs. From there he joined the Class-A Lodi Crushers of the California League, then moved up to the Dallas-Fort Worth Spurs of the Double-A Texas League. Overall he appeared in 22 games, but started only twice, compiling a 1-2 record with a respectable 2.70 ERA in just 40 innings.
"I think relief is Stoneman's best asset," said Treasure Valley manager George Freese. "He has a sharp breaking curve and is quick enough."4
If the technology were available in those days, Stoneman would have kept the moving companies on speed dial again in 1967. After missing spring training while attending graduate school at the University of Oklahoma (where he received a master's in education), he started the season in Dallas-Fort Worth. He pitched 12 innings in five relief appearances before getting called up to the Tacoma Cubs of the Triple-A Pacific Coast League. As fate would have it, the parent Cubs, in desperate need of pitching, played an exhibition game against Tacoma on July 12. Despite being in only his second year of professional baseball, Stoneman turned heads when he came on in the sixth with the score tied 5-5, and held the big leaguers scoreless for three frames. Chicago won the game 7-5 in 10 innings, but more importantly for Stoneman, he earned a trip to "The Show" a few days later and made his major-league debut on July 16, 1967.
Cubs manager Leo "The Lip" Durocher didn't mind giving Stoneman a baptism by fire, starting him in the second game of a doubleheader against the power-laden San Francisco Giants.5 Stoneman had an impressive outing, giving up only two earned runs in 5⅓ innings as the Cubs won 3-2. Stoneman did not get the win. He pitched well in his second start, five days later, also against the Giants, giving up only one earned run in 4⅓ innings. Again, he didn't get the win. Despite two very respectable starts, Durocher used Stoneman as a reliever the rest of the season. He went 2-4 with four saves and had a 3.29 ERA. He also acquired the nickname "Toy Tiger" from his teammates for both his tenacity on the mound and his relatively slight (5-foot-10) stature.
Uncle Sam had a big impact on Stoneman's 1968 season. This was still the era of the military draft, and Stoneman spent most of spring training again, except for a few weekends, fulfilling his commitment to the Arizona National Guard. With his chance to prepare for the season off-kilter, Stoneman had a tough time getting on track, and with two weeks of active National Guard duty looming in June, the Cubs sent him back to Tacoma on May 23 after he had pitched in only seven games, with a record of one blown save and a 6.75 ERA. That blown save occurred on April 30 against Pittsburgh when he hung a curveball to Manny Mota with two out and two on in the bottom of the ninth and the Cubs leading 3-2. Mota smacked the pitch for a two-run double, giving the Pirates a 4-3 win. Stoneman got plenty of lip from Leo the next day.
"They didn't give you that signing bonus of $100,000 for your curveball," said Durocher. "They gave it to you because of your fastball. I want you to throw your fastball late in the game until they hit it off the [scoreboard] clock in center field."
The problem with Durocher's tirade was that he thought he was talking to the Cubs' number-one draft pick, Dean Burk. Nonetheless, Stoneman was restricted from using his curveball the rest of the year.
He returned to the Cubs on June 27, and worked only sporadically for the remainder of the season. For the year, Stoneman pitched only 29⅓ innings (all in relief), and had an 0-1 record, two blown saves (the second one came against the Cardinals), and a 5.52 ERA. Not surprisingly, he was left off of the Cubs' protected list for the 1968 expansion draft. On October 14, 1968, the brand-new Montreal Expos selected him with the 19th pick.
"Really, I wasn't surprised the Cubs didn't protect me in the draft, and I had a feeling I would go to the Expos," Stoneman said. "Especially after Gene Mauch was named Montreal manager. I'd been told Mauch liked my style of pitching."
It would be hard to find a player who had a rougher start than Stoneman to a season only to reach unheard-of peaks within the first two weeks of a new franchise's existence. He started the second game of the opening series against the Mets and lasted only a third of an inning, giving up four earned runs and leaving the game with an ERA of 108.00. He was better in his second start, a tough 7-6 loss to his former team, the Cubs. He pitched 8⅓ innings and was charged with all seven Cubs runs, but only one was earned.
Then came his third start.
The New York Mets joined the National League in 1962 and didn't have a pitcher throw a no-hitter until 2012. The Expos' expansion cousins, the San Diego Padres, were still awaiting their first no-no as of 2016. That makes what Stoneman did on April 17, 1969, all the more remarkable, as he pitched a no-hitter against the Philadelphia Phillies in just the ninth game of the Expos' existence.
Stoneman walked five and struck out eight in what proved to be his first win as an Expo and only the fourth in the team's history. It was also the first complete game of Stoneman's career. Jerry Johnson took the loss for the Phillies in front of only 6,496 fans at old Connie Mack Stadium in Philadelphia.
The Expos' reaction to the no-hitter seems almost quaint by today's standards. Management ripped up Stoneman's contract and gave him a new one with a $2,000 raise. Then, between games of an April 20 doubleheader against the Cubs, the public-address announcer asked fans to stay in their seats and then called Stoneman out of the dugout. Team president John McHale pointed to a new Renault car in center field, a gift from the Renault Company. However, the big surprise came when one of the car's doors opened and out stepped Stoneman's mother and a brother just back from Vietnam.
The no-hitter was one of the few pitching bright spots for the first-year Expos. Stoneman went 11-19 with a 4.39 ERA, leading the team in both wins and losses. He led the league in walks with 123, and hit batsmen with 12. He did pitch five shutouts, which remains the franchise record (later tied by Steve Rogers twice and by Dennis Martinez and Carlos Perez).
Despite having such a poor record, and enduring the team's 52-110 season, Stoneman said he had fond memories of his early days with the Expos. "The early years of the Expos were a great time," said Stoneman. "Even though we only won 52 games in 1969, people cheered from the first out to the last, and we drew 1.4 million, which was pretty good attendance then." (The Expos' attendance in their debut year was actually 1.2 million.)
"Being on an expansion team didn't matter. We were happy to be in the majors and in Montreal. We loved playing there. It was like going to Europe and getting paid for it. We got a taste of a culture we didn't even know was there."6
On the flight that brought the Expos to Montreal after they opened the season on the road, Stoneman met Diane Falardeau, an Air Canada stewardess, as they were called in those days. He offered her two tickets to an Expos game and she went, even though she didn't know anything about baseball. It seemed that fastballs worked better than fast talk, and they were married in December 1969. They have two children, daughter Jill and son Jeff.
Maybe it was newlywed's euphoria, but for whatever reason, Stoneman had a poor season in 1970, going 7-15 with a 4.59 ERA. Control was again a problem, as he issued 109 walks (tied for third in the NL with Steve Carlton of the Phillies) and he led the league in hit batsmen with 14.7 Typical of Stoneman's season was his four-hitter against San Francisco on May 5 in a 4-1 loss at Jarry Park. More specifically, he hit four batters in that game, Ken Henderson (twice), Dick Dietz, and future teammate Ron Hunt. Responding to charges that Stoneman was hitting the batters deliberately, the Expos' Gene Mauch defended his pitcher, sort of. "If Stoneman could throw the ball exactly where he wanted to, he wouldn't have walked 160 batters last year," Mauch said.8 (As noted, Stoneman walked 123 batters in 1969.)
Prior to the 1971 season, Mauch seemed to have developed a different opinion of Stoneman's potential, telling UPI sports editor John Griffin that he was ready to "blossom out" any time.9 Mauch's comment was prescient; Stoneman was hot right out of the gate, building up a 9-4 record by mid-June. He finished with a 17-16 record, a 3.15 ERA, and 294⅔ innings pitched, the only season of his career in which he won more games than he lost. He also led the league again in walks allowed with 146 (still a franchise record as of 2015). Two slumps prevented Stoneman from reaching the 20-win mark. He lost five of six decisions from June 20 to July 10, including three one-run games, and five of seven from August 10 to September 5. Still, all in all, it was a career year. Stoneman felt that pitching a lot of innings was necessary for success.
"I feel that if I pitch 300 innings, the other things will take care of themselves," he said. "To pitch 300 innings, there have to be so many complete games and you'd have to think so many wins."10
Stoneman followed up his 1971 season by earning two honors in 1972, both for the only time in his career. His only career Opening Day start on April 15 was a showdown against Bob Gibson and the St. Louis Cardinals. Gibson was gone after six, but Stoney was masterful, going all the way for a 3-2 win in which he struck out eight and walked only one. Al Santorini took the loss.
Stoneman also received his only All-Star selection in 1972, becoming the first Expo not named Rusty Staub to make the team.11 He went to the mound for the seventh inning with the NL leading 2-1 and set down Dick Allen, Carl Yastrzemski (via strikeout), and Bobby Grich in order. He wasn't so lucky in the eighth, allowing a single to Carlton Fisk and a two-run homer to Cookie Rojas to give the American League squad a 3-2 lead. His NL teammates bailed him out by tying it up in the ninth and winning in the 10th.
Aside from the Opening Day start and the All-Star appearance, the 1972 season was frustrating for Stoneman because he didn't win consistently. He won four of five decisions between May 23 and July 7, then lost eight of his next 11 decisions. He had an 11-14 record going into his last start of the season, on October 2 in the first game of a twi-night doubleheader against the Mets at Jarry Park. Despite giving up seven walks that night, Stoneman pitched the second no-hitter of his career, a historic 7-0 win that was the first such gem ever pitched in the majors outside the U.S. It was also the last complete game of Stoneman's career, making him the only pitcher in major-league history to pitch no-hitters in his first and last complete games.12
Stoneman's 1973 season started off poorly and only got worse from there. He held out for five days, then bursitis in his shoulder prevented him from pitching in spring training until March 19, when he went 1⅔ innings against the Baltimore Orioles. The Expos put him on the 21-day disabled list on March 30, and he didn't make his first appearance of the year until May 5, when he went 4⅓ innings and got a no-decision in an 8-6 Expos win over Cincinnati. Things didn't get much better, as he lost four of his first five starts.
Stoneman got his last win as an Expo in the first game of a doubleheader against the Braves in Atlanta on July 13, and even with the victory, his day was a complete disaster. He left the first game after five innings trailing 7-1 (all runs were earned), but the Expos scored seven in the top of the sixth to taker an 8-7 lead. Having thrown enough innings to qualify for the win, and being the pitcher of record when the Expos rallied, Stoneman got the W despite a poor performance. Since Mauch had probably never heard of pitch counts, he decided to use Stoneman again in the eighth inning of the second game, with the Expos trailing 9-6. Stoneman gave up six earned runs, and while he wasn't tagged with the loss, he ruined any chance the Expos had of making a comeback. Stoneman's ERA on July 12 was 6.29; after that day's shellacking, it was 7.52. Stoneman finished the year with a 4-8 record and a 6.80 ERA.
Stoneman signed his 1974 contract before spring training started. When asked why he didn't use an agent to negotiate on his behalf, Stoneman said, "You don't need a lawyer to tell the club you had a lousy year."13
That "lousiness" continued into spring training, and on April 4 the Expos sold the 30-year-old former All-Star to the California Angels for an undisclosed amount of cash. After going 1-1 in his first two decisions, Stoneman lost seven straight. By July 1, he was 1-8 with a 6.14 ERA. The Angels cut him on July 12 and his playing career was over.
"I just don't have the stuff any more. It wasn't like 1970 when I had a bad season. I didn't know how to pitch then, but I knew I had a good curveball.
"This time I knew how to pitch, but my curve wasn't sharp any more. It wasn't a matter of a sore arm. I had just picked up too many bad habits to shake."14
Unlike most former Expos players, Stoneman continued to live in Canada after his baseball career ended. He got into a management training program with Royal Trust, a Canadian financial institution; he spent the first few years of his new career in Montreal before being transferred to Toronto. One day in 1983, while returning home from a family vacation, he stopped at Montreal's Olympic Stadium to say hello to some friends and former teammates. Expos president John McHale asked Stoneman to drop by his office. "When I saw John McHale, he said, 'Have you ever thought about coming back into baseball?' I kind of looked at him and said, 'No! I hadn't.' I was telling the truth — I hadn't."15 He joined the Expos on November 28, 1983, to work in the areas of player relations and contract negotiations.
Stoneman remained with the Expos until 1999, climbing the corporate ladder until he eventually became the team's vice president of baseball operations. He left the Expos that year to join the Angels as their general manager.
"It was time to do something different," explained Stoneman about the move. "There was an ownership change in Montreal that was going to happen. It was a natural time to leave."16
The Angels had finished last in the American League West with a 70-92 record. One of Stoneman's first acts was to hire Mike Scioscia as manager. Together, they took the team to its first-ever World Series championship when the Angels defeated the San Francisco Giants in 2002. Stoneman stepped down as GM in 2007, but remained with the team as a consultant. He briefly took over the reins again in 2015 when incumbent Jerry Dipoto stepped down, but left after the season. As of 2016, Stoneman and his wife lived in the Anaheim area.
Last revised: July 1, 2017
This biography appears in SABR's "No-Hitters" (2017), edited by Bill Nowlin.
Acknowledgments
Special thanks to Tim Mead of the Los Angeles Angels for his assistance.
Sources
In addition to the sources cited in the Notes, the author also used the following:
Brandon (Manitoba) Sun.
Chicago Tribune.
Daily InterLake (Kalispell, Montana).
Lewiston (Idaho) Morning Tribune.
Los Angeles Daily News.
Mtsac.edu.
San Bernardino County Sun.
WestCovina.org.
Notes
1 George Castle, Where Have All Our Cubs Gone? (Lanham, Maryland: Taylor Trade Publishing, 2005), 90.
2 Ted Blackman, "It's as Easy — or Easier Than Building a TV set," Montreal Gazette, May 27, 1971.
3 James Enright, "Toy Tiger 34th Cub Draft Pick in '66," The Sporting News, May 3, 1969.
4 "Cubs Near Door of Leader Ogden," Idaho Free Press (Nampa, Idaho), August 31, 1966.
5 The Giants were second in the National League in home runs in 1967 with 140. The Atlanta Braves led with 158.
6 Al Doyle, "Bill Stoneman: The Game I'll Never Forget: Right-Hander Who Tossed Two No-Hitters During His Career Recalls Victory Over Padres in Which He Fanned 14 Batters," Baseball Digest, June 2005.
7 The Expos' starting rotation was a free-pass factory in 1970. Carl Morton led the National League with 125 walks and Steve Renko was fifth with 104. The staff as a whole gave up 716 bases on balls, far and away the highest number in the NL.
8 Ted Blackman, "Red Hair, Strong Arm — Morton Ticket to Montreal," The Sporting News, May 23, 1970: 26.
9 John G. Griffin, "Expos Fans Have High Hopes; Mauch Shooting for 81 Wins," News-Herald (Franklin, Pennsylvania): 13.
10 Ian MacDonald, "Stoney Shuns Goals, Piles Up Victories," The Sporting News, August 7, 1971: 21.
11 Staub represented the Expos at the All-Star Game during the franchise's first three seasons, 1969-71. The Expos traded him to the New York Mets prior to the 1972 season.
12 baseball-reference.com/bullpen/Bill_Stoneman.
13 "Walton's Skin Color Surprises Black Coach," La Crosse (Wisconsin) Tribune, March 9, 1974: 22.
14 Tim Burke, "Stoneman Calls It a Career With 'Too Many Bad Habits," Montreal Gazette, August 14, 1974: 19.
15 Bill Stoneman, Bill Kirwin, "Interview With Bill Stoneman, General Manager, Anaheim Angels," Nine: A Journal of Baseball History and Culture, Volume 10, Number 2, Spring 2002: 172.
16 Murray Chass, "Baseball: Inside Baseball; Stoneman Maneuvers Out of the Angels' Spotlight," New York Times," November 3, 2002.
Born
April 7, 1944 at Oak Park, IL (USA)
If you can help us improve this player's biography, contact us.
http://sabr.org/sites/default/files/images/_Stoneman%20Bill%20436-69%20NBL.jpg
600
800
admin
/wp-content/uploads/2020/02/sabr_logo.png
admin
2017-02-15 10:54:50
2017-02-15 10:54:50
Bill Stoneman