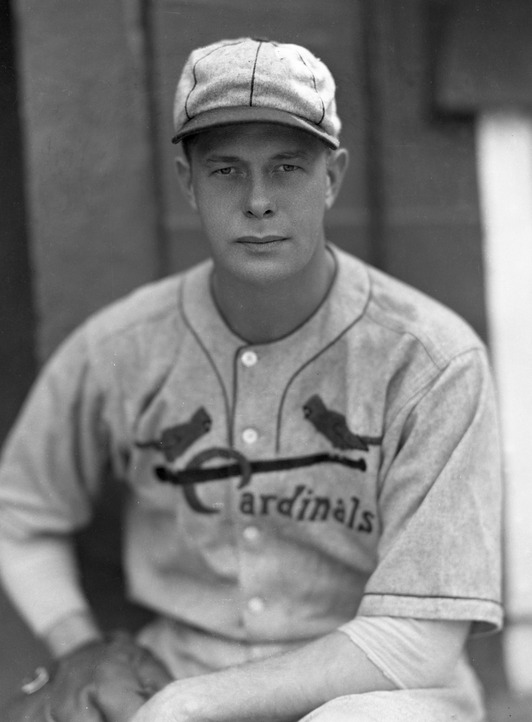 ---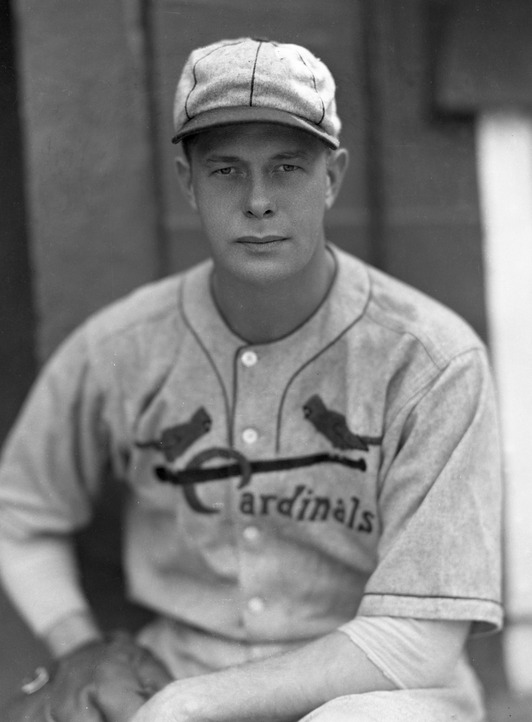 Left-hander Bill Walker overcame two life-threatening heart attacks by the age of 15 to become a big-league pitcher. He debuted with the New York Giants in 1927 after a mentally taxing seven-year journey in the minor leagues. With two National League ERA titles in three years (1929 and 1931), it appeared that Walker was headed for stardom, but arm miseries led to his trade to the St. Louis Cardinals after the 1932 season. Often overlooked by history and overshadowed by the more gregarious members of the Gas House Gang, Walker with a 12-4 record in 1934, including eight wins in the last seven weeks of the season, helped propel the Redbirds to the World Series.
William Henry Walker was born on October 7, 1903, in East St. Louis, Illinois, the last of six children of John Henry and Ann (Anderson) Walker. John and Ann were born in England, as were their first three children, Frank, Nellie, and George. The family immigrated to the United States in the early 1880s and settled in East St. Louis, where John's brothers were pawnbrokers. The family welcomed three more children, Maude, Mary, and finally Bill, in their new homeland. John left his brothers' business and held several jobs before finding steady and permanent employment as a night watchman. Bill was a frail, weak boy, and at the age of 7 suffered what physicians at the time considered a heart attack. His physicians at St. Louis Children's Hospital diagnosed a valvular deficiency (commonly called a leaking heart) and suggested that Bill refrain from physical activity the rest of his life. Bill's parents were understandably shocked. Ann, whose father, George Anderson, was a well-known cricket player in England in the 1850s and 1860s, doted on her young child. "I was interested in athletics," said Bill, "but because of my weak heart, sat on the sidelines, and watched other boys (playing)."1 While attending Emerson and then Hawthorne grammar school in East St. Louis, Bill took a chance and started playing ball. "I regarded the pitcher as the big shot in any ballgame," he said. "I wanted to be a big shot instead of a sickly kid."2 After playing a few years with no ill effects, Bill thought his problems were behind him. An articulate youngster with flair, he quit school at the age of 14 and began working as a messenger for the Morris Packing Company. But tragedy struck again, when Bill had another heart attack at the age of 15. Physicians feared for his life.
Unexpectedly, Bill recovered and resumed his job. To his parents' astonishment, he returned to the local sandlots and began pitching. After working for Armour Meats and playing for the company team in 1919, Bill learned a trade at a local steel plant and pitched in the semiprofessional St. Louis Trolley League in 1921. He caught the attention of area resident Benny Meyer, a former big-league player, who invited him to try out at Sportsman's Park for a minor-league team he was putting together to compete in the newly created Class D Southwestern League. Walker made the team and reported to Miami, Oklahoma, to play for the Indians. Just 17 years old when the season began, Walker notched 11 wins, lost 16, and logged 202 innings.
Walker showed potential in his first year of professional baseball, but it took him another six years, filled with frustration, an overwhelming sense of failure, and a desire to quit, before he finally made it to the big leagues. Walker was farmed out to the Duncan (Oklahoma) Oilers in the Class D Oklahoma State League and to the Independence (Kansas) Producers in the Southwestern League in 1922, but struggled. "I was a failure," Walker said. "And while my weak heart long since had apparently mended, I felt discouraged. So I packed up and went home."3 Walker moved back to his parents' house and pitched once again for the East St. Louis team in the Trolley League.
"My 'stuff' came back," said Walker about pitching in the Trolley League in the summer 1922.4 Benny Meyer invited him to Salina, Kansas, for another tryout, this time with the Millers, a team Meyer personally skippered in the Southwestern League, which had been elevated to Class C after its inaugural season. More mature physically and emotionally, Walker led the team in wins (15) and innings (251); his team-high 18 losses placed him in a three-way tie for the most in the league.
Walker began the 1924 season back with Salina but was sold to the Kansas City Blues in the Double-A American Association in June. The jump from Class C to the American Association, just one step below the major leagues, was overwhelming for Walker. Against seasoned professionals, most of whom had had or later did have major-league experience, Walker struggled, lost all four decisions, and logged just 42 innings. Plagued by wildness with Miami and Salina (averaging almost six walks per nine innings), he fared even worse with the Blues, issuing 6.6 walks and surrendering 11.6 hits per nine innings. The team consequently sold him to the Springfield (Illinois) Senators in the Illinois-Indiana-Iowa League. Splitting the season with Springfield and the Evansville (Indiana) Pocketeers, Walker rebounded in the Class B Three-I League in 1925. He notched nine wins, and importantly issued fewer walks per nine innings, though his 115 bases on balls and his 16 losses tied for third most in the league.
Just 22 years old, but starting his sixth season in professional baseball in 1926, Walker began doubting his future as a big leaguer. Kansas City optioned him to the Omaha Buffaloes in the Class A Western League to start the season. "I was a failure there," said Walker.5 Suffering from a spinal-column injury and possessing a miserable 2-4 record,6 he reached the breaking point: "I finally said to myself, 'Bill, you're through. You'll never be a pitcher.' "7 When he approached manager Barney Burch of the Buffaloes about his desire to quit, he was surprised to learn that he had been released, and subsequently purchased by the Denver Bears in the same league.8 Reporting to manager Joe Berger in July, Walker resurrected his season and his career and finished with 14 combined wins for the Buffaloes and Bears.
Walker enjoyed a breakout year on a mediocre, 77-75 Bears team in 1927. With a team-high 19 wins (tied for fourth-most in the league), he was the league's most unhittable pitcher, surrendering just 8.2 hits per nine innings. "[Walker] attracted attention of many major league scouts," reported the New York Times in midseason.9 The Pirates and Yankees seemed like probable destinations for Walker, but Charles Stoneham, owner of the New York Giants, dispatched scout Dick Kinsella to Denver authorized to sign the "strike-out artist" at all costs.10 Kinsella, who had previously inked Giants standouts Frankie Frisch and Freddie Fitzsimmons to contracts, signed Walker for a reported $25,000.
Reporting to New York in September 1927, Walker joined the Giants in a tight four-team pennant race with the Pirates, Cubs, and Cardinals. He debuted in the first game of a doubleheader on September 13 against St. Louis at Sportsman's Park, the site of his first professional tryout. In relief of starter Larry Benton, Walker pitched the last two frames in a 5-2 loss, surrendering two hits and a run while striking out three. He made two more appearances for new Giants manager Rogers Hornsby, who had replaced John McGraw for the final 32 games of the season.
Walker reported to his first big-league spring training, in Augusta, Georgia, as one of the game's most heralded rookies. "He's the best left-hand pitcher who has entered baseball for three or four seasons," reported George Chadwick.11 Less than two years removed from wanting to quit baseball, Walker seemed to possess everything needed for stardom. His delivery was described as "graceful and smooth," his curveball was considered "as elusive as an oil bond in a senate investigation," and his pickoff move to first base was deceptive.12 In camp he battled late-season call-ups Ben Cantwell, Jim "Lefty" Faulkner, and Art Johnson, as well as Dutch Henry for a starting job. McGraw, who returned to pilot the Giants in 1928, named Walker to start the fourth game of the season. He struggled with control (six walks in 7⅓ innings) in a loss to the Phillies and was relegated to the bullpen. The highlight of Walker's season was his first big-league victory, a six-hit complete game against the Phillies on June 25 at Baker Bowl. With eight starts among his 22 appearances, Walker's inconsistencies and penchant for surrendering the long ball (nine home runs in just 76⅓ innings) ultimately led to his option in midseason to the Toledo Mud Hens of the American Association to work on his control. He returned to the parent club, won three of nine decisions and posted a 4.72 ERA for the season, but did not pitch after August 16. George Kirksey of the United Press reported that Walker was "handicapped by illness" at the end of the 1928 season. Throughout his life, Walker claimed that after his second heart attack at 15, he never again experienced heart problems, suggesting that the "illness" was some other physical ailment.13
The Giants convened spring training in San Antonio in 1929 with arguably the best pitching staff in the National League. Larry Benton and Freddie Fitzsimmons, coming off 20-win seasons in 1928, were joined by left-handers Carl Hubbell (a midseason callup who notched ten wins in the last two months of 1928) and Walker. "McGraw's two young southpaws … are on the verge of stardom," wrote George Kirksey of the United Press."14 Hubbell and Walker were roommates, became good friends, and constantly talked pitching. While the 25-year-old Hubbell seemed polished and had excellent control (thanks to his screwball), Walker had not yet harnessed his fastball and his curve was inconsistent. For the first four months of the season as starter and reliever, he failed to impress with a 5-7 record and 3.97 ERA.
Lost deep in the bullpen, Walker took the mound on August 6 at Pittsburgh for the first time in ten days and tossed a complete-game victory over the Pirates. But a shoulder injury in his next start, nine days later, sidelined him for two additional weeks, and it appeared as if his season might be over. He returned on August 29 and proceeded to have the best five-week stretch in his big-league career. He pitched eight consecutive complete-game victories and posted an impressive 2.13 ERA. On September 15 he hurled his first major-league shutout, a six-hitter against the Cardinals at St. Louis. While the New York Times raved about Walker's "baffling curves,"15 the lefty's success resulted from a new-found control as he issued only 13 walks during his 72-innng streak. Walker credited submariner Carl Mays, whom the Giants acquired prior to the 1929 season, for his seemingly sudden transformation. "[Mays] told me to keep my mind on pitching to a certain spot and not to put everything I had on every pitch," Walker said. "His advice helped a lot."16 Walker finished the season with 14 wins and logged 177⅔ innings. His 3.09 ERA led the NL. Through the 2013 season, it still ranked as the highest league-leading mark in the National League; only Early Wynn of the Indians in 1950 led the American League with a higher ERA (3.20).
Once described by Washington Senators owner Clark Griffith as a "natural," Walker tossed a complete-game victory over the Boston Braves on Opening Day in 1930.17 With his second complete-game victory of the season on April 21 (over the Phillies), Walker extended his career-longest winning streak to 11 games, including complete-game victories in his previous ten starts. Not renowned for his hitting (a career .127 batting average in 489 at-bats), Walker whacked his only big-league grand slam among his career-high three hits in a complete-game victory on May 5 against the Pirates at Forbes Field. A streaky pitcher, Walker finished June with a stellar 10-3 record and it appeared as if he would notch 20 wins for the first time. However, he slumped in July, losing five of six starts. On August 2 at Ebbets Field he tossed a ten-inning complete game to defeat the league-leading Robins and pull the Giants to within four games of the Robins. While the Robins faded in August and September, the Giants plodded along, winning 32 of 55, but were no match for the streaking Cardinals, who won 44 of 57 in the last two months of the season. Clearly suffering from the effects of overwork in September, Walker started eight times in 28 days, but completed just two starts (including a masterful two-hit shutout over Cincinnati at the Polo Grounds) on September 19. For the third-place Giants, Walker led the team with a career-high 34 starts and 245⅓ innings. His 17 victories tied with Hubbell for second-most on the club behind Fitzsimmons' 19. Contextualized within the batting exploits in a "Year of the Hitter," Walker's season is more impressive. His 3.93 ERA was third-best in the NL; he held batters to a .268 average, well under the league average of .303; and he ranked sixth in the NL by allowing less than 9.5 hits per nine innings.
An infected left hand delayed Walker's arrival at the Giants' 1931 spring training in San Antonio and bothered him throughout camp. After tossing three innings of scoreless relief on Opening Day, he hurled a five-hit complete-game victory four days later over the Phillies at the Baker Bowl in his first start of the season. With just two starts through April, Walker got on track in May, shutting out the Braves twice in four starts. Walker was arguably the most effective pitcher in baseball beginning with his four-hit shutout over the Reds at the Polo Grounds on June 26 and extending through the end of the season. He completed 14 of 18 starts, winning 11 of them, saved three games, posted a 1.79 ERA over 165⅔ innings, and limited batters to a .216 average. Though the Giants led the NL in home runs, ranked second in batting, led the league in ERA, and tied for the lead in fielding, they were no match for the rough-and-tumble Cardinals, who streaked away with the pennant. Walker finished with 16 wins (second-most on the club behind Fitzsimmons' 18), completed a career-high 19 of 28 starts, and led the league for the second time with a 2.26 ERA. He also led the league with a career-best six shutouts. In a year without a 20-game winner for the first time in the history of the National League, The Sporting News noted that Walker was an "incredibly hard luck" pitcher for having lost seven times when the Giants scored three runs or less.18
Described as "soft-spoken" and "well-mannered," Walker shied away from the media attention his success with the Giants brought him.19 With his sandy blond hair, light-colored eyes, light complexion, and chiseled facial features, Walker was considered one of the most eligible bachelors in baseball. "[He] looks like a movie actor," wrote The Sporting News.20 Sportswriters enjoyed playing on Walker's English background and detectable English accent, and referred to him as the "Prince of Wales."21 Despite the hard times of the Depression, Walker was known for his "thirty suits of tailor-made clothes" which gave rise to the moniker the "Beau Brummel" of baseball, a description lost on contemporary readers but a well-known reference in Walker's time to a 19th-century fashion icon in England.22
In 1932 the Giants suffered through their worst season since 1915 and fell to sixth place. The ailing McGraw was replaced in early June by the hitting sensation Bill Terry after 40 games, but the offense and pitching continued to slump. After surrendering just six home runs in 239⅓ innings in 1931, Walker was pounded for a league-high 23 round-trippers in just 163 innings. With 22 starts among his 31 appearances, Walker managed just eight wins in 20 decisions and his ERA almost doubled, to 4.14. "I nursed a sore arm all season," he said. "I didn't feel like myself until the end of the season."23 A week after the season the Giants sent him, outfielder Ethan Allen, pitcher Jim Mooney, and catcher Bob O'Farrell to the Cardinals for catcher Gus Mancuso and pitcher Ray Starr. "The first thing I knew about the trade was when I read it in the newspapers," Walker said. "I wasn't really surprised because I had a bum year."24
Even before Walker arrived at the Cardinals' spring training, The Sporting News reported rumors that he would soon be traded to the Cubs, doubting that the St. Louis would carry three left-handers (Bill Hallahan, Mooney, and Walker). Walker's stock had dropped so precipitously that Mooney (6-10 with a 5.05 ERA in 1932) seemed more desirable. The United Press reported that Walker "lacks clutch" and can't win the big game.25 However, The Sporting News cautioned, "[Walker] is not built for heavy criticism or riding. Let him alone and he will come through. Worry him and he will worry with you and get worse."26 The Cardinals ultimately kept all three lefties for the 1933 season.
Walker's return to his hometown area was anything but a homecoming. After he lost his first two starts, Walker's success in May (he won all four decisions, including three complete games and a ten-inning shutout against the Braves) proved illusory. Competing for the fourth starter's position with grizzled veterans Jesse Haines and Dazzy Vance, Walker battled inconsistency all season. "A big disappointment," reported The Sporting News. "Had [Walker] come through as reported, there probably would be a different story to tell about the Cardinals."27 For the fifth-place Redbirds, Walker started just 20 times, made nine appearances in relief, and logged 158 innings while posting his second consecutive losing record at 9-10.
The Gas House Gang and Walker seemed to be an odd match. While player-manager Frankie Frisch and his players like Pepper Martin, Leo Durocher, and Dizzy Dean were hard-nosed scramblers full of braggadocio, Walker was a laid-back, shy player who still lived at home with his folks in East St. Louis. Slated as the team's fourth starter for 1934, Walker notched two complete-game victories to inaugurate the season before suffering a freak injury on May 6 during batting practice. Joe Medwick smashed a line drive that hit Walker on the left arm near his wrist. The result was a fractured bone, sidelining him for seven weeks. He returned to the starting rotation after the All-Star Game, but struggled, winning two of five decisions and posting an ERA of close to 5.00 for the month.
The Cardinals concluded a dramatic campaign in 1934 by going 40-18 in the last two months to win the pennant on the last weekend of the season. History rightly focuses on the amazing accomplishments of Dizzy Dean during those exciting two months; however, Walker's dependability deserves more attention. Beginning on August 11, when he tossed a complete game to defeat the Cubs at Sportsman's Park, Walker began one of his hot streaks at the most important time of his career. He completed seven of 11 starts, won eight of nine decisions, and posted a 2.62 ERA. (For the purpose of comparison, Dizzy Dean won nine of 12 with a 1.55 ERA and Paul Dean won seven of 13 with a 2.16 ERA during that same span.)
Despite Walker's impressive 12-4 record and 3.12 ERA in 153 innings, Frisch opted for a starting rotation of Dizzy Dean, Bill Hallahan, Paul Dean, and Tex Carleton in the World Series against the slugging Detroit Tigers. With Game Two tied 2-2 and one out in the ninth inning, Walker relieved Hallahan and pitched three hitless innings before encountering trouble in the 12th. After issuing one-out walks to Charlie Gehringer and Hank Greenberg, Walker surrendered a walk-off single to Goose Goslin to lose the game, 3-2. Taking the mound to start the fifth inning in Game Four, tied, 4-4, Walker experienced the hitherto most ineffective game in his tenure with the Redbirds. He surrendered five hits and six runs (four earned) and walked three in 3⅓ innings. Charged with losses in two of the first four games, Walker did not pitch again in the Series. The Cardinals surged back to win Games Six and Seven, capture one of the most exciting World Series, and etch their names in sports history.
Walker teamed with the Dean brothers and Hallahan to form a formidable starting rotation in 1935. A strong push in August catapulted the team into first place to begin the last month of the season; however, the Redbirds were no match for the streaking Cubs, who went 23-3 in September, including 21 consecutive wins, to capture the pennant. A study in inconsistency, Walker posted a 2.12 ERA in his 13 wins but a 4.14 ERA in his eight losses, which led to his demotion to the bullpen in September with the Cardinals attempting to hold off the Cubs.
Walker made the trip to Cleveland for the third annual All-Star Game under curious circumstances. "I had the dubious honor to be the batting practice pitcher," he said.28 Cardinals manager Frisch piloted the NL squad and named Walker to the pitching staff. "Lefty Grove was going to be one of the pitchers for the AL team and my delivery was similar to his. So that was my reason for being there," he said.29 Unexpectedly, Walker started the game and surrendered two hits and three runs, including a home run to Jimmie Foxx, and was collared with the loss. As it turned out, Lefty Grove did not pitch, but another Lefty did. Lefty Gomez limited the NL to three hits over six innings to win the game.
Walker's promising start to the last season in his ten-year big-league career (three complete-game victories in his first three starts) gave way to a pattern of inconsistency, wildness, and hittable pitches in 1936. After he surrendered ten hits and four runs in just 4⅔ innings in his first start after the All-Star Game, Walker's career in St. Louis was at a crossroads. He made three relief appearances before being sent in August to the Toronto Maple Leafs in a waiver transaction for pitcher Si Johnson. Walker notched four wins in the Double-A International League, was waived, and then re-signed with the Cardinals in September. His major-league career came to an unceremonious end with two disastrous starts in which he yielded six hits and seven runs in six innings. In the offseason, he was released to the Rochester Red Wings, the Cardinals' affiliate in the International League.
Initially reluctant to play in the minors after ten years in the big leagues, Walker agreed to terms with Rochester in March 1937. Though he won 12 games, it was apparent that his days in the major leagues were behind him. The following season he played with the Sacramento Solons and experienced a rejuvenation of sorts in the warm climate and long season of the Double-A Pacific Coast League. As the grizzled veteran on the staff, Walker won 17 games while logging 226 innings for skipper Bill Killefer, former manager of the Cubs and Browns. Walker remained in the PCL for his final two years in professional baseball and posted records of 16-18 and 12-14 for the unaffiliated Seattle Rainiers while pitching more than 200 innings each year. In his final season, Walker claimed he had finally mastered the screwball which he supposedly learned from his former teammate and screwball aficionado, Carl Hubbell.30
At the age of 36, Walker retired after a 20-year professional baseball career. The two-time National League ERA leader won 97 games and posted a 3.59 ERA (114 ERA+) in 1,489⅔ innings. He won 132 games and pitched more than 2,100 innings in his 13-year minor-league career.
A resident of East St. Louis and St. Clair County, Illinois, his entire life, Walker married Bernadine Parish in 1941. They had two children, Ann and Bill. A lifelong baseball fan, Walker regularly attended games at Sportsman's Park and participated in occasional reunion games for the Gas House Gang. He supported local American Legion baseball and coached during the years his son played. Walker enjoyed a distinguished and varied career as an elected and appointed public servant in East St. Louis in his post-playing days. Even before retiring, he was elected trustee of the East Side Levee and Sanitation District in 1939, and subsequently was elected treasurer of St. Clair County, and later Probate Court clerk in Belleville.31 A reservist in the US Navy during World War II, Walker served in the Illinois state auditor's office and was also appointed chief deputy sheriff in East St. Louis.32
William Henry Walker died of cancer at Christian Welfare Hospital in East St. Louis on June 14, 1966, at the age of 62. Praised for his "indomitable spirit" for overcoming his childhood health problems, Walker was buried in the Valhalla Garden of Memory in Belleville, Illinois.33
This biography is included in "The 1934 St. Louis Cardinals The World Champion Gas House Gang" (SABR, 2014), edited by Charles F. Faber.
Sources
Ancestry.com
BaseballLibrary.com
Baseball-Reference.com
New York Times
Retrosheet.com
The Sporting News
Notes

Born
October 7, 1903 at East St. Louis, IL (USA)
Died
June 14, 1966 at East St. Louis, IL (USA)
If you can help us improve this player's biography, contact us.
http://sabr.org/sites/default/files/Walker-Bill.png
600
800
admin
/wp-content/uploads/2020/02/sabr_logo.png
admin
2012-01-04 20:38:15
2012-01-04 20:38:15
Bill Walker