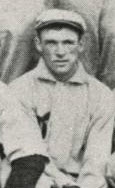 ---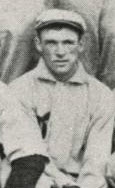 A superb gloveman, infielder Billy Clingman spent 17 seasons in professional baseball beginning in 1890. As a player he witnessed the start of Honus Wagner's career, once cleanly handled 22 chances in a double header, and was the first Washington Senator to hit a home run. As a manager, he is given credit for developing pitcher Nick Altrock and switching Jiggs Donahue from catcher to first base, where he starred with the 1906 White Sox.
William Frederick Clingman was one of five children born to John and Mary Clingman. John had come to Ohio from Pennsylvania. According to census records, he worked as an engineer and an iron worker. Mary was a first generation American; her parents had come to the States from Prussia. Billy was born in Cincinnati on November 21, 1869, shortly after the Red Stockings had ended their triumphal season. The children received basic schooling and then joined the workforce. Bill became an engraver and would find employment in that field for a lifetime. Very talented, at one time he even played baseball during the day and then worked in an engraving firm into the night.
Clingman grew to 5-feet, 11-inches in height and weighed 150 pounds. Very athletic, he was swept up in the baseball furor in Cincinnati and developed into a fine fielder and decent hitter. By the time he was 18, he was playing on the best local teams — the Lincolns, Shamrocks and Indians. While playing for the Indians he had opportunities to play against major leaguers and faced pitchers Billy Rhines and Tony Mullane. He also represented his city by playing for the traveling team sponsored by the Cincinnati Enquirer against newspaper-sponsored squads in other cities.
He caught the attention of a scout who recommended him to Mansfield, Ohio, in the Tri-State League. Manager George Geer traveled to Cincinnati and inked Clingman and first baseman Bill Klusman to 1890 contracts.1 Clingman debuted on May 23 in a 6-0 victory over Wheeling. He singled and scored in the fourth thanks to "his daring base running."2 Mansfield took the title with Klusman batting .383 to finish second in the circuit. Clingman hit .292, which placed him 14th in the seven-team league. In the field he had an .879 fielding percentage, fourth amongst shortstops.3 The Mansfield team disbanded at the close of the season, making Clingman a free agent.
The Cincinnati Reds were limping to the finish line in the National League. Arlie Latham and Ollie Beard were nursing injuries and the Reds decided to give Clingman a look. Treasurer Harry Stern signed Clingman on September 5. He debuted on September 9 before about 1700 fans in Cincinnati and played shortstop "in grand style."4 At the plate he only managed a single in six trips in the 14-inning game, but it was critical. The Reds were down, 2-0, in the seventh when they loaded the bases. With two strikes on him, Clingman unleashed a liner over the second baseman and drove in two runs. A wild relay throw allowed a third run to score as the crowd thundered its applause. Cleveland tied the game in the eighth and eventually won, 8-4.5
His next action came against Pittsburgh in a September 11 double header. Once again, he fielded brilliantly, handling 11 chances and starting two double plays. He stumbled on September 13 versus Pittsburgh and made two errors leading to a Pittsburgh win, 8-6. He closed out the season at second base because of a hand injury to Bid McPhee. In all he played in seven games.
The 1890-91 offseason in Cincinnati was a tumultuous time. Just after the close of the season, the Reds were sold to Albert Johnson, who moved the club to the Players' League just in time for that league to go out of business, making Clingman a free agent. Johnson then fielded a team known as Kelly's Killers in the American Association.
With his background and talent in engraving, Billy would always have gainful employment. His baseball talent was an added bonus. On January 14, 1891, he married Clara Mae Gibner. The Clingmans took up residence in the Bond Hill area of the city. Clara gave birth to four children; three of them — Paul, Eula and William — lived to adulthood.
After a failed tryout with the St. Louis Browns because of injury, Clingman opened the 1891 season with Terre Haute in the Northwestern League. He was field manager, played second base and batted lead-off.6 Shortstop was played by Bob Langsford. But he fell into disfavor in July when his three errors led to a loss to Evansville. Less than a week later he was released and returned home to Cincinnati, where Albert Johnson signed him for Kelly's Killers on July 23 along with pitcher Bill Widner and infielder Joe Burke. Clingman played second base against the Browns on July 24, poking a double in the 20-12 loss. A local scribe noted that Clingman was a "big improvement" over veteran Yank Robinson.7
Robinson returned the following game and all the recruits were released after one appearance. Clingman then joined Jamestown in the New York-Pennsylvania League. He was predominately a shortstop for them, but also pitched in one game and played some second and third.
Clingman opened the 1892 campaign with the Indianapolis Hoosiers in the Western League. He was touted as a top fielder and hitter by the local papers. He smashed a double in the home opener but was erratic in the field and made a couple of critical errors. He lasted only three games before his release. He headed south and joined the Memphis Giants in the Southern Association.
He played shortstop for the Giants until the Western League disbanded after a little more than 50 games. Players from that league flocked south. Bones Ely joined Memphis and took over at shortstop with Clingman moving to second base. Bill batted .277 for the last-place team.
The 1893 Memphis team made wholesale changes; Clingman was the only regular who returned. Surrounded with potent hitting veterans like Ed Cartwright (.373) and Bill Goodenough (.349), Clingman batted .310 and lashed 30 doubles. His .423 slugging percentage was fourth on the team for regulars. Despite the offensive prowess, the team did not win either the first- or second- half championship. The league started with 12 teams, but the number slowly dwindled in the heat of the summer. Memphis dropped out of the league in mid-August and played exhibitions after that.
Clingman joined the Milwaukee Brewers in the Western League for the 1894 season. He played third as former mate Langsford handled shortstop early in the season. Clingman clubbed nine homers that season, one more than the total of his major-league career. Two of the blasts came on May 4 against the Minneapolis Millers. The first was a legitimate drive over the fence. The second "went sailing over the left fielder's head" and "found a sharp-pointed nail at the top of the fence." The ball lodged there as the Miller outfielders tried in vain to free it.8 Rain ended the game in a 9-9 tie.
The Brewers were the weakest contingent in the league. They seemed to be constantly shuffling in new talent. Only Scoops Carey and Billy played over 100 games. Only one pitcher topped 200 innings. Clingman was the best third baseman in the circuit. He also played 17 games at short and batted in the second spot the whole season. He posted career highs in runs scored, hits, triples, home runs, stolen bases, batting average and slugging percentage. His contract was sold to the Pittsburgh Pirates, managed by Connie Mack .
Clingman joined the Pirates for spring training in Savannah, Georgia. He and fellow rookie Bill Niles battled for the third base job. Clingman won out thanks to his superior fielding and hitting. He opened the season batting sixth in the 17-2 loss to Louisville.
Clingman proved to be tenacious and far-ranging at the hot corner. Three weeks into the season he had more assists than shortstop Monte Cross. In mid-season he was fielding over .900 but that percentage fell off and he finished at .888. His range factor placed him second amongst third baseman behind Lave Cross. He missed some time with an injury in August but helped the team by coaching first base.
At the plate his .256/.331/.319 lumped him with Cross and Frank Genins as the weakest bats on the team. In contrast, pitcher Pink Hawley had more extra base hits and a much higher OPS in a third of the plate appearances. At the time, Clingman was a right-handed batter. Later he would try switch-hitting in hopes of improving his offense.
Pittsburgh retained Clingman's rights and brought him to spring training the following season. He also helped guide the Washington & Jefferson College team in their pre-season workouts. When the season opened, Clingman was one of three players left behind when Pittsburgh went on its first road trip. With Denny Lyons at third base, Mack felt he could swap Clingman and in early May Billy joined Louisville in exchange for catcher Eddie Boyle and outfielder Joe Wright.9. His first game for the Colonels came on May 4 in a loss to New York. He smacked a single and fielded flawlessly at third base.
Louisville was already mired in last place. Clingman found himself batting clean-up a week into his tenure. That lasted only briefly before he dropped down in the order. One of the few highlights of the Colonels' season was a triple play on July 26 in a win over Washington. The Senators had runners on second and third before they ran themselves out of a potential big inning. A grounder to second resulted in a put out at home. The ball then went to Clingman for the second out at third. He relayed to second and a rundown ended the inning.
Billy played 121 games, second to Fred Clarke on the team. He raised his fielding percentage to .925 and his range factor to a league-leading 3.88. His batting dropped off to .234.
The Colonels made improvements in 1897 and finished in 11th place. Fred Clarke took over as manager partway through the campaign. Honus Wagner joined the team, slugger Perry Werden added a potent bat at first base. For his part, Clingman led third basemen in fielding percentage. He began switch-hitting in the spring with mixed results.10 His batting average dropped six points, but his slugging rose from .281 to .313.
The plan for 1898 was for Clingman to be a utility player with young Charlie Dexter playing third. Late in the spring, Dexter lost a finger nail in a fielding mishap and Clingman opened the season at third base. He gave way to Wagner partway through the season and finished as the shortstop. His 154 games were the highest of any player on the Colonels. A fine third baseman, he proved to be equally adept at shortstop. Renowned for playing the deepest of any shortstop, he quickly earned praise and comparisons to Herm Long and Hughie Jennings.
A bout with malaria and a beaning early in the next season cost Clingman playing time. By the end of the season the Colonels had used 10 men at shortstop. Clingman played 110 of the team's 156 games there. Oddly, Honus Wagner, who would become a renowned Hall of Fame shortstop, was never given a look at that position that season.
On December 4, 1899, the Louisville and Pittsburgh franchises consolidated. The local paper reported that Clingman would not be on the Pirates' reserve list because of his $2400 salary.11 He was left with the remnants of the Louisville club, which sold him to the Chicago Orphans along with Dexter on December 13.
Clingman played 47 games at shortstop for the second-division Orphans. Batting.208, he was released in early August. He finished out the 1900 season with Kansas City in the American League, where he hit .310 in 155 at bats. Under Ban Johnson, the American League restructured and players were shifted about. Clingman found himself with the Washington Senators for the inaugural major-league season of the AL.
Clingman played 137 games at short for the Senators. He entered the franchise record book on April 27 in a game against the Athletics and Wiley Piatt. In the fifth inning he drove a ball "into the crowd in left" for a home run. He went 2-for-5 in the game and might have had another hit, but he was robbed by the right fielder.12 He hit an inside-the-park homer off Joe McGinnity in August. Clingman fielded a league-leading .932 (for players in 400 innings or more). Only Kid Elberfeld accepted more chances, but Clingman had 51 more assists and 21 fewer errors. At the plate he batted .242. Washington finished sixth.
On December 18, Clingman signed to be player-manager of the Milwaukee Brewers in the American Association. He immediately went about signing talent for his team. It was also widely reported that he became a shareholder in the Omaha franchise of the Western League.
The Brewers limped to a sixth-place finish. Clingman's glove was not the best in the league this time, but his bat came alive. One report stated he switched to left-handed batting solely, but that is impossible to verify.13 He hit .308 with a slugging percentage of .389. Both those numbers were second to Bill Hallman on the team. He was given credit for turning around left-hander Nick Altrock, who came to the team with a 59-62 lifetime record. Altrock won 28 games, second in the league, and hurled 338 innings.
Shortly after the season concluded, Milwaukee hired Joe Cantillon to manage for the 1903 season. Clingman, who was hired to play and manage, assumed this made him a free agent. He signed with Columbus in the fall.
In February a story surfaced that Milwaukee had traded him to St. Paul.14 The issue dragged on until the board of directors for the league ruled that St. Paul had the rights to Clingman. Columbus ignored that ruling and Clingman opened the season with them. To make matters more complicated, both Detroit and Chicago were reported to be interested in Clingman. On May 10 he was traded to Cleveland for Jack Thoney.15 A week later it was decided that Clingman now legally belonged to Cleveland.
With Cleveland, Clingman showed a hot bat. He hit .316 in his first seven games. He was used in place of popular John Gochnaur, which created some friction on the team. Cleveland solved that problem by sending Clingman and Gus Dorner to Columbus for Terry Turner, who would play 15 years in League Park. Billy batted .281 in Cleveland but struggled to .153 in Columbus.
Not surprisingly Columbus did not place Clingman on its reserve list. St. Paul persisted in their pursuit of him by placing him on their reserve list for 1904.16 Manager Mike Kelley pursued Clingman for four months before finally getting his name on a contract in mid-April. The plan was for Clingman to either play second base or be the utilityman. The latter happened. In the first month of the season he played third, right field and shortstop. He even spent time batting cleanup.
In June he was shifted back to the outfield. On July 9 newspapers announced that he was joining Toledo as their new manager. The Saints brought in Jack Flourney to replace him in the outfield.17 Clingman played 59 games with the Saints and batted .255.18
He joined Toledo in Kansas City and installed himself at shortstop batting second. By the end of the season he had dropped to the eighth spot. He played a total of 97 games at shortstop and posted the second highest fielding percentage amongst regulars. The Spalding Guide lists him with a .251 batting average in126 games.
Gene DeMontreville was brought in to manage and play second base in 1905. Clingman earned the shortstop spot. Now 35, his range was diminishing but he was still a valuable asset. He spent the months of June, August and September as the leadoff hitter. Otherwise he batted second or third. He played a team-high 155 games and hit .269.
Clingman moved his family to Louisville and spent the winter at the engraving trade. He contemplated retiring from baseball despite being "recognized as one of the greatest fielders in the world."19 In mid-March he made it official. His future lay with the Tinsley-Mayer company. In late June Toledo pulled him back to the diamond. He requested and received a leave of absence from the engraving firm and joined the Mud Hens as shortstop once again.
Clingman took over the lead-off spot. His hitting was excellent to begin with; he had a .326 average in late July, then fell into a horrible slump and finished the year on a 19-for-101 stretch. He finished with 308 at bats and a .244 average. This time he retired from the professional game for good, but played semi-pro baseball in Louisville the next three seasons and took up the game of tennis.
Taking up fulltime employment in the engraving business with the Tinsley-Mayer Engraving Co., he became vice president in 1912 when Mayer retired. In 1920 he purchased a part interest and the firm became Tinsley-Clingman Engraving. In 1929 he opened his own firm, William F. Clingman Engravers, in downtown Louisville and operated it until his retirement in 1947.
Clingman stayed in excellent physical condition. He played golf a couple times a week, was an ardent tennis player and swam when the opportunity presented itself. He did not attend many games but was a religious viewer of televised games in the 1950s. He told newspaper writers on several occasions that he no longer went to live games because the razzing that players received gave him a headache.20
After the death of his wife in 1949, he lived with his grandson, William P. Clingman. The family moved to Cincinnati in February 1958. In late April Clingman fell ill and was hospitalized at Bethesda Hospital in the Queen City. He died there on May 14, 1958. His body was returned to Louisville and he was interred in Cave Hill Cemetery.
Clingman's actual death came 26 years after a writer named Thomas J. O'Neill had mentioned in the February 4, 1932, Sporting News that Bill was deceased. In response, Clingman had sent a message that this news came as quite a surprise to his business colleagues and that it was obviously "very much exaggerated."21 Two weeks later the Sporting News ran a full bio on him announcing that he was truly alive and well.
Acknowledgments
This biography was reviewed by Norman Macht and verified for accuracy by the BioProject fact-checking team.
Thank you to SABR members Greg Rhodes and Jim Farmer. They provided background on the winter of 1890-91. Jim Farmer was especially knowledgeable about the events. Whenever a Cincinnati-bred player is involved, the work of Joe and Jack Heffron, The Local Boys, is the perfect starting point.
Notes
1 "Base Ball Notes," Cincinnati Enquirer, May 21, 1890: 2
2 "Wheeling Shut Out," Akron Beacon- Journal, May 23, 1890: 3.
3 "Tri-State Averages," News-Journal (Mansfield, Ohio), January 17, 1891: 4.
4 "Base-Ball Gossip," Cincinnati Enquirer, September 10, 1890: 2.
5 "Found Himself Wrecked," Cleveland Leader, September 10, 1890: 3.
6 "Terre Haute Has Signed a Manager," Evansville Courier and Press, May 1, 1891: 5.
7 "For Sports," Cincinnati Post, July 25, 1891: 2.
8 "Miller's Were Robbed," The Saint Paul Globe, May 5, 1894: 5.
9 "New Third-Baseman," Courier-Journal (Louisville, Kentucky), May 3, 1896: 5.
10 David Nemec, Major League Baseball Profiles, 1871-1900, Volume 1: The Ballplayers Who Built the Game, (Lincoln: University Press, 2009): 399.
11 "Say Deal Has Been Closed," Courier-Journal, December 6, 1899: 3.
12 "Senators Again Make Athletics Take Back Seat," The Philadelphia Inquirer, April 28, 1901: 14.
13 "Clingman Bucks," Evening Star (Washington, D.C.), April 29, 1903: 10.
14 "Columbus Club Claims Clingman," St. Paul Globe, February 15, 1903: 9.
15 "Clingman Case up to Hickey," St. Paul Globe, May 12, 1903: 6.
16 "Reserve List Out," Minneapolis Journal, September 29, 1903: 2.
17 Clingman Leaves to Manage Toledo," St. Paul Globe, July 9, 1904: 7.
18 "Stone Still Retains Heavy Hitting Honors," St. Paul Globe, July 10, 1904: 17.
19 "Clingman May Retire," Minneapolis Journal, February 10, 1906: 8.
20"'Billy Clingman' Dies in Cincinnati Hospital," Courier-Journal, May 15, 1958: 17.
21 "Clingman Writes Report of Death is Exaggerated," The Sporting News, February 11, 1932: 3.
Full Name
William Frederick Clingman
Born
November 21, 1869 at Cincinnati, OH (USA)
Died
May 14, 1958 at Cincinnati, OH (USA)
If you can help us improve this player's biography, contact us.
https://sabr.org/sites/default/files/ClingmanBilly.jpg
600
800
admin
/wp-content/uploads/2020/02/sabr_logo.png
admin
2019-01-07 13:30:46
2020-04-09 14:38:37
Billy Clingman