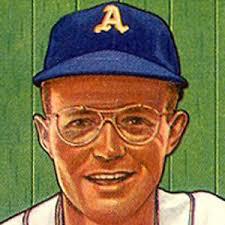 ---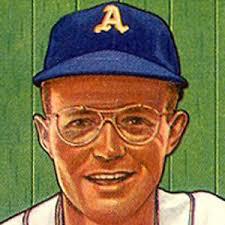 Bob Dillinger brought deadball skills to the longball game that took hold after World War II. A .306 hitter in his six seasons in the majors, he led the American League in stolen bases three straight years, but hit only 10 career home runs. With his lack of power and poor defense, Dillinger never produced as much as 2.5 wins above replacement (WAR) in any season. An anonymous player described him as "a .300 hitter and a .300 fielder."1
A top prospect with the Browns, he drew criticism from the start for lack of enthusiasm and half-hearted effort with the glove. St. Louis passed him on to two other tail-end clubs, the Athletics and Pirates, who soon had enough of him. By the time he joined a pennant contender, the 1951 White Sox, he seemed determined to live down to his reputation as a man who cared about his batting average and little else.
Robert Bernard Dillinger was born in Glendale, California, on September 17, 1918. After his parents divorced when he was a child, he lived with his father, Charles Henry Dillinger, a commercial artist. Slightly built with reddish blond hair, Bob wore glasses from an early age, but he became a star in baseball, basketball, and football (without the glasses) at Glendale High. He was named an All-Southern California halfback at 5-foot-11 and around 165 pounds.
Football won him a scholarship to the University of Idaho, but he broke his collarbone twice and gave up the game to concentrate on baseball. He dropped out after his sophomore year. Back home in the Los Angeles area, he played second base for the Pasadena Merchants, a top semipro team. The Merchants manager, former big leaguer Jack Fournier, signed Dillinger for the Browns.
He began his professional career in Class D ball at Lincoln, Nebraska, in 1939. Speed was his game; he led the Western League with 67 steals and topped the Class C Mid-Atlantic League with the same number the next year. A right-handed batter, he hit over .300 both times.
In Lincoln he was matched against Olympic gold medalist Jesse Owens in a 100-yard dash. Wearing his baseball uniform and spikes, Dillinger got a five-yard head start, and Owens beat him by just a foot, covering the distance in 9.6 seconds. Dillinger fared better against the women's Olympic sprint champion, Helen Stephens, outrunning her over 100 yards.2
After the 1940 season Dillinger married Eleanor Clausen, his girlfriend since junior high. Their daughter, Judith Ann, was born three years later. He moved up to Class A-1 San Antonio in 1941 and Double-A Toledo in 1942, where he played third base and shortstop. He had established himself as a prize prospect before the military draft took him.
Nearly three years in the Army Air Force turned out to be a boon for Dillinger's baseball career. He played for the Seventh Air Force in Hawaii, surrounded by an all-star team of major leaguers including Joe DiMaggio, Johnny Mize, Pee Wee Reese, Phil Rizzuto, and Ferris Fain. Dillinger and Fain, fellow Californians, became close friends. Press clippings called him the "Player of the Pacific" after he batted .367 and .458 in two seasons in Hawaii.3
Despite the hype, Dillinger couldn't dislodge the Browns' wartime third baseman, Mark Christman, in 1946. He started only 50 games, batting .280, while Christman hit .258. When Dillinger did get a chance, he reeled off an 18-game hitting streak in August and September.
A rookie was supposed to be overjoyed to wear a major league uniform, but Dillinger appeared joyless. Sportswriters noticed that he seldom cracked a smile. Dent McSkimming, the St. Louis Post-Dispatch beat writer, called him "a moody lone wolf." Dillinger later said he was confused by never knowing when he would play and felt that manager Luke Sewell discouraged him from running; he stole only eight bases.4
That changed in 1947 when a new manager, Muddy Ruel, took over and Christman was traded before Opening Day. Dillinger, installed as the leadoff batter, got off to a hot start. His baserunning was a sensation; he swiped 23 before the season's halfway point. Though his pace slowed after he sprained an ankle in July, he finished with a league-leading 34 steals and 13 times caught stealing, an impressive 72 percent success rate. Stir in a .294/.361/.371 batting line, with more walks than strikeouts, and "the frowning third baseman" looked like a star in the making.5
But the Browns sank to last place in the standings and in attendance. Strapped for cash as usual, the club sold its slugging shortstop, Vern Stephens, and the pitching staff's leading winner, Jack Kramer, to the Red Sox for a reported $310,000 plus a handful of forgettable players. It was the beginning of annual fire sales that stripped the team of its best talent, demoralized the players who were left behind, and eventually led to the failed franchise's transfer to Baltimore in 1954.
As the 1948 season opened, a local writer described the Browns as "a bunch of nobodies surrounding Bob Dillinger, who is the entire St. Louis team." Teammates began calling him "The Team," and manager Zack Taylor insisted they weren't being sarcastic: "I don't know where he gets all the pepper, but it's actually infectious. He sets our whole team on fire. When he runs the bases or makes a great play at third, every Brownie is cheering for him."6
Did he undergo a personality transplant? More likely, the St. Louis writers invented some of it. Several of them were homers who puffed up Browns players.
After Dillinger hit safely in the first nine games, umpire Joe Papparella ruled that his bat was illegal because it was flattened on one side. That didn't stop Dillinger's cheating. Joe DeMaestri, a teammate three years later, said, "He had some grooved bats, and shaved them in such a way you couldn't tell the hitting surface was almost flat."7
Dillinger enjoyed the biggest day of his career at Yankee Stadium on July 16 as the Browns defeated New York, 10-4. That was remarkable enough — the Browns beating the Yankees — but Dillinger beat the Yanks' ace, Allie Reynolds, like a drum. His third-inning single drove in St. Louis's first run. He singled again in the fifth and stole second, then clubbed a bases-loaded triple in the sixth. He added another single off reliever Randy Gumpert in the eighth, stole second again, and scored. In the ninth his fly ball brought in the Browns' 10th run, a sacrifice fly under today's rules. That gave him five RBIs on a 4-for-6 afternoon. The next day he went 3-for-5 off Eddie Lopat.
A 28-game hitting streak in August and September capped Dillinger's career year. His 207 hits led the league. So did his 28 stolen bases, at a 72 percent success rate. His .321/.385/.415 batting line included 34 doubles and 10 triples, but just two homers.
The Browns lost 94 games, and attendance was again the lowest in the league. Another selloff was in order.
With the club's depleted roster, one writer called Dillinger "the baseball equivalent of the Hope Diamond."8 General manager Bill DeWitt quoted a $250,000 price tag for his third baseman. The White Sox reportedly offered $100,000, and Connie Mack confirmed that the Athletics had bid $300,000 for Dillinger and second baseman Jerry Priddy. The Red Sox and Yankees joined the auction, too. DeWitt said he turned them all down because he didn't like the players offered in the deals.9
The trade talks went nowhere, but the big-money talk got Dillinger's attention. He told DeWitt he deserved twice his $10,000 salary. Published reports said he got close to that.
He earned it in 1949. After sitting out nearly two weeks with a sprained ankle, he hit .431 in July and charged into the race for the batting title, but he told teammate Tom Ferrick he didn't want to win it: "Hell, if I lead the league this year, I'll get a $5,000 raise. Next year if I don't lead the league I'll get a $5,000 cut." Dillinger said his goal was to increase his batting average every season so he could count on steady pay raises.10 His hitting tailed off, and he finished at .324, a distant third behind George Kell and Ted Williams. But he pushed his average higher for the third straight year.
Though he led the league in steals for the third year in a row, his total dropped to 20, and his success rate to 59 percent. He made the All-Star team as a reserve for the only time in his career. He also led the league's third basemen with 25 errors; he was among the leaders every year.
After losing 101 games, the Browns were open for business again in the fall. Dillinger went to the Athletics with outfielder Paul Lehner for $100,000 and four players. The next day Priddy was sold to Detroit for another hundred grand.
It was the Athletics' biggest splurge since they paid $100,600 for pitcher Lefty Grove in 1924. After years of losing, the club had strung together two straight winning seasons and was hoping to contend for the pennant in 1950 to celebrate the 87-year-old Mack's Golden Jubilee, his 50th year as manager.
Dillinger joined his army buddy Ferris Fain, who played first base for Philadelphia. Fain, a hustling, aggressive player, chided his pal for dodging hard ground balls. Dillinger said he didn't want to get hurt. Fain also noticed that he was throwing "four-hoppers" to first.11
Dillinger hit safely in the first 12 games and kept his average above .300, but he wasn't running; he stole just nine bases in the first half and attempted only one steal in a three-week period. With the A's in last place in July and attendance tanking, Mack lit into the players at a clubhouse meeting. He singled out Dillinger in front of his teammates, saying, "[Y]ou are not worth the money we spent for you." Dillinger told Fain, "If that's what he thinks of me, wait and see."
"From that day on," Fain said, "you didn't see Bob get in front of any hard-hit balls. He was giving them the howdy-do and saying 'whoo-ee' at them like he'd done in St. Louis. And he 'whoo-eed' himself clear to Pittsburgh."12
On July 20 the A's sold Dillinger to the Pirates for $50,000.13 Before the deal could go through, all other American League clubs had to grant waivers on him. Yankee general manager George Weiss explained why he passed: "Dillinger doesn't try and he doesn't hustle."14 Other reports said Mack had demanded more than the $10,000 waiver price, trying to recoup some of his investment in Dillinger.
When Pittsburgh Post-Gazette writer Al Abrams asked him about his reputation, Dillinger bristled: "No manager, player or owner could ever accuse me of not hustling and prove it. For some reason or other somebody put the finger on me long ago, and I haven't been able to shake it off."15
Dillinger went from last place in the American League to last place in the National. Shortly after he joined the Pirates he encountered one of the National League's most fearsome sights: Ewell Blackwell, Cincinnati's 6-foot-6 sidearming right-hander, who was known to cause epidemics of "Blackwell flu" among opposing batters. After watching — or hearing #— two strikes buzz by, Dillinger told plate umpire Al Barlick, "Al, you can call me out any time you want. I don't want any more of this guy." Strike three.16
He hit .288/.328/.356 in 58 games for Pittsburgh, but the next spring he lost his regular job to Wally Westlake. The Pirates didn't want to keep a high-salaried 32-year-old on the bench, so they sold Dillinger to the Chicago White Sox on May 15 for something more than the waiver price.
Again, he passed through waivers unclaimed, and Pittsburgh became the third team to let him go in 17 months. His reputation preceded him in Chicago. Manager Paul Richards said, "I'm going to let him work out his own salvation."17
The White Sox, who had their own sad history of losing, had jumped into the pennant race and held first place in June and July before falling back to finish fourth. Dillinger should have been a perfect fit for a running club that was called the "Go-Go Sox." Chicago led the AL in stolen bases, paced by Minnie Minoso and Jim Busby, but Dillinger was no help. He attempted only 10 steals and was caught half the time. He batted .301 for the Sox, but it was a hollow .301 with just 10 extra-base hits in 89 games.
His defense at third went from suspect to atrocious. His 14 errors were fifth-most in the league, even though he played only 70 games in the field. Years later he said he had a case of the yips: "I was scared to death to throw the ball, but there wasn't anybody smart enough to move me into left field."18
During spring training in 1952 Richards ordered him to practice throwing by the hour, starting with 50 throws to first and adding five more each day. Dillinger did as he was told, but that's all he did. Richards thought he should have been working harder.19
Before Opening Day the Sox sold him to Sacramento of the Pacific Coast League. Richards dismissed him: "We have plenty of better players on the club."20 Barely two years after he was a $100,000 talent, Dillinger was finished in the majors at 32.
He took his throwing problems with him, and Sacramento switched him to left field. He could still hit; he won the PCL batting title in 1953 with a .366 mark. He played for more than two years without hitting a single home run.
In 1955 he was making $1,300 a month — $9,100 for the seven-month season #— the highest salary on the club, when he quit in May. He said he couldn't play for manager Tony Freitas. "Dillinger has long been known in the trade as a chronic complainer," wrote Al Wolf of the Los Angeles Times.21
Reflecting on his baseball career in later years, Dillinger said, "I wanted to have a good time. If they didn't like me, I didn't care. I didn't care much about a few managers I played for, or for the owners. I didn't have to play baseball for a living. I could go to work. It wouldn't have been as nice as playing baseball, but I could go to work."22
He did go to work, as a construction inspector for the Los Angeles Public Works Department until retirement. The inspector is the man who tells people what they're doing wrong, a fitting occupation for one who doesn't much care what others think of him.
Bob Dillinger died at 91 on November 7, 2009.
Acknowledgments
This biography was reviewed by Jan Finkel and fact-checked by Stephen Glotfelty.
Notes
Born
September 17, 1918 at Glendale, CA (USA)
Died
November 7, 2009 at Santa Clarita, CA (USA)
If you can help us improve this player's biography, contact us.
https://sabr.org/sites/default/files/DillingerBob.jpg
600
800
admin
/wp-content/uploads/2020/02/sabr_logo.png
admin
2017-08-09 14:07:12
2020-04-09 14:40:33
Bob Dillinger