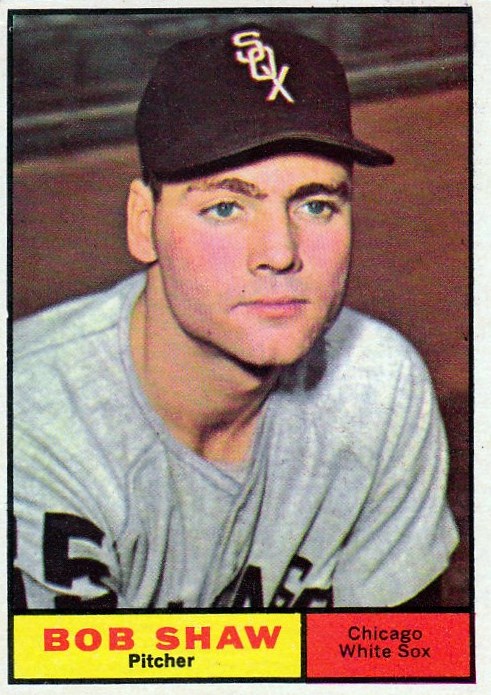 ---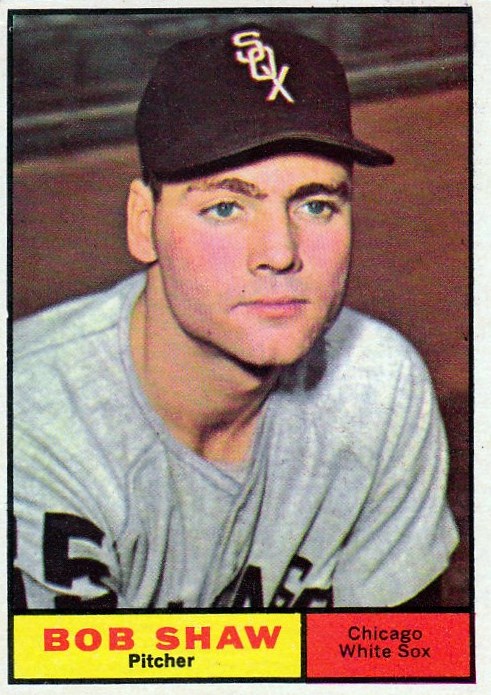 Among the many essential cogs in the Go-Go White Sox machine of 1959 was Bob Shaw, a 6-foot-2, 195-pound right-handed pitcher. In just his second full season in the majors, Shaw won 18 regular-season games and finished third in the American League in ERA. He paired with mentor Early Wynn to give the Sox a lethal one-two punch at the front end of the pitching rotation, and proved a touchstone for the team during its wild pennant chase
Robert John Shaw was born in the Bronx, New York, on June 29, 1933,1 and grew into a talented three-sport athlete during his high-school years in Garden City, Long Island. He spent the winters lettering in basketball, and his springs on the baseball team, but it was football that captured his real loyalty. Shaw wanted to attend college at Dartmouth but had neither the grades nor the money to join the Ivy League, so instead he accepted a football scholarship to St. Lawrence College in upstate New York. While the grant paid Shaw's tuition, there remained the problem of room and board. Despite working at a variety of odd jobs, he often slept on the floor of a buddy's dormitory room. One snowy night the dorm's roof leaked and Shaw woke up soaked in melted snow. That's when he made a life-changing decision: He would play baseball, and shortly thereafter accepted Tigers scout Ray Garland's offer of a $1,000 signing bonus.2
Shaw's road to the big leagues began in 1953 with the Jamestown Falcons, the Tigers' affiliate in the Class-D Pony League, under player-manager Danny Carnevale. Shaw posted a 5.58 ERA but still managed a 10-3 record for a superb team that scored seven runs per game and won the pennant by nearly 20 games. Shaw wasn't as fortunate in 1954, going 6-13 with a 5.00 ERA with Durham in the Carolina League, two steps up the ladder at Class B.
But Joe Gordon, the ex-Yankee great, was a coach on that team, and he noticed that Shaw gripped his fastball across the seams. Gordon told Shaw that in his later days with the Indians he'd watched Mike Garcia and others grip their fastballs with the seams, and that Shaw should give it a try.3  This simple suggestion could not have come at a better time, as Shaw was seriously considering quitting the game. Having worked for New York Life Insurance in the offseason, he aspired to a management position. That goal, coupled with his on-the-field struggles, had almost driven Shaw to give up on baseball.
Fortunately for Shaw, Gordon's nudge paid off, as Shaw proceeded to speed up the rungs of the Tigers' farm system. On August 11, 1957, in an inauspicious major-league debut, he gave up five runs in three innings during the second game of a doubleheader against the White Sox. The next season, after a winter pitching for Marianao of the Cuban League and a strong showing in spring training, Shaw made the Tigers' Opening Day roster. May was rough on the young pitcher. In consecutive appearances, he gave up runs that cost Detroit both games, and on June 11 was returned to the minors.
That was the plan, anyway. Shaw refused to report to Charleston of the American Association. In a 2003 interview, Shaw told Joe Goddard of the Chicago Sun Times: "There was a clause in my Tigers contract that I'd make $1,000 if I was called up by June 15, but [general manager] John McHale said he wouldn't pay, so I gambled and went home. It was the best decision I ever made because they traded me to the White Sox."4 
On June 15, 1958, Shaw and infielder Ray Boone joined the Chicago White Sox in exchange for outfielder Tito Francona and pitcher Bill Fischer. Shaw's 4-2 record over the second half of the 1958 season earned him a spot on Chicago's 1959 roster, but no one could have predicted his success in 1959.
It was in Chicago that he met one of the most profound influences of his early life, both in baseball and beyond, in the person of future Hall of Famer Early Wynn. Upon Shaw's move to the White Sox in 1958, he was assigned to room with Wynn on the road.
Shaw liked the way Wynn dressed, so he began buying his suits at the same store where Wynn bought his. Wynn was a pilot, so Shaw earned his own pilot's license. On the diamond, Wynn taught Shaw some of the nuances of pitching. Shaw said, "Wynn didn't use the [rosin] bag, and he'd watch me as my hands went from powdery to sticky on hot days. He told me that he had better control without using the rosin bag, so I stopped using it. I also learned from Wynn how to take the up-and-in part of the plate."5  Those subtle changes, like the one Joe Gordon had suggested to Shaw earlier, paid enormous dividends.
Most importantly, Wynn demonstrated to Shaw that there was life beyond baseball. Naturally predisposed to business, the young, unmarried pitcher was fascinated that a four-time All-Star like Wynn owned a bowling alley, and that the venture did not seem to inhibit his baseball career. On a recommendation from third baseman Billy Goodman, Shaw took his second-place 1958 World Series share of $1,975, borrowed an additional $10,000, and bought a commercial space that he promptly rented to a doctor.
Shaw, 25 years old when the '59 season started, made his season debut on April 10 with two-thirds of an inning in a 9-7 White Sox victory in Detroit. Two days later he earned the save in another win over Detroit. After a few more relief outings, Shaw bailed out his team and his roommate on April 22 with 7 1/3 innings of scoreless relief. Wynn, in an uncharacteristically bad start, allowed five Kansas City runs in the second inning and, after Roger Maris hit a three-run homer, was pulled in favor of Shaw. Bob allowed only three hits the rest of the way and earned the victory in Chicago's 20-6 blowout.
On May 13, Shaw started and finished a 4-0 victory over the Red Sox at Fenway Park, and afterward he usually followed Wynn in the starting rotation. With the help of his manager and his pitching coach, Shaw continued to develop his pitching skills; he later said, "Al Lopez and Ray Berres changed me with simple, basic mechanics. I threw three-quarters, and they moved me to the side to throw my slider from one spot. It worked immediately."  He also adapted to the various catchers on staff. "Sherm Lollar liked to mix it up. . . . John Romano liked curves and Earl Battey liked fastballs." 6 
On September 22, Shaw yielded six hits but still tossed 2 2/3 scoreless innings in relief of Wynn as the White Sox defeated Cleveland, 4-2. That game clinched the American League pennant, the franchise's first since 1919, and allowed manager Lopez to begin setting up his pitching staff for the World Series, which began nine days later.
Behind Wynn in Game One, the White Sox thumped the Dodgers, 11-0, but Shaw took the loss in Game Two after giving up eight hits and four runs. The Dodgers followed up with victories in Games Three and Four, leaving the Sox on the brink of elimination.
But on October 6, in front of 92,706 fans at the Los Angeles Coliseum, Shaw atoned for his Game Two loss with scoreless ball into the eighth inning; with help from the bullpen, he earned a thrilling 1-0 win over Sandy Koufax and the Dodgers, a game that still holds the record for the largest World Series crowd ever.7  What Shaw called his "best moment in baseball" was a close-run thing, though. "There were two outs and two on in the seventh," he recalled, "when Charlie Neal hit one out to right-center field. I was watching Jim Landis, but Jim Rivera came out of nowhere to make the catch. Lopez had put Jim in right field just before the pitch and moved Al Smith to left. Brilliant move, wasn't it?"8
But Chicago's Series dreams died two days later at Comiskey Park when Wynn was knocked out early in Game Six and Dodgers reliever Larry Sherry turned in a brilliant relief outing as Los Angeles wrapped up the series with a 9-3 victory.
Shaw's 1959 statistics were outstanding. He finished third in the American League in wins (18) and ERA (2.69), led all starters with a .750 winning percentage, and fired three shutouts. Toss in his 2.57 ERA in his two Series starts — including that dramatic Game Five triumph — and Shaw obviously ranked as one of the year's most valuable young pitchers. Shaw was fiery. It was reported at the time that when Sox owner Bill Veeck refused to give Shaw a sufficient payraise, he "reportedly stood atop a catwalk outside Comiskey park and shouted down to the fans: "We're not going to win. Why are you people here?"9
But as brilliant as Shaw's 1959 was, his 1960 became . . . well, if not a disaster, certainly a disappointment. His ERA jumped from 2.69 to 4.06 as he went 13-13 for a White Sox squad that finished 10 games behind the first-place Yankees. Shaw got off to a decent start in 1961, but his White Sox career ended on June 10 of that season. After throwing only 71 innings through the first two months of the campaign, he was sent to Kansas City with Wes Covington, Stan Johnson, and Jerry Staley in exchange for Ray Herbert, Don Larsen, Andy Carey, and Al Pilarcik. His four-month career with the Athletics was unspectacular, netting only a 9-10 record and an ERA of 4.31.
That December, Shaw was again on the move, this time to Milwaukee, along with Lou Klimchock, for Joe Azcue, Ed Charles, and Manny Jimenez. His two years with the Braves provided more instructional opportunities, as he developed — presumably with the help of teammate Lew Burdette — a nasty spitball. It has been rumored that later, when Shaw pitched for the Giants, he shared his secrets with a struggling young pitcher named Gaylord Perry, but this has yet to be either confirmed or denied.
It was with the Braves that Shaw enjoyed his finest individual campaign. Complementing the 1962 Braves' pitching staff paced by Warren Spahn and Lew Burdette, Shaw led the team in ERA (2.80) and strikeouts, and finished second in victories (15, against 9 losses) and complete games (12) as Milwaukee finished in fifth place in the 10-team National League. (It was the first year of major-league expansion.) Shaw's performance was recognized in his selection to the National League All Star Team, and in the national spotlight, as in the 1959 World Series, Shaw was exceptional. At Washington's RFK Stadium in the first of two All-Star games that year, he finished off his two-inning save of the NL win by enticing former Chicago teammate Luis Aparicio to fly out to center field to end the game. As it turned out, that save influenced a change in Shaw's career.
But first, following his spectacular 1962 season, Shaw married his fiancée, Asta Scovill of Wyckoff, New Jersey. Their family eventually grew to include two daughters, Karen and Linda, and a son, Glenn. As of 2007, the Shaws had seven grandchildren.
Spring training in 1963 was uneventful for the Braves, and the season opened with Shaw in the starting rotation. He started the second game of the year against the Pirates, but lost, 3-2 on a Donn Clendenon home run. Shaw pitched inconsistently over the next few weeks, and on May 4, against the Cubs, he set a major-league record by balking five times in one game. The balks netted the pitcher a $250 fine from the Braves and a trip to the bullpen. Manager Bobby Bragan was publicly optimistic about the move, so despite getting rocked for two runs in relief in a loss to the Phillies on June 11, Shaw remained in the bullpen even after Lew Burdette was traded on June 15. On June 18, Bragan called on the right-hander to close out a 7-5, 10-inning win over Pittsburgh, and Shaw's effectiveness marked the unofficial start of his new career as a reliever.
He finished the 1963 season with 13 saves by unofficial count (saves were not then an official statistic). The net effect appeared to have been to attract the attention of other NL general managers, because on December 3 Shaw was part of a blockbuster deal with the San Francisco Giants. The Braves sent Shaw, catcher Del Crandall, and pitcher Bob Hendley to San Francisco in exchange for Ernie Bowman, Felipe Alou, Ed Bailey, and Billy Hoeft.
"With him around, you can do a lot of things with your staff," Giants manager Alvin Dark was quoted as saying in the April 13 issue of Sports Illustrated.10 Shaw notched seven wins in 1964 and 11 saves while working out of the San Francisco bullpen; moved into the starting rotation a month into the 1965 season, he wound up trailing only Juan Marichal in team victories with 16. His work helped the Giants push the Dodgers for 160 games before finally being eliminated on October 2.
Despite that success, Shaw was sold to the New York Mets in June 1966, and though he helped the young Mets team escape the cellar, he was dealt again, to Chicago — this time, the Cubs — in July 1967. On September 11, 1967, Shaw allowed three runs in one inning while taking the loss for the Cubs against the Astros. On the 19th, in the city where his major-league career began, he drew his release. He was 34, and never pitched another professional inning.
Shaw remained in the game for a time, working as a major-league pitching coach for the Brewets, albeit a controversial span. A brief entry by Mark Mulvoy in the July 30, 1973 Sports Illustrated captured the essence of Bob Shaw: "The Brewers suffered their biggest loss when Pitching Coach Bob Shaw resigned after a verbal squabble with General Manager Jim Wilson, a former pitcher himself. Preferring to forget that Jim Colborn has developed into a 13-game winner already under Shaw's tutelage, Wilson apparently blamed Shaw for the pitching misfortunes of Bill Parsons this season. A 13-game winner each of the last two years, Parsons has won only three this year because, Wilson claimed, Shaw altered his delivery."11 Despite the setback, Shaw wrote a 1981 instructional manual on pitching12 and continued to coach amateur baseball.
Shaw then took his knowledge to the American Legion diamonds of West Palm Beach, Florida, where he coached for years, and in 1986, he led the team from Post 126 (Jensen Beach) to the American Legion World Series title. After Shaw died, the plaudits rained down from coaches that he'd mentored. Kevin O'Sullivan, the coach of the University of Florida team, played for Shaw's American Legion team, and later told Jeff Greer: "Everything I teach, to this day, is from (Mr. Shaw); He meant so much to so many people in the coaching profession."13
Despite a medical emergency in the early 1980s — he contracted hepatitis from tainted blood he received after a post-operative infection, and nearly bled to death — Shaw's later life was more like 1959 than 1967. Living near Jupiter, Florida, and happily married until he passed away, Shaw stayed in shape, in part due to his 7 handicap on the golf course, while building on the success of his early real-estate venture as co-owner of Shaw Sowden Realty and Management Properties, a venture in which he remained actively engaged until May of 2010. Shaw died in Tequesta, Florida, on September 23, 2010, after a final battle with liver cancer14 at the age of 77.
Bob Shaw's lifetime record in the majors was 108-98, with 32 saves and a 3.52 ERA over 11 seasons. His brilliant 1959 campaign earned him a key role in White Sox lore, but it's his life after baseball that truly defined the gentleman that he always remained.
An earlier version of this biography originally appeared in SABR's "Go-Go To Glory: The 1959 Chicago White Sox" (ACTA, 2009), edited by Don Zminda.
Notes
1 Bob Shaw page at http://www.baseball-reference.com/players/s/shawbo01.shtml
2 Interview with Bob Shaw, November 14, 2008.
3 Shaw interview, 2008.
4 Joe Goddard. "Catching Up With Bob Shaw," Chicago Sun-Times, July 27, 2003.
5 Bob Shaw Interview, whitesoxinteractive.com
6 Shaw interview, 2008.
7 Jeff Greer "Bob Shaw, pitcher who beat Sandy Koufax in 1959 World Series, dies at age 77," Palm Beach Post, September 25, 2010;  online:  http://www.palmbeachpost.com/news/sports/baseball/bob-shaw-pitcher-who-beat-sandy-koufax-in-1959-wor/nMBHq/
8 Shaw interview, 2008.
9 Steve Dorsey, "Major leaguer Bob Shaw touched lives of many local Palm Beach County baseball players," Sun Sentinel, September 27, 2010.
10 "San Francisco Giants," Sports Illustrated, April 13, 1964.
11 Mark Mulvoy, "The Week (July 15-21)," Sports Illustrated, July 30, 1973.
12 Bob Shaw Pitching (New York: Viking, 1972).
13 Greer.
14 Dorsey.
Born
June 29, 1933 at Bronx, NY (USA)
Died
September 23, 2010 at Tequesta, FL (USA)
If you can help us improve this player's biography, contact us.
http://bioproj.sabr.org/bp_ftp/images5/ShawBob.jpg
600
800
admin
/wp-content/uploads/2020/02/sabr_logo.png
admin
2012-01-04 20:00:33
2021-09-26 09:45:44
Bob Shaw