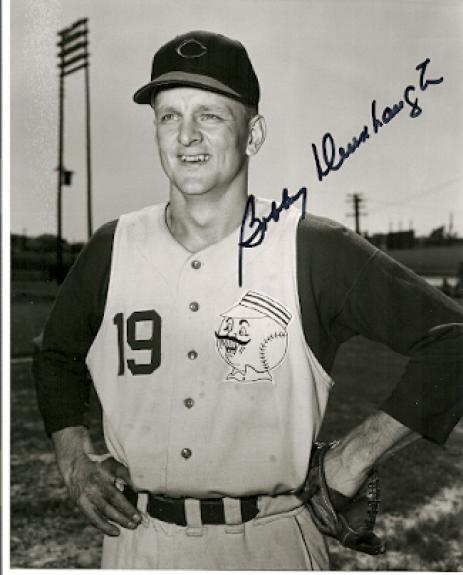 ---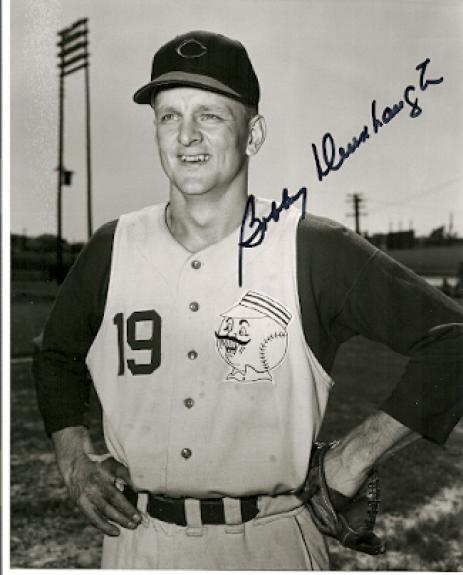 Good things come in small packages. Bob Durnbaugh was listed at 5 feet, 8 inches tall during his career but the measurements must have been done with his cleats on. He endeared himself to fans and teammates by being "the hustlingest baseball player (they) ever saw."1 Hustle and attitude are one thing, but Durnbaugh had much more. There is a warmth and comfort about him that was perfect in the dugout and later in his career in sporting goods. He still greets you with a firm handshake, a smile and a twinkle in his eye.
Robert Eugene Durnbaugh was the middle of three children born to Raymond H. and Helen M. (Greer) Durnbaugh. Raymond ran a construction business. Born in Dayton, Ohio, on January 15, 1933, Bobby grew up in the eastern suburb called Beavercreek. He attended school in Beavercreek for 12 years, graduating in 1951. He had quite a busy athletic career playing halfback for three years in football and running hurdles in track. In basketball the team advanced into the regionals his senior year and he was named to the all-tournament team. In the spring he was shortstop on the baseball team.
Beavercreek did not have Little League baseball in his days. He remembers the neighborhood kids getting together and playing one another. He did not play in an organized league until he was in eighth grade or maybe as a freshman. Beavercreek high school was just starting a baseball dynasty as Durnbaugh came up the ranks. His senior year the team advanced to the state tournament where they met Navarre, Ohio in the semi-finals. Durnbaugh recalls a tough pitcher for the opposition but shoulders the blame in the 3-2 loss by saying, "I made an error to let in a run and struck out with men on base."2His high school captured the Class B baseball crown the following two seasons.3
Durnbaugh grew up a baseball fan. The Cincinnati Reds were his team, but in those days, fans did not drive 50 miles to see a game very often. He does remember seeing Ival Goodman play for the Dayton Indians after the war.
Unlike many youngsters, Durnbaugh was not dreaming of a career in baseball. He was considering college and playing in the Dayton City League for Frigidaire. Scouts had noticed his hustle and quickness during the high school season and in the tournament. His Frigidaire coach was contacted and asked to have him play shortstop for a scout to see. "They wanted to see how I did on a double play. We turned one in the game."4
Cincinnati invited him to a tryout at Crosley Field. Accompanied by his father, Durnbaugh went through the paces for Buzz Boyle and Angus King. They liked what they saw and Durnbaugh was sent to see Gabe Paul, the vice president and traveling secretary. Durnbaugh signed on the spot and was sent to Welch in the Class D Appalachian League. The Cincinnati Enquirer reported he "received a sizable bonus."
The town of Welch was an ethnic melting pot thanks to the coal mines that attracted workers from all over the world. A central locale in the union mining wars of the early 1900's, the city featured the McDowell County Courthouse. Sheriff Sid Hatfield of nearby Matewan was gunned down there by agents of the coal company in 1921. The city was at its peak in the 1950s. It had a population of over 6000 and proclaimed itself "The Heart of the Nation's Coal Bin."
The Miners were managed by Michael Blazo, a career minor-league catcher, who was in his sixth season of managing Reds farmhands. The city welcomed the players who were housed with townspeople. Durnbaugh was popular with his teammates off the field because he had a car. On the field he was popular for his hustle, grittiness and a .331 batting average that was second on the last-place squad and in the league top ten.
Durnbaugh recalls that the infields in the league were pretty rough, not much better than what he had played on in high school. He also recalled the fans, hard bitten miners who came to see the game with a bottle of booze in their back pocket. There was a stream bed behind the seats in Welch and in the later innings the sounds of empty bottles crashing on the rocks filled the air.
Durnbaugh played shortstop and batted lead-off. Dave Bristol was often his keystone partner. The two of them struck up a friendship. In later years when Bristol managed the Expos and Giants, the two would get together when Bristol came to Cincinnati. The team also had future major-league left-hander Don Gross on the roster. Durnbaugh and Bristol were both promoted to the Ogden Reds in the Class C Pioneer League for 1952.
The Ogden Reds finished in last place. Durnbaugh appeared in 98 of 132 games. He had minor injuries including a spike wound in August that forced him out of action a week. He batted .295 which was third on the team for players with 300 or more at bats. When he returned to Dayton he joined Bob Borkowski's All-Stars in games around the Tri-State region. Other members included Joe Nuxhall and Lloyd Gearhart.5
Durnbaugh was looking at a promotion to Nashville when Uncle Sam came calling. Baseball would have to wait while he served in the Army infantry. He was sent to Alabama for basic training and then stayed on for another nine months. Each Battalion had a team and Durnbaugh played short. He recalls Tito Francona playing for one of the opposing teams.
His next assignment was at Fort Benning, Georgia. In his second year of duty he was asked to be manager of the squad's team. Each team had to have an officer-in-charge. Durnbaugh asked permission to select his own officer. The previous year two officers split time and had not given much effort to the task. The command initially turned him down, but a week later relented and named him manager. He selected Haskell P. Slater, a warrant officer, as his officer-in-charge. Slater served as first base coach and handled his administrative duties well.
The military stint cost Durnbaugh the 1953 and 1954 seasons. He joined the Class AA Nashville Volunteers in the Southern Association for the 1955 season. The Vols were managed by Joe Schultz and posted a winning record but finished in the second division. Durnbaugh was paired with second baseman Larry Taylor and regards him as the best fielding partner he ever had. Former Dodger back-up, Tommy Brown was also on the squad. It was Brown who hung the nickname 'Scroggy" on Durnbaugh. He still does not know what it means or why Brown did it, but it stuck. He batted .281 for the season.
The Redlegs sent Durnbaugh to Valencia in the winter Venezuelan League to play shortstop. That December he was added to the Redlegs 40-man roster for the first time. The management liked his hustle and were considering him as a utilityman or possibly at third base. His lack of power made the latter unlikely, but the front office was keeping an open mind. Durnbaugh was joined on the Valencia roster by catcher Ed Bailey and a young local named Elio Chacon who played center field.
Valencia was the class of the league and had a seven-game lead when Durnbaugh injured his knee. He was covering second and awaiting a throw from his first baseman. The ball came in low and Durnbaugh was unable to avoid the runner. He was sent home to rehab. It was the only time in his career that he played for a title-winning club. When he was injured, Valencia swung a deal to get Bob Borkowski to play center and moved Chacon to shortstop.6
After rehabbing his knee, Durnbaugh joined the Redlegs in Tampa for spring training. The Sporting News mentioned that he was the smallest man in camp at 158 pounds.7There was speculation that Durnbaugh would be assigned to the Havana Sugar Kings, but he was sent to Nashville for a second season instead.
Durnbaugh's 1956 season was the most enjoyable of his career. He was managed by veteran pitcher Ernie White who earns Durnbaugh's admiration as the best man he played for. Coming off the injury he managed to avoid any reinjury and played 150 games. Even when he was in a batting slump he still found ways to win games and inspire his teammates. He was voted team MVP.
Nashville had a good fan base; more than a few charming southern lasses came out to the games. Bobby was introduced to Betty Jean Meeker and the two of them hit it off immediately. They were married in October 1956 and moved back to Beavercreek. The couple welcomed a daughter and two sons and have celebrated 61 wedding anniversaries as of this writing. I could feel the warmth and affection Betty has for Bobby when she gave him a little hug during our interview.
The couple especially enjoyed their summers in Nashville. They were country music fans and knew the best honky-tonks in the days before Nashville blossomed into Music City. Among their Grand Ole Opry friends was Donnie Slayman who played fiddle for Faron Young. It was not unusual to find Durnbaugh backstage at the Ryman Auditorium.
Durnbaugh recalled that "1957 was the worst year I had in baseball."8After a winter in the construction trade the Durnbaughs headed south for spring training. They stopped off in Nashville for a couple of days and then went on to Tampa. Durnbaugh faced stiff competition in camp. Shortstop Roy McMillan was wearing glasses that helped him see better. Don Hoak had been acquired in a trade and Johnny Temple had a lock on second base. The Reds also had Rocky Bridges and Alex Grammas for infield help.
Bobby Maduro, president of the Havana Sugar Kings, again made a request for Durnbaugh to be assigned to his team. Durnbaugh told Gabe Paul, now Cincinnati GM, flat out that he would not play in Cuba. Paul said to Bobby, "I think you are making a big mistake."9Durnbaugh is certain that Paul then "bounced him around" the minors to make a point. In late March he was optioned to Seattle in the PCL. After just four games he was sent to Omaha in the American Association on loan to the Cardinals.
On July 23, he was sent to Rochester in the International League where he closed out the season. The move to Rochester was complicated by Havana's interest in Durnbaugh. Since Rochester and Havana were in the same league, Paul was uncertain he could send Durnbaugh to the Red Wings. George Sisler Jr was the general manager in Rochester and he ironed out details of the switch with Maduro.10Durnbaugh had one more "bounce" that season when the Reds recalled him in late September.
He joined the Reds in Cincinnati for a series with the Cardinals. He was sent into the September 22nd game in the ninth inning. Reds pitcher Bill Kennedy struck out the first two batters and ended the game getting Wally Moon to flyout. Durnbaugh recalled, "I wasn't nearly as nervous as I thought I might be. It was a nice feeling to put on a Reds uniform."11He returned to the field on September 27 in Milwaukee. Manager Birdie Tebbetts gave McMillan a rest by sending Durnbaugh in for the fifth inning of a scoreless game. Reds pitcher Charlie Rabe surrendered homers to Andy Pafko and Del Crandall to fall behind 2-0. Durnbaugh would have his first, and only, major-league at bat leading off the eighth against Lew Burdette. He bounced out to Johnny Logan.12The Braves won 2-1.
Durnbaugh returned to Nashville for the 1958 and 1959 seasons. He was shifted to second base which put a new wrinkle to his responsibilities. The Sulphur Dell had a 262-foot right field with an embankment running up to a 30-foot high screen. He had to be aware if the right fielder was playing in or whether he was on the embankment. Outfielder Buddy Gilbert joined the team then and became one of Durnbaugh's friends. Years later Skip Nipper, a Nashville baseball historian ran a survey and both Gilbert and Durnbaugh finished in the top-five as all-time favorite Vols players.
Durnbaugh sat out the 1960 season and worked construction with the family. His old friend Ernie White coaxed him back into baseball in 1961 with Mobile in the Southern Association. White was aware that the Kansas City Athletics were looking for a utility infielder and had gotten them interested in Durnbaugh. When rookie Dick Howser burst onto the scene, Frank Lane ended his search. White could not afford to keep Durnbaugh and gave him the choice of pennant contender Little Rock or Shreveport who would finish seventh. Durnbaugh chose the Shreveport Sports because they were managed by Les Peden. Durnbaugh had always liked the way Peden handled his teams and players. "Working for a good boss was always a pleasure."13
One day while with the Sports, Durnbaugh played golf with some teammates. The golf pro looked at his swing and made a subtle change with the alignment of his hands. Durnbugh tried the new grip out in baseball and found that he could snap his wrist better than before. Up until this point Durnbaugh had never shown much power. His best had been 27 extra base hits with Nashville in 1958. His only home run as a pro had been in a 1958 exhibition game. With the Sports he slammed a home run on July 27 and then added another later in the year.
Durnbaugh called it quits after that. He took a job with the Duncan Oil Company in Beavercreek and then in the mid-1960s started his 40-year career in sporting goods sales. He played a little softball and did some summer coaching of teenagers. When Beavercreek began their Athletic Hall of Fame in 2000, Durnbaugh was an original inductee. He was the first of three members of the class of 1951 to be honored.
In 2015 he was invited back to Nashville for the opening of First Tennessee Park. The new park lies partially on the site of Sulphur Dell. Durnbaugh had a wonderful time visiting with Buddy Gilbert and other former teammates. As of this writing Bobby and Betty are living quietly in Beavercreek. The three children all live within an hour drive. The couple have five grandchildren and four great grandchildren.
Sources
I was a high school coach and athletic director and knew Durnbaugh as a salesman. As noted I spent a lovely lunch with Bobby and Betty on February 15, 2018. We followed up with a phone conversation on February 26.
Acknowledgments
This biography was reviewed by Norman Macht and fact-checked by Kevin Larkin.
Notes
1 F.M. Williams, "Vol Bobby Durnbaugh Makes "Pepper" Pay Off," The Tennessean (Nashville), June 10,1956: 26. Manager Ernie White is the source of the quote.
2 Interview with Durnbaugh and his wife on February 15, 2018.
3 http://www.ohsaa.org/Portals/0/Sports/Baseball/History/BBAllTimeStateTournamentResults.pdf
4 Durnbaugh interview
5 "Homer Howell, Other Redlegs on Merc Opponent Here Sunday," Palladium-Item (Richmond, Indiana), October 9, 1952: 23.
6 M.J. Gorman Jr., "Venezuela Starts Bolstering Champs for Latin Series," The Sporting News, January 11, 1956: 18.
7 Tom Swope, "Birdie Opens All Stops in Redlegs Start," The Sporting News, March 14, 1956: 22. On rosters and in guides Durnbaugh was listed as 5-foot 8 and 170 pounds.
8 Durnbaugh interview.
9 Durnbaugh interview.
10 "What Might Have Been," Democrat and Chronicle (Rochester, NY), November 14, 1957: 23.
11 Bill Traughber, "Looking Back: Durnbaugh was a Former Vol," Copy supplied by Durnbaugh. The article was posted at www.milb.com in May 2017. On February 20, 2018, it was no longer posted at milb.com.
12 Retrosheet.org Boxscore:MLN195709270
13 Durnbaugh interview follow-up on February 26, 2018.
Born
January 15, 1933 at Dayton, OH (USA)
If you can help us improve this player's biography, contact us.
/sites/default/files/Durnbaugh%2C%20Bobby.jpg
600
800
admin
/wp-content/uploads/2020/02/sabr_logo.png
admin
2018-03-29 12:01:41
2020-04-09 14:40:21
Bobby Durnbaugh