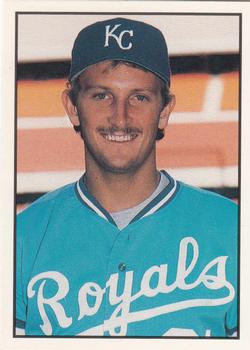 ---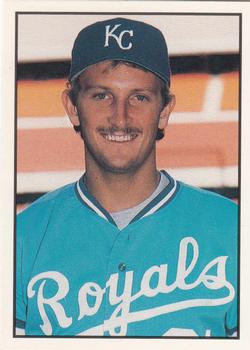 "Times of adversity make you stronger. And sometimes those times make you so tired that when your son says to you, 'Dad, I want to be there at the last game you pitch,' you tell him, 'Kid, you might have been there already.'"1 — Bret Saberhagen on August 8, 2001, one day after his last major-league game.
Success came early for Bret Saberhagen. In only his second major-league season, 1985, the 21-year-old won the Cy Young Award with a 20-6 record and was named the Most Valuable Player in the World Series. With his Kansas City team winless in its first two games against St. Louis, he pitched the Royals to a 6-1 win in Game Three and, with everything on the line, pitched an 11-0 shutout in Game Seven to give Kansas City its first World Championship in baseball. For his efforts in 1985, he had been paid $150,000. At season's end, he was eligible for arbitration and won a third award, as the arbiter's decision yielded him $925,000 for the 1986 season.
He was on top of the world and was rated by writer Thomas Boswell as one of the three top pitchers in baseball (along with Dwight Gooden and John Tudor) going into the 1986 season. Saberhagen was heard to say, "I'm just going to do everything the same as last year. Take it one step at a time. Can't do too much too fast. I just have a feeling of confidence. Every time you go out there you have to think you're going to win or you won't. If I give the best Bret Saberhagen can give, then I'll be happy with it."2
However, in what was to become a pattern, the Saberhagen of the even-numbered years did not match up with the Saberhagen of the odd-numbered years.
He was born on April 11, 1964 in Chicago Heights, Illinois, but his formative years were spent in California. Bret is an only child. His parents Bob and Linda divorced when he was only 9 years old and, by then, the Saberhagens had relocated to the West Coast. Linda took a position in the accounting department of a retail store. Bob remained in his son's life, relocating to Chatsworth, California, and taking a position with a computer leasing firm in Encino, California.3 Bret starred as a sophomore at Grover Cleveland High School in Reseda, California, and was selected the MVP of the West Valley League in 1980. However, he had an off-year the following season, although he also played a good shortstop and was one of his team's leading batters with a .333 average. In his senior year, when the basketball season extended into early spring, he rushed himself into shape, developing tendonitis in his shoulder. Just after Easter, he resumed pitching and put together a 6-0 record in his team's regular season. On the eve of the high school playoffs, the major-league draft was held. At this point, most scouts felt that his velocity was still suspect and this reduced his chances at being a high draft pick. But Royals scout Guy Hanson had seen Bret as he was rounding into form and Kansas City used its 19th round pick in the 1982 draft to select Saberhagen.4
Bret then went on to go 3-0 in the playoffs. His second playoff win came in the semifinals when he relieved in the first inning with none out and his team behind by five runs. Over the course of the remaining innings, he struck out 12 as his Cavaliers team came from behind to win, 7-6.5 In the championship game, won by Cleveland 13-0, he pitched a no-hitter at Dodger Stadium to bring his overall high school record to 24-2, under the tutelage of coach Leo Castro. Were it not for a first-inning error by the Cleveland second baseman, Saberhagen, who struck out eight and retired the final 20 batters in a row, would have had a perfect game. After the game, he commented, "I didn't start thinking of it (the no-hitter) until the fifth inning (of the seven-inning contest). When I went out in the last inning, I was going for it."6 His no-hitter was the first ever in the 44-year history of the city championship, and the last inning had its challenges. The first two of the final inning outs came on outstanding fielding plays by the first baseman and right fielder, respectively. After the final out, on a failed bunt attempt, Saberhagen said, "This is the best feeling I've ever had in my life. The rest of the team helped out and were with me all the way."7
Shortly thereafter, he was named City Player of the Year, and he signed with the Royals. Bret married his high school sweetheart, Janeane Inglett, in 1984. Their first child, Drew William Saberhagen was born on October 26, 1985, eight hours before the start of Game Six of the 1985 World Series, and Saberhagen celebrated with a 2-0 win in Game Seven. They had two more children, daughter Brittany Nicole (born September 5, 1986) and son Daulton, before separating in 1992. Their divorce became final in 1994.
Saberhagen's minor-league career was brief. His first exposure to professional baseball was in the Florida Instructional League in the fall of 1982, where he pitched to a 7-2 record with a 2.36 ERA. He began the 1983 season with Fort Myers in the Class-A Florida State League, going 10-5 with a 2.30 ERA. He was named to the Southern Division team for the league's All-Star game. He was promoted before the end of the season to Class-AA Jacksonville in the Southern League where he won six of eight decisions and lowered his ERA to 2.91. In the Florida Instructional League that fall, he allowed only one earned run and walked only three batters in 47 innings.
He made it to the majors in 1984, becoming the youngest Royal ever, and got off to one of the rockier starts in major-league history. In his first appearances, he was called in from the bullpen to replace Paul Splittoff, who had been ineffective. The score was 4-2 in favor of the Yankees, and Burch Wynegar was standing on first base with only one out. Manager Dick Howser said, "Don't worry about the runner on first. He's not very fast and I don't think he'll be stealing. Just concentrate on the batter." To Saberhagen's surprise, catcher Don Slaught then called for a pitchout. However, Saberhagen was focused on the batter and threw a curve that crossed up his catcher and rolled to the back stop. The wild pitch advanced the runner to second base.8 Saberhagen regained his composure and registered the next two outs. He went on to pitch 4 2/3 innings of scoreless ball that day, scattering three hits.
His first start came on April 19 against the Tigers, and resulted in his first career win. He went six innings, allowing only one run as the Royals defeated the Tigers 5-2, snapping a season opening nine-game winning streak by Detroit. He made a positive impression on Detroit pitching coach Roger Craig who said, "He's one of the best looking young pitchers I've seen. He's got as much poise as any young pitcher I've seen. I've seen guys with better stuff, but not many with as much poise."9 In his first season, he went 10-11 with a 3.48 ERA.
In 1985, en route to a 20-6 record, becoming the fifth-youngest pitcher in major-league history to win 20 games, Saberhagen had a 2.87 ERA, third best in the league. He pitched with exceptional control and led the league with a 4.16 strikeout to walk ratio. He would go on to lead his league in that statistic two other times during his career, and his career ratio of 3.641 puts him at 18th place on the all-time list. He had gotten off to a slow start that year, but after May 12, he was 18-3 with a 2.54 ERA. His 20th win on September 30 put the Royals into a first-place tie with the Angels with six games left in the season. Five days later, they clinched the division and advanced to the League Championship Series. In the LCS, Saberhagen started Game Three but was knocked out of the box in the fifth inning. However, the Royals came back to win that game and Saberhagen was back on the mound in Game Seven. He bruised his thumb in the first inning and came out after three scoreless innings with the Royals leading 2-0. They went on to win the game and advanced to the World Series.
1986 was a disaster. As Peter Gammons wrong in Sports Illustrated, he went from "Cy Young to Die Young."10 The season started out well for him. His second start and first decision of the season was at Fenway Park on the afternoon of April 16. It was not a typical Fenway game. Only 11,164 fans were in attendance, and if one dallied too long at the concession stand, he would miss an inning or two, as the game took only two hours and five minutes to complete. Steve Balboni gave Saberhagen all the support he would need, leading off the second inning with a home run. Although the Royals could only muster five hits off Red Sox pitcher Al Nipper, Saberhagen, working quickly, limited the Red Sox singles by Tony Armas and Don Baylor in the early innings. He retired the last 15 batters in succession for a 1-0 shutout win.
After that, things did not pan out well for Saberhagen. His overindulgence on the banquet circuit after winning the Cy Young Award caught up with him. He lost his next two starts in April before hurling his second and last shutout of the season, defeating Baltimore 5-0 at Kansas City on May 2. It was his only win of the month, and at the end of May, his record stood at 2-5. The season wore on and the losses continued to outnumber the wins. Arm troubles were such that he was on the shelf from August 10 through September 5, and his record for the season was 7-12 with an ERA of 4.15. Looking back on the season during a winter when the phone stopped ringing with invites, Saberhagen said, "I still don't have any answers. If I could figure out what I did wrong, I'd do something about it. It's tough to pinpoint. The big thing was the injuries. That didn't help for sure. I did so many different things (to improve); it's hard to say what went wrong. Who knows? I just know I was expected to win at least 20 last year and I was very, very upset at the year I had."11
His salary was cut to $740,000, but he went to spring training in 1987 determined to turn things around. After his first spring start he said, "I've been thing about this (his first spring start) for a long time, especially the last week. I was concerned because of what happened last year. But I know that if I can get through the spring like I did today, I should have nothing less than 17 wins this season."12 But he came back with a good season in 1987 and was named the comeback-player-of-the year. He won each of his first six starts including a shutout of Cleveland on May 9 that brought his ERA down to 1.59. His 4-0 record in April garnered him Player of the Month honors. Over the course of the season, he won 18 games, losing only 10. He was second in the league in both shutouts (four) and complete games (15), and his ERA was 3.36. He was named to his first All-Star team, and started the game on July 14 in Oakland, pitching three shutout innings marred only by a double off the bat of Andre Dawson. The Royals in a hotly contested West Division race (10 games separated the seven clubs) finished in second place, two games behind the Detroit Tigers.
At the beginning of the 1988 season Saberhagen had signed a lucrative three-year deal with the Royals. At the conclusion of the negotiations he said, "It turned out excellent for both sides. Now I don't have to keep going through this every year. It was driving me crazy."13 He received $1.1 million in 1988, $1.25 million in 1989, and $1.375 million in 1990.
He was healthy in 1988, but his record fell to 14-16 with high numbers in all the wrong places. He led the league giving up hits (271) and allowed 110 earned runs as his ERA rose to 3.80. The only injury he sustained that year was when he tripped in his hotel room in New York in May and required 16 stitches to close the gash on his forehead and another five to sew up the laceration beneath his one of his eyes. More embarrassed than bruised, he did not miss a start.14 It was a year of streaks for Saberhagen. In June, he was 4-1 with a 2.68 ERA, and at the end of June his record for the season stood at 10-6. After that, he was winless in his next five starts, in which he was charged with four losses. Over the last three months of the season was 4-10 with an ERA of 4.27. Even if Saberhagen had had a good season, the Royals would not have improved much on their third-place finish as the Athletics romped to the AL West title leading the pack by 13 games.
Saberhagen's second Cy Young Award season followed in 1989 when he went 23-6 with a league-leading ERA of 2.16. The durable Saberhagen pitched in at least 250 innings for the third year in a row, hurling a league high 262 1/3 innings. His first start of the season on April 10 was a harbinger of things to come. During the course of the season, he only lost successive games on one occasion, and that was in April. After April, he was 21-4 with a 1.93 ERA. He was left off the All-Star team, although his record at the All-Star break was 8-4. After the All-Star break his record bordered on the sensational, as he was 15-2 with a 1.74 ERA. His control during the season was exceptional as he walked only 43 batters while striking out 193. Although he committed a career high four errors during the season, he was awarded the only Golden Glove of his career. The Royals were in contention for most of the season, and on September first were 1 1/2 games out of first place. They finished at 92-70, but the Oakland A's distanced themselves from the pack in the late going. The Royals finished in second place, seven games behind the division champions.
By now you have guessed it – 1990 was a disaster. However, largely due to his record in the prior season when he had been snubbed, he was chosen to pitch in the All-Star Game on July 10. He pitched scoreless ball in the fifth and six innings, retiring each of the six batters he faced, and was awarded the win when the American League broke a scoreless tie in the top of the seventh inning and went on to win 2-0. His record was 5-7 when he had surgery in late July to have two loose bone chip fragments removed from his right elbow. He returned to the lineup later in the season and his record for the season was 5-9 with a 3.27 ERA. Not only was the season a disaster for Saberhagen, but the Royals hit the skids as well finishing in sixth place. At the end of the season, general manager John Schuerholz resigned. He had assumed the role after the 1981 season and was at the helm during Kansas City's first World Championship in 1985.
Would Saberhagen return to his normal odd-year form in 1991? Not right away. He lost three of his first four decisions and after righting the ship winning each of his five decisions in May, his rollercoaster ride with the disabled list continued when he was placed on the D. L. in June due to tendonitis in his shoulder. He returned from the D. L. on July 13 and his record stood at 9-6 with a 3.10 ERA after he defeated the Yankees at Kansas City on August 21. He had recorded his first shutout of the season on August 2, defeating Cleveland 4-0.
Six weeks after coming off the DL he pitched the game of his career. On August 26, 1991, he pitched the first no-hitter of his major-league career, defeating the Chicago White Sox, 7-0. He received help from official scorer Del Black. Black had initially rule a line drive by Chicago's Dan Pasqua a double, much to the chagrin of the 25,164 fans in attendance. However, after viewing several replays, he ruled that left fielder Kirk Gibson had misplaced the fifth-inning line drive. When the H changed to E on the scoreboard, the crowd erupted and Saberhagen, who was looking towards home plate at the time, knew that his ho-hitter was still intact. "You can pretty well tell by the crowd's reaction. I heard the crowd and figured what happened." He settled down, got out of the inning and when Frank Thomas grounded to second base with two outs in the ninth inning, Saberhagen had the fourth no-hitter in Royals history. Reflecting on his achievement, he said, "This is terrific, but there will never be anything better than the (1985) World Series."15
For the season, his record was 13-8, and his record during eight seasons with the Royals was 110-78. He had been paid $2.95 million in 1991 and would be going into the second year of an expensive longterm contract with a "small-market" team. He was "on the block," and after the 1991 season, he was traded to the Mets along with Keith Miller and Bill Pecota for Kevin McReynolds and Gregg Jefferies.
His first two seasons in New York were disappointing. Not only was his record disappointing but there were once again health issues. His first two starts in 1992 were a collective nightmare. In neither game did he make it past the fifth inning, and he allowed seven earned runs in each of those games. He was 0-2 and his ERA was18.00. In his third start, he allowed five runs in the third inning against the Expos and then turned things around. The Mets came from behind and take him off the hook as he pitched three innings of scoreless ball before leaving the game in the for a pinch-hitter in the seventh inning.
He then became the Saberhagen the Mets were expecting. On April 23, he pitched nine shutout innings in a game that the Mets went on to win in the 13th inning, and on April 29 he spun a three-hit shutout as the Mets defeated Houston 1-0. His streak of consecutive scoreless innings ended at 26 in his next start when the Astros tallied a single run in the sixth inning. By then the Mets had a 5-0 lead and they went on to win 5-1, evening Saberhagen's record at 2-2.
However, he would only win one more game in 1992. In his first season with the Mets, he was only 3-5 as tendonitis, this time in his right index finger, resulted in his being on the shelf from May 16 through July 20 and starting only 15 games over the course of the season, the lowest number in his career to date.
In his new baseball home, he found new love after the breakup of his marriage to Janeane. They separated at the end of 1992, and he soon met his second wife, Lynn Critelli, who he married in 1996. They subsequently divorced.
After the 1992 season, he was awarded a three-year contract extension by the Mets, estimated at $15.4 million, but 1993 turned into a year of frustration. The Mets of 1993 were most definitely not the Mets of 1986, and by season's end their record was an unenviable 59-103. Frank Cashen and Davey Johnson were gone and the new regime of General Manager Joe McIlvane and manager Dallas Green were not receptive when it came to Saberhagen's clubhouse pranks. Two pranks during July 1993, one involving setting off a firecracker near reporters and another, involving spraying bleach, got him in trouble with management and in August a tirade in the clubhouse made headlines. Eventually he was suspended for the bleach spraying incident, and he missed time at the beginning of the 1994 season. He also was fined $15,384, a day's pay, which was contributed to the Eye Research Foundation of Central New York. For the season, Saberhagen was 7-7 with an ERA of 3.29 in 19 starts.
That season was abbreviated when he underwent surgery on August 3 for a tear in the medial collateral ligament in his right knee. The knee injury was sustained when he inadvertently stepped on a ball when he was jogging in the outfield. In September, he once again had elbow surgery.
In 1994, there were many changes. The National League went from two divisions to three and the Mets found themselves in a restructured Eastern Division with the Phillies, Expos, Braves, and Marlins. And the biggest change was Bret Saberhagen who reverted to his former self. He was still the prankster, but his actions showed a newfound maturity. "I've tried to change my habits around the clubhouse, not screw around so much. That's tough for me to do, because I've always been a practical joker. But now before I do something, I think of the ramifications."16 In the early part of the season, Saberhagen was receiving good run support and through June 25, his record was7-4 with a 3.58 ERA. After that, it was lights out. He won each of his seven decisions and registered a 1.51 ERA in his final nine starts. During this time, he walked only five batters in 71 2/3 innings, and his strikeout to walk ratio was an eye-popping 11.00. For the season, which ended for him and everyone else in August, he was 14-4 with a 2.74 ERA with only 13 walks in 177 1/3 innings. He was third in the Cy Young Award voting and was named to his third All-Star team. This time around, he did not pitch as the game went into extra innings. He and José Rijo were the only pitchers left in the National League bullpen when the NL pushed across a run to win the game in the 10th inning. Oddly enough he was not named to the All-Star team in either of his Cy Young Award seasons.
In 1994, he also appeared in a movie. The Scout featured Brendan Fraser and Albert Brooks. Brooks, the scout, hired Saberhagen, playing himself, to throw pitches to Fraser, who played a baseball prospect in the film.
The 1995 Mets went from bad to worse and by August of that year, Saberhagen was 5-5 on a team that was going nowhere. He and his big money contract were gone from New York on August 1 as he was traded along with Dave Swanson to the Colorado Rockies for Arnie Gooch and Juan Acevedo. With Colorado, he was 2-1 in nine starts and spent two weeks on the shelf from August 27 through September 9.
He missed the entire 1996 season, undergoing surgery on May 28 that involved a titanium anchor being drilled into the bone of his right shoulder to hold together his rotator cuff. He signed a minor-league contract with the Boston Red Sox for the 1997 season. He pitched his way back to the majors and was 0-1 with a 6.58 ERA in 26 innings at the end of the 1997 season. He returned to the Red Sox in 1998.
And return he did. However, the durability wouldn't be there. The man who had hurled 76 complete games in his first 12 major-league seasons would go no further than the seventh inning in any of his 31 starts. He put together a 15-8 record with a 3.96 ERA. The Red Sox finished in second place with a 92-70 record, and advanced to the Division Series against the Cleveland Indians.
Saberhagen pitched the third game of the series and allowed three runs on only four hits in his seven innings of work, walking one and striking out seven. He took a no-hitter into the fifth inning when Jim Thome led off the inning with a homer for Cleveland's first run of the game. It tied the score at 1-1. The next two Cleveland hits were also solo home runs — a sixth-inning blast by Kenny Lofton and a seventh-inning shot by Manny Ramirez. The Red Sox were unable to come from behind, losing 4-3, and Saberhagen was tagged with the loss. It was Saberhagen's last appearance in 1998. Cleveland won the best-of-five series in four games.
His success in 1998 led to his being awarded the Tony Conigliaro Award by the Boston chapter of the Baseball Writers' Association of America for overcoming adversity.
In 1999, Saberhagen was unable to duplicate the success of the prior season, but he wasn't far off, going 10-6 and cutting his ERA to 2.95. He only started 22 games and paid three visits to the disabled list. The Red Sox once again finished second in the AL East and advanced to postseason play. Saberhagen started the second game of the Division Series against the Indians and had a rare bad day. His undoing came in the third inning and was initiated when Saberhagen's control abandoned him. He walked two batters and, with one out, gave up a triple to Omar Vizquel and a double to Roberto Alomar. Harold Baines, the eighth batter of the inning, came up with two on and two out and his three-run homer knocked Saberhagen out of the game. Cleveland won the game to take a 2-0 lead in the series, but the booming Boston bats won the next two games to force Game Five.
Saberhagen, given a chance to redeem himself, was once again ineffective. Given a two-run lead, he gave up three runs in the first inning and before an out was recorded in the second inning yielded two more. The knockout blow was a home run off the bat of Travis Fryman. But the booming Boston bats, which had generated 32 runs in Games Three and Four, were not about to be silenced. The Sox came back to win Game Five, 12-8, and it was on to the League Championship Series against the Yankees. The Yankees won two of the first three games and in Game Four, Saberhagen took the mound against Andy Pettitte. Saberhagen was effective in his six innings, allowing three runs, only one of which (a Darryl Strawberry homer) was earned. However, he left the game on the wrong end of a 3-2 score. The Yankees broke the game open with six ninth-inning runs to take a commanding 3-1 lead in the series. The Red Sox were eliminated in five games.
But by 2000 Saberhagen was 36 years old and the pain had returned to his shoulder, causing him to miss the entire 2000 major-league season. He rehabbed that year, appearing in seven minor-league games, and also rehabbed in five games in 2001, returning to the mound at Fenway on July 27, 2001. He pitched six innings in a 9-5 defeat of the White Sox. It was his last major-league win. He followed up this outing with two losses and was placed on the disabled list one last time. He announced his retirement at the end of the 2001 season.
After baseball, Saberhagen retired to California, where he coached son Drew at Calabasas High School. He also did some film work. With Kevin Costner and former players Johnny Bench and George Brett, he appeared in Field of Dreams Roundtable in 2004, and he appeared as himself in the 2009 film, The Open Road with Justin Timberlake and Ted Danson.
In 2004, he established the Bret Saberhagen Make a Difference Foundation to help children fighting diabetes and other illnesses. In 2005, he was inducted into the Kansas City Royals Hall of Fame.
Last revised: January 5, 2017
This biography was originally published in "Overcoming Adversity: The Tony Conigliaro Award" (SABR, 2017), edited by Bill Nowlin and Clayton Trutor. It also appeared in "From Spring Training to Screen Test: Baseball Players Turned Actors" (SABR, 2018), edited by Rob Edelman and Bill Nowlin, and "Kansas City Royals: A Royal Tradition" (SABR, 2019), edited by Bill Nowlin.
Sources
In addition to the sources listed in the Notes, Baseball-Reference.com and the articles listed below were used by the author.
Antonen, Mel, "Unique Surgery Saves Saberhagen's Shoulder, Career," USA Today, April 29, 1998: 1C.
Attner, Paul. "Common Work Habits Mark Return to Royalty: Saberhagen Has His head, Body Back into the Game," The Sporting News, May 25, 1987: 4.
Durso, Joseph, "Saberhagen is Near Perfect in Cy Young Voting," New York Times, November 16, 1989.
Frey, Jennifer, "Saberhagen Sounds Off at Mets' Management," New York Times June 22, 1994.
Frey, Jennifer, "The Joke's Up for Bret Saberhagen," New York Times February 27, 1994.
Kravitz, Bob, "Saberhagen Decision Offers No Guarantees," Rocky Mountain News, January 18, 1996: 2B.
Martinez, Michael, "Saberhagen Still the Same Old Kid: '85 Success Has Not Led to '86 Excess," New York Times News Service, February 23, 1986.
Moran, Malcolm, "On a Rainy Day, Saberhagen Throws a Tantrum," New York Times, August 7, 1993: 31.
Nightengale, Bob, "Saberhagen Signs for 3 Years, Riches," The Sporting News, February 22, 1988.
Nightingale, Dave, "Even in Odd Year, Saberhagen's No. 1," The Sporting News, July 9, 1990: 8.
Ocker, Sheldon, "Royals Get Breaks to Slip by Indians and Post 5-4 Win," Akron Beacon-Journal, May 4, 1987: D4.
Notes
1 Gordon Edes, "Towel May End Up as His Next Throw," Boston Globe, August 9, 2001
2 Thomas Boswell. The Heart of the Order (New York, Doubleday, 1989), 278.
3 Lorenzo Benet. "Bret's Team — From the time he was 7, Baseball was Bret Saberhagen's Dream — His Parents helped make it Come True," Daily News (Los Angeles, California), November 6, 1985.
4 Vincent Bonsignore, Daily News (Los Angeles, California), May 7, 2002.
5 Joe Koenig, "Palisades Reaches the City Final Against Cleveland," Los Angeles Times, June 11, 1982: E15.
6 Randy Sparage, "Saberhagen's No Hitter Decides It," Los Angeles Times, June 15, 1982: D4.
7 Paul Vercammen, "Cavaliers Cradle City Baseball Crown After Hoping for a Lot Less," Los Angeles Times, June 17, 1982: V4
8 Bruce Nash and Allan Zullo, The Baseball Hall of Shame 4 (New York, Simon and Schuster, 1990), 76-77.
9 "K. C. Rookie 1st to Tame Tigers," Chicago Tribune, April 20, 1984: C5
10 Peter Gammons, "Return of the Royal Nonesuch," Sports Illustrated, June 8, 1987.
11 Bob Nightengale, "Homework by Saberhagen gives him new Hope for 1987," Kansas City Times, January 14, 1987: 1-B.
12 Bob Nightengale, "Saberhagen Blots Out Past, Follows Plan in Spring Debut," Kansas City Times, March 11, 1987: E-1.
13 Bob Nightengale. The Sporting News, February 22, 1988.
14 The Sporting News, May 9, 1988: 17.
15 The Pentagraph (Bloomington, Illinois), August 27, 1991: B1.
16 New York Post, May 13, 1994.
Born
April 11, 1964 at Chicago Heights, IL (USA)
If you can help us improve this player's biography, contact us.
https://sabr.org/sites/default/files/SaberhagenBret_0.jpg
600
800
admin
/wp-content/uploads/2020/02/sabr_logo.png
admin
2012-01-04 20:33:54
2012-01-04 20:33:54
Bret Saberhagen