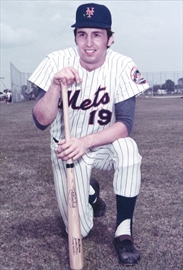 ---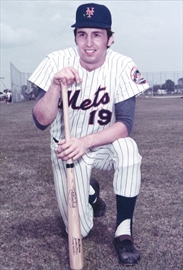 Canadian shortstop Brian Ostrosser spent two weeks in the major leagues with the New York Mets in August 1973. A good glove man, he provided depth while starter Bud Harrelson was on the disabled list. He went 0-for-5 in four games as a Met; in 14 2/3 innings in the field, he cleanly handled all five chances that came his way. When Harrelson came off the DL, Ostrosser went back to Triple-A, never to resurface. His pro baseball career ended during spring training 1976.
Brian Leonard Ostrosser was born on June 17, 1949 in Hamilton, Ontario. The family name (pronounced OH-strosser) is of Austrian origin, to the best of his knowledge, but the Ostrossers have been in Canada for several generations.1
Brian Ostrosser's family lived in Stoney Creek, which was merged into Hamilton in 2001. His father, George Arthur Ostrosser, worked at the stationery counter of Hamilton-based Stelco (The Steel Company of Canada), dispensing items such as forms and time sheets to various departments as needed. Brian was the third of four children born to Rhea Ostrosser (née Jacobs). His siblings were Arthur, who was 10 years older; Lois, five years older; and Darrell, four years younger.2
Ice hockey is the king of sports in Canada, but for young Brian, it was just "the game I played to kill time between baseball seasons."3 Baseball was always his favorite, "probably from the day I could walk," he said in 2017. Even then, older neighbors recognized Ostrosser and remembered how he would endlessly throw a ball against the wall of the old brick public school across the road from his family's home.4
Ostrosser played in his first organized game, in the local Little League, at the age of 10. Little League had come to Stoney Creek in 1958, and Brian (then around nine) wanted to join, but he was a year too young. Though he could not play, he still pestered his father to take him to watch all the games, and the next year he joined.5 Brian's Stoney Creek team won the Ontario Little League title in 1961. Those boys lost the Canadian championship when they ran into a hot young pitcher for Montreal named Serge LaPorte.6 In August 1965, however, Brian's brother Darrell was part of the Stoney Creek team that made it to the final of the Little League World Series — the only time a Canadian squad has advanced that far in the competition's history.7
When he was 13, Brian moved up to Senior Little League, which was for boys aged 13 through 15. He played just the first two years at that level, because at 15, he joined a travel team that played in the area, including the adjacent Niagara Peninsula. As he recalled, there were three levels — Midget, Juvenile, and Junior — that covered up to age 20. Because of his talent, he was typically a year younger than the rest of his teammates.8
Ostrosser went to Winona High School in Hamilton, which did not have a baseball program. His experience came with the travel team. Asked if weather affected baseball competition in Ontario, he noted that the season was somewhat abbreviated, typically starting in May. He remembered playing in October.9
In 1969, Ostrosser was playing with a group of other young men on a diamond near Ivor Wynne Stadium (home to the Hamilton Tiger-Cats of the Canadian Football League until the facility closed in 2012). He caught the eye of John Sartorio, an area scout for the Mets, who told noted Canadian sports columnist Earl McRae the story himself in 1973. When Sartorio first saw Ostrosser, Brian was substituting for a pitcher whom the scout had actually gone to see. Sartorio knew that Ostrosser wasn't a pitcher, but he was impressed with the young player's hitting and found out that he was really a shortstop. The next day he watched a doubleheader and was struck by Ostrosser's soft hands.10
Soon thereafter Ostrosser showed up at Mahoney Park, a Hamilton baseball venue, to play a game with some other potential prospects whom Sartorio had assembled. Sartorio said that he was afraid to invite Ostrosser at first because "he was so good. You want to hide a kid like that. I was afraid a scout from another club might spy on us and swipe him." Sartorio changed his mind, however, because he didn't want to slight Ostrosser. The young shortstop went 3-for-4 and showed his defensive ability.11
A day later, the scout showed up at his house with a contract. Ostrosser got $1,000 and a contract for $500 a month to turn pro. It wasn't big money, but he was excited. "All I knew was I was getting a plane ticket for minor league spring training in St. Petersburg," he said. "I'd never been on a plane before."12
Ostrosser's first assignment was Marion (Virginia) in the Appalachian League. Like all new pros, he had to adjust to the grind of life in the low minors. "It wasn't my idea of what professional baseball would be like," he said in 1974. "Another thing I learned is that you really have to like baseball. Otherwise you probably won't stay. I hit only .224 but I had a good season in the field — won the [team's] Most Valuable Player trophy. Considering I was homesick at the start, it was a satisfactory season."13 He finished that summer with Pompano Beach in the Florida State League (Class A).
Ostrosser returned to Pompano Beach in 1971. He missed a month with a partially torn Achilles tendon, suffered while sliding home, but impressed the Mets with the desire he showed in his comeback from the injury.14
Whitey Herzog, whom Ostrosser admired, was the Mets' director of player development. One lesson of Herzog's in particular stayed with the coachable young player: "Listen, Brian, if you're going to play in the major leagues, you're a middle infielder — you gotta know how to bunt." Ostrosser bunted ball after ball after ball in practice, a fundamental drill that is little practiced today.15
On October 9, 1971, Ostrosser married Debbie Leopold, his high-school girlfriend and a cheerleader. He was in Instructional League at the time. Whitey Herzog gave him the weekend off, and when the newlyweds returned, Herzog gave Ostrosser a Louisville Slugger bat contract as his wedding present.16
Ostrosser was promoted to Double-A Memphis in 1972. There again he was named his team's MVP, winning the Gil Hodges Memorial Trophy, largely thanks to his fielding. The lefty swinger also handled the bat pretty well — .262, with 3 homers and 41 RBIs in 131 games. He also drew 71 walks and was hit by 12 pitches, boosting his on-base percentage to .370. The small-ball skill he'd developed was on display, too — he led the Mets organization in sacrifice bunts and bunt base hits.17
Memphis GM Mal Fichman said, "He's got a very unorthodox style and he makes some weird moves, but they work. He always looks off-balance and when he bats, he hugs the plate too much. But I've never seen such guts, such desire in a player." After hunting all over Memphis for the sheet music and practicing for a week, the team organist played "O Canada" at Ostrosser's team MVP ceremony. "Ossie was so proud I thought he was going to cry," said Fichman.18
Ostrosser also remembered renting an apartment in Memphis just down the street from Elvis Presley's mansion, Graceland. Debbie got a glimpse of The King in his golf cart one day.19
Ostrosser reached Triple-A Tidewater toward the end of the 1972 season. The Tides won the International League playoffs on September 12; the very next day, they were in Hawaii to take part in the Kodak World Baseball Classic at Honolulu Stadium. Five teams squared off: In addition to the other champions of the three Class AAA leagues, there were the Hawaii Islanders (playing in their home ballpark) and a group of Caribbean All-Stars. Yet despite the high talent level, attendance was very poor. This turned out to be a one-off event.20
Tidewater GM Dave Rosenfield said, "He [Ostrosser] hit a home run for us, made some great plays, he's a great little player."21 As Ostrosser remembered, the homer went down the right field line. Honolulu Stadium was known for its short fence in right, which made it very friendly to left-handed hitters. The ballplayers saw as much of Hawaii as they could in the limited time available, including a visit to Diamond Head.22
That offseason, just after he'd come home from his job at the Stelco steel mill, Ostrosser got the news that he'd been put on the Mets' 40-man roster. It came from Joe McDonald, director of minor-league operations. McDonald also told Ostrosser that he'd been invited to spring training with the big club in 1973.23
In camp that March, Ostrosser had a major health scare. "I had a few very painful stomach aches early in spring training," he said that August, "but I figured they were just caused by nervousness. . .I was excited." The day after an exhibition game against the Cardinals, while running wind sprints in the outfield, he doubled up in pain. It grew even more agonizing that night.24
Debbie called one of the trainers, Kent Biggerstaff, who'd worked with Brian in Memphis and Tidewater. Biggerstaff was living in the same condo complex in St. Petersburg as the Ostrossers, so he was available quickly when the emergency arose.25 Straight away he thought it was appendicitis, a diagnosis confirmed by team physician Peter LaMotte. Surgery was scheduled. During the operation, a tumor the size of an orange was discovered on Ostrosser's appendix and part of his bowel. He said, "If it had grown to grapefruit size, the doctors told me, I'd have died." It turned out that his appendix had burst a long time before and the tumor was a natural body defense.26 The surgeon also noted that Ostrosser had a retrocaecal appendix, an unusual positioning of the organ that also helped protect him after it burst.27
Cancer is a concern with appendiceal tumors. Only a few days earlier, Brian and Debbie had been watching Brian's Song, the TV movie about football player Brian Piccolo, who died of cancer. An anxious couple of days passed, but Ostrosser's growth turned out to be benign.28 After convalescing in Florida, he went to extended spring training. He was ready to play again for Tidewater in early May, right when Earl McRae's feature came out.29
"He's not a textbook player, not smooth," said Dave Rosenfield of Ostrosser, "but he gets the job done." Mets GM Bob Scheffing added, "He's a top-notch player with a terrific attitude and, if things work out, he'll be up with us for sure in the not-too-distant future."30
Events proved Scheffing right. On July 31, 1973, Bud Harrelson suffered a broken sternum in a collision with Rennie Stennett of the Pittsburgh Pirates during a rundown. The extent of the injury was not immediately determined — it was originally thought to be a bruise. Harrelson played the next day, for all 18 innings of a doubleheader. The pain became considerable, though; he sat out the next two games. On the night of August 3, Peter LaMotte studied X-rays and spotted a fracture. Originally, the Mets said that Harrelson would not go on the disabled list — in which case Ostrosser might not ever have been called up. But the team's thinking changed, and Harrelson was placed on the 15-day DL on Saturday, August 4.31
Harrelson had previously been on the 21-day DL in June with a broken hand. Veteran Jim Fregosi had filled in for him then, along with utilityman Ted Martinez and Wayne Garrett. On July 11, 1973, however, the Mets sold Fregosi's contract to the Texas Rangers. So when Harrelson went on the DL again, this time the Mets called up Ostrosser as a reserve. He was then hitting a mild .229 for Tidewater, but he was still confident that he could hit .250 in any league, including the NL.32
Ostrosser got the good news while playing in Pawtucket, Rhode Island. After he heard it from manager John Antonelli (who'd also been his skipper in Memphis), Ostrosser tried to call his parents to tell them — but they were at a cousin's wedding. In the years before cell phones and e-mail, by the time George and Rhea found out, Brian was in New York.33
The Mets were in the middle of a homestand then, and when Ostrosser reported to Shea Stadium, head trainer Tom McKenna led him to his new locker. Seeing his nameplate and a freshly pressed uniform was great, and so was being greeted by ace pitcher Tom Seaver, who was the player rep and told Ostrosser that any questions were welcome. Best of all was meeting the man in the adjoining locker, 42-year-old legend Willie Mays. "My locker was a spare, and it was filled with his fan mail! I put my spikes and my ball glove on top of it. He said something like, 'How do you say that name?'" Ostrosser recalled with a laugh.34
A doubleheader at Shea against the St. Louis Cardinals took place on August 5. In the ninth inning of the opener, New York was trailing, 3-2. Martinez, who'd become Harrelson's primary backup, was lifted for a pinch-hitter. Had the Mets been able to tie it up, Ostrosser could well have gone in for the extra innings.
Instead, the rookie made his debut in the second game. Joe Torre and José Cruz singled to start the top of the sixth, and since Martinez had been the last man to bat for the Mets in the fifth, manager Yogi Berra brought in Ostrosser as part of a double switch. He immediately fielded a popup from his opposite number, Cardinals shortstop Mike Tyson.
In two at-bats that afternoon, Ostrosser struck out both times against Rick Wise. "I was pissed off," he said 41 years later. "I just couldn't believe I saw the ball so well and didn't hit it."35
Ostrosser's next appearance came on August 11 at San Francisco. Again he replaced Martinez in mid-game. He grounded out in the sixth; in the ninth, with the Mets trailing 7-6, he was due to lead off. He had a feeling that he would get his first big-league hit, but instead he came out for a pinch-hitter. It was Mays, who doubled — his last hit ever in the city where he had starred for so many years.36
Ostrosser's first paycheck with the Mets covered those first two games. It was for $198.24, but he never cashed it — instead, he framed it.37 He got into two more games as a Met. His only start came at Candlestick Park on August 12; it happened because Martinez had injured his heel in the previous game and was day-to-day.38 Ostrosser went 0-for-2 and was pulled for a pinch-hitter in the seventh, with Garrett moving over from third. The next day, in San Diego, he entered in the bottom of the ninth; New York gave up two runs and lost.
Bud Harrelson came off the DL on Saturday, August 18 and immediately went back into the lineup. To make room for him, Ostrosser went back to Tidewater.39 The Tides were one of four teams in the International League playoffs that year, but the Pawtucket Red Sox knocked them out in the first round, which ended on September 9.
Meanwhile, the Mets — who had been in last place in the National League East as late as August 30 — were surging to an improbable division title and pennant. They recalled five players from the minors in September to take part in the exciting stretch drive, but Ostrosser wasn't among them.40
"I hoped I would be," he said in 2017. "Not making excuses, I think the appendicitis thing may have taken something out of me. My weight was down from 175 usually to around 160, and I wasn't playing as well as I could have." Though he didn't get to be with the Mets during the playoffs and World Series, he followed them.41
Ostrosser hit just .192 in 54 games for Tidewater in 1974. That June he was traded to the Cleveland Indians organization for Dwain Anderson. His hitting picked up to .261-4-31 in 69 games for Oklahoma City in the American Association. He played just 11 games at short after the trade, though. He was shifted to third base after corner infielder Mike Hannah hurt his back diving into the stands.42 He also spelled the primary shortstop for the '89ers that year, Tom McMillan, who eventually made it to the majors with the Seattle Mariners in 1977. McMillan's experience in The Show was even briefer than Ostrosser's: just two games.
Ostrosser returned to Oklahoma City in 1975. Early in the season, in a game at Indianapolis, he fouled a ball off his ankle. He didn't realize it at first, but it turned out to be broken. He was in a cast for about eight weeks.43 When he returned, again he was playing third base (McMillan remained at short). He actually was seldom in the field, though, appearing more often as a designated hitter and a couple of times at first base. And largely because of cold hitting — .202-0-13 for the year — he got into just 63 games.
In the offseason, Ostrosser underwent surgery on his ankle that involved a bone graft from his hip. During spring training in 1976, though, he wasn't able to run well, so he was released. He thereupon retired from pro baseball.44
After returning to Stoney Creek, Ostrosser remained involved in fast-pitch softball. He was a high-level player. In 1980, he was the third baseman on the Canadian national champion team, participating in the men's world championship tournament in Tacoma, Washington.45 A few years later, he was invited to a selection camp to choose Canada's team at the 1983 Pan-American Games in Caracas, Venezuela.46 The Canadian men won the gold medal, but Ostrosser was not part of the squad. "I had already taken quite a bit of time off work," he recalled, "so I bowed out."47
Ostrosser continued to play softball until he was around 40. In the working world, he held down a job as a quality assurance technician with Stelco, until retiring at age 64.48
Ostrosser and Debbie had one child, a daughter named Melissa who was born in 1980. They subsequently separated and divorced — "around 1992 or 1993, one of the years the Blue Jays won the World Series." He got married again, to Bonnie Carnahan, on his 50th birthday in 1999.49
As of 2017, the Mets have had just eight Canadian-born players in their history. After Ostrosser, it took 36 years for them to get another: Jason Bay, signed as a free agent in December 2009.50 Ostrosser also found it surprising, in view of the number of good athletes in his home city, that nobody else who learned baseball in Hamilton has made it to the majors after him. Matt Maysey was born there but spent much of his youth in Buffalo and went to high school in Houston. John Axford was born about an hour's drive southwest of Hamilton, in Simcoe; he played his childhood games there and in nearby Port Dover.51
Decades after his short stay in the majors ended, Brian Ostrosser remained disappointed that he never got a hit at the top level. He remembered being overeager and committing "the cardinal sin" — pulling his head off the ball.52 Nonetheless, looking back after 44 years, he said, "I'm quite proud of it, really. Quite frankly, I got further than I expected. No regrets."53
Last revised: January 31, 2018
Acknowledgments
This biography was reviewed by Jan Finkel and fact-checked by Alan Cohen.
Sources
Interviews
Grateful acknowledgment to Brian Ostrosser for his memories (telephone interview with Rory Costello, December 9, 2017) and for providing a copy of Earl McRae's column.
Scott Radley with Brian Ostrosser, interview on AM radio station CHML 900 (Hamilton, Ontario), March 31, 2014 — "Brian Ostrosser talks about being the last Hamiltonian in the MLB." (Podcast available at https://soundcloud.com/am900chml/brian-ostrosser-talks-about)
Online
ultimatemets.com
unpage.org (historical site about Little League baseball)
Notes
1 Brian Ostrosser, telephone interview with Rory Costello, December 9, 2017 (hereafter "Costello-Ostrosser interview").
2 E-mail from Brian Ostrosser to Rory Costello, January 8, 2018. Earl McRae, "Hot Glove from Stoney Creek," The Canadian Magazine, May 5, 1973.
3 Bob Matthews, "Mets' Ostrosser Survived Surgery for Tumor," The Sporting News, August 25, 1973, 32.
4 Costello-Ostrosser interview.
5 McRae, "Hot Glove from Stoney Creek." "Montreal LL Team Going to Williamsport," Ottawa Journal, August 18, 1961, 18.
6 Milt Dunnell, "Biggest hurdle overcome," Saskatoon Star-Phoenix, April 5, 1974.
7 Scott Radley, "Ossie and 'The Say Hey Kid,'" Hamilton Spectator, May 3, 2014. This article draws from Radley's radio with Brian Ostrosser on March 31, 2014 (hereafter "Radley-Ostrosser interview").
8 Costello-Ostrosser interview.
9 Ibid.
10 McRae, "Hot Glove from Stoney Creek." As it turned out, the pitcher who'd interested Sartorio, Larry Buist, signed with the Detroit Tigers and pitched seven games in the Appalachian League in 1970.
11 Ibid.
12 Ibid. Radley, "Ossie and 'The Say Hey Kid.'"
13 Dunnell, "Biggest hurdle overcome."
14 McRae, "Hot Glove from Stoney Creek."
15 Radley-Ostrosser interview.
16 Costello-Ostrosser interview.
17 Radley-Ostrosser interview.
18 McRae, "Hot Glove from Stoney Creek."
19 Matthews, "Mets' Ostrosser Survived Surgery for Tumor."
20 Joe Marcin, "World Baseball Classic a Financial Fizzle", Sporting News Baseball Guide, 1973.
21 McRae, "Hot Glove from Stoney Creek."
22 Costello-Ostrosser interview. Rory Costello, "Honolulu Stadium," SABR Ballparks Project.
23 McRae, "Hot Glove from Stoney Creek."
24 Matthews, "Mets' Ostrosser Survived Surgery for Tumor."
25 Costello-Ostrosser interview. Biggerstaff went on to spend 17 years as head trainer of the Pittsburgh Pirates (1986-2002). Robert Dvorchak, "Pirates let Biggerstaff go," Pittsburgh Post-Gazette, October 16, 2002.
26 Matthews, "Mets' Ostrosser Survived Surgery for Tumor."
27 McRae, "Hot Glove from Stoney Creek."
28 Dunnell, "Biggest hurdle overcome."
29 Ibid.
30 McRae, "Hot Glove from Stoney Creek."
31 Murray Chass, "May's Clout Aids as Mets Win 7-3," New York Times, August 4, 1973. "Harrelson Back on Disabled List," Poughkeepsie Journal, August 5, 1973, 1C.
32 Matthews, "Mets' Ostrosser Survived Surgery for Tumor."
33 Radley-Ostrosser interview.
34 Ibid. Radley, "Ossie and 'The Say Hey Kid.'"
35 Ibid.
36 Ibid.
37 Ibid.
38 "About the Mets," New York Times, August 14, 1973.
39 "Harrelson returns," Hutchinson (Kansas) News, Sunday, August 19, 1973, 25.
40 Pitchers Craig Swan and Bob Apodaca, outfielder Dave Schneck, and second baseman Lute Barnes were summoned from Tidewater instead. Another outfielder, Greg Harts, was brought up from Memphis that month and got into his only three big-league games.
41 Costello-Ostrosser interview.
42 Ibid.
43 Ibid.
44 Ibid.
45 "Guenter, Cowdrey shine for Canada," Saskatoon Star-Phoenix, July 14, 1980, B2.
46 "Softball," Saskatoon Star-Phoenix, November 17, 1982, C18.
47 Costello-Ostrosser interview.
48 Radley, "Ossie and 'The Say Hey Kid.'"
49 Costello-Ostrosser interview.
50 David Waldstein, "The Mets Look to Canada," New York Times, December 30, 2009. Before Ostrosser came Ken MacKenzie, Ray Daviault, Tim Harkness, and Ron Taylor. After Bay came Mike Nickeas and Jim Henderson.
51 Radley, "Ossie and 'The Say Hey Kid.'"
52 Radley-Ostrosser interview.
53 Costello-Ostrosser interview.
Born
June 17, 1949 at Hamilton, ON (CAN)
If you can help us improve this player's biography, contact us.
https://sabr.org/sites/default/files/OstrosserBrian.jpg
600
800
admin
/wp-content/uploads/2020/02/sabr_logo.png
admin
2018-01-31 12:13:52
2020-04-09 14:40:24
Brian Ostrosser