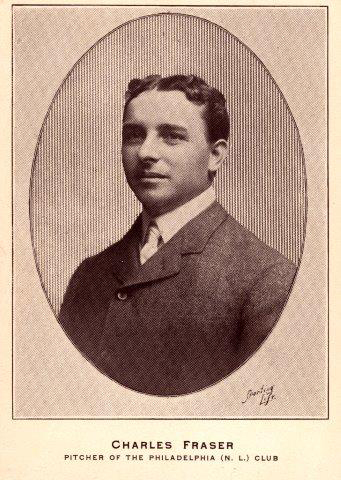 ---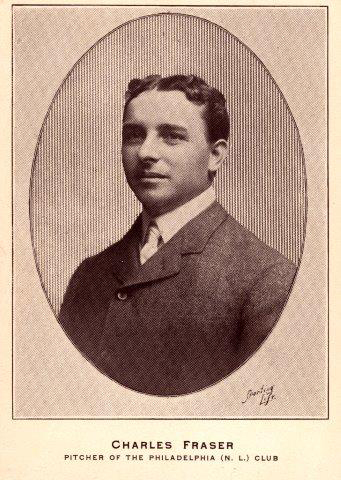 Chick Fraser spent his entire life in baseball as a pitcher, coach, scout, and minor-league manager, and though his playing career wasn't especially successful it was certainly unique. He went 175-212 over 14 seasons, lost at least 20 games in a season five times, including three straight from 1904-1906, and ranks second all-time with 219 hit batters. He's one of only three pitchers with fewer than 200 wins but more than 200 losses and is the only modern-era pitcher to lose 20 games three years in a row with three different teams.
Charles Carrolton Fraser was born on August 26, 1873, in Chicago to Alexander and Agnes (Sturrock) Fraser, both of whom were born in Scotland.1 Alexander Fraser (1846-1902) worked as a stationary engineer in Chicago. His wife, Agnes (1838-1908), had three children with him, Charles's older brother David dying in 1878. It's not clear when Fraser began playing baseball or where he got his nickname, but by the time he was 14 in 1887 he was reportedly a "star slabman" for the West End Juniors, for whom he pitched through his teenage years.2
Sporting Life editor Francis Richter saw Fraser allow 27 runs in a game as a 17-year-old and though he called the young twirler "hard-working and enterprising," Richter had doubts that Fraser would make good as a major leaguer.3
He declared that the Chicago native "was not counted anything above the scores of other boys who were twirling on the lots," and he "never expected to see him rise above mediocrity."4 He credited Fraser for having success at the 50-foot distance before the mound was moved back to 60 feet 6 inches in 1893, but also lamented that the pitcher was "all speed and no head."5
In 1891 Fraser's presence on the Garden Citys team of the City League caused controversy when an opponent filed a protest, claiming that Fraser was a professional.6 According to Richter, Fraser did in fact play professionally in Burlington, Iowa, but it's not known whether that was before or after he joined the Garden Citys.7 Regardless, he became a professional in 1894 when he pitched for the Milwaukee Brewers and Minneapolis Minnies of the Western League. His 12-18 record at the age of 20 foreshadowed most of his career.
Fraser shouldered a huge workload in 1895 when he tossed a combined 413 innings en route to a 23-20 record with Minneapolis and a 3-3 mark with San Francisco in the California Winter League. The National League St. Louis Browns were so impressed that they were prepared to offer third baseman Ike Samuels, pitcher Bill Kissinger, and minor-league catcher John Rappold to Minneapolis for Fraser, but he ended up with the Louisville Colonels instead.
Fraser started the first game of the 1896 season against Cap Anson's Chicago Colts and lost 4-2. It was all downhill from there. The 22-year-old went 12-27 for a team that went 38-93 and finished last in the NL, and only two pitchers lost more games. Fraser led the league with 166 walks and 27 wild pitches, and only one pitcher hit more batters than Fraser's 29. The Colonels improved in 1897 and finished in 11th place with a 52-78 record, and Fraser paced the squad with 15 wins, but also led the league again with 22 wild pitches, and finished among the five worst in walks and hit batsmen.
Fraser began to wear out his welcome in 1898 despite another improvement under manager Fred Clarke, who was in his first full campaign as skipper and arguably the team's best player. The Colonels went 70-81 and finished in ninth place, but lost 10 of Fraser's first 12 assignments, including an embarrassing 16-2 drubbing in Fraser's hometown on April 29 in which his team committed eight errors, while the hurler walked seven and hit one batter.
In early July, Clarke married Fraser's wife's sister, Annette B. Gray, solidifying an already strong bond between the two men that often had Fraser spending winters at Clarke's ranch in Akron, Kansas, where they would hunt, fish, and lasso steer owned by Clarke's brother.8 But that didn't stop Fraser from voicing his desire to leave Louisville. Sporting Life insisted Clarke couldn't get the best out of Fraser and that if Fraser were able to pitch for a different manager he'd be a "star of the first magnitude."9
Things finally came to a head in early August when Fraser claimed to have a sore arm not long after being removed from a game against Brooklyn. Rumors, however, were that the only thing hurt was his pride and the lame arm was a ruse.10 Fraser finally got his wish and was sold to the Cleveland Spiders in early September for approximately $500. With Cleveland he went 2-3 to finish the year at 9-20.11 Despite a then-career-low 245 innings, Fraser managed to hit 29 more batters, good for second worst in the NL.12
An unnamed Louisville official thought Fraser hadn't been pitching to win and that only his relationship with Clarke had kept the club from shipping him out sooner. Francis Richter even went so far as to claim that Fraser was one of the two most unpopular players in Louisville's history.13 Clarke explained that one reason they parted with his brother-in-law was his disposition: "He doesn't get sore when he loses a hard game."14
Fraser was returned to Louisville at the end of the season, prompting him to consider retirement to become a full-time electrician, but he was sold to the Philadelphia Phillies in December and changed his mind. Fraser enjoyed a surprisingly successful season, going 21-12 with a 3.36 ERA, and allowed only one home run in 270⅔ innings.
The Phillies went 94-58 and finished third, nine games off the pace, and Fraser was one of three 20-game winners on the staff, joining Wiley Piatt (23 wins) and Red Donahue (21). His wildness continued — he finished second in the league in wild pitches — but for the first time he wasn't among the 10 worst in walks.
Not surprisingly, with success came plaudits; Fraser went from being unpopular in Louisville to "clever" in Philadelphia.15 Perhaps not clever enough. Prior to the 1900 season, Fraser bet Clarke a suit of clothes that the Phillies would finish higher than the Pirates, who had moved from Louisville to Pittsburgh.16 Pittsburgh went 79-60 and finished in second place, Philadelphia went 75-63 and finished in third. It wasn't Fraser's fault, though, as he anchored the staff with a team-best 3.14 ERA and tied for the team lead in wins with 15.
The 1901 season proved controversial and Fraser found himself right in the middle of it when he jumped to the Philadelphia Athletics of the newly formed American League for $2,500.17 The AL raided the NL of many of its best players, including Phillies teammate and superstar second baseman Nap Lajoie, beginning a war that lasted for two years before the two settled many of their differences in January 1903.
In 1901 Fraser led the A's in wins with 22 while tossing a team- and career-high 331 innings, but also led the league in walks and hit batters with a career-worst 32. In 1902 Phillies owner John I. Rogers was awarded an injunction by the Pennsylvania Supreme Court that barred Fraser, Lajoie, and Bill Bernhard from playing with any team but the Phillies .
Fraser went back to the Phillies, for whom he toiled for the next three years, going 38-54 from 1902 to 1904. Arguably his career highlight came on September 18, 1903, when he threw a no-hitter against the Colts in Chicago. Otherwise it was another poor season in which Fraser went 12-17 with a 4.50 ERA in a league that averaged 3.26. His 14-24 showing in '04 began a streak of 20-loss seasons that has yet to be broken and probably never will be.
The Phillies lost 100 games in 1904 for the first time in franchise history, a total that would stand as the franchise's worst until 1921, and Fraser bore the brunt of the squad's terrible play, although he didn't help himself by finishing among the 10 worst in walks, wild pitches, and ERA. On December 20 Fraser was traded along with third baseman Harry Wolverton to the Boston Beaneaters for pitcher Togie Pittinger.
As if things couldn't get worse, the Beaneaters lost 103 games and finished a staggering 54½ games out of first place. They boasted a pitching staff with four 20-game losers, including Fraser, who went 14-21 and once again led the league in walks, this time with 149. Earlier in the season, Honus Wagner claimed Fraser invented the spitball, prompting Sporting Life to quip, "If that is so Fraser didn't know its value, or made poor use of it."18
Fraser refused to sign with Boston after the season so the Beaneaters sent him to the Cincinnati Reds for pitcher Gus Dorner on May 4, 1906.19 The new Reds hurler was involved in an interesting, albeit not rare incident in Brooklyn on Sunday, June 17, when he and four others were arrested for playing ball on the Sabbath. Blue Laws at the time prohibited games from being played on Sunday and many arrests were made over the years with charges either being dropped or players receiving fines.
The Brooklyn Superbas ignored the law and played seven Sunday games during the first half of the 1904 season before team President Charles Ebbets tired of players being arrested. The following seasons were much the same, however; games played in Brooklyn on Sunday resulted in arrests or charges being filed, but Brooklyn continued to host games on Sundays regardless. On June 17, 1906, Superbas pitcher Mal Eason threw only two pitches before police officers arrested Eason, Ebbets, Brooklyn manager Patsy Donovan, Reds manager Ned Hanlon, and Fraser.
Ebbets knew arrests would be made but insisted he did nothing illegal, that he didn't charge an admission fee, and that fans voluntarily dropped donations into contribution boxes on their way into Washington Park.20 The men were held on $500 bail, which was paid immediately and they were released. Magistrate John Naumer ruled in favor of the defendants, citing that no admission fee had been charged and no one had complained about noise or a disturbance.21
That would be one of the few highlights of the 1906 season for Fraser. The Reds went 64-87 and finished 51½ games behind the pennant-winning Cubs. Fraser went 10-20, losing 20 games for the third straight year and the fifth time in 11 seasons. Among twentieth-century pitchers, Fraser is one of only three to lose 20 games three years in a row and is the only one to do it with three different teams.22
The ink on the season's records had barely dried before Fraser announced that he was considering retirement to tend to his rapidly growing poultry business. "It's a big paying proposition," he told reporters, "and I believe that the returns will soon justify me in giving up baseball."23 Fraser's comments prompted writers to take shots at his work ethic. "It evidently doesn't require much energy to run the poultry business," wrote the Washington Post.24 And Ralph Davis of the Pittsburgh Press claimed Fraser "doesn't like work any too well" and would be a bad fit on a team loaded with hard workers.25
On November 19, 1906, it was reported that the Chicago Cubs were interested in acquiring Fraser and that team President Charles Murphy had been in talks with Reds President Garry Herrmann.26 A week later the Reds put Fraser and a handful of others on waivers and the Cubs claimed him, setting off a series of contentious negotiations.27 On December 16, Fraser was sent to the Cubs, although Herrmann wouldn't release him until Murphy had decided to part with players or buy Fraser outright.28
In January the Reds acquired outfielder Henry "Doc" Gessler in exchange for Fraser, but the deal hit a snag when Herrmann heard that Gessler had retired to practice medicine in Pennsylvania. The Reds magnate accused Murphy of trying to hand him a "gold brick" and swore that he never agreed to a deal for Gessler.29 Gessler had received his M.D. degree from Baltimore Medical College, but had no intention of quitting baseball and mailed his contract to Cincinnati.30 Murphy finally settled the matter by sending Herrmann a check for $1,500.
Fraser was reported to be "exceedingly jubilant, tickled to death and elated" about going to the Cubs, but the Wilkes-Barre Record warned fans not to get too excited. "Just wait till some hot day when Chick begins to give one of those famous exhibitions of that tired feeling of his. Then Chicago fandom is likely to rise up and smite the twirler with a vociferous vocabulary."31 But Fred Clarke thought Fraser would thrive with the Cubs. "At that, the Chicken has plenty of nerve and, under Frank Chance, he will pitch great ball without doubt."32
Fraser was on his seventh team in 12 years, but was said to be a "fine fellow, well-liked by all who know him, and will fit in nicely with the [Cubs]."33 Chicago manager and first baseman Frank Chance was excited to have the veteran right-hander on his staff, calling Fraser a "real pitcher with a strong team to back him."34 Indeed. The Cubs were coming off seasons in which they won 93, 92, and a record 116 games, respectively, from 1904-1906.
Sporting Life's W.A. Phelon was effusive in his praise for Fraser, claiming he was "an easy-going fellow, who seldom tries to pitch his arm off, which is probably the reason he has lasted so long, and is hardly ever thought of as an old-timer."35 He also wrote that Fraser "looks young and is strong and happy."36
Fraser made his first start of the 1907 campaign on April 23 against the Reds in Chicago and exacted a measure of revenge with a 4-3 win. Those who thought he would flourish with a great team behind him were right; he won five of his first six assignments and tossed shutouts in two of his first three starts. But the Cubs had a problem that every team loves to have — too much pitching — and Fraser was the low man on the rotation's totem pole, which resulted in career lows in games (22), starts (15), and innings (138⅓).
Still, thanks in part to using a spitball later in the season, Fraser had success, going 8-5 with a nifty 2.28 ERA for a team that won 107 games and easily won the World Series over the Detroit Tigers. Alas, the men ahead of Fraser in the pitching pecking order — Mordecai Brown, Orval Overall, Carl Lundgren, Jack Pfiester and Ed Reulbach — were so good, combining for a 1.43 ERA in almost 1,100 innings, that he wasn't needed in the fall classic.
Fraser would have another opportunity in 1908, however. Off the field, his business ventures were expanding — he owned a 20-acre plantation in Cuba and an 80-acre alfalfa ranch near Jerome, Idaho — but he wanted to continue playing ball.37 He returned to the Cubs and helped them to their third straight pennant, going 11-9 with a 2.27 ERA as the fifth starter behind Brown, Reulbach, Pfiester, and Overall, who won 80 games between them and posted a combined 1.84 ERA.
Fraser's last chance to pitch in a World Series came and went after Chance went with his four best starters in a Series against the Tigers that went only five games before the Cubs secured their second straight championship.
After another holdout, Fraser signed his contract with the Cubs in early March of 1909 and made his first appearance of the season on May 3 in a 9-2 loss to the Pittsburgh Pirates. He threw three innings of relief after Andy Coakley was knocked from the box. It proved to be Fraser's last hurrah. He allowed no earned runs on two hits, but walked four and fanned only one in his final major-league game. Soon after, the 35-year-old was released to the New Orleans Pelicans of the Class-A Southern Association. He wouldn't go quietly.
In June, Fraser complained to the National Commission that the Cubs failed to pay his travel expenses to New Orleans, violating Rule 45 of the Commission's code, and that therefore he should be declared a free agent.38 Charles Murphy was apoplectic, calling Fraser "an ingrate in every sense of the word," and claiming that Fred Clarke was using Fraser to "raise trouble in the ranks of the Cubs to promote the interests of the Pirates in the championship race."39
The National Commission rejected Fraser's claim and he threatened to sue Murphy, then joined the Chicago West Ends of the Chicago League, prompting Murphy to file a protest in 1910 on the grounds that Fraser's presence in the CL made it an outlaw league.40 The pitcher helped lead the West Ends to a league championship and capped off his season with a one-hitter on September 24, but was suspended from the major leagues and fined $200 for failing to report to New Orleans.41
He would report to the Pelicans in 1911, but not before serving as a witness at a murder trial. On March 20, Fraser testified that he, his wife, and five other couples, including Charles and Theresa Schenk, had been celebrating Fraser's 14th wedding anniversary into the morning of March 18 with whiskey, champagne, wine, and dancing at the Schenk residence when Mrs. Schenk became dizzy and was put to bed. After the party, Theresa claimed to be awakened by burglars so she grabbed a revolver and went to the top of the stairs. Upon seeing a man at the bottom of the stairs, she shot and killed him.42
The man turned out to be her husband, Charles. Despite her claims of innocence, that it was an accidental shooting, a witness stated that he heard two gunshots about a minute apart.43 Indeed, police found a second bullet on the second floor and surmised that the couple had argued in their upstairs bedroom, she fired the first shot there, he fled down the stairs, and she fired the fatal shot from atop the staircase.44 A month later, Theresa Schenk was cleared of all charges due to a lack of motive.45
Fraser started 11 games for New Orleans and went 4-6 with a 3.89 ERA before being released and, at 38, finished his career in 1912 with Decatur of the Three-Eye League, for whom he went 6-6 with a 3.03 ERA in 15 games while also serving as manager. His playing career over, Fraser repaired to his farm in Idaho before beginning his second career in 1914 as the Pirates' pitching coach under his brother-in-law and pal, Fred Clarke. He also served as a scout with Pittsburgh, for whom he worked until he was released in December 1930. It was during this time that Fraser's father died on November 1, 1916, after living in a Chicago sanatorium for six years.
Fraser managed the Peoria Tractors of the Three-Eye League in 1931 before returning to the big leagues in 1934. That year, Casey Stengel earned his first big-league managing job, with the Brooklyn Dodgers, and almost immediately added Fraser to his staff, where he served as coach during the spring, much to the chagrin of the players, and as a scout until October.
Fraser used a drill called "high-low" to keep his players in shape, in which he "tossed a ball repeatedly — high, low, inside, outside, and everywhere — and the bending and twisting required to catch the pellet had the boys asking for mercy."46 The players called the drill "Murder" and tried to keep their distance from the coach for fear that he'd make them play his "game."47 He also delighted in belting fungos just out of their reach, forcing them to run long distances at top speed. He was so adept at gauging each man's abilities that he was said to be able to put a fly ball exactly where the player thought he had a chance to catch it before coming up a step short.48
The Brooklyn Daily Eagle claimed that Fraser returned to his Idaho farm every offseason and "there plots insidious methods of unusual exercise calculated to make the boys sleep well on March and April nights."49
In 1939, Fraser became a scout for the New York Yankees and was assigned the Northwest region of the country, but in April 1940, he was admitted to a hospital in Wendell, Idaho, not far from his Jerome home and was said to be in a "critical state."50 A blood infection forced doctors to amputate Fraser's right leg and, not long after, his left leg just below the knee.51
On May 8, Fraser died of kidney disease at the age of 66.52 He is buried in Jerome Cemetery in Jerome, Idaho.
This biography is included in "20-Game Losers" (SABR, 2017), edited by Bill Nowlin and Emmet R. Nowlin.
Notes
1 Idaho Death Certificate; The Chicago Tribune listed Fraser's father as "Alexander" on November 2, 1916, after he died on November 1.
2 W.A. Phelon, "Taylor Case Still Worrying Lakeside Fans — Chance For a Big Misunderstanding All Around — Scramble in Cubs Outfield — News of the Game," Sporting Life, January 28, 1905: 7. Fraser was known as Chick as early as 1891, when he was 18. Sporting Life reported in May 1906 that Fraser was running a chicken farm outside Chicago while he was holding out for more money from Boston, so it's possible he'd been around chickens most of his life. But that's just speculation.
3 Francis Richter, "An Excellent Programme Laid Out For Himself — Two Virginia League Graduates — About a Couple of Young Players — Anson's Theatrical Hit," Sporting Life, December 21, 1895: 6.
4 Francis Richter, "Something About Fraser, the Pitcher Whom St, Louis is Angling For—The Drawback to Playing in the Virginia League, Etc." Sporting Life, November 30, 1895: 8.
5 Francis Richter, "An Excellent Programme Laid Out For Himself—Two Virginia League Graduates—About a Couple of Young Players—Anson's Theatrical Hit," Sporting Life, December 21, 1895: 6.
6 "Garden Citys and Whitings a Tie: On an Even Footing for the City League Championship," Chicago Tribune, September 28, 1891: 6.
7 Francis Richter, "Something About Fraser, the Pitcher Whom St. Louis is Angling For — The Drawback to Playing in the Virginia League, Etc." Sporting Life, November 30, 1895: 8.
8 "National League News," Sporting Life, October 3, 1903: 9; "Pitcher Fraser Expert With Lasso," St. Louis Post-Dispatch, July 22, 1906: 13.
9 Francis Richter, "Minor Mention." Sporting Life, August 6, 1898: 19.
10 Francis Richter, "Louisville Lines. The Team Now in Good Shape Though a Good Third Baseman is Still Desired — Players Left at Home — General News and Gossip," Sporting Life, August 20, 1898: 15.
11 Francis Richter, "The Colonels Still Playing Fast Ball — What the Recent Team Changes Import — The Outlook For Next Year, Etc.," Sporting Life, September 17, 1898: 7.
12 Cy Seymour led the National League with 32 hit batters, but faced 459 more batters than Fraser. Vic Willis tied Fraser's 29, but faced 211 more batters.
13 Francis Richter, "The Colonels Still Playing Fast Ball."
14 St. Louis Post-Dispatch, January 11, 1907.
15 Francis Richter, "Local Jottings," Sporting Life, October 21, 1899: 8.
16 "The Phillies Spring Traning Place Settled, Charlotte, N.C., Will Again Be Their Stamping Ground — The Club Looking For a Third Baseman — Lauder Likely to Leave the Team," Sporting Life, January 20, 1900: 7.
17 Baseball-Reference.com
18 "National League News," Sporting Life, May 13, 1905: 5.
19 Wm. F.H. Koelsch, "Helped Fraser's Deal," Sporting Life, May 26, 1906: 2.
20 "Brooklyn Shut Out by Reds 3 To 0," New York Tribune, June 18, 1906.
21 "Sunday Baseball O.K., So Naumer Concludes," Brooklyn Daily Eagle, June 19, 1906: 2.
22 Casey Patten had three straight 20-loss seasons with the Washington Senators from 1903-1905 and Irv Young had three straight with the Boston Beaneaters/Doves from 1905-1907.
23 Ralph S. Davis, "Sox Again Down the Nationals," Pittsburgh Press, October 12, 1906: 22.
24 "Echoes of the Diamond," Washington Post, February 1, 1907: 8.
25 Ralph S. Davis, "Charley Murphy Busy," Pittsburgh Press, December 2, 1906: 20.
26 "Favors a Longer Series," Chicago Inter Ocean, November 19, 1906: 9.
27 "Player Trade Rumored," Wilkes-Barre Record, November 26, 1906: 9.
28 "Chicago Gets Chick Fraser," Pittsburgh Daily Post, December 16, 1906: 17.
29 "Murphy Answers 'Garry' Herrmann," Chicago Tribune, January 15, 1907: 6.
30 "Gessler's Name on List," Chicago Tribune, February 23, 1907: 10.
31 "To Stop Betting at Base Ball Games," Wilkes-Barre Record, December 24, 1906: 11.
32 Bat Masterson, "Jimmy Collins Is in St. Louis," St. Louis Post-Dispatch, January 11, 1907: 7.
33 "'Chick' Fraser Will Help Cubs' Staff," Belvidere (Illinois) Daily Republican, January 17, 1907: 2.
34 W.A. Phelon, "Chas. Comiskey Has Something Under His Hat," Sporting Life, December 8, 1906: 9.
35 Ibid.
36 Ibid.
37 John B. Foster, "National League News," Sporting Life, February 15, 1908: 5; A.R. Cratty, "National League News," Sporting Life, November 7, 1908: 3.
38 "Fraser Fractious," Sporting Life, June 19, 1909: 9.
39 Ibid. If Murphy's accusations were true, and I highly doubt they were, Clarke and Fraser did a terrible job upending the Cubs. In the two seasons in which Fraser pitched for them, the Cubs won the World Series. Although he was a troublemaker in 1909 and caused some problems during spring training, he wasn't around long enough to be much of a disruption. Not to mention that the Pirates won 110 games, which still ranks second all-time among National League teams and is tied for fifth all-time. The Cubs won 104 games in 1909, but I doubt Fraser was the reason they couldn't top the Pirates.
40 "Pitcher Fraser Not Satisfied With His Commission Turn-Down," Sporting Life, July 3, 1909: 1; "After Chick Fraser," Los Angeles Times, April 17, 1910: VII8.
41 "Seek to Reinstate Fraser," Chicago Tribune, March 23, 1911: 19.
42 "Mrs. Schenk Is Ordered Held," Boston Globe, March 21, 1911: 9.
43 Ibid.
44 Ibid.
45 "Clears the Name of Mrs. Schenk," Chicago Tribune, April 25, 1911: 3.
46 Roscoe McGowen, "Vigorous Session Staged by Dodgers," New York Times, March 6, 1934: 31.
47 John Lardner, "Brooklyn's Rookies Balk at 'Murder,'" Hartford Courant, March 11, 1935: 3.
48 Tommy Holmes, "Fraser Keeps Dodgers Hopping Despite 'Unusual' Weather," Brooklyn Daily Eagle, March 10, 1936: 16.
49 Ibid.
50 "Chick Fraser in Critical State," Ogden (Utah) Standard-Examiner, April 25, 1940: 14.
51 "Chick Fraser Condition 'Grave,'" Idaho Falls (Idaho) Post-Register, May 2, 1940: 12.
52 "Chick Fraser of Yankees Dies at Wendell," Idaho Falls Post-Register, May 8, 1940: 13.
Born
August 26, 1873 at Chicago, IL (USA)
Died
May 8, 1940 at Wendell, ID (USA)
If you can help us improve this player's biography, contact us.
https://sabr.org/sites/default/files/FraserChick.jpg
600
800
admin
/wp-content/uploads/2020/02/sabr_logo.png
admin
2012-01-04 20:37:52
2012-01-04 20:37:52
Chick Fraser