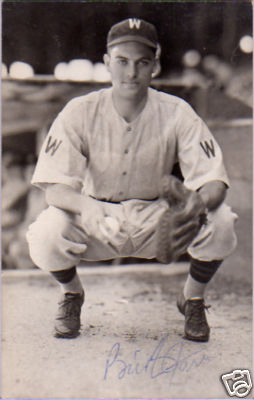 ---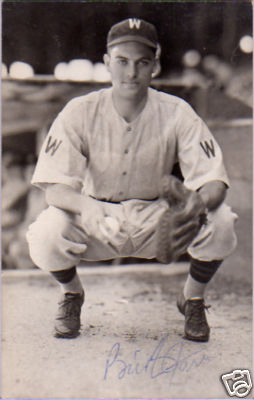 Bill Starr's philosophy on hitting was "you gotta be mean."
Starr must have been too nice to be a hitter since his lifetime batting average during his thirteen-game major league career was .208 and in three seasons with the San Diego Padres of the Pacific Coast League he batted .227. In later years his friends would needle him about his light hitting, but he would counter by saying "I may have been a poor hitter, but I was good enough to pinch hit for Ted Williams." That would shut his friends up in a hurry.
William Starr was born in Brooklyn on February 16, 1911, the third of eight children of Isaac and Esther Starr. Although some older baseball encyclopedias give his nickname as "Chick," he was known to family, friends and sportswriters as "Bill."
Isaac and Esther Starr were Russian immigrants who had met in New York and were married in 1907. Around 1918 they relocated their family to the south side of Chicago and it was there where Bill's love affair with baseball began. He became an avid White Sox fan, and often peeked through the holes of the outside walls of Comiskey Park to watch his favorite team play. He loved watching his White Sox during their drive to the American League pennant in 1919, but was disappointed when they lost in the World Series to Cincinnati. The most devastating blow came the following September when he heard the newspaper boys shout "Extra! Extra! Read all about it! Eight players on the White Sox are indicted."
His favorite player was Bill Rogell, an infielder for the Red Sox. After a game one day Rogell had a conversation with Starr, then mentioned that he was going to buy a hot dog and offered to buy one for his young fan.
Starr's position on the cinder-covered surfaces of the sandlots near Maxwell Street was catcher. The boys would play ball all day and into the night when the gas streetlights provided enough light for the games to be played. He would have played every hour of every day if he had his choice. He disliked school, and during classroom hours he often daydreamed about being outside and playing baseball.
Bill's brother Dave, who was one-and-a-half years older, also played ball and was mentioned in an article by Chicago Tribune as "probably the best player in Chicago high school baseball." Because of the unsophisticated scouting system of the day, he was never signed. "Not a single scout, or anyone else in baseball, made any overture to Dave," Bill Starr recalled. "He was completely overlooked." A knee injury, and the lack of desire to play professional baseball, ended Dave's career.
In addition to playing ball, cheering for the White Sox and going to school, Bill, Dave and their other underprivileged siblings had to contribute to the family's small income. Bill did whatever he could, including selling apples at street corners. If Starr had any complaint about his childhood, it was the agonizing two hours that followed school, known as Hebrew school. Starr was fortunate to find a way out of it but it came at a painful cost when he sustained a broken leg after being hit by a streetcar.
After grammar school Starr attended James Medill High School and worked for the White Sox as their batting practice catcher. It was a job few would want, but Starr loved it, especially since it gave him a chance to get up close to the players. After high school he had no intention on going to college. He played semipro baseball, and eventually landed a job in professional ball in 1931 when he signed with Lincoln, Nebraska, a class D minor league club in the Nebraska State League. In 1932 he played for the pennant winning Norfolk, Nebraska, team, in the same league and in 1933 he moved up a level to St. Joseph, Missouri, of the Western League. In 1934 he split time between Harrisburg, Pennsylvania of the New York-Penn League, and Albany, New York, of the International League. While he was with Albany in 1935 Babe Ruth and the Boston Braves came to town for an exhibition game. When the Babe came to bat Starr said "Hi-ya Babe." Ruth responded, "Hey Kid." Fascinated by the presence of the Bambino, Starr decided he wanted to see him hit one out. "He let Babe Ruth know what pitch was coming," said Norman Starr, one of Starr's four children. Ruth, who was in his last season at age of 40, did not hit the ball over the fence, but hit two long drives for doubles.
In August 1935 the Albany Senators sent Starr to the American League Washington Senators. Washington was desperate for a catcher because of injuries. Starr was tabbed as a "temporary fill-in" but turned out to be better than expected, and he finished the year in Washington. On August 23 he made his debut against, of all teams, the White Sox. He entered the contest in the bottom of the tenth with Washington clinging to a one-run lead. With two outs Chicago had runners on first and third to set up a perfect situation for a double steal against a rookie catcher. Starr realized it, but he had no idea what to do in case the White Sox went for it. "Not a single manager, coach or player offered me advice," Starr later recalled. Much to his relief, the batter swung and lifted a fly ball to the centerfielder for the last out of the game.
On August 27 against the Browns, Starr made his first major league start and got his first career hit off Russ Van Atta in a 11-1 Washington loss. In his next start he went hitless against Lefty Grove. The following day he was penciled in as the starting catcher and was given the unpleasant task of catching for Earl Whitehill, Washington's fiery left-hander. To make things tougher, Whitehill insisted on using his own set of signals. Early in the game Starr was having trouble with the pitcher's signals and Whitehill was not happy about it. "He was stomping around the rubber—as if bemoaning, 'Look what I have to work with,'" Starr said. The rookie catcher walked to the mound and nervously admitted to the veteran, "I'm having trouble with your signs." Then he dared to ask "if he would go along with my set of signs."
"What in hell are your signs?" snapped Whitehill. Starr explained and was able to convince the hurler to try them. Whitehill pitched all 13 innings in a 3-2 Senators victory. Starr threw out three base stealers, got one hit and impressed the Washington Evening Star: "Bill Starr, the rookie catcher, looks better everyday…He is by far the best thrower of the [Washington] receiving corps … Bill Werber, American League leading base stealer, made two attempts at crucial moments to steal second and was nipped by the proverbial mile each time by perfect throws. So was Roy Johnson, another good runner." Whitehill was also impressed. After the game he gave the rookie catcher a pat on the back, invited him to dinner and picked up the check.
Before the start of the 1936 season, the Senators lost interest in Starr and sent him back to Albany. They recalled him and Starr caught one inning as a defensive replacement on June 20. That was his last game as a major leaguer.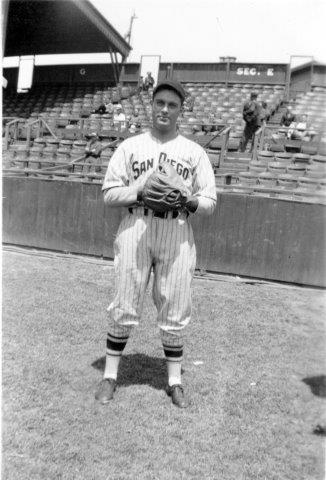 In 1937 Starr went west and joined a new team in the Pacific Coast League, the San Diego Padres, who had been transferred from Hollywood after the 1936 season. The Padres' starting left fielder was a teenager named Ted Williams. During the season Williams faced a Seattle right-handed pitcher and fouled a pitch off for strike one. At that moment Padres manager Frank Schellenback, decided he wanted a sacrifice and believed Starr, not Williams, was the better man for the job. Starr came to the plate as a pinch hitter for Ted Williams.
The Padres backup catcher attempted to bunt the next pitch and fouled it off for strike two. With a 0-2 count, Schellenback changed his strategy. Starr swung away and lifted a routine fly ball to centerfield for an easy out.
In 1937 Starr played in 92 games, hit no homers, and batted .219 for the third-place Padres. San Diego won the postseason playoffs for the Pacific Coast League championship.
Starr's 1938 season lasted just eight games. On April 17 in a game against the San Francisco Seals, he stole second base, and for whatever reason, he elected to slide, even though there was no play on him. He caught a cleat, stumbled and fell to the ground with a fractured ankle. He came back for one more season in 1939, played in 86 games, hit .226 with a home run and was released after the season. Starr decided to hang up the catcher's gear and enter a new career.
In 1937 a businessman had asked Starr about his plans for after the season. "I am going to head back to Chicago, get married, and find a job." The man persuaded him to get married and then come back to San Diego, and he would put him to work in his bill-collection business. After baseball Starr opened his own collection firm and did well. "He went door-to-door to collect," his son Norman said. "He was very persuasive."
Bill Starr saved enough money to make a bid to buy the San Diego baseball club in 1944. Padres owner Bill Lane had died in 1938 and his heirs had rejected several offers for the purchase of the franchise. Starr put a group together and applied for a loan from C. Arnholt Smith of the San Diego National Bank, the same C. Arnholt Smith who would own the major league Padres one day. "Smith was impressed by Dad's desire [to succeed], so he gave in the loan," said Harvey Starr, another son.
On October 2, 1944, Starr bought the Padres for $210,000 and was named the team president and general manager. In his first announcement he assured the sportswriters that he would build the team from the ground up. In his first move he hired former Cardinals great Pepper Martin as his manager.
The fans of San Diego loved their new owner and their team. Attendance skyrocketed in 1945, aided by the end of the war. During that year another former Cardinal, Ripper Collins, became the new manager. He lasted until August 3, 1948, when the Padres were had lost 14 of 17 games. When Starr fired Collins, he explained, "It is for the best interest of all concerned." Collins said, "It comes as a complete surprise," but he added that he and Starr were still best of friends.
Jimmie Reese, the former Yankee infielder who once roomed with Babe Ruth, and was Harvey Starr's godfather, was promoted from his coaching position to manager. During that same summer of 1948, Starr broke the color barrier of the Pacific Coast League by signing catcher Johnny Ritchey, who had led the Negro Leagues in batting in 1947.
On November 17, 1948, the Padres and the defending World Champion Cleveland Indians signed a working agreement. "We selected San Diego because they seem to have a lot to offer," said Indians general manager Hank Greenberg. A month later Bucky Harris, who had just lost his job managing the Yankees, was hired to manage the 1949 Padres. Starr commented, "We feel San Diego has the best set up in Minor League baseball. First arranging a working agreement with the World Champion Cleveland Indians and then getting a World Champion manager in Bucky Harris."
After the 1949 season Harris left the Padres to take the managing job with the Washington Senators. Starr said, "We hate to lose him, but we wish him all the luck in the World." Del Baker, the former Tigers manager, replaced Harris.
During the three seasons of affiliation with the Indians, San Diego baseball fans saw a few fine players develop, including Al Smith and Luke Easter. In 1949 Easter hit .363, smacked 25 home runs and drove in 92 in just 80 games. After the 1951 season the Indians relocated to their top minor league team to Indianapolis and the Padres were once again without an association with a major league club.
In 1952 Starr hired Lefty O'Doul, following his dismissal from the San Francisco Seals after managing that team for 17 consecutive seasons. That same year another star Negro leaguer was added to the Padres roster: pitcher "Toothpick" Sam Jones. One year later first baseman Tom Alston, who would become the first black player in St. Louis Cardinals history, joined the Padres. In 1954 Luke Easter returned to San Diego and hit one of the furthest homers in Lane Field history. "He hit it out of the park," recalled Phil Starr, who watched from the press box. "It cleared a four lane highway and a set of tracks and hit a freight shed. It was the longest home run I ever saw." The Padres won the 1954 PCL pennant after defeating the Hollywood Stars in a one-game playoff. Unfortunately the Padres did not win the postseason playoffs.
By this time Starr had new ideas. He saw a great opportunity in land development and he had a vision about the land he had purchased for a new baseball stadium. On August 24, 1955, Starr and his partners sold the Padres for $300,000 to the Westgate-California Tuna Packaging Company.
Starr went to work on the next chapter in his life. He became one of the first condominium builders in the country. He also built apartment complexes and shopping centers and became a very wealthy man. "Dad was strong-willed and this is why he was successful," explained Harvey Starr.
In his later years Starr wrote a book titled Clearing the Bases, which compares players from different eras, and also wrote a few pages about his own career. In 1991 Starr died of cancer at the age of 80.
Sources
www.lobetree.com (The Star Family Tree)
Interviews with Harvey, Norman and Phillip Starr
Boston Globe
The Jewish Baseball Hall of fame (Shapolsky Publishers, 1987)
Los Angeles Times
San Diego Union- Tribune
San Francisco Chronicle
Starr, Bill, Clearing the bases (Michael Kesend Publishing, 1989)
Washington Post
Washington Evening Star
Born
February 26, 1911 at Brooklyn, NY (USA)
Died
August 12, 1991 at La Jolla, CA (USA)
If you can help us improve this player's biography, contact us.
http://bioproj.sabr.org/bp_ftp/images3/StarrBill.jpg
600
800
admin
/wp-content/uploads/2020/02/sabr_logo.png
admin
2012-01-04 19:49:54
2012-01-04 19:49:54
Chick Starr