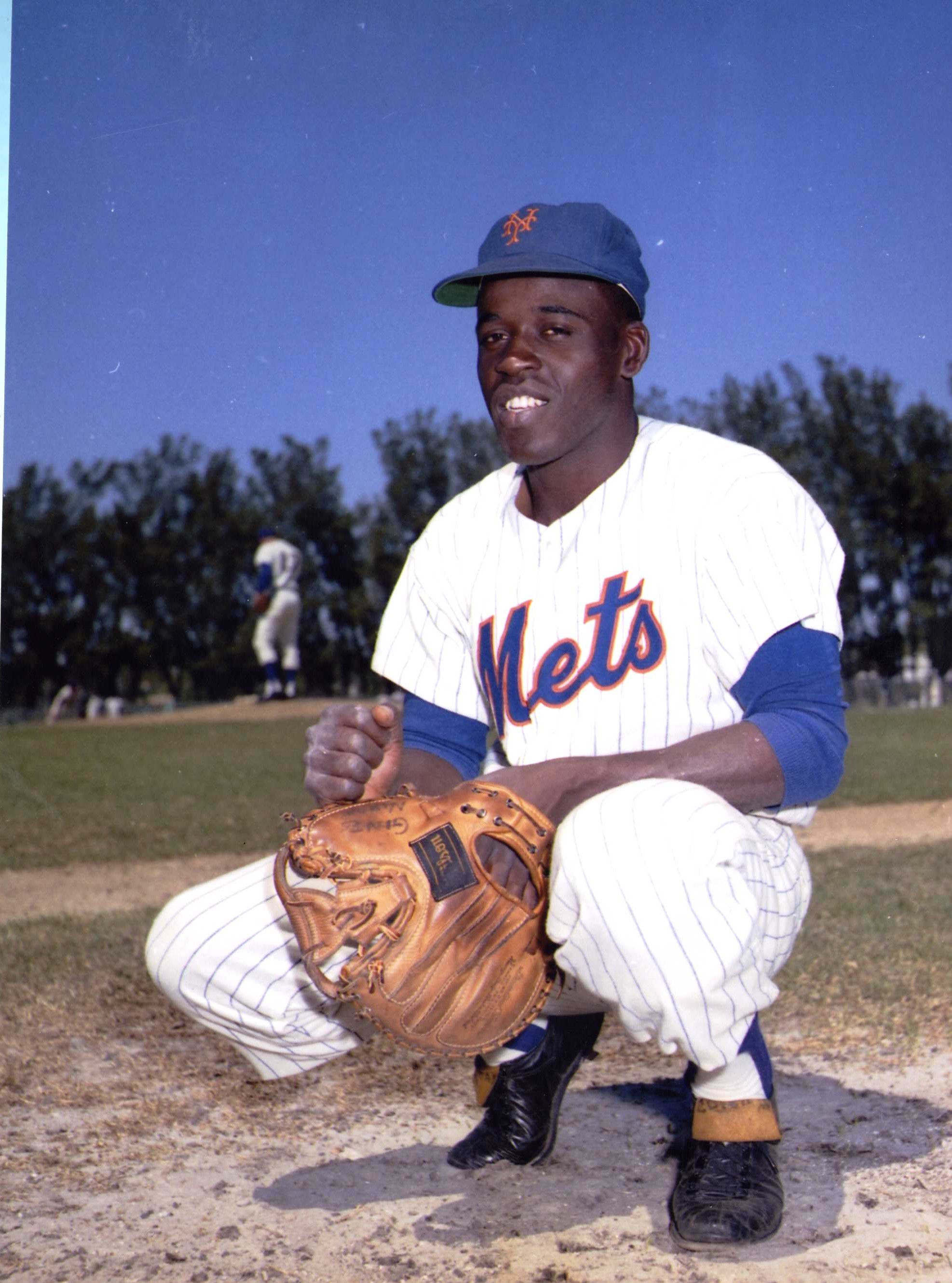 ---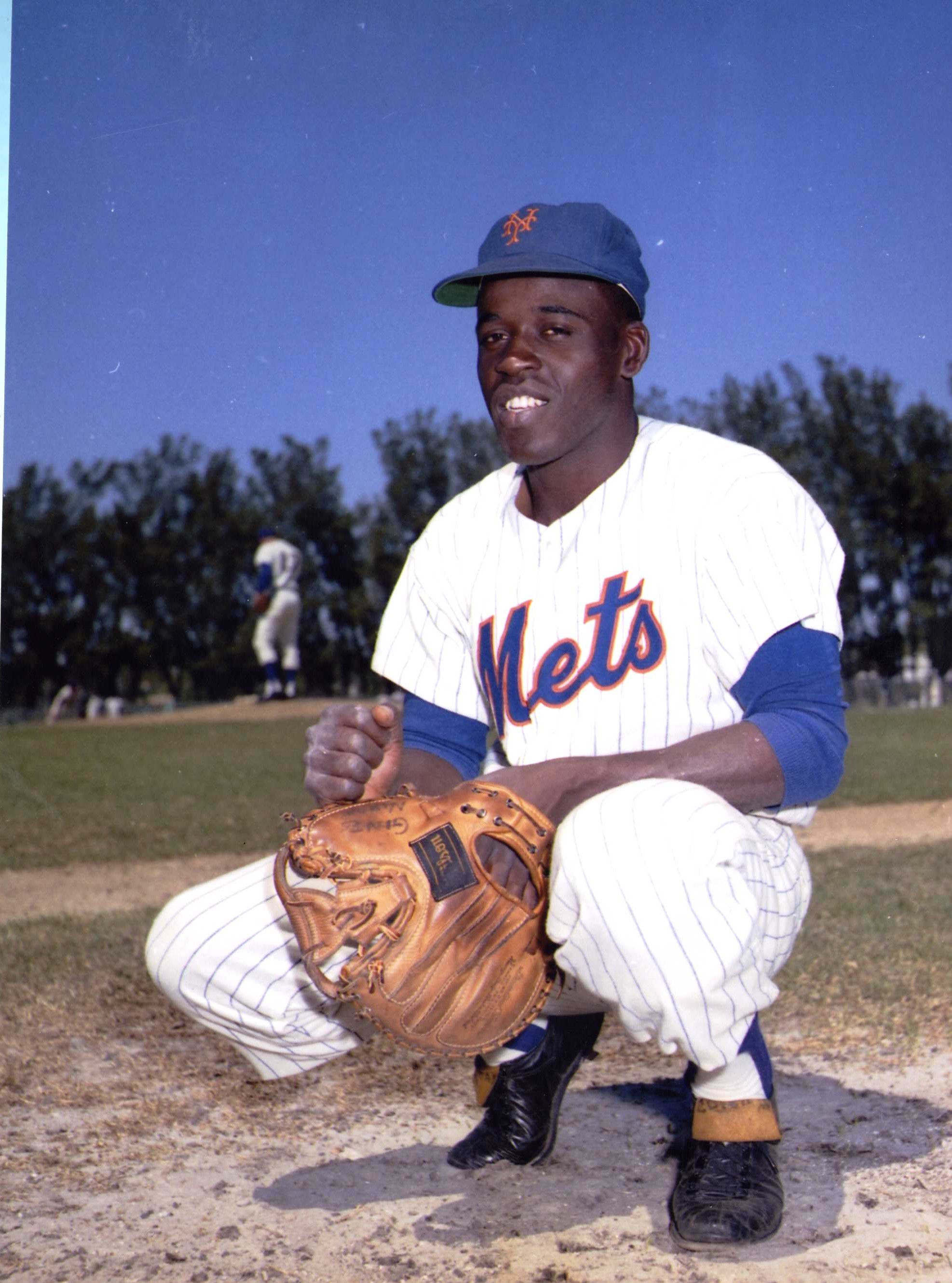 No team in history compares to the 1962 Mets, a completely inept club that bumbled its way to becoming New York City's "Loveable Losers." And no two players represent this label better than Marvelous Marv Throneberry and Clarence "Choo-Choo" Coleman, the team's first baseman and catcher, respectively, whose on-field antics contributed to an inaugural record 120-loss season. Coleman, who retired after a four-year major-league career, subsequently disappeared from public view over the next five decades, an absence that, combined with his memorable nickname, contributed to his near-cult-figure status. Absent but never forgotten, his career was perhaps best captured in a 1972 letter to The Sporting News from a fan who claimed that Coleman "play[ed] the game for the fans, for spirited fun."1
Clarence Coleman was born on August 25, 1935, the seventh of eight children of John Henry and Elnora (Pittman) Coleman, in Orlando, Florida. He was the grandson of William and Lottie Coleman, who were born a decade after Abraham Lincoln issued the Emancipation Proclamation. In the late 1800s, William and Lottie married and eventually raised eight children on a farm south of Macon, Georgia. Around 1919, their second eldest child, Clarence's father John, married Elnora. The union produced two children born in Georgia before the family moved to Florida around 1923. They settled into a small house west of downtown Orlando, 10 miles or so northeast of present-day Disney World.
The house bordered a community park that included a baseball field and tennis courts, access to which helped Coleman hone his athletic skills both before and during his enrollment at Orlando's Jones High School in the 1950s. It was also around this time that Coleman earned the nickname "Choo-Choo" for a fleet-footedness likened to that of a speeding train. The name would stick with him the rest of his life. Another trait that followed him into adulthood was Coleman's shy, quiet nature, a characteristic borne from embarrassment over a childhood stutter. Though the stutter improved with age, it never disappeared. A superb athlete, Coleman turned to sports as his primary means of communicating. "In high school, Choo-Choo was a baseball catcher, played basketball and tennis, and was probably a better tennis player," recalled Coleman's niece, Linda Milhouse Hibbler, years later. "But he loved baseball."2
In 1955, shortly after graduating from high school, Coleman signed with the Florida State League's Orlando C.B.s, a Class-D affiliate of the Washington Senators. The signing was facilitated by one of Coleman's childhood friends who was playing for the team. The excitement Coleman experienced after joining the team quickly turned to disappointment when he saw very little usage: 20 at-bats in 17 games. When the same pattern surfaced midway through the following season, Coleman bolted the team and signed with the Indianapolis Clowns. One year removed from the Negro American League, the club, owned by Syd Pollock, barnstormed with Coleman throughout the nation.3    
By 1958, Coleman had returned to Orlando and once again signed with the local club. Though he played 38 games in the outfield, Coleman received the bulk of the catching duties for the unaffiliated Orlando Flyers and continued doing so the next season when the club became the Class-D affiliate of the Los Angeles Dodgers. In June 1959, at the season's midpoint, the left-handed hitter led the league with 55 RBIs. Though he slowed in the second half, he still finished among the circuit leaders. He also placed among the leaders with 15 stolen bases. Defensively, Coleman presented a mixed bag. His strong arm contributed a league leading 74 assists by a catcher while his 18 errors trailed only one other backstop. Despite these miscues, Coleman was selected to the league's All-Star squad in a poll of managers and sportswriters. It was around this time that Coleman, now 23, started representing himself as two years younger to attract major-league interest.
The ploy worked when Coleman opened the 1960 season in Class A, with the Macon Dodgers of the South Atlantic League. His ascension within the organization continued when, despite a pedestrian .195/.271/.312 line in 26 games, he was advanced to the Triple-A Montreal Royals in the International League just weeks later. Except for a near-league-leading 12 errors, a yield that trailed only his future Mets teammates Chris Cannizzaro and Jesse Gonder, he drew rave reviews for his defense. "[Coleman is] the best lowball catcher I've ever seen," Royals manager Clay Bryant claimed.4 Moreover, Coleman responded well to the promotion with a .258 average in 291 at-bats while placing among the league leaders with 10 stolen bases. When the season ended, he joined a group of African-American stars that included Hank Aaron and Curt Flood on a 33-game barnstorming tour throughout the South. On November 28, the Philadelphia Phillies selected Coleman with the first pick in the annual Rule 5 Draft. Cleveland Indians GM Frank Lane, who had made no secret of his desire to select the backstop, grudgingly acknowledged that Coleman was "a fine draft choice. [He will] make them a pretty good catcher in a year or so."5
Lane's prediction appeared prescient when Coleman got four hits including a ninth-inning game-winning RBI single in a March 14, 1961, Grapefruit League game against the St. Louis Cardinals. A month later, in a sportswriters' nationwide poll, he was tabbed as the Phillies' "Hottest Young Prospect."6 Though he was unable to unseat sophomore catcher Clay Dalrymple from the starting catcher job, Coleman prevailed in competition with four others for one of the two backup roles.
On April 16, 1961, Coleman made his major-league debut at San Francisco's Candlestick Park pinch-hitting for pitcher Chris Short. Representing the tying run in a 5-2 deficit, he was struck by the pitch from veteran right-hander Sam Jones.7 The rally was quickly extinguished when pinch-hitter Bobby Del Greco grounded into a double play. Coleman's first official at-bat came four days later when he was again called upon to pinch-hit, this time for shortstop Ruben Amaro with two strikes on the batter. He grounded out to Milwaukee Braves first baseman Joe Adcock after fouling off four pitches. "I always remembered that," Coleman recalled more than 60 years later. "That's tough, man!"8  
On April 28, following two additional pinch-hit appearances, Coleman collected several major-league firsts: his first base hit, an eighth-inning single to right field against Cardinals reliever Lindy McDaniel, his first RBI and run scored, and his first appearance at catcher. Coleman got his first start 10 days later, while his first extra-base hit — an RBI double against future Hall of Famer Don Drysdale — came on May 9. On May 27, he was robbed of his first career home run on a brilliant catch by Cincinnati Reds center fielder Vada Pinson.
But opportunities for additional play proved fleeting when, through mid-June, only five of Coleman's 26 appearances came as a starter, while 19 came either solely or initially as a pinch-hitter or pinch-runner. After the Phillies signed free-agent outfielder Elmer Valo on June 17, Coleman was no longer the sole left-handed hitter on the bench. Following a June 20 appearance as a defensive replacement he was assigned to the Spokane Indians, a Dodgers Triple-A affiliate in the Pacific Coast League. Coleman did not take the demotion well and it initially affected his play. Breaking out of his slump with grand slams on successive nights against the Salt Lake City Bees on July 26-27, he finished among the team leaders in several categories including his 13 home runs and a .518 slugging percentage. Though recalled by the Phillies in September, Coleman was left unprotected in the first National League expansion draft. On October 10, he was selected by the Mets with the 28th pick.
Before their inaugural 1962 season, the Mets drafted or acquired primarily older players in the belief that a veteran presence would result in immediate success. Despite hitting the first home run in Mets history during a March 11, 1962, exhibition against the Cardinals, Coleman did not make the final cut prior to the start of the regular season — a demotion he again did not take well. Assigned to the Triple-A Syracuse Chiefs, Coleman suffered through a series of injuries that contributed to a dismal .195/.275/.279 line in just 226 at-bats as he split his time between catcher and the outfield.
But as bad as things were in Syracuse, events were much worse in New York. In July, while en route to a modern-record 120-loss season, the Mets lost veteran catcher Sammy Taylor due to a fractured finger. On July 16, Coleman was recalled. Eleven days later, in his first start, he got a bunt single and came around to score the only run of the game in a 1-0 win over Cardinals flamethrower Bob Gibson. A week later Coleman connected for his first major-league home run, a two-run pinch-hit homer against Reds reliever Jim Brosnan. Citing Coleman's "high potential," Mets manager Casey Stengel turned increasingly toward the 26-year-old for the club's catching needs.9 He finished the season with a .250 average in 152 at-bats with career highs in runs (24), doubles (7), homers (6), and RBIs (17). Moreover, of the seven catchers the Mets used in 1962, Coleman had the highest fielding percentage of anyone with 92 or more innings behind the plate. His only error came when he attempted to pick off a runner at first and sent the ball sailing past a seemingly oblivious Marv Throneberry. "The official scorer must have reasoned that anybody who tried a pickoff with Marvelous Marv deserved an error, just for bad judgment," sportswriter George Vecsey cracked years later.10 During the winter Coleman was assigned to the Florida Instructional League, where coach Solly Hemus worked with him at catcher and at second base and outfield as well.
But the gains made by Coleman in 1962 inexplicably evaporated. He opened the 1963 season as the Mets starting catcher, but after a 1-for-20 start was quickly moved into a platoon role. He especially struggled on the road with a miserable season-long .107 average in 121 at-bats. Moreover, except for his strong-armed capabilities that placed him among the league leaders in erasing baserunners, Coleman's defensive strides of the preceding season collapsed to near league-leading yields in passed balls (11) and errors by a catcher (15). As if to add salt to the wound, his horrid 5-for-49 slump beginning on August 28 contributed to a final .178/.264/.215 line. Seeking to reclaim his abilities, Coleman traveled to Central America to play winter ball in the Nicaraguan League — the first of four consecutive winters in which he did so.   
The confidence Stengel had previously shown in Coleman appeared to have completely dissipated when the catcher reported to 1964 spring training and found himself competing with five other backstops for the starting job. Moreover, Hall of Fame catcher Bill Dickey was brought in to work almost exclusively with catcher Jesse Gonder, a powerful slugger acquired the season before, on his defense. Coleman's chances of recapturing the starting job were further reduced when he suffered a fractured thumb on March 8 that sidelined him for a month. Days before the start of the regular season, he was optioned to the Buffalo Bisons in the Triple-A International League. Injuries followed Coleman to Buffalo and he was unable to get regular play until midway through the season. He finished with a .285/.357/.488 line with 10 home runs in 172 at-bats — good enough to warrant a recall in September but not enough to garner additional play.
In 1965, the Mets used no fewer than seven catchers, not one of whom was named Coleman. Seemingly an afterthought in the minds of management, the 29-year-old was one of the first players assigned to Buffalo during spring training. Once again, injuries marred his season as Coleman got a mere 150 at-bats. The following year, having been removed from the 40-man roster, he attended Mets spring training as a nonroster invitee.
As inexplicable as Coleman's descent had been three years earlier, his ascent in 1966 was just as hard to explain. One of many observers who noticed the marked improvement was Stengel, by now the former manager, who visited the Mets camp during spring training. "[Coleman]'s looked real good," Casey remarked. "[M]aybe he's ready to make it this time."11 These words appeared prophetic when Coleman earned the third-string catcher role behind youngsters Jerry Grote and John Stephenson. After sitting on the bench on Opening Day, Coleman started in five of the club's first six games. The last start came on April 23 against the Braves in Atlanta Stadium in what proved to be Coleman's last appearance in the major leagues. Three weeks later he was shipped to the Triple-A Jacksonville (Florida) Suns for veteran backstop Hawk Taylor. Coleman finished the season there as backup to once-prized catching prospect Greg Goossen before proceeding to Nicaragua for another winter season. In a preview of his much longer hibernation, he then seemingly dropped off the face of the earth for the next two years.
In July 1967, the Mets extended an invitation to Coleman to attend the fifth anniversary of their inaugural team but he did not show. Though he would later shrug off this two-year absence as a fishing hiatus, a darker side eventually emerged. Former teammate Larry Bearnarth later claimed that Coleman had confided in him that "he'd been in Philadelphia … and was starving."12 Coleman's next sighting came in the spring of 1969 when he was spied in uniform at the Mets minor-league training camp at St. Petersburg, Florida. In a short letter of apology to Mets farm director Joe McDonald, specifics of which were never fully divulged, Coleman asked for and received a tryout. He was eventually assigned to the Triple-A Tidewater Tides in the International League.13
The Tides' inaugural season coincided with the circuit's experiment with the designated hitter, making Coleman one of the first DH's in the league's history. His presence also brought a thrill to Jeff Terpko, Buffalo's 18-year-old right-hander, who described Coleman as his "boyhood idol" after the two faced off against each other in a June 5 contest. "I watched him every night that first year (1962) when the Mets started," Terpko said.14 In a five-player platoon Coleman received the bulk of play behind the plate and carried a .300 average through the first half of the season. His veteran presence helped stabilize a young staff that included 19-year-old Jon Matlack as the club proceeded to the International League crown.
By 1970, Coleman had parted ways with the Tides and launched a two-year (possibly three-year) stint with the Mexico City Reds in the Triple-A Mexican League. In his first year, Coleman was among the league leaders in hitting throughout the season's first half, and his team-leading 15 homers helped the Reds to a runaway first-place finish in the Northern Division. But at no point during this or subsequent years was he able to attract major-league attention. He hung up his spikes after the 1972 season.
Throughout his career Coleman had spent most of his offseasons following in his father's footsteps as a carpenter, though he also worked as a butcher and house painter at various times. In 1961, he met Suzie Mae Starks on the public tennis courts across from his parents' house. They married in October. The union produced a son, Clarence Jr., and a daughter, Elnora Vanessa, before dissolving in divorce years later. A subsequent marriage in Chesapeake, Virginia, to Odessa Dejetta, whose son-in-law owned a Chinese restaurant, resulted in Coleman launching a lengthy second career as the restaurant's primary chef before he opened his own establishment. In 1994, after Odessa's death, Coleman moved to Bamberg, South Carolina, 80 miles northwest of Charleston, where he married Lucille Middleton, a South Carolina native who was the sister of his brother-in-law.
Around 2010 Lucille fell victim to Alzheimer's disease. Coleman, who was struggling with his own health concerns after contracting diabetes, was compelled to place her in a nursing home and moved into the home of his niece Linda Milhouse Hibbler in Bamberg. Sometime before this last move, Coleman, through the tenacity of Lou Cafiero, a diligent New York sports collector, was rediscovered. In 2012, in his first flight in 35 years, he traveled to New York, where he was an instant hit among the attendees at a large autograph show.
Coleman returned home from his trip to New York and resumed his twin passions of gardening and watching sports on television. But in early 2016 doctors discovered that he had colon cancer. The disease was so far along that there was little to be done. On August 15, 2016, 10 days shy of his 81st birthday, Coleman died in nearby Orangeburg, South Carolina. He was buried at Holy Temple COGIC Church Cemetery in Bamberg. The year proved to be heartbreaking for fans of the original 1962 Mets as outfielder Jim Hickman had died in June and catcher Chris Cannizzaro died in December.
One would be excused for thinking that someone with a career .197/.266/.281 line in 462 at-bats would have been long forgotten in the dustbin of history of marginal players who reached the major leagues. This is hardly the case with Coleman. Though the recollections may not be among the most flattering, they possess an inviting allure that rarely fails to bring a smile to those who cherish the memory of the hapless 1962 Mets. Author Roger Angell is among the many writers who have carried Coleman's memory forward. In his 1972 release of The Summer Game, Angell wrote:
"Coleman, who is eager and combative, handles outside curve balls like a man fighting bees. He is quick on the basepaths, but this is an attribute that is about as essential for catchers as neat handwriting."15
A decade later, 1962 Met Richie Ashburn, in a recollection for The Sporting News, cited a time when Coleman launched a game-winning pinch-hit homer after Stengel had called time, walked onto the field and whispered something in his ear. "After the game, the writers asked Coleman what Casey whispered .. . and Coleman said, 'He told me to hit a home run.'"16
There are stories about Coleman's inability to remember the names of his teammates — everyone was "Bub" — or the fact that, because of his shyness, he was never the easiest person to interview. Yet another, as related by pitcher Bob Miller, describes an incident in which the right-hander called Coleman to the mound to change the signs with a runner on second base. Returning to his position behind the plate, Coleman promptly forgot what they'd just agreed to and repeatedly put down one finger for a fastball. Miller "laughed so hard he fell off the mound" and was called for a balk.17 But the most amusing tale of all was the one uncovered by sportswriter Jay Dunn in 2016:
Coleman's signature play happened one day when he missed the tag on a runner trying to score. Since the runner also missed the plate the umpire made no call. Under 1962 rules, the run would count unless the Mets tagged the runner before the next pitch was thrown. By the time a teammate pointed this out to Coleman, the runner had retreated to the visitors' dugout. Dutifully, the catcher took the ball trundled to the dugout intent on making the necessary tag.
It was a long way to the dugout in the Polo Grounds [the Mets' home field]. By the time Coleman got there he could no longer remember who he was supposed to tag. No problem. He started down the bench tagging everyone wearing a uniform. The base runner figured out what was happening and, with nothing to lose, burst out of the dugout and made a mad dash for the plate. Coleman had to throw the ball to a teammate to complete the out.
That was probably the only time in baseball history that a rundown play occurred between home and the dugout.18
These many rich, possibly apocryphal tales of Coleman will remain forever in the memories of baseball historians. Among these, perhaps no one captured him more than his former batterymate Larry Bearnarth, who claimed that Coleman "love[d] baseball more than anything in the world."19 That same love has been reciprocated by fans many times over.
This biography appeared in "Time for Expansion Baseball" (SABR, 2018), edited by Maxwell Kates and Bill Nowlin.
Sources
In addition to the sources cited in the Notes, the author consulted Ancestry.com and Baseball-Reference.com. The author wishes to thank Linda Milhouse Hibbler, Coleman's niece, and SABR members Joseph Wancho, chair of the Minor Leagues Research Committee, and Bill Mortell for their invaluable assistance.
Notes
1 "Voice of the Fan," The Sporting News, October 28, 1972: 6.
2 Phone interview with Linda Milhouse Hibbler, August 14, 2017.
3 "Choo Choo Coleman: Farewell to a Good 'Bub,'" Baseball Happenings, August 15, 2016. Accessed August 29, 2017 (bit.ly/2wQn50R).
4 Allen Lewis, "Phils Placing Top Price on Twirling Trio," The Sporting News, December 14, 1960: 33.
5 Ibid.
6 "Names to Watch? Scriveners Spill Lowdown," The Sporting News, April 19, 1961: 2.
7 Through 2017, Coleman is one of only 29 known players to be hit by a pitch in his first major-league plate appearance.
8 "Choo Choo Coleman: Farewell to a Good 'Bub,'" Baseball Happenings.
9 Dan Daniel, "Rivals Pepper Mets With Trade Offers — Jackson No. 1 Target," The Sporting News, November 17, 1962: 19.
10 George Vecsey, "Deconstructing the Legend of Choo Choo," New York Times, January 23, 2012. Accessed September 1, 2017 (nyti.ms/2iNizu6).
11 Barney Kremenko, "Ol' Case's Verdict: 'Mets Much Better Than Ever Before," The Sporting News, April 16, 1966: 36.
12 Kevin Duffy, "The Passing of a Legend: Original Met Clarence 'Choo-Choo' Coleman Has Died," SBNation, August 16, 2016. Accessed August 29, 2017 (bit.ly/2gofAas).
13 Ibid.
14 "International League," The Sporting News, June 21, 1969: 46.
15 Joe Pollack, "A Top Writer Captures Heart, Pace of Baseball," The Sporting News, July 8, 1972: 38.
16 Richie Ashburn, "Richie Remembers Mets," The Sporting News, September 29, 1986: 16.
17 Michael Carlson, "Remembering Choo Choo Coleman," Irresistible Targets, August 18, 2016. Accessed October 16, 2017 (bit.ly/2gmhlpg).
18 Jay Dunn, "A Comedy of Errors from Baseball's Vault," The Trentonian, August 31, 2016. Accessed September 4, 2017 (bit.ly/2eUMdJd).
19 Kevin Duffy, "The Passing of a Legend: Original Met Clarence 'Choo-Choo' Coleman Has Died."
Born
August 25, 1935 at Orlando, FL (USA)
Died
August 15, 2016 at Orangeburg, SC (USA)
If you can help us improve this player's biography, contact us.
https://sabr.org/sites/default/files/20%20-%20Coleman%20-%20DL.jpg
600
800
admin
/wp-content/uploads/2020/02/sabr_logo.png
admin
2012-01-04 20:25:30
2022-05-17 11:11:42
Choo Choo Coleman