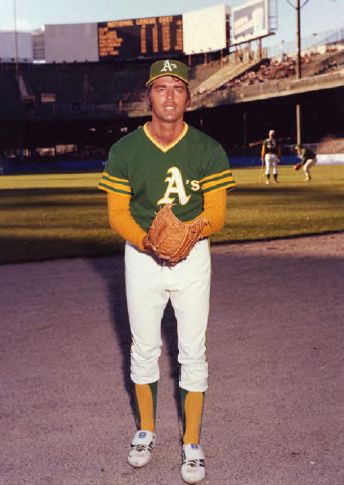 ---
Dave Hamilton, a left-hander, was scheduled to start for the Iowa Oaks on a spring Sunday in 1972, another game in the long march to make the major leagues.
Hamilton already had six seasons in the minors to his credit and was deep into the second month of his seventh. He was 24, the future still looked promising, some recent wildness a minor setback. The pitcher was mentally preparing for the day's work ahead when the telephone rang.
He answered to a familiar voice – Charlie Finley, owner of the Oakland A's.
"I know you didn't look too sharp your last couple of starts and I was thinking," the boss said. "Maybe this league's too fast for you. Maybe you might like to try Birmingham for a while."
"No sir," the pitcher replied. "I think I can pitch in the big leagues."1
That was what the owner wanted to hear. He told Hamilton to get on an airplane, as he was to pitch the second game of a doubleheader the following day at Arlington, Texas. The pitcher left Des Moines and landed in Dallas that evening via Kansas City and Oklahoma City.
The next day – Memorial Day – Hamilton made his debut, his pregame jitters eased by the bats of his teammates. "I was nervous at first," Hamilton said after the game. "But getting five runs in the first really helped."2 He lasted 6⅓ innings, pitching out of a two-on, one-out jam in the third inning by striking out the Texas Rangers' Frank Howard and Rich Billings. The A's prevailed, 7-1, to sweep the doubleheader and give Hamilton a victory in his first appearance. He had been called up on the cusp of the A's facing 32 games in a 31-day stretch, during which Oakland manager Dick Williams planned to use him as a long reliever and spot starter.
In the end, Hamilton appeared in 25 games (12 of which he started), going 6-6, a fill-in who performed adequately though not spectacularly. He was on the roster for all three of Oakland's championship teams from 1972 to '74, though he got to pitch in only three postseason games.
Hamilton had a brief and unhappy appearance in the American League Championship Series in 1972. Leading the best-of-five series two games to one, the A's scored two runs in the top of the 10th inning of Game Four to go ahead by 3-1. The Tigers rallied in the bottom of the inning, pushing across a run and chasing two pitchers before Hamilton was called to the mound with the bases loaded and still none out. He walked Norm Cash (tying the score, 3-3) before Jim Northrup's single prolonged the Tigers season. Oakland's Bob Locker took the loss. "We didn't do the job," manager Williams said after the game. "It's as simple as that."3
Despite that poor performance, Hamilton was entrusted with the ball twice in the 1972 World Series. He pitched in the ninth inning of Game Five after the Cincinnati Reds pushed across a run to go ahead, 5-4. With one out, Pete Rose on second, and Dave Concepción on third, Hamilton faced Joe Morgan at the plate. Morgan flied out to right with the runner at third tagging on the play. Matty Alou threw to Gene Tenace to nail Concepción at the plate and end the inning. The 9-2 double play gave the A's a chance to rally, but the home team failed to score.
With Oakland trailing 3-1 in Game Six, Hamilton was brought in to work the seventh. He managed to record only two outs while being touched for three singles and an intentional walk (issued to Rose), and was charged with four earned runs in a game the Reds won, 8-1. He'd never again be entrusted to throw in a postseason game.
David Edward Hamilton was born in Seattle on December 13, 1947. He pitched for Edmonds High (now Edmonds-Woodway) in Edmonds, Washington, and was selected in the fifth round (No. 82 overall) of the 1966 amateur baseball draft by the Kansas City Athletics. (The Athletics took Reggie Jackson with the second overall pick.) Hamilton spent four seasons pitching in Single-A for the Lewiston (Idaho) Broncs; Burlington (Iowa) Bees; Peninsula Grays of Hampton, Virginia; Leesburg (Florida) A's; and Lodi (California) Crushers. He then went 8-6 for the Double-A Birmingham (Alabama) A's of the Southern League over the 1969 and 1970 seasons.   
A 12-4 campaign in Des Moines with the Iowa Oaks in 1971 followed by a 5-1 start to the 1972 season led to the Sunday-morning telephone call from Finley.
Despite his contributions to Oakland's championship, Hamilton spent part of the 1973 season back in the minors. He completed six of 14 starts for the Tucson Toros with a record of 8-5.
After two seasons as a spot starter, Hamilton was at last integrated into the Oakland rotation as a fifth starter in 1974. He won his first four starts, followed by three no-decisions and a loss. The loss was a mess of fielding misjudgments, dubious umpiring verdicts and a pitcher who lost his composure. 
Oakland pitching coach Wes Stock asked relief pitcher Darold Knowles to talk to the anxious starter. "Hammy, don't worry about the umpires, or errors, or bloopers," Knowles told his fellow hurler. "Just do what I do. Step off the mound and take a deep breath."4 Soon after, on June 26, Hamilton had a no-hit bid against the California Angels broken up in the sixth inning when, after walking Mickey Rivers, he was touched for a single by Dave Chalk. The hit was followed by another walk. The starter followed Knowles' advice by stepping off the mound, recovering to survive the bases-loaded challenge and finish the only complete-game shutout of his career. He gave up two hits and four walks in the 5-0 victory.
Hamilton preferred Alvin Dark as manager to his predecessor, saying, "I don't want to knock Dick Williams, but I don't think he was good for me. … When I lost, he never told me what I was doing wrong. He wouldn't even talk to me. If I had a bad game or two, I was out of there."5 Dark did not call on Hamilton in the 1973 or '74 postseason.
On June 15, 1975, Hamilton and Chet Lemon were traded to the Chicago White Sox for Stan Bahnsen and Skip Pitlock. In Chicago he was used out of the bullpen, earning 25 saves before being traded to the St. Louis Cardinals after the 1977 season. In 1978 he had no decisions in 13 games of early-season mopup duty with the Cardinals before being sold on May 28 to the Pittsburgh Pirates, for whom he appeared in 16 games. Hamilton then signed with the A's as a free agent for the 1979 season. He performed adequately on a dismal squad, going 3-4. His career ended with a 1980 season split between the A's and the minors, with a final four games of inconsequence played in 1981 with the minor-league Tacoma Tigers.
The left-hander was 39-41 over nine major-league seasons with four teams. He appeared in 301 games with 57 starts and 31 saves, and a career earned-run average of 3.85. In 704 innings pitched, he issued 317 bases on balls while striking out 434.
A son, Jon Hamilton, born on October 23, 1977, spent eight seasons in the minors after being drafted by the Cleveland Indians in the fifth round (like his father before him) of the 1977 amateur draft. The son spent time in the Chicago Cubs, White Sox, and Cardinals organizations before ending his playing career in 2004.
In 1996 Dave Hamilton became baseball coach for the Grizzlies at California High School in San Ramon, California, a position he held until 2004. He had also worked as a foreman for a local roofing contractor.
Sources
In addition to the sources reflected in the notes, the author also consulted:
Mitch Stephens, "Ex-A's pitcher enjoying titles on a different level," San Francisco Chronicle, May 14, 2002.
calhigh.net/championships.
Retrosheet.org.
Baseball-Reference.com.
Notes
1 William P. Oppel, "Instant Fame for Finley Rookie," United Press International, Beaver County (Pennsylvania) Times, May 30, 1972.
2 Ibid.
3 "We didn't do the job," Palm Beach Post, October 12, 1972, E4.
4 Ron Bergman, "Hamilton curbs wildness, wins starter job with A's," The Sporting News, July 20, 1974, 5.
5 Ibid.
Born
December 13, 1947 at Seattle, WA (USA)
If you can help us improve this player's biography, contact us.
http://sabr.org/sites/default/files/DaveHamilton.JPG
600
800
admin
/wp-content/uploads/2020/02/sabr_logo.png
admin
2012-01-04 19:49:27
2020-10-28 11:04:10
Dave Hamilton