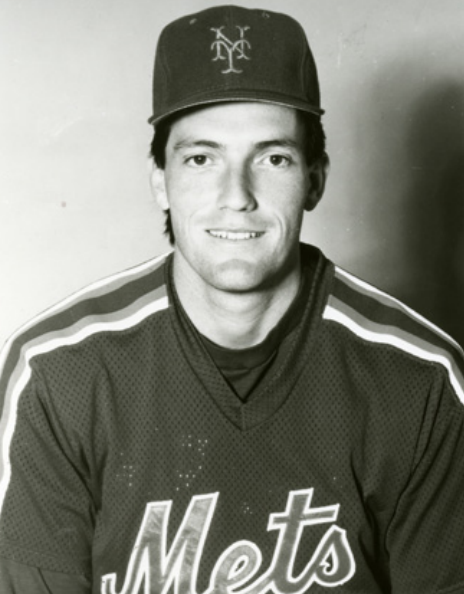 ---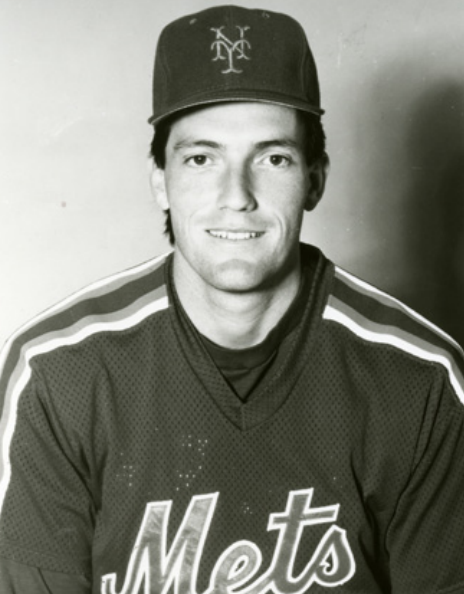 Dave Magadan was an artist with the bat. He lacked power. He lacked speed. He wasn't known for his glove at either first or third base. But his deft spray hitting and patience at the plate — .390 lifetime on-base percentage — kept him in the majors from September 1986 through 2001. This skill also led Magadan to an ongoing career as a batting coach, starting in 2002.
David Joseph Magadan was born on September 30, 1962, in Tampa, Florida. His father, Joe Magadan, was also born in Tampa but spent part of his childhood in Spain.1 That was the birthplace of Dave's grandparents, Marcelino and Benigna Magadán.2 (In Spanish, the accent is on the last syllable of the family name, but in America it came to be pronounced MAG-a-dən). His mother was Alice (née Alicia Samalea), whose father came from Spain and whose mother was from Cuba. Dave was the youngest of three children. He followed a sister named Diana and a brother, Joe Jr.
Spanish was his parents' mother tongue, and so it's not surprising that Dave learned it as a child. "Our family spoke mostly Spanish in the household," he said in 2014.3 He understands "everything" in Spanish and can speak "about 90 percent" of it. However, both of his parents worked full time, so he also spent much of his time with English-speaking neighbors in Tampa. Being bilingual helped him in coaching Latino players.4
Magadan's first cousin — and godfather — is Lou Piniella, another Tampa native. Piniella, whose mother was Joe Magadan's sister Margaret, played in all or part of 18 major-league seasons and managed for another 23. As a boy, Magadan traveled with his parents in the summers to see Piniella play in various cities. "I wouldn't say we're close," he remarked in 1993, "Close enough, I guess."5
Joe Magadan Sr. was a fine athlete who played both football and baseball. He went to Loyola University in New Orleans on a football scholarship, but lost his chance at a possible professional career when a defensive player's knee broke a rib and punctured a kidney. Joe was given last rites and dropped from 230 pounds to 145. After recovering, he got a tryout with the New York Yankees, but he was not the same player he had been before. After Joe died at the age of 92 in 2010, Dave said, "One of the big frustrations of his life was that the injury prevented what could have been."6
Joe worked for Corral Wodiska, which was one of many cigar companies in Tampa's historic Ybor City area. The family moved to Venezuela, then back to Tampa after three years (that was before Dave was born).7 Joe continued to play baseball in Tampa's Intersocial League, a high-quality recreational league founded in 1938. His teammates included his brother Mac and Louis Piniella Sr.8
After returning to Tampa, Joe took a job as an accountant at a produce plant but made sure that his shift ended by early afternoon, so he could coach Joe Jr. and Dave.9 "My dad's the one who really taught me how to play," said Dave in 1981. "He also worked with Lou and really helped him."10 Dave first had thoughts of making pro baseball a career at age 6. He practiced with the same team as his brother Joe, who was five years older.11 Starting when he was 7 years old, Magadan was part of a thriving Little League scene in West Tampa — there were so many kids playing that they could be on the field for just two out of four practice days, and the stands weren't big enough to hold all the noisy fans. His parents were devoted to their children, sports, and the Little League.12
Magadan attended Jesuit High School in Tampa, as did his father and Piniella. Though he threw right-handed, he batted left. He played third base and "was an accomplished pitcher who beat arch-rival Tampa Catholic three times. … (H)e won the Tony Saladino Award as the top prep baseball player in Hillsborough County."13 Several other winners of this award went on to the majors, the most notable being Tino Martinez and Gary Sheffield.
The Boston Red Sox selected Magadan in the 12th round of the June 1980 amateur draft, but he did not sign. Instead, he went to the University of Alabama. "I wanted to go to a four-year school," he said in 1983. "I wasn't heavily recruited. I got some letters from some schools that said they were interested, but not anything like Alabama. I decided that playing away from home at Alabama was the best chance for me to improve as a player, a student, and a person." He succeeded on all counts, with the help of the woman who became his wife, Kelly Ann Horton from Tuscaloosa.14
Magadan had a fine college career. In 2015 he still held many of Alabama's individual batting records. He was named to the Southeast Conference's All-SEC team in each of the three years he played. He was an All-America for two years. In 1983 Baseball America named him its College Player of the Year. Magadan entered the College Baseball Hall of Fame in 2010, becoming the second University of Alabama player to do so, after Hall of Famer Joe Sewell.
As a freshman in 1981, Magadan set a school record with a hitting streak in his first 27 games. To keep the pressure off, his teammates tricked him into believing that the record was 22 when it was actually 18. "If I had known I was near it, I probably would have gone 0-for-7," Magadan said.15
In September 1981, Magadan was also named American Legion Player of the Year after his team (Post 248, West Tampa) won the national championship. As part of the honor, he attended the 1981 World Series.16 He also got to visit Cooperstown. He viewed the latter as the greatest experience of his life to that point.17
After his sophomore year ended, Magadan went to play ball in Alaska. His team was the Peninsula Oilers.18 "I gained a lot of confidence playing in the Alaska League that summer," he recalled. "I faced a lot of guys from other parts of the country. It was such a great experience facing guys I had read about and had a lot of respect for."19
As a junior in 1983, Magadan shifted from third base to first base. The reason was the emergence of sophomore shortstop Craig Shipley, the first player trained in Australia to reach the majors (the incumbent shortstop moved to third). Magadan batted .535 with 114 hits and 95 RBIs; his slugging percentage was .829. "I was locked in the whole year," he said.20
The Crimson Tide went to the College World Series that spring, fulfilling one of the team's major goals. Alabama made the final game, but lost to the University of Texas, which featured Roger Clemens and Calvin Schiraldi. Magadan hit safely in his first eight at-bats, including 5-for-5 in one game, and wound up hitting .550 in the CWS.21
The New York Mets made Magadan their second-round pick in the June 1983 draft. He gave up his final year of eligibility at Alabama, signed with the Mets, and reported to Columbia in the South Atlantic League (Class A). He hit .336 with 3 homers and 32 RBIs in 64 games. That fall, he observed that switching from an aluminum bat to wood was a challenge at first. "The wooden bat was a little bit heavier and I tried to overcompensate," he said. "The first two weeks I struck out a lot more than I usually do. But I got used to it and got a little bit stronger, and then it didn't bother me at all."22
After the season ended, Dave and Kelly were married on September 17.23 The honeymoon was brief, though, because the Mets wanted Magadan to go to Instructional League.24 The couple had two sons, Jordan (born 1988) and Christian (born 1991). They were divorced in 1997.
In November 1983 Magadan was the winner — by unanimous vote — of the Golden Spikes Award as the nation's best amateur baseball player. Presenting the award was cousin Lou Piniella. "I'd like to move up one league a year," said Magadan after winning, "but if I don't I can live without it."25
That turned out to be a pretty accurate timetable — he spent just three more seasons in the minors. At Lynchburg (Class A) in 1984, although he missed the last month of the season with a broken wrist, he lifted his average to a league-leading .350.26 His on-base percentage was a tremendous .494, thanks to 104 walks. Moving up to Double-A Jackson in 1985, he hit .309 with an OBP of .441. He shifted back from first base to third base that year. (There had been talk of converting him to catcher after the 1983 season but that did not take place.27)
Despite his size (6-feet-3 and 190 pounds), Magadan hit no homers in either 1984 or 1985. The Sporting News remarked, "A lack of power could restrict his progress."28 That was not the case; he advanced to Triple-A Tidewater in 1986. His average was .311 and his OBP was .411. He hit just one homer, and that was late in the season. In early September The Sporting News again speculated, "Can a player without power make it in the majors as a third baseman?"29 Nonetheless, the International League's managers still regarded Magadan as one of the league's top 10 prospects.30
And when the big-league rosters expanded that month, the Mets called Magadan up for the first time. He made his debut at Shea Stadium on September 7. Pinch-hitting for Kevin Elster in the fifth inning, he singled off Ed Wojna of San Diego. Magadan appeared in 10 games for the team that became world champions, starting four of them at first base. He was 8-for-18 (.444) — including a 3-for-4 outing with two RBIs at Shea on September 17, when the Mets clinched the National League East title by defeating the Chicago Cubs. Keith Hernandez was out sick that night; Magadan said, "I was just concentrating so much on not screwing up. You never know how you'll react in that situation."31
Magadan said of himself and the other call-ups, "What we did was give [the veterans] some opportunities to take some days off and rest up for the postseason. It was a strange feeling, something I'd never experienced before. You get your call-up like that and I had a lot of success right away, but at the same time, you feel like it was someone else's party and you were just hanging out."32 He was not eligible for the postseason — he watched the games from home — and he did not get a World Series ring until 1995, when "Randy Myers just made so much noise about it that they finally released the jeweler to make the rings for like four or five of us that didn't receive them then, and [Myers] paid for them.33
After the 1986 season, Ray Knight and Kevin Mitchell were both gone from the Mets' roster. Howard Johnson and Magadan were the only legitimate third basemen remaining on the team. Magadan missed most of spring training 1987, however, with a lump that developed in his right armpit. There was some concern that it might be lymphatic cancer, but Magadan's belief was that it was cat scratch fever caused by his wife's pet.34
Johnson seized the third-base job and entered the prime of his career. Magadan was left with spot duty, starting 35 times at third and 7 times at first. In 216 plate appearances across 85 games, he hit .318 with 3 homers and 24 RBIs. He was most pleased, though, with the strides he had made as a defensive player. He cited the help of coach Bud Harrelson.35
Magadan's first of 42 major-league homers came at Pittsburgh's Three Rivers Stadium on April 20. It was notable for two reasons. First, it was off a lefty, John Smiley. He hit just three more off southpaws during the remainder of his career while hitting .263 against them, vs. .296 against righties. Second, it was as a pinch-hitter. Magadan finished his career with 92 pinch hits, and he hit a capable .265 in that demanding role. In 1987 he talked about how he typically liked to use his first at-bat to feel out a pitcher and see what he liked to throw.36  Looking back in 2014, he offered this insight:
"My approach as a pinch-hitter was similar to my approach as a starter later in the game. I did my homework on how I was going to get pitched as a pinch-hitter, and remained patient to get my pitch. I had confidence hitting with two strikes so I was not afraid to go deep in the count to get my pitch." Indeed, even Magadan's email address contains the phrase "3n2."37
In 1988 Magadan got a chance to play more first base after Keith Hernandez pulled his hamstring on June 6 and reinjured it on June 23. He later said, "When I came in for Keith, I really didn't take advantage of it. I think I put too much pressure on myself. When I was in there we weren't playing well and the whispers were it was because Keith wasn't there. When you start making this a job and a grind, and think about all the negative things instead of the positive things, then it's no fun."38 He hit .277-1-35 in 380 plate appearances. He continued to draw walks, but his slugging percentage was a mild .334.
Although the Mets won the NL East in 1988, Magadan said, "I really didn't feel like I was part of it."39 He went to the postseason for the only time in his career and was 0-for-3 as a pinch-hitter as the Los Angeles Dodgers won the pennant. Several years later, Magadan — a normally placid and quiet man — admitted, "I was really bad when I was younger. I would sulk and pout and be very angry all the time." It carried over off the field, but that changed after the birth of his first son that fall — he was able to forget about the bad days.40
In May 1989 Hernandez got hurt again — he fractured his kneecap and was out of action for nearly two months. Magadan became part of a platoon at first base with Tim Teufel. Manager Davey Johnson commented, "I don't expect to see him hit home runs, but I'd like to see a bunch of doubles."41 Magadan got 22 two-baggers while hitting .286-4-41 in 429 plate appearances. His slugging percentage rose to .393.
After the 1989 season, the Mets parted ways with Hernandez. To start with in 1990, the first-base job went to Mike Marshall, but he was a bust. Magadan took over in early June and had his best season in the majors. He reached career highs in batting average (.328, third-best in the NL), homers (6), RBIs (72), and slugging percentage (.457).
Magadan's strength as a hitter was grounded in his knowledge of the strike zone — he took a lot of pitches, close ones as well as bad balls. He most often batted second in the lineup. When he swung, he went with the pitch. For example, if he was facing a lefty, and got a late-breaking ball low and away, he could serve it over the third baseman's head with a neat little flick of the wrists. STATS Inc.'s Scouting Report for 1991 observed, "He can hit doubles down the line and into the gaps, but when he hits a home run, it's not by design."
That book also offered a fair assessment of his defensive ability. "Magadan is short on range, but his glove is soft enough, and his arm is as strong as you would expect from a former third baseman."42 He worked hard to improve in the field and overcome frustrating negative perceptions, especially by comparison with Hernandez, one of the finest fielders ever at first base.43
Troubled by torn cartilage in both shoulders, Magadan fell off to .258-4-51 in 1991. That November the Mets signed veteran star Eddie Murray to be their new first baseman. The durable Murray started 152 games at first in 1992, and Magadan appeared just twice there all season long, for a mere 10 innings. He shifted back to third base, sharing time with Bill Pecota. In 99 games for "The Worst Team Money Could Buy," he hit .283-3-28. His season ended on August 8, upon suffering a broken wrist when he was hit by a relay throw while sliding in the middle of a potential double play at Chicago's Wrigley Field. He later likened the sound to eggshells cracking.44
Magadan became a free agent that fall, but New York never even called him. "I never did have the success with the Mets I imagined I would," he said. "I always thought I'd have a longer, better career in New York than that."45 He signed with the Florida Marlins, an expansion club, in December 1992. He later said, with a laugh, "I figured it was finally the time in my career when I was going to be stable. I was always the subject of trade rumors in New York. I really thought, for the first time, that I'd be able to settle down."46
Instead, in late June 1993, the Marlins traded Magadan to the Seattle Mariners for outfielder Henry Cotto and pitcher Jeff Darwin. A few days before, Florida had acquired third baseman Gary Sheffield from the San Diego Padres. Magadan said, "I understand why they did it. Gary Sheffield is one of the best players in the game and they had a chance to get him. But I was still disappointed. I thought they were going to commit to me for a couple of years and it was my understanding that they didn't have the money to go get somebody like that. I guess you live and learn, though."47
Seattle's manager at the time was none other than Lou Piniella, who said, "We haven't been in contact, but I've followed his career very closely." Third baseman Edgar Martínez was out with a pulled hamstring, and Piniella said, "We needed another left-handed bat in the lineup and somebody who is professional like Dave is." Magadan responded, "[Piniella] is something different with that fiery temper, but I look forward to playing for him. He's also a great hitting instructor on top of that."48
As it turned out, Magadan spent just the remainder of that season in Seattle. That November, the Mariners dealt him back to Florida — oddly enough, Jeff Darwin was part of the trade again, along with cash. Florida had decided to put Gary Sheffield in right field, and general manager Dave Dombrowski said, "We liked what Dave did for us; there was never a dissatisfaction with his play. It was just a matter of circumstances at the time." A delighted Magadan said, "You never know what will happen."49
STATS Inc.'s Scouting Report for 1994 offered further insight on Magadan in the field, saying, "[He] outperforms his reputation. … His range at third is adequate, and he makes few errors thanks to his soft hands and accurate arm. As a first baseman, he digs out throws pretty well, and starts the 3-6-3 double play with the best."50
Magadan hit .275-1-17 in 74 games for the Marlins in 1994, while plagued by assorted injuries. He started the season on the disabled list with a sprained wrist; he then suffered a bruised knee and a broken toe. The strike didn't end his season that year — a broken foot did, suffered on July 20 when Cincinnati's Hector Carrasco hit him with a pitch.51
After the strike ended, Magadan signed a one-year free-agent deal with the Houston Astros. "He's amenable to being a support player," said general manager Bob Watson. "He will back up [Jeff] Bagwell at first and also be in that mix over at third and be a left-handed pinch-hitter."52 Magadan wound up playing more third base than anybody else for Houston that year, and he hit .313-2-51 in 422 plate appearances. The team's other main third baseman that year was old college teammate Craig Shipley.
Magadan then moved on to the Chicago Cubs for the 1996 season. The Cubs had lost Todd Zeile to Philadelphia via free agency and needed to fortify third base. Magadan had surgery for a bone spur in his hand in March, and the soreness took time to subside. He then went to the minors for the first time since 1986 to serve a rehab assignment. Upon returning to Chicago in late May, he backed up Leo Gómez at third and Mark Grace at first. He hit .254-3-17 in 201 plate appearances.
In early 1997 Magadan pulled up stakes again as a free agent. This time he went to the Oakland A's. He hit .303-4-30 in 328 plate appearances his first year there, but his second season in Oakland was cut short by a sprained hand on May 15. At the time, he was hitting .321, and he was excited because he had won the starting third-base job. The injury was strange — Magadan's stickum-laden batting glove stuck to the bat on his follow-through while swinging at a pitch, and just before he was ready to go on another rehab assignment, he aggravated the hand on a practice swing.53
In December 1998 Magadan signed with the San Diego Padres to provide a lefty bat off the bench and infield depth. He did so for the next three seasons, even playing second base and shortstop for the first time on a few brief occasions. He backed up George Arias (until Arias was demoted) and Phil Nevin at third base, while spelling Wally Joyner and then Ryan Klesko at first base. He also was frequently used as a pinch-hitter. His plate appearances diminished from 300 to 166 to 142. His batting average was .268 as a Padre, with 5 homers and 63 RBIs. In August 2000, The Sporting News observed, "He's a valuable hitting mentor."54
On May 4, 2000, Magadan got married for the second time, to Monique Dumouchel. They originally met in spring training 1997, while Monique was on vacation in Arizona.55 "We had a church wedding after the season on November 4, 2000, in Boston, Massachusetts."56 They eventually had two daughters, Peyton and Avery.
Aged 39, Magadan retired after the 2001 season. That November he was named roving minor-league hitting instructor for the Padres; he served in that position during 2002. He became San Diego's major-league batting coach in November 2002 and spent 3½ seasons at that level. But in the middle of June 2006, the Padres — playing in pitcher-friendly Petco Park — had the NL's worst batting average and the fewest homers in the majors. Magadan was fired. "I was shocked when I was let go," he later said. "I didn't see it coming at all."57 General manager Kevin Towers said, "As much of a professional as Mags is — dedicated, passionate — we just weren't getting the results we were looking for. A lot of it could be the ballpark, a lot could be the product."58
That October, though, Magadan landed with the Boston Red Sox. Theo Epstein — who knew Magadan from his years with the Padres' front office in the late 1990s and early 2000s — had become Boston's GM. Red Sox manager Terry Francona was a friend too. Upon his hiring, Magadan said that his coaching philosophy was to keep it simple. He noted, "Every hitter has got his own personal quirks at the plate," and added, "I believe in looking at a lot of video. David Ortiz isn't going to get pitched the same way as an Alex Cora."59
Magadan remained with Boston for six seasons. The Red Sox won the World Series in his first year there, 2007. Although they lost in the playoffs during the following two seasons, and missed the postseason altogether for three years after that, their offense remained productive.
In October 2012, the Texas Rangers hired Magadan, who'd been allowed to speak to other teams about jobs although he had an option remaining on his contract.60 Upon joining Texas, he gave further insight into his school of hitting. "To be a hitter at the big-league level, you have to have the attitude that you're swinging at every pitch until it's a ball," he said. "That little bit of passiveness or delay on being ready to hit, once you decide, it's too late, you hit it foul late. That's something you look for in all hitters. Even your very patient hitters, their attitude is they are swinging at every pitch and your eyes will tell you whether to swing." General manager Jon Daniels emphasized, "He's got an individual plan for each guy."61
After Ron Washington stepped down as manager of the Rangers in September 2014, the front office gave the team's coaches permission to discuss opportunities with other clubs. Magadan interviewed with the New York Yankees for their vacant position as batting coach, but they went in another direction. He was also mentioned as a candidate for spots with the Mets and A's, but in October 2014, he decided to stay with Texas.
Aged just 52 at the beginning of the 2015 season, Magadan still had many years ahead of him in baseball if he chose. His interpersonal skills helped him there. "In today's game, you've got to reach everybody," he said in late 2014. "You have to be able to bounce from a 10-year guy to a five-year guy to a rookie to be an effective hitting coach."62
"As far as how long I want to stay in the game? The travel at this point in my career is pretty grueling, especially with a new family and young kids. It gets tougher and tougher every year. I take it a year at a time and when it starts to get too tough to get on that plane for spring training, then it'll be time to hang it up. I'm not quite there yet."63
Sources
Grateful acknowledgment to Dave Magadan for his input (via email, December 16, 2014).
Internet resources
baseball-reference.com
retrosheet.org
rolltide.com
ancestry.com
tonysaladinobaseballtournament.com
Notes
1 Andrew Meacham, "Joe Magadan lost a sports career to injury, but helped relatives reach the majors," Tampa Bay Times, August 7, 2010.
2 "Horton-Magadan," Tuscaloosa News, August 14, 1983. Melissa Isaacson, "Lou Piniella was born into baseball," ESPN.com, August 30, 2010.
3 E-mail, Dave Magadan to Rory Costello, December 16, 2014.
4 Gordon Edes, "No speaking ill of Magadan: Bilingual coach hit with players," Boston Globe, April 26, 2007.
5 Jim Cour, "Trade reunites cousins Magadan and Piniella," Associated Press, July 6, 1993.
6 Meacham, "Joe Magadan lost a sports career to injury, but helped relatives reach the majors."
7 "Joe Magadan lost a sports career." E-mail, Dave Magadan to Rory Costello, December 16, 2014.
8 Wes Singletary, "The Inter-Social League: 1943 Season," Sunland Tribune, vol. XVIII (Tampa:
Tampa Historical Society, November 1992), 82. Melissa Isaacson, "Lou Piniella was born into baseball," ESPN.com, August 30, 2010.
9 Mary Jo Melone and Art Keeble, "Baseball Was My Life: The Stories of West Tampa," in Tampa Bay History, Volume 23, 2009, 62-64.
10 Chris Welch, "Magadan sets Alabama record," Tuscaloosa News, March 24, 1981: 9.
11 Andrew Carroll, "Will he go pro? David Magadan will wait and see," Tuscaloosa News, April 29, 1983: 15.
12 Melone and Keeble, "Baseball Was My Life."
13 "Will he go pro?"
14 "Will he go pro?"
15 Chris Welch, "Magadan sets Alabama record," Tuscaloosa News, March 24, 1981: 11.
16 "First Magadan, now Snyder in baseball HOF," Tuscaloosa News, September 22, 1982: 20.
17 Carroll, "Will he go pro?"
18 Lew Freedman, Diamonds in the Rough: Baseball Stories from Alaska (Kenmore, Washington: Epicenter Press, 2000), 241.
19 Jonathan Mayo, Facing Clemens (Guilford, Connecticut: Globe Pequot Press, 2008), 9.
20 Mayo, Facing Clemens, 5.
21 "Alabama's Magadan wins baseball award," Associated Press, November 10, 1983.
22 "Alabama's Magadan wins baseball award."
23 "Horton-Magadan."
24 Cecil Hurt, "Magadan getting hitched, then off to Instructional League," Tuscaloosa News, September 16, 1983: 14.
25 "Alabama's Magadan wins baseball award."
26 Howard Blatt, "Magadan, Dykstra prepared for duel," New York Daily News, August 10, 1990.
27 "Sports People: Piniella's Cousin," New York Times, November 10, 1983
28 "Minor League Notes: Mets," The Sporting News, September 9, 1985: 31.
29 "Around the Minors: Mets," The Sporting News, September 8, 1986: 32.
30 "Around the Minors: Mets," The Sporting News, September 15, 1986: 36.
31 Dick Brinster, "Gooden survives rowdy fans as Mets clinch it," Associated Press, September 18, 1986.
32 Mayo, Facing Clemens, 12-13.
33 Maureen Mullen, "His new home is a hit with Magadan," Boston Globe, January 3, 2008. The other two recipients were Terry Leach and Barry Lyons. "'86 Series Rings Arrive at Last," New York Times, December 25, 1995.
34 Andrew Carroll, "'Mags': Toughest adjustment in majors is wondering when he'll play," Tuscaloosa News, July 5, 1987: 1B.
35 Carroll, "'Mags'"
36 Carroll, "'Mags'"
37 Email, Dave Magadan to Rory Costello, December 16, 2014.
38 "Sub Magadan leads Hernandez-less Mets," Associated Press, May 19, 1989.
39 "Mets' Hernandez out two months," Associated Press, May 19, 1989.
40 Amy Niedzielka, "Marlins' Magadan mad again? Not anymore," Calhoun Times and Gordon County News (Calhoun, Georgia), June 4, 1994: 2B.
41 "Sub Magadan leads Hernandez-less Mets."
42 John Dewan, ed., The Scouting Report, 1991 (New York: HarperCollins, 1991), 528.
43 Joe Sexton, "Defensive Effort," New York Times, March 19, 1991.
44 Bob Klapisch and John Harper, The Worst Team Money Could Buy (New York: Random House, 1993), 235.
45 Klapisch and Harper, 237.
46 Cour, "Trade reunites cousins Magadan and Piniella."
47 Cour, "Trade reunites cousins Magadan and Piniella."
48 "Seattle gets Magadan," wire service reports, June 28, 1993.
49 "Seattle trades Magadan back to Marlins," Associated Press, November 10, 1993.
50 The Scouting Report, 1994, 291.
51 "Magadan may be lost for year," Sarasota Herald-Tribune, July 23, 1994: 4C.
52 "Magadan, Astros agree to deal," wire service reports, April 14, 1995.
53 Mark Fainaru-Wada, "Hands-off year for Magadan," San Francisco Examiner, August 18, 1998.
54 Tom Krasovic, "See a Different game," The Sporting News, August 7, 2000: 34.
55 Alan Siegel, "'What a feeling': Sox hitting coach reflects on championship run," The Eagle-Tribune (North Andover, Massachusetts), November 27, 2007.
56 Email, Dave Magadan to Rory Costello, December 16, 2014.
57 "Red Sox hire ex-Padres hitting coach Magadan," Associated Press, October 21, 2006.
58 Brian Hiro, "Padres' poor hitting cost Magadan a job," San Diego Union-Tribune, June 16, 2006.
59 "Red Sox hire ex-Padres hitting coach Magadan."
60 Richard Durrett, "Dave Magadan leaves Red Sox," ESPN.com, October 19, 2012.
61 Richard Durrett, "Dave Magadan wants aggressive, smart bats," ESPN.com, October 19, 2012.
62 Anthony McCarron, "Dave Magadan could be hit as Yankee coach," New York Daily News, October 17, 2014.
63 Email, Dave Magadan to Rory Costello, December 16, 2014.
Born
September 30, 1962 at Tampa, FL (USA)
If you can help us improve this player's biography, contact us.
http://sabr.org/sites/default/files/Magadan-Dave.png
600
800
admin
/wp-content/uploads/2020/02/sabr_logo.png
admin
2012-01-04 19:54:11
2021-03-23 19:20:21
Dave Magadan