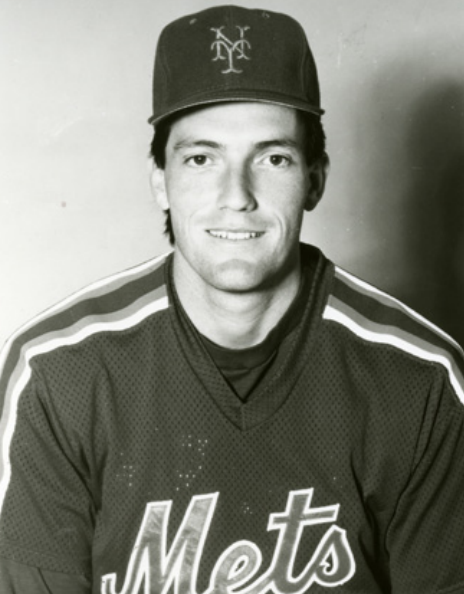 September 17, 1986: Gooden, Magadan lead Mets to first division title in 13 years
---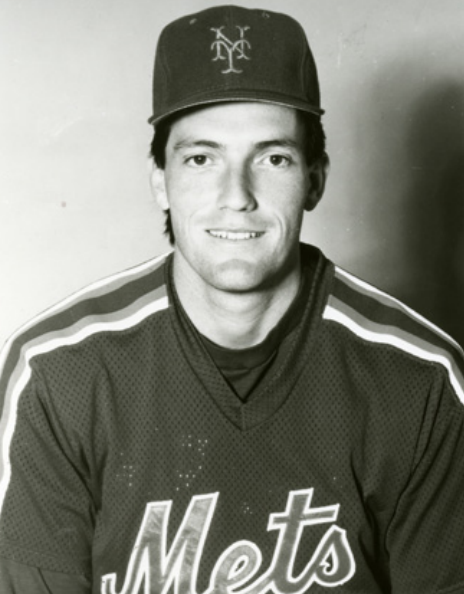 "I can't say enough about it, or savor it enough," said inspirational team leader Gary Carter after his New York Mets clinched the NL East crown by defeating the Chicago Cubs.1 While hard-throwing Dwight Gooden buoyed the team with a sparkling six-hitter, September call-up Dave Magadan, making his first big-league start, supplied the offensive fireworks by collecting three hits and knocking in two runs. The Mets "ended their six-month pursuit of a title in high style," wrote Joseph Durso of the New York Times;2 however, "Shea Stadium was transformed into a house of mayhem," wrote the Chicago Tribune's Fred Mitchell, when hundreds of fans poured onto the field causing massive damage in a riot-like environment.3
There was never any doubt that the Mets would eventually capture their first NL East title in 13 years; the only question was when it would take place. With a record of 94-50, New York enjoyed a commanding 18-game lead over the second-place Philadelphia Phillies as the club headed to Shea Stadium on September 17. The Mets had been in sole possession of first place since April 23 and had enjoyed a double-digit lead in the standings for all but about a week since June 14. They were led by the NL's highest-scoring offense and best pitching staff featuring a quartet of starters (Gooden, Ron Darling, Sid Fernandez, and Bob Ojeda), who each won at least 15 games and logged in excess of 200 innings in 1986. But after winning 16 of 19 games to increase their lead to 21 games on September 7, manager Davey Johnson's squad had hit a rough patch, losing six of seven games, before beating the St. Louis Cardinals at Busch Stadium the previous night behind Carter's three hits. The fifth-place Chicago Cubs (61-83), whose title aspirations 17 years earlier were derailed by the Amazin' Mets' first NL East title, hoped to play spoiler, at least for a game or two.
The Mets and their fans felt confident with 21-year-old right-hander Doc Gooden on the mound. Arguably the NL's most exciting pitcher, Gooden had won the Cy Young Award the previous season with a league-leading 24 wins, a 1.53 ERA and 268 strikeouts. Not quite as dominant in '86, Gooden had won 14 of 20 decisions, giving him a career record of 55-16 with a 3.04 ERA. Toeing the rubber for the North Siders was 31-year-old Dennis Eckersley (6-9, 4.63), in his 12th and final season as a regular starter before his transformation into one of baseball's best relievers following his trade to the Oakland A's in 1987.
Under a brightly lit full moon, a sellout crowd of 47,823 packed Shea Stadium, the Mets' home since 1964. Security was tight, with a visible police presence along the first- and third-base lines to maintain order and ensure safety. The raucous fans vented their collective displeasure by booing rookie Dave Magadan when he was announced as the starting first baseman instead of fan favorite Keith Hernandez, who was suffering from a bad cold.
On a team filled with offensive threats, Magadan proved to be the catalyst in this game. "I found out I was going to play tonight on the plane last night from St. Louis," he said after the Mets' victory. "I was just glad I was able to put all the fans out of my mind when I was at the plate."4 He silenced his naysayers in the first inning when he sliced a two-out single and moved to third on Carter's double. The Mets' first scoring threat ended when Darryl Strawberry flied out to center. With Lenny Dykstra and Wally Backman on first and second in the third inning, Magadan hit a one-out single to knock in the game's first run (and the first in his career) as the partisan crowd cheered its new hero. Two batters later, Strawberry collected the Mets' fourth single of the inning and drove in Backman for a 2-0 Mets lead.
While Gooden mowed down the Cubs, yielding just three hits in the first five frames, the Mets appeared on the verge of breaking the game open in the fifth. Following Dykstra's leadoff double, Eckersley bobbled Backman's sacrifice bunt and threw late to first. In a fairy-tale night, Magadan collected his third single, driving in Dykstra. Strawberry drew a one-out walk to load the bases, but Mookie Wilson hit into a 6-4-3 double play to end the inning. As Shea Stadium vibrated with championship-hungry fans, Mets GM Frank Cashen appeared on the video scoreboard prior to the beginning of the sixth inning imploring fans to celebrate responsibly and spare the field.5
Magadan led off the seventh by reaching base for the fourth consecutive time when first baseman Leon Durham booted his grounder. The cousin and godson of then New York Yankees manager Lou Piniella, Magadan received a thunderous ovation when he was replaced by pinch-runner Stan Jefferson, who subsequently scored on Strawberry's single to give the Mets an apparently comfortable lead, 4-0.
The backslapping and smiling morphed into nervous anticipation just minutes later when Cubs rookie Rafael Palmeiro belted a one-out, two-run homer over the 400-foot sign in right-center field. But it was Gooden's game to win or lose, and he retired the next two batters. The Cubs had the go-ahead runner at the plate with one out in the ninth inning via a walk and a pinch-hit single by Chris Speier, but Davey Johnson's confidence in Gooden didn't waver. Doc fanned pinch-hitter Jerry Mumphrey and got Chico Walker to ground weakly to second base to end the game in 2 hours and 32 minutes.
Hundreds of fans streamed onto the field even before Backman completed his throw to first baseman Keith Hernandez, whom Johnson had inserted to begin the eighth inning so the 13-year veteran could be on the field for the victory celebration. "I could see the wave coming, but I ran into the pile," said Hernandez. "I'm not going to run for my life. Somebody stole my cap, my gamer, and they tried to take my glove right off my hand, but they didn't realize how strong my hand is."6 Backman took a different approach: "I just started jumping over people to get off the ground."7
Fans "starting chewing up the Shea Stadium grounds like so many locusts," wrote Windy City sportswriter Fred Mitchell.8 When order was finally restored, the field looked like a "cratered landscape," observed Joseph Durso, with large chunks of grass missing and even the bases stolen.9 "There's heavy damage, everywhere," said Pete Flynn, the head groundskeeper, who dispatched a crew of 20 to resod the infield overnight in preparation for the next day's game. "The infield is a mess."10 Not all of the fans were pleased with the riotous behavior. "It's a sin the way they're ripping the field apart," said one spectator from Long Island.11
"It's safe to look now, faint hearts," wrote George Vecsey of the New York Times somewhat sarcastically." The Mets have survived the desperate hours."12 In the dugout after the game, Mets players expressed both relief and exhilaration. "It's been a long time and I don't think I ever believed there would be a day like this," said Backman, batting a team-best .334.13 "It's a great, great thrill," cried Gooden, who finished with a six-hitter and eight strikeouts, but also walked five.14 Even New York City Mayor Ed Koch, who had not been to a Mets game since Opening Day, chimed in:."Sonny, it's not just how you play the game," he recalled a saying from his grandmother. "You've also got to win."15 With 17 regular-season games remaining, the Mets were peaking at the right time.
This article originally appeared in "The 1986 New York Mets: There Was More Than Game Six" (SABR, 2016), edited by Leslie Heaphy and Bill Nowlin.
Notes
Additional Stats
New York Mets 4
Chicago Cubs 2
---
Shea Stadium
New York, NY
Box Score + PBP:
Corrections? Additions?
If you can help us improve this game story, contact us.
Tags
http://sabr.org/sites/default/files/Magadan-Dave.png
600
800
admin
/wp-content/uploads/2020/02/sabr_logo.png
admin
2016-12-20 14:24:02
2020-04-17 10:25:57
September 17, 1986: Gooden, Magadan lead Mets to first division title in 13 years