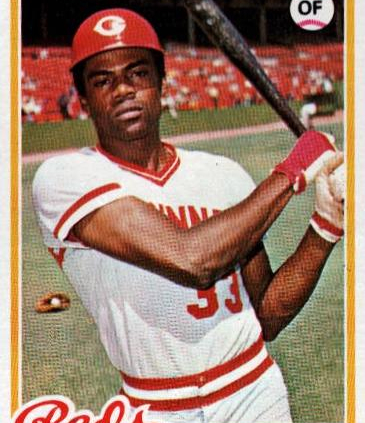 ---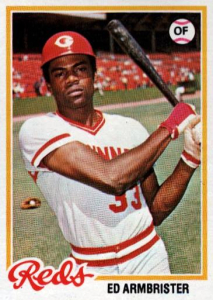 The fourth man from the Bahamas to play in the major leagues, Ed Armbrister was a spare part in Cincinnati's Big Red Machine. His career was modest (265 at-bats in 224 games), but he won World Series rings in 1975 and 1976. Yet for Boston Red Sox fans, Armbrister was in the wrong place at the wrong time. The outfielder is still best known for his controversial collision with Carlton Fisk in Game Three of the 1975 Series. He was one of the gremlins that wouldn't be cast out until Boston finally became a baseball champion again in 2004.
Even still, some resentment lingers among the old Fenway faithful – but it's hard to find a less likely target. Said Ed's manager, Sparky Anderson, "Ed Armbrister is just a nice person. He's a person that anyone would like to be around. He's always smiling, he's happy. I don't think nothin' ever disturbed him. He could run like heck, he was a good outfielder, his offense . . . he wasn't gonna set no records with his bat or anything, but he was a great extra man to have. Any club could use a guy like that – a very valuable person to have on your club."
Edison Armbrister, Jr. was born on July 4, 1948, in Nassau, the Bahamian capital, on the island of New Providence. His father, Edison Sr., was a bus driver for Western Transportation and then a security officer for Bahamas Faith Ministries. He and his wife Mary (née McQuay), had 13 children.1 Ed had four brothers (Paul, Keith, Jonathan, and Kelson) and eight sisters (Cheryl, Rhonda, Tangy, Jessica, Andrea, Maria, Ashley, and Charlene). One of the brothers, Jonathan, played briefly in the minors in 1978.
About 85 percent of the population in the Bahamas is of African descent, and the name Armbrister is prominent among both black and white residents. It's a colorful and complex story involving the American Revolution, Loyalists, plantations, and slavery. The islands were a British crown colony from 1718 until 1964 (when it became an independent nation, a member of the British Commonwealth), so it's no surprise that the main sport, historically, was cricket. Baseball later became visible there, and it took off thanks to former cricketer André Rodgers, who began his professional baseball career in 1954. Later that year, the Bahamas Baseball Association (BBA) was formed.
Rodgers made his big-league debut in April 1957, when Armbrister was just 8 years old. (The heritage of Bahamians in the majors began with Negro Leaguer Ormond Sampson). He remained in the majors through 1967, by which time Ed himself had signed a professional contract. After Rodgers died in December 2004, Armbrister said, "I followed André for a long time, and it was him who inspired me to become a professional ballplayer. André was always a positive guy. He was a strong-minded person, and I always said if I could just be like André I would be successful."2
The third Bahamian big leaguer, Tony Curry, signed with the Phillies in 1957. Armbrister also offered memories upon Curry's funeral in October 2006. "I never knew Tony Curry the way I did André Rodgers, but I remember when I was small and used to play baseball on the Southern Recreation Grounds, Tony Curry was there, André Rodgers was there, and a lot of these players [also attending Curry's service] were there at the same time. With me being so small – all I knew was, when he went off to play professional baseball he was a good hitter, he was a good player, and he was fast. When he went to play professional baseball, a lot of youngsters said, 'Hey – if he can do it, I can do the same thing!' He was someone right from home – he gave a lot of other people in the 'backyard' the idea of going to play professional baseball. I was one of them, and 'Sudgy' [the late Wil Culmer] was one of them.'"3
Among these other talented men was Vince Ferguson, who signed with the Milwaukee Braves' organization in 1961 and reached Triple-A in 1966-67. Another was Ed Moxey, a catcher/outfielder signed by the Giants, who tore up lower levels starting in 1962, though he never got past Double-A. Former BBA president Oswald Brown, who later became a prominent journalist, said, "Indeed, in the decade after André Rodgers became the first Bahamian to make it to the major leagues in 1957, baseball had developed to the point where it was unquestionably the most popular sport in the country."4
Grassroots support was strong among Bahamian youth. There may not have been much infrastructure,5 but there was plenty of pickup fun. In 1972 Armbrister recalled that he and his friends "played wherever we found an open space – in streets, vacant lots, and even a cemetery. But we got chased out of there because we were knocking over too many grave markers and crosses. We used any kind of a ball we could find, even tennis balls. For bats we used broomsticks, tree limbs, and boards."6
It's likely that Ed played at least some cricket too, as did Wenty Ford (who pitched for the Atlanta Braves in 1973) and Wenty's brother Eddie (who played with Armbrister in their first professional season). He enjoyed a variety of other athletic pursuits, including swimming, basketball, and track.
The Bahamas had joined the National Baseball Congress in 1957, and teams from Nassau went to the NBC tournament in Wichita, Kansas, starting in 1964 and 1965. Ed did not make the trip in 1964; though he may have been part of the 1965 squad, he was probably still too young. He was attending Nassau's Western High School, but as he told author Mike Dyer in 1979, "All we had were amateur leagues. I played a little high-school baseball, but there weren't any good baseball facilities and the coaching was poor. I was just lucky."7 Pro scouts were watching the Bahamas, though, and the 18-year-old was signed in late 1966. Armbrister later recalled the circumstances.
"I remember I was painting my mother's house during the Christmas and a scout by the name of Paul Florence came by, he was with another gentleman, Bernice Albury, and they asked me to go out to the Sports Centre and do some training."8 Albury was a member of Nassau's 1964 NBC team. Florence – an old New York Giants catcher who had previously scouted Cuba for Cincinnati – represented the Houston Astros. He had actually been expecting Ed for several days, but the young man "didn't know anything about scouts, what they were or what they did, and I didn't show up."9 It is not known whether the tardiness influenced what was probably a very modest bonus.
Armbrister was not a big man, standing 5-feet-11 and weighing just 160 pounds, but he did have speed. He was also a good bunter, which would be one of his purposes in the majors. However, Ed's first season in the minors, with Houston's Cocoa team in the Florida State League (Class A), was not auspicious. He hit just .211, with one homer and 32 runs batted in. Returning to Cocoa in 1968, Ambre (as his friends also called him) boosted his average (.261-2-32), while stealing 35 bases in 42 tries. He then went to High A ball in 1969, with Peninsula in the Carolina League. Continued improvement was visible, notably some more power (.271-8-30).
Armbrister climbed to Double-A for 1970. Baseball Digest issued a prescient scouting report on him that March: "Speed may carry him to majors in two or three years. Can spray hits, but needs work with fielding to get chance."10 That was an upgrade from the previous year, when the magazine said, "Only glaring weakness is with the glove."11 Following his typical slow but steady progression, Ed spent the 1970 season and the next with Columbus (Georgia) in the Southern League. Although his average dipped to .238 against the stronger competition the first year, he picked up to .298-9-42 in 1971. The Astros also experimented with him at third base during this time.
On November 29, 1971, Houston made a trade with Cincinnati that would work out much better for the Reds. Second baseman Joe Morgan, pitcher Jack Billingham, outfielder César Geronimo, infielder Denis Menke, and Armbrister left the Astros in return for second baseman Tommy Helms, first baseman Lee May, and utilityman Jimmy Stewart. Ed, a throw-in, was barely mentioned in the stories about the deal. In 1976 Sparky Anderson remarked, "Hell, Houston gave away Ed Armbrister."12
Armbrister took it hard at first. "I was disappointed to think that Houston had given up on me. I thought I had a better chance in the Houston organization because Cincinnati was an established club with plenty of outfielders. But I just told myself, 'Ed, you're going to have to go extra hard now if you expect to make it with Cincinnati.' "13
The diligent Bahamian lifted his game again with the Reds' Triple-A club, Indianapolis. He became a .300 hitter in 1972 and maintained that level in 1973, also hitting 10 homers for the first time as a professional baseball player and driving in 72 runs. In the outfield with him were George Foster and Ken Griffey, Sr. That May Indians manager Vern Rapp said, "These can be the finest three players I've ever managed as far as outfield talent is concerned. They all have excellent speed, good range, and fine arms. This could be the finest outfield, at least defensively, in the minor leagues."14
Cincinnati called the entire trio up at roughly the same time in late August. Said author Tom Adelman, "Initially, it struck Pete [Rose] as too much. . . . Griffey was a talent, Rose wouldn't deny that. . . . But Foster was elusive, unreliable, too quiet, too wide-eyed, while Armbrister was not serious enough. Indeed, Armbrister was always exploding with song.15 Singing in the dugout! By God, it bothered the f*** out of Rose." Adelman went on to explain, though: "In the Bahamas, work means long hours for low pay. To be paid to play a child's game – Armbrister cannot help but giggle."16
Ed made his big-league debut with the Reds on August 31, 1973, beating countryman Wenty Ford to the majors by ten days. He pinch-ran for Rose, stayed in the game playing left field, and struck out in his first at-bat, against Gary Ross of the Padres. Five days later, on September 5, he tripled and later hit his first homer in the majors, off Houston's Jerry Reuss at the Astrodome. "It's guys like Dan Driessen and Ed Armbrister who are helping us turn the season around," said Rose (Cincinnati had climbed into first place just two days before).17
A little over a week later, the Braves came to Cincinnati, and there was a Bahamian reunion between Ford and Armbrister. The last time that had happened was April 22, 1961, when André Rodgers (Chicago Cubs) and Tony Curry (Philadelphia Phillies) both played at Connie Mack Stadium. It didn't occur again until April 27, 2022, when Jazz Chisholm of Miami and Lucius Fox of Washington met at Nationals Park.
In October Cincinnati dropped disgruntled Bobby Tolan from its playoff roster, and Ed remained. He played in three games and went 1-for-6 with five strikeouts as the New York Mets upset the Reds in the NLCS, three games to two. He even started Game Three in place of lefty-hitting César Gerónimo, since Anderson wanted more right-handers to hit against Jerry Koosman. That game featured the infamous fight near second base between Rose and Mets shortstop Bud Harrelson, with a subsequent bench-clearing brawl. From center field, Ed had a close view as the left-field crowd at Shea Stadium heaved bottles, cans, and garbage toward Rose, nearly causing a forfeit.
That offseason the Reds traded for two veteran outfield reserves, Merv Rettenmund and Terry Crowley. Therefore Armbrister spent most of 1974 in Indianapolis, playing only nine games with the big club during September and October. From 1975 through 1977, though, he remained in Cincinnati for the full year. Still technically a rookie in 1975, he got only 65 at-bats in 59 games, hitting just .185. Yet Ed remained assured. "Sooner or later I knew I was going to contribute," said the seldom-used Armbrister. "I've been telling them all year it was going to be my turn in the playoffs."18
Indeed, he made his only plate appearance count in the 1975 NLCS. It was the top of the tenth inning in Game Three. Griffey bunted his way on with two strikes and reached third with one out. Then Armbrister, batting for Rawly Eastwick, lifted a sacrifice fly to center. The Reds took the lead and completed their three-game sweep of the Pirates.
In the World Series, against the Red Sox, Ed came to the plate four times in four games. The one people still remember came in Game Three at Cincinnati's Riverfront Stadium. Again it was the tenth inning. Gerónimo led off with a single, and once more Armbrister came on to bat for Eastwick. His job was to sacrifice, but his bunt was not a good one.
"I wanted to push it way out but it took a high bounce right in front of the plate," he explained. "I was standing there and I felt [Fisk] from behind. I saw him make the throw to second. I could see the throw was going to be high. But that's just the way the play went."19 In 1985 Ed said, "I really don't know why I stopped. I still can't tell you that. Carlton Fisk, being experienced, should have known what to do. For some reason, I hesitated and he was out there like a cat. I saw him reaching for the ball, and I decided to make my way down to first base. My right knee hit his left shinguard. He then made a grunt sound, like he wanted to put everything into the throw."20
Fisk and Red Sox manager (and former catcher) Darrell Johnson were furious. They thought it was clearly interference. Curt Gowdy and Tony Kubek, calling the game for NBC Television, were also vehement. Umpire Larry Barnett, however, said, "I ruled that it was simply a collision . . . simply part of the process of getting to first base."21
Johnson's appeal was fruitless, Gerónimo later scored, and Fisk continued to fume – "It's a damn joke" – after the loss. The whole Boston club was in vile temper. Bill "The Spaceman" Lee said, "If it was me out there, I would have bitten [Barnett's] ear off. I'd have Van Goghed him!"22 Carl Yastrzemski heaped invective on the umpires, who were selected for the postseason via rotation at that time. Boston Globe columnist Ray Fitzgerald observed, "I have been in many sullen and snarling locker rooms in the last decade, but none as bitter as the one last night. The Grinch had stolen Christmas from the Red Sox."23
On the winning side, Armbrister himself added, "There was no way I was trying to block him. . . . If [Fisk] hit from behind, I would say he interfered with me." This jibed with National League umpire Dick Stello's view on the appeal. Sparky Anderson "ducked that one nicely, with his tongue in his cheek. 'To be honest with you,' he answered, 'I don't see all that well.' "24 He also said, "We're lucky. . . . The good Lord takes care of us. . . . Thank God I'll never have to decide whether to argue."
There have been many exhaustive post-mortems on the play. Johnson could and perhaps should have lodged a protest. Fisk shoved the hesitant Armbrister aside with an empty mitt, but he could simply have tagged him instead of throwing hastily. Barnett and Stello could have interpreted the rulebook better; the issue of intent was nebulous. A shadowy "supplemental instruction" to umpires from Major League Baseball before the Series complicated this aspect still further.25
There's still no consensus – except, of course, among Boston supporters – as to whether it was interference. "I still don't know what was right!" said Alex Grammas, Cincinnati's third-base coach, in 1999. Even his opposite number for the Red Sox, Don Zimmer, came to say the same thing in his memoirs. The Reds went on to win the Series in seven games. It remains one of the best fall classics ever.
Armbrister appeared in a career-high 73 games in 1976, hitting .295 in just 78 at-bats. On July 31, in Cincinnati, he enjoyed his peak performance; his four hits included two homers, both off San Diego's Brent Strom. He joked about his playing time in an article on baseball superstition. "Ed Armbrister . . . hails from the Bahamas, where voodoo is feared by many natives. But Armbrister is not among the believers. 'If I believed in it, I'd have some voodoo woman put a hex on somebody and get me in the lineup.' "26
In the NLCS that year, Ed got into one game with one plate appearance against the Phillies. He did not appear in the World Series – there was little need, as the Reds steamrolled the Yankees in four straight. Armbrister remained in his caddy role in 1977, hitting .256 in 78 at-bats in 65 games. An offseason operation for a bone spur in his right elbow still hampered his throwing in the spring of 1978, though.27 He was sent back to Indianapolis, and Dave Collins became the Reds' spare outfielder. Despite another solid year at Triple-A, Armbrister never resurfaced in the major leagues, or in US Organized Baseball. He finished with a career batting average in the majors of .245.
After a season at Indianapolis, two years in the Mexican League then followed. In 1979 Armbrister played for Yucatán and Tampico (.291-13-62). After he hit just .180 in 35 games for Nuevo Laredo in 1980, his time as a professional baseball player) came to an end.
He returned to the Bahamas. As of 1985, Ed was a craps-table croupier at Resorts International's Paradise Island Casino.28 He worked for at least one other establishment in the gaming business, a staple of the Bahamian tourist economy.29 As of 2006, he was with the Local Government and Consumer Affairs agency, on Arawak Cay, a popular attraction in the Nassau area. He was married and had three children.30 His first wife was named Yvonne and their daughters were Phyllis, Dionne, and Alexis. Later, from his second marriage to Rosella, he had another daughter named Edda. In his leisure hours, Armbrister became a notable local softball player.31
According to Oswald Brown, "Beginning in the 1980s, baseball was allowed to deteriorate" in the Bahamas.32 The BBA had become largely dormant. In 1993, however, a new group called the Bahamas Baseball Federation sprang up. The same year, the New Providence Amateur Baseball League started play, and the game regained some momentum in the outer islands as well. The nation still produced a handful of prospects, including Antoan Richardson, who in 2011 enjoyed his first of two brief stints in the majors after battling back from the independent Northern League. Armbrister remained involved, having served as a consultant to the Ministry of Sports, with a mission to boost the game in local junior and senior schools. In July 2005 he managed the Bahamian junior national team that beat their Cuban counterparts 7-6.33
On March 10, 2007, Armbrister received the honor given to the top sporting figures in the Bahamas, as his picture was added to the Wall of Fame at Lynden Pindling International Airport. Many local observers felt it was long overdue, but Ed took it philosophically, saying, "Better late than never."34 In October 2008 he became a member of the Bahamas National Hall of Fame.
Ed occasionally made it back to Cincinnati for Big Red Machine reunions; the last time was in November 2008. "Armbrister . . . looks like he could still fit into his Reds uniform. 'Eddie,' [formerly thin Dave] Concepción grinned, 'no food in Nassau?' "35
After a long struggle with diabetes, Armbrister died at his home in Nassau on March 17, 2021. He was 72.
At first Ed Armbrister expressed reluctance that one moment should define his career – but over time he came to embrace the idea. In fact, his e-mail address commemorated the notorious bunt play. Still, the greatest measure of this man was his character. In 1999 Sparky Anderson underscored his view: "You would keep him just because you liked him. Everybody liked him. He's a good one." Alex Grammas echoed the feeling: "You couldn't help but like him. That to me is Number One."
Acknowledgments
This biography was originally published in the book The Great Eight: The 1975 Cincinnati Reds (University of Nebraska Press, 2014), edited by Mark Armour. For more information, or to purchase the book from University of Nebraska Press, click here.
Special thanks to Andrea Newbold (sister of Ed Armbrister), Lisa Newbold, and Alexis Armbrister for supplying previously missing details about the family of Ed Armbrister in March 2021.
Most recent updated: December 5, 2022. 
Sources
National Baseball Congress, Official Baseball Annual, 1965
Treto Cisneros, Pedro, editor, Enciclopedia del Béisbol Mexicano. Mexico City: Revistas Deportivas, S.A. de C.V., 1998.
Sparky Anderson, telephone interview with author, September 21, 1999
Alex Grammas, telephone interview with author, October 1999.
Craig Kemp, president, Bahamas Baseball Federation.
www.baseballbahamas.net
Notes
Full Name
Edison Rosanda Armbrister
Born
July 4, 1948 at Nassau, New Providence (Bahamas)
Died
March 17, 2021 at Nassau, New Providence (Bahamas)
If you can help us improve this player's biography, contact us.
https://sabr.org/wp-content/uploads/2012/01/ArmbristerEd.jpg
513
365
admin
/wp-content/uploads/2020/02/sabr_logo.png
admin
2012-01-04 20:34:10
2022-12-05 14:18:29
Ed Armbrister