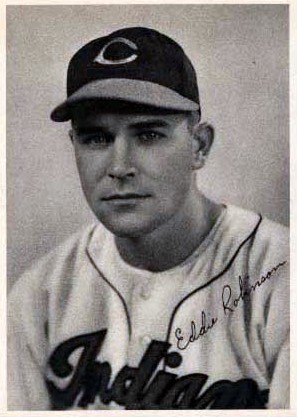 ---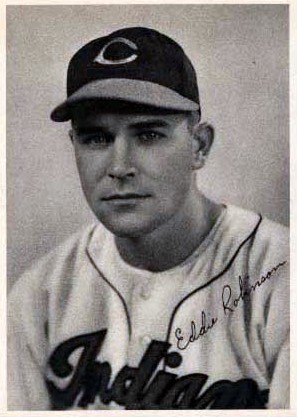 Former Rangers general manager Eddie Robinson may hold the record for the most times standing up for the National Anthem at a baseball game. His professional baseball career spanned 65 years, from 1939, when he broke in with the Valdosta Trojans in the Class D Georgia-Florida League, through 2004, when he retired from scouting for the Boston Red Sox. During the late 1980s, 1990s and early 2000s, Robinson was a fixture behind home plate at Texas Rangers games, scouting for various major league teams.
Robinson grew up in humble circumstances in Paris, Texas, during the Depression. He was an only child whose father left the family, and his parents divorced when Eddie was 12. During high school, to help make ends meet, Eddie would take a 10-cent taxi ride at 4:45 a.m. across town to his uncle's Northeast Texas Motor Freight Line, where he would load trucks and deliver produce to local grocers until 8 a.m. He would then attend school all day and after school practice or play whatever sport was in season. He also loaded trucks at the freight line all day Saturday, all to earn six dollars a week.
Fortunately, Eddie could always hit a thrown object. In grammar school he was the only kid who could hit a softball over the right-field fence on the playground. At age 14 he was playing for Charlie Osborne's Cubs, a local team made up of 14- to 20-year-olds. He purchased a Bill Doak fielder's glove for six dollars, paying it off at fifty cents a week. When the Cubs moved him to first base, Robinson just played with his fielder's glove since he couldn't afford a first baseman's glove, too.
After his sophomore year Robinson was recruited to play for a local semipro team called the Coca-Cola Bottlers. Their main claim to fame was the fancy red satin uniforms furnished them by the local Coca-Cola bottling company. Robinson was 16 years old playing against men and former pros, but found he could still hit. Clyde "Deerfoot" Milan from nearby Clarksville and other scouts were soon on Eddie's trail. Eventually, Billy Disch, the legendary baseball coach at the University of Texas, offered Eddie a four-year scholarship. But times were tough and Eddie believed that if he signed a pro contract he had a good chance of making the major leagues in four years. It turns out he was right; in 1942 Eddie was a late season call-up to the Cleveland Indians.
His road to the big leagues was not, however, without its pitfalls. He signed in 1939 with the Knoxville Smokies of the Southern Association for a $300 bonus. Before he left Texas for spring training, he bought his mother a much-needed washing machine and went around town paying off his debts from local restaurants where he had run tabs. After spring training he was assigned to the Valdosta Trojans of the Class D Georgia-Florida League, the bottom rung of the minor leagues. Early in the year, Robinson was hitting under .200 and was afraid of being released. At one point his manager, Bill Morrell, told Eddie that they were bringing another first baseman in, but that they were going to give him another chance. When Eddie remarked that he knew that he could hit better, Morrell said, "It's not your hitting that's bothering me, it's your fielding."
The 18-year-old Robinson managed to bat .249 in 1939 and improved his fielding by spending hours of practice catching throws in the dirt. It must have worked because later when Robinson was with the Chicago White Sox, manager Paul Richards told him that he was the best Richards had ever seen at catching thrown balls. Still, at the end of the 1939 season, manager Morrell told Robinson that he "may as well go back to Paris and open an ice cream parlor" because he didn't think Eddie would ever be a big-league ballplayer. Robinson had shown enough to return to Valdosta for 1940, however, and he improved to .323, drove in 105 runs and hit an amazing 21 triples, playing in a ballpark with huge power alleys.
That performance earned him a 1941 spring training invitation with the Baltimore Orioles of the International League, the top rung of the minor leagues. He ended up with an assignment to the Elmira Pioneers of the Class A Eastern League, still a huge jump from Class D. Robinson hit a solid .295 for the year and teamed with Sal Maglie to lead the team to a third-place finish. They then swept the pennant-winning Wilkes-Barre Barons in the first round of the playoffs and won the league championship in seven games against the Williamsport Grays.
Robinson did stick with the Orioles of the International League in 1942, and the 21-year-old had an outstanding year, hitting .306 with 27 home runs and 104 runs batted in. He earned a late season call-up to the Indians and collected eight at bats, mostly as a pinch hitter. He did nail his first big league hit, a line drive to right field in Cleveland's old League Park against Ray Scarborough of the Washington Senators. After the 1942 season, Robinson enlisted in the Navy. He then married Elayne Elder after his basic training early in February 1943. The couple had two children: Robby Ann, who died before her third birthday from a brain tumor, and William E. Robinson III, before divorcing in 1951.
Robinson lost three full seasons while serving in the Navy. It was there that a botched leg operation almost cost him his baseball career. He was able to come back, however, after a second surgery, and enjoyed a banner year back with Baltimore in the International League in 1946, slugging 34 home runs and driving in 123 runs to lead the loop. For his efforts he was named International League MVP, narrowly beating out a couple of pretty fair ballplayers named Jackie Robinson and Bobby Brown; Brown later became the Rangers' president and then the president of the American League.
Eddie Robinson made the major leagues for good in 1947. He batted .245 in 95 games before fouling an Allie Reynolds fastball off his ankle in early August, breaking it and putting him in a cast for six weeks. In 1948 he was again the starting first baseman for the Indians, improving slightly to .254 in 134 games. Those Indians, after beating the Red Sox in a one game playoff for the American League pennant, defeated the "Spahn and Sain and pray for rain" Boston Braves in the World Series in six games. For the Series, Robinson was the second leading hitter for the Indians, hitting .300 in 20 at-bats. That '48 club remains the last Indians team to have won a World Series.
Robinson did not get along well with Indians manager Lou Boudreau, who tended to favor veteran players, and after the 1948 season was traded to the Washington Senators with pitchers Joe Haynes and Eddie Kleiman for pitcher Early Wynn and fellow first baseman Mickey Vernon. Robinson fit in well with his new club and got off to a strong start. For his efforts, he was named the starting first baseman for the American League in the All-Star Game, played in 1949 in Ebbets Field in Brooklyn. In his first All-Star at-bat, he lined a single to right field off Warren Spahn to drive in Joe DiMaggio, helping the American League to a 11-7 victory. He continued his solid play during the second half of the season and wound up hitting .294 with 18 home runs, 27 doubles, and 78 runs batted in for a last place team that won only 50 games.
After a great spring training in 1950, Robinson caught the flu and got off to a slow start in the regular season. On May 31 he was traded again, this time to the Chicago White Sox in a six-player deal. Once with the Pale Hose, he began to hit and finished the year hitting .295 and improving to 21 home runs and 86 runs batted in for a sixth-place club. Eddie ended up playing in 155 games that season and did not steal a base, setting a major league record for the most games played in a season without one. In 1951, for an improving White Sox team that finished fourth under new manager Paul Richards, Robinson had his best year yet, batting .282 and finishing third in the league in both home runs and runs batted in with 29 and 117, respectively. He was also named to his second AL All-Star team.
In 1952 Robinson put together another banner year as the White Sox rose to third place. He finished with a .296 batting average, 22 home runs, and 104 runs batted in, only one behind league leader Al Rosen. He was named the starting first baseman for the American League in the All-Star Game, going 1-for-2 in the five-inning, rain-abbreviated game in Philadelphia.
Following the season, Robinson was trying to negotiate his contract for 1953 when he learned that White Sox general manager Frank Lane had traded him in a five-player deal to the Philadelphia Athletics first baseman Ferris Fain, who had won the last two American League batting titles. The trade sent him from the up and coming White Sox to a team that finish 1953 in seventh place, 41½ games out of first. Although Robinson's batting average dipped to .247, he had another good power year with 22 home runs and 102 RBIs in 156 games. He was also named to the All-Star team again, flying out in a pinch-hitting appearance.
After the 1953 season, Robinson was traded again, this time to the five-time defending world champion New York Yankees in a huge multi-player deal. The Yankees already had Joe Collins and promising rookie Bill "Moose" Skowron at first, so Eddie mostly was used as a pinch hitter, going 15-for-49 in that role for a .306 average. He hit .261 overall in 142 official at bats but, although the Yankees won 103 games, they still finished in second place, eight games behind the streaking Cleveland Indians. He was again relegated to part-time action for New York in 1955, but had more runs batted in (42) than hits (36) and slugged an amazing 16 home runs in only 173 at bats to set a home-run-to-at-bat ratio record that still stands. The Yankees won the pennant by three games over the Indians but lost, finally, to the Brooklyn Dodgers in the World Series in seven games. Robinson appeared in four of the games and had two hits, two walks and a hit-by-pitch in six plate appearances for an .833 on base percentage.
Immediately after the 1955 World Series, Robinson married the former Bette Farlow. The newlyweds then embarked on a round-the-world honeymoon which included the Yankees postseason exhibition tour of Japan. The couple raised three sons – Marc, Drew and Paul – and as of this writing have been married for 56 years. For a time while Robinson was between marriages, he dated pop singer Patti Page.
The Yankees were still overcrowded at first base in 1956 and traded Robinson to the Kansas City Athletics at the trading deadline in a four-player deal. For the year, he batted only .204 in 226 at-bats. He played out the string in 1957, appearing in a handful of games for the Baltimore Orioles (the former St. Louis Browns), the Cleveland Indians and the Detroit Tigers, He retired after being released by the Tigers.
Shortly after Robinson retired, the nerve problem in his leg stemming from the botched surgery during World War II recurred, which would have made it impossible for Robinson to continue to play.
In all, Robinson had a stellar 13-year major league career, making four All-Star teams and playing for seven of the eight American League franchises (he missed only the Boston Red Sox). His 29 home runs for the 1951 White Sox stood as the team home run record for nearly 30 years. He was the seventh player and first White Sox to hit a ball over the roof at old Comiskey Park; the first six were Hall of Famers Babe Ruth, Lou Gehrig, Jimmy Foxx, Hank Greenberg, Ted Williams, and Mickey Mantle. For a power hitter and run producer, Robinson had outstanding bat control and never struck out more than 56 times in a season. Only in two seasons did he whiff more than walk, and in those seasons he was a part-time player. In 1950, for example, he fanned only 32 times in 647 plate appearances. Ted Williams declared that Robinson "was the most underrated and best clutch hitter I ever played against."
After retiring from his playing career, Robinson coached and scouted for the Orioles under his mentor Paul Richards beginning in 1958. When Richards was hired in 1961 to be the general manager for the new Houston Colt .45s National League franchise, he brought Robinson along as his assistant general manager. Robinson was involved in the first expansion draft for the Colt .45s and became farm director for five years before moving on to Kansas City in 1966 to become assistant general manager for the Athletics under GM Eddie Lopat and renegade owner Charles O. Finley.
After one year in Kansas City, Paul Richards, who was by then general manager of the Atlanta Braves, brought Robinson to Atlanta as the organization's farm director. Four years later, in 1972, the Braves elevated Robinson to the GM position. It was Robinson who traded Hank Aaron, who was amenable to finishing his long career back in Milwaukee with the Brewers. Ted Turner purchased the Braves in 1976 and kept Robinson on as his GM, but when Brad Corbett, owner of the Texas Rangers offered Robinson the opportunity to return to his native Texas as general manager of the Rangers after the 1976 season, Robinson accepted.
Robinson's first season with the Rangers, 1977, turned out to be one of the most tumultuous in the team's history, beginning with Lenny Randle's attack on manager Frank Lucchesi in spring training. In June, the team was floundering. Corbett and Robinson fired Lucchesi and hired Eddie Stanky, who quit after only one game. After Robinson hired Billy Hunter to replace Stanky, the Rangers finished 60-33 and held the division lead as late as August 18, before finishing second behind the Royals, who won 102 games that year.
Robinson's tenure as general manager continued into June 1982 when Eddie Chiles, who had purchased the team from Corbett in 1980, fired him. Robinson's years with the Rangers were anything but calm and serene and included five managerial changes. The team was in contention most years; Robinson and Corbett became known for wheeling and dealing to try to get the Rangers over the hump. For example, before the 1978 season they made deals to bring Fergie Jenkins, Al Oliver, and Jon Matlack to the Rangers. For 1979 they acquired Buddy Bell, fireman Jim Kern, and Mickey Rivers. In subsequent years, Robinson traded Oliver to the Montreal Expos for Larry Parrish and acquired Charlie Hough from the Dodgers for the waiver price. Hough still owns the Rangers' record for most wins with 139.
Some of Robinson's trades did not work out so well, most notably the deal that brought Lee Mazzilli to Texas for pitchers Ron Darling and Walt Terrell. The Rangers were contenders and Robinson made the deal to plug a huge hole in left field, giving up two top pitching prospects in the hopes of winning immediately. The Mazzilli trade bombed from the beginning, with Mazzilli disgruntled about playing left field rather than center and expressing his general distaste for "the sticks," as he called Texas.
Of the near-misses, 1981 was perhaps the closest, as the Rangers missed their first postseason by .017 percentage points. That season was marred by a 50-day player strike which began on June 12. Because of the strike, the division leaders on June 12 were declared first-half winners and played the post-strike second-half winners in a miniseries to determine the division champion. The Rangers wound up losing a June 11 game to the Brewers that left them with a first-half 33-22 record, just those .017 percentage points behind the Oakland A's.
When the Rangers struggled early in 1982, Eddie Chiles decided to fire Robinson. Within hours of the announcement, George Steinbrenner offered Robinson the Yankees' general manager position. Robinson declined the job because he did not want to uproot his family and leave Texas. Instead, he became a special assistant to Steinbrenner for three years, consulting and scouting for the team but remaining based in Fort Worth.
After his years with the Yankees, Robinson formed his own innovative one-man scouting combine and worked first for the Houston Astros and Minnesota Twins, and later at various times for the Philadelphia Phillies, San Francisco Giants, Cincinnati Reds, Montreal Expos, Boston Red Sox, Seattle Mariners, Atlanta Braves and the Yankees again. Along the way, his scouting and player evaluation helped three teams win pennants and the World Series, including the 1987 and 1991 Twins and the 1990 Reds.
When Robinson retired in 2004 after 65 years in pro baseball, he had received paychecks from 16 major league clubs, including several that he both played and worked for. Along the way he had come to know the likes of Babe Ruth, Tris Speaker, Rogers Hornsby, Hank Greenberg, Dizzy Dean, Brooks Robinson, and Hank Aaron. He played with or against Ted Williams, Bob Feller, Satchel Paige, Joe DiMaggio, Jackie Robinson, Larry Doby, Robin Roberts, Warren Spahn, Yogi Berra, Whitey Ford, and Mickey Mantle to name a few, and played or worked for Bill Veeck, Clark Griffith, Casey Stengel, Paul Richards, Charlie Finley, Ted Turner, and George Steinbrenner.
Robinson also has had a long involvement with the Major League Baseball Players' Association, beginning in 1953 when he was elected the player representative for the Philadelphia Athletics. Even in retirement, Robinson remained active in major league baseball, persistently lobbying for and finally helping secure "orphaned" pre-1979 major league players a pension. Although today every player who appears on a major-league roster for even one day is vested in the pension fund, before 1979 players had to have four years of major league service to qualify for any pension at all. Working for more than a decade through the Major League Baseball Players' Alumni Association, Robinson finally, in 2011, got the Players' Association and the commissioner to agree to at least partially fund those 800 or so former players.
Eddie Robinson had an impressive baseball career, especially for a kid raised in East Texas in the height of the Depression. With all his baseball travels, however, Robinson ended his career where it began, right back in Texas. Into his 90s, he was playing golf several times a week and watching the Rangers play every day, either on television or at the ballpark. He celebrated his 100th birthday on December 15, 2020, one of just a handful of ballplayers to reach that milestone, and was still going strong into his second century of life.
He died on October 4, 2021, at his ranch in Bastrop, Texas.
Sources
This biography is adapted from the book Lucky Me – My Sixty-Five Years in Baseball by Eddie Robinson and C. Paul Rogers III (Dallas: SMU Press 2011).
Born
December 15, 1920 at Paris, TX (USA)
Died
October 4, 2021 at Bastrop, TX (USA)
If you can help us improve this player's biography, contact us.
http://bioproj.sabr.org/bp_ftp/images6/RobinsonEddie.jpg
600
800
admin
/wp-content/uploads/2020/02/sabr_logo.png
admin
2012-01-13 20:03:54
2022-04-04 13:52:36
Eddie Robinson