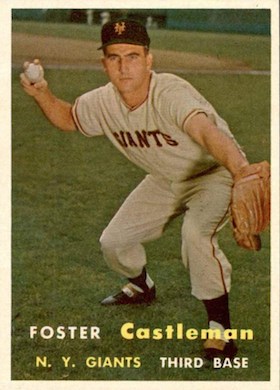 ---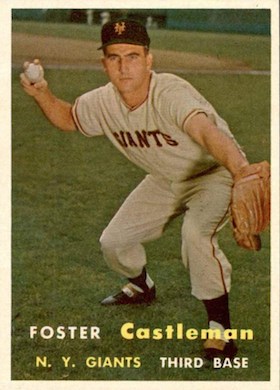 Signed as a shortstop by the New York Giants in 1949, Foster Castleman appeared in 170 games with them in four seasons (1954-57). Finally in 1958 the Baltimore Orioles platooned the right-handed-hitting Castleman with switch-hitter Willy Miranda at shortstop. Castleman had begun his pro career as a heralded fielder, but three knee surgeries had taken their toll. "Shortstop is hard enough with two good knees, let alone two bad ones," he said.1The stint with the Orioles was his last time in the majors. Sadly, years later he would find that he was just short of the service time needed to earn a pension.
Foster Ephraim Castleman Jr. was born January 1, 1931, in Nashville, Tennessee.2 Foster's parents were Nashville natives. His father played football and baseball in high school until a football injury put him out of action. The athletic talent extended throughout the Castleman family; Clydell "Slick" Castleman, a 1930s major leaguer, was a cousin of Castleman's father. The elder Castleman was working as a draftsman when he married Blanche Marie Jackson in 1930. A second son, Louis Ellwood, joined the family in 1934. The couple added a third child, Betty Jean, in 1937.
In the mid-1930s, when the Depression worsened in Nashville, the family moved to Jacksonville, Florida, to find work. Castleman senior found employment as a city electric meter reader and held other secondary jobs. He also began a lengthy career in fast-pitch softball. He was still a manager of a top team when his son was old enough to join the squad. Blanche helped supplement the family income by working in a bookbinding factory.
Foster attended Jacksonville schools until his graduation in January 1949 from Robert E. Lee High School. He learned a love for baseball and tried out for the high school team as a 5'10", 125-pound freshman. He was cut from the team, partly because of his size and also because the team was so talented they won the state championship in 1945. In 1946 he made the squad and played shortstop even though he was still only 5"11" and 135 pounds as a senior.
The 1948 Generals fielded an impressive lineup, including pitcher Don Bessent, later of the Dodgers. Leon "Buddy" Carter played third base and pitched before he signed with the Yankees and spent 10 years in the minor leagues. Catcher Donnie Poston played two seasons with Palatka in the Florida State League. Despite the talent, they were not the best team in Jacksonville. Andrew Jackson High School finished as runners-up in the state tournament.3
In the summers during his school days, Castleman and his Robert E Lee teammates played for the Edward C. DeSaussure American Legion Post 9. Thanks to the long hours put in by coaches Warren and William Downing, in 1948 the team swept the competition in the area, won the district and then the regional held at Charleston, South Carolina. Unfortunately, Castleman injured his ankle in the regional and had to sit on the bench at the Junior Legion Series in Indianapolis. Post 9 met Omaha in Round 1 while eight errors sealed their fate. The loss dropped Bessent to 21-2 for the year. They won Round 2 thanks to Carter's brilliant pitching and his two triples. They faced Omaha again in the finals and lost, 4-1. During an interview, Castleman mused about God's plan that had him miss the Legion World Series and then sit and watch the 1954 World Series.
Castleman's father moonlighted as a bartender at an up-scale club called the Green Derby in Jacksonville. One of the patrons was Carl Hubbell, who had become the player development director for the New York Giants. The Derby manager told Hubbell about Castleman and Hubbell decided to take a look at the youngster. The Giants ran a tryout facility in Deland, Florida, where they would bring in hundreds of prospects, house them and put them through the paces. Each week players would be cut until a remaining few would be offered contracts.
Hubbell drove Castleman down to the facility. Castleman had dreamed of being a big leaguer and was determined to make his mark. After three weeks the Giants offered him a Class D contract at $200 a month. "I did not hit much, but I fielded well and I had an arm like Rocky Colavito."4The Giants admitted they were worried whether the skinny kid could survive the rigors of a long season. Castleman, having promised a friend that he would go to college with him, balked at the offer. He explained his college promise and his hesitancy. The Giants persisted and offered a Class C contract, still at $200 a month. They said that "if baseball does not work out, then you can go to college."5
At age 18, Castleman signed and was placed on the Fort Smith (Arkansas) Giants roster in the Class C Western Association, where he hit .280 with 20 doubles. "I was a strict pull hitter. I stood close to the plate and pulled the ball down the line and then just ran. I'd slide into second just like Pete Rose." He was moved up to Class B Knoxville in 1950. The Smokies won the pennant in the Tri-States League. Castleman hit .274 and poked 29 doubles, seventh in the league.
The Korean War started that summer. During the winter Castleman was in Jacksonville working in the post office. Some of his friends told him he was in line to be drafted in early 1951. One of his friends had already been wounded in action and had come home. Castleman did not like the prospects of the draft or being shot. A Navy veteran at the post office suggested he visit the Naval recruiting office. Castleman signed up for a four-year hitch in the Navy and was inducted on February 19, 1951.
Castleman was sent to boot camp in San Diego. After his six weeks of training, word leaked out that he was a baseball player. When it came time to assign him, he was posted to the San Diego Naval Training Center. He was ordered to join the baseball team and work in the base post office. He won the job at shortstop and joined Eddie Mathews and Pete Whisenant on a dominant squad. In 1952 he switched over to second base. Castleman also had free time to learn the game of golf from the base professionals Gene Littler and Billy Casper. Years later he would play in the baseball players' golf tournaments. In 1959 he was eliminated by Jackie Robinson.
His time in the Navy allowed him to hone his baseball skills and learn golf, but most importantly it allowed him to grow. Like the Giants, the Navy was concerned about Castleman's weight. They placed him on special rations. In his case this meant a steak for dinner and then a steak and two pieces of bread to take back to the barracks for a late snack. Their efforts had the desired results. Castleman's 1958 Topps baseball card lists him at 5' 11" and 180 pounds.
In the summer of 1952 conditions were bad for the Castleman family in Jacksonville. Castleman's father had become an alcoholic and had abandoned the family. Both Blanche and Betty Jean were hospitalized. A counselor at the Naval Center learned of Castleman's situation and arranged a hardship release for him. His service ended on October 19, 1952.
Castleman reported to spring training in 1953 in Phoenix, Arizona. He and Bill White were early cuts and were sent to the minor league facility at Melbourne, Florida. Assigned to the Minneapolis Millers, Castleman twisted his knee in an exhibition and required surgery. He would not rejoin the Millers until August 23.
Castleman's first action came on August 25. He went 1-for-3. His time in the Navy had helped him hone his batting skills. Most notably, he had learned how to handle curves, although he was still a strict pull-hitter. By his own admission he never learned to take an outside pitch to right field until he met Paul Richards at Baltimore in 1958. In 20 games with the Millers he hit a blistering .368. The Giants arranged for him to play winter ball in Venezuela to strengthen him and give him experience that he had missed while injured.
Castleman reported to the Magallanes team in Caracas. They were managed by Herman Franks and included Giants Clint Hartung, George Spencer, Ramon Monzant, Billy Gardner and Ray Katt on the roster. Castleman got off to a fine start and was among the top five hitters after a month He tailed off to hit .269 with 18 doubles and 6 homers in 308 at bats.6 Castleman was paid $1000 a month with meal money. The team also covered his hotel costs while in Caracas. He saved his salary money and bought a new Olds Super 88 when he returned to the states.
In 1954 the Giants' front office decided to shift Castleman to second base. Davey Williams was injury prone while Alvin Dark was doing well at shortstop. The Giants also had shortstop Daryl Spencer in the military looking to return soon. Castleman was sent to Minneapolis to play for Bill Rigney. Leo Durocher told Rigney, "I am giving you the best infielder I have outside of my four regulars. He needs to play."7
Castleman adapted quickly to playing second base and was a terror at bat, hitting .317 with 25 doubles and 11 home runs in 85 games. Just before the Giants recalled him, he reinjured his knee, and reported to New York with a gimpy leg. He saw his first action on August 4 as a pinch-hitter, and grounded into a double play. His next appearance came on August 8 when he poked a pinch-hit single and then played third base to finish the game. He got his first start two days later in Forbes Field. He was hitless in his lone at-bat before he injured the knee twisting to catch a throw.
The knee kept him out of action for two weeks. After that he made 10 pinch-hit appearances, finishing 3-for-12. He also had a front row seat for the 1954 World Series when his Giants swept the Cleveland Indians. He was awarded a one- third share of the Series money, approximately $4000.
Ray and Joyce Waddington had grown up in Belmond, Iowa. Rather than work in the family mercantile business, the siblings decided to go to Minneapolis in 1953 to find work. Ray happened to find a room in the same boarding house as Castleman. This was during the rehab time for Castleman and he and Waddington struck up a friendship. One day Waddington offered to introduce Castleman to his sister. Joyce was a model and "quite a looker." The ballplayer and model hit it off. On October 31, 1954, they wed in Minneapolis during a Halloween snowstorm. Castleman's best man was bonus-baby teammate Paul Giel.8
Castleman opened the 1955 season with the Giants as a back-up to Williams, even though there was concern about the condition of his knees. He appeared in 15 games, five of them as the starter, before he was sent to Minneapolis in late May. Castleman did hit his first major league homer on May 4. Surprisingly; it was a right field poke that wrapped inside the foul pole in the Polo Grounds. Castleman recalls it was a Sam Jones curveball that he flailed at as it broke away from him. He was yelling for the ball to stay fair and tripped over first base as he rounded it. The next day he launched an upper deck shot to left. In 15 games he hit .214. In the American Association he was injured again and missed over a month. He only played 43 games with a batting average of.302.
Millers manager Bill Rigney was promoted to the helm of the Giants in 1956. Despite Castleman's down year, he remained in the mix for the next season. Rigney stated, "The key to our progress lies at second base. If Forest [sic] Castleman makes it, we will be strong contenders."9 The team was looking for power to supplement the bat of Willie Mays and hoped that Castleman could supply some. If the knees could not handle second base, then maybe he could platoon at third or play in the outfield.10 It made for a busy spring with Castleman seeing plenty of action. In the end, Rigney went with Daryl Spencer at second, Al Dark at short and Hank Thompson at third for opening day.
That arrangement lasted only a few days. After a poor performance on April 20, Thompson was benched. Rigney announced, "I have had a talk with Castleman and I believe he can play regularly for us."11 For a month, Castleman held the third base job, but he supplied no home run power. After a few days off, Castleman got a start in St. Louis where he blasted a three-run homer in a loss. Castleman started 97 games at third. He hit .226 and poked 14 home runs. The Giants struggled the entire season and finished 67-87, well off the pace of the Brooklyn Dodgers.
Castleman went to spring training in Phoenix in 1957 with a pair of knees that were finally regaining their strength after three surgeries. However, he could no longer plant and cut like he did in his youth. He joined the log jam at third base; the Giants eventually used eight different men at the position. Castleman made the roster, but was mainly a pinch hitter. His finest moment came on April 28 in Philadelphia in the nightcap of a doubleheader. He pinch-hit for Wes Westrum in the fifth and started a six-run rally with a homer. He came up later in the inning versus reliever Robin Roberts and flied out. At mid-season he was optioned to Minneapolis. In 48 games with the Millers he hit .245.
The next spring Castleman was the odd man out with the now-San Francisco Giants. On March 24, 1958, he was sold to the Baltimore Orioles for $30,000. In a platoon with Miranda he started 64 games at shortstop. He would have preferred to play third base, but the Orioles were playing 21-year-old Brooks Robinson at the hot corner. The Orioles' shortstop platoon was offensively ineffective. Miranda hit .201, Castleman a dismal .170.
The Orioles optioned him to Miami in the International League for 1959. Manager Pepper Martin played him primarily at shortstop with a few games at first base. His hitting revived and he posted a .313 average with 25 doubles. One of the highlights of the season was when he met Fidel Castro while the team was playing the Havana Sugar Kings.
Miami retained Castleman for 1960 but he had trouble getting his legs into shape and saw no action with them. He was purchased by the San Diego Padres in the Pacific Coast League on May 6. Castleman laughingly declared that he platooned at first base with Suitcase Harry Simpson for the Padres. A check of box scores shows J.C. Martin also split time with Castleman at first. He was released on July 14 after batting .216 in 39 games. After a brief stop at home, Castleman joined the Charleston (West Virginia) Senators in the American Association. They had Don Mincher at first base, so Castleman became a true utility player. He even found himself at shortstop and batting lead-off one day. He hit .261 in 43 games and then called it a career.
His family had grown to five. Craig was born in 1955 in Belmond. Kimberly Ann arrived in 1957 in New York and Cary was born in Miami in 1959. In 1959 they purchased a home in Fort Lauderdale, but moved from there when Castleman took a sales job with Arrow Shirts. That job took him to Atlanta, Raleigh and finally Cincinnati. The couple stayed together while raising the children, but divorced in the 1970s. Later he joined Munsingwear and covered Southwest Ohio for them. In 1984 he left clothing sales and became a realtor for Coldwell-Banker Reality in Cincinnati.
A member of the First Baptist Church in Mt. Healthy, he was introduced to Thelma Bearden by some church friends. Thelma, a widow, claims that she played "hard-to-get," but Castleman was persistent. The couple wed in 1987 and moved into her home in Indian Hill, Ohio. They are snowbirds and spend the winter in Florida where they often attend spring training games. The blended family now includes six grown children and seven grandchildren.
Castleman has had both knees replaced and survived a bout with prostate cancer and three heart procedures. In 2015 they moved close to Oxford, Ohio, to be near Thelma's daughter.
Castleman died at the age of 89 on November 9, 2020 in The Villages, Florida.
Last revised: February 25, 2021 (ghw)
Sources
1949 Sporting News Guide
Cincinnati Enquirer
San Diego Union
Sunday Gazette-Mail (Charleston, West Virginia)
Notes
Born
January 1, 1931 at Nashville, TN (USA)
Died
November 9, 2020 at The Villages, FL (USA)
If you can help us improve this player's biography, contact us.
http://sabr.org/sites/default/files/CastlemanFoster.jpg
600
800
admin
/wp-content/uploads/2020/02/sabr_logo.png
admin
2016-09-08 12:33:18
2022-04-04 13:52:09
Foster Castleman