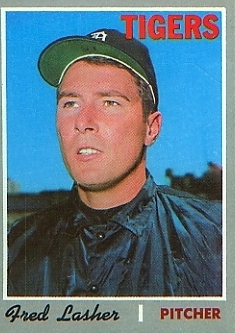 ---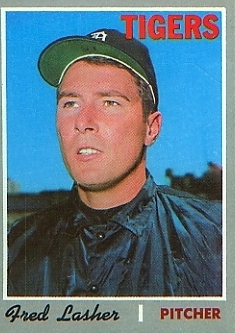 Many young boys will ponder the important matters of the day, and some young boys will just daydream as they skip rocks across the surface of a lake. In the case of Fred Lasher, the enjoyment of skipping rocks across a tranquil lake helped transform Fred into a nasty submarine pitcher that minor and major league batters did not want to face.
Frederick Walter Lasher was born in Poughkeepsie, New York, on August 19, 1941. At least 11 professional baseball players were born and raised in this Queen City along the Hudson River, including Mickey McDermott, who had success in the major leagues and pitched a short time for the Tigers in 1958.
As a youngster, Fred played various positions and was a fine hitter. He batted and threw right-handed. But while at Poughkeepsie High School, Fred began to concentrate on pitching. Ultimately, he became a star pitcher for the Poughkeepsie High School baseball team.
Major League Baseball had not yet conducted its inaugural free agent draft of amateur baseball players. As a result, Fred was free to sign with any professional team after graduation from high school. At 6-foot-4 and a hard thrower, he attracted the interest of more than one team. Eventually, in 1960 he signed with the Washington Senators as an amateur free agent. Lasher pitched for Wytheville, a Class D Appalachian League aggregation. It was not the most auspicious of pro beginnings, as he had a 7.31 ERA and a 2–2 record in 32 innings over seven games.
At the conclusion of the 1960 season, the Senators moved to Minnesota and became the Twins. Lasher moved on as well, pitching for the Class D Fort Walton Beach Jets in the Alabama-Florida League during the 1961 season. The highlight for Lasher was a game against the Montgomery Rebels in which he allowed five hits and struck out 18 batters. The Jets and Lasher still lost in 10 innings, 5–4, due to two Jets errors. The Jets compiled a 61–55 record under manager Vern Morgan and finished in third place. Fred's performance earned him an appearance on Minnesota's Florida Instructional League team along with future Twins star Tony Oliva.
Lasher left the warmth of Florida for the cooler temperatures of North Dakota when the Twins assigned him to the Bismarck-Mandan Pards in the Class C Northern League for 1962. Morgan served once again as Fred's manager after leaving Fort Walton Beach for the minor league advancement. Fred dominated hitters, and on June 10, 1962, his record was 3–0 with a spectacular 0.26 ERA. He had struck out 45 batters in 35 innings. The Northern League Sportswriters Association named Lasher to the all-star team. Also appearing on the all-star squad were future teammates Mickey Stanley and Jim Price. After the all-star game, Lasher was named the Northern League Player of the Month by the league's sportswriters and broadcasters. He immediately established himself as a major league prospect by winning eight games for Bismarck-Mandan while losing only five. Moreover, he sported a dazzling 2.03 ERA and struck out 132 batters in 115 innings. At the end of the season, Bismarck-Mandan was 60–62. Fred's performance earned him a return trip to the Florida Instructional League team that was coached by a young Jim Kaat.
Lasher's progress through the minor league ranks impressed the Twins, as the parent club invited him to spring training. In a little more than two seasons, Lasher had given up only 205 hits in 274 innings to go along with 309 strikeouts. Fred's teammates gave him the nickname "Whip" due to his sidearm pitching that would last through his career. In order to provide some variety, pitching coach Gordon Maltzberger helped Lasher learn a new arm angle by showing him a three-quarter overhand delivery. Lasher had made four consecutive scoreless relief performances in exhibition games due to an effective fastball and a devastating curve. This caused Twins manager Sam Mele to make a late-hour recommendation for Fred to make the big leap from Class C to the major leagues. Lasher was given uniform number 29, which was worn later by Hall of Famer Rod Carew and retired by the Twins.
Lasher made his major league debut at age 21 at Memorial Stadium in Kansas City on April 12, 1963. The Twins lost the game, but Lasher contributed by pitching a scoreless inning. Lasher pitched 9.1 innings for the Twins, but his 10 walks presumably brought about his demotion to the Charlotte Hornets in the South Atlantic League. Lasher pitched both ends of a doubleheader in his first appearance and went on to pitch 57 innings with a 2.84 ERA. Fred was called back to Minnesota when the rosters were expanded in September. He pitched two innings and gave up one earned run after his call-up. Lasher finished with no wins or losses and 4.76 ERA during his two stints in the American League. The Twins invited Fred to some more Instructional League training in October, and Lasher rewarded them with 64 innings and a 2.39 ERA.
The Twins invited Lasher to spring training in 1964, but he did not make the team as he had in 1963. The Twins sent Fred to play for the Atlanta Crackers in the International League. Future major league manager Jack McKeon managed the Crackers. Lasher did not stay in Atlanta very long, for the Twins sent him back to Charlotte.
Lasher continued to pitch in the Twins' system through 1966. On November 29, though, the Tigers paid $4,000 and rescued Fred from the Twins' organization via baseball's annual minor league draft. The Tigers assigned Lasher to the Montgomery Rebels of the Southern League for the 1967 season. Through July, Lasher was putting up numbers similar to those he posted early in his professional career. At one point, Fred's record was 8–1 with a 0.68 ERA. He pitched 53 innings and struck out 50 batters. The Tigers wisely promoted Lasher to Triple A Toledo.
As a Toledo Mud Hen, Fred pitched in nine games before another promotion, having struck out 17 batters in 17 innings and posting a minuscule 0.53 ERA. Tigers pitcher Johnny Podres went on the disabled list with tendinitis in his left elbow. While reliever Fred Gladding had pitched well earlier in the season, he was apparently worn out. This enabled Lasher to return to the majors after being away for four years. Manager Mayo Smith called Lasher to the mound in his first game with the Tigers on August 13, 1967 in a clutch situation. Light-hitting Ray Oyler had hit a three-run homer early in the game to give the Tigers the lead. Starter Earl Wilson gave up a home run in the seventh inning, and the Tigers were narrowly leading the Orioles, 3–2. Lasher entered the game in the eighth inning and pitched two scoreless innings. Lasher retired three future Hall of Famers—Luis Aparacio, Brooks Robinson, and Frank Robinson—to help the Tigers secure a key pennant-race win. The win gave Wilson his 16th victory and provided Lasher his first major league save.
Lasher got a taste of his first pennant drive after missing some quality opportunities when the Twins won the 1965 American League pennant. Fred had an unsuccessful second appearance, but got two huge outs for Denny McLain one week later for his second save. Another highlight for Lasher included a three-inning appearance on August 22 in front of 40,921 at Tiger Stadium against the Twins. Lasher earned his first major league victory against his former team. Fred struck out four and gave up only one hit. Then, on, September 3, the Tigers played at Metropolitan Stadium against the Twins and their 43,444 faithful fans. Earl Wilson pitched 5.1 innings and was on his way to a shutout. Smith lifted Wilson, and Lasher entered the game with the bases loaded. Fred pitched a rare 3.2-inning save to preserve a key victory for the Tigers. Lasher added six strikeouts.
Fred had a successful run late in the season and was one of the young Tigers hot hands Mayo Smith used, including future National League Cy Young Award winner Mike Marshall. Lasher responded with nine saves and two victories. His ERA was 1.35 at one point in September, and his fortunes were going well. Unfortunately, the Tigers lost a close game on September 18 in Tiger Stadium against the eventual pennant-winning Boston Red Sox. Lasher gave up a homer to Triple Crown winner and MVP Carl Yastrzemski with one out in the ninth inning, and the Red Sox tied the game at five runs. In the 10th inning, Boston's Dalton Jones hit a solo homer off reliever Marshall, and the Red Sox won the game, tying the Tigers for first place with identical 85–66 records. Lasher had a couple of rough outings after that game, but rebounded on October 1 with a solid two-inning performance in the first game of the final-day doubleheader against the California Angels. The Tigers fell short in the pennant drive, but Lasher gained some key experience in crucial games that helped him and the Tigers in 1968. Lasher finished the 1967 season with 30 innings pitched and a 3.90 ERA to go along with a 2–1 record and nine saves, his career high for a single season.
The Tigers gave one of their bullpen jobs to Lasher during spring training in 1968. In the first week of the season against the Chicago White Sox, Fred earned a victory and a save. These events caused Tigers radio broadcaster Ernie Harwell to proclaim, "Sound the siren, flash the flasher; here's our fireman, big Fred Lasher!"
During the Tigers' magical season, Lasher roomed with Tom Matchick, who pinch-hit for Lasher on occasion. A strange statistical event occurred during the season with regard to Fred's wins. Lasher won five games during the season, and each victory was a 5–4 Tiger win. On May 19, Fred pitched 2.1 innings and combined with rookie Les Cain on a shutout to enable the Tigers to win 7–0 against the Senators in the nightcap of a twin bill in front of 45,491 Tigers fans.
Lasher finished the 1968 season with a 5–1 record and five saves. He maintained a 3.33 ERA while pitching 48.2 innings. Fred had the opportunity to pitch in Game 4 of the World Series. The Tigers lost the game, 10–1, but Lasher pitched two scoreless innings. In the seventh game of the World Series, Lasher and Earl Wilson warmed up in the bullpen when Mickey Lolich gave up some hits in the middle of the game. Lasher would not be needed in this game as Lolich tossed a complete game victory—his third of the Series—against Bob Gibson and the Cardinals, and sent the team and city into ecstasy.
Lasher made the Tigers' opening day roster for the second straight season in 1969. Fred had a frustrating start to the season as he believed manager Smith did not have confidence in him. He pitched only 7.1 innings through May 13 and did not give up a run. From a statistical standpoint, Lasher pitched well with a career-best 3.07 ERA in 44 innings and a 2–1 record. But Fred was only given one save opportunity and did not convert the chance on June 1 in Seattle against the expansion Pilots.
In 1970, Lasher and Tom Timmermann came into the season as the top relief men for the Tigers. Fred picked up his first win on April 17 against the Red Sox and pitched three scoreless innings. He earned his first save since 1968 on April 21 against the Indians with a scoreless inning of relief. Lasher pitched well, but gave up some runs against the Yankees and Red Sox in mid-May. The Tigers traded Lasher—the only trade of his career—to the Cleveland Indians on May 22 for first baseman-outfielder Russ Nagelson and pitcher Billy Rohr. Nagelson made limited appearances for the Tigers as an outfielder, and Rohr never played for the parent club.
Apparently, the Indians were anxious to use Lasher as he pitched two scoreless innings the next day against the Yankees in Cleveland. The day after, the Indians and Yankees had a doubleheader, and Lasher pitched in both games. The Yanks' Lindy McDaniel won both games of the doubleheader while Lasher lost both games. In the opener, John Ellis hit a tie-breaking homer for the Yankees, while Horace Clarke drove in the winning run with a single in the 11th inning of the nightcap. Fred earned his first victory in an Indians uniform by pitching three scoreless innings on June 18 against the Senators. Former Cy Young winner Dean Chance got the save.
Lasher took part in history in three remarkably different games. On June 21 against the Tigers, Fred gave up one of Cesar Gutierrez's seven hits when Gutierrez made baseball history by going 7-for-7 in an 12-inning game. On July 12, Lasher was part of Yankees history as he surrendered Bobby Murcer's fourth homer of the day in the second game of a doubleheader. Then, Roy White proceeded to hit a game-winning single in the bottom of the eighth inning, tagging Lasher with the loss. Finally, Lasher started his first and only major league game against the Red Sox on July 24, 1970. In the first inning, Fred hit understandably sensitive Tony Conigliaro in the arm. In 1967, Conigliaro had been hit in the face with a pitch, nearly losing his sight and ruining his career. Conigliaro reacted angrily to Lasher's pitch, and a serious brawl ensued. In the second inning, Lasher gave up consecutive homers to Conigliaro's brother Billy Conigliaro and Tom Satriano, causing Fred's exit. This was the second straight game that Lasher hit a batter. On July 9, Lasher hit the Senators' Ed Stroud and broke his jaw.
Lasher's season came to a dramatic close on September 26. In the 11th inning of a 7–4 loss to the Orioles, Lasher walked Boog Powell and made a wild throw on a Mark Belanger bunt, allowing Powell's pinch-runner, a rookie named Don Baylor, to score the tie-breaking run. After Fred threw two balls to Paul Blair, Tribe manager Alvin Dark pulled Lasher for pitcher Steve Mingori. Lasher did not like the manager's decision and threw down the ball in disgust, then proceeded to toss his glove into the stands. The Indians fined and suspended Fred for the remainder of the season. Lasher finished the season with a total of two wins and 10 losses and a 4.19 ERA with eight saves in a career-high 55 games. He also pitched in a career-high 66.2 innings. At the conclusion of the season, Dark vowed that Lasher would not be back in a Cleveland uniform.
At the conclusion of the 1970 season, Lasher pitched for Ponce in the Puerto Rican Winter League, and the Indians demoted Lasher to Wichita. Then, on November 30, the California Angels drafted Lasher from the Cleveland organization during the Rule 5 draft based on Angels coach Fred Koenig's recommendation; Koenig had managed Ponce, for which Lasher had pitched 78 innings and had a 2.85 ERA.
Fred pitched for the Salt Lake City Angels in the Pacific Coast League to start the 1971 season. Lasher struggled with some arm problems, but was able to save six games in 11 days to earn another shot at the majors. Lasher pitched a scoreless inning on June 23 for California. On July 1, though, he struggled and gave up four runs in one-third of an inning. This was Fred's last appearance in the major leagues. Lasher was not being used and asked to be returned to Salt Lake City in order to pitch more often. Lasher was a key reliever for Salt Lake City as he picked up two victories and five saves down the stretch and did not lose a game. Lasher finished the season with Salt Lake City and pitched 62 innings, notching a 3.92 ERA. Salt Lake City won the PCL's Southern Division flag and defeated Northern Division champion Tacoma to win the title. One of Lasher's Salt Lake City teammates was fellow 1968 Tiger Ray Oyler.
After retiring from baseball, Fred operated a drywall company and served as a recreation therapist for youth with drug and alcohol problems in Merrillan, Wisconsin, where he still lives.
Sources
Green, Jerry. Year of the Tiger. New York: Coward-McCann. 1969.
O'Brien, John, and Jerry DeBruin with John Husman. Mud Hen Memories. Perrysburg, Ohio: BWD Publishing. 2001.
www.alabama-florida-league.com/
www.baseball-almanac.com
www.baseball-reference.com
www.minnesotatwins.com
www.minorleaguebaseball.com
www.pkny.info/city.php
www.retrosheet.org
Lassman, Mike. Interview with Tom Matchick, August 18 and 19, 2007.
Note
This article originally appeared in the book Sock It To 'Em Tigers–The Incredible Story of the 1968 Detroit Tigers, published by Maple Street Press in 2008.
Photo Credit
The Topps Company
Born
August 19, 1941 at Poughkeepsie, NY (USA)
If you can help us improve this player's biography, contact us.
http://bioproj.sabr.org/bp_ftp/images3/LasherFred.jpg
600
800
admin
/wp-content/uploads/2020/02/sabr_logo.png
admin
2012-01-04 20:50:11
2021-09-14 01:06:16
Fred Lasher