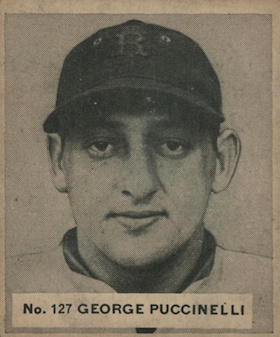 ---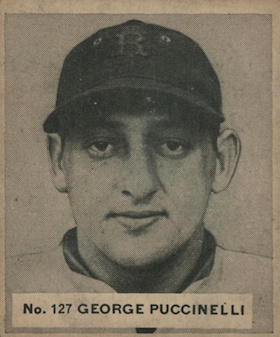 Hall of Fame pitcher Red Ruffing surrendered 254 home runs in his 22-year career, but one stood out in his mind more than the rest – a ferocious clout at Yankee Stadium on May 8, 1936, by a big right-handed hitter, George "Pooch" Puccinelli of the Philadelphia Athletics. "There was a detonation when the bat met the ball," said Ruffing, "and then a weird noise as the ball dynamited into the left top deck, deep, far – and very disconcerting to me."1 The two-run homer, in the third inning of Philadelphia's 3-2 victory over the New York Yankees, introduced Puccinelli to Ruffing. Yankees Joe DiMaggio, Tony Lazzeri, and Frankie Crosetti already knew Puccinelli – they all came from the same Italian neighborhood of San Francisco.2
Puccinelli's 1936 season was his only full season in the majors despite outstanding minor-league numbers. In seven seasons in the International League, he averaged 28 home runs and 116 RBIs per 500 at-bats, and he is the league's all-time batting champion with a .334 career average.3
He was born Creonte Puccinelli on June 22, 1907, in San Francisco, but he disliked the name and called himself George.4 His parents, Antonio and Lucia (Bianchi) Puccinelli, came to the United States in the 1890s from Tuscany, Italy.5 Antonio was a fruit peddler in San Francisco.6 George attended Sherman Elementary and Galileo High.7 He trained at a local gym to become a boxer, but his parents discouraged it and he switched to baseball.8
Herb Hester recruited young Puccinelli, at age 18, to play baseball in northern Montana in 1926. Hester's team, the Shelby Drillers, relocated to Havre after the first month of the season and became the Havre Hillers.9 Hester also recruited the legendary Jim Thorpe, well past his prime at age 38. On June 18, 1926, "Smoke Ball" Puccinelli, a right-handed pitcher, threw a four-hitter in Havre's 9-2 victory over the Montana Powers, with Thorpe getting three hits for the Hillers.10 On July 21, Puccinelli pitched both games of a doubleheader against a Scobey (MT) team that was managed by Happy Felsch of Black Sox infamy. Puccinelli struck out 21 batters that day but lost both games as Havre's catcher "had trouble holding Puccinelli's curves and several runs were scored on passed balls."11
After the Hillers' season ended, Puccinelli returned home and earned a trophy and $50 cash prize for leading the San Francisco Midwinter League in hitting.12 He received scant playing time on the San Francisco Seals in the spring of 1927, and was sent to the Denver Bears in late June.13 He was no longer a pitcher; as a first baseman, he batted .304 in 31 games for the Bears, until a leg injury ended his season.14
In 1928, Puccinelli played the outfield and batted .336 for the Class D Dubuque (IA) Dubs. It's unclear if he was released or was purchased; either way, on the recommendation of St. Louis Cardinals scout Charley Barrett, he became part of the Cardinals farm system,15 playing for the Danville (IL) Veterans and Fort Wayne (IN) Chiefs in 1929.
The next season Puccinelli hit .396 for Danville. On May 13, 1930, he blasted a three-run homer over the left-field fence in a 7-3 victory over Evansville. "The ball traveled at least 460 feet" and was believed to be "the longest homer ever hit" in Danville.16 The Cardinals purchased his contract in July, and in his major-league debut on July 17, he struck out as a pinch-hitter. The St. Louis Post-Dispatch described him as a "giant outfielder," 6-feet-2 and 205 pounds.17
On July 31, the Cardinals were in fourth place with a 48-49 record, but they went 44-13 over the final two months of the season to win the National League pennant. The team had plenty of outfielders, so Puccinelli was used primarily as a pinch-hitter. He went 9-for-16 in 11 games with three spectacular home runs. On July 21, he smacked a pinch-hit, three-run homer for his first major-league hit, an opposite-field drive that sailed out of Brooklyn's Ebbets Field and over Bedford Avenue.18 On August 3, he launched a pinch-hit, two-run homer over the center-field fence at Cincinnati's Redland Field, one of the longest home runs in the ballpark's history.19 And on August 30, he "hit over the high brick wall in left center for one of the longest homers ever seen" at Chicago's Wrigley Field.20
In the 1930 World Series, the Cardinals were defeated in six games by Connie Mack's Philadelphia Athletics. Puccinelli came to bat only once in the Series; he pinch-hit in Game One and was retired by Lefty Grove on a foul pop to catcher Mickey Cochrane. Puccinelli received a partial World Series share in the amount of $1,768 – a sizable sum during the Great Depression.21
The Cardinals returned Puccinelli to the minors in 1931. He began the season with the Houston Buffaloes, but the team had too many outfielders, so he was sent instead to the Rochester (NY) Red Wings. He batted .294 for Rochester with 18 home runs and 73 RBIs, and helped the team win the International League pennant. In a postseason series, Puccinelli led all hitters with a .429 batting average as the Red Wings defeated the St. Paul Saints, 5 games to 3.22 He returned to Rochester in 1932 and began the season with a remarkable 31-game hitting streak in which he batted .486 with 12 home runs and 35 RBIs. Sportswriters described his Herculean wallops:
Connie Mack offered "a fancy price" for Puccinelli in May 1932, but his offer was rejected by Cardinals general manager Branch Rickey.28 Puccinelli led the International League with a .391 batting average in 1932, and he had 28 home runs and 115 RBIs when he was recalled by the Cardinals in August to replace injured outfielder Ernie Orsatti.29 Puccinelli played regularly in left field during the final month of the season, hitting .278 in 31 games with three home runs, including a "picturesque" round-tripper off New York Giants ace Carl Hubbell.30
In February 1933, Puccinelli married Roma Marie Cotta, the daughter of a shipyard riveter. Like Puccinelli, she had grown up in San Francisco, a child of Italian immigrants.31
Puccinelli played for the Rochester Red Wings and Newark Bears in 1933, and batted .292 with 15 home runs and 92 RBIs. In December 1933, the St. Louis Browns purchased him and outfielder Ray Pepper; however, there was room for only one of them in the Browns outfield, and manager Rogers Hornsby preferred Pepper, so the Browns sold Puccinelli to the Baltimore Orioles.32 He hit .355 for the 1934 Orioles with 19 home runs and 102 RBIs.
In 1935, Puccinelli won the International League MVP Award. Though his statistics were helped by the close fences at Oriole Park, his numbers were eye-popping. He led the league in seven offensive categories: batting average (.359), home runs (53), runs batted in (172), runs scored (135), hits (209), doubles (49), and total bases (435). Incredibly, he collected more extra-base hits (111) than singles (98). In a 9-6 victory over the Toronto Maple Leafs on June 13, Puccinelli hammered a grand slam and a three-run homer. Four days later, he had another seven-RBI day, with three home runs in a 12-7 triumph over Rochester.33 He was honored in a ceremony at Oriole Park on July 2, and given a new car by appreciative fans.34 In October he was drafted by the Philadelphia Athletics, and Connie Mack finally got his man.
On April 4, 1936, Puccinelli demonstrated his power stroke by hitting three home runs in an exhibition game between the Athletics and Knoxville (TN) Smokies; he nearly hit a fourth but it was caught by Beattie Feathers, a football star, with his back against the left-field wall. The next day Puccinelli clubbed four more hits off Knoxville pitching: two doubles, a triple, and a home run.35
Mack had sold the great Jimmie Foxx to the Boston Red Sox in December and hoped Puccinelli would fill the power void. Mack said: "I will show the fans a home run hitter. … He is Puccinelli, one of the hardest hitters I have ever seen and I feel sure he is in the majors to stay. He has proved to me he can drive a ball out of the park. Ruth or Foxx never hit long homers that he belted in Knoxville."36
In an interview with sportswriter Jimmy Isaminger, Puccinelli said: "I think I am going to stick in the majors this time because I feel right mentally. Surroundings on the Athletic team are ideal and it is a pleasure to work for such a fair master as Connie Mack." Isaminger described Puccinelli as "quiet in demeanor and soft-spoken, but once in conversation [he] does not lack for words."37
Puccinelli went 1-for-17 in his first five games of the 1936 regular season. But over the next 16 games, he went on a tear, going 28-for-58 (.483) with four home runs, including the laser shot into the top tier of Yankee Stadium, the home run Red Ruffing would never forget. On May 8, Puccinelli ranked fourth in the American League with a .387 batting average, and was tied for second in the league with 20 RBIs. After the great start, though, he fizzled, hitting .257 over the remainder of the season, well below the league average of .289. He slugged two homers off Ted Lyons on July 18, and a second homer off Ruffing on September 25, but too many major-league pitchers found a hole in his swing. Moreover, in right field, Puccinelli was deficient as a fielder. The Baltimore Orioles were anxious to get him back, so Mack sold him to the Orioles in January 1937. Mack explained: "While I expected Pooch to hit better than he did, I would have kept him another season had it not been for his uncertainty in covering right field. He tried his hardest to make good and I am sorry he has to go."38
Puccinelli batted .326 for the 1937 Orioles with 24 home runs and 103 RBIs. The Orioles paid him a higher salary than he received from the Athletics.39 In June 1938, he was sold to the Hollywood Stars of the Pacific Coast League.40 He hit 37 homers in 1938 (15 for the Orioles and 22 for the Stars) and another 22 the next year (16 for the Stars and six for the Dallas Rebels). He was released by the Dallas Rebels in July 1940, and retired from the game at the age of 33.41
In the 1950s, Puccinelli operated a television and radio repair shop out of his home in San Francisco. On April 16, 1956, at age 48, he suffered a fatal heart attack while playing golf.42
He is buried at Holy Cross Catholic Cemetery in Colma, California.
Puccinelli was posthumously inducted into the Rochester Red Wings Hall of Fame in 1999 and the International League Hall of Fame in 2008.
Notes
Born
June 22, 1907 at San Francisco, CA (USA)
Died
April 16, 1956 at San Francisco, CA (USA)
If you can help us improve this player's biography, contact us.
http://sabr.org/sites/default/files/PuccinelliGeorge.jpg
600
800
admin
/wp-content/uploads/2020/02/sabr_logo.png
admin
2016-04-12 18:39:32
2020-09-26 06:07:10
George Puccinelli