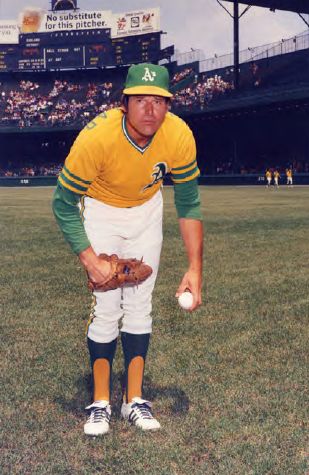 ---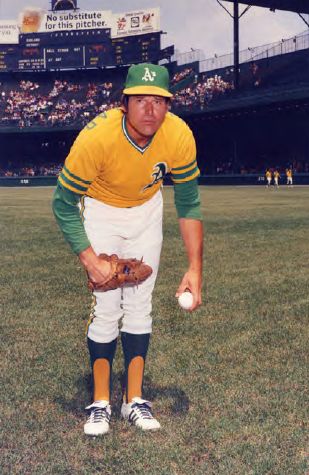 Paul Lindblad wasn't one of the Oakland A's most celebrated stars or eccentric personalities, but he was a valuable part of a formidable bullpen that contributed to the team's string of five consecutive division championships and three consecutive World Series titles. Though somewhat overlooked in the annals of Athletics history, Lindblad was without question an integral part of the Swingin' A's dynasty of the early 1970s.
Paul Aaron Linblad was born on August 9, 1941, to George and Helen (Walters) Lindblad in Chanute, Kansas.1 He was the oldest of five boys. Chanute, a mill town in the southeast corner of the state, had 11,000 residents at the time. The Lindblads settled in Chanute after George was discharged from the Navy and went to work for the Santa Fe Railroad. The job required George to spend a great deal of time away from the family, commuting to and from Kansas City. George Lindblad was a strict and highly critical father.2 Although he always wanted Paul to play professional baseball, he rarely encouraged him or was satisfied with his son's performance on the field. Over time, this contributed to a strained relationship between the two. Paul's mother was a homemaker.
Paul Lindblad's journey to the major leagues is a story of love, persistence, and faith. His baseball career began on the baseball diamond in Katy Park. He began playing Little League baseball, progressed to American Legion baseball, and was introduced to the world of semipro baseball on the Kansas prairies. It was there that he fell in love with the game of baseball and also the woman he would marry.
Paul, known as Junior, was a standout athlete.3 He attended Chanute High School, where by all accounts he was a good student. He did well in math and drafting, subjects that would serve him well when he entered the construction business after baseball. Paul was a three-year letterman on the basketball team and the 1959 state high school champion in the javelin.4 The school did not have a baseball team.
American Legion baseball dominated the landscape of rural Midwest America and Lindblad led the Chanute Legion team to a regional title and a berth in the state tournament, where the team lost by one run in the first round.
After high school, Lindblad attended Chanute Junior College, which was conveniently located in the same building as the high school. He played semipro baseball, threw the javelin (he finished second at the National Junior College Championships in 1961), and continued his relationship with his high-school sweetheart, Kathy, who was still attending high school.
After earning an associate's degree in business from Chanute Junior College, Lindblad was awarded an athletic scholarship to play baseball at the University of Kansas. He arrived in Lawrence, Kansas, in the fall of 1961 and found it difficult to be away from Kathy. He frequently made the 100-mile trip back home to Chanute to see her on weekends, and they decided to marry. The Lindblads were married on November 4, 1961. Soon after, Lindblad withdrew from school, moved to Kansas City, and took a job with the Sante Fe Railroad. He worked for the railroad for almost a year before signing a contract with the Kansas City Athletics prior to the 1963 season. His $2,000 signing bonus helped the young couple who by this time were the proud parents of a daughter they named Cindy.
The Athletics sent Lindblad to the Burlington Bees of the Class A Midwestern League, where the 21-year-old established himself as a bona-fide major-league prospect, winning 10 games with a 1.58 earned-run average before a sore elbow forced the Bees to shut him down. The elbow pain was severe enough for the A's to send Lindblad to the Mayo Clinic to have it checked. The pain was so severe, his wife said, that he questioned his future in baseball.5 But there was no structural damage to his arm and a winter of rest was all that was required.
In 1964 Lindblad was assigned to the Birmingham Barons of the Double-A Southern League. The Barons were the first integrated professional sports team in Alabama, and Lindblad observed firsthand the segregation that continued to dominate the South. His teammates included future Athletics Bert Campaneris, Tommie Reynolds, and John "Blue Moon" Odom. (The team's story and the 1964 Southern League pennant race are chronicled in Larry Colton's Southern League: A True Story of Baseball, Civil Rights, and the Deep South's Most Compelling Pennant Race.)
Lindblad had an up-and-down season for Birmingham, winning his first five starts, then falling into a slump in June and dropping four straight. It was the first time the lefthander had to deal with the ebbs and flows of pitching professionally. Despite struggling in June, Lindblad earned a $1,000 promotion bonus after sticking with Birmingham for more than 90 days. The bonus again came in handy as the Lindblads were expecting their second daughter, whom they named Paula. He finished 1964 with a respectable 11-8 season, 3.32 ERA, and 139 strikeouts, the highest strikeout total of his career. Lindblad was never an overpowering pitcher. His fastball topped out at around 90 mph and his best pitch was his slider. His greatest asset on the mound was his pinpoint control, the ability to put any pitch wherever he wanted it. Lynn Ranabargar, a longtime Chanute resident, said, "If he wanted a curveball low and outside, that is exactly where it was. If he wanted a fastball high and tight, all he had to know was how far off the chin they want it and that's where it went."6
Understanding that he was not an overpowering pitcher and that his future in baseball depended on his ability to stay healthy and be a fundamentally sound player, Lindblad jogged daily basis and ran extra wind sprints to keep himself in the best shape possible. He also took great pride in making sure he made the routine plays.
The 1965 season brought with it a promotion to Kansas City's Triple-A affiliate, the Vancouver Mounties of the Pacific Coast League. In 28 starts Lindblad posted a 12-11 record and a 3.67 ERA, which earned him a late-season call-up to the A's, a team on its way to and finishing last in the American League. On September 15, 1965, he made his major-league debut against the soon-to-be crowned American League champion Minnesota Twins. He tossed a perfect seventh inning, striking out Bob Allison and Jimmie Hall. He pitched in three more games for the Athletics that fall. On September 22 he suffered his first major-league loss after yielding a fifth inning, two-run homer to Washington Senators shortstop Eddie Brinkman. Despite an unimpressive 11.05 ERA in 7⅓ innings, he was in the major leagues to stay.
During his early years in professional baseball, Lindblad played winter ball in Venezuela and the Caribbean. During this time he became interested in collecting coins. When he wasn't playing ball, Lindblad explored his surroundings and often purchased old coins from the local people. Later he took his numismatic interests to the extreme of buying a metal detector, which he carried with him on road trips. Bruce Markusen wrote regarding Lindblad's penchant for searching for hidden treasures in Baseball's Last Dynasty: Charlie Finley's Oakland A's:
Don Mincher, who played with Lindblad in Washington, Oakland, and Texas remembered the left-handed reliever as a man of boundless energy, who always needed to keep busy. Mincher recalled Lindblad's trademark habit of searching for money with a metal detector. "He'd go to the ballparks and look for pennies and nickels all day long." By Lindblad's own estimation he collected an average of $11 per city on road trips and gave the money to his children, who like Lindblad himself enjoyed collecting coins. When the metal detector beeped, Lindblad used a small screwdriver to dig into the turf and warning track. Yet, Lindblad had to be careful not to dig too deep, for fear of striking a water hose or electrical line. Trips to Cleveland's Municipal Stadium posed a special problem, since groundskeepers Harold and Marshall Bossard took special pride in maintaining the grass field. "If I dig too deep into the Indians' field," Lindblad said, "those two guys would tan my hide."7
The A's broke camp in Bradenton, Florida, in 1966 with the 23-year-old Lindblad on the pitching staff. As a minor leaguer he had been used almost exclusively as a starter. However, his role with the A's was less defined and the next two seasons would go a long way toward shaping his role as a long and middle reliever. In 1966 and 1967 he started 24 games and worked in 60 as a reliever. On August 12, 1966, against the Minnesota Twins, Lindblad threw wild on a pickoff attempt at second base, allowing the Twins' César Tovar to advance to third. Tovar then stole home off a rattled Lindblad. The throwing error was noteworthy because Lindblad would not commit another error until May 6, 1974, a record 385 errorless games streak that covered nearly eight years. He finished 1967 with a 5-8 record, with six saves and a 3.58 ERA.
On July 16, 1967, Lindblad tossed a three-hit shutout against the Chicago White Sox at Comiskey Park. It was the only complete game of his career. He made only 12 more starts the rest of his career. The Athletics struggled on the field and at the gate in 1967, winning only 10 of their final 40 games and drawing just 726,639 fans all season. Fearing a collapse of the franchise, baseball owners allowed owner Charles Finley to relocate the team to Oakland. The Lindblads were excited and nervous about moving their young family so far away from Kansas.8
Lindblad's first season in Oakland saw him settle into a role that would define the remainder of his major-league career. He appeared in 48 games, 47 in relief, and compiled a 4-3 record with two saves and a 2.40 ERA. He followed with two more solid seasons in 1969 and 1970. In 1969 he pitched in 60 games, winning nine and losing six with a 4.14 ERA. Soon after the end of the 1969 season, Paul and Kathy welcomed their third child, a son they named Troy. In 1970 Lindblad made 62 appearances on his way to recording an 8-2 mark with three saves and a 2.70 ERA. Just as the 28-year-old Lindblad was establishing himself as a major leaguer, so too were the A's establishing themselves as contenders. The perpetual doormats of the American League finished 1970 in second place, nine games behind the Twins in the American League's West Division.
Early in the 1971 season Lindblad's career took an unexpected turn. On May 8 he was dealt with Frank Fernandez and Mincher to the Washington Senators for first baseman Mike Epstein and left-handed reliever Darold Knowles. Both players were key acquisitions that allowed the A's to get over the hump. After being an integral part of the Athletics rebuilding process, Lindblad now found himself playing for a Senators club that was battling the Cleveland Indians for last place in the American League East. A year later the team relocated to Arlington, Texas, and became the Texas Rangers. Lindblad spent two productive seasons with the Senators/Rangers franchise. In 1971 he appeared in 43 games for the Senators, finishing with a 6-4 record with eight saves and a 2.58 ERA. With Texas in 1972, he led all American League hurlers with 66 appearances and finished the season with a 5-8 mark, nine saves, and a 2.62 ERA. During these two years Lindblad solidified himself as one of the most reliable left-handed relievers in the American League. Meanwhile, his former teammates in Oakland were celebrating their 1972 World Series title.
In November 1972 Finley reacquired Lindblad in exchange for A's farmhand Bill McNulty and outfielder Brant Alyea. Finley's revolving-door style of managing player personnel often resulted in his reacquiring players he had previously traded, and when Finley dealt Lindblad to the Senators, he told Paul that he would try to reacquire him. Despite the many well-documented disputes Finley had with many of the players he employed, Kathy Lindblad said Paul's relationship with Finley was always friendly and respectful. The relationship extended beyond his playing days. Finley occasionally called Paul just to "catch up on things."9 Lindblad's first season back with the A's was not one of his better ones. He pitched in only 36 games, making three spot starts. He finished the year 1-5 as his ERA rose more than a run per game, to 3.69. Heading into the postseason, Darold Knowles was the first left-handed option out of the bullpen and Lindblad did not appear in the A's five-game ALCS victory over the Baltimore Orioles.
Lindblad did pitch in three games during the 1973 World Series against the New York Mets. In Game Two he relieved in the 12th inning after the Mets had taken a 7-6 lead off Rollie Fingers. Lindblad induced back-to-back groundballs to second baseman Mike Andrews, both of which Andrews fumbled, leading to three more runs that put the game away.
In Game Three, also an extra-inning affair, Lindblad came on in the ninth inning, worked two innings, and earned the victory, one of the greatest moments of his life, according to his wife.10 In addition to earning the victory, Lindblad became a footnote in baseball trivia when he became the last pitcher to face Willie Mays. In the bottom half of the tenth the Mets' aging slugger pinch-hit, and Lindblad got him to ground into a fielder's choice. The A's scored the winning run in the top of the 11th. The victory was Lindblad's only postseason win. He pitched once more in the Series, throwing a scoreless inning in Game Four.
Among the three World Series rings won by Lindblad, the 1973 ring was the one he was most proud of and routinely wore, despite the fact that it originally contained no diamonds.11 He felt he had contributed more to this team's success than the other two teams that won World Series titles. The ring was lost when Lindblad placed it in a briefcase that was later stolen. Kathy Lindblad still has her husband's rings from the 1974 and 1978 World Series.12
The Athletics and Lindblad followed up their 1973 World Series title with another championship season in 1974. Lindblad pitched more than 100 innings for the first time since 1967 and had a 4-4 record with a career-low 2.06 ERA as he filled the void created by the struggles of fellow lefty Knowles. However, his contributions ended at the conclusion of the regular season. The A's received such solid starting pitching performances throughout the American League Championship Series and the World Series that Lindblad didn't make a single postseason appearance.
The 1975 season was perhaps Lindblad's finest. With Knowles having been traded to Chicago, his workload increased significantly. He came out of the bullpen 68 times and pitched 122⅓ innings, both career highs, on his way to posting a 9-1 record with seven saves and a 2.72 ERA. The effort earned the attention of sportswriters across the country as Lindblad garnered a handful of votes and finished 18th in the American League MVP voting, during a season when the A's won their fifth consecutive American League West championship.
On September 28, 1975, the final day of the 1975 season, Lindblad combined with Vida Blue, Glen Abbott, and Fingers to toss a no-hitter against the California Angels. Lindblad pitched a 1-2-3 seventh inning, retiring Leroy Stanton on a groundout to third, striking out John Balaz, and getting Bruce Bochte to ground out to second. It was the first time in the major leagues that four pitchers combined for a no-hitter.
The A's were swept by the Boston Red Sox in the 1975 ALCS. Lindblad, who pitched in two of the three games, was one of the few A's pitchers who were remotely effective. In 4⅓ innings he allowed one run to a heavy hitting Red Sox lineup that included Carl Yastrzemski, Fred Lynn, and a host of other big bats.
The 1976 season was Lindblad's last in Oakland. The 34-year-old again proved to be a reliable member of the bullpen as he went 6-5 with a 3.06 ERA. The A's championship run ended as the team finished with an 87-74 record, 2½ games behind the Kansas City Royals. With many of the key pieces of the A's dynasty already departed, the franchise's glory days were clearly in the rear-view mirror. In an effort to cut costs, Finley sold off as many of the A's assets as possible. Lindblad still had value and before the start of the 1977 season he was sold to the Texas Rangers for $400,000.
Lindblad spent a little more than a season and a half with the Rangers before being purchased by the New York Yankees on August 1, 1978. The Yankees needed to bolster their bullpen in an effort to chase down the front-running Red Sox. The Yankees caught the Red Sox and went on to win a one-game playoff to advance to the American League Championship Series and eventually the World Series. Lindblad made his final appearance in the majors in Game One of the 1978 World Series. Coming on in relief in the fifth inning he pitched 2⅓ innings and gave up three earned runs as the Dodgers battered four Yankees pitchers for 11 runs in the opening game blowout.
The Yankees' acquisition of Lindblad reunited him with his good friend and longtime A's roommate, Jim "Catfish" Hunter. In addition to collecting coins, Lindblad loved the outdoors, particularly hunting and fishing, activities he and Hunter relished together.
After the season the Yankees sold Lindblad to the Seattle Mariners, who released the 37-year-old left-hander at the end of spring training. After 14 seasons in the majors, Lindblad's career had ended, and he retired to his home in Arlington, Texas. Lindblad finished his career with a 68-63 record and 64 saves in 385 games, with a 3.29 ERA and the admiration of many who remembered him as the perfect teammate.
Lindblad became a custom homebuilder in Arlington. He returned to baseball as a minor-league pitching coach in the Milwaukee Brewers organization in 1987 and worked in that capacity until 1993, when he was diagnosed with early-onset familial Alzheimer's disease (FAD), the same disease that afflicted his mother and later three of his brothers. Early-onset Alzheimer's is a rare form of the disease that is known to be entirely inherited.13
The disease progressed rapidly and had a dramatic impact on Lindblad's behavior and his physical appearance. He began to get progressively more upset at little things and was unable to control his anger, often lashing out at Kathy.14 According to Kathy, he didn't recognize her or his children and wasn't the same gentle, caring man she had married.15
In 1997 Lindblad was moved to a facility that specialized in assisted-living care for those suffering from Alzheimer's. Lindblad spent the final nine years of his life in Peach Tree Place in Arlington.16 He died from complications of the disease on January 1, 2006. He was 64 years old.
After Lindblad's death, the field at Katy Stadium in Katy Park in Chanute was renamed Paul Lindblad Field. On October 5, 2008, Lindblad was inducted into the Kansas Sports Hall of Fame.
An earlier version of this biography appeared in "Mustaches and Mayhem: Charlie O's Three Time Champions: The Oakland Athletics: 1972-74″ (SABR, 2015), edited by Chip Greene. It also appeared in "The Team That Couldn't Hit:
The 1972 Texas Rangers" (SABR, 2019), edited by Steve West and Bill Nowlin.
Sources
Colton, Larry, Southern League: A True Story of Baseball, Civil Rights, and the Deep South's Most Compelling Pennant Race (New York: Grand Central Publishing, 2013).
Markusen, Bruce. Baseball's Last Dynasty: Charlie Finley's Oakland A's (Indianapolis: Masters Press, 1998).
McDowell, Brian, "Legion tournament honors Lindblad's legacy," Chanute Tribune, July 5, 2013. Retrieved from https://chanute.com/sports/article_593e439e-e5c1-11e2-9e26-001a4bcf6878.html
Wolters, Levi. "Hall of Fame Induction Ceremony Sunday," Wichita Business Journal, October 2, 2008.
Chanute Area Chamber of Commerce and Office of Tourism (2012). Retrieved from chanutechamber.com
Chanute Historical Society. Retrieved from https://chanutehistory.org/
Chanute, Kansas. Retrieved from https://en.wikipedia.org/wiki/Chanute,_Kansas
Kansas City Athletics: Historical Moments. Retrieved from https://sportsencyclopedia.com/al/kcityas/kca_s.html
Markusen, Bruce, "Thinking of Paul Lindblad." Retrieved from https://bruce.mlblogs.com/2006/01/17/thinking-of-paul-lindblad/
Paul Aaron Lindblad 1941-2006. Retrieved from https://thedeadballera.com/Obits/Obits_L/Lindblad.Paul.Obit.html
Paul Lindblad. Retrieved from https://baseballlibrary.com/ballplayers/player.php?name=Paul_Lindblad_1941&page=chronology
Types of Alzheimer's: Early-Onset, Late-Onset and Familial (2013). Retrieved from https://webmd.com/alzheimers/guide/alzheimers-types
Wade Funeral Home, Arlington, Texas, Paul Aaron Lindblad August 9, 1941-January 1, 2006. [Funeral Program, 2006].
W.E. Alford, personal communications, December 10 and December 12, 2013
Lindblad, Kathy, personal communications, December 11, 16, and 17, 2013
Notes
1 Wade Funeral Home, "Paul Aaron Lindblad 1941-2006."
2 Personal correspondence with Kathy Lindblad, December 17, 2013.
3 Personal correspondence with W.E. Alford, December 10, 2013.
4 Larry Colton, Southern League: A True Story of Baseball, Civil Rights, and the Deep South's Most Compelling Pennant Race (New York: Grand Central Publishing, 2013).
5 Personal correspondence with Kathy Lindblad, December 16, 2013.
6 Brian McDowell, "Legion tournament honors Lindblad's legacy," Chanute Tribune, July 5, 2013.
7 Bruce Markusen, Baseball's Last Dynasty: Charlie Finley's Oakland A's (Indianapolis: Masters Press, 1998), 177-178.
8 Personal correspondence with Kathy Lindblad, December 16, 2013.
9 Personal correspondence with Kathy Lindblad, December 11, 2013.
10 Personal correspondence with Kathy Lindblad, December 17, 2013.
11 Personal correspondence with Kathy Lindblad, December 11, 2013.
12 Ibid.
13 Types of Alzheimer's: Early-Onset, Late-Onset and Familial (2013).
14 Colton.
15 Personal Correspondence with Kathy Lindblad, December 17, 2013.
16 Colton.
Born
August 9, 1941 at Chanute, KS (USA)
Died
January 1, 2006 at Arlington, TX (USA)
If you can help us improve this player's biography, contact us.
https://sabr.org/sites/default/files/PaulLindblad_0.JPG
600
800
admin
/wp-content/uploads/2020/02/sabr_logo.png
admin
2012-01-04 19:53:59
2020-11-12 06:28:44
Paul Lindblad