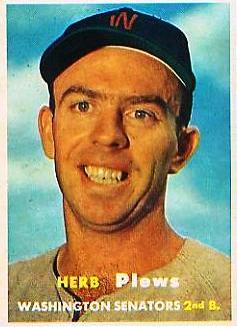 ---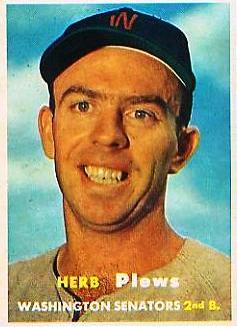 One of only 21 Montanans to make it to the major leagues, Herbert Eugene Plews was born in Helena on Flag Day, June 14, 1928, the only child of Herbert and Marie Plews. Father and son had different middle names. Had things worked out otherwise, he might well have been born in Australia. His grandfather had left England on his way to Australia, but had some friends in Montana so he stopped by to see them. He loved to fish and the fishing was so good there that he simply stayed.
Herb's father worked as a stereotyper in Helena on the local newspaper, the Montana Herald-Record. Stereotyping was a way of making printing plates by taking a mold of composed type and casting metal plates from the mold. The plates were attached to the press and the paper was printed from them. Marie stayed at home, but is remembered as "a good housewife, and a good mother." [Interview with Herb Plews on September 7, 2009. Unless otherwise indicated, all quotations are from this interview.]
Herb graduated in 1950 from the University of Illinois at Champaign, majoring in physical education. His interest in baseball came directly from his father, a local town-team pitcher.  "In those days in Montana, baseball was the king sport. These little small country towns all had baseball teams. It was very popular, and my father was a pitcher, pitched for this little town where we lived, East Helena, Montana. I don't know. I just took a liking to it all the time. Listened to Game of the Week every weekend. I just grew to want to be a baseball player. That's all we did as kids. Rake the rocks … when we were kids, that's all we played on were rough fields." Herb's father played catch with him, and hit him a lot of grounders. It had helped him hone his skills as a second and third baseman in organized ball.
"We didn't have any high-school baseball, but it was American Legion ball in the summer. We had good American Legion programs, and I played there. Then in 1945, Esquire magazine sponsored an all-American Legion program in New York City and they tried to take a player from each state. They divided it up, west and east. And by gosh, I was accepted as the player from Montana to attend that game. I went back to New York and was in that game, the Esquire game in '45. I didn't get to bat, but I did play in it. Curt Simmons was the (most) valuable player in that game. The East beat us. I don't recall the score. That was quite an experience for me." Plews played under West manager Ty Cobb; the score was 5-4. Herb, shown in the box score as Klews, played second base briefly in the game.
How did he come to attend the University of Illinois? It was not on any athletic scholarship. "I always wanted to attend a Big Nine school and there was a man from Helena who had attended Illinois as a football player; he told me that the baseball program there was terrific. Wally Roettger was a major-league player and he was the baseball coach there, and also the basketball coach, or assistant basketball coach. I got in touch with Wally, and this was right after the war, and he said, 'Come on back here.' He kind of took care of me. Freshmen were allowed to play right after the war. Other years they had to wait out a year, but I was able to play varsity ball that first year." [From 1946 through 1949, after the University of Chicago withdrew, the Big Ten was the Big Nine.]
Plews did well in college, playing shortstop and voted MVP of the Illini as early as his sophomore year, 1948. He hit .412 in Big Nine conference play. Herb captained the baseball team in his senior year (Lou Boudreau and Hoot Evers had been among those preceding him), and signed with the New York Yankees immediately on graduation in 1950. Just as he'd had a predisposition toward Illinois, he did for the Yankees as well. "I had always favored the Yankees because we heard them every weekend, it seemed like. The Yankees were always one of the teams that played on the radio. I just grew to like them and was always excited about them. That was my favorite team. When it came time to sign a contract after graduating, our coach at Illinois kind of favored the Cubs. But he didn't push me either way, and so I was able to sign with the Yankees. They had a scout there. Johnny Neun. He came out to see me. Fred Hasselman was another Yankees scout out of Chicago." The actual signing is credited to Lou Maguolo but, Herb says, "It was between them all."
His first contract was actually with the Kansas City Blues, an American Association Triple-A team in the Yankees system. "That's who I signed with. Bob Cerv joined me. He had just gotten out of the service and I hadn't been in yet. He stayed with Kansas City and then I was farmed out to Quincy." Plews had appeared in two games at third base for Kansas City, but not had a single at-bat. It was just a stopover on his way to the Class B Quincy Gems (Three-I League) in Quincy, Illinois. There, he collected 44 at-bats in 13 games and hit .295. His season ended prematurely when he suffered a fractured skull after being hit by a pitch in a twilight game on July 2. After four or five days in the hospital, he was sent home to Montana. It was a couple of years before he returned to organized baseball. The Korean War broke out, and Plews was drafted into the United States Army with a two-year service obligation. 
Just that brief time as a professional made a big difference when it came to military duty. Plews was an infantryman on his way toward the front lines, but baseball spared him from heading into contact not long after he arrived at the Army's Camp Drake, on the northwest outskirts of Tokyo. "When I got shipped to Japan, the colonel of the base there was a very sports-minded person and he was trying to get every person who was connected with some sport to play on the base team. They pulled me out of orders to go to Korea, and I stayed right there at the camp base – it was a big replacement depot – and I was able to play a whole year of baseball for the camp team." Remarkably, Plews had arrived at Camp Drake in December, in the middle of winter, but apparently the colonel already had his eye on spring training.
After completing his tour of duty, and never even visiting Korea, he was mustered out in 1953 and reported two weeks early for a preseason "school" in Glendale, California, where he caught the eye of the Yankees' manager, Casey Stengel. The Yankees assigned him to Binghamton (Class A) to play with the Binghamton Triplets in 1953. "Jerry Lumpe was the shortstop, and at the time there was a double-play combination, the Charnofsky twins. They were out of Southern Cal. Lumpe had to go into the service, and they wanted these two boys to stay together, so they sent me down to Norfolk, Virginia. Class B baseball. I finished out that year with Mickey Owen as a manager. The next year [1954], I went to Double A, Mayo Smith was the manager at Birmingham. I played that year there, under Mayo. And then the next year, Denver became a Triple-A team in the American Association and Ralph Houk took over the team of the Yankees, and so I came to Denver in that year of 1955." He was hitting well, batting .304, .299, and .302, right around .300 throughout that whole stretch in the minors. He had some speed; in 1954, he led the Southern Association in triples.
It was batting .302 at Triple A that seemed to ready him for the majors, but he never played for the Yankees. New York wanted lefty pitcher Maury (Mickey) McDermott from the Washington Senators. They went all out to get him, trading Herb, catcher Lou Berberet, outfielder Dick Tettelbach, and pitcher Bob Wiesler, with a player to be named later who turned out to be Whitey Herzog, to Washington for McDermott and shortstop Bobby Kline. Plews went to his first big-league spring training camp that year, and had his major-league debut for Washington on April 18, 1956, against his former team, the Yankees.
Plews was 5 feet 11 inches tall, and had a playing weight of 160 pounds. He batted left and threw right, and the Senators wondered if he might become a possible replacement for Pete Runnels at second base, with an eye toward moving Runnels to the outfield. In a preseason game, a line drive slammed into Herb's cheek but he hadn't missed a beat. Perhaps it was the eyeglasses; Washington Post sportswriter Bob Addie characterized him as "a young Teddy Roosevelt before the charge of San Juan Hill." [Washington Post, April 6, 1956. Addie must have liked the line. He used it at least once more, in April 1957.]  Herb had always worn eyeglasses, since third grade. There were very few ballplayers who wore glasses.
The day before his debut, a proud Montana Congressman Lee Metcalf (D) read Plews' "entire baseball background" into the Congressional Record. [Chicago Tribune, May 3, 1956] In his first game, Plews made Montana proud as he pinch-hit in the eighth, a shot off Yankees pitcher Jim Konstanty's ankle and drove in a run. New York won the game, 9-5. His manager was Chuck Dressen, who had coincidentally managed the East team in the 1945 Esquire game in New York.
Herb wasn't used often, and rarely had more than one plate appearance a game, sinking from his initial 1.000 batting average to below .200. It seemed to take a midseason exhibition game, against the Phillies on June 28 for him to break out. He was 5-for-5 with four RBIs in a 13-12 exhibition win in Philadelphia.  At the time, he had only three hits (in 24 at-bats) in the regular season. He was mostly used late in games; he'd had multiple at-bats in only three games by then.
On July 27, Plews started getting regular work and he truly took advantage, raising his average from .167 to .316 in a little over 10 days. By the end of August, Bob Addie was writing that Nats rookies Plews, Lou Berberet, and Whitey Herzog were all possible contenders for the Rookie of the Year award. [Washington Post, August 29, 1956] Two of Plews' three four-hit games were against New York. After riding the bench for the first half of the season, he finished strong –  .270 on the nose. The overall impression after his first season was very favorable, Addie concluding that he "looks like a really good ballplayer." [Washington Post, December 7, 1956]
Plews came into 1957 as the presumptive starting second baseman for the Senators, and played in 104 games. He started slowly at the plate, hitting in the .100s until after the first week of May, but he became pretty consistent throughout the year and finished one point above his 1956 mark, at .271. His 26 RBIs were one more than the 25 he'd driven in the previous year. In each year, he hit one home run.
Heading into 1958, Addie changed the Teddy Roosevelt notion to that of Plews as "the terribly earnest math teacher who likes to play ball with his students." [Washington Post, April 8, 1958] Addie may have had in mind a comment Plews made in August 1957 that he planned to become a teacher after he finished with baseball. The nadir of his infield play arrived on June 3 – Plews committed four errors in the game, three of them in the seventh inning, but he hit a two-run double in the eighth and then scored the tying run; the Senators won both games from the Athletics that day. And on June 7, his bases-loaded single gave Washington a walk-off 4-2 win against the Tigers.
The 1958 season was his most active yet, and from early June into early July, Plews was hitting over .300. That tailed off significantly as the season wore on, and he finished at .258, though with better power numbers (two homers instead of one). He drove in a career-high 29 runs – and helped his team tie an American League record by taking part in five double plays in one game, on September 26. The record has since been surpassed. Plews talked about his feelings about the Washington years: "I was kind of in and out. The Senators, we had a pretty good ballclub, but we just never seemed to get in the winning ways. The way they played it, if you didn't get any hits and you lost, you probably were on the bench for a while. So that's the way my career was, in and out." Early in 1957, Cookie Lavagetto had taken over as manager from Dressen, but it hadn't made any discernible difference in the way Plews was used.
Things changed in 1959, however.
Through June 10, Plews was used almost exclusively as a late-inning defensive replacement or pinch-hitter. Only in five games did Plews record more than one at-bat. Ken Aspromonte and Ron Samford handled most of the work at shortstop. On June 11, just three days before his 31st birthday, Plews was traded to the Boston Red Sox along with relief pitcher Dick Hyde for shortstop Billy Consolo and pitcher Murray Wall. Three days later, the Red Sox returned Hyde – who had a bum shoulder – and reclaimed Wall. Consolo and Plews stayed with their new teams. Consolo took over as the regular shortstop for the Senators. "I could never understand that trade," Herb said more than 50 years later. "I don't know why they traded either one of us, but at the time Mike Higgins was the manager of the Red Sox, a fine manager. The Red Sox were kind of in a slump and they were giving Mike a bad time. I no sooner got there than they fired Mike. He was the kind of manager that if he liked you, you had it made. When they fired him, they hired a coach from Washington to manage the Red Sox." The coach was Billy Jurges.
Plews got into 13 games with the Red Sox, for a total of just 12 at-bats. He doubled once, and struck out four times. On July 28, both Plews and Wall were sent down to Minneapolis so the Red Sox could bring up pitcher Earl Wilson and shortstop Jim Mahoney. Regarding Jurges, Herb says, "I got along OK with Bill, but he never saw eye to eye with me, more or less. He no sooner came than they sent me out. Of course, at that time, they were putting the pressure on the Red Sox to get a colored ballplayer. They didn't have any colored ballplayers. So they brought up this boy from Minneapolis, Pumpsie Green, and they sent me out then and that was the end of my major-league career. I never did get back. Jurges … like I say, I didn't know what he thought of me, but it wasn't all that important. I couldn't understand them hiring him. And the funny part of it, the next year they fired him and they rehired Mike Higgins." [Author's note: Plews was mistaken in tying Green's promotion directly to his own demotion; in the transition to Jurges, there were a number of moves made within a matter of a couple of weeks.]
The 1959 season finished with Plews getting into 46 games with the Millers, Boston's  Triple-A club in Minneapolis. He hit .252. His days in the majors were over, but he didn't know it yet. He kept trying, and put in a full season with Cleveland's Triple-A club, the Toronto Maple Leafs. He hit .278 in 1960, but struggled in 1961, again with Toronto – a team without a major-league affiliation that year – hitting just .161 in 31 at-bats. Most of 1961 was spent in the Southern Association, with the Birmingham Barons again – now a Detroit Tigers affiliate. There he hit an impressive .372 in 301 at-bats, though it was admittedly a couple of levels below the majors.
During the offseasons, Plews went back to Montana. He and Shirley Mae Williams married in November 1955. She had studied nursing, but took up work in Helena as a dental assistant. She's said to have seldom missed a game once they were married. "When I was playing ball, we went back to Helena and I worked at the post office. Carrying mail there during the winter. That was a good little job for me during the winter, you bet." The summers became a little more enjoyable in 1962 through 1964. Herb played for the Hawaii Islanders, the Pacific Coast League affiliate of the Los Angeles Angels. The PCL was a Triple-A level league; Plews improved his average each of the three years he played with them, but still never got the call to come back to the major leagues. His final year was 1965, again in the PCL. He began the year with the Tacoma Giants, the San Francisco Giants affiliate, and ended it in Little Rock with the Arkansas Travelers, a Phillies affiliate. His combined average for the two teams was .154. He was 37 years old. It was time to make a change.
"I went back to Montana, and after baseball I was employed in a cement plant there, the Kaiser Permanente Cement Plant. And then when I heard about a cement plant opening up in the Denver area, I applied for that. Dale Mitchell, the old Cleveland outfielder, well, he had been with Martin Marietta, and Martin Marietta was starting up this cement plant in Colorado. I had met Dale and knew him through Bob Lemon, so I wrote him. He said, 'Keep in touch. We're starting a plant up near Denver.' So I did. I came down here and that's how I became employed here for the cement plant here. I worked in the lab. It was just a quality-control type of operation. It was shift work but it was good work. I was able to retire there. Almost 25 years. It worked out very well for me."
Shirley and Herb moved to a retirement community in Colorado around the beginning of 2006. Shirley Plews died of cancer on July 3, 2009. The couple had one child, Reese Plews. Reese never expressed interest in baseball but took a job in mapping, working with satellites and moved to Tokyo in 1990 with his wife, whom he met at the University of Colorado after she had come from Japan to study English there. They became the parents of Herb's two grandchildren, a boy and a girl being raised in Japan.
Looking back on his life in baseball, Herb unhesitatingly declares, "I enjoyed every minute of it, and if I had to do it over, I would certainly do the same thing. I was just a little disappointed I never was able to stay long enough to get my pension. At that time, I was short just a couple months, but that can't be helped. I enjoyed every minute, and I was always thankful to have played during the time that I did, getting to see some of the greatest players who have ever played the game." It's an odd fact that of the four home runs he hit in major-league ball, two were hit off Bob Keegan and the other two were hit off Hall of Famer Jim Bunning.  He adds about his minor-league years, "I was always glad to have played in the minor leagues for some of the better managers. I was fortunate to play with Mickey Owen and Mayo Smith and Ralph Houk. Those were three fine fellers, you bet. I hear from a few of the players. I hear from Eddie Yost and Roy Sievers, and I did hear from some of the other fellers, but they have passed on."
Postscript
Herb Plews died at age 86 of natural causes on December 12, 2014, in Boulder, Colorado.
Sources
For this story, the author relied heavily on a long interview with Herb Plews, and in several newspaper accounts, mentioned explicitly within the text.
Born
June 14, 1928 at Helena, MT (USA)
Died
December 12, 2014 at Boulder, CO (USA)
If you can help us improve this player's biography, contact us.
http://bioproj.sabr.org/bp_ftp/images3/PlewsHerb.jpg
600
800
admin
/wp-content/uploads/2020/02/sabr_logo.png
admin
2012-01-04 19:53:55
2020-09-03 05:01:08
Herb Plews