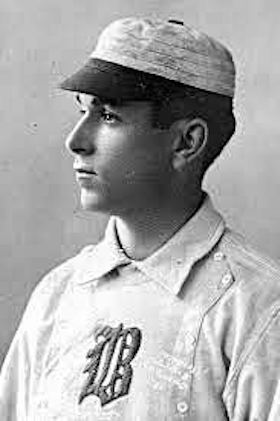 ---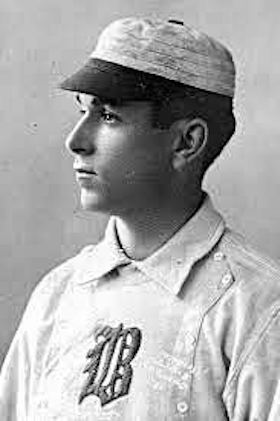 For decades, Hugh Duffy was a franchise fixture in Boston, a small white-haired man who over the years had served the Red Sox as manager, scout, occasional first base coach and batting instructor, tryout camp supervisor, and all-around good will ambassador. To the younger Sox faithful, Duffy seemed to have been a club functionary forever. So when his obituary was published in October 1954, many were surprised to learn that Hugh Duffy had once been baseball's premier batsman. Some 60 years before his death, the little gent had set a single-season major-league batting record by posting a .440 batting average.1
Although extraordinary, the mark was far from a fluke. During a 17-season playing career, Duffy had been an outstanding hitter, attaining yet another unique batting distinction: to this day, he is the only player in history to compile a .300+ career batting average in four different major-league circuits: National League (.326), Players League (.320),American Association (.336), and American League (.302). On top of that, he had also been a standout defensive outfielder, an accomplished base stealer, and an innovative baseball strategist. It was no wonder, then, that the likeness of Hugh Duffy came to be inscribed on a plaque at Cooperstown.
Like a host of other late-nineteenth century ballplayers, Hugh Duffy was the son of Irish Catholic immigrants. But his biography is shrouded by the non-existence of an official birth record,2and by Duffy's lifelong evasiveness about his age. As best as can be ascertained, Duffy was born on November 26, 1866, the oldest child of laborer Michael Duffy (c.1842-1902) and his wife, the former Margaret Egan (c.1838-1883). According to Hugh himself, he was born in Cranston, Rhode Island.3 But most everything published during his lifetime put his birthplace as nearby River Point, one of the Pawtuxet Valley mill villages that now make up the town of West Warwick.4 Whichever the case, many years later one inquisitive journalist wrote, "At the church rectory of St. Anne's Church, Cranston, we uncovered the official fact that Hugh Duffy, son of Michael and Margaret, was baptized on November 28, 1866."5
A recent Duffy biographer portrays the family as close, affectionate, and religiously devout – but small-sized for an Irish Catholic clan of the times.6 National and Rhode Island censuses place younger daughters (Anna, born 1870, and Catherine, born 1874) in the household, and mention of nieces and nephews in Hugh's last will and testament suggests that at least one of them may have survived childhood, their non-appearance in subsequent census listings for the Duffy family notwithstanding.7 Little else is known is about his siblings. During Hugh's formative years, the family resided in River Point where Hugh was schooled locally. To census-takers in 1940, Duffy maintained that he had gotten through the second year of high school. But contemporaneous records place him in the work force by the time he had reached his early teens.8 Indeed, he may have begun working in the River Point mills by age 9.9Although short in stature (5-foot-7), long hours of heavy lifting endowed young Hugh with broad shoulders and a powerful upper torso, physical attributes that he soon put to good use on the diamond.
Duffy's life in baseball followed a familiar trajectory. As a youth, he played in local sandlots, then graduated to action in faster venues. Originally a catcher, the righty-throwing and batting Duffy began playing semipro ball in 1884 with the River Point entry in the Rhode Island State Association, drawing down $5/week.10 The following year, he relocated to Jewett City in eastern Connecticut, working in a linen dye factory and playing for the company team for a reported $30/week, plus room and board.11In 1886, Duffy worked and played for a company club in Winsted, Connecticut, his recompense rising to $50/week, again plus room and board.12 Late that year, Duffy entered the professional ranks, signing with the Hartford Dark Blues of the Eastern League. He debuted in an October 1 game against Newark. Starting at catcher and then moving to second base, he earned the distinction of being the only Dark Blues player not to commit a fielding miscue in a 24-8 drubbing. In all, Duffy saw action in seven Hartford contests, batting .278 (5-for-18) for a middling 40-48 club.
Duffy spent the 1887 season on tour of Massachusetts, as the clubs that he joined twice folded financially. He began the season with the Springfield Horsemen of the Eastern League, and was batting .350 in 17 games when the circuit abandoned play in late May. Duffy then moved on to the New England League, which he positively tore up. In 27 games with the unfortunately-named Salem Fairies, he batted a torrid .461. When Salem disbanded in early July, Duffy transferred to another New England League team, the Lowell Lions (or Magicians). With new acquisition Duffy leading the way (.475 BA, with 30 extra-base hits and 71 runs scored in 49 games), Lowell (71-33) surged from middle of the pack to the NEL pennant.
Duffy's scintillating stick-work had been closely observed by major-league agents, and soon a bidding war broke out for his services. A shrewd, hard-nosed businessman even as a 21-year-old, Hugh leveraged competitive interest in him into a handsome $2,000 contract (with a $500 advance) from the National League Chicago White Stockings. For the remainder of his long life, Duffy relished telling the story of his introduction to Cap Anson, the brusque, oversized field leader of the White Stockings. Taking his first look at the small, boyish-looking Duffy, Anson exclaimed, "What are you doing here? We already have a batboy." Anson was dumbfounded when informed that Duffy was the high-priced outfield recruit signed by the club's eastern agent, Boston sportswriter Tim Murnane, and walked away shaking his head.13 When the 1888 season got started, Anson ignored Duffy and left him on the bench for more than two months. But the departure of flycatcher Billy Sunday and the anemic bat of replacement Marty Sullivan finally prompted Anson to afford Duffy an audition for the right-field spot, and Hugh did not miss his chance.
On June 23, 1888, Hugh Duffy made his field leader take notice, going 2-for-6 at the plate and playing flawless defense in his major-league debut, a 12-1 thrashing of Pittsburgh. Pleased with the game's outcome, Anson left Duffy in the lineup, and the rookie continued to produce. By season's end, he was the club's everyday right fielder. In 71 games, Duffy batted .282, with 21 extra-base hits and 13 stolen bases. He had also played sound defense, recording 19 assists from his post in the pasture. And against the odds, Anson had taken a liking to him.
Cap Anson was a man firmly imbued with nineteenth-century prejudices, and Duffy's size, religion, and ethnic background were all to be counted against him in Anson's book. But Anson prized Duffy's talent, intelligence, sobriety, and seriousness, and, innate biases notwithstanding, invested time and interest in his young charge's development. Hugh responded with a standout sophomore campaign. Playing in all 136 of Chicago's games, Duffy batted .312, with 40 extra-base hits and 89 RBIs, and placed among league leaders in runs scored (144, second-best), base-hits (182, third), home runs (12, fifth), and stolen bases (52, seventh). But all was not well, for either the Chicago club or the National League. With a tight-fisted salary classification system recently imposed atop the hated reserve clause, players were in full rebellion by season's end. Soon thereafter, Duffy, like virtually all frontline NL players, bolted to the newly formed Players League for the 1890 season. And much to the chagrin of captain Anson and club boss Al Spalding, he joined the new circuit's local entry, the Chicago Pirates.
In his third major-league campaign, now 23-year-old Hugh Duffy became a bona fide star. In a circuit stocked with the game's very best players, Hugh stood out. He posted a .320 batting average and ranked among Players League leaders in virtually every offensive category. He topped the league in base hits (191) and runs scored (161); ranked second in extra-base hits (59) and total bases (280); third in stolen bases (78); fourth in doubles (36); and fifth in triples (16). Hugh also shined defensively, particularly with the arm. His 34 assists ranked second-most among PL outfielders.
The collapse of the Players League after its inaugural season left most players scrambling for new berths and at the mercy of their erstwhile employers. But not High Duffy. Pursuant to the reserve system, the rights to Duffy had reverted to the National League and its Chicago club. But Hugh, estranged from field leader Anson and with a hearty dislike of club boss Al Spalding, had no intention of returning to the Chicago fold. Instead, he ignored his reversion designation and negotiated a handsome new contract with the Boston Beaneaters, which Spalding promptly blocked, as was his prerogative with any National League team that attempted to secure Duffy without his assent. This turn of events prompted Duffy to approach the American Association which, having vitiated the National Agreement the previous year, was not obliged to recognize the player-reversion claims of National League clubs. In due course, Hugh signed with the AA's Boston Reds and, in the process, commenced an association with Hub City baseball that would span more than 60 years.
The year 1891 was a watershed for Hugh Duffy. Professionally, he had another banner year, batting .336 with an AA-leading 110 RBIs. He stole a career-high 85 bases, and achieved top-10 rankings in batting average, on-base percentage, slugging, runs scored, base-hits, steals, and home runs. Perhaps more important, the Reds, led by field captain Duffy, captured the Association flag, its outstanding 93-42 (.689) record eight and one-half games better than a St. Louis Browns club that featured an outfielder soon to loom large in Boston baseball and the life of Hugh Duffy: Tommy McCarthy. But with the AA now in its death throes, no postseason inter-league championship was conducted. Rather, for the second consecutive year, a major-league circuit folded, leaving Duffy, McCarthy, and their ballplaying brethren to fend for themselves.
For the moment, however, baseball was not Duffy's primary concern. Hugh had matrimony on his mind. In October 1891, he married the "Belle of the Pawtuxet Valley," the fetching (but consumptive) Katherine Gilland.14 The happy couple immediately took up residence in River Point, but their union was brief and childless, constantly beset by concern over Katie's fragile health.
Another close but relatively brief union was formed late that year when both Hugh Duffy and Tommy McCarthy signed contracts to play the upcoming season for the National League Boston Beaneaters. The two men, soon to be dubbed the "Heavenly Twins," were hardly look-alikes. But they had much in common. Each was New England-born (although McCarthy was the older by three years) from the same ethnic/religious stock, short but sturdily-built men who batted and threw righty, were swift afoot, and played the same position, although Hugh would soon move over to center to leave right field to Mac. More important, they were both aggressive players endowed with keen baseball intelligence. In their several seasons together, Dufy and McCarthy would devise, refine, or popularize much of the game strategy of the 1890s. They also became lifelong friends and, for a time, partners in a popular Boston bowling alley/saloon.
Statistically, their initial season together was not impressive. While team-best, Hugh's .301 batting average was well beneath his previous marks, while McCarthy's .242 was below both National League (.250) and Boston (.245) norms for the 1892 season. Yet following each other in the batting order, they triggered a hit-and-run/stolen base-oriented offense that placed the Boston club second in runs scored (655) during that offensively-challenged season. And in the outfield the two developed defensive tactics (like close-in positioning and the trapped-ball double play) that ably supported the exceptional pitching (Kid Nichols, 35-16; Jack Stivetts, 35-16, and Harry Staley, 22-10) that paced the Beaneaters to a pennant-winning 102-48 record in the first season of play for the expanded 12-team National League. With Duffy (.462) and McCarthy (.381) showing the way, Boston then swept the Cleveland Spiders in six games (including one tie) of postseason pseudo-championship play.15
The following two years saw the Heavenly Twins at the pinnacle of their prowess. With the pitching distance elongated to the present 60 feet, six inches and the pitcher's box eliminated, league bats revived. In 1893, McCarthy posted a robust .346 batting average, but league-leading honors went to Duffy (.363), who also placed high in runs scored (147, second place) and base-hits (203, third). Boston (86-43), meanwhile, cruised to another National League pennant, but with the ill-received postseason competition of the previous year discontinued, most Boston players thereafter busied themselves playing lucrative exhibition matches. Hugh, however, passed on these paydays to attend to his seriously ailing wife. It was hoped that a winter stay on the warmer West Coast might restore Katie's health, but the sojourn proved to no avail. With the 1894 baseball season fast approaching, the couple began their return home to River Point, but Katie did not make it. Removed from the train and hospitalized in Blackstone, Massachusetts, Katherine Gilland Duffy died on March 31, 1894, age 25.16
A grief-stricken Hugh Duffy got an understandably late start on the 1894 campaign. But by the time that it was over, he had completed a season like few others in baseball history. Amidst a league-wide explosion in offense, Duffy batted .440, still the all-time major-league single-season batting average high. He also led the league in base-hits (237), doubles (51), home runs (18), extra-base hits (85), total bases (374), and OPS (1.196), while finishing second in RBIs (145), fourth in runs scored (160), and ninth in stolen bases (48).17 Hugh also played excellent outfield defense, combining with McCarthy (who batted .349) to register 55 assists. But the Beaneaters' excellent 83-49 record was good for no better than third place that season. And the brief heyday of the Heavenly Twins was now approaching its end.
Although not comparable to his previous year's numbers, Duffy posted fine stats in 1895. He batted .353, with 9 home runs and 100 RBIs. He also scored 112 runs and stole 42 bases. But Tommy McCarthy, overweight, nagged by minor injuries, and flashing the bad attitude that would soon hasten his departure from the majors, was slipping (.290 in only 117 games). Mac's business partnership with Duffy was also headed toward dissolution. At the close of the 1895 season, Hugh had remarried, and new wife Nora Moore was lace-curtain Irish, not the type to humor saloon-keeping by her husband for long.18 Within months, the Duffy-McCarthy business association was terminated.19 The two, however, remained friends.20
McCarthy was sold to Brooklyn, and 1896 (.249 in 104 games) was his final major-league season. Boston and Hugh Duffy were also having difficulties. That season, the Beaneaters (74-57) fell to fourth place, while the name Duffy (.300/5/113) no longer appeared among NL batting leaders. But both rebounded strongly in 1897, with Boston (93-39) capturing the pennant and Hugh leading the NL in homers (11), while batting .340, with 129 RBIs and 130 runs scored. Boston dropped the postseason Temple Cup match in five games to the runner-up Baltimore Orioles. But that was no fault of Duffy's. He hit .524 (11-for-21) with seven runs batted in, a fitting capstone for what was his last truly outstanding major-league season.
The next two seasons Hugh posted respectable, if not Duffy-esque, numbers: (.298/8/108 in 1898; .279/5/102 the next year). His playing days, however, were clearly waning. A .304 batting average in an injury-plagued (only 55 games played) 1900 campaign brought his nine-season run as a Boston Beaneater to a close. The next year, he was among the multitude of NL stalwarts jumping to Ban Johnson's new major-league circuit, the American League. With Connie Mack and Tommy McCarthy, Duffy also served on the committee that located suitable playing grounds in Boston for the new league.21
Engaged as player-manager of the Milwaukee Brewers, Duffy was saddled with a hapless roster, one whose ablest player was its now-34-year-old skipper. Appearing in 79 contests, Hugh batted .302 for the last-place (48-89) Brewers. The league thereupon removed the franchise to St. Louis, but Duffy declined to accompany it. Instead, the "Duffmeier" (as admiring fans in the heavily-German city had nicknamed him) chose to remain in Milwaukee and take charge of the city's entry in the Western League, the Milwaukee Creams.
A close third (80-54 in 1902) and pennant-winning (83-49 in 1903) finishes by Milwaukee prompted the National League Philadelphia Phillies to make Hugh Duffy their manager for the 1904 season. His two-year stint with the Creams had demonstrated that, given first-rate playing talent to work with, Duffy could manage a ball club capably. But the mediocre Phillies were another matter. Hugh began his tenure by suffering through a 52-100 last-place season, but thereafter guided Philadelphia to consecutive, albeit non-pennant contending, first-division finishes. But that did not satisfy club brass, and Duffy was discharged at the close of the 1906 season, having compiled a cumulative 206-251 (.429) record at the Phillies' helm. Because he had made a handful of game appearances while the Philadelphia manager, Duffy's entry in the record book was slightly enlarged. But now his major-league playing days were behind him. In 1,737 games spread over 17 seasons, Hugh had batted .326, with 1,302 RBIs and 1,554 runs scored. His 550 extra-base hits included 106 home runs, seventh-highest for a player primarily from the 1893-1919 era. Duffy also stole 574 bases, and was an excellent outfield defender. On top of all that, he had joined with Tommy McCarthy to devise innovative game tactics, both offensively and in the field. In all, Hugh Duffy had enjoyed an exceptional playing career.
Although an intelligent, ambitious man, Duffy rarely pursued outside business opportunities. He was a baseball lifer, and the remainder of his long life was devoted to service to the game. In 1907, Dufy purchased an ownership interest in the Providence Greys of the Eastern League, and managed the club to three close-but-no-pennant finishes. He then sold out his Providence holdings to return to the majors, assuming the post of manager of the Chicago White Sox. Sox owner Charles Comiskey and Hugh were old friends – the two had been teammates on the 1890 Chicago Pirates – but Comiskey proved an impatient boss. Despite some modest improvement in club performance under Duffy's direction, Comiskey fired him at the close of the 1911 season. The termination embittered Duffy, and the friendship never recovered.22
In 1912, Duffy returned to Milwaukee to manage the Brewers of the Class-AA American Association for a single (78-85) season, his only non-winning campaign as a minor-league manager. He then went home to New England, where, as earlier in Providence, he became an owner-manager in Portland, a newly incorporated Maine franchise in the lower Class-B New England League. The club, named the "Duffs"in Hugh's honor, advanced steadily in league standings until it captured the pennant in 1915. When league president Tim Murnane, another longtime Duffy friend and his original pro baseball patron, reorganized the circuit into a new Eastern League, Duffy and his Portland club followed. The (81-37) Duffs finished the 1916 season a close second to the New Loudon (Connecticut) Planters. But following Murnane's unexpected death in February 1917, Duffy sold the Portland club. Shortly thereafter, he was engaged to fill a baseball coach vacancy at Harvard. But between the exigencies of World War I and differences with the university administration, his time with the Crimson was brief and unsuccessful.23
Duffy returned to the professional ranks in 1920, guiding the Toronto Maple Leafs of the Class-AA International League to a fine (108-46) season. He then got the call from the Boston Red Sox, becoming manager of a once dominant American League club then being divested of playing talent by its cash-strapped owner, Harry Frazee. The Red Sox were a non-contending (75-79) fifth-place finisher for Duffy in 1921. The next year, the club went a dismal 61-93 (.396) and plummeted to the cellar, beginning a decades-long occupation of the AL nether regions. Duffy was relieved of duty at season's end, and did not manage again.24 But he remained on hand in Boston for years, serving the Red Sox as a scout, front office functionary, spring training instructor, occasional first base and batting coach, tryout camp supervisor, and good-will ambassador. In time, Hugh made the acquaintance of Sox all-time great Ted Williams. Although men of different generations and temperament, the two shared a mutual love of the art of batting and enjoyed a cordial relationship.25
In April 1945, baseball bestowed its highest accolade on Hugh Duffy: induction into the Hall of Fame via selection by the Veterans Committee.26That same month, he presided over the dubious tryout that the Red Sox accorded Negro Leagues star Jackie Robinson.27
In March 1953, an 86-year-old Duffy, still mentally alert and physically fit, reported to spring training, spending hours in uniform instructing Sox recruits on the fine points of batting.28 But the end was now coming into view. Later that year, Nora Duffy died, bringing to a close a happy but childless 57-year marriage. Hugh, suffering from prostate cancer, succumbed to a fatal coronary at his home in the Brighton section of Boston on October 19, 1954.29 He was 87. The High Requiem Mass at St. Columbkille Church in Brighton was packed with religious dignitaries, baseball big shots, and common fans alike. Internment alongside Nora at nearby Old Calvary [now Mt. Calvary] Cemetery in Roslindale followed. The long, productive lifetime of Hugh Duffy, a 19th-century star who had devoted himself to the game, was now a memory.
An updated version of this biography appeared in "The Glorious Beaneaters of the 1890s" (SABR, 2019), edited by Bob LeMoine and Bill Nowlin.
Sources
Sources for the biographical information provided herein include the Hugh Duffy file maintained at the Giamatti Research Center, National Baseball Hall of Fame and Museum, Cooperstown, New York; Donald J. Hubbard's The Heavenly Twins of Boston Baseball: A Dual Biography of Hugh Duffy and Tommy McCarthy (Jefferson, North Carolina: McFarland, 2008); The Encyclopedia of Minor League Baseball, Lloyd Johnson and Miles Wolff, eds. (Durham, North Carolina: Baseball America, Inc., 2d ed., 1997);and various of the newspaper articles cited below. Stats have been taken from Baseball-Reference and Retrosheet.
Notes
1 This does not encompass the walks-as-base-hits inflated batting averages of 1887. Hugh Duffy's .440 batting average is one of various baseball records revised long after the fact. In 1894 and for some 90 years thereafter, the Duffy batting mark was recorded as .438.
2 As verified in a July 29, 1982 letter from Angelo B. Mendillo, III, Acting State Registrar of Vital Statistics, Rhode Island Department of Health, to John J. Duffy of Portsmouth, New Hampshire, contained in the Hugh Duffy file at the Giamatti Research Center.
3 See Henry McKenna, "Duffy's Birthyear Finally Uncovered," Boston Herald, September 3, 1944: "I was born in Cranston, Rhode Island and that's all I'll tell you," said Duffy. "I think a person's age is their private, personal business."
4 See e.g., Boston Herald, September 24, 1893; Dallas Morning News, October 5, 1897; Trenton Evening Times, June 20, 1919, and Portland Oregonian, March 20, 1938. The Duffy file at the Giamatti Research Center includes an undated circa 1889 profile of Hugh Duffy from the NewYork Clipper, file materials compiled by Hall of Fame statistician Ernie Lanigan, and the profile of Duffy published in the Biographical Dictionary of American Sports, all of which cite River Point as the Duffy birthplace. The Hugh Duffy profile in Baseball's First Stars, Frederick Ivor-Campbell, Robert L. Tiemann, and Mark Rucker, eds. (Cleveland: SABR, 1996), 54, provides conflicting birthplaces. The bio data box states that it was Cranston, the bio text by Rich Eldred names River Point.
5 See again, McKenna, Boston Herald, September 3, 1944. But given that River Point did not have its own Roman Catholic Church in 1866, many infants born into the faith would have been baptized in Cranston. Duffy's biographer takes no position on the point, observing only that Hugh's adolescence was spent living in River Point. See Donald J. Hubbard, The Heavenly Twins of Boston Baseball: A Dual Biography of Hugh Duffy and Tommy McCarthy (Jefferson, North Carolina: McFarland, 2008), 17.
6 Hubbard, 17.
7 Then again, such relations, like Hugh F. Moore, the nephew who completed a posthumous Hall of Fame questionnaire for Hugh Duffy in 1958, may have descended from the family of Hugh's second wife, Nora Moore Duffy. But biographer Hubbard states that the Duffy will makes express mention of blood relations, which implies that the child-less Hugh had siblings who later had children of their own.
8 The 1880 US Census describes the occupation of 13-year-old Hugh Duffy as "works in print shop." Later-day newspaper accounts of Duffy's youth maintained that he was operating a wrangle machine at a clothing factory in River Point as a 14-year-old. See e.g., the Miami Herald and Belleville (Illinois) News Democrat, June 19, 1911.
9 Per the 1875 Rhode Island census.
10 Hubbard, 18.
11 According to the Hugh Duffy obituary published in the New York Times, October 20, 1954.
12 Hubbard, 18.
13 As related by George C. Carens in "Every Day Thanksgiving for 86-Year-Old Duffy," Boston Traveler, November 25, 1952, and elsewhere.
14 Hubbard, 88.
15 Now without a rival circuit to provide competition, the "Big League" manufactured a postseason world championship series between the winner of the first half of the 1892 season (Boston) and the team with the best won-lost in the second half (Cleveland).
16 As reported in the Boston Herald, April 1, 1894. Massachusetts health records posited the cause of death as phthisis, a synonym for consumption or tuberculosis.
17 Until modern baseball record revisionists credited Sam Thompson with the six additional RBIs that brought his 1894 season total to 147, Duffy was considered a Triple Crown winner.
18 Think "Bringing Up Father," the long-running newspaper cartoon featuring the henpecked nouveau riche Irish-American Jiggs and his social-climbing wife Maggie. For more on Nora Duffy's influence on her husband's lifestyle, see Hubbard, 130-136.
19 Sans Duffy, McCarthy continued to operate the saloon for another 17 years. See Hubbard, 119-124.
20 At McCarthy's funeral in 1922, Hugh Duffy served as a pallbearer.
21 The site was promptly transformed into the Huntington Avenue Grounds, home of the Boston Americans (later Red Sox). For more detail, see Bill Nowlin, Red Sox Threads: Odds and Ends from Red Sox History (Boston: Rounder Books, 2008), 364-368.
22 For more on the Comiskey-Duffy relationship, see Hubbard, 177-178. Inheriting a middle-of-the-pack team, Duffy went 155-159 (.495) in his two seasons as White Sox manager.
23 Like many colleges, Harvard cancelled the baseball season upon United States entry into World War I in April 1917. The program resumed the following year, but Duffy had little success at Harvard. His teams went 8-21 (.276) in two seasons, and in 1920 he was replaced as baseball coach by former major leaguer Jack Slattery. From 1928 to 1930, Duffy was a more popular with school administrators but not overly successful baseball coach at Boston College.
24 In eight seasons as a major-league manager, Duffy had led his teams to a cumulative 535-671 (.444) record. He had more success in the minors, going 879-531 (.623) in 11 seasons, with pennant-winners in the Western League (Milwaukee, 1903) and the New England League (Portland, 1915).
25 In a late-life interview, Duffy related that just as Cap Anson had mentored him as a young batsman, he had passed along hitting tips to the young Williams. See George C. Carens, "Everyday Thanksgiving Day to 86-Year-Old Duffy," Boston Traveler, November 25, 1952.
26 A year later, old friend and teammate Tommy McCarthy was named a Hall of Famer by the Veterans Committee, as well. McCarthy's modest credentials have made him a controversial Cooperstown resident.
27 Sam Jethroe(who became National League Rookie of the Year in 1950 playing for the Boston Braves) and Marvin Williams also attended the tryout. Shortly thereafter, Brooklyn general manager Branch Rickey signed Robinson, initiating the racial integration of major-league baseball. Robinson was N.L. Rookie of the Year in 1947. The Red Sox, meanwhile, remained an all-white club until 1959.
28 See Gabriel Schechter, "Hugh Duffy: 68 Years in Baseball," accessed online on April 17, 2018, at https://www.thenationalpastimemuseum.com/article/hugh-duffy-68-years-in-baseball. Duffy preached hitting the ball back up the middle.
29 As per the death certificate contained in the Hugh Duffy file at the Giamatti Research Center.
Born
November 26, 1866 at Cranston, RI (USA)
Died
October 19, 1954 at Boston, MA (USA)
If you can help us improve this player's biography, contact us.
https://sabr.org/sites/default/files/DuffyHugh_0.jpeg
600
800
admin
/wp-content/uploads/2020/02/sabr_logo.png
admin
2015-07-14 18:43:15
2015-07-14 18:43:15
Hugh Duffy