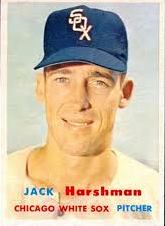 ---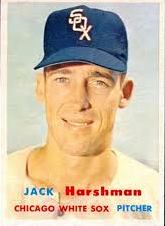 Jack Harshman appeared in ten major league seasons in three decades, primarily as an American League starting pitcher. He started 155 games, recording 69 wins against 65 losses, logged a workmanlike, journeyman career, much of it with the Chicago White Sox, at a time when "men were men and contracts weren't guaranteed," and once threw an estimated 245 pitches in a 16-inning shutout win.
Harshman was a slugging pitcher, a valuable commodity in the days before designated hitters. He hit 21 major-league home runs, and often appeared as a pinch hitter for his power-starved teams. For many years, before the advent of the homer-driven careers of Dave Kingman and Mark McGwire, Harshman held an obscure major league record–of his 76 career hits, his 21 home runs were the highest ratio (27.6 percent) of home runs to hits for any batter with more than 400 plate appearances.
John Elvin Harshman was born in San Diego, California, on July 12, 1927. The only child of Elsie and Melvin Harshman, a police officer, he grew up playing baseball on both the sandlots and at San Diego High School. He once batted in an exhibition game against Hall of Famer Satchel Paige, but didn't fare well. A slugging first baseman, Jack signed out of high school in 1945 with the local San Diego Padres, an unaffiliated team in the Pacific Coast League (Class AA–at that time the highest minor league level); he received $3,000 with an additional $4,000 due should his contract be sold to a major league team. Before signing on with the Navy that same year, Jack made 67 plate appearances, batting .254 with no home runs.
Jack's first big year as power hitter came in 1947 when he crushed 36 home runs for Victoria (Class B) of the Western International League and batted .306. Based on the potential he was showing, the Padres made a lucrative trade with the New York Giants, receiving three players and $65,000 for Jack's contract. Over the next three years, Jack continued to bash the ball for various Giants' minor league teams, hitting 82 home runs; but his batting average hovered around .250. He earned his first "cup of coffee" appearance in the majors when the Giants brought him up at the end of the 1948 season–on September 16, 1948, he struck out as a pinch hitter against Pittsburgh. Over five games, he had nine plate appearances, recorded a walk and two singles and struck out three times.
In 1949, Harshman recorded another solid year as a power hitter with Minneapolis of the American Association (Class AAA) but was not called up. Jack did begin the 1950 season with the Giants, and was in the starting lineup, batting eighth, on Opening Day; but he hit only .125 during the first two weeks. Manager Leo Durocher began to draw heat from the New York press over Jack's lack of hitting, and he was soon back in Minneapolis, where he had a decent half season at the plate. In 1951, Jack's hitting rebounded with the Nashville Vols of the Southern Association (Class AA) where he pounded 47 home runs, although his batting average remained modest (.251). That year, the Giants had converted the smooth-swinging Whitey Lockman to first base; Lockman had modest power but a good hitting eye, and was a significant roadblock to Harshman's aspirations of being a major league first baseman.
But good fortune was about to swing in Jack's direction. He occasionally pitched batting practice for the Vols, and one day in 1951 Larry Gilbert, the Nashville owner, suggested to Jack that his route back to the majors might be by way of his left arm rather than his bat. Jack's initial pitching success was modest, but the Giants brought him back for another brief try, this time as a pitcher, in 1952. Jack started two games in September and lost them both, compiling a 14.21 ERA. So it was back to Nashville for more seasoning.
In 1953, when Jack Harshman turned 26, his career as a pitcher came together. He compiled a 23-7 record with a 3.27 ERA in 259 innings for Nashville. The Giants sold Harshman with his last demotion, but Carl Hubbell, the Giants' chief scout, was a believer in Jack's potential, and had passed on his assessment to his friend Paul Richards, manager of the White Sox. White Sox scouting revealed that while Harshman had no extremely effective pitch, he threw a wide variety of pitches competently and with good control. So Frank Lane, general manager of the White Sox, purchased Harshman's rights from Nashville on September 19, 1953, for a figure reported at "slightly more than $10,000." Jack's major league career was about to begin in earnest.
His first appearance for the 1954 White Sox was as a starter against Cleveland on April 14. Harshman was the losing pitcher, leaving in the 4th inning trailing 4-2. He did not get another decision until May 28 when he earned his first major league victory in long relief against Baltimore, pitching 4 2/3 innings in an 11-6 win. Nine days later, Jack won his second game, a complete-game shutout of the Senators, 6-0.
Richards continued to use Harshman effectively both as a White Sox rotation starter and in spot relief. On July 25, he started the first game of a doubleheader against the Red Sox at Fenway Park with startling results. In a nine-inning complete-game win, Jack struck out 16 Red Sox, two short of the then-major league record of 18 held by Bob Feller. This set a single-game strikeout record for White Sox pitchers which still stands, and a Fenway Park record which lasted until Roger Clemens' 20-strikeout performance in April 1986. The next day, Ed Prell of the Chicago Tribune described Harshman's feat as "the most brilliant White Sox pitching performance since 1920." Jack attributed his success that day to a "slip pitch" or palmball he learned from Richards.
Over the remainder of the 1954 season, Harshman continued to develop as a vital member of the White Sox staff, succeeding both in starting and relief roles. During August, he posted a 6-0 record as a starter, including four complete games, one of them a 16-inning shutout of the Tigers (August 13) in which he stranded 17 base runners and threw what Tom Tango's Basic Pitch Count Estimator determines to have been 245 pitches. He completed the season with a 14-8 record and a 2.95 ERA over 177 innings pitched.
Chicago had finished in the first division of the American League for four straight years, but was solidly entrenched in third place behind the Yankees and Indians. The emergence of Jack Harshman and others behind staff ace Billy Pierce gave the White Sox a rotation ranked among the 33 best all-time by Bill James in his 2011 Solid Fool's Gold essays collection, and hope of competing with the league leaders. The Sox' pop-gun offense could only be effective with dominant pitching support, and Harshman seemed to fit that description.
Paul Richards, the manager credited with the White Sox revival, was moving on to Baltimore for 1955, where he would be both manager and general manager. This was a disappointment to Harshman, who said Richards was the greatest manager he played for and who taught him a great deal about pitching. Marty Marion would be the new Sox manager.
Jack Harshman started the fourth game of the season for the Sox in 1955, beating the Indians with a 3-1 complete game. He won again on April 23, the beneficiary of a 29-6 Sox mauling of the Kansas City A's. Two relief appearances in mid-May were followed by another 3-1 complete game against Cleveland on May 26. Over the next two months, Jack had a 3-3 record, alternating complete-game victories with less-effective starts. On July 31, Jack beat Washington in eleven innings, yielding only two hits. The win put Chicago atop the AL, a game ahead of both the Yankees and Indians.
On August 6, Harshman started and lost an 8-1 game to Baltimore, loading the bases with walks in the third inning, then giving up a grand slam to Dave Philley. For the next three weeks Marty Marion used Harshman only in relief. Finally, he got a start and threw a complete-game victory over Washington, 11-1, stranding 11 base runners. Jack started four more games and won three of them over the rest of the 1955 season, and ended 11-7 with a 3.36 ERA in 179 innings. The White Sox had been in the thick of the pennant race throughout the year, but finished five games behind the first-place Yankees.
The 1956 season was Jack Harshman's breakout year as a Chicago starter. Thirty of his 34 appearances were starts, beginning on April 19 when he faced the Indians and Herb Score. In an epic made for those who appreciate dominant pitching, Harshman and Score both threw complete game two-hitters, the Sox winning 1-0. Jack went on to win 15 games that season, 14 of them complete games including another gem, a double-one-hitter 1-0 win against former teammate Connie Johnson and the Baltimore Orioles.
From a team standpoint, the 1956 season was marred by slippage in the White Sox' attempts to overcome the Yankees. They finished third again, but this time they were twelve games out. Although Harshman had done a good job backing up Billy Pierce's 20 wins as the White Sox ace, there was a problem–Jack Harshman had difficulty with the Yankees. In 1956, he had an 0-4 record against New York, and for his career he was only 3-18. Several of his losses to the Yankees were well-pitched games, but more often than not, New York hit him very well, especially Mickey Mantle, Moose Skowron, Bobby Richardson, and Elston Howard. Of Mantle, Harshman once said, "They ought to create a new league for that guy."
So Jack and the Sox entered 1957 with something to prove–but there was optimism. Harshman had pitched well against the Indians, going 8-3 against them over 1955-56. And now the Indians' former manager, Al Lopez, would manage the Sox. Lopez had achieved success in Cleveland built around extraordinary starting pitching. Now he would lead Pierce, Harshman, and perhaps the emerging Dick Donovan to challenge both New York and Cleveland. But only two-thirds of the equation panned out.
The 1957 White Sox won five more games than in '56, but still finished in second place, eight games behind New York. Between them, Billy Pierce and Dick Donovan were 36-18 and pitched 478 innings. Harshman fell to 8-8 for the year. He pitched only 151 innings, and his complete game total dropped from 15 to six.
Jack had started the season with a complete game win in the opener against Kansas City, then won his next two starts. But after that, Harshman's results were erratic. Following a 3-0 loss to the Yankees, Harshman had five straight no-decision starts as his teammates both won and lost. Jack began to get hit hard early in games, and to struggle with control. Lopez may have exacerbated the problem by bringing Harshman back to start again almost immediately after blowouts in early innings. But 35-year-old Jim Wilson had picked up the slack, and the White Sox were winning. On August 25, with Harshman's record standing at 7-8 after this 3-0 start, the White Sox were in second place, four games behind the Yankees. With 31 games remaining, Chicago was playing .600- plus baseball and sensing a real chance.
Although he wasn't scheduled to pitch until the second game of the August 25 doubleheader, Harshman took batting practice from coach Don Gutteridge. The prior year he had hit six home runs and driven home 19. The White Sox had continued their weak power production, and Harshman needed to help his own cause. Unfortunately, the batting area was slippery from an earlier storm, and Jack's foot slipped. Something popped in his back, and he was in pain. Jack believes he had no choice but to start the second game that day; it was 1957, and he was slated to pitch. As he sat on the bench over the course of the first game, the back stiffened up. "I went out to warm up, and I could hardly throw, but no one was getting ready in the bullpen." Harshman walked two and gave up a single to the Orioles, but managed to get through two innings before being relieved by Bill Fischer, and the Sox won, 3-0. After the game, Chicago team doctor John Claridge took x-rays and deemed the injury "nothing serious."
But Harshman was unable to pitch. The White Sox went 14-14 over the next 28 games, and were eliminated before Harshman returned to the mound. On September 27, Jack pitched his final game for the White Sox, a complete game six-hitter, 2-1 over the Indians, with nine strikeouts. The next day, the Chicago Tribune described how Sox fans "watched Jack Harshman 'arrive' last night–brilliantly, though a little late."
Using Harshman in the waning days of the season to start a meaningless game was an opportunity for the White Sox to showcase Jack's marketability. Al Lopez was looking for more dependable starters and knew where to get one. Since Lopez' departure from Cleveland, the wheels had fallen off the once-invincible Indian pitching staff. And Frank "Frantic Frankie" Lane, now general manager in Cleveland, was always ready to deal. The White Sox engineered two trades in tandem, sending Harshman, Larry Doby, and Russ Heman to Baltimore (where Paul Richards still admired Harshman's skills), but also moving Minnie Minoso to the Indians for Early Wynn. Wynn had pitched well over 200 innings in each of the previous eight seasons, and seemed to promise more of the pitching stability that Lopez was accustomed to.
There was a complication to the Harshman trade. Jack's back continued to bother him after the season when he went home to San Diego, and eventually he sought further medical advice. After the trade, doctors told him he had a ruptured disc in his back and he phoned Richards to reveal his situation. The Orioles suspected that the White Sox had been disingenuous about Harshman's health and demanded that the American League review the trade. In a meeting involving Harshman, officials of the two clubs, and baseball Commissioner Ford Frick, in January 1958 it was determined that the White Sox had acted in good faith, but that Baltimore should receive an additional player in compensation; first baseman Jim Marshall became the add-on.
Jack Harshman and the Orioles approached the spring of 1958 with some trepidation. Jack might have undergone surgery to repair his back, but he would have missed the entire season. A Johns Hopkins physician had recommended a corset for Harshman which he believed would allow Harshman to pitch. Conversely, Dr. Erwin Meyer, Baltimore's team physician, said about Jack before the season started: "He might pitch 200 innings, then put himself out of commission by bending down to tie a shoelace."
Traded but unsigned, Jack spent 1958 spring training working on getting in shape, getting used to wearing the corset, and coping with pain and tingling in his legs from his ruptured disc. The Sporting News season preview recognized him as the hardest-working player in the Oriole camp; at the end of spring training, Baltimore signed him.
The 1957 Baltimore Orioles had finished in fifth place in the American League with a .500 record, the franchise's best performance since 1945. Paul Richards, hoping to duplicate his success with the White Sox, was going to have to do it once again with a pitching staff that had little offense to back it up. This was a problem. Ray Moore and Connie Johnson had pitched 469 innings between them in 1957. Moore was now gone to Chicago in the Harshman trade, and Johnson would pitch only 118 innings in his last year in the majors. Richards had a stable of young, promising arms on his staff, but was committed to his usual position of bringing young pitchers along slowly, with modest innings pitched totals. You wouldn't expect a hobbled Jack Harshman to be the solution, but he was.
On May 10, 1958, the Orioles stood third in the American League at 9-9. Jack Harshman had five of the wins and was leading the league in ERA. He finally lost in his sixth appearance of the season, 7-4 to Boston. The Orioles would go on to finish sixth with a 74-79 record. Harshman, with a workmanlike 12-15 record, was third in the league with a 2.89 ERA. Logging 236 innings, he had stabilized the pitching staff. Paul Richards said, "For my money, Harshman's the best lefthander in our league." The baseball writers were less effusive; Harshman finished 24th in the 1958 AL MVP balloting, the only time he attracted votes.
Over the winter of 1958-59, Harshman again opted against surgery. His back was not giving him particular trouble, and certainly hadn't kept him from pitching effectively that year. Richards agreed: "I never considered asking Jack to undergo an operation after he started to hit his stride." In addition, Harshman had hit six home runs with 14 RBI, out-slugging several of the Orioles' regular position players; Richards used him nine times as a pinch hitter.
The 1959 Sporting News season preview designated Jack Harshman as the "most likely Oriole pitcher to win 20 games." Harshman was the Opening Day starter, but somehow all his effectiveness had evaporated. Jack was shelled by the Senators, leaving after four innings in a 9-2 loss. May 10, 1959, found him a mirror-opposite to the year before at 0-5 and out of the rotation. His deteriorating performances soon led to mop-up assignments. The decline was a mystery. "I just haven't been able to get my rhythm back. I don't know why. I've felt strong." Paul Richards didn't have an answer to Harshman's ineffectiveness either, and on June 15, Jack was traded to the Red Sox for Billy Hoeft, another once-solid pitcher who had fallen on hard times. Harshman pitched in only eight games for Boston before being released. The contending Cleveland Indians picked him up on waivers July 30.
The '59 Indians were no longer the pitching-rich club of the mid-1950s, but they were only a game out of first place, relying on Cal McLish and Gary Bell for most of their innings and wins.
Harshman's contribution started modestly with a mop-up appearance in a 9-0 loss to Washington on August 5. On August 10, he earned a save in relief, and then won a complete-game start on August 13 against the A's. Jack came back on August 21 with a shutout over the Orioles, then won two days later, pitching five innings in relief against the Red Sox; the Indians were 1 1/2 games out. The Indians won their next two games, then lost four straight head-to-head games at home against the league-leading White Sox, including a start by Harshman, and slid back in the race. Eventually, the Indians finished second, five games behind Chicago. But Jack Harshman had done more than his share to keep the Indians' hopes viable, posting a 5-1 record and a 2.59 ERA, completing five of six starts, and saving a game. As with the Orioles the previous year, he was considered an established member of the Indians' rotation for 1960.
But Harshman's back did not maintain its neutral condition over the 1959-60 winter. Jack struggled through spring training, began the season on the disabled list, and at one point was hospitalized with his back in traction for 12 days. Finally, he made his first appearance of the 1960 season on July 24. In this, his last major league season, Harshman went 2-4 with the Indians, pitching 54 innings with a 3.98 ERA. The Indians finished fourth. Harshman was released following the season.
He was invited to spring training in 1961 by the expansion Los Angeles Angels, but was cut. He pitched briefly but ineffectively for the Angels' farm team at San Diego, then retired from baseball as he turned 34. Jack took a job as a Pepsi-Cola route salesman and later worked as a mentor to troubled youths for the State of Connecticut.
Jack Harshman is the father of three daughters. He and his wife Ginger live in Georgetown in the Texas Hill Country, near Austin.[1]
July 1, 2011
Note
[1] Jack Harshman died August 17, 2013, in Georgetown, Texas, at age 86. He had been reluctant to talk about his family during interviews for this biography in 2011; additional details have subsequently come to light. In 1958, Harshman married his third wife, Dorothy. The marriage produced a son, Jack Harshman Jr., and was of short duration. After an intervening marriage and divorce, Harshman married Virginia "Ginger" Lane in 1990. She survived him, as did three daughters (Patricia, Joyce, and Jacqueline), all by prior marriages, and Jack Jr. [Jack Harshman death notice, tribute.com, accessed September 2, 2013; Telephone conversation with Dorothy Harshman, Brookline, MA, September 2, 2013.]
Sources
In researching this biography, the author relied extensively on articles from The Sporting News, especially Jim Ellis's "Hard-Luck Harshman Thumbed Nose At Fate" in the March 4, 1959, issue. Also of great assistance were articles from The Chicago Tribune¸ material from the Retrosheet and Baseball-Reference websites, Warren Corbett's book-length biography of Paul Richards, The Wizard of Waxahachie (2009), and Richard C. Lindberg's franchise history, Total White Sox (2005). The "men were men . . ." quote is from Jim Margalus' Sox Machine.com blog, December 19, 2010. There were also two telephone interviews with Jack Harshman: February 7 and 25, 2011.
Born
July 12, 1927 at San Diego, CA (USA)
Died
August 17, 2013 at Georgetown, TX (USA)
If you can help us improve this player's biography, contact us.
http://bioproj.sabr.org/bp_ftp/images5/HarshmanJack.jpg
600
800
admin
/wp-content/uploads/2020/02/sabr_logo.png
admin
2012-01-04 20:33:41
2012-01-04 20:33:41
Jack Harshman