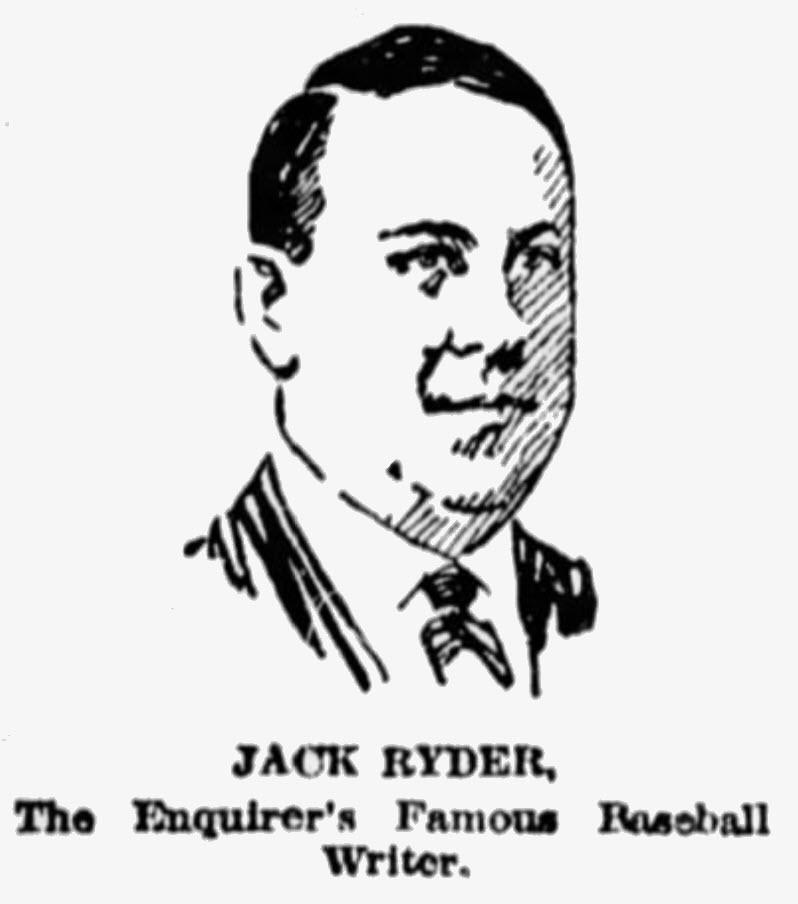 ---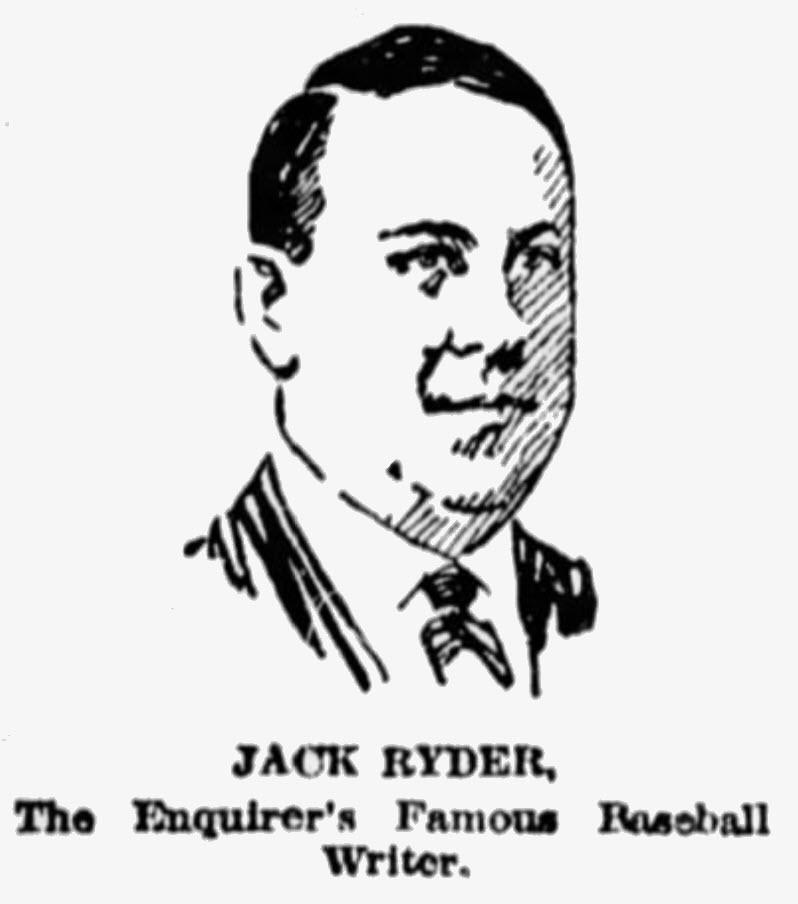 Baseball writer Jack Ryder covered the Cincinnati Reds with unfailing dedication. He was a keen observer and witty commentator. From 1905 to 1936, his eloquent prose graced the pages of the Cincinnati Enquirer. The Reds were mostly mediocre during this period. Managers came and went, 14 in 32 seasons. Through thick and thin, fans could rely on Ryder's reporting. "His prolific pen … brought more enjoyment to the fans than could be measured," said historian Lee Allen.1 Ryder also served as an official scorer and was a founding member of the Baseball Writers' Association of America.
Frederick Bushnell "Jack" Ryder was born on November 16, 1871, in Oberlin, Ohio. He was the eldest of five children, three boys and two girls, born to William Henry Ryder and Mary Elizabeth (Bushnell) Ryder. William was a professor of Greek language and literature at Oberlin College, 1870-77.2 The family relocated to Ann Arbor, Michigan, in 1877, where William became a church pastor. Mary died the following year, shortly before Jack's seventh birthday. In 1881 William married Ada Tripp, and she bore him a son in 1885.
The family moved to Andover, Massachusetts, in 1887, and William became a theology professor at the Andover Theological Seminary.3 His four sons would distinguish themselves through literary and scholarly achievement. Like Jack, Robert O. Ryder became an esteemed journalist.4 Arthur W. Ryder became a university professor and leading authority on the Sanskrit language.5 And the youngest, Charles T. Ryder, became a medical doctor, expert in the care of tuberculosis patients.6
Jack Ryder attended high school at the Phillips Academy in Andover. He enrolled at Oberlin College in 1889, and a year later transferred to Williams College in Williamstown, Massachusetts. He played football during his school years. After graduation from Williams College, he became a teacher in Columbus, Ohio, and he coached the football team at Ohio State University, 1892-95 and 1898. From June to October 1898, he served in the Ohio Volunteer Cavalry during the Spanish-American War. Ryder abandoned his teaching career and became a newspaperman for the Ohio State Journal in Columbus, and by 1905 he was working for the Enquirer in Cincinnati.
Ryder eschewed hackneyed expressions in his writing. A game was nine sessions, rounds, or frames, not innings. He praised a good hitter as "a timely deliverer of swats."7 An effective pitcher delivered "a fine brand of puzzlers," while an ineffective one was merely an "alleged hurler."8 When batters slugged the ball, they "slammed gloriously and cleanly in many directions."9 When outfielders excelled, Ryder congratulated them with Shakespearean resonance: "The gardeners roamed at will over the verdant sward and impaled the long and hurtling fly upon their viscous mitts."10
Ryder expected competent play from the Reds, and he described their failures in amusing fashion. One outfielder "tried to throw the ball before it reached him."11 Another seemed in a trance, his mind "absorbed in contemplation of more important and more beautiful things than an official sphere"; he did not "come out of it until the ball fell with a dull thud in the cold mud at his side."12
After the Reds committed nine errors on May 20, 1905, Ryder focused on three egregious miscues by Cozy Dolan in left field. "Like Hail, Balls Dropped Near Dolan" was the headline.13 The Reds released Dolan two weeks later. As the exiled ballplayer awaited his outbound train, he saw Ryder at the depot and assaulted him. The 6-foot-2 writer responded by leveling Dolan with a punch to the jaw.14
Ryder delivered a combination of direct jabs and "sly digs" in his writing.15 Reds pitcher Chick Fraser lacked control one day; according to Ryder, Fraser "kept Pat Livingston running back to the grand stand for wild pitches until the dumpy catcher lost four pounds and his tongue was hanging out a foot."16 In a game against the Pittsburgh Pirates, the Reds hit for altitude not distance, observed Ryder, wryly. "But what goes up must come down and in this case there was always a hungry Pirate waiting to devour it."17 When the Reds dropped into last place during a summer heat wave, he remarked that the team had found a cool spot in the cellar.18 "The Reds are a winning team … in intention, if not always in execution," he wrote.19
The New York Giants defeated the Reds in eight consecutive games from July 24 to August 1, 1905. When the Giants left Cincinnati, Ryder called for a celebration: "Beat the tom-tom! Sound the hewgag! Call the waiter and order anything you like! … The champion Giants have packed their bats [and departed]. … [Now] our boys will have a chance to win a few games."20 Ryder was likewise elated when the Reds earned a rare victory over the Giants on August 5, 1909; he reported that the Reds "exterminated" Giants pitcher Bugs Raymond.21
With Christy Mathewson pitching, the Giants were invincible. Mathewson blanked the Reds on July 13, 1907, "teasing and toying with them as a cat with a mouse," wrote Ryder.22 Mathewson won 22 straight games from the Reds, a streak that began on June 17, 1908, and was halted on August 19, 1911.23 From 1905 to 1915, he achieved a 50-11 record against them — an .820 winning percentage.
With 372 career victories and only 188 defeats, Mathewson left the Giants in July 1916 to manage the Reds. In one final appearance as a pitcher, he beat Mordecai "Three Finger" Brown and the Chicago Cubs, 10-8, in the second game of a doubleheader on September 4, 1916. It was also Brown's final major-league outing. Ryder described the "battle of the old-time Titans": "Neither man was the pitcher of old. Their stuff was gone, their speed was lacking, their curves were conspicuous by their absence. But both were still there with the brains and the courage of yore, with the spirit that would never acknowledge defeat and with the undying nerve of the true artist."24
From 1890 to 1918, the Cincinnati Reds never finished higher than third place in the National League. But Pat Moran, in his first year as their manager, led the team to the 1919 pennant with a remarkable .686 winning percentage. It was the Reds' only pennant during Ryder's career. He covered the World Series every year for the Enquirer, and it was a special thrill for him to cover the Reds in the 1919 World Series.
The Reds routed the Chicago White Sox, 9-1, in Game One. Eddie Cicotte, the White Sox ace, was "easy" for the Cincinnati offense, said Ryder.25 In winning Game Two, the Reds "have stopped the confidence of the Sox and have obliterated their fondest hopes."26 It was an "intense surprise" when Dickey Kerr, Chicago's rookie southpaw, blanked the Reds in Game Three.27
"After Kerr's great exhibition," the White Sox "were a cocky lot as they strode to the field for their preliminary practice" before Game Four. Cicotte "recovered his form and his poise and was at his best. But he tossed his game away by two wobbly errors in the fifth round," and the Reds took a 3-1 lead in the best-of-nine series.28
In Game Five, Hod Eller shut out the White Sox, "pitching one of the most brilliant games ever seen in a world's event," said Ryder. "Pat Moran's powerful club tore through the weary and dejected Sox like a huge biplane through the circumambient ether." Ryder added that the "White Sox are simply going through the motions."29
But in Game Six, the Reds played "with an overconfidence which proved fatal," as Kerr earned his second victory of the Series.30 And Cicotte "returned with the utmost gameness" to win Game Seven.31
The Reds clinched the Series in Game Eight. "They drove Claude Williams from the mound in less than one inning by a succession of ferocious swats that resounded over the field like gun shots."32 Ryder trumpeted, "Hail to Pat Moran's bold and resourceful team of Cincinnati Reds, champions of the baseball world!"33 But the championship was tainted when it was revealed that eight White Sox players, including Cicotte and Williams, conspired to throw the Series.
In their bid to repeat as NL champions in 1920, the Reds came up short. They were in first place on September 6 but lost 15 of their next 19 games and stumbled to a third-place finish. "The main cause," wrote Ryder, was "a frightful batting slump of such a severe nature as has never befallen a champion club."34 From September 21 to 25, the Reds scored a total of two runs in six games. It was "a sorrowful ending to what would otherwise have been a great season," he said.35 The Reds fell to sixth place in 1921, but Moran guided them to consecutive second-place finishes in 1922 and 1923.
Ryder covered the 1923 World Series between New York's Yankees and Giants. He was awed by the new Yankee Stadium, which he called the "most imposing of all edifices erected for the purpose of outdoor sport and recreation."36 In Game Five, the Yankees trounced the Giants, 8-1, in front of a World Series-record crowd of 62,817. The Yankee attack "swept the helpless Giants … like bobbing straws on the crest of a flood," wrote Ryder.37 The Yankees clinched the Series the next day and "attained the lofty eminence for which they have been striving."38
Moran died in March 1924, and Jack Hendricks became the Reds manager. On May 30, 1924, Hendricks's team swept a doubleheader at Wrigley Field (then known as Cubs Park) in front of about 40,000 fans. Ryder described the scene: The fans "perched on the steel girders of the stand, hung by their eyebrows on the edge of the roof, clung to every point of vantage in the big arena, stood in long lines around left and center field and made it … the largest gathering that the Reds have ever played before."39
The next day Hughie Critz made his major-league debut as the Reds second baseman. Ryder recognized his ability, and after Critz had played in seven games, Ryder declared that the youngster "is a big leaguer from now on."40 Indeed, Critz would play in the National League for 12 seasons.
After the 1924 season, one writer from each NL city, including Ryder from Cincinnati, cast a ballot for the NL Most Valuable Player Award. Each writer voted for 10 players, ranking them from first to 10th place. Brooklyn pitcher Dazzy Vance won the award, receiving six first-place votes. St. Louis second baseman Rogers Hornsby, the runner-up, received the other two first-place tallies.41 Using a modern measure, Wins Above Replacement, Vance and Hornsby were the most deserving. When it was learned that Ryder had left Hornsby off his ballot, St. Louisans cried foul. How could Ryder rank 10 players ahead of Hornsby? Ryder explained: "This contest supposedly is for a player who is most valuable to his team. I will concede Hornsby is a most valuable player to himself, but not to his team. On that basis I couldn't give him a solitary vote."42 Ryder's stance was extreme, but it should be noted that even if Ryder had given Hornsby a first-place vote, Vance would have still won the award.43
In the spring of 1925, at the age of 53, Ryder married a 45-year-old widow, Susan Smith Leach of Cincinnati. The Reds finished in third place that year and improved to second place the following year. But in 1927 they began a streak of 11 consecutive seasons in which they finished in the second division, including four consecutive last-place finishes from 1931 to 1934.
Of course, Ryder reported the Reds' struggles. A 9-1 loss to St. Louis was "a Cardinal party at all stages."44 In a 17-2 "catastrophe," the Cardinals "buried our boys up to their necks in debris and humiliation."45 The eighth-place Reds were "distraught dungeon dwellers."46 They were poised to take on the lowly Philadelphia Phillies in a "great battle for seventh place."47 After the Phillies downed the Reds, 6-0, "not an excuse of any kind can be offered."48
As the Reds reeled, Ryder observed many of the game's stars. Southpaw Carl Hubbell of the Giants stymied the Cincinnati offense on June 3, 1930. "Hubbell had a mean, slashing curve ball, which he kept low and he fooled the best hitters on the team over and over again," wrote Ryder. "Man after man swung wildly a foot or more above the ball, which was coming over the plate shoe-top high."49 On May 3, 1932, the Cardinals' Dizzy Dean shut out the Reds in his third major-league start. He seems "destined to go far in the pitching profession," noted Ryder.50 On June 1, 1934, Gabby Hartnett of the Cubs crushed a home run off the Reds' Benny Frey at Crosley Field in Cincinnati. Ryder, who had seen enough games in Cincinnati to know, averred that Hartnett's blast was the longest ever at this site.51
Crosley Field was also the site of the first major-league night game, on May 24, 1935. The Reds nipped the Phillies, 2-1. What Ryder called "the great flood-light experiment" was a rousing success.52 "Unaffected by the artificial illumination, … both teams played errorless ball, each executing some really brilliant plays," he said.53 Two days later, Reds pitcher Si Johnson fanned three times an aging Babe Ruth of the Boston Braves. It was "a whiffing bee, with all the tremendous power of his swings accomplishing nothing more than to stir up the balmy spring atmosphere," wrote Ryder.54
In 1936 Ryder traveled with the Reds to spring training in Puerto Rico and Florida, but left the team in early April to undergo "a minor operation" in Cincinnati.55 He missed the Reds' first seven games of the season but was back on duty on April 22. His report of the game of May 25 would be his last. On June 5, at the age of 64, he died of a heart attack at his home in Cincinnati.56 At Crosley Field later that day, the flag in center field was at half-staff as the Reds lost to the Boston Bees, 10-4. The entire Reds team and umpire Bill Klem attended the funeral.57 Ryder was cremated and his ashes interred at the Spring Grove Cemetery in Cincinnati.
Tributes poured in for the great writer. Chuck Dressen played for the Reds from 1925 to 1931 and was the Reds manager at the time of Ryder's death. "Jack Ryder was the best friend I had in baseball," said Dressen. "He was like a father to me at all times. I could always confide in him, and he gave me nothing but good, sensible advice."58 Reds coach Ivey Wingo, who was a member of the 1919 world champions, said, "I lost my best friend. There never will be a kinder and more generous-hearted soul than big Jack Ryder."59
Acknowledgments
This biography was reviewed by Bill Lamb and Len Levin and fact-checked by Kevin Larkin.
Sources
Ancestry.com (accessed April 2020).
Image from the Cincinnati Enquirer, July 11, 1926: 35.
Notes
1 Lee Allen, The Cincinnati Reds (Kent, Ohio: Kent State University Press, 2006), 241.
2 "Obituary Notes," New York Times, April 7, 1918: 22.
3 "Obituary Notes."
4 "Robert O. Ryder 41st in Ohio Hall of Fame," Marion (Ohio) Star, November 7, 1942: 13.
5 "Last Rites Held for U.C. Savant," Oakland Tribune, March 22, 1938: 12.
6 Gerald B. Webb and Charles T. Ryder, Overcoming Tuberculosis: An Almanac of Recovery (New York: Hoeber, 1927).
7 Jack Ryder, "Daily Red Victory Passed Up," Cincinnati Enquirer, June 9, 1909: 8.
8 Ryder, "Bumped Again by the Beans," Enquirer, August 11, 1914: 10; Ryder, "Reds Regain Batting Eye and Wallop Boston, 15 to 8," Enquirer, May 21, 1925: 14.
9 Ryder, "All Hands Took Crack at Barger," Enquirer, July 29, 1911: 8.
10 Ryder, "Seven Strikes Pitched by Boyd," Enquirer, September 12, 1911: 8.
11 Ryder, "Returned Kind Offering of Giants," Enquirer, August 31, 1916: 6.
12 Ryder, "Reds in a Weird and Woeful Battle at Chicago," Enquirer, May 4, 1917: 6.
13 Ryder, "Like Hail, Balls Dropped Near Dolan," Enquirer, May 21, 1905: 10.
14 "Baseball Notes," Washington Post, June 6, 1905: 9. Ryder's height is given in an 1893 passport application.
15 Allen, 121.
16 Ryder, "Three Hits Was Afternoon's Work," Enquirer, June 7, 1906: 4.
17 Ryder, "Reds' Position among the First Four Is Now Perilous," Enquirer, August 16, 1917: 6.
18 Ren Mulford Jr., "Earthquake in Redland," Sporting Life, July 15, 1916: 4.
19 Ryder, "Cincinnati Shakes Off Hoodoo and Is Winner over Chicago," Enquirer, April 29, 1925: 10.
20 Ryder, "Tossed Away Eighth Straight," Enquirer, August 2, 1905: 4.
21 Ryder, "Insect Easily Exterminated," Enquirer, August 6, 1909: 4.
22 Ryder, "Helpless before Christy's Curves," Enquirer, July 14, 1907: 10.
23 Sporting Life, August 26, 1911: 9.
24 Ryder, "Slugging Featured Last Game," Enquirer, September 5, 1916: 8.
25 Ryder, "Chicago, Outclassed, Loses First Game 9 to 1; Reds Quickly Hammer Eddie Cicotte from Box," Enquirer, October 2, 1919: 1.
26 Ryder, "White Sox Sluggers Helpless with Men on Bases; Reds Defeat Kid Gleason's Second Ace 4 to 2," Enquirer, October 3, 1919: 1.
27 Ryder, "Kerr Stops Reds, Registering Shut-Out; Fisher's Wild Throw Gives Sox Two Runs," Enquirer, October 4, 1919: 1.
28 Ryder, "Ring Whitewashes Sox, Giving Reds 3-to-1 Lead; Cicotte Suffers His Second Defeat of Series," Enquirer, October 5, 1919: 1.
29 Ryder, "Eller Humbles White Sox, Pitching Shut-Out, Practically Clinching Big Series for Cincinnati," Enquirer, October 7, 1919: 1.
30 Ryder, "Carelessness by Reds Give Sox Game, Cincinnati 'Blowing' Four-Run Lead," Enquirer, October 8, 1919: 1.
31 Ryder, "Cicotte Keeps Sox in Series, Trimming Cincinnati 4 to 1," Enquirer, October 9, 1919: 1.
32 Ryder, "Reds End Series with Slaughter of Sox Pitchers, Winning Baseball Classic, Five Games to Three," Enquirer, October 10, 1919: 1.
33 "Reds End Series."
34 Ryder, "Two More on the Wrong Side," Enquirer, September 26, 1920: 19.
35 "Two More on the Wrong Side."
36 Ryder, "Yankees Swamp McGraw Club, 8 to 1; Forge into Lead in Series Struggle," Enquirer, October 15, 1923: 1, 17.
37 "Yankees Swamp McGraw Club."
38 Ryder, "Yanks Win $1,000,000 Title Battle; Giants Hurlers Blow Three-Run Lead," Enquirer, October 16, 1923: 1, 11.
39 Ryder, "Redleg Hospital Brigade Clubs Cubs with Their Crutches," Enquirer, May 31, 1924: 9.
40 Ryder, "Quakers Beaten, 4 to 2, When Three Reds Hit Home Runs," Enquirer, June 11, 1924: 17.
41 "Twelve Points Is Margin of Vance," Enquirer, December 2, 1924: 11.
42 Fred Lieb, "Now Ryan Knows How Rajah Felt," The Sporting News, February 16, 1974: 30.
43 Vance and Hornsby received 74 and 62 points, respectively, in the MVP voting. If Ryder had given Hornsby a first-place vote and Vance a second-place vote, Vance would have edged Hornsby 73 to 72.
44 Ryder, "Biff, Bang! Those Safeties Ring Off Bats of the Cardinals," Enquirer, April 20, 1927: 11.
45 Ryder, "Cards Win, 17-2, for Redlegs Worst Defeat of Season," Enquirer, June 18, 1933: 25.
46 Ryder, "Weak, Pitiful and Inefficient Hitting Causes Reds to Fail," Enquirer, May 18, 1927: 9.
47 Ryder, "Crawford to Play Second; Durocher Goes to Short and Kelly Back to First," Enquirer, June 10, 1930: 15.
48 Ryder, "Dungeon Is Safe Place to Hide from Kidnapers[sic]," Enquirer, July 15, 1933: 9.
49 Ryder, "Weak with Stick, Eh? Critz Chants as He Slaughters Red Hurling," Enquirer, June 4, 1930: 15.
50 Ryder, "Reds Crack Wide Open as Dean, Cards, Blanks 'Em, 9-0," Enquirer, May 4, 1932: 14.
51 Ryder, "Gabby's Swat Equals His Talk," Enquirer, June 2, 1934: 11.
52 Ryder, "Night Game of Reds Is Postponed," Enquirer, May 24, 1935: 16.
53 Ryder, "Big Paul Shoots 'Em Over," Enquirer, May 25, 1935: 1.
54 Ryder, "Redlegs Win, 6-3; Babe Fans Three Times," Enquirer, May 27, 1935: 1.
55 "Ryder Operated On," Enquirer, April 7, 1936: 15.
56 Bob Saxton, "Jack Ryder Is Called; Noted Redleg Scribe; End Comes Suddenly," Enquirer, June 6, 1936: 1.
57 "Services Are Conducted," Enquirer, June 9, 1936: 12.
58 "Just a Few Tributes," Enquirer, June 6, 1936: 12.
59 "Hilcher and Hollingsworth Will Twirl in Twin Bill," Enquirer, June 6, 1936: 12.
Born
November 16, 1871 at Oberlin, OH (US)
Died
June 5, 1936 at Cincinnati, OH (US)
If you can help us improve this player's biography, contact us.
https://sabr.org/sites/default/files/RyderJack.jpg
600
800
admin
/wp-content/uploads/2020/02/sabr_logo.png
admin
2020-05-25 12:12:43
2020-06-16 23:16:03
Jack Ryder