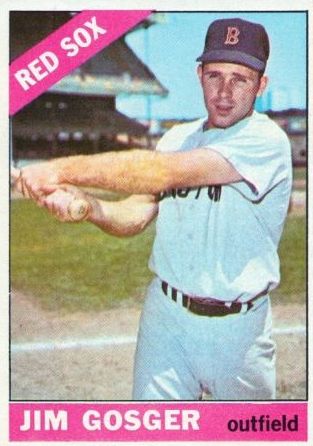 ---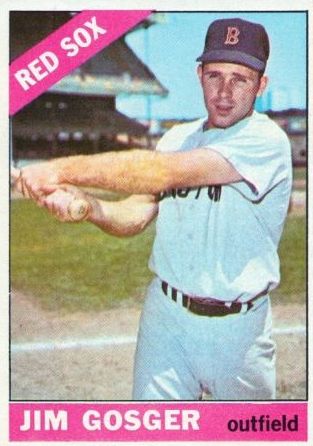 Jim Gosger was a hustling, hard-working ballplayer for 13 professional seasons, years that took him all over the baseball map, and to the majors for parts of 10 seasons with five different teams. He played a good center field but never really established himself as a good enough hitter to stay in a lineup long. Gosger spent a lot of time in Triple-A baseball, but he kept playing well enough to earn numerous shots at major league ball. At his best, he was a solid fourth outfielder who could play defense and pinch hit when needed.
James Charles Gosger began life on November 6, 1942 in Port Huron, Michigan. The city rests at the base of Lake Huron and along the St. Clair River that separates Michigan with Ontario, Canada. He loved the town so much he never moved away — 65 years after his birth he was still living in the house he grew up in. He lived the life of a boy in small-town America after the war, playing sports night and day, including Little League, Babe Ruth League, and American Legion baseball.
Most major league players were former high school star athletes, and Gosger was no exception, lettering in baseball, football, basketball, and track at Port Huron's St. Stephen High School, from which he graduated in 1960. In his senior year, he was an All-State guard in basketball and an All-State halfback in football. His size (5-feet-10, 180 pounds) might have kept him from going on to play at a higher level in either of those sports. He attended Port Huron Junior College (now St. Clair County Community College) for a year and a half.
During his second year of college, he was signed by Boston Red Sox scout Maurice De Loof and assigned to their Winston-Salem affiliate in the Carolina League. Though this might have been a culture shock for the Northerner, he did not take long to establish his professional credentials. After garnering just one hit in nine at-bats in his first two games, on April 21 he set a league record by driving in 10 runs in a 15-3 victory over Rocky Mount. His day began with a three-run home run in the first, followed by a grand slam in the second, a run-scoring single in the third, and a two-run single in the sixth. Gosger hit .283 with 19 home runs and 83 RBIs in his first pro season and was named to the postseason league all-star team, along with such players as Rusty Staub, Tony Perez, Mel Stottlemyre, and teammate Rico Petrocelli. "Those 19 home runs were the worst thing that ever happened to me," recalled Jim a few years later. "All of a sudden I began to think of myself as a slugger. I guess I went a little home run crazy for a while after that, but I got over it."1
In one of baseball's many attempts to curb signing bonuses in the years before the amateur draft, the Red Sox had to put Gosger (who had received a bonus to sign the previous year) on their 40-man roster after the season, and keep him on the team for the entire 1963 season. In reality he was not a major leaguer and rarely played, but had he been optioned he could have been drafted by another team. His only hit for manager Johnny Pesky was a pinch-single off Detroit's Frank Lary on August 6 with the Red Sox trailing by six runs. He did not start a game until September 21. On the season he accumulated 16 at-bats in 19 games, getting just the one single, for an .063 batting average. He needed development, but he did not get it in 1963. "I sat on the bench and didn't like it," recalled Jim. "I wanted to play. I watched guys go to the plate and strike out and I'd brood and tell myself I couldn't do any worse."2
For the 1964 season the Red Sox were free to demote Gosger, and they did so — sending him to Reading, Pennsylvania to play for their club in the Eastern League. Jim had a fine year there, hitting .274 in 133 games, with 22 stolen bases. He led the league in both triples (13) and outfield assists (6) playing for Eddie Popowski's strong second place ballclub.
The next season Jim began the year with the Toronto Maple Leafs, who were led by Dick Williams making his managerial debut. By mid-summer Jim was hitting .299 with 14 home runs as the club's center fielder, before he again got the call to Boston. The Red Sox were in ninth place, already 20 games out of first in early July when Jim got there. Unlike his 1963 stint, this time the Red Sox wanted him to play, and play he did. Jim immediately became the starting center fielder, replacing Lenny Green. Gosger moved to right field for a few weeks when Tony Conigliaro got hurt in late July, then finished the season back in center. Often batting leadoff, Jim hit .256 with nine home runs in half a season, a year in which the league batting average was .242. Gosger always played great defensively, causing first-year manager Billy Herman to keep him in the lineup. Gosger had one of the thrills of his career when he homered off future Hall of Famer Whitey Ford on the last day of the 1965 season, though it came in Boston's 100th loss of the year.
By this stage of his career Gosger already had a reputation as a hustler. One writer compared him to Enos Slaughter, a legendary player from the 1940s and 1950s who, it was said, never walked on a baseball field. Slaughter ran everywhere. "Every minute [Gosger]'s in the ball park, he runs and hustles," said Herman. "I like that in him and in anyone else."3 His reputation as a hustler stayed with him for the rest of his career.
The Red Sox lost 100 games in 1965, their most since 1932. Though the club obviously had a lot of building to do, during the offseason Red Sox owner Tom Yawkey labeled the 23-year-old Gosger untouchable in trade talks. The club did acquire outfielder George Thomas from the Tigers in the fall, and to start the 1966 season the right-handed hitting Thomas and lefty-swinging Gosger platooned in center field. Through June 12, Gosger was hitting about as he had in 1965: .254 with five home runs in 126 at-bats, including the only two-homer game of his career — both against Detroit's Denny McLain at Tiger Stadium on June 8. Nevertheless, on June 13, two days before the trading deadline, the last-place Red Sox decided Gosger was "touchable." They dealt him to the eighth-place Kansas City Athletics in a six-player trade. Boston also included pitchers Guido Grilli and Ken Sanders, and acquired pitchers Rollie Sheldon and John Wyatt and outfielder Jose Tartabull. The trade worked out well for the Red Sox, as Wyatt and Tartabull both played big roles on their surprise pennant-winning club in 1967.
Gosger played almost every day for the Athletics, splitting his appearances between left and right field. He hit just .224 with five home runs in Kansas City, a less favorable hitting environment than Boston's Fenway Park. The next season the Athletics brought up Rick Monday to be their center fielder, but Gosger saw a lot of action in all three outfield spots — at least 27 starts at each position, a total of 90 outfield starts and 134 total games. He hit .242 on the season, with five home runs. His defense continued to impress.
"The thing about Gosger is he never lets his troubles at the plate hurt his fielding," said manager Alvin Dark. "I like his arm — he gets the ball away quickly and it's accurate. He has good speed, too. And we need speed on this type of club."4 Gosger returned the compliment, saying that Dark was the best manager he had ever played for.
In 1968, the Athletics relocated to Oakland, California, and began their gradual ascent to the top of the American League. Unfortunately for Gosger, the club now had Reggie Jackson in right field, severely impacting Gosger's playing time. For the 1968 season Jim started just 37 games in the field, but between pinch hitting and mid-game defensive replacements, he played in 88 games and gathered 150 at-bats. He hit just .180 and rarely played the last several weeks of the season. His meager offensive accomplishments that year can be chocked up somewhat to it being the "Year of the Pitcher." Despite a rough year, Gosger was still wanted somewhere.
The Seattle Pilots, who would begin play the next season, selected Gosger in the expansion draft on October 15. Once again, Gosger opened the season as a club's center fielder. He batted sixth in the first Pilots lineup and walked during the four-run first inning in the season-opening win that proved no harbinger of good things to come for the Seattle club. He also squeezed the first out ever recorded by the franchise when he caught a ball hit by Bill Voss in the bottom of the first in Anaheim. Things went downhill for Gosger — and the Pilots — after that first inning.
He started the season 0 for 17, broke out with a home run and two doubles on April 16, and then stopped hitting again. When he lost his regular job at the end of April he was hitting .139, and over the next six weeks he singled just once in 23 at-bats. Batting just .109 in mid-June, Gosger was demoted to Vancouver. It was his first time in the minor leagues in four years.
Gosger's time in Seattle is immortalized along with his teammates in the book Ball Four, Jim Bouton's irreverent diary of his 1969 season largely spent with the Pilots. Bouton recounts a memorable scene on a road trip when Gosger was hiding in the closet while his roommate was "entertaining" a woman in the adjoining bedroom. At one point the woman exclaimed, "Oh darling, I have never done it that way before" at which point Gosger opened the closet door and said, "Yeah, surrre."5 The phrase became a staple the rest of the season whenever a Pilot wanted to express exaggerated skepticism. When Gosger was sent to Vancouver, he told Bouton, "You know, I didn't think I was that bad a ballplayer, but they're making a believer out of me."6
In his first 12 Pacific Coast League games Jim hit .462 with five extra-base hits. The Pilots then sent Gosger to Tidewater, the New York Mets' Triple-A affiliate in the International League, as payment for their earlier acquisition of Greg Goossen. Gosger continued crushing the ball, batting .341 with 10 home runs and 14 doubles in just 58 games. He hit in 35 of his first 36 games with the Tides. He was named the league's player of the month by Topps. "For the last two years, I've just been sitting around. All I've been doing is a little pinch hitting and playing the outfield in the late innings. Right now I'm happy to be playing. I'm just having fun."7 Along with all that fun, Jim played a big role in Tidewater winning the International League title in 1969. On September 5, after the conclusion of their season, Gosger was promoted to the New York Mets.
On the day Gosger joined the club the Mets were 4 ½ games behind the Chicago Cubs, but in the midst of an historic stretch drive. After two pinch-hitting appearances and one as a defensive replacement, Jim got his first starting action on September 12, by which time the club had soared past the Cubs and held a two-game lead. With Cleon Jones ailing and Art Shamsky not playing because of Yom Kippur, Gosger played left field in both games of the doubleheader that night at Forbes Field. It was a memorable night for the Mets. Each game ended with a 1-0 Mets victory with the starting pitchers — Jerry Koosman and Don Cardwell — driving in the only run in each game. Gosger led off the nightcap with a double (his first hit as a Met), but as no pitcher batted that inning, he was stranded. New York's lead increased to 2 ½ games over the Cubs.
Gosger was not needed much again by the Mets. His next start was on September 28, after the Mets had long since clinched the division title. Overall, Gosger had just two hits, both doubles, in 15 at-bats. His role with the Miracle Mets was very small, yet he was on hand for one of the most remarkable nights of the season and got to celebrate the clinching of the first National League East division title. Though he was ineligible to take part in what would have been the only postseason of his major league career, Gosger's efforts were rewarded with $100 as part of the Mets' World Series share.
Gosger was on the move again that winter, heading to the San Francisco Giants this time. The Mets dealt Gosger with infielder Bob Heise for pitcher Ray Sadecki and outfielder Dave Marshall. Gosger might have wondered where he would play in San Francisco, as the club already had Willie Mays, Bobby Bonds, Ken Henderson, and Jim Ray Hart in the outfield, and he would have been right to wonder. After spending the spring with the team, he was assigned to Phoenix in the Pacific Coast League. Eight games later, including just three hits in 16 at-bats, he was sold to the Montreal Expos and assigned to Buffalo of the International League. The deal reunited him with manager Clyde McCullough, who had also skippered Gosger in 1969 during his great half-season in Tidewater.
Soon after joining Buffalo, Gosger hit home runs on consecutive days (April 25 and 26). This was the start of a great month of hitting–.327 and eight home runs in just 30 games. He had a 15-game hitting streak at the time of his recall to Montreal on June 2. Once again, the itinerant Gosger was back in the big leagues.
In his debut with the Expos on June 3, Gosger doubled as a pinch hitter. His hot hitting continued for several weeks, including home runs on successive days in June against the Braves in Montreal. His homer against future Hall of Famer Phil Niekro helped spark an Expos comeback victory from a 7-2 deficit on June 18.
"I was discouraged in the spring and thought seriously about hanging it up next year and going into coaching," Gosger said that summer. "But Montreal came calling and its been the happiest time I've known in my life."8 At the end of June, he was hitting .364 in 66 at-bats. His average slowly drifted downward until it reached .263 at the end of the season. Overall, he played 91 games for the Expos, 50 of them in center field, while also playing left field and at first base. After the season he stuck around Montreal to work in the public relations department, talking to groups about buying tickets and holding local clinics for youngsters. He also played with several teammates on an Expos basketball team in the area.
Jim started the 1971 season on the disabled list after spraining his wrist making a tumbling dive for a ball in spring training. When he finally returned, on May 5, he had lost his spot in the outfield rotation. By the end of June he was hitting just .164 in limited time and was demoted to Winnipeg, where the Expos' Buffalo affiliate had moved. After a month in the minors he got back to the Montreal to finish out the season. His hitting did not improve after his recall — he ended at .157 in 102 at-bats. In December he was traded to the Mets for four minor leaguers, only one of whom — Curtis Brown — ever appeared in a major league game.
Jim spent the entire 1972 season with Tidewater, the Mets affiliate in Virginia he had last played for in 1969. He appeared in 142 games, the most he had ever played for a team in a single season, but he only batted .244. He began the next season back in Tidewater, but was called up to New York early in May. He played two months in the majors, hitting .239 with no home runs, before heading back down to Tidewater. On the season for the Tides he hit just .236 in 67 games. As was the case in 1969, Gosger did not get to experience the postseason for the '73 pennant-winning Mets.
In 1974 he again played for Tidewater, appearing in 95 games and hitting .268. In early August he got called to New York once again, and stayed with the Mets for the rest of the season. He hit just .091 (3 for 33) in limited time. In October, the Mets gave him his unconditional release. Gosger chose to retire rather than continue his odyssey around the baseball map. He played parts of 10 seasons in the major leagues, hitting .226 with 30 home runs in 705 games.
Gosger says he was promised a minor league hitting instructor's job with the Mets, but they never contacted him. So Gosger went back home to his beloved Port Huron, a place he'd always called home, even when he was drifting around the country for 15 years playing baseball. He worked in the utlities division for his native city and was also a respected high school and junior college football and basketball referee for three decades.
Gosger married early in his baseball career to Mary Carol Draper and the couple raised four children. Later divorced, Jim remarried in the late 1980s to Kathleen and they had a daughter of their own, Kellie, who graduated from high school in Port Huron in 2008.
Last revised: May 22, 2019
An earlier version of this biography was published in SABR's "The Miracle Has Landed: The Amazin' Story of how the 1969 Mets Shocked The World" (Maple Street Press, 2009), edited by Matthew Silverman and Ken Samelson.
Acknowledgments
This biography was reviewed by BioProject editorial team and fact-checked by Kevin Larkin.
Notes
1 Phil Elderkin, "Gosger hits .320, hustles 1.000," Christian Science Monitor, August 9, 1965: 7.
2 Elderkin, "Gosger hits."
3 Larry Claflin, "Goose Laid Egg In Bosox Bow, Now Hangs High," The Sporting News: August 7, 1965: 16.
4 Sid Bordman, "Gosger Bat Puts Go-Go Into Kaycee," The Sporting News, July 8, 1967: 12.
5 Jim Bouton, Ball Four (New York: World, 1970): 190.
6 Bouton, Ball Four: 213.
7 Dave Lewis, "Ex-Bench-Warmer Gosger Big Gunner in Tidewater Lineup," The Sporting News, August 30, 1969: 41.
8 Ted Blackman, "Expos meant turning point in career for Jim Gosger," Montreal Gazette, August 22, 1970.
Born
November 6, 1942 at Port Huron, MI (USA)
If you can help us improve this player's biography, contact us.
http://bioproj.sabr.org/bp_ftp/images4/GosgerJim.jpg
600
800
admin
/wp-content/uploads/2020/02/sabr_logo.png
admin
2012-01-04 20:03:40
2012-01-04 20:03:40
Jim Gosger