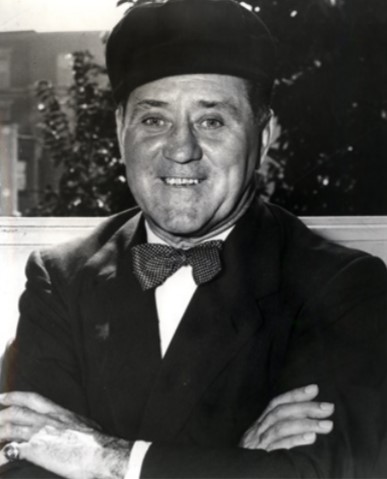 ---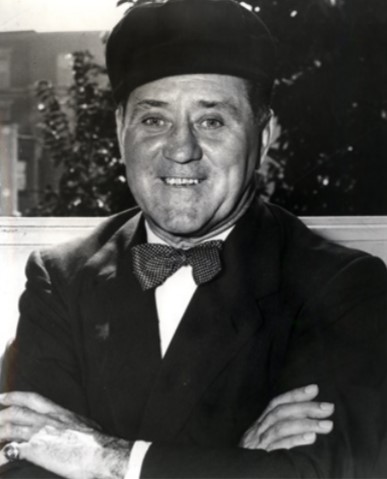 Jocko Conlan always wanted to be a ballplayer. He never dreamed about becoming an umpire until the opportunity presented itself by accident. He parlayed that chance into a Hall of Fame career that spanned 25 big-league seasons. A Sporting News book once wrote of Conlan, "He was a master psychologist in the charged-up world of the baseball diamond, knowing when to cajole, when to rebuff, and when to ignore. He knew the rules as well as any umpire but he also used the feel of the rules as they applied to plays and players."1
Born on December 6, 1899, John Bertrand Conlan was the son of a Chicago policeman. The youngest of nine children, he was named after his uncle John. Sister Mary Bertrand, a nun who was a good friend of his mother, inspired his middle name. When John was 3 his father died at 49, leaving his mother to raise nine children. "My mother was a wonderful woman," recalled Conlan. "My mother did all our washing and sewing and baking and she kept us all together."2 The family matriarch lived to be 88 years old.
Conlan grew up playing ball with All Saints Parochial School. He pitched and played first base. Fred Lindstrom, who later played with the Giants, was the team's third baseman. When he was 13, Johnny spent his summer at White Sox Park picking up bats and shagging balls at morning practices. His lucky day came when coach Kid Gleason forgot a glove on the ground. "Oh[,] it was nice and shiny and oily," remembered Conlan. "I had never had a big-league glove on my hand or even seen one up close. … I shoved the glove under my overalls and walked out of the park."3
The glove was right-handed so Conlan traded it for $2 and a lefty glove. Fifteen years later, when he was playing for Newark and Gleason was coaching for the Athletics, the two crossed paths at an exhibition game in Miami. After confessing the theft, Conlan received absolution of sorts. "That was the greatest glove I ever had," lamented Gleason. "Let me tell you something, kid. If that glove helped make a ballplayer out of you, I'm glad you swiped it."4
Johnny went on to play outfield at De La Salle High School and for semipro teams around Chicago. Johnny's brother Joe was a good amateur pitcher and played in the semipro Midwest League with Jocko. In 1920 Joe had a tryout with the Brooklyn Dodgers and pitched in a spring-training game in Florida against the New York Yankees. Joe claimed that the longest home run Babe Ruth ever hit came against him in that game. But Joe had just got married and soon moved back to Chicago, where he, like his father, became a policeman. Johnny also tried his hand in the ring as an amateur boxer.
Matty Fitzpatrick, an umpire in the Midwest League, recommended Johnny to Tulsa of the Class-A Western League, where he was signed to play in 1920 but never did. Conlan was actually traded at a train station. Both Tulsa and Wichita were passing through Union Station in Kansas City when it was discovered that the Wichita Jobbers' roster was a man short and Tulsa's was a man over, so Conlan just switched teams. Johnny spent most of the season with the Jobbers and hit .247 in 117 games. The naïve 20-year-old made a big mistake late in the season. His brother was on his way back to Chicago to get married and stopped by to pick up Johnny. The youngster jumped the team and went home with Joe. The team suspended him, which meant that he had to sit out a year. Johnny couldn't afford not to play so he went back to the semipro Midwest League in 1921. This was a mistake by the still naïve youngster. After returning to Wichita for the 1922 season, he was once again suspended for violating his original suspension. He played in just 10 games. His case was heard at the minor-league winter meetings in December and he was reinstated for the 1923 season. Johnny rapped out 204 hits and batted .311, the first of seven minor-league seasons in which he hit over .300.
In 1924 Conlan's contract was sold to Rochester of the International League, where he played for George Stallings, whom he called "the smartest, the most intelligent, greatest baseball man I ever met in my life."5
Conlan played three seasons for Stallings. The first year, 1924, he led the IL in hits, runs, and stolen bases. For his efforts he was paid $2,500. After holding out, he got a raise to $5,200 for the next season. By all accounts, Conlan was a speedy, strong-armed center fielder. At 5-feet-7 and 165 pounds, his diminutive stature seemed to be all that kept him out of the big leagues for 14 seasons. In 1925 it looked as though Conlan would get his chance with Cincinnati. A deal was set to send him to the Reds but when he was injured on a play at the plate, the Reds canceled the deal. Conlan's Rochester years also yielded a nickname that would become iconic: Jocko. "There was a sportswriter on the Democrat and Chronicle named Corri," explained Conlan. "He was the fellow who hung the name 'Jocko' on me." Another Jocko, Arthur Joseph "Jocko" Conlon, went to Harvard and played second base for the Boston Braves in 1923. Like Johnny, he was small in stature at 5-feet-7 and 145 pounds. The sportswriter Corri, who was from Maine, likely picked up on the similarities of size and name. The "original" Jocko spelled his name slightly differently, with o-n rather than a-n. "It seemed to fit. I wouldn't know what to do now if I didn't have Jocko as part of my name," wrote Conlan in his autobiography.6
On January 12, 1926, Jocko wed Ruth Anderson. The couple would have two children, John Jr. and Nona. John Bertrand Conlan Jr. went on to graduate from Harvard Law School and become a US congressman from Arizona. Jocko and Ruth's children gave them seven grandchildren.
After Rochester, Jocko spent three years playing for Newark. He hit over .300 all three seasons, reaching a career high .321 in 1927. In 1930 Conlan was traded to Toledo of the American Association, where he played for one season under manager Casey Stengel. His season was cut short by an injury he suffered while sliding into third on a triple. Conlan stayed in the game and scored on a sacrifice fly. It was only then that it was discovered that he had a broken ankle. Jocko finished his minor-league playing career in 1931 and '32 with Montreal of the IL.
In 1934 Jocko finally got his chance in the big leagues. He sat out the 1933 season (he worked as a Chicago playground instructor), but got back in the game when the injury-depleted White Sox signed him as a reserve outfielder in midseason. While growing up just blocks from what became Comiskey Park, it was always his dream to play for the Sox. On July 6, 1934, the 34-year-old rookie made his major-league debut, against the Cleveland Indians at League Park. The last-place White Sox (25-49) toppled the Indians (37-35), 7-5. Jocko led off and played right field, going 1-for-5 with an RBI against Ralph Winegarner. In all, Conlan played in 63 games, 53 of them as a starter. Although his first start was as a right fielder, he worked only three games in right and started 49 games in center. Among his teammates were Luke Appling, Al Simmons, and Jimmy Dykes, who was also the manager. On September 16 in the second game of a doubleheader, Jocko had four hits in a 12-10 win against the Red Sox at Comiskey Park. Lefty Grove pitched the final 3⅔ innings in relief and took the loss. He also had three other games in which he stroked three hits. For the season, Jocko batted .249 in 225 at-bats.
Conlan was back for the 1935 season and although he played in more games, he came to the plate nearly 100 times fewer. He was deployed as a pinch-hitter 28 times and twice as a pinch-runner. He started 30 games in the outfield and batted .286 in 140 at-bats. His greatest day as a player came on August 20, 1935, at Comiskey Park against the Philadelphia Athletics. In the first game of a doubleheader, Conlan played right field and batted seventh. He went 4-for-4 with a double and two stolen bases (including a steal of home) in a 13-4 White Sox win. For an encore he went 3-for-4 with three RBIs and a double in the nightcap to lead the White Sox to a sweep. He had one more shining moment near the end of the season. On August 26 he had three hits off Lefty Gomez of the Yankees in the first game of a doubleheader. Jocko threw and batted left-handed and was very much a platoon player. In his 82 career starts, only five came against left-handed starting pitchers.
Perhaps Conlan's most significant on-field performance came when he wasn't in the lineup. On July 28 in St. Louis, the White Sox were playing a doubleheader against the Browns. The heat was stifling – 114 degrees by some accounts. Jocko was on the bench nursing a thumb injury he had suffered while wrestling with his best friend on the team, Ted Lyons. Of course, manager Jimmy Dykes thought that Jocko hurt his thumb diving for a ball in practice. The sore thumb may have been the start to a Hall of Fame career.
Red Ormsby was the home-plate umpire and Harry Geisel was on the bases in a two-man crew. Ormsby was overcome by the heat and had to be carried from the field. He was unable to answer the bell for the second game, and Conlan volunteered to take Ormsby's place on the bases. "I'll umpire," said Conlan. "I can't play anyway."7 By custom and rule, players could be enlisted to umpire when one of the crew had to leave the game. Both Dykes and Browns skipper Rogers Hornsby agreed to let Conlan take a spot on the bases. Geisel went behind the plate, Ollie Bejma, a reserve infielder for the Browns, was at first base and Jocko was stationed at third. (It might be added that Jocko umpired in his White Sox uniform that game.) While the Browns were hopelessly mired in last place, the Chisox were in third place just 5½ games out of the lead, so it was an important game. The Browns beat the White Sox, 4-3. The next day, while Ormsby recovered, Jocko once again umpired at third base with Harry Geisel behind the plate and Grover Hartley, a Browns coach, at first. The White Sox won 7-2 in spite of a triple play pulled off by the Browns. The league paid Conlan $50 for his first foray into the umpiring profession.
As a player, Jocko earned $3,000 in 1934 and $3,600 in 1935. In November he drew his release from the White Sox but along with it came a surprise offer. Perhaps inspired by Conlan's two-day umpiring stint, White Sox general manager Harry Grabiner suggested to him that since his career was winding down, maybe he should think about becoming an umpire. Jocko had never really considered being an umpire. He thought he would always be a player and then a manager. Grabiner explained that umpires, unlike players at the time, could earn a pension if they stuck with the job for a number of years. Major-league umpires at the time earned a pension of $100 a year for each year of service. "That means if you stay 18 seasons, you'd retire on $1,800 a year," explained Grabiner.8 That meant an income of $150 a month. That sounded good to Jocko and he decided to give it a try.
Grabiner helped set up a meeting with American League President Will Harridge to talk about the job. Conlan thought he was going to get an umpiring job in the American League so he was surprised when Harridge explained that he would have to get some experience in the minors first. Taking on former big-league pitcher Firpo Marberry, who had no umpiring experience, had burned the league before. "[H]e looked great – on the bases. But when he went behind the plate he was nothing," said Conlan.9 "We won't take an umpire on again unless he has experience," Harridge told Conlan. "You'll have to go to the minor leagues for that, Jocko."10
After a couple of days Conlan accepted the offer and in 1936 he started the season as an umpire in the New York-Penn League at a salary of $300 per month – $225 paid by the minor league and $75 paid by the American League. Jocko was married with two children and making $1,500 a season.
Conlan's minor-league journey lasted five years. He umpired in the New York-Pennsylvania League in 1936-37 and the American Association in 1938 through '40. Along the journey he thought that he would become an American League umpire, but it didn't work out that way.
After just one year as an umpire, Jocko got an offer from the Chicago Cubs to manage in the minor leagues. Clarence "Pants" Rowland, then a Cubs scout, encouraged him to give up umpiring and take a job with the Cubs managing their Southern Association team in Birmingham. Jocko turned down the offer to continue umpiring.
Tommy Connolly, the supervisor of umpires for the American League, came to Columbus, Ohio, to watch Jocko and his partner, Ernie Stewart, work. As Conlan and his supervisor walked to the train station after the game, Connolly told Jocko that he was a "finished performer."11 It wasn't long after that Conlan found out what Connolly had meant by "finished." That winter Stewart and Texas League umpire Art Passarella received American League assignments for the 1941 season. Jocko was disappointed that he had been passed over.
On December 5, 1940, the day before his birthday, Jocko's fortunes changed. At about midnight a phone call from an old connection changed everything. Pants Rowland was on the phone with an unexpected invitation. "Ford Frick (National League president) wants to see you in the Palmer House at one o'clock tomorrow," Rowland told him.12 At their meeting, Frick offered Conlan a job as a National League umpire. The next day at the hotel where the winter meetings were going on, Conlan ran into Connolly. Without breathing a word of his job offer from the National League, Jocko asked why he didn't get promoted to the American League. "I'm sorry, Jocko," Connolly said. "The American League thinks you're just a bit too short for an umpire."13 Of course this seemed hypocritical to Conlan, who at 5-feet-7½-inches was a half-inch taller than Connolly. Jocko never forgave Connolly. Conlan considered Bill Klem, the National League umpire supervisor, to be his mentor.
So it was that Jocko became a National League umpire in 1941. It was the beginning of a 25-year big-league umpiring career. During this time he umpired in five World Series: 1945, 1950, 1954, 1957, and 1961; six All-Star Games: 1943, 1947, 1950, 1953, 1958, and 1962 (second game); and four National League playoffs: 1946, 1951, 1959, and 1962.
Unlike Klem, who claimed to never have made a wrong decision, Conlan said that he just never "admitted" making one. "If you know in your heart that you called one wrong, you just try to call the next one right. Never 'even up.' That just makes two wrong decisions," said Conlan.14
Conlan soon became one of the most recognizable figures on the diamond. In addition to the diminutive figure he cut on the diamond, his polka-dot bow tie was instantly recognizable. Later in his career you could always tell when Jocko was behind the plate because he was the last National League umpire who was permitted to use the big balloon chest protector after all others had switched to the smaller, under-the-shirt model. This was more due to need rather than style. He twice suffered from broken collarbones and was granted permission to continue using the larger chest protector.
In addition to his appearance, Conlan's mechanics set him apart from other umpires. Wrote Oscar Ruhl in The Sporting News: "Jocko Conlan has what is perhaps the most picturesque and distinctive gesture in calling a strike, clenching his fist and throwing it up and back like an engineer pulling the throttle."15 Southpaw Conlan was also noted for making his strike calls with his left hand.
Many fans may remember Conlan for his career-long feud with Dodgers and Giants manager Leo Durocher. The conflict reached a boiling point in April of 1961 when Durocher, by this time a Dodgers coach, got into a shin-kicking match with Conlan. Durocher had been out of baseball for five years and claimed that he had been blackballed. When Leo returned, he and Conlan picked up right where they had left off. The Pittsburgh Pirates were visiting Los Angeles. In the fourth inning, Norm Larker hit a popup and Pirates catcher Hal Smith couldn't quite get to the ball as it dropped in fair territory about three yards down the first base line. The ball then bounced foul without being touched. Larker ran all the way to second base and Conlan correctly called a foul ball. The Dodgers argued that Smith had touched the ball before it went foul. The field was cleared, order restored and Dodgers manager Walter Alston returned to the dugout. Conlan then walked over and threw Durocher out of the game, claiming he had thrown a towel onto the field, which Leo denied. Leo came out onto the field and a kicking match ensued. Conlan described the incident by saying, "I got kicked twice, and so did he."16 Jocko was wearing shin guards, so Leo took the worst of the exchange.
In a 1954 interview, Conlan said, "You've got to have a thick skin and a strong heart. You've got to have and command respect. Without them, you're nothing."17
Their well-known dislike for each other went back many years. Durocher was fond of bringing celebrities to games and allowing them in the dugouts during pregame activates. Jocko was a by-the-book umpire and would not allow these celebs to stay once the game was to begin. One day in Brooklyn, Durocher had invited entertainer Danny Kaye to the game and asked Jocko if he could stay there for the game. Conlan, of course told him no. In 1962, with his tongue firmly in his cheek, Kaye recorded the song "D-O-D-G-E-R-S (Oh Really? No, O'Malley)." The song described a fictional game between the Giants and Dodgers. Jocko and Leo were both prominently featured. Of course the Dodgers won the game but not without some controversy involving Jocko and Leo.18
Conlan called Durocher "king of the complainers, troublemakers, arguers, and moaners."19 In spite of their personal dislike for one another, there was respect. "As little as I think of Durocher, there is no question in my mind but that he always was a first-class manager," said Conlan. "If only he had behaved better, he would have gone down in baseball history as one of the great managers of all time."20
After Conlan's death, Durocher was generous in his remarks: "We had our battles on the field but we were good friends off the field. That's where it counts. He was a fine umpire and a fine man."21
Conlan traveled the world giving umpiring clinics in Europe and working exhibition games in Japan. Perhaps the trip he enjoyed the most was the one he took with the Dodgers in 1956. Games were played on Wake Island and in Hawaii and Tokyo. He enjoyed many of his relationships with the Dodgers including Pee Wee Reese, Gil Hodges, Don Drysdale, Sandy Koufax, and Duke Snider. One Dodger whom he never got along with well was Jackie Robinson. "I had a couple of run-ins with Jackie Robinson on that Japan trip, which is nothing new for Robinson and me," explained Conlan. "He was the most difficult ballplayer I ever had to deal with as an umpire. … Jackie was one of those players who could never accept a decision."22
By 1963 Jocko had developed a painful bone spur on his heel. He announced that 1964 would be his last season. After the season, Conlan began a restless retirement at his Scottsdale, Arizona, home. "You think you've been an important figure in the game over the years, and all of a sudden you're out of it. You're not important. You're not even a part of it any more," lamented Conlan.23 So it came as a welcome call when National League President Warren Giles reached out to offer Jocko an encore of sorts in 1965. Giles let Jocko know that umpire Tom Gorman was sick and would be out for a couple of weeks. He asked if Jocko would be interested in filling in. Conlan jumped at the chance and those extra two weeks let Jocko leave on his own terms.
In retirement Conlan enjoyed playing golf, attending Cactus League spring training and observing umpires in the Arizona Instructional League. In 1974 he became the fourth umpire elected to the Baseball Hall of Fame. One of the hallmarks of Conlan's career was to show respect and never curse. He described his philosophy to sportswriter Ed Prell. "I never cursed a ballplayer," said Conlan. "If a player cursed me, he was out. I never retaliated with profanity because that would make me equally guilty. When an umpire walks onto the field, he must have respect and it must be continued throughout the game."24
Just three months after his induction into the Hall of Fame, Conlan was in Los Angeles for the World Series. During the first game, he suffered a coronary occlusion and was taken to the hospital. As soon as he was well enough to travel, he was transferred to a hospital in Scottsdale, where he underwent open-heart surgery. Although he made a near full recovery, his activity slowed over the rest of his life. Jocko died on April 16, 1989, and is interred not far from Scottsdale Stadium at Green Acres Cemetery. Conlan served briefly in the US Navy during World War I. Though he doesn't even mention his service in his autobiography, it was deemed important enough that it was engraved on his gravestone. It reads "John Jocko Conlan," provides his birth and death dates, has a cross, and the inscription, "US Navy World War I." He is the only baseball Hall of Famer buried in Arizona. His wife, Ruth, died five years later.
This biography is included in "The SABR Book on Umpires and Umpiring" (SABR, 2017), edited by Larry Gerlach and Bill Nowlin.
Notes
1 Paul MacFarlane, Daguerrotypes of Great Stars of Baseball (St. Louis: The Sporting News, 1971.)
2 Jocko Conlan and Robert W. Creamer, Jocko (Lincoln: University of Nebraska Press, 1967, 1997), 26.
3 Jocko, 25.
4 Jocko, 27.
5 Jocko, 32.
6 Jocko, 45.
7 Jocko, 17.
8 Jocko, 19.
9 Jocko, 20.
10 Ibid.
11 Jocko, 98.
12 Jocko, 100.
13 Jocko, 101.
14 Robert Cromie, "The Umpire Is Not Always Right," Chicago Tribune, February 27, 1955: 23.
15 Oscar Ruhl, "Scoreboard Magician Beats Umps to Punch," The Sporting News, March 3, 1948: 8.
16 Charles Maher, Associated Press, "Leo and Umpire Get Kick Out of Baseball," Washington Evening Star, April 17, 1961: A17.
17 Saul Pett, Associated Press, "Tale of Man Behind Mask – an Umpire," Boston American, September 19, 1954: 43.
18 baseball-almanac.com/poetry/dodgers.shtml.
19 The Sporting News Baseball Guide 1990, 300.
20 Jocko, 234.
21 Associated Press, "Famed Umpire Conlan Is Dead," Mobile Register, April 17, 1989: 3D.
22 Jocko, 151.
23 Jocko, 232.
24 Ed Prell, "Jocko, in Finest Hours, Lauds Giles and Klem," The Sporting News, February 16, 1974: 46.
Born
December 6, 1899 at Chicago, IL (USA)
Died
April 16, 1989 at Scottsdale, AZ (USA)
If you can help us improve this player's biography, contact us.
https://sabr.org/sites/default/files/JockoConlan_0.jpg
600
800
admin
/wp-content/uploads/2020/02/sabr_logo.png
admin
2012-01-04 19:50:01
2012-01-04 19:50:01
Jocko Conlan