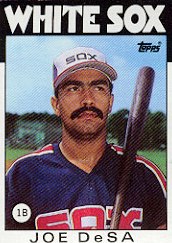 ---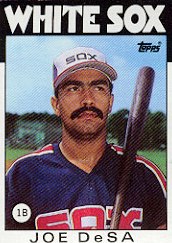 Director Sergio Leone would have loved Joe DeSa's face. Swarthy, with tiger-stripe eyebrows and mustache, the Hawaiian had the forbidding look of a Western movie villain. Yet he was a friendly and popular figure everywhere he played — though that included just 35 games in the majors. His uncle, former big-leaguer John Matias, said, "He was such a nice boy, the kind of person who would give you the shirt off his back."1 Unfortunately, DeSa lost his life in a car collision in 1986. He was only 27.
Joseph DeSa III (he had no middle name) was born in Honolulu on July 27, 1959. His father, Joseph DeSa Jr., had a Portuguese surname2 but was mainly of Puerto Rican descent. His mother, Jolenta Joan "Joann" Matias, was 100 percent Puerto Rican. All four of her grandparents emigrated in the early 20th century, when many sugar cane workers left Puerto Rico in the wake of natural disaster.
Joann was the older sister of John "Gido" Matias; another brother, Bob, played in the minors in 1963 and '64. Their father, John "Lujack" Matias, was also "an accomplished player and coach" and a "principal sparkplug of baseball in Hawaii" in the local Puerto Rican amateur league.3 The elder John Matias was born in Waiakea Mill, near Hilo on the "Big Island" of Hawaii. His family also spent time on Maui and Kauai before moving to Oahu.
Like many young Puerto Rican-Hawaiian women, Joann was active in softball. However, Joe DeSa's ability came from both sides of his family. His father (who worked as a meat cutter) was a pretty good ballplayer, but a paternal uncle, Richard "Dick" DeSa, was talented enough to pitch from 1961 through 1965 with the Daimai Orions and Kintetsu Buffaloes of Japan's Pacific League.
Joann was barely 17 when she gave birth to her first son; a daughter named Jorene and another boy named Gary followed. The DeSas got divorced around 1964, and then Grandmother Julia Matias helped raise the children in the years before Joann remarried. Jorene recalled that the older generations spoke Spanish in the house, "but mainly when they were talking about us kids and what we did. We didn't speak it, but we would tune in and catch on!"
Joey (as he was called at home) grew up in Liliha, an easygoing neighborhood that still clings to Oahu's old ways. It is in the same general area as Kalihi, "a multi-ethnic, working-class district located west of downtown Honolulu. . .As Japanese, Puerto Rican, and other sugar workers left the plantations, many of them settled in Kalihi."4 This neighborhood includes Lanakila District Park, which for decades has been the heart of Hawaii's Puerto Rican baseball community.5 At least one other Hawaiian big-leaguer had Puerto Rican heritage, pitcher Carlos Diaz.
From Joey's early childhood, just when boys are forming an attachment to baseball, Uncle Gido was playing professionally. When John made the White Sox in 1970 and had his first of two Topps bubblegum cards come out, Joey was 10 years old. Matias said, "He was always there with me, practicing, doing whatever, ever since he was little."6 Younger brother Gary, who played in the low minors in 1981-82, was there too.
Joe attended Damien Memorial School, a private Catholic institution named for the heroic leper priest of Molokai, from 1973 to 1977. He could have gone to some of Honolulu's other top schools, including Punahou (which graduated President Barack Obama in 1979) and Saint Louis (which numbers Benny Agbayani among its alumni). Those would have been long bus rides, though, and Damien was close to home.
DeSa played defensive back for the Monarchs football team, attracting scholarship offers from the University of Hawaii, among other colleges. However, he made his reputation on the diamond. Cardinals scout Dave Bartosch noticed him, and shortly after he graduated, St. Louis made him their third-round pick in the June 1977 draft. Although the young man was a good student, he decided to forego college and turn pro.
DeSa was not big, especially for a first baseman, at 5'11" and 170 lbs. (the exact same height and weight as his uncle John). But he had quick hands. In his early minor-league career, the lefty hit for good average — though without much long-ball power — and established himself as a fine fielder. He was also a scrappy player who was known to mix it up in fights on occasion.
The flashy prospect climbed briskly through the Cards' chain. In rookie ball with Calgary of the Pioneer League, Joe hit 3 homers, drove in 55 runs, and posted a .272 average. He moved up to Class A in 1978, playing for Gastonia in the Western Carolinas League (.262-4-25). That June he was promoted to St. Petersburg in the Florida State League, where "the Puerto Rican-Hawaiian good luck charm" got nine hits in hits first 15 at-bats (he finished at .310-5-30). "'My goal in spring training was to be here,' DeSa said in his strange accent [Hawaiian pidgin, which to Florida journalist Glenn Miller came across as mostly Hispanic with a pinch of Polynesian]."7
During the winter, Joe was impressive in the Florida Instructional League, batting .360 with 26 RBIs. Paul Fauks, administrative chief of the Cardinals' farm system, called him "a miniature Willie Montañez."8 DeSa then progressed to the Arkansas Travelers (Double-A). He was named the Texas League's All-Star first baseman for 1979 (.317-13-86), and the Travelers were league champions.
Fellow Honolulu native and Cardinals prospect Ryan Kurosaki, who pitched briefly for St. Louis in 1975, remembered hearing Joe earn praise from veteran Cardinals instructor George Kissell in spring training. Although Ryan and Joe were not teammates with the Travelers in 1979, their paths did cross briefly at Triple-A Springfield the next year.
The man whose pro career overlapped most with DeSa's is Gene Roof. They were in the St. Louis chain together from 1978 to 1983. Roof said, "Joe played with a lot of flair and loved to play baseball. He was a very good hitter and a very good defensive player." Roof also recalled the Hawaiian's twist on an old baseball superstition. "At times he would go to the plate with a different bat because he thought that bats on that day would only have one hit in them. When he got a hit he would change."
DeSa earned his first shot at the majors in September 1980. The 21-year-old had enjoyed another very good season (.293-9-74). His debut came at the Houston Astrodome on September 6; Joe fouled out to third off Joe Niekro. He got his first hit in his sixth at-bat, a pinch-single off Bill Gullickson of the Expos. His first start came on the last day of the season, playing right field at home versus the Mets. Joe went 1 for 4 to bring his average during his seven-game cup of coffee to .273.
DeSa continued to play well at Triple-A in 1981 with Springfield (.292-12-73) and in 1982 with the Cards' new top affiliate, Louisville (.275-14-75). He also enjoyed two strong seasons in the Dominican Republic, his second experience of winter ball (previously he had appeared with Mexico's Guasave Algodoneros in 1979-80). With the Escogido Leones, he hit .332 with 4 homers and 30 RBIs in 1981-82 (65 for 196 in 55 games). Joe also contributed in the playoffs as the Leones won the Dominican championship. Then in the winter of 1982-83, he went .316-0-14 (50 for 158 in 44 games).
Beyond playing ball in the Dominican, DeSa met his wife, Margarita Abreu, there. Joe's sister Jorene remembered, "He met her at the ballpark. He'd seen her in the stands, and they started going out. He told her to come visit when he was back playing in the States. Then he brought her home to Hawaii to meet us." They were married on October 9, 1984.
Through no fault of his own, Joe never made it back to St. Louis after 1980. The problem was that the Cardinals already had a superior example of his breed — Keith Hernandez. At various points in the minors, they experimented with him in the outfield. And when manager Whitey Herzog soured on Hernandez and shipped him off to the Mets in mid-1983, veteran George Hendrick moved in from right field. The heir apparent was David Green, the tremendously talented Nicaraguan who wound up ruining his promise with alcohol. DeSa was also injured that year, playing in only 27 games for Louisville (.295-1-14). That offseason, he played 39 games in Venezuela for Cardenales de Lara (.274-0-13). He also saw action in the playoff semi-finals and finals. In addition, he signed as a six-year free agent with the White Sox organization.
He performed up to his usual capable standards with the Denver Bears in '84 (.282-10-81), but this time it was Greg Walker (24 homers with Chicago) who blocked his way. Going back for a third winter season with Escogido, DeSa went .248-1-13 in 1984-85 (28 for 113 in 33 games). He still ranks fifth in career batting average for the Leones at .306.
Joe made the big club after an impressive spring the next year, but was soon optioned to the Buffalo Bisons of the American Association in order to play regularly. He got some help from the friendly short porch in right field at old War Memorial Stadium (where The Natural was filmed), and DeSa hit more homers — 17 in just 97 games. He drove in 66 men and hit .287. Joe was recalled when Walker strained a knee in August — replacing Oscar Gamble, whose big-league career was over. "I liked what Oscar did for the team," [Manager Tony] La Russa said. "But he became the odd man out. Plus, DeSa has earned his shot."9
On August 11, the day after he was summoned, DeSa hit the first of his two homers in the majors off Milwaukee's Ray Burris at old Comiskey Park. The other came on September 13, when he belted a grand slam against Dave Tobik at Seattle's Kingdome. The shot came as a pinch-hitter and iced a 6-1 win.
Back in the Dominican that winter with a new club, the Licey Tigres, DeSa was stuck behind emerging slugger Glenn Davis. In just 29 games, he went 18 for 90 (.200) with 2 homers and 7 RBIs. Joe's sister Jorene said, "They called him into the office and said they would send him to Puerto Rico instead."
Returning to Buffalo in 1986, he added 17 more long balls, to go with 83 RBIs and a steady .284 average. That performance won him minor-league All-Star honors at first base for the second time.
The crowd at "The Rockpile" was delighted with DeSa's hustle and enthusiasm. John Matias recalled, "Joe had a lot of energy; he never stood still. He was always hyper."10 Yet even though he was named Bisons MVP, and Greg Walker missed more than half the year with wrist and hand injuries, the Sox did not call DeSa up to the varsity. Instead they used two younger prospects, Russ Morman and Bobby Bonilla, as well as utilityman Jerry Hairston. Then in October 1986, the Chicago organization released DeSa.
Once again Joe was at a crossroads. Now aged 27, he was in danger of being labeled as a career minor-leaguer — yet he remained upbeat. Reviewing his options, he signed as a free agent with the Kansas City Royals on November 8. It looked to be a good situation, as the K.C. management was not overly pleased with Steve "Bye-Bye" Balboni, a strikeout-prone slugger with a bad back. Also, the Royals' director of player development was John Boles, who had managed Joe at Buffalo in '85. DeSa then headed down to play with the Ponce Leones in the Puerto Rican Winter League.
John Matias remembered, though, how his nephew said that fall, "I do not want to play winter ball."11 Perhaps he was tired, perhaps he simply wanted to stay home with his wife and one-year-old Joey IV, but those with a superstitious bent might say he had a premonition.
On December 19, 1986, Ponce beat the Mayagüez Indios 11-8 as DeSa cracked four doubles. That lifted his average to .259 (22 for 85, with no homers and 7 RBIs in 29 games). The team enjoyed a dinner party at a home across from the stadium that night, and in the small hours of the morning, Joe decided to drive back to his home in San Juan. "[Iván] Calderón, who had roomed with DeSa in Buffalo, got up to leave at 2 a.m. and asked if DeSa wanted to follow him on the highway, or if he should follow DeSa. DeSa told Calderón to go ahead and said he would leave a little later."12
It is a 65-mile trip along the Las Américas expressway from Ponce to the capital. "It's a long drive, a spooky drive," said Jorene. "But even though Ponce is a nice place, all the players lived in San Juan — for the city, the shopping, convenience. Everybody was there."
About halfway home, at around 4 A.M., Joe collided head-on with another traveler driving alone, and both died in the crash. "Details of what happened. . .are sketchy. Margarita said foggy weather made her fear her husband's safety on Puerto Rico's main cross-island expressway. She said Joe stopped for gas on the way home and entered the highway traveling the wrong way." Fortunately, Margarita and Joey were not traveling with him as they normally did. The little boy had the chicken pox, and his mother was caring for him.13
Two of DeSa's fellow infielders with the Leones were especially shaken by the accident: Joey Cora and Jackie Gutiérrez. The Colombian shortstop was the last person to see Joe alive. Gutiérrez spent the Christmas holiday receiving treatment for his nervous condition, an issue that also arose after the Red Sox traded him to Baltimore the prior winter.14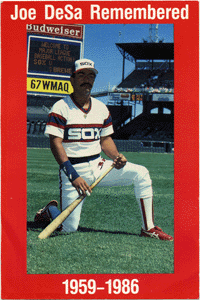 A genuine show of sympathy followed the ballplayer's passing. Ponce retired his uniform number 4, while the Buffalo community raised nearly $7,000 for the Joe DeSa Memorial Fund. Contributors included Tony La Russa; Chicago's general manager, Roland Hemond; and their farm director, Dave Dombrowski. Joe's agent, David Linn, secured $9,000 more from the pro baseball world.15
Finally, on August 16, 1987, the White Sox organization staged "Joe DeSa Day" at Aloha Stadium in Honolulu, complete with oversized baseball cards inscribed "Joe DeSa Remembered". The Hawaii Islanders had become Chicago's Triple-A affiliate, and this would be one of the last home games they ever played. Margarita DeSa and Joey IV were flown in from the Dominican Republic, and they were presented with a check for $120,000, bolstered by the game's advance ticket sales. "This is one check I smiled about when I signed," said Tim Buzard, Sox vice-president of finance.16
Joe DeSa is buried at Hawaiian Memorial Park Cemetery in Kaneohe, Oahu. The memory of this very well-liked man was honored in several ways — and still is more than two decades later:
* Joey DeSa Field at Lanakila District Park was dedicated in 1988. The Honolulu city resolution passed thanks largely to the efforts of Marion Ortiz Kittelson. This woman, also of Puerto Rican and Portuguese descent, is part of a group dedicated to preserving boricua heritage in Hawaii. She chaired the project to rename the field,17 which is less than a mile from Damien School. Each year since '88, Damien has hosted an invitational baseball tournament there. Of course, the tourney is also named for Joey.
* The Bisons give out the Joe DeSa Most Inspirational Player Award each year. (The restaurant at Buffalo's Dunn Tire Park, Pettibones Grille, used to offer fans the Joe DeSa sandwich, but the homey open-faced pot roast on toasted sourdough was renamed for Cy Williams.)
* For at least seven years (1987-93), a Joe DeSa Memorial Golf Tournament was held for charity at the River Oaks Golf Club in the Buffalo suburb of Grand Island, New York.
* Despite his relatively brief time in Buffalo, the city inducted him into its Baseball Hall of Fame in 1992.
Joe DeSa spent just 104 days in the majors, hitting .200 (11 for 55) with 2 homers and 7 RBIs. He departed this world well before he could enjoy his dream to the fullest. The Royals thought he had a better than average chance of making the club in '87 — nearly 100 percent, said John Boles.18 Still, even if he had remained at Triple A for several years more, it is easy to imagine DeSa playing his brand of ball with equal gusto, and then becoming a coach or manager. He had the spark and style that organizations like and players respond to.
Acknowledgments
Mahalo to the DeSa and Matias families for their personal memories, and to Roxane Goo (Alumni Relations, Damien Memorial School). Thanks also to major-leaguers Ryan Kurosaki and Gene Roof; Jorge Torres, public relations, Dominican Baseball League (Dominican statistics).
Notes
1 "Ex-Sox DeSa dies in crash". Chicago Daily Herald, December 21, 1986.
2 The surname's original spelling in Portuguese is De Sá (two words). Throughout Joe's career, it was spelled either with or without a space, and sometimes the "s" would not be capitalized. The family has no particular preference (no space appears on Joe's grave marker) and also accents the first syllable (DEE-Sa).
3 Extended roots: from Hawaii to New York/Migraciones puertorriqueñas a los Estados Unidos. New York, NY: Hunter College Centro de Estudios Puertorriqueños, Oral History Task Force, 1986: 15.
4 "Kalihi: Place of Transition". University of Hawaii Center for Oral History (http://www.oralhistory.hawaii.edu/pages/community/kalihi.html).
5 Whalen, Carmen Teresa, and Víctor Vázquez-Hernández. The Puerto Rican Diaspora: Historical Perspectives. Philadelphia, PA: Temple University Press, 2005: 61-62.
6 Forman, Ross. "Hawaiian baseball legend John Matias had a brief fling in the major leagues." Sports Collectors Digest, November 28, 1997.
7 Miller, Glenn. "Sniffing For First." St. Petersburg Independent, June 7, 1978: 3-C.
8 Russo, Neal. "Kids Give Cards Extra Dash of Ho-Ho-Ho." The Sporting News, January 6, 1979: 41.
9 Nordlund, Jeff. "Gamble waived; DeSa is recalled." Chicago Daily Herald, August 11, 1985: 12.
10 Forman, op. cit.
11 Ibid.
12 Bierig, Joel. "Joe DeSa to be remembered." Chicago Sun-Times, August 16, 1987.
13 Ibid.
14 El Nuevo Herald (Miami, FL), December 24, 1986 and January 6, 1987.
15 Isle, Stan. "Chisox' Tribute to DeSa Amounts to $120,000." The Sporting News, August 31, 1987: 12. Bierig, op. cit.
16 Ibid.
17 Ruíz, Vicki L., and Virginia Sánchez Korrol, editors. Latinas in the United States: A Historical Encyclopedia. Bloomington, IN: Indiana University Press, 2006: 593-594.
18 "Ex-Sox DeSa dies in crash"; Bierig, op. cit.
Sources
Joe DeSa file at National Baseball Hall of Fame and Museum, Cooperstown, New York.
Professional Baseball Player Database, V6.0
www.retrosheet.org
Johnson, Lloyd, and Miles Wolff, eds. The Encyclopedia of Minor League Baseball. 2nd ed. (Durham, North Carolina: Baseball America, Inc., 1997).
Costas, Rafael. Enciclopedia Béisbol Ponce Leones, 1938-1987. (Santo Domingo, Dominican Republic: Editora Corripio, 1989).
Turner, Terry. Baseball in Little Rock. (Mount Pleasant, South Carolina: Arcadia Publishing, 2004).
Pro Baseball Newspaper Archive
www.paperofrecord.com (small pieces of information from The Sporting News)
www.escogido.com
www.licey.com
Photo Credits
The Topps Company
Jorene DeSa Alapai
Born
July 27, 1959 at Honolulu, HI (USA)
Died
December 20, 1986 at San Juan, (P.R.)
If you can help us improve this player's biography, contact us.
http://bioproj.sabr.org/bp_ftp/images2/DeSaJoe01.jpg
600
800
admin
/wp-content/uploads/2020/02/sabr_logo.png
admin
2012-01-04 20:00:24
2012-01-04 20:00:24
Joe DeSa