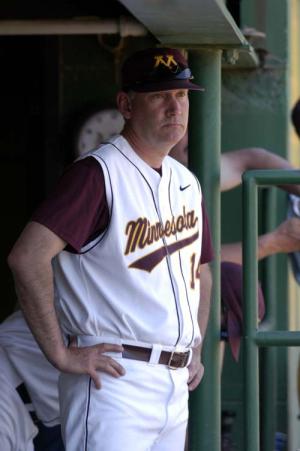 ---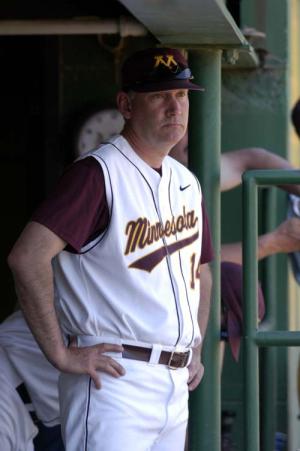 Since 1931 the University of Minnesota baseball program has been blessed with three fine coaches, Frank McCormick, Dick Siebert, and John Anderson, all of whom are enshrined in the American Baseball Coaches Association Hall of Fame.
The most improbable and quite possibly the least appreciated success story has been Anderson's tenure as coach of the Gophers since 1982. While the winning Gopher baseball tradition was started by Siebert and to some extent McCormick (the first two Minnesota Big Ten titles in baseball were won under McCormick in 1933 and 1935), Anderson deserves accolades for continuing the excellence in Gopher baseball for another generation in the face of increased obstacles and competition.
John Robert Anderson was born on May 16, 1955, in Hibbing, Minnesota, on the Mesabi Iron Range, an area known more for its hockey tradition and as the boyhood home of Hall-of-Fame basketball star Kevin McHale and troubadour Bob Dylan, than it is for any baseball tradition. Anderson grew up in a typical Iron Range family in the nearby communities of Nashwauk and Keewatin with his parents, LeRoy Arthur and Mary Ann (Devich) Anderson; an older brother, Michael; and two sisters, Barbara and Cynthia. His father worked for the M. A. Hanna Mining Company for 35 years, and his mother ran the household. Like many American boys John dreamed of a career in major-league baseball.
As a youngster, Anderson may not have known how long his odds were on making it to the major leagues. Outside of several individuals born in Duluth and the surrounding area, Roger Maris, born in Hibbing, is the only major-league baseball player born in northeast Minnesota.1 The Maras family (Roger did not change the spelling of his last name until after he was in professional baseball) moved to North Dakota when Roger was young, and that state proudly claims the 1960 and 1961 American League Most Valuable Player (MVP) as its native son. Because of the late and often cold and snowy springs and short summers, few major-league scouts venture to northeast Minnesota, and few players have a chance to develop. A player might have a better chance of a major-league career if he was born in Guam than in northeastern Minnesota.  
Nonetheless, growing up on the Iron Range in the 1950s and 1960s was much like anywhere else in the United States in that sports were a big part of a boy's life. Sports were played for the fun of it at first and for school and community pride as one grew older. Being on the high-school varsity was a realistic and obtainable goal that most could achieve. While many did go on to college, that was years in the future, and few gave any thought of a professional career in any sport. That meant sports were played in season: football in the fall, basketball or hockey in the winter, and baseball in the spring. 
John Anderson was a typical small-town athlete who played football, basketball, and baseball in high school and played a little hockey while growing up. In the fall of 1972, during Anderson's senior year, the Nashwauk-Keewatin Spartans football team won four games, lost two, and tied one in the Arrowhead Conference. The highlights of the season were a 68-19 pasting of Buhl and shutout wins over Deer River and Babbitt. The lowlight was a 42-0 thrashing by the Mountain Iron Red Raiders, the eventual Class B state champions. The 5-foot-11, 180-pound Anderson was named to the All-Arrowhead Conference team as a defensive lineman.
Nashwauk-Keewatin's 1972-1973 basketball season was fairly successful as the Spartans went 13-6 in the regular season. While not a starter, Anderson saw considerable playing time. He scored eight points in a District 28 tournament game against Hill City and five points a few days later in a win against Deer River. Anderson's season was interrupted when he was suspended from the basketball team for a time for being spotted at the neighborhood ice rink. A rink rat at heart, Anderson loved hockey more than any other sport at the time and longed to play. Unfortunately, Nashwauk-Keewatin was too small a school to field a hockey team that could compete in the tough Iron Range Conference or against other Region Seven foes, and he had to concentrate on basketball in the winter months. Nashwauk-Keewatin's season ended with a 15-7 won-lost record when Coach Bob McDonald's undefeated (and eventual Class A state champions) Chisholm Bluestreaks clobbered them 58-34 in the District 28 title game. Anderson contributed three points in the loss. 
The highlight of Anderson's high-school sports career came in the spring of his senior year when he threw a no-hitter against Greenway High School of Coleraine at Nashwauk on May 3, 1973. A home run by Dave Bevacqua was the only run in a 1-0 win for the Spartans. But the story of the day was Anderson's pitching. Two runners reached base for Greenway on a walk and a hit batter, and Anderson struck out four batters in the seven-inning contest. Anderson recalled that the greatest satisfaction from his no-hitter was the bragging rights he gained that day. Many of his summer baseball friends and teammates wore the Greenway uniform. Nashwauk-Keewatin carried a 4-3 district record into the District 28 tournament but could not advance beyond the first round, falling to Deer River 5-2. Anderson gave up seven hits in the loss. Anderson's senior class, numbering 91 students, had its commencement exercises soon after.
Anderson began his college career in the autumn of 1973 at nearby Hibbing State Junior College (now Hibbing Community College). He played football for the Cardinals that fall and, despite not having played any high-school hockey, made the hockey team as a defenseman. Much like a center in football, contributions from a defenseman in hockey can often be overlooked. Anderson was never mentioned in game accounts until the Cardinals had won the Minnesota State Junior College hockey tournament and advanced to the national tournament. Only then did Anderson appear in the team photograph and receive mention in an article on the team on the eve of the national tournament held in mid-March 1974 in Thief River Falls, Minnesota. Hibbing advanced to the final game but lost to a junior college from Canton, New York.
In the spring Anderson had no trouble making the baseball team, the first baseball team in the 75-year history of the school. The Cardinals won only a few games in their 18-game schedule, with Anderson accounting for a couple of the wins and several of the losses in a very unspectacular season.2 Nonetheless, Anderson must have been encouraged enough to give Dick Siebert a call at the University of Minnesota. While receiving only an offer of a tryout with scores of others for the Gophers varsity, Anderson decided to transfer to the University of Minnesota for his sophomore year. Anderson realized then and there he had no future in hockey and decided to follow his true love of baseball and join several high-school teammates at Minnesota. Had Anderson picked any other school in the Upper Midwest, he would have had a much better chance to make the baseball team. His future and the history of the University of Minnesota baseball program would undoubtedly have been different.
Anderson's hopes of making the Gophers' varsity during tryouts in the fall of 1974 ended rather quickly. He was not among those asked back to continue workouts throughout the winter. The 1974 team had finished 25-13 and 11-5 in the Big Ten (tied for first), and Siebert felt his pitching staff was in fine shape with Ken Herbst, Steve Comer, Perry Bauer, Tom Wolcyn, and Dan Morgan slated for heavy workloads. Siebert said, "We had some pretty good arms and just didn't have room for him. But you could see he wanted to pitch very badly." Anderson didn't give up his dream easily and immediately went to ask Siebert if there was any hope of another chance next year. He said he would do anything to be involved with Gophers baseball. Siebert's answer was to offer Anderson a job as student manager, the lowest rung on the team totem pole. Anderson would have to become the team's "gofer" if he was to retain any chance of ever becoming a Golden Gopher. Siebert explained that Anderson would have a chance to work out regularly under supervision and coaching, and that was his only chance to improve enough to make the team in future years. 
Anderson quickly accepted and was the first to arrive for the 2 p.m. practices and the last to leave after 6 p.m. Anderson became a batting-practice pitcher, batting-practice catcher, fungo hitter, and traveling secretary. On road trips he checked players on and off the team bus to make sure no one was left behind, left wakeup calls, distributed meal money, handled the equipment, and coached first base. "He's been invaluable to us," Siebert said in appraising Anderson's performance. "His enthusiasm is tremendous and he's learning a lot of baseball. And I've got complete confidence in him when he's coaching first base."
Anderson's enthusiasm may have gone a bit too far during the Gophers' road trip to Texas in the spring of 1975. While coaching first base, with a wad of tobacco in his mouth, he clapped loudly and shouted encouragement to the Minnesota batters. On several occasions Anderson stared at the opposing pitcher and shouted various baseball clichés as "Stick it in his ear," "Knock the pitcher's kneecap off," and "You're brutal, bush, you're brutal." George Thomas, the Gophers' assistant coach, had to take Anderson aside and tell him to tone it down a little. Anderson replied, "That's the way we always did it in Keewatin. We'd try and bother the other pitcher, do anything we could to distract him." 
As for pitching, Anderson still had hopes. Quoted in a Minnesota Daily article by Charley Walters, Anderson said, "I think the thing I need most is a better motion. I have a tendency to throw too much with my arm and not enough with my body. A better motion will improve my fastball, and if that gets a little quicker, I know I'll be able to pitch here. I just know I will." Lindsay Hoyer, a catcher and Gophers co-captain agreed, saying, "He's big and strong and his ball moves well. And most important, he throws strikes. We're going to be losing a lot of players this year through graduation, and I have to consider John a prospect. He works too hard not to be."
Unfortunately, Anderson never progressed much further as a pitcher. Minor arm and back injuries and intense competition kept his pitching career from advancing. He got into one game during the spring trip in 1975 and pitched one mop-up inning, giving up a few hits and a run. He remained involved with the 1976 and 1977 teams as their student manager. The 1976 team recorded a 38-11 record and advanced to the Rocky Mountain Regional at Tempe, Arizona, before being knocked out by Arizona State. The 1977 team dedicated itself to working as a team, not for individual statistics, and did a bit better, recording a 39-12 record. Finishing first in the Big Ten, the Gophers hosted the Mideast Regional and beat Florida and Central Michigan to advance to the College World Series in Omaha. Led by All-American shortstop Paul Molitor and second team All-American pitcher Dan Morgan, the Gophers jumped from number 15 to number 2 in the final college baseball poll on the eve of the College World Series. The high hopes of a fourth College World Series title for Dick Siebert (the others were in 1956, 1960, and 1964) were dashed when the Gophers fell to the pesky Diablos of California State, Los Angeles, beat Baylor by a run, and lost to Arizona State to finish sixth in the eight-team field.
Prior to the College World Series the team voted for its Most Valuable Player (MVP). Anderson recalls that the vote was taken on the bus on the way back from Iowa after the last game of the Big Ten schedule. Siebert had Anderson pass out and collect the ballots, and Anderson went back to his seat, thinking nothing of it, and rejoined his card game. A few moments later a flabbergasted Dick Siebert bellowed, "You jokers just voted the student manager as your MVP. Quit joking around and vote again." Stuart Broomer, in his biography on Paul Molitor, claims the first vote was 22 to 1 with one vote for Molitor cast by John Anderson. Someone must have convinced the modest Anderson that since no one was going to change his vote, he might as well vote for himself to make it unanimous on the second ballot. Molitor explained the vote for Anderson to Broomer. "John Anderson embodied what we had in mind that season. He did everything except play. He was a groundskeeper, equipment man, assistant coach, and even a confidante for many of the players. He was very exceptional, so we decided he should get the award." Anderson remains to this day as the only non-athlete to win a team's Most Valuable Player Award in any sport at the University of Minnesota and quite possibly at any National Collegiate Athletic Association (NCAA) Division I school.
Of course, Anderson was as amazed as anyone to receive the MVP award. Anderson recalled that Siebert went in to athletic director Paul Giel to see if the MVP vote was legitimate and had Giel say, "Of course, the team can vote for anyone they like." Anderson remembers a few days later, in the week of practice between the end of the Big Ten season and the start of NCAA regional play, that Siebert and sportswriter Jimmy Byrne of the Minneapolis Star got into a heated exchange about the MVP vote in the dugout. Anderson, who was standing nearby, was relieved to hear his coach defending the vote but nonetheless sheepishly slinked away.
Anderson graduated in the spring of 1977 with a bachelor's degree in physical education and had every intention of landing a high-school teaching and coaching job. That is, until Anderson received a phone call from Siebert that summer, offering him a job. It was an unpaid job as a graduate assistant coach. Anderson quickly accepted, moved back to the Twin Cities, and survived on about on about $5,000 that year teaching a few classes and working temporary jobs. "My parents thought I was crazy," Anderson recalled in an interview with Chris Coughlan-Smith in 1999. Anderson had secured a good-paying job with a Mesabi Range mining company, and Anderson's father, an electrical engineer for the Hanna Mining Company, couldn't understand his son giving that job up for an uncertain future. After Siebert died in December 1978, George Thomas became the head coach, and John Anderson became one of his part-time assistant coaches. Thomas had a successful three-year run as the Gophers' baseball coach (95-40 in the 1979/1980/1981 seasons) but decided in 1981 that he would rather go back into the business world than remain as a part-time Gopher baseball coach.
Many expected Gopher athletic director Paul Giel to conduct a high-profile national search and hire a big-name baseball coach. Giel astonished many faithful Gophers fans when he named the 26-year-old Anderson the new Minnesota baseball coach in the summer of 1981. With little college and no professional playing experience and barely older than his players, Anderson was considered an extremely risky choice by many to carry on the Minnesota baseball tradition. Anderson had the backing of George Thomas, though, who said, "I saw in John an ability to get along with players. He was good at the public relations end of it [coaching] and the practice part of it. One time, I just said to myself, 'Hey, this fella keeps getting better every year.'"
Anderson was well prepared to become a college coach. As he relates in the 1989 Gophers Baseball Media Guide when talking about Siebert, "Aside from my father, there is no other individual who played a more significant role in helping me develop and become a contributing individual as well as learn how to coach the game of baseball. . . . His [Siebert's] amazing attention to detail, the little things that only those deeply involved in the game recognize, gave me an early indication of what the job entails. You cannot for one moment allow yourself or your players to be distracted or for that matter not be thinking one, two, or three innings ahead."
Anderson remembered during Siebert's last year that he wasn't feeling well one day and stayed home during a home game. He instructed Anderson to keep the detailed scorebook and stop by with it at the Siebert home after the game. Compiling this scorebook while the game was going on was something Siebert had learned to do by watching Connie Mack during his years with the Philadelphia Athletics and helped him immensely in setting the defense and determining offensive moves. A petrified Anderson, hoping Siebert wouldn't find fault with his scorekeeping, delivered the book to Siebert, who scanned the scorebook for a few moments, then looked up and said, "Fine." A relieved Anderson knew he had passed his first test. Anderson maintains a similar scorebook to this day, something few college coaches do. Anderson says that Jerry Kindall, the now-retired coach of the University of Arizona Wildcats and a Siebert player and protégé, is the only other coach he knows who maintains a scorebook himself during a game.
Siebert also was a fabulous fungo hitter, and, while never becoming as an adept a fungo hitter as Siebert, Anderson had to take over these duties as Siebert's health declined. Anderson noticed how efficiently practice was conducted, and infield and outfield routines today are exactly the same as in the Siebert era. A number of times in Siebert's final year he had Anderson sit next to him in the dugout and tell him what happened on the field. Diabetes by that time had affected Siebert's vision so severely that he couldn't follow the ball. Possibly Siebert knew he wasn't going to be around much longer and wanted to impart as much baseball knowledge to Anderson as he could.
Despite Anderson's preparation, his first year as coach in 1982 was a challenge. Anderson admitted in a 2008 interview with Minneapolis Star Tribune reporter Michael Rand, "I was scared to death. I questioned whether I was cut out for it. I was haunted a little by the tradition and the history. I didn't want to be responsible for screwing it up." Herb Isakson, an assistant coach who also served under Siebert and Thomas, recalled in an interview with Minneapolis Star Tribune writer Nolan Zavoral, "I remember John's first year. We had a veteran team, and one of them pulled a fire alarm, and there were some curfew violations, and they seemed out of control. We were on a bus trip in Texas, going into Houston. I vividly recall how John got up in the front of his bus and told them . . . not in a raised voice or anything . . . how because of his youth or his being a first-year coach, he didn't want to give them the idea he would be pushed around."
The 1982 team, featuring the Steinbach brothers from New Ulm, Tom, Terry, and Tim, and future major-league catcher Greg Olson, started the year with a 3-6-1 record in its spring Texas trip. The Gophers righted themselves with their usual slew of non-conference wins but struggled a bit in the Big Ten, losing six of eight games to Illinois and Iowa. Duane Banks, the Iowa Hawkeyes coach, crossed paths with Anderson after a doubleheader win by Iowa and said, "I'm going to do what Dick Siebert did for me when I was a young coach. I'm going to put my arm around you and tell you everything is going to be fine and that you're going to be a good coach." Banks had no idea at the time how right he was. The next weekend the Gophers won three of four at Wisconsin to finish the Big Ten season at 8-8 and barely qualify for the Big Ten postseason tournament at Champaign, Illinois. The Gophers beat Illinois twice on May 22 and Ohio State twice on May 23 to win the Big Ten title. At the Midwest Regional at Murfreesboro, Tennessee, the Gophers beat Oral Roberts University but lost to Oklahoma State and Middle Tennessee State and were eliminated from further NCAA postseason play. Anderson was honored as Big Ten Coach of the Year in his first season as head baseball coach at Minnesota.
But there are frustrations being a college coach. Scholarship and recruiting limitations, constant turnover of players with some leaving early for the professional ranks, and an uneven playing field that favors southern and western schools are just some of the hurdles Anderson has had to overcome. Anderson has countered by stressing the positives of a college education, getting the baseball alumni involved with an annual alumni-varsity game at the Metrodome, reorganizing the Dugout Club for loyal supporters, and establishing a tournament at the Metrodome in early March in which some of the top college teams in the country have competed.
One advantage Anderson has—and he has not been slow to use it—is the value of a college education. In a 1987 interview with Blaise Schweitzer in Minnesota, the University of Minnesota alumni magazine, Anderson said, "There were 20 guys drafted in the Big Ten last year. If one of the guys makes it to the big leagues and plays more than three years, he'll beat all the percentages and all the odds." He continued, "We should all have dreams, we should all have goals—but I think you have to sit down and look at reality also." Anderson tells his players that a college degree is something they can use to find a job if a professional baseball career doesn't pan out and warns his juniors about the large signing bonuses. Anderson stresses "the extra money will disappear quickly, but a college degree will not." Anderson realizes that most of his players will never play an inning of baseball after college, and his major job is to prepare his young men for the rest of their lives.
Anderson, in an 1993 interview with Brian Osberg for Minnesota, said, "When you're recruiting, you look for people who want to come to the 'U' and graduate and not just be eligible to play. I've been head coach for 12 years and I've found that you win with guys who want to be here, want to be disciplined and go to class. You need the same habits on the field as you do in the classroom." Anderson says recruiting is the most challenging aspect of being a college-baseball coach and that one had better enjoy it if he wants to remain in the game. College baseball teams are allowed only 11.7 scholarships (as opposed to 85 for football; even women's softball is allowed 13 scholarships), and determining who gets a full scholarship and who gets a partial scholarship or none at all is frustrating. He has to assign values to his players, and filling out his 35-man roster can be a difficult juggling act. Senior scholarship athletes leave, but often juniors are drafted by the major leagues, and he can't give their scholarships (or portions of their scholarship) to incoming or current players until after that player has signed. Anderson says recruiting is the most important aspect of his job and the one on which he spends the most time. With instructional camps and tournaments held almost year-round, recruiting is a national activity engaged in by every Division I program in the country. The days when Dick Siebert could casually call up a Paul Molitor and say "You're coming, right?" are long gone.
Anderson discussed his coaching philosophy with Schweitzer. Anderson believes the role of the coach is to take the pressure off the players, make the game fun, and create a relaxed atmosphere in which the players can succeed. Anderson believes in the quiet, behind-the-scenes forms of motivation. Baseball is a game of failure, and how players react to failure (one hopes only temporary failure) is critical. Yelling at players for messing up makes the entire team tense and players begin to see the game more as a job than a game. Anderson adds, "We're trying to coach both from the neck up and from the neck down. I spend probably 70 percent of my time dealing with the mental makeup of the young men. The important thing in coaching is that you have to be able to identify what motivates a young man."
Nolan Zavoral, in a 1988 article in the Minneapolis Star Tribune, wrote that while Anderson's players never question his knowledge of the game, they nonetheless are sometimes amazed. Paul Weinberg tells how Anderson once tipped him off on what an Illinois pitcher was going to pitch, helping Weinberg to deliver a game-winning hit: "I'd heard he [Anderson] knew baseball, but I was surprised by how much he knew. I wondered how he got to know that much. I guess that proves you don't have to play the game, as long as you're around the right people."
Anderson has used the Metrodome to strengthen the schedule for the Golden Gophers. Since 1985, the Gophers have hosted a three-day tournament in early March that has brought in some of the better college baseball programs in the country.3 Most years featured at least one team rated as one of the top 25 college teams in the country, with the 1991, 1993, and 1999 tournaments featuring the number-one rated team, Stanford, Georgia Tech, and Florida State, respectively. The strongest field probably was the 1990 tournament with number-two Wichita State, number-four Stanford, number-six Miami (Florida), and the Gophers crossing bats. Without the Metrodome, it is unlikely any of these schools would have ventured north to play the Gophers.
Another way the Gophers have tried to pass on the tradition of Gopher baseball was the pro-alumni game held in the Metrodome in February for 16 years from 1992 through 2007. The game brought back current professional ballplayers who had previously donned the maroon and gold to play the current varsity. Hall of Famers Dave Winfield and Paul Molitor as well as All-Stars Terry Steinbach, Dan Wilson, Denny Neagle, and many others have participated in this game, the proceeds of which went to the Dick Siebert Scholarship Endowment Fund. Anderson is quoted in the 2007 Gophers Baseball Media Guide saying, "I think this is probably the best thing we do all year, in terms of trying to pass the 'tradition torch.'" Former Gophers star Robb Quinlan, in an article by Chris Couglan-Smith, said, "Over at Siebert Field you see the retired jersey numbers of Molitor and Winfield and you see all the guys come back for the pro-alumni game. You feel like you're not just playing for yourself, but for all of those guys who've played here. They're watching and cheering for us, and that's a good feeling." The 2007 game was the last game in the series, however, due to new NCAA regulations stating that the college baseball season cannot start until the last Friday in February. The pro-alumni game was held in early February before the professionals headed to spring training and the new regulation made continuation of the game impossible. For those keeping score, the alumni won five of the first seven games (one tie), but the current varsity stormed back to win seven of the final nine games to take the series 8-7 with one tie.
Another way to even the playing field for the Big Ten and other northeastern college conferences would be to extend the season a month or two into the summer. The NCAA has taken a baby step in declaring that no team can start playing games until late February, but the southern and western schools still hold a tremendous advantage in completing their allowed 56 games in 13 weeks (before any conference tournaments or NCAA play). Anderson said in the Coughlan-Smith interview, "If you had Michigan and Minnesota playing outside on a June afternoon, you couldn't find enough seats. Baseball could be a revenue sport for us under the right kind of schedule." As it is, the Big Ten schedule ends in mid-May, as soon as the weather starts getting nice, and the northern and eastern schools have a difficult time competing in NCAA play. Ohio State was the last northern or eastern team to win the NCAA title, in 1966, and college baseball has since become a regional sport favoring the southern and western schools.
Developing quality players in Minnesota and attracting them to the University of Minnesota has become increasingly difficult for John Anderson and his staff. NCAA regulations allow only four players from a college team on any one team in the summer baseball college leagues (such as the Minnesota/Wisconsin-based Northwoods League or the Cape Cod League in New England). This has made it much more difficult to oversee the development of players during the summer, and the days of a summer-league team of Gophers players playing together under Gophers coaches is a thing of the past. Until the early 1970s, freshmen weren't eligible for varsity competition, and college teams fielded freshmen teams, which for all practical purposes served as junior-varsity teams. Junior-varsity teams continued for another eight to 10 years, but the expense of running these teams and gender-equity issues spelled the end of junior-varsity teams in the early 1980s. This meant that selecting a 35-man varsity became even tougher in that decisions would have to be made on a player without ever seeing him play against college competition.
Anderson realized after his first few years that he may have been more than a bit lucky, so he went in to talk with athletic director Paul Giel to discuss ways to ensure continued success for the baseball program. Anderson related in an interview with Chris Coughlan-Smith, "I told Paul Giel we weren't going to be able to compete without more resources. I wasn't interested in being the guy responsible for ruining the tradition of Gopher baseball." Anderson had worked for Emery Air Freight for a number of years in the early 1980s as well as being a part-time Gophers head coach, and that situation could not continue if the Minnesota baseball program was going to flourish. Anderson was offered a national sales position with Emery Air Freight and had to make a decision about his future. As a first step, Giel found money to make Anderson the full-time coach, and Anderson was able to hire Rob Fornasiere of Normandale Community College as his first full-time assistant coach in September 1985. Fornasiere, who in 2008 completed his 23rd year with the Gophers, concentrates on recruiting and scouting, individual and team defense, and coaching third base. Todd Oakes was hired as pitching coach for the 1999 season, succeeding Mike Dee, and has served 10 full years through 2008. Lee Swenson was hired before the 2000 season and concentrates on developing the Gopher catchers, coaching first base, and running the developmental camp. A stable coaching staff has certainly been one of the keys to the success of Gopher baseball.
Other frustrations of being a college coach are personal. John Anderson has not been immune. He accepted the Gophers' head-coaching job over the phone 15 minutes before leaving on his honeymoon in the summer of 1981. While Anderson and Becky Gilmore tried to make their marriage work, it ended in divorce in 1988, after a two-year separation. In an interview with Minneapolis Star Tribune writer Nolan Zavoral in 1988, Anderson called the divorce "the most traumatic thing in my life," adding, "The timing of the whole thing was wrong. I think she felt betrayed. To be a coach, well, it takes a tremendous amount of time, not 40 hours a week. During recruiting, you're working 80, 90, sometimes 100 hours a week. How do you blame her for not enjoying it?" More than once Anderson considered quitting coaching and finding a job with saner work hours in order to save his marriage. But he realized soon enough that he loved coaching and that if he found another occupation, "I would have two problems, and one would be I'd be lying to myself."
After several years of bachelorhood, Anderson married for the second time in 1993. John and Jan (Mitchell) Anderson have a daughter, Erin Elizabeth (born November 11, 1994), and make their home in Wayzata. 
Besides coaching at the University of Minnesota, John Anderson has had the honor of coaching national teams in international play. In the fall of 1989 he was named assistant coach for the U.S. senior national team that won the silver medal at the International Baseball Association President's Cup tournament in Taiwan. In the summer of 1990 he was assistant coach on the United States team that traveled to Japan, Korea, and Cuba and participated in the Goodwill Games in Seattle and the World Championships in Edmonton, Alberta. In 1993 Anderson was the head coach of Team USA, which went 30-16 on a summer tour. That team also won the silver medal in the Intercontinental Cup in Parma, Italy, and went 8-1 in the world championships. Anderson, in an interview with Brian Osberg on the eve of the 1993 tournament, said, "I'm really excited about it. It will be a challenge in my coaching career. I remember the first time I put that USA uniform on. It sent a chill through my spine. Representing the whole country is special. I just hope the kids [on the team] will have the same feeling."
In his free time, much like his mentor Dick Siebert, Anderson has worked for the advancement of baseball in Minnesota. He established and has overseen the Minnesota Baseball Instructional Schools for players aged nine to 18, held at the University of Minnesota during the summer. In the fall Anderson runs the Dick Siebert Fall League, a developmental league for high-school players. In 1990 Anderson was named president of the Minnesota Amateur Baseball Federation. In 2000, along with sports psychologist Rick Aberman, Anderson co-authored a book, Why Good Coaches Quit and How You Can Stay in the Game, published by University of Minnesota Press. The book evolved from Anderson's own questions on how to become a more effective leader and coach and the desire to not write just another baseball book that would be quickly forgotten. The book goes beyond the X's and O's and centers on the mental aspect of sports coaching. The book is now in its second edition, and Anderson and Aberman give numerous speeches every year on topics covered in the book.
In January of 2008 Anderson was elected to the American Baseball Coaches Association Hall of Fame. Those writing letters of recommendation, showing how highly regarded Anderson is among his peers, were former Minnesota Twins general manager Terry Ryan and Baseball Hall of Famer Paul Molitor. The long-time (now retired) coach at St. Olaf College, Jim Dimick, nominated Anderson. At age 53 (in 2008), Anderson could amass several hundred more wins but doesn't believe he wants to be coaching when he is 65. However, Anderson does want an on-campus baseball stadium, with a much-improved grandstand and parking, to be part of his legacy. With the possibility of the Minnesota Vikings football team getting a new stadium and the Metrodome being replaced, a new on-campus baseball stadium is critical if baseball is going to continue as a major sport at the University of Minnesota.
Anderson foresees the facility being a center of amateur baseball in the state, with room for indoor batting and pitching practice under a bubble, locker rooms and meeting rooms in one complex, 3,000 seats for the fans, and a new entrance. The actual playing field would be sunk seven feet and moved slightly to the south and east of the current field. Anderson commented on what he still wants to accomplish in the January 2008 Michael Rand interview, "I think is takes 20 years to really get a sense of who you are. It's all about relationships and developing people. I feel like the last seven or eight years, I've been a lot more effective as a coach and leader. I'd like to spend the next 10 or so years trying to utilize that maybe do some things here we haven't done." 
In reflecting on his career in a 1999 interview with Chris Couglan-Smith, Anderson said, "I never anticipated anything like this when I came here for college. I thought I'd be teaching high school. It's interesting how life takes its twists and turns. I've seen presidents and athletic directors come and go. It's been quite a ride." Indeed, it has been quite a ride for a man from Minnesota's baseball boondocks who, through hard work and dedication, has become one of the nation's premier college baseball coaches. His career is proof that it is not where you are from but what you learn along the way that is truly important.
Note
A version of this biography appeared in the book Minnesotans in Baseball, edited by Stew Thornley (Nodin, 2009).
Sources
Research on Minnesota born major leaguers by Glenn Gostick reveals that William Cadreau, aka Chief Chouneau (Cloquet), Steve Foucault (Duluth), Spencer Harris (Duluth), Roger Maris (Hibbing), Ernie Nevers (Willow River), Bill Phyle (Duluth), Jerry Ujdur (Duluth), Rip Wade (Duluth) are the only individuals born in the northeastern part of the state. Several individuals were born in north-central or northern Minnesota, including Wes Westrum (Clearbrook), Kerry Taylor and Bryan Hickerson (Bemidji), Joe Bush (Brainerd), and Chief Bender (Crow Wing County).
Charley Walters, in his column in the Minnesota Daily, claims Anderson had a 4-1 won-loss record for a team that went 4-10. A quick check of the newspapers revealed at least three losses for Anderson (1-13 to Vermillion, 1-3 to Brainerd, and 4-10 to Vermillion) and one win (against Fergus Falls, 2-1, in the first game of a doubleheader in which Hibbing won the second game 9-4, in a game in which Anderson did not pitch).
The tournament in early March hosted by the Gophers in the Metrodome has had various names over the years depending on the major sponsor. For the first three years it was known as the Wheaties Tournament of Champions (1985-1987); it then became the Pillsbury Baseball Classic (1988-1990). It has also been known as the Oscar Mayer Baseball Classic (1991-1994), the Hormel Foods Baseball Classic (1995-2002), and the Dairy Queen Classic (2003-2008).
Augustoviz, Roman. "U Suffers through a Season to Forget," Minneapolis Star Tribune, May 12, 2008. pages C1 and C8. Recap on the 2008 season, the only losing season in 27 years at Minnesota under Anderson's tutelage.
Broomer, Stuart. Paul Molitor: Good Timing, Toronto: ECW Press, 1994. On page 19 is the quote from Molitor on Anderson's MVP award in 1977. Similar quote in the Zavoral article.
Coughlan-Smith, Chris. "A Winning Proposition," Minnesota: The Magazine of the University of Minnesota Alumni Association, April-March 1999. volume 98, number 4, pp. 44-45. This article is a good overview of Anderson's career to that point and a number of quotes from Anderson and Robb Quinlan were taken from this article.
http://www.gophersports.com, the official website for University of Minnesota sports. Contains a fairly good biography of Anderson and some quotes from him and about him and the Gopher baseball program.
Hibbing Daily Tribune, various issues from 1972 through 1974 were read for information on Anderson's sports career at Nashwauk-Keewatin High School and Hibbing Community College.
Osberg, Brian. "The Man in the Middle," Minnesota: The Magazine of the University of Minnesota Alumni Association, May-June 1993. Volume 92. Number 5. page 53. Recruiting and Team USA quote found in this article.
Telephone interview with John Anderson on June 3, 2008. Recollections of his high school no-hitter; high school and Hibbing Community College sports career; the 1977 MVP voting, Siebert scorebook story; Siebert's last year; recruiting pressures; and biographical information were some of the topics covered in this interview.
Rand, Michael. "No Time Like Present for Gophers' Anderson," Minneapolis Star Tribune, January 4, 2008. Information on Anderson's election to the American Baseball Coaches Hall of Fame and the quote from Iowa coach Duane Banks is found in this article.
Schweitzer, Blaise. "Majors and the Minors," Minnesota: The Magazine of the University of Minnesota Alumni Association, May-June 1987. Volume 86. number 5. pp. 43-44. Information on Anderson's attitude about players staying in college and getting a degree and his coaching philosophy is found in this article.
University of Minnesota Baseball Media Guides, 1982-2008, various issues. Anderson's statistical record was gleaned from perusing these volumes.
Walters, Charley. "Coaches, Players Laud Baseball Team's Student Manager," Minnesota Daily, April 9, 1975. Most of the information on Anderson's college career as student manager was found in this article.
Zavoral, Nolan. "Gophers' Anderson is Carrying on Siebert Tradition," Minneapolis Star Tribune, May 15, 1988. Anderson talks about his first marriage, his relationship with Dick Siebert, and his first year as head coach (1982) in this article.
If you can help us improve this player's biography, contact us.
http://bioproj.sabr.org/bp_ftp/images4/AndersonJohn.jpg
600
800
admin
/wp-content/uploads/2020/02/sabr_logo.png
admin
2012-01-08 21:23:22
2021-08-27 14:23:09
John Anderson