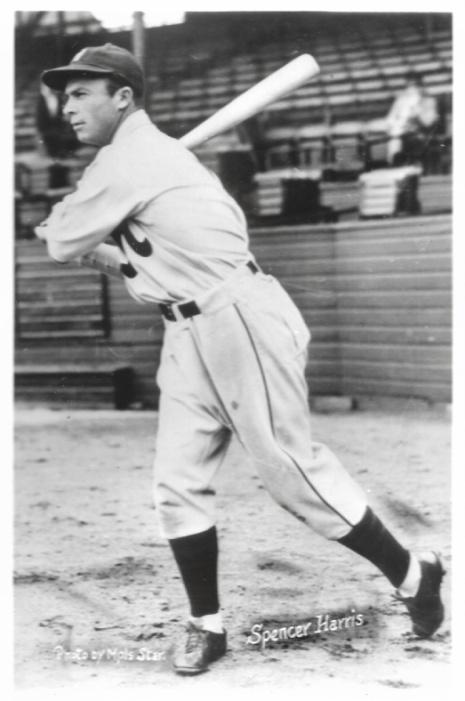 ---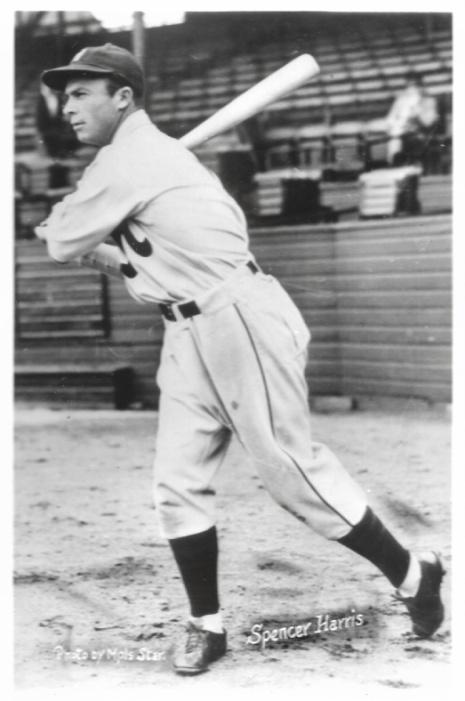 It is well known among baseball fans that Pete Rose is the major leagues' "hit king," with 4,256 hits in 24 seasons.1 But few can name the minor-league hit leader, Spencer Harris. In 26 minor-league seasons from 1921 to 1948, Harris accumulated 3,617 hits. He collected 94 more hits in limited major-league action.
If viewed at a rate of 162 games per season, Harris's minor-league career consisted of 20 seasons in which he averaged 180 hits, 37 doubles, 7 triples, 13 home runs, 88 RBIs, and 114 runs scored, with a .318 batting average. The speedy leadoff man had a keen eye at the plate. His bases-on-balls records are incomplete, but he may have drawn as many as 80 walks per 162 games and had a career on-base percentage over .400.
Rickey Henderson holds the record for runs scored in a major-league career with 2,295; Harris holds the minor-league mark with 2,287 runs scored. Harris is also the minor-league career leader in doubles (743) and total bases (5,434) and may also be the leader in walks.
Harris was a left-handed batter and thrower. In his prime from 1928 to 1937, he hit .336 for the Minneapolis Millers of the Double-A American Association. He laced line drives to all fields and made it look effortless. And in center field he wowed fans with spectacular catches. "I do not suppose there ever has been a more graceful Double-A performer than Spencer Harris at bat and in the field," said sportswriter Halsey Hall in 1940.2
Harris "should have been in the majors," declared Washington Senators owner Clark Griffith in 1936.3 But hindsight is 20/20. Four teams — the Philadelphia Athletics, Chicago White Sox, Detroit Tigers, and Griffith's Senators — gave him trials at the major-league level from 1925 to 1930 and passed on him.
Anthony Spencer Harris was born August 12, 1900, in Duluth, Minnesota, to Wilfred B. and Helen (Ronan) Harris.4 The family moved first to Milwaukee, Wisconsin, and then to Seattle, Washington, where Wilfred worked as a salesman.5 Spencer attended Broadway High School in Seattle and excelled on the school's baseball and basketball teams, earning all-city honors in both sports.6
On June 21, 1921, playing for the Tacoma Tigers, Harris homered in his first minor-league game.7 Standing 5-foot-9 and weighing only 140 pounds,8 he batted .271 in his first season. Scout Tom Turner "liked the youngster's style" and purchased his contract for Connie Mack's Philadelphia Athletics.9 In 1922 Harris was farmed out to the Bay City Wolves of the Class-B Michigan-Ontario League. He hit .340 for the Wolves in 121 games and then spent nine days in September with the Athletics, but he sprained an ankle and did not appear in a major-league game.10
Harris was assigned to the Shreveport (Louisiana) Gassers at the start of the 1923 season11 before the Athletics sent him back to Bay City in May. In the Wolves' 5-4 victory over the Saginaw Aces on May 28, Harris smacked a home run and made an outstanding catch in right field — "a one-handed spear near the fence with the bases full saving the game."12 The Wolves won the 1923 pennant and wanted Harris to return the next year, so they purchased his contract outright from the Athletics.13 He hit .319 and stole 35 bases in 1924 as the Wolves won another pennant. The Chicago White Sox then purchased his contract from Bay City.
White Sox manager Eddie Collins "took me under his wing," said Harris. "He taught me the fundamentals of the game, such as hitting and running, base stealing, bunting and many other fine points of the sport."14 The 1925 White Sox were well fixed in the outfield, with veterans Bibb Falk in left field, Johnny Mostil in center field, and Harry Hooper in right field. Collins used Harris primarily as a pinch-hitter during his rookie season, giving him little game time to develop his skills.
On April 14, 1925, in the White Sox's season opener at Detroit, Harris made his major-league debut pinch-hitting for Ray Schalk and flied out to center field. The next day he singled off Detroit's Syl Johnson for his first major-league hit. On July 28, in the first game of a doubleheader at Washington, Harris stepped to the plate in the ninth inning with the bases loaded, drove a pitch from Curly Ogden "far into right center," and sped around the bases for an inside-the-park grand slam.15 It was his first major-league home run and his only home run of the 1925 season.
Harry Hooper retired after the 1925 season, and Collins gave Harris first crack at replacing him in the outfield. Through the first six weeks of the 1926 season, Harris's .267 batting average16 was underwhelming, and he was returned to a bench role. The next year he was assigned to the Shreveport Sports of the Class-A Texas League.
In center field at Shreveport on July 21, 1927, Harris made a running backhand grab of a line drive that was "the most spectacular catch ever registered at the local ball yard," according to sportswriter Joe R. Carter of the Shreveport Times.17 On September 3, Harris walloped a grand slam in Waco, and a week later he went 5-for-5 as the Sports outslugged the Dallas Steers, 15-14.18 He now weighed 155 pounds;19 still "smaller in stature than the average player, he takes a hearty cut at the ball."20 For the season, he batted .354, scored 120 runs, and led the league with 60 doubles. It was an impressive year, but the White Sox were flush with outfielders and chose to sell his contract to the Minneapolis Millers for $10,000.21
Harris had a brilliant season for the 1928 Millers, batting .327 with 32 home runs, 127 RBIs, and 25 stolen bases, and led the American Association in doubles (41), total bases (364), bases on balls (87), and runs scored (133).22 His 32 home runs led the league by a large margin — the second most was 18 by Anthony "Bunny" Brief. Harris surely benefited from the short right-field fence at Nicollet Park in Minneapolis, but his power was real. On May 2, he homered twice in a home game against the Louisville Colonels:
"His first circuit smash in the third inning was a line drive that cleared the right field screen with plenty to spare, the ball hitting high up on a building on the far side of Nicollet Avenue. Harris, a left-handed batter, made this blow against a southpaw pitcher [Mal Moss]. Then, in the eighth round with Roy Wilkinson a right-hander, on the mound, Harris larruped a homer over the left center field wall, the ball hitting a building with such force that it bounded back into the park."23
On April 22 at Neil Park in Columbus, Ohio, Harris crushed a delivery from southpaw Pete Harris (no relation), sending the ball "over the right field fence, which is some feat in Neil Park."24 That home run was a "mountainous poke," said Charles Johnson of the Minneapolis Star.25 Harris had no trouble with southpaws; years later, sportswriter Dick Cullum said, "Harris was just about the best left-handed hitter against left-handed pitching the league ever had."26
And Harris shined in center field. In Toledo on April 19, he surprised Mud Hens manager Casey Stengel by making "an almost impossible grab" of a line drive "just as it was about to hit the ground."27 It looked like a sure hit, so Stengel, coaching at third, sent home a baserunner who was easily doubled up. On May 8, against the Columbus Senators in Minneapolis, Harris chased a "screaming line drive to the right center field wall and made a backhanded catch of the ball just as it was about to crash against the concrete."28 Umpire Ted McGrew said, "Harris is one of the greatest ball hawks that ever roamed the outfield. He seems to have an uncanny sense of where the ball is going and gets to the right place at the right time. He is fast as a deer and can go in any direction and get 'em."29
Joe Cantillon, former manager of the Millers and Washington Senators, said, "Harris is a finished ball player in every respect and should be in the major leagues right now. I never could understand why the White Sox let him go. He is one of the best young ball hawks that I ever saw, is a natural hitter, fast on the bases and a hustler. … He ought to bring a big price in the open market."30
Mike Kelley, the Millers' owner and manager, rejected several offers from major-league clubs during the 1928 season "because they wanted immediate delivery" of Harris,31 while Kelley needed him for the Millers' own pennant chase. If Harris were drafted by a major-league team in October, which was likely, the Millers would receive only $5,000 in compensation.32 So Kelley sold him just before the draft to the Washington Senators for $20,000.33 The Senators paid $2,000 upfront and had until May 1, 1929, to decide whether to keep him. If they kept him, they would have to pay the remaining $18,000.34
Like the White Sox, the Senators had plenty of outfielders. They had Goose Goslin in left field, Sam West in center field, Sam Rice in right field, and Red Barnes in reserve. Senators manager Walter Johnson wanted more time to decide whether to keep Harris and requested that the deadline be moved to May 15, but Kelley would not allow it.35 Harris appeared in six games for the Senators in April, and at the end of the month, he was returned to the Millers.
Kelley did not get the $18,000, but he got back his star center fielder, who hit .340 for the 1929 Millers with 14 home runs, 100 RBIs, and 139 runs scored. On June 30, in the first game of a doubleheader against the Milwaukee Brewers, Harris was sensational in center field:
"Everything within reach was snared by the brilliant fly-shagger. … He chased Eddie Pick's terrific drive to the left centerfield fence, and with one last leap snared the sphere just as it was about to crack the barrier. … He came up with two other prize catches …, racing in back of shortstop Frank Emmer for Bevo LeBourveau's short fly and then hoofing back to the right center wall to pull down Ivy Griffin's hefty wallop."36
The Detroit Tigers drafted Harris in October 1929, but the next spring, after a brief trial with the Tigers, he was placed on waivers and reclaimed by the Philadelphia Athletics. With Al Simmons in left field, Mule Haas in center field, and Bing Miller in right field, the world-champion Athletics had no openings in the outfield. But Simmons was a spring holdout, and manager Connie Mack planned to have Harris take Simmons's place in the outfield if Simmons did not report. However, Simmons rejoined the team in time for the season opener on April 15, 1930, and Harris was relegated to the bench.37
Harris had looked good at spring training with the Athletics,38 but in sporadic playing time over the first two months of the regular season, he batted .184 in 49 at-bats. Philadelphia sportswriter James C. Isaminger said Harris was "steady and correct, [but] he is a colorless performer and is not conspicuous for his hitting, although he tries his best all the time."39 Harris passed through waivers in June and was returned to the Millers. He would never again receive a trial from a major-league team.
In a doubleheader at Columbus on August 3, 1930, Harris went 6-for-10 with a triple, two home runs, and seven RBIs.40 Over the next two days in Toledo, he reached base in 11 consecutive plate appearances (six hits and five walks) and scored six runs.41 In 93 games for the 1930 Millers, he scored 99 runs and hit .363. It is hard to imagine that no major-league team could have used him.
The major leagues' loss was the Millers' gain. Harris batted .351 for the Millers over the next three seasons, and averaged 40 doubles, 10 triples, 18 home runs, 109 RBIs, and 141 runs scored per season. He led the American Association with 104 walks in 1931, and his 85 walks in 1933 ranked second in the league.42 In 1932, he went 9-for-11 with four home runs and 12 RBIs in consecutive games against the Louisville Colonels, July 20-21.43
Under the leadership of manager Donie Bush, the Millers won the 1932 American Association pennant. Years later, Bush compared Harris to Ted Williams. "Harris was a fine natural hitter," said Bush. "Like Williams, he was gifted with keen eyes and uncanny judgment." But their personalities were entirely different. Harris was soft-spoken and bashful, which gave the impression that he lacked confidence. "If he had Williams's cockiness, he would have stayed in the majors a long time," Bush asserted.44
In his playing days, Bush was a teammate of Ty Cobb for 14 years. Bush said that when on second base, the clever Harris was the best he ever saw — even better than Cobb — at stealing the catcher's signs and signaling the next pitch to the batter.45
In 1934, with Bush again at the helm, the Millers finished the regular season in first place, but they lost the league championship in a seven-game playoff series with the Columbus Red Birds. Harris hit three home runs in the series and capably filled in at first base for the injured Joe Hauser. Bush led the Millers to another first-place finish in 1935; there was no postseason playoff that year.
In 1935 Harris married Olivia Henriksen in Minneapolis.46 A native of Minnesota, she was "a charming, dark-haired girl" of Norwegian ancestry.47 They would have no children.
The Millers dropped to fifth place in 1936, but rebounded the following year and finished third, only three games behind the first-place Red Birds. The 1937 season was Harris's 10th with the Millers. He was "one of the most popular players ever to wear a Minneapolis uniform,"48 and sportswriter Bob Beebe called him "a Nicollet park institution."49 In Minneapolis on June 13, 1937, in the second game of a doubleheader against the Toledo Mud Hens, Harris came to bat in the first inning with the bases loaded. The pitcher, Dizzy Trout, got him to hit into a double play. In the third inning, Harris stepped to the plate again with the bases loaded, and this time he slugged a pitch from Trout "far away over the scoreboard in right centerfield."50 Harris said that grand slam gave him the most satisfaction of any of his feats in his 10 seasons with the Millers.51
On October 6, 1937, in an exhibition game at Minneapolis, the 37-year-old Harris faced Bob Feller, the Cleveland Indians' 18-year-old speedballer, and hammered a Feller pitch for "a resounding triple high off the right center fence."52 In December, the Millers traded Harris along with two other players and cash, to the San Diego Padres for Ted Williams, then a 19-year-old phenom. After 10 years in the American Association, Harris would spend the next eight seasons in the Pacific Coast League.
In San Diego on May 7, 1938, Harris doubled in the fifth inning with the bases loaded to drive in three runs; in the tenth inning he "slammed a home run over the right-field wall" to give the Padres a 6-5 triumph over the Portland Beavers.53 Three weeks later, in a 13-6 rout of the Hollywood Stars, he belted two home runs and a double, and drove in six runs.54 He finished the year with a .301 batting average and 92 runs batted in. Tom Sheehan, scouting for the Brooklyn Dodgers, said Harris was the most impressive PCL player he saw that year.55
In 1939 Harris hit .339 for the Hollywood Stars. He spent the next three seasons helping his hometown team, the Seattle Rainiers, win three consecutive PCL championships. On May 26, 1940, in the second game of a doubleheader against the Oakland Oaks, Harris slugged two doubles and a home run, and made "two spectacular hit-robbing catches" in left field.56 In 1941 he was second in the league with 94 walks, recording a .431 on-base percentage.57 Near the end of the 1941 season, he got his 3,000th minor-league hit. He played for Portland from 1943 to 1945 and again for Hollywood at the tail end of the 1945 season.
Harris coached his younger teammates and encouraged patience at the plate. He told them, "Work on the pitcher so that you get him in a hole and he is forced to throw the ball you want."58 Someone asked Harris how he could hit so well in his forties, and the ageless wonder replied, "Eyes and wrists. As long as they don't go back on me, I'll be able to hit the ball when I'm 60 years old."59
From 1946 to 1948, Harris hit .301 for Yakima, Washington, of the Class-B Western International League, managing the team for part of the 1946 season. Near the end of the 1948 season, at the age of 48, he played for and managed the Marysville (California) Braves of the Class-D Far West League; it was his 28th and final season as a player. In 1956 he managed the North Platte Indians of the Class-D Nebraska State League, and in 1962 he scouted for the New York Mets. Outside of baseball, he sold suits at Juster's, a clothing store in downtown Minneapolis.
Harris's wife died in 1957 of "complications resulting from pneumonia."60 Harris suffered a heart attack in 1976, but two years later he was playing golf regularly.61 Then, on July 3, 1982, at the age of 81, he died in Minneapolis of congestive heart failure. He was buried at the Lakewood Cemetery in Minneapolis.
On August 24, 1959, in an old-timers game at Metropolitan Stadium in Minneapolis, Harris stroked a double to center field in his only at-bat. Watching the game was Gene Mauch, then manager of the Minneapolis Millers. Mauch was impressed by "the beautiful ease" with which Harris swung the bat.62 Even at age 59, the graceful Harris made hitting look effortless.
Acknowledgments
This biography was reviewed by Rory Costello and Norman Macht and fact-checked by Kevin Larkin.
Sources
Ancestry.com.
Spencer Harris's file at the National Baseball Hall of Fame.
Minor League Baseball Stars, Volumes I and II, SABR, 1984, 1985. Unless otherwise noted, Harris's statistical numbers come from these volumes.
Photo: Spencer Harris baseball card produced between 1933 and 1935 by the Worch Cigar Company of St. Paul, Minnesota.
Notes
1 Various other players have also surpassed 4,000 hits as a professional.
2 Halsey Hall, "The Thrilling Thirties," Minneapolis Star, January 14, 1940: 20.
3 Charles Johnson, "The Lowdown on Sports," Minneapolis Star, March 28, 1936: 17.
4 Spencer Harris may have been an only child. Research did not reveal any siblings.
5 1920 US Census.
6 "Broadway Wins School Ball Title with Clean Slate for Prep Season," Seattle Star, June 4, 1919: 10; "Three Broadway Tigers on All-City Prep Cage Team," Seattle Star, February 28, 1920: 10.
7 "Beavers Come Through with 11-5 Win over Tigers," Vancouver (British Columbia) Province, June 22, 1921: 20.
8 Ernest J. Lanigan, "New Major Leaguers—No. 35," Brooklyn Daily Eagle, February 1, 1922: 22.
9 "Diamond Dust," Salt Lake Telegram, August 10, 1921: 4.
10 "Spencer Harris Home with Sprained Ankle," Seattle Times, September 28, 1922: 17.
11 In October 2019, Spencer Harris's minor-league record at Baseball-reference.com incorrectly indicated that he pitched in 11 games for Shreveport in 1923. It was Harvey "Slim" Harris, not Spencer Harris, who pitched for Shreveport in 1923, according to articles by Joe R. Carter in the March 20, 1923, and August 7, 1923, issues of the Shreveport Times.
12 "Wolves Win in Twelfth," Detroit Free Press, May 29, 1923: 18.
13 "Seven Pilots Sign in MINT," Detroit Free Press, January 6, 1924: 21.
14 Spencer Harris, "Set Right on Baseball," Minneapolis Star, March 29, 1935: 23.
15 Irving Vaughan, "World's Champs Lose Twin Bill to Sox, 10-5, 6-2," Chicago Tribune, July 29, 1925: 22.
16 Retrosheet.org.
17 Joe R. Carter, "Harris' Hitting, Fielding Features Sports Win over Bears," Shreveport Times, July 22, 1927: 11.
18 Jinx Tucker, "Waco Wins from Sports with Home Run Barrage in Fourth," Waco (Texas) News-Tribune, September 4, 1927: 8; Joe R. Carter, "Bloxsom's Three-bagger in Ninth Inning Defeats Dallas in Hectic Battle," Shreveport Times, September 11, 1927: 7.
19 Indianapolis News, March 31, 1928: 17.
20 Charles Johnson, "Lowdown on Sports," Minneapolis Star, February 3, 1928: 22.
21 "Local Boy Gets Fling in Majors," Seattle Times, September 23, 1928: 24.
22 Baseball-reference.com.
23 George A. Barton, "Spencer Harris Hits Two Homers as Millers Defeat Louisville, 7 to 3," Minneapolis Tribune, May 3, 1928: 17.
24 George A. Barton, "Senators Defeat Millers, 8 to 4, in Driving Rain to Inaugurate Series," Minneapolis Tribune, April 23, 1928: 9. The article presented the word "park" in lower case.
25 Charles Johnson, "Lowdown on Sports," Minneapolis Star, April 28, 1928: 9.
26 Dick Cullum, "Cullum's Column," Minneapolis Tribune, July 3, 1958: 14.
27 Charles Johnson, "Chicago Cubs Have Option on Former Miller," Minneapolis Star, April 20, 1928: 25.
28 George A. Barton, "Skidmore Pitches Effectively as Kels Hammer Columbus for 6-4 Win," Minneapolis Tribune, May 9, 1928: 14.
29 George A. Barton, "Spencer Harris of Big League Class—M'Grew," Minneapolis Tribune, April 25, 1928: 16.
30 George A. Barton, "Between You and Me," Minneapolis Tribune, May 18, 1928: 21.
31 "Local Boy Gets Fling in Majors," Seattle Times, September 23, 1928: 24.
32 "Millers Escape Draft," Minneapolis Star, October 4, 1928: 20.
33 "$219,250 Spent by Senators for Players," Tampa (Florida) Tribune, January 9, 1929: 15.
34 Charles Johnson, "Kenna Sure Harris Will Return to Millers," Minneapolis Star, March 23, 1929: 23.
35 Charles Johnson, "Millers Second after Winning from Hoosiers," Minneapolis Star, April 24, 1929: 16.
36 Irvin Rudick, "Millers Wallop Brewers Twice, 8-3 and 9-2, to Press Leading Blues," Minneapolis Tribune, July 1, 1929: 12.
37 James C. Isaminger, "Simmons Holdout as A's and Phils Start," Philadelphia Inquirer, April 15, 1930: 20.
38 Isaminger
39 James C. Isaminger, "Tips from the Sport Ticker," Philadelphia Inquirer, June 15, 1930: 35.
40 Charles Johnson, "Cullop on Rampage; Leads in Runs Batted In," Minneapolis Star, August 4, 1930: 10.
41 "Hens Score Five in Seventh to Down Millers, 6-4," Minneapolis Tribune, August 5, 1930: 11; "Kels Go on Batting Rampage to Crush Hens, 16-7," Minneapolis Tribune, August 6, 1930: 16.
42 "Crawford Hits in Most Runs," South Bend (Indiana) Tribune, December 21, 1931: 12; "Hauser Misses Two More Marks as He Leads in Runs Driven In, Walks," Minneapolis Star, December 28, 1933: 14.
43 Minneapolis Tribune, July 21, 1932: 13; Minneapolis Star, July 22, 1932: 16.
44 George A. Barton, "Sportographs," Minneapolis Tribune, December 4, 1942: 11.
45 Barton
46 "Ladies' Favorite Takes Bride," Minneapolis Star, October 9, 1935: 19.
47 Fergus Hoffman, "Broadway Proud of Spence," Seattle Times, April 28, 1940: 20; 1920 US Census.
48 George A. Barton, "Sportographs," Minneapolis Tribune, August 17, 1958: Sports, 3.
49 Bob Beebe, "'Morning Sir," Minneapolis Tribune, March 31, 1937: 20. This article also presented the word "park" in lower case.
50 Irvin Rudick, "Kels Divide with Hens, Retain Lead," Minneapolis Tribune, June 14, 1937: 10.
51 Dick Hackenberg, "Golden Decade for Harris," Minneapolis Star, December 18, 1937: 15.
52 "Major All-Star Team Beats Twin City Aggregation, 7-5," Minneapolis Tribune, October 7, 1937: 22.
53 "Harris Homes, Padres Win," Los Angeles Times, May 8, 1938: II-12.
54 Bob Ray, "Padres Go on Bat Spree to Sink Stars, 13 to 6," Los Angeles Times, May 29, 1938: II-9, 14.
55 "Sheehan Seeks Speed for Kels," Minneapolis Star, October 12, 1938: 25, 26.
56 Bill Tobitt, "Poor Oaks Win after Losing Six Straight," Oakland Tribune, May 27, 1940: 11, 13.
57 Baseball-reference.com.
58 Louis Karnofsky, "Bananas Vanni, Steadily Ripened by Seattle, Now Ready for Plucking—But Price Is High," The Sporting News, July 18, 1940: 2.
59 Joe Miller, "They Never Say Die," Seattle Times, August 20, 1950: 61.
60 "Rites Set for Mrs. Harris," Minneapolis Star, November 20, 1957: 2D.
61 Joe Soucheray, Minneapolis Tribune, July 12, 1978: 1C, 4C.
62 Halsey Hall, "Everyone Wants Repeat of Old-timers Ball Game," Minneapolis Star, August 25, 1959: 9C; "Triple Play Aids in 2-0 Saint Old-Timers' Win," Minneapolis Tribune, August 25, 1959: 16.
Born
August 12, 1900 at Duluth, MN (USA)
Died
July 3, 1982 at Minneapolis, MN (USA)
If you can help us improve this player's biography, contact us.
https://sabr.org/sites/default/files/HarrisSpencer.jpg
600
800
admin
/wp-content/uploads/2020/02/sabr_logo.png
admin
2019-12-10 12:48:03
2020-04-09 14:37:28
Spencer Harris