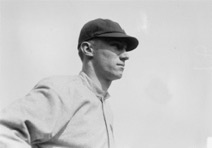 ---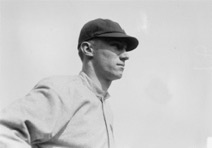 Ray Chapman is remembered as the only player to have died as the result of being hit by a pitch during a major-league baseball game. Chapman's death in 1920 did not, however, make him the first major-league alumnus to suffer such a mortal injury. Infielder John Dodge, who played 97 games in the majors in 1912 and 1913, died after a beaning in a minor-league game in June 1916. However, the passing of Dodge, a former major-league infielder with a good glove but weak bat, had much less fanfare than Chapman's death.
According to Baseball-Reference.com, John Lewis Dodge Jr. was born on April 27, 1889, in Bolivar, Tennessee. However, US Census records from 1900 show that Dodge was born in April 1893, and in Bolivar County, Mississippi.1 An article on Dodge from 1915 mentions him being just on the younger side of 22 years old and hailing from Bolivar, Mississippi, supporting the later date and location.2
"Johnny" Dodge was the son of Dr. John Lewis Dodge Sr. and Frances May "Fannie" Richardson Dodge. Dodge Sr. was born into a prominent Louisville, Kentucky, family. One ancestor was Fielding Lewis, a Revolutionary War colonel and brother-in-law of President George Washington. At the age of 15, Dodge Sr. moved to Mississippi, where he met Fannie and established a medical practice. Four years after John Jr. arrived, the family grew with the birth of his sister, Mary Elizabeth.
Fannie contracted tuberculosis (generally called consumption at the time). The family moved her to Octave, Arizona, for a time in hopes that the area's dry climate would restore her health, but she died in November 1902.3 John Dodge Sr. died unexpectedly two years later. Reports stated that the physician accidentally overdosed using chloroform to ease a headache.4
Johnny Dodge first played professionally in Arkansas, signing in 1909 with the Newport Pearl Diggers of the Class D Northeast Arkansas League. It was the inaugural season for that circuit, which formed from the remains of the Arkansas State League and featured four teams from the region.5 At the conclusion of the season, the Newport team folded; Dodge moved to a team in Caruthersville, Missouri. He played a short time with the Alfalfas of Caruthersville, but early in the 1910 season he jumped his contract and joined the league rival Jonesboro Zebras.6
It was in Jonesboro that Dodge started gaining some attention from scouts. He was decent enough with the bat, but especially drew rave reviews for his play at shortstop, including a comparison to popular longtime major leaguer Bobby Wallace.7 By the end of the 1910 season Dodge was considered the top prospect in the state of Arkansas. It was widely believed that he would soon be moving up to a higher rung of the minors, and Dodge indeed did advance at the end of the season. Charlie Babb, manager of the Norfolk Tars in the Class C Virginia League, signed him.
Dodge had a pair of solid seasons with the Tars. He batted .246 in 1911 while spending time at second base and third base in addition to shortstop. He then broke through in 1912. Often batting leadoff, he hit .303 with 17 doubles and 3 home runs in 122 games. Dodge also played stellar defense, primarily at third base, where his quick hands and arm strength better served the team. Dodge started Norfolk's defensive highlight of the year on August 10, when he made a diving stop of a sharp grounder to third and helped turn it into a triple play against the Portsmouth Pirates.8
Dodge's performance caught the eye of the Philadelphia Phillies. On July 21, his contract was sold to Philadelphia along with that of pitcher Joseph "Happy" Finneran for a reported $3,000.9
Dodge stayed with the Tars for two more weeks before he was released to Philadelphia, though, and he sat on the Phillies bench for a few weeks more before making his major-league debut on August 29. He played exemplary defense at third base for the Phillies, making a number of newsworthy plays and fielding 1.000 at the hot corner, albeit in only 30 games. Veteran Hans Lobert, the team's primary third baseman, was plagued by injuries that season and did not play after August 25.
Dodge was hailed as a potential star of the future, with one writer calling him "one of the best fielders seen in the big show in many moons."10 The writer also noted that "the only thing he seems to lack is hitting ability." He ended his first major-league season with a woeful .120 average in 92 at-bats, with a double on September 10 his sole extra-base hit. The Phillies attributed the slow start to stage fright at the highest level, which they thought Dodge would be sure to shake off soon enough.
Yet Dodge was soon tagged with the good-field, no-hit label that would follow him through the rest of his career. Even so, he held out for a salary increase ahead of the 1913 season, joining Finneran in sending their contract offers back unsigned to the Phillies. Finneran wanted his wages doubled, while Dodge requested a more modest 50 percent increase.11 Ultimately Dodge came around and signed in January.
Dodge was on Philadelphia's Opening Day roster, but after playing in just three games, he was dealt to Cincinnati for veteran outfielder Beals Becker. Phillies manager Red Dooin was building a contending team around veteran Sherry Magee and up-and-comers Pete Alexander and Eppa Rixey, and was looking to add some offensive firepower, so Dodge's glove was sacrificed for Becker's bat. Cincinnati player-manager Joe Tinker had held discussions with Dooin during the offseason to acquire Dodge, but the two sides could not come to an agreement.12 Time proved that the Phillies got the better of the deal, as Becker hit 11 homers in 1915 and helped the team win its first National League pennant.
Playing under Tinker in Cincinnati, Dodge did improve his offense in 1913, though he tailed off toward the end of the season. In 94 games, his batting average more than doubled, to .242. He hit four homers while driving in 45 runs. But his defensive performance plummeted. He made 27 errors at third base, the third-worst figure for a third baseman in the National League that season. Dodge did receive praise for his work ethic as well as for some timely clutch hitting, but changes came for Cincinnati over the offseason. Tinker jumped to Chicago in the upstart Federal League, and Buck Herzog was hired to replace him. Among the first changes of the new management was to sell Dodge's contract to the Louisville Colonels of the American Association in Class AA, then the highest level of the minor leagues.
Johnny Dodge's addition to the 1914 Colonels team was met with "considerable enthusiasm" among Louisville fans.13 They had high hopes that he would prove a suitable replacement for Bert Niehoff, the star of the previous year's squad. Niehoff had virtually changed places with Dodge — the Reds had selected him from Louisville in the Rule 5 draft toward the end of the 1913 season.
Dodge eyed a return to the majors and looked forward to the coming season to start working his way back there. He was the first player to report for the Colonels' spring-training camp in Fort Myers, Florida, and showed up in excellent condition. He'd stayed in shape during the offseason by hunting in the woods of Arkansas, though his time off was somewhat marred by a mishap in which Dodge, thinking he saw a deer, shot and killed someone's horse. (The matter was settled and "all passed off serenely.")14
In Louisville, kudos for Dodge's glove work returned. That April he also exacted a bit of revenge on Cincinnati when he went 3-for-3 and perfectly handled all balls hit his way in an exhibition-game victory against the Reds.15  It soon became apparent, however, that Dodge's bat was not going to cut it in the American Association. Three months into the season, he was batting just .200 for the Colonels. Louisville was battling for a pennant, and with Dodge unable to contribute offensively, local journalists began lobbying for a change at third. On July 8 Colonels manager Jack Hayden announced that Dodge had been removed from the starting lineup.16 Not long after that, hard-hitting former major leaguer Ezra Midkiff was brought over from Baltimore to take over third.
It did not help matters when late in the night of July 18, Dodge got into an altercation with the manager of the Broadway Hotel in Louisville. After a Friday victory, Dodge and some of his teammates were celebrating in the hotel lobby. Dodge and the hotel manager, Andrew Byer, had a discussion about "who was the best man," presumably between Dodge and his teammates. The banter turned into wrestling, which may or may not have been in good fun, but either way Byer was hurled into the plate glass window of a cigar stand. Byer was severely cut and taken to a hospital, and Dodge showed up at the ballpark the next day in bandages.17
A little over a week later, the Colonels found a taker for Dodge. On July 27 he agreed to have his contract sold to the Nashville Volunteers of the Class A Southern Association.18 Dodge was making $350 a month with Louisville, but the Southern Association limit was $300, so he accepted a $50-a-month pay cut to join the Vols.
While Dodge would make a bit less money playing for Nashville, one immediate benefit of the move was that he teamed with pitcher Tom Rogers. Like Dodge, Rogers grew up playing in rural towns around Tennessee. It is possible that the two had crossed paths during those days. Years later, friends of Rogers recounted that he and Dodge had become best friends and likely roomed together on road trips throughout their time together in Nashville. Rogers, later known as "Shotgun" for his explosive fastball, was just starting his pro career in 1914. Dodge finished the year hitting .197 for the Volunteers, less than hoped, but he provided a defensive upgrade that helped pick up the team. He was offered a contract to return for the next year.
The 1915 season was more of the same for Dodge. He started off the year hitting well, but eventually league pitchers figured him out and his average started to dip. By July, Dodge was demoted to hitting seventh in the lineup.
Probably Dodge's most notable moment of the season came on September 12; alas, it again involved disorderly conduct. He and Chattanooga Lookouts manager Kid Elberfeld were arrested after a run-in with Nashville fans in the second game of a doubleheader. Dodge's arrest came when he retorted with obscenities to the profane insults he heard upon trying to intervene in the fans' scuffle with Elberfeld.19
By the end of the season, the Volunteers reached the same conclusion as Dodge's previous teams: that he was not going to hit. Although he was generally liked by teammates and typically had a sunny disposition, his quick temper may have become a factor as well.20 The Vols were ready to cut Dodge loose. Nashville could not find a partner in a trade during the offseason, and the club decided not to offer Dodge a contract for 1916, making him a free agent.21 After his release, articles began to emerge that suggested, or flat-out stated, that Dodge also had issues with late-night carousing and failing to show up to the ballpark on time in the mornings. If these allegations were true, they were kept under wraps during the season, but several papers would often refer to Dodge as "Singing Dodge" or "Songbird" during the year, possibly a hint of evening escapades.22
After playing a season of winter ball in New Orleans, Dodge signed with another Southern Association team for the 1916 season, the Mobile Sea Gulls. Mobile had finished next to last in 1915 and thought Dodge could help improve their lineup. Like Louisville and Nashville in previous years, Mobile looked to Dodge to provide superior defense and at least league-average offense. And possibly, after yet another release, he realized this could be his last chance to get back to the majors. He was still only a few years away from his prime, and with a good season, perhaps he could still draw the interest of a major-league club looking for bench support.
Indeed, Dodge started off the year swinging the bat surprisingly well for the Gulls. After 39 games he was hitting .290 and slugging .362, his best marks since playing with Norfolk.
On the afternoon of June 18, however, fate took a turn in a game against the Nashville Volunteers. In the seventh inning, a fastball struck Dodge just above the left eye. The pitch was thrown by his good friend and former teammate, Tom Rogers.
Though Dodge was carried off the field, the initial prognosis was that he was not seriously hurt. The doctors knew there was a chance of skull damage and took him to nearby Inge Bondurant Sanitarium for observation, but he was still expected to return to action after a brief stay. In fact, Dodge's injury wasn't even considered serious enough to be the top story of the game.
The next morning, however, Dodge's condition began to worsen. At about 10:00 A.M. he fell into a coma, and he never regained consciousness. That evening, at about 7:15, Johnny Dodge, 23 years old, was dead from internal hemorrhaging of the brain.
There is no available evidence that Dodge ever married. He left behind his sister, Mary Elizabeth, and their grandmother, who lived in Memphis. On August 15 Mobile and the Chattanooga Lookouts held an exhibition game that raised $1,500 for Dodge's sister.23 At just 19 years of age, she found herself the last living member of her immediate family.
John Dodge's remains were sent to Louisville, where he was laid to rest next to his parents in historic Cave Hill Cemetery. There one can also find the final resting places of boxing great Muhammad Ali, famed explorer George Rogers Clark, and Louisville Slugger legend Pete Browning.
Johnny Dodge's death prompted some discussion about penalizing pitchers who intentionally threw beanballs, but it was generally agreed that this policy would be too difficult for umpires to enforce.24 In his book, Death at the Ballpark, Robert M. Gorman notes that the Base Ball Player's Fraternity advised players to take a lesson from the tragedy and be more mindful of the dangers of the game. For a time batters were a bit more cautious about crowding the plate, and some pitchers likewise eased off on "dust him off" pitching. Yet the incident soon faded into obscurity, a sad narrative brushed to the side as new stories took precedence (thoughts of the United States entering World War I, for example).
There are records from baseball's early years of other deaths that were either directly or indirectly caused by a player being struck by a pitched or batted ball. It was not until Ray Chapman's more high-profile death, however, that serious consideration was given to measures to improve the safety of the game. In much the same way, it took the deaths of minor-league coach Mike Coolbaugh in 2007 and Dodgers fan Linda Goldbloom in 2018 to accelerate changes to better protect baseball players, coaches, and fans alike. Stories like Johnny Dodge's are few and far between, but they do serve as reminders that though baseball has its tales to celebrate heroes, record-breakers, and underdog victors, it also has its share of tragic stories that should not be forgotten.
Acknowledgments
This biography was reviewed by Rory Costello and Len Levin and fact-checked by Kevin Larkin.
Sources
Baseball-reference.com.
Game-day and death report accounts from the Mobile Daily Register and the Mobile Daily Item, June 19 and 20, 1916.
Retrosheet.com.
Gorman, Robert M., and David Weeks. Death at the Ballpark: A Comprehensive Study of Game-Related Fatalities of Players, Other Personnel and Spectators in Amateur and Professional Baseball, 1862-2007 (Jefferson, North Carolina: McFarland & Co., 2015).
Notes
1 United States Census Bureau records for 1900.
2 "A Vol a Day," The Tennessean (Nashville), March 15, 1915.
3 "A Sad Death", The Vicksburg Evening Post, November 26, 1902
4 Vicksburg Herald, May 12, 1904.
5 EncyclopediaofArkansas.com.
6 "Ballplayers Fight," Pemiscot Argus (Caruthersville, Missouri), September 1, 1910.
7 "Johnny Dodge was N.E.A. Star," Arkansas Democrat (Little Rock), January 26, 1911.
8 "Triple Play Is Feature of the Tar Pirate Contest," Daily Press-Newport News (Newport News, Virginia), August 11, 1912.
9 "Norfolk Players Sold," Richmond Times Dispatch, July 22, 1912.
10 "Dodge, of the Quakers, Looks Like Real Star," Pittsburgh Press, September 6, 1912.
11 "Joe Finneran Wants His Salary Doubled," Pittsburgh Post-Gazette, December 30, 1912.
12 Jack Ryder, "Tinker Making Effort to Get Moran and Mattern," Cincinnati Enquirer, February 12, 1913.
13 "Expect Dodge to Make Good," Louisville Courier-Journal, January 12, 1914.
14 "Dodge Is First to Report Here," Courier-Journal, February 10, 1914.
15 Jack Ryder, "Triple from the Bat of Severeid Causes Defeat of the Reds in Tenth by the Score of 6 to 5," Cincinnati Enquirer, April 2, 1914.
16 "Brewers Take Second Game," Courier-Journal, July 9, 1914.
17 "Dodge Hurt in Bout with Hotel Manager," Courier-Journal, July 19, 1914.
18 "Owner Wathen Confirms Report of Dodge's Sale to Nashville," Courier-Journal, July 28, 1914.
19 Accounts from riot game vs. Chattanooga, Nashville Banner, September 13 and 14, 1915.
20 Bob Pigue, "Diamond Notes and Ring Gossip," Nashville Banner, January 20, 1916.
21 Claude "Blinkey" Horn, "Johnny Dodge Is Made a Free Agent," Tennessean, March 1, 1916.
22 Horn, "Ellam Will Not Tolerate Any Night Owls on the Team," Tennessean, March 3, 1916.
23 "Fund for Johnny Dodge's Sister," The Sporting News, August 17, 1916.
24 "Bean Ball Under Fire," Chattanooga Daily Times, July 8, 1916.
Born
April 27, 1889 at Bolivar, TN (USA)
Died
June 19, 1916 at Mobile, AL (USA)
If you can help us improve this player's biography, contact us.
https://sabr.org/sites/default/files/john.jpg
600
800
admin
/wp-content/uploads/2020/02/sabr_logo.png
admin
2020-02-13 10:10:01
2022-06-05 08:11:32
John Dodge