---
John J. McHale Sr. was a highly esteemed major-league executive from 1948 through 1989. He worked for the Detroit Tigers, the Milwaukee and Atlanta Braves, the Commissioner's office, and the Montreal Expos. On two occasions, McHale received significant support as a possible commissioner himself. Jim Fanning, a colleague for many years with the Braves and Expos, said, "He was a really bright guy. His background was incredible. It was easy to learn from him. He had a presence that was almost regal. He was tall, bright, well-spoken – a really fantastic person."1
McHale continued to serve baseball in other ways, notably on behalf of the National Baseball Hall of Fame, until his death at the age of 86 in 2008. Yet at the root of this long and distinguished record was this man's athletic ability: he played in 64 games as a major-leaguer with the Tigers from 1943 through early 1948. He won a World Series ring in 1945, getting three at-bats in those seven games.
John Joseph McHale was born in Detroit, Michigan, on September 21, 1921. His father, John Michael McHale, worked as a buyer in the purchasing department for the Ford Motor Company. "His grandfather was an Irish immigrant who worked the coal fields of Pennsylvania."2 His mother, Catherine Kelly "Katie" McHale, had five other children (two boys, one of whom died in 1926, and three girls).
McHale was a devout Catholic – "a man of unshakeable faith," according to his son, John Jr.3 – who attended daily Mass throughout his life. He went to St. Agnes Parochial School and Catholic Central High School in Detroit. At Catholic Central, he starred in football (his team won 32 straight games) and baseball (a 27-game winning streak was still intact when he graduated).4 One of his teammates was catcher Joe Stephenson, who played 29 games in the majors from 1943 through 1947. McHale also played American Legion ball and in the Detroit Baseball Federation, the local amateur circuit.5 As a first baseman, he threw righty but batted lefty.
After graduating with the Class of 1939, McHale then went to the University of Notre Dame, where he again lettered in football as well as baseball.6 As an adult, he stood 6-feet-37 and weighed around 200 pounds – size enough in those days to be a lineman (he was a reserve center and defensive tackle). "Perhaps his biggest thrill came the day he was assigned to start against Army, because the regular center was injured."8 On November 2, 1940, the Fighting Irish beat the Cadets, 7-0. For many years, this storied rivalry took place at Yankee Stadium – McHale liked to note that he was one of the few people to play to a full house there in both football and baseball.9
McHale allegedly had offers to play pro football.10 But in December 1940 scout Aloysius "Wish" Egan gave the sophomore a chance to sign with his hometown team, the Tigers.11 He did so, eventually earning his degree with honors in economics in 1945.12 In 1953 McHale quipped, "Wish later gave me the formula. He said the best time to approach a college boy on a bonus deal is before Christmas – when he needs the money."13
In his first pro season McHale hit .277 with 14 homers for Muskegon in the Michigan League (Class C). However, he also led the league with 103 strikeouts (a high total for the era) and 26 errors. His manager at Muskegon, Jack Tighe, later became a close colleague when they worked together in the Detroit farm system.14 Tighe managed the Tigers in 1957 – right when McHale first became a general manager – and part of 1958.
McHale split 1942 between Winston-Salem in the Piedmont League (Class B, with 100 whiffs in 98 games) and Beaumont in the Texas League (Class A, five games). He hit just .214 overall with seven homers. With World War II then in full swing, McHale "enlisted in the U.S. Navy's V-7 program at Central Michigan College in August 1942. From there he went to Asbury Park's pre-midshipman's school and later to Abbott Hall at Northwestern University."15 "The nearest I ever got to water," he later said, "was the Marine Room in the Edgewater Beach Hotel in Chicago."16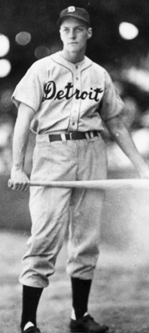 While awaiting assignment to active duty, McHale got into four games with the Tigers in 1943. He walked in his debut at Yankee Stadium against Hank Borowy on May 28, extending a ninth-inning rally that fell short – Borowy went all the way to win, 2-1. Also in the game for Detroit that day was catcher Paul Richards, whose path would later cross McHale's on many occasions. After that first appearance, McHale was hitless in three at-bats through mid-June.
At Abbott Hall in 1944, McHale "suffered a perforated ulcer in the stomach and was operated on. He was hospitalized for three months and at one time was dangerously close to death. When he became ill, he was within four weeks of receiving a commission as ensign." He was 0-for-1 in 1944, entering a single game in late August after receiving a medical discharge on August 15.17 All of his appearances in 1943 and '44 were as a pinch-hitter. He saw no minor-league action in either year.
In spring training 1945, the Tigers decided to try McHale in the outfield. His good friend and fellow Michigander, bonus boy Dick Wakefield, had also gone into the Navy. McHale told The Sporting News, "Left field is my job." Columnist Sam Greene wrote, "In his tone there was no note of conceit. McHale … simply has a stubborn confidence in his ability to win a regular assignment." Greene noted that McHale's way at first base had been blocked by slugger Rudy York. Manager Steve O'Neill said, "I think John will do all right out there. He has a good arm and is fast enough. It's just a matter of adjusting himself."18
Instead, McHale was assigned to Buffalo in the International League. Becoming one of the first players to switch to a light, whippy bat (31 ounces), he blossomed as a hitter in 1945.19 He had 22 homers, 75 RBIs, a .313 average, and just 37 strikeouts in 92 games. The Tigers recalled him for parts of May and June, though he got into just seven games, six as a pinch-hitter. He made it back up in late August, and appeared in 19 games total for the season, going 2-for-14 with his first big-league RBI.
Though he had done little except pinch-hit, the Tigers kept McHale on the postseason roster. During the World Series against the Chicago Cubs, he made the last out in Game One (a 9-0 blowout loss) and Game Three (a 3-0 loss). Both times he was batting for shortstop Skeeter Webb. In Game Six, with the Tigers trailing 4-1, he batted for pitcher George Caster with men on first and third but struck out looking. The Tigers later tied it but lost 8-7 in 12 innings.
After trading Rudy York, Detroit moved Hank Greenberg back to first base for the 1946 season. McHale returned to Buffalo. He performed well (.270-25-94 in 133 games) but did not get to rejoin the big club at all. Nonetheless, he did well enough to spend the whole year with the Tigers in 1947. With Greenberg having been traded to Pittsburgh, McHale backed up the new regular first baseman, Roy Cullenbine. That season accounted for the bulk of his big-league action. In 39 games, he hit .211 with his only three homers and 11 of his 12 RBIs.
McHale went into the '47 season as a married man. On February 15, 1947, he wed Patricia Anne Cameron of Detroit, at the Church of the Sacred Heart on the Notre Dame campus.20 Patty was a niece of Tigers owner Walter O. Briggs, Sr.21 Rumors of nepotism clung to her husband as he advanced in the organization, "but discerning baseball people knew that McHale earned and held his job on merit, and then some."22
George Vico won the first-base job for the Tigers in 1948. McHale went 0-for-1 in his final big-league game on April 23, and then quit, telling Steve O'Neill, "The role of pinch-hitter doesn't give me enough action. I don't feel I'm earning my pay."23 McHale was also out of options, and roster cutdown time was approaching.24 He finished his career with a .193 batting average (22-for-114). In later years, he also said with a smile, "I guess the early retirement was because of curveballs."25
He then became assistant farm director, as Wish Egan – "like a father to me," McHale said in 195926 – and Walter Briggs, Jr. recruited him.27 He served for roughly six years in this position. In 1953 he said, "I was lucky working for sound baseball people. First there was Wish Egan, then Red Rolfe, Billy Evans, [Muddy] Ruel, and [Charlie] Gehringer."28
As early as July 1952, McHale had been touted for the farm director job. A Sporting News report described him as a "bright young man" who had been largely in charge of Detroit's $300,000 bonus expenditures.29 On August 27, 1953, McHale took a long-overdue step when he signed the organization's first black prospect, a young Pennsylvanian named Claude Agee.
McHale finally took over as director of minor-league operations after the 1953 season, when Ruel replaced Gehringer as general manager. Watson Spoelstra, Detroit beat columnist for The Sporting News, wrote, "In the last year Ruel turned over a large share of responsibilities to his assistant. McHale was in on the signing of Harvey Kuenn and the current crop of bonus babies" – which included Al Kaline.30
Almost as soon as McHale got this job, his name was mentioned as a candidate for general manager of the Baltimore Orioles.31 He remained Tigers farm director until April 1957, when he became GM at the age of just 35. That April Ruel (by then a special adviser) had said, "McHale is ready for bigger things. He is apt, alert, intelligent, and knows baseball."32 Shortly thereafter, on Good Friday, Harvey Hansen took over as club president. Walter Briggs, Jr. (a.k.a. "Spike") was out as general manager. McHale won heightened authority in player personnel decisions.33 That report in The Sporting News didn't use the specific label of GM, but subsequent stories soon did.
After McHale's first year in his new job, Watson Spoelstra hailed "his intelligence and sound background … his energy and daring," calling him "the next George Weiss."34 During his two years as Detroit's GM, McHale made deals involving nearly 60 players. He said, "I wouldn't want to be known merely as a man who traded players. We realize that pennants generally aren't won by trades. The only sound principle is to produce your own players."35
In June 1958 Ozzie Virgil Sr. (Dominican-born and raised in New York City) at last became the Tigers' first major leaguer of color. At least one analysis of this situation gave some credit to a threatened boycott by a local African-American organization, though at the time the Tigers denied any influence.36 McHale said simply, "We need infield help. On his record, Virgil has earned a chance."37 Fifty years later, Virgil too recalled it as a merit-based decision. "I was having a good year at Charleston. Then John McHale watched me play in a game."38 The men had a lasting rapport. In 1964, when Virgil was hoping to qualify for his big-league pension, he called McHale about a tryout with Milwaukee.39 In 1981 the Expos replaced Virgil after he had served six years as their third-base coach – but McHale "[couldn't] even find it in his heart to out-and-out fire" him.40
In October 1958 McHale also purchased the rights to Maury Wills from the Los Angeles Dodgers organization.41 Wills might have become Detroit's first US-born player of African descent in 1959, along with Larry Doby, but the Tigers returned him to the Dodgers' farm club in Spokane. Both later joined the Expos at their inception. Wills played part of the 1969 season in Montreal after being chosen in the expansion draft. Doby was a scout and minor-league instructor from 1968 to 1970, and he was the big club's hitting coach for four seasons (1971-73; 1976). He was sorely disappointed, though, when McHale passed him over three times as the Expos were choosing a new manager.42
In January 1959 the Milwaukee Braves lost their GM, John Quinn, to the Philadelphia Phillies. The Braves in turn recruited McHale. Birdie Tebbetts, executive vice president of the Braves, was an old Tigers teammate of McHale's (though not a close friend). He offered McHale a healthy raise, but the new GM said, "The chance to do a bigger job in baseball appealed to me most. A man likes money and security. Patty and I didn't base the decision on that. The long-range factor was important." Patty also noted with relief that they would be "out from under" the innuendoes of her family connection.43
Milwaukee was coming off back-to-back pennants in 1957 and 1958, including the World Series championship in '57. They finished second in both of McHale's first two years as GM, but came in either fourth, fifth, or sixth during the remaining six full years of his time as GM. Hank Aaron was a superstar, and Warren Spahn remained an ace pitcher as late as 1963, when he was 42. Eddie Mathews started to slide from his great peak, however, and other important contributors such as Lew Burdette did not sustain their production either. Meanwhile, the farm system did not compensate fully, despite the emergence of at least one young star in Joe Torre.
An April 8, 1963, article in Sports Illustrated, laid a good portion of the blame on McHale. "With General Manager John McHale trading away brilliant young pitchers (Joey Jay and Juan Pizarro) and solid everyday performers like Billy Bruton and Joe Adcock, and then unloading over half the once fertile farm clubs, [manager Bobby] Bragan will have to depend on old Braves who may prefer peace to war."44
Owner Lou Perini had given McHale the additional title of club president in September 1961. Attendance was falling off in Milwaukee, though, and rumors of a move to Atlanta began to swirl. In 2008 Atlanta columnist Furman Bisher recounted how he first heard the word from McHale at "a dinner before the major league All-Star game in Washington in 1962. Seated next to McHale, I was no less than shocked when he said to me, 'Mr. Perini is thinking about moving the Braves out of Milwaukee and he has Atlanta in mind.' Out of the blue."45
Perini sold his interest in the Braves shortly thereafter, though, and McHale became one of the primary stockholders. He was in a very uncomfortable position with the fan base, not only as president but also because the new ownership group was based in Chicago. As The Sporting News wrote in 1967, "In September 1963, McHale issued a statement that included: 'The Braves will be in Milwaukee today, tomorrow, next year and as long as we are welcome.' McHale's statement was thrown back at him again and again as the legal war over the shift unfolded."46 Furman Bisher vividly described how McHale – and his innocent family – bore the brunt of the disgruntled Wisconsin fans' wrath.
In 1966 the first season after the move, the club started slowly. Veteran executive Paul Richards – who in 1964 offered to swap his entire 40-man Houston roster plus $5 million for the Braves' players47 – joined the Atlanta front office as director of player development in late June. Speculation at that time had him replacing Bobby Bragan as manager. Instead he received responsibility for player acquisitions in late August, with McHale confined to administrative duties. When Richards unilaterally traded Eddie Mathews to Houston on New Year's Eve and McHale didn't even hear about it until it was a done deal, the winner of the power struggle was apparent.48
Though other offers were reportedly available, in January 1967, McHale became the chief aide to Baseball Commissioner William Eckert, replacing Lee MacPhail. Journalist Dick Young wrote, "Selection of Johnny McHale … is an ideal move. It clears the air in Atlanta for Paul Richards' new regime and it gives the commissioner an energetic and conscientious aid who can help with his image-building."49 McHale himself put a positive face on the move, saying, "I was not disenchanted in Atlanta. I consider this job a promotion from the ball club level."50 He added, "I'll give it all I've got. This is an entirely new direction for me, but I think there are many areas in which baseball can work toward further improvement."51
"Everywhere that John McHale goes, the administrator to the commissioner of baseball leaves a fine impression," wrote Washington columnist Bob Addie in August 1967.52 McHale's humanitarian side was also on display during this period. Former big-league outfielder Sandy Amorós, who had fallen on hard times after running afoul of Fidel Castro, was finally able to leave Cuba in 1967. That May, McHale found out that Amorós needed just a few days more of major-league service to qualify for his pension and mentioned it to Dodgers general manager Buzzie Bavasi. Bavasi took it in turn to club owner Walter O'Malley, and Amorós was put on the Dodgers roster.53
In May 1968 the city of Montreal was awarded one of Major League Baseball's four new franchises. The following month, Montreal sportswriter Ted Blackman reported that McHale had interviewed with the club's directors. Each side was impressed with the other, and the ownership group reached an agreement in principle with McHale to have him become their GM. In 2008 longtime principal owner Charles Bronfman said, "I can't imagine a better person to work with at that time. It was run professionally. (McHale) had the last word."54 The same year, Expos broadcaster Jacques Doucet said, "The Montreal franchise was blessed when he accepted to come here as president of the club. By coming here, he was instantly giving the team the credibility it sorely needed. Maybe a local guy could have done the job, but he was perfect at the time."55
However, there were some big obstacles before the executive could actually sign with Montreal – not least, the city needed a proper major-league stadium.56 A last-ditch effort brought forth Jarry Park as an acceptable option, and the franchise remained in Montreal. McHale invested in the club – one of the stipulations, according to Ted Blackman.57 He was officially named president and chief executive officer on August 14. He also named Jim Fanning, an associate since 1961, as general manager.58 The following month, the duo hired Gene Mauch as the Expos' first manager.
The expansion draft soon followed. McHale and his team took a number of veterans because they wanted to convey to the Montreal fans that a competitive squad would be taking the field. Yet McHale also underscored the importance of youth. To this end, in 1969 he named Mel Didier, one of the great scouts in the game's history, as the Expos' first director of scouting. McHale had signed Didier as a player in 1948 and given him his first scouting job with the Tigers in 1954.59 "He [McHale] built a great scouting and farm system that was the envy of baseball through the '70s and early '80s," said former Expos broadcaster Dave Van Horne.60
McHale also had to contend with other issues that were new to major-league baseball: foreign exchange rates, different regulations (notably concerning air travel), and in particular broadcasting to Québec's bilingual society.61 This theme also surfaced in another prominent way, as Charles Bronfman recalled. "My best memory of John was in '68 when we were trying to decide on a name for the team. We thought about it all summer long. We wanted it to be bilingual. One day, he came to my office and said he had a name, and I said I did, too, so we wrote down the names on pieces of paper and exchanged them. We both wrote down, the 'Expos.' "62
The departure of McHale from William Eckert's office "further weaken[ed] the support team surrounding the novice commissioner."63 At the winter meetings in December 1968, Eckert was forced out by the owners – and McHale emerged as a compromise candidate to replace his former boss when the leagues could not agree on either Mike Burke (president of the New York Yankees) or Chub Feeney (vice-president of the San Francisco Giants). Charles Bronfman said, "I talked to John about reports he was a candidate and he never thought it would come that far. But it did, and he told me he had to swallow twice before declining."64
McHale actually got 11 of 12 AL owner votes, but lacked support in the NL because the owners there "felt that he was under both a moral and legal obligation to remain with Montreal to help the new club get started."65 Though McHale continued to ponder the possibilities, he ultimately withdrew from consideration for exactly that reason.66 It's interesting to note that his attorney, Bowie Kuhn, was the man who eventually became commissioner.67
Several books have already been devoted to the history of the Expos. In the scope of this biography, one must take a broad-brush approach to summarizing McHale's time with the team. During his first decade in Montreal, along with all his other numerous tasks, he had to devote much effort to stadium issues. Jarry Park "was originally intended as a stopgap for only four seasons but wound up serving for eight because of construction delays in the notorious white elephant, Olympic Stadium."68
Yet McHale also found time to serve Major League Baseball in various capacities. He sat on a number of committees, including the Rules Committee for 20 years. In March 1971 he also became chairman of the board of the Major League Baseball Promotion Corporation.69
At Olympic Stadium the Expos faced higher operating costs. Player costs were also on the rise after free agency began. In 1978 McHale talked with the Montreal Gazette about the changes in the management side of the game – or "the industry," as he and Charles Bronfman had come to refer to Major League Baseball. "'I was a baseball man," says McHale, whose grandfather was a union organizer for the coalworkers. 'For the past 10 years I think I'd be more categorized as an administrative businessman. In the old days you used to shut down your operation in September and go fishing and hunting. You'd start thinking about spring training after Christmas.' "70
After the 1978 season, McHale returned to general-manager duties with the Expos, in addition to remaining as president. As Montreal sportswriter Ian MacDonald put it, "(T)he 57-year-old McHale … is shouldering full responsibility for the team." He quoted McHale: "I'm going to find out if the field operation is adequate. The manager and the coaches will report directly to me. There will be no in-between man. … I'm not saying that [the team] is championship caliber yet … [but] as a team it has come up short. We have to find the key to that."71
McHale was named Canada's Baseball Man of the Year in 1979 as the Expos embarked on what many fans view as their most successful era. After the club made it to the postseason for the only time in its history in 1981, McHale was named The Sporting News Executive of the Year. The accompanying article called him "a master builder in developing the Expos into a first-class organization."72
It's intriguing to note that McHale cast the swing vote in the decision to adopt a split-season format after the major-league strike of 1981 ended. The irony is that had he voted to pick up where the season had left off – which was his personal desire – Montreal would have finished second in the NL East and missed the playoffs. He put it like this, puckishly at first: "I'm on the fence. I told the players I wanted to be absolutely democratic and get their wishes. Then I'll vote whichever way I want.
"Seriously, I am a traditionalist and don't like the idea of change. However, a split season will be much more important to several of the teams and we are partners. This is a special year and there are special circumstances."73 Previously he had said, "We're interested in pure baseball and a pure champion, but I understand the arguments on the other side from owners who want to maintain fan interest, attendance and income."74
In the summer of 1982 Bowie Kuhn faced the displeasure of his employers, the major-league owners. He lost a vote of confidence, and the search for a successor was on. McHale said, "I'm not officially a candidate and I don't really want to become commissioner." Still, Philadelphia owner Bill Giles said, "McHale's the only man who might get enough votes."75 Despite this endorsement, ahead of the winter meetings, McHale said he still thought Kuhn was the best man for the job.76
Cocaine, the scourge of baseball in the early '80s, was the reason the Expos did not repeat as divisional champs in 1982, according to McHale.77 He admitted that some of the users " 'seemed to be so far gone' that the Expos didn't try to rehabilitate them."78 Yet compassion was important to him – his personnel were not just assets on a balance sheet. Tim Raines was the standout example. When the young Expos outfielder developed his problem, "McHale drove Raines to and from his doctor's appointments and also babysat his son, Tim Raines Jr. 'I owe my entire career to John McHale,' Raines said. 'Without him, I wouldn't have been able to keep going. I grew up. I became a man, thanks to him.' "
" 'I was a young kid,' Raines added. 'A lot of GMs, you know, could have kicked me to the curb. I might never have had the chance to be in the big leagues again. I think he realized I was kind of lost.' McHale explained: 'I was emotionally involved because you see a young man being destroyed. Fortunately, Tim Raines had the courage to accept the training and rehab and it turned out be a great victory for him.' "79
McHale's compassion also extended to players who had reached the end of the line, as former Expo Tommy Hutton recalled in 2008. Montreal released the fancy-fielding but light-hitting first baseman in 1981. Hutton said that when McHale gave him notice, "He sat there on the bench with me and he said, 'Would you like to stay with the club and continue on and work some games on the radio?' and I said, 'Yes,' so that's how I started broadcasting."80
Before the 1983 season, amid a leasing dispute with the Olympic Installations Board over Olympic Stadium, speculation arose that the Expos might move temporarily to Vancouver or New Orleans. McHale again cited the competitive disadvantages the franchise faced with high rents and other costs at The Big O, along with the weakness of the Canadian dollar.81 The key dispute was over control of revenues from advertising and promotion sold inside the stadium. The sides agreed that rent would remain at 1982 levels while talks continued. At the end of July, they finally agreed on a new lease that extended through the 1987 season – and covered the replacement of the dangerously frayed artificial turf.82
Less than a week later, after Bowie Kuhn resigned his post, there was renewed talk that McHale could become commissioner. An eight-member search committee chaired by Milwaukee owner (and future commissioner) Bud Selig began looking for a replacement. McHale continued to demur but said that if the committee were to approach him with an offer, he would be "prepared to lend an ear."83
Montreal sportswriter Tim Burke discussed the rumor from a local standpoint, observing that there might be a motive to leave. "McHale has been taking some heavy lumps here, especially from the French media, and the continuing frustrations on the field are beginning to tell on him." He added a balanced portrayal of the president/part-owner/GM's performance over the previous 15 years. "By and large, I'd say he's done an outstanding job. … Sure, he's made some whopping errors along the way, but his deep roots in the game and his courtly Irish charm have always given an aura of quality to the organization."84
After a lengthy and secretive hunt – McHale called the search committee "one of the tightest-mouthed we've had"85 – Peter Ueberroth was named commissioner, and McHale stayed in Montreal. In August 1984 the Expos – whom their president had optimistically dubbed "The Team of the '80s" in 1979 – were on their way to another disappointing finish. Attendance was off sharply. Even Tim Burke issued a sharp call for McHale to step aside, writing, "As general manager, his two biggest flaws have been overrating his playing talent and farm system, and timidity in trading."86
A few weeks later, before the season ended, McHale did relinquish his GM duties. Murray Cook took over that role. Said McHale, "He will have an opportunity to get his feet wet before important decision making, which will have to be done after the season." He added, "When I took over both jobs, I didn't plan to stay on that track. It is prudent business to have a train of succession in order. … I'm remaining now as chief executive officer. I want to stay around. Among other reasons I want the organization to do better is my business interest. I own 10 per cent of the club."87
Just before Cook was named, McHale dismissed a rumor that Bowie Kuhn would replace him as "fantasyland" and "irresponsible." McHale (then aged 63) also admitted "that he felt it was time to yield to a younger person. 'I've been thinking about it for about a year. As a matter of fact, I've been thinking about it since we invited Gene Mauch back for our old-timer's game last year and we offered him a job in our organization. At that time, he was the logical candidate to replace me.' "88 Mauch – who was only four years younger than McHale – was then a California Angels executive, in between his stints as manager of that team.
In April 1985 Charles Bronfman said, "He [McHale] was doing too much. There's no doubt about it. That's why we had to shore up our management group. I don't see any front office problems. Anybody can speculate all he wants about what John McHale's role is. All I can tell you is that the board is delighted to have John and I hope he stays for many years to come."89
As it turned out, McHale remained as the Expos' president through the end of the 1986 season. He was succeeded by Claude Brochu, a native of Québec who had no prior baseball experience. Charles Bronfman said, "I think that a man who heads a company whose market is more French-speaking than anything else has a leg up if he happens to be French-speaking. Claude operates in both languages and he does know this marketplace." Brochu had also been successful as a marketing executive for Seagram's, the liquor company that was the Bronfman family business. Attendance had been faltering and the club's financial losses increasing, so that became Brochu's mission.90
The article continued, "McHale said after 45 years in professional baseball, it was time for him to take a back seat. 'When I took this job I never expected to be here this long.' " He did remain as chief executive officer though year-end 1987, though, with Brochu serving as understudy during the transition.91 McHale stayed on with the Expos as deputy chairman through 1989. In 1990 he won The Sporting News Pioneer Award for retired baseball executives and contributors. That year also marked the end of an era in Montreal, as Charles Bronfman stepped aside and the Expos were sold to a limited partnership including Brochu.
In 1987 the Association of Professional Ball Players of America elected McHale to succeed Calvin Griffith as its president. He was elected to another three-year term in 1990. That year he also joined Japan Sports Systems, Inc. (JSS) as president. JSS owned minor-league clubs in Vancouver, British Columbia, and Visalia, California.92
In 1983 McHale had become a director of the Baseball Hall of Fame in Cooperstown. He also joined the Hall's Veterans Committee in 2000. He remained on this committee as one of three "grandfathered" holdovers after its membership was expanded to 90 (including the living Hall of Famers) in 2001. His term expired after the 2007 election.
In addition, McHale was a retired director of the Perini Corporation of Boston (which reflected his ties to Lou Perini). He was also a trustee of the Schwartz Value Fund and of the Ave Maria Catholic Value Fund. Furthermore, the Notre Dame alum gave back to his alma mater as a member of the Advisory Council for the School of Arts and Letters.93 In his leisure time, "he was an athlete all his life, as an avid handball player, golfer and tennis player. He would play any game that involved a ball and/or a stick."94
In 2007 McHale was one of 10 executives and pioneers who were candidates on the Veterans Committee ballot for enshrinement in Cooperstown. He was considered again posthumously in 2009, but did not win election that time either. Previously, however, he had entered the Canadian Baseball Hall of Fame in 1997. He was also inducted into the Halls of Fame for Palm Beach County Sports (1987) and Catholic Central High (2008).
John McHale suffered a bad fall and a series of strokes over the Christmas holiday season in 2007.95 He died at the Hospice House in Stuart, Florida, on January 17, 2008. His wife, Patty, had predeceased him in October 2001.96 They had six children – Patricia Cameron (known by her middle name), John Jr., Kevin, Anne, Brian, and Mary Madeleine ("Mavie") – who gave them 15 grandchildren.97
Kevin worked in the Expos front office during the 1970s and 1980s; John McHale, Jr. has also had a career as a baseball executive. He held senior front-office positions with the Colorado Rockies, Detroit Tigers, and Tampa Bay Devil Rays for more than ten years in total. In March 2002 John Jr. was named Major League Baseball executive vice president of administration, and he gained additional responsibilities in the subsequent decade.98 In 1995 he summed up the lessons he had learned from his father: "Tell the truth. Work hard. And you never have enough pitching."99
After the passing of John McHale Sr., Commissioner Bud Selig said, "Both personally and professionally, John McHale was one of the finest gentlemen I have ever known. … He was a longtime mentor of mine and I had the pleasure of serving with him on the board of directors of the National Baseball Hall of Fame. Baseball has lost one of its most respected figures."100
A former commissioner, Fay Vincent, added, "He was a fine man of great character and someone whom I respected and admired. He was too good for the [commissioner's] job. I will miss him as will all of us fortunate enough to have known him." Former New York Mets general manager Frank Cashen succinctly described McHale in the same article as "one of the game's best thinkers and doers."101
Other accolades for John McHale Sr.
"The best in the business when it comes to analyzing a boy – not just his playing ability, but his character, behavior, and everything that goes into the making of a man." — Jack Tighe102
"He was a fantastic man and knew every aspect of baseball. I don't think there is a blemish on his record. He was a mentor for so many people." — Jim Fanning103
"John was good. He was one of the greats. He was a pure baseball man … and when he went up to the front office, he had a real feel for what players go through. He was sharp as a tack. He had a great baseball mind." — Mel Didier104
"The game's always been a business. But it doesn't have to be a business without a heart. He showed that you could have a heart and be in the business." — Rob Rabenecker (former general manager, West Palm Beach Expos)105
Special thanks to John McHale Jr., and the McHale family for their input on this story.
Sources
Internet resources
http://www.baseball-reference.com
http://www.retrosheet.org
http://www.catholiccentral.net
http://www.baseballhalloffame.ca
http://www.findagrave.com
Notes
Born
September 21, 1921 at Detroit, MI (USA)
Died
January 17, 2008 at Stuart, FL (USA)
If you can help us improve this player's biography, contact us.
http://dev.sabr.org/wp-content/uploads/2012/09/McHaleJohn.jpg
600
800
admin
/wp-content/uploads/2020/02/sabr_logo.png
admin
2012-09-21 12:51:27
2012-09-21 12:51:27
John McHale