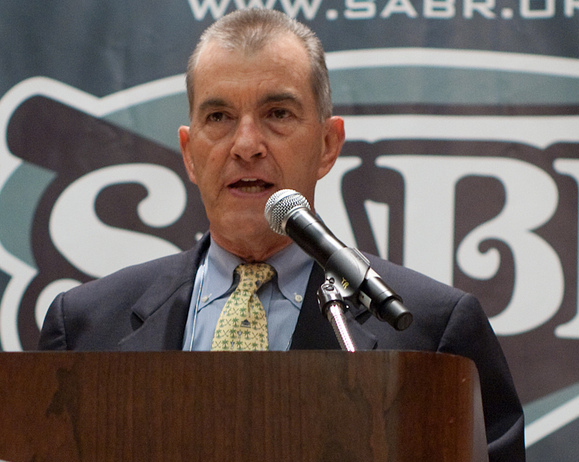 ---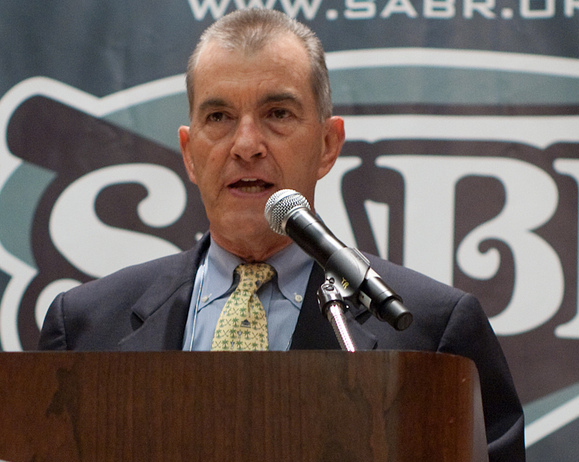 John Schuerholz spent 26 seasons as a big-league GM, winning 16 division titles, six pennants, and two World Series. In Kansas City he oversaw that franchise's first World Series. After moving to Atlanta, he took over a team that had lost more than 90 games four consecutive years and won the next 14 division titles (excepting the truncated 1994 strike season) and five pennants. Schuerholz displayed an uncanny knack for retooling his team, knowing which holes could be filled by integrating prospects and which needed outside solutions. In recognition of his front office accomplishments, Schuerholz was unanimously voted into the Baseball of Fame in 2016 by the Today's Game Era Committee.
John Boland Schuerholz was born on October 1, 1940, into one of Baltimore's most famous athletic families.1 His parents, John, Sr. and Maryne (Rinny) Schuerholz, brought him up among some great athletes and coaches. His grandfather William Schuerholz coached at Loyola College in Baltimore from 1912 to 1926 and had 10 children; he occasionally put together a basketball team with his sons as the players. John's uncle Gilbert (his godfather) was an All-American soccer goalie and member of the US Olympic team; his uncle Wilson was a football star at East Carolina Teachers College; and uncle Don was a captain of the University of Maryland basketball team right after World War II. John Sr. was also a great basketball player and manned second base in the Class-D minor leagues in the years leading up to WWII.2
Though relatively small, John was also a stellar athlete. He starred at Baltimore City College High and then at Towson State University in Maryland, where he played soccer and baseball all four years. Schuerholz was all-conference in both sports, and in 1962, his senior season, he was named the school's athlete of the year. In 1974 he was inducted into the Towson Athletics Hall of Fame.3
After graduation Schuerholz took a job at North Point Junior High in Baltimore teaching eighth grade English and world geography. He also went back to school to earn a Master's degree in Administration and Supervision of Secondary Schools. Nevertheless, just two courses short of his master's, Schuerholz remained drawn by baseball, and on a whim sent a letter to Baltimore Orioles owner Jerry Hoffberger asking about an entry-level position in their front office. Hoffberger passed the request along to executive vice president Frank Cashen, who had once been a Baltimore sportswriter. Cashen recognized the Schuerholz name and called the young schoolteacher in for an interview, where he met with Cashen, GM Harry Dalton, and farm director Lou Gorman. Gorman and Dalton liked Schuerholz, and they hired him as Dalton's administrative assistant.4
Two years later, in 1968, Gorman joined the front office of the expansion Kansas City Royals, taking Schuerholz along with him. In Kansas City, GM Cedric Tallis assembled a strong front office that, over the first several years, included several other future general managers, notably Gorman, Syd Thrift, and Herk Robinson. Once again Schuerholz started in an administrative assistant position, but he slowly worked his way up.
In the mid 1970s Tallis, now in the Yankees front office, courted Schuerholz with a promotion to farm director. When Schuerholz informed the Royals he was joining the Yankees, Royals GM Joe Burke counter-offered with an expanded role (also farm director) and presumably more money. Schuerholz decided to stay in Kansas City. "Cedric was irate," Schuerholz recalled, telling him, "'I can't believe you would go against your word.'" Although Schuerholz felt he had made the right decision, he never managed to rebuild his relationship with Tallis.5 In 1979 the Royals promoted him to vice president of player personnel; in October 1981 they named him GM, elevating incumbent Joe Burke to president.
When Schuerholz left Baltimore the O's were just embarking on a historically notable run of success. One of the keys to the Orioles' success was the refinement of the Oriole Way, a systematic approach throughout the organization to the team on and off the field — items such as scouting, teaching of baseball skills, approach to talent acquision, management of the farm system, player evaluation, and how players were expected to behave off the field. Gorman and Schuerholz brought this discipline to Kansas City where it eventually evolved into the Royals Way.
And the Royals Way helped Kansas City become successful more quickly than any other pre-free agency-era expansion franchise. The team won its first division title in 1976, winning again in 1977 and 1978. The Kansas City team eventually broke through to the World Series, winning the AL pennant in 1980, but slipping back below .500 in the strike-shortened 1981 season.
As Kansas City GM in the fall of 1981, Schuerholz inherited a talented manager in Dick Howser. "Dick had a great ability to appreciate how hard it is to play the game of baseball," Schuerholz said. "He knew how hard you had to work and how you had to prepare. He also knew what it took to be a member of a winning team."6
Schuerholz felt his squad was relatively close — despite their overall fourth-place finish in 1981, the Royals made the expanded playoffs by winning the division over the second half of the split season. In one of his first moves, Schuerholz hoped to fill a couple of needs for his mostly veteran team by swapping several young players for Vida Blue and outfielder Jerry Martin. While no longer the pitcher he had been in the early 1970s, Blue was still one of baseball's top pitchers, and the team rebounded to 90 wins in 1982. But cocaine was becoming a problem in baseball in the early 1980s, and Blue and Martin proved a distraction in 1983, as a cocaine investigation dogged them and other players. Moreover, Schuerholz later wrote that, according to the federal drug investigation, it was Blue that introduced the drug to the Royals.7 After the season Blue and Martin, along with star center fielder Willie Wilson and first baseman Willie Mays Aikens, pleaded guilty and were each sentenced to three months in prison.
Despite the lost 1983 season, the Royals still had a strong nucleus, particularly of position players. Along with Wilson, the team had George Brett at third, Frank White at second, Hal McRae at DH, plus fireman Dan Quisenberry in the bullpen. Rather than try to rebuild his aging rotation with veterans, Schuerholz promoted a trio of young starters in 1984: Bret Saberhagen (20), Mark Gubicza (21), and Danny Jackson (22). For 1985, he acquired veteran catcher Jim Sundberg to help his young staff acclimate. A couple of great trades, landing first baseman Steve Balboni in late 1983, and left fielder Lonnie Smith in May 1985, further augmented his roster. In 1985 the revamped Royals won the franchise's first World Series. In recognition of the Royals season, The Sporting News named Schuerholz Executive of the Year.
Over the remainder of the 1980s, the Royals sat on the fringes of the division race but could not capture another title. The team made some astute draft picks, such as outfielder and football star Bo Jackson, but Schuerholz also made what he considered his worst deal–swapping pitcher David Cone for catcher Ed Hearn–and some suspect free agent signings, such as reliever Mark Davis, towards the end of the decade.
By this time the Royals' executive suite was becoming a little unwieldy: In 1983 longtime owner Ewing Kauffman had brought in a partner, real estate mogul Avron Fogelman. The latter had been trying to put his stamp on operations, principally by leaning on Schuerholz to act as his proxy within the front office, which led to some friction. Moreover, by 1990, the value of Fogelman's real estate investment portfolio was crumbling in the wider commercial real estate crisis, and he was looking to use his half of the franchise as loan collateral. In this uncertain environment, Kauffman was considering selling the team altogether.8
In the summer of 1990, Schuerholz happened to be talking to Atlanta president Stan Kasten, who mentioned that the team was planning to move incumbent GM Bobby Cox back to manager and bring in a new GM. Kasten asked Schuerholz if he had any recommendations. Schuerholz, after contemplating the shifting sands within the Royals' front office, let Kasten know that he would be interested. Kasten quickly agreed, and in October 1990, Schuerholz joined the Atlanta Braves as GM with full authority over baseball operations. Schuerholz also received a pay raise, reportedly to $400,000 per year under a five-year contact, up from $180,000 (plus some shares in real estate investments through Fogelman) in Kansas City.9 As he had in Kansas City, Schuerholz also inherited a great manager in Atlanta. A Hall of Famer in his own right, Bobby Cox in the dugout gave Schuerholz a leg up as he refashioned his ballclub.
Schuerholz took control of a franchise coming off a last-place finish that had not been relevant for some time, having lost at least 97 games in each of the past three seasons. Nevertheless, the team had a solid core of young pitchers in John Smoltz, Tom Glavine, and Steve Avery, plus outfielders Ron Gant and David Justice. As he had back in Kansas City, Schuerholz went to work to support his young hurlers, acquiring four solid defensive players: first baseman Sid Bream, shortstop Rafael Belliard, third baseman Terry Pendleton, and centerfielder Otis Nixon. In 1991 Pendleton also turned in a great hitting season, winning the league MVP, and the Braves won their first pennant since 1958, before losing in the World Series. For this historic single-season turnaround, Schuerholz received the Executive of the Year award from United Press International.
At spring training in 1992, Schuerholz worked out a deal with Pirates GM Ted Simmons for Barry Bonds, with one year left on his contract, in exchange for pitcher Alejandro Pena, outfielder Keith Mitchell, and a player to be named later. Unfortunately for the Braves, Simmons was overruled internally, and the trade fell through.10 The Braves returned with pretty much the same lineup as the previous season, and the team once more captured the league flag, but again fell short in the World Series.
Schuerholz was not typically a participant in the big-name free agent auctions, but prior to the 1993 season, the Braves rocked the baseball world by signing free-agent Greg Maddux, the 26-year-old ace of the Chicago Cubs, to bolster a pitching staff that was already the envy of the league. Maddux responded with the second of his four straight Cy Young awards, but the team fell to the Phillies in the NLDS.
After his quick success in Atlanta, other teams pursued Schuerholz to oversee their baseball operations. Baltimore reportedly reached out to him in late 1993 regarding a chief executive position, and the Cubs contacted him for a similar role late in the 1994 season before hiring Andy MacPhail for the job. The Braves, responding to the market demand for their GM, extended Schuerholz's contract through 1999. In early 1998 they extended his contract again, this time though 2003 with a club option for 2004.11
The Braves could not have maintained their success for a decade without a continual influx of talent. The team that won the World Series in 1995 was much different than the one that had lost four years earlier: five of the eight position players, two starting pitchers, most of the bench and all of the bullpen had turned over. When the Braves lost the World Series in 1999, five of the eight position players, two starters, and all of the bench and bullpen were different from the champions of 1995.
Most importantly, Schuerholz continually addressed aging and ineffective players with internal solutions (if available) as opposed trading his prospects for more aging veterans. Good teams are often reluctant to give significant roles to untested players. The Braves of the early 1990s had several veteran journeymen that needed replacing within a few years. What set the Braves apart from other great teams of the past generation was their willingness to give regular roles to the jewels of their farm system. When Terry Pendleton or Ron Gant needed replacing, Schuerholz did not trade his young talent for veteran solutions. In 1994 the Braves gave starting positions to Javy Lopez and Ryan Klesko, and within two years both Chipper Jones and Andruw Jones were key players. Later still, Rafael Furcal, Marcus Giles, and Adam LaRoche claimed jobs.
Schuerholz also made several impressive trades to keep his team competitive. During his first two years Schuerholz made a couple of minor late-season trades that bolstered the Braves for the stretch run and playoffs, picking up reliever Alejandro Pena in 1991 and Jeff Reardon in 1992, though the latter struggled in the World Series after a stellar September. In perhaps his best and most timely deal, Schuerholz landed Fred McGriff from San Diego for prospects in July 1993. The Braves went 51–17 after the acquisition to capture their third straight division title.
Whether on trades or free agent signings, Schuerholz and his staff generally displayed sound judgement in identifying veteran solutions, often securing very good players for a reasonable return. For 1998 he added still-productive first baseman Andrés Galarraga, and the next season he brought in outfielder Brian Jordan and second baseman Bret Boone. In 2002 he landed Gary Sheffield, and when the outfielder bolted as a free agent two years later after finishing third in the MVP voting, Schuerholz traded for J.D. Drew to replace him. Drew finished sixth in the MVP voting, and he, too, then departed as a free agent. In retrospect, the inclusion of then-prospect Adam Wainwright in the swap makes it seem less advantageous. Regarding moves that received criticism, Schuerholz often defended them by highlighting the need to manage to a budget, though he also maintained that ownership rarely forced him to cut payroll.
On the pitching side of the equation, Jaret Wright may have represented Schuerholz and the Braves organization at its most astute. Wright had been the tenth overall pick in the 1994 draft but was often injured and from 2000 through 2002 had pitched only sparingly; when he had been on the mound, he threw poorly. Nevertheless, when Wright was available on waivers late in the 2003 season, Schuerholz claimed him on the advice of his scouts, and Cox and renowned pitching coach Leo Mazzone helped Wright turn in a great 2004 season.12 Unfortunately, Wright jumped to the Yankees after the season for an impressive free agent contract.
One of the reasons the Braves' magnificent run eventually ended was because the farm system could not continue to produce stars the way it had in the mid-1990s, putting additional pressure on Schuerholz's trades and free agent signings. Nevertheless, even in 2002 and 2003, 12 years after Schuerholz's first division title, the team was still winning 101 games in both years.
Schuerholz often liked to note that the Braves on average turned over ten players on their roster every year. "One of the key responsibilities we have as general managers is managing change effectively," he said. "I think it's true in any business. We exist in an environment where change occurs in a bizarre fashion at a bizarre pace. We have to keep our antennas up and keep our minds open. We have to understand that change is inevitable, especially in our business, where we rely on human beings to perform physically, and we have to be able to manage the changes that are required in an effective manner."13
Schuerholz was forced to handle several controversies during his tenure in Atlanta, though none rose to level of legal consequences of the early 1980s drug trials, including Cox's arrest for allegedly striking his wife in 1995, Sports Illustrated's infamous profile of John Rocker in December 1999 in which the reliever callously demeaned a whole host of minorities and ethnic groups, and Furcal's DUI arrest in 2004 (his second).
After the 2007 season the 67-year-old Schuerholz intended to retire from the front lines of baseball operations, but the Braves asked him to stay on as team president and he happily agreed. To direct the front office, he promoted his longtime assistant Frank Wren to GM. After a few mediocre years, the Braves returned to the postseason in 2010, followed by appearances in 2012 and 2013. But after missing the playoffs in 2014, Schuerholz dismissed Wren and brought in veteran GM John Hart to oversee baseball operations. More recently, he and Hart promoted John Coppolella to GM, and Schuerholz was elevated to Vice Chairman.
In 2013 the Braves announced their intention to leave Fulton County's Turner Field and move to Cobb County. Though Schuerholz was not the driving force behind the move or the development of the new stadium itself, as team president he was highly supportive and involved. "We wanted to [develop and control the commercial space] in the area surrounding Turner Field," Schuerholz said. "When we found out that that was impossible, we were told that it would not happen, that we had no choice. But the concept of building a major league ballpark and mixed-use development, we believed was valid."14 The new stadium, SunTrust Park, opens in 2017.15
Schuerholz and his wife Karen live in Atlanta where the couple moved when John accepted the Atlanta GM job. The two have been married over 35 years and have two children, Jonathan and Gina. Jonathan played for several years as a second baseman in the Braves organization, peaking at AAA and an invitation to major league spring training. After his playing career ended, he followed in his father's footsteps, taking a job in the Braves organization in 2014. He is currently an assistant director of player development.
Along with baseball and teaching, Schuerholz had two other loves: clothes and music. He dates his interest in dressing well to a pair of "electric blue" pants with "saddle stitching down the side, [and] a matching belt," that his uncle gave him. Much of his musical taste dates to his formative years, and "with my apologies to Beethoven," Schuerholz contends that "Come and Go with Me" by the Del-Vikings is the greatest song of all time.16
The Atlanta Braves from 1991 to 2005 enjoyed one of the most impressive runs of success by a franchise in sports history. The team has been underrated because it navigated through the post-season unscathed only once, in 1995, but Schuerholz's maneuvering that kept this team at the top for 14 years is truly remarkable. When added to his legacy in Kansas City, Schuerholz clearly merits a ranking among the best general managers ever.
Last revised: September 20, 2018
This biography appears in "Kansas City Royals: A Royal Tradition" (SABR, 2019), edited by Bill Nowlin.
Notes
1 https://www.wbal.com/article/209758?title=brett-hollander-talks-to-baseball-legend-and-baltimore-native-john-schuerholz.
2 articles.baltimoresun.com/2009-05-11/news/0905100079_1_university-of-maryland-schuerholz-maryland-basketball-team; www.wbal.com/article/209758?title=brett-hollander-talks-to-baseball-legend-and-baltimore-native-john-schuerholz; www.legacy.com/obituaries/baltimoresun/obituary.aspx?n=maryne-schuerholz-rinny&pid=98287943&fhid=4134.
3 www.towsontigers.com/news/2016/12/5/schuerholz-inducted-into-baseball-hall-of-fame.aspx; 1984 Kansas City Royals Media Guide, 5; www.wbal.com/article/209758?title=brett-hollander-talks-to-baseball-legend-and-baltimore-native-john-schuerholz; www.towson.edu/news/2016/schuerholz_hof.html.
4 www.wbal.com/article/209758?title=brett-hollander-talks-to-baseball-legend-and-baltimore-native-john-schuerholz.
5 John Schuerholz, Built to Win: Inside Stories and Leadership Strategies from Baseball's Winningest GM (New York: Warner Books, 2006), 127-28.
6 Richard Justice, "Schuerholz a Baseball Institution after Almost 50 Years," MLB.com, December 1, 2014.
7 Schuerholz, Built to Win, 239.
8 Joe Strauss, "New GM Schuerholz Likes to Think Positive but Faces a Major Task," Atlanta Journal, November 4, 1990; Schuerholz, Built to Win, 123-24.
9 Strauss.
10 Schuerholz, Built to Win, 1-4.
11 Joseph A. Reeves, "Twins' MacPhail in Line To Replace Cubs' Cook 'Down the Line,'" chicagotribune.com, September 4, 1994; John Steadman, "Schuerholz Puts Stamp on Game after Chance Letter," Baltimore Sun, September 23, 1994; Rod Beaton, "NL Alters Method to Pick Chiefs for Umpiring Crews," USA Today, March 5, 1998.
12 Schuerholz, Built to Win, 42-44.
13 Russell Adams, "The Culture of Winning," WSJ.com, October 5, 2005.
14 Joe Mock, baseballparks.com/2016/09/26/turning-the-page-on-turner-field/
15 I. J. Rosenberg, "Whatever Happened to…Jonathan Schuerholz," ajc.com, February 27, 2016; I. J. Rosenberg, "Looking Back: John Schuerholz," ajc.com, March31, 2016.
16 Thomas Stinson, "Model for Success," Atlanta Journal Constitution, April 2, 2000.
Born
October 1, 1940 at Baltimore, MD (US)
If you can help us improve this player's biography, contact us.
https://sabr.org/sites/default/files/SchuerholzJohn.jpg
600
800
admin
/wp-content/uploads/2020/02/sabr_logo.png
admin
2017-03-20 12:33:27
2021-10-06 19:59:47
John Schuerholz