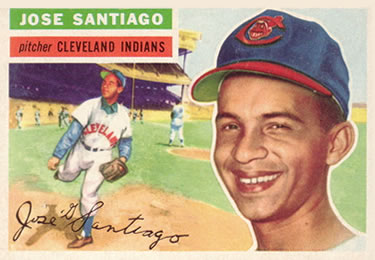 José "Pantalones" Santiago
---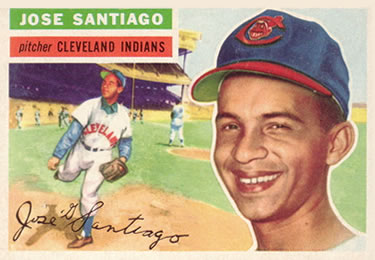 During the 1954 season the Cleveland Indians enjoyed a very healthy pitching rotation, including great hurlers like Bob Feller, Mike García, Early Wynn, and Bob Lemon, but they had other great throwers in their minor-league farm clubs, among them José Santiago. From 1949 through 1953, Santiago was one of the best pitchers in Cleveland's minor-league system. He compiled a record of 77-47, with an earned-run average of 2.93.
José G. Santiago Guzmán (he was given the nickname "Pantalones") was born on September 4, 1928, in Coamo, Puerto Rico. His father was José Regino Santiago, from Coamo, and his mother was Eleuteria Guzmán from the southern town of Juana Díaz. He attended Ponce High School, and then lived with his parents in New York, where he graduated from high school in Brooklyn. In 1949 José and Matilde Luciano-Rangel of Ponce were married in New York. They had two daughters, Matilde and Judith.
In New York Santiago, a skinny right-hander with a strong arm and a lightning fastball, played amateur baseball with the Puerto Rican Stars and a team in Brooklyn. In 1946 he went to Puerto Rico with a New York team to play games against two teams, Juncos and Mayagüez. In the series, Santiago pitched a one-hit shutout. That year he was signed to a contract by Martiniano García, owner of the Ponce Lions of the Puerto Rico Winter League. The contract, for the 1946-47 season, included a $1,000 bonus.
Santiago was voted Rookie of the Year after posting a record of 8-2 and an ERA of 3.09. He excelled in crucial games and was a fan favorite. Later he played for the San Juan Senators, where he made a great duo with former New York Yankees reliever Luis Arroyo. For San Juan, Arroyo and Santiago often worked Sunday doubleheaders with one pitching in the morning and the other in the afternoon, a nightmare for the opposition batters. Santiago played a total of 16 seasons in Puerto Rico, also suiting up with the Mayagüez Indians and the Santurce Crabbers.
In 1947 the New York Cubans of the Negro National League signed the 18-year-old Santiago. Playing on the same team as the Cuban hurler Luis Tiant Sr., one of the pitching greats of the Negro Leagues at the time. Santiago started six games in 1947 and 1948, winning three and losing two.
During the Indians' 1949 spring-training camp, the legendary pitcher Satchel Paige told him, "You have a nickel curve but your fastball's worth a million." In an interview, Minnie Miñoso acknowledged that Santiago had recommended him to the Cleveland Indians.
Before the 1949 season Santiago signed with the Indians, and that season, with Dayton of the Class A Central League, he won 16 games and lost 12 with a team-leading 2.60 ERA in 211 innings pitched. He pitched for Wilkes-Barre in the Class A Eastern League in 1950 and 1951, in the latter year earning the Pitcher of the Year award as he led the league leader in wins (21-5) and ERA (1.59). Near the end of the 1951 season he was promoted to Triple-A San Diego, where he was 1-5 with a 6.75 ERA.
In 1952 and 1953 Santiago pitched for Dallas, the Indians' Texas League affiliate. In 1952 he won 14 games and lost seven with a 2.83 ERA, and in 1953 he was 13-11 (3.47.) In 1954 he made the Indians' roster out of spring training. His stay with Cleveland was brief – one game. Santiago pitched in relief on April 17 against the Chicago White Sox, allowing an unearned run in 1⅔ innings. Optioned to Triple-A Indianapolis, he pitched in one game, then jumped his contract to play in the Dominican Republic.
Although Santiago had built a solid record in the minors, it was difficult to break into the Indians' pitching rotation, and in the days before free agency players had few options. Santiago was unhappy and believed he was not being treated fairly. He did not have a healthy relationship with Hank Greenberg, the Cleveland general manager, who Santiago said never gave him a real opportunity.
According to Santiago's account, at a boxing match in Chicago he was introduced to Francisco Martínez-Álvarez, owner of the Escogido Baseball Club in Dominican Republic and a cousin of Dominican dictator Rafael Leonidas Trujillo. Martínez offered Santiago a $12,000 contract to play with his team. Santiago, who was making about $5,000 with the Indians, accepted the proposal and went to Santo Domingo to play ball. Greenberg complained to Commissioner Ford Frick, who decreed that if Santiago or anyone else played in Santo Domingo, he would be declared ineligible to play in Organized Baseball. But Santiago's punishment did not last long. Rodrigo Otero-Suro, the baseball commissioner in Puerto Rico, intervened, and Santiago was reinstated.
Santiago returned to Indianapolis in 1955, and in July the Indians recalled him. He pitched 32⅔ innings in 17 games, all in relief, and recorded a 2-0 mark with a 2.48 ERA. In May 1956 the Indians sold Santiago's contract to the Kansas City Athletics, for whom he made five starts, his first in the majors, winning one game and losing two before being sent down to Triple-A Columbus. He never returned to the major leagues again. His record in 27 games was 3-2, with a 4.66 ERA in 56 innings pitched.
From 1957 to 1959, when he left Organized Baseball, Santiago pitched for three minor-league teams, Buffalo and Havana in the International League, and San Antonio in the Texas League. In his 11 seasons in the minor leagues, he won 112 games and lost 83, with a career earned-run average of 3.22, with 12 shutouts. In seven of his 11 seasons, his winning record reached double figures.
Santiago played in the Puerto Rico Winter League for 16 seasons, three of them after he left Organized Baseball. In all, he won 107 games and lost 97. On December 6, 1956, he pitched a seven-inning no-hitter. He played in six Caribbean Series (1951, '52, '53, '57, '58, and '59). In 1951 Santiago won two games to help helped the Santurce Crabbers win the championship. In 1957, when Cuba won the Series with a record of 5-1, Santiago shut them out 6-0, allowing only three hits. His best games were against Cuba.
After his baseball life, Santiago became an entrepreneur. He was a successful boxing promoter. He was also active in the horse-racing industry as the owner of the Panta Stable, whose horses won a number of major races. Though he retired as a player, Santiago never said goodbye to baseball. He owned the Caguas Criollos of the Puerto Rico Winter League for several years and lived in San Juan.
The nickname "Pantalones" in Spanish means pants or trousers. It was given to Santiago after José struck out the side with the bases loaded in the ninth inning during a Winter League game between the Ponce Lions and the Caguas Criollos. Santiago was relieving in the ninth, and the next morning Emilio E. Huyke, a newspaper sports editor, wrote: "Santiago had a lot of pantalones" – meaning he had lots of guts to do such a performance. Since then, he has been called Pantalones.
In the 1957 Caribbean Series in Havana, Santiago shut down the Cuban powerhouse 6-0. The announcer Eladio Secades said: "To blank the Cubans in their hometown you need to have pantalones."
In 1987 Santiago was inducted into the Puerto Rico Sports Hall of Fame for his achievements in baseball. He has also been inducted into the Caribbean Series Hall of Fame.
He died at the age of 90 on October 9, 2018.
An earlier version of this biography is included in the book "Pitching to the Pennant: The 1954 Cleveland Indians" (University of Nebraska Press, 2014), edited by Joseph Wancho. It is also included in "Puerto Rico and Baseball: 60 Biographies" (SABR, 2017), edited by Bill Nowlin and Edwin Fernández.
Sources
Interviews with José G. Santiago by author, 2011.
Interview with Minnie Miñoso by author, February 2011.
Baseball-Reference.com.
Joaquín Monserrate, "Tite y Pantalones: Los Dos Colosos del Sur," El Nuevo Dia, November 5, 2000, 166.
José A. Crescioni, El Beisbol Profesional Boricua, (self-published, 1997).
Full Name
José Guillermo Santiago Guzmán
Born
September 4, 1928 at Coamo, (P.R.)
If you can help us improve this player's biography, contact us.
http://sabr.org/sites/default/files/SantiagoJose.jpg
600
800
admin
/wp-content/uploads/2020/02/sabr_logo.png
admin
2012-01-04 20:42:39
2012-01-04 20:42:39
José "Pantalones" Santiago