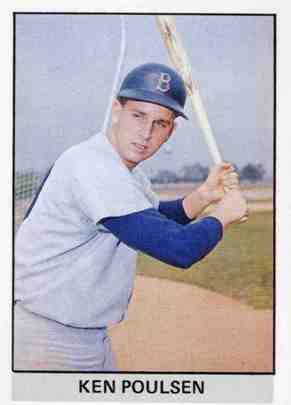 ---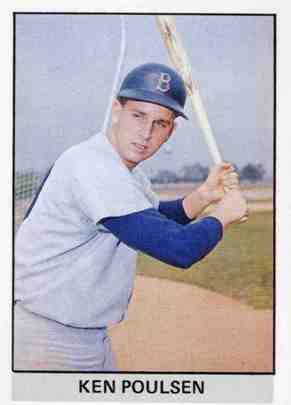 After postponing his wedding when he was unexpectedly called up to the Boston Red Sox in June of 1967, Ken Poulsen collected one base hit in five at-bats during his brief two-week major-league career. That lone base hit by Poulsen was witnessed by the author, then 13 years old, who was at Fenway Park that evening and recorded the hit on a scorecard that he still has. That hit was Poulsen's one shining major-league moment.
Ken Sterling Poulsen was born on August 4, 1947, in Van Nuys, California, a section of northern Los Angeles in the San Fernando Valley. His father, Ralph Poulsen, was a commercial airline pilot. Poulsen played four years of varsity baseball at Birmingham High School in Van Nuys, where his team won the championship of the West Valley League each of those three years.
In 1963, as a 15-year-old sophomore at Birmingham High, Poulsen started at shortstop on Coach Bob Zuber's championship squad. After Birmingham lost in the semifinals of the Los Angeles city high school baseball tournament, the Los Angeles Times ran a story on Birmingham's prospects in 1964, since seven starters would be returning to the team the following season. "Also in the infield will be shortstop Ken Poulsen, another sophomore, who only hit .167 in league play, but who smashed three for eight in the tournament," the Times noted.1
At the beginning of his junior year in the spring of 1964, Poulsen had his picture appear in the Los Angeles Times as part of a preview story on the Birmingham High team. The caption read: "Holding handfuls of bats while waiting their turn in the batting cage are two Birmingham High veterans, Ken Poulsen, left, and third baseman Dave Drysdale, both juniors."2 Poulsen moved to the outfield that year, as his Birmingham High team not only won the West Valley League title but also the Los Angeles city championship. In the title game on June 2 at Bovard Field, Birmingham defeated Grant High 2-0, as right-fielder Poulsen went 0-for-3 batting out of the fifth spot in Coach Zuber's lineup.
Birmingham High went undefeated in the regular season during Poulsen's senior year in 1965. Under new baseball coach Hy Cohen, Birmingham High had a 26-game winning streak snapped in the quarterfinals of the city tournament when Birmingham was upset by Polytechnic High. Poulsen was named a first-team all-star in the West Valley League and third-team all-star on the All-City team. His senior teammates, third-baseman Drysdale (possibly a distant relative of Dodgers great Don Drysdale) and pitcher Pete Lentine (who was named All-City Player of the Year), were named first-team All-City all-stars while shortstop Randy Port was named second-team All-City.
Although Poulsen wasn't the best player on his high school team, he was the highest draft choice in baseball's amateur draft in June of 1965 among high-school baseball players from the city of Los Angeles. His play on American Legion teams during the summer might have helped his draft stock.
Because 1965 was the first year of baseball's amateur draft, Poulsen was unable to negotiate with major league teams or cop a big signing bonus like the $250,000 deal handed to Rich Reichardt in 1964. The Boston Red Sox saw major-league potential in Poulsen, and selected him in the third round (#45 overall) in the June 1965 amateur draft. Fellow high school teammate and top Los Angeles player Pete Lentine wasn't drafted until the 25th round (#638 overall) by the Milwaukee Braves in 1965; teammates Drysdale and Port weren't selected at all in the amateur draft.
Reflecting the vagaries of talent evaluation in 1965, Poulsen was selected ahead of many future major league stars in that year's amateur draft, including Andy Messersmith (#53), Ken Holtzman (#61), Stan Bahnsen (#68), and Graig Nettles (#74). The fifth round choice of the Red Sox in 1965 was Amos Otis (#95), who went on to a 17-year major-league career, mostly with the Kansas City Royals. Poulsen was selected not long after future Hall of Fame catcher Johnny Bench, who was taken in the second round (#36 overall).
Poulsen didn't immediately sign with the Red Sox, however, as he used the only leverage he had at the time–the threat to play college baseball. Poulsen played local ball that summer following the June draft and then entered Pierce Junior College in Woodland Hills, California, where the baseball coach was Bob Zuber, his former coach at Birmingham High. Red Sox scout Joe Stephenson finally inked Poulsen's signature on a contract in December 1965, just before the expiration of the six-month period that the Red Sox had to sign Poulsen.
The Sox assigned Poulsen to its farm team in Winston-Salem, North Carolina, in the Class-A Carolina League for the 1966 season. Winston-Salem went on to have the best record in the Carolina League in 1966 at 82-58, although the team lost in the playoff finals to the team from Rocky Mount, North Carolina.
In 1967, Poulsen went to spring training with the Red Sox in Winter Haven, Florida. After going 0-for-3 in a March 13 exhibition game against the New York Mets, Poulsen was cut by Red Sox manager Dick Williams and sent to minor-league training camp for reassignment. Poulsen returned to Winston-Salem for the 1967 season.
On June 28, 1967, Poulsen was called up to the Red Sox to temporarily replace Dalton Jones, who had to report for two weeks of Army reserve duty at Camp Drum in New York. The departure of Jones reflected a common occurrence during the Vietnam War era. Poulsen was unexpectedly promoted–the Sox reached down three levels into its minor-league system for a left-handed hitter, bypassing right-handed-hitting infielders at both the AAA and AA levels– and caused turmoil in Poulsen's life. That weekend he had planned to marry his high school sweetheart, Vicky Swaton. He had met Swaton three years earlier at a high school track meet.
"Ken Poulsen, newly acquired infielder, yesterday called off his wedding to play for the Boston Red Sox," the Boston Globe wrote in a page 1 story about the cancellation of the nuptials. "His wedding was to have taken place in Winston-Salem, N.C., tomorrow morning. The bride was there, the guests invited, the parson engaged."3 Poulsen and Swaton had timed the wedding to coincide with the completion of her freshman year at Pierce Junior College.
"We can always get married … but how often does a guy get sent up to the big leagues," bride-to-be Swaton philosophically told the Globe. "At first I was disappointed, but I've been so busy since we heard the news, that I've gotten over it. In fact, my mother took it worse than I did. She's been packed for a week at our home in California [getting ready to fly to Winston-Salem]."
"She was stunned, but she was happy too I got the chance to be with the Red Sox," Poulsen said at the time. "Vicki got to work on her phone and started calling off the wedding, canceling arrangements, and notifying guests." That evening, Swaton kissed her fiancée at the airport as he caught a plane to join the Red Sox. Poulsen and Swaton eventually did get married after the season ended, and they raised two children, Kendra and Brett.
Poulsen met the Red Sox team on its western road trip as the Bosox began its series with the Kansas City Athletics. After sitting on the bench for all the games in Kansas City, Poulsen saw his first on-field action in the next series against the California Angels.
On July 3, Poulsen substituted for Jerry Adair at shortstop late in the team's 9-3 victory. The next day, in an evening game on the Fourth of July, Poulsen pinch-hit for fellow rookie Sparky Lyle in the ninth inning in the midst of a Red Sox rally. With runners on second and third, Angel pitcher Minnie Rojas retired Poulsen for the second out on his way to saving California's 4-3 victory. Since the Angels played in Anaheim, just 30 miles south of his hometown of Van Nuys, Poulsen's parents and friends might have witnessed his first major-league game.
Poulsen got into two more games at Tiger Stadium in Detroit before the team headed back to Boston for a home stand following the All-Star Game. On July 8, Poulsen pinch-hit again for Lyle and was retired by Tiger pitcher Denny McLain. On July 9, Poulsen substituted at third base for Joe Foy in the first game of a Sunday doubleheader and was unsuccessful in two at-bats against Tiger pitcher Mike Marshall.
Poulsen's stint with the Red Sox occurred at a turning point for the team, which would eventually burgeon into the "Impossible Dream" season. The Red Sox of 1967 became one of baseball's most storied teams, one that overcame huge odds to capture the American League pennant after an extremely tight pennant race. "I think the feeling changed a little before the All-Star break," Rico Petrocelli, the Sox shortstop in 1967, said in 1992. "Guys were having good years and really started believing."4
Poulsen's last major-league appearance came Friday night July 14 at Fenway Park against the Baltimore Orioles. Jim Lonborg won his 12th game of the season in an 11-5 Boston victory, as Tony Conigliaro hit a two-run homer in the first inning and Carl Yastrzemski collected three hits. Poulsen played three innings in the field, entering the game in the top of the seventh inning to take the place of Foy at third base.
In the bottom of the seventh inning, Poulsen went to bat against Oriole pitcher Jim Hardin with two outs and no runners on base. Poulsen poked a hit over third base into the left-field corner in front of the Green Monster wall and stood proudly on second base with his first–and only–major league hit, a double. He was left stranded on second base, however, when George Thomas made the third out of the inning. The box score in the next day's newspapers showed two-base hits by Boston players Yastrzemski, Petrocelli, and Poulsen. In the Sunday newspapers, the Red Sox batting-average table showed Poulsen with a .200 league batting average, sandwiched between Mike Ryan at .209 and Bob Tillman at .200.
The July 14 victory started a 10-game winning streak that catapulted the Red Sox from fifth place in the standings (42-40 record before the game) to second place on July 23, just one-half game out of first place with a 52-40 record.
"It was the longest local winning streak in 10 years, and when the conquerors returned from Cleveland the night of July 23, there were 15,000 fanatics at Logan Airport," Dan Shaughnessy of the Boston Globe recounted in a 25th anniversary retrospective on the team. "This was the first gathering of what today is known as Red Sox Nation. Airport officials said the crowd was bigger than the one that greeted the Beatles. There would be no more crowds of 461 fans (September 1965). There would be no more battles for the basement with the likes of the Washington Senators. From this point forward, the Red Sox would be annual contenders, wildly popular at the gate and on the airwaves."5
Poulsen didn't get a chance to bask in the fan adulation after the 10-game win streak. Dalton Jones returned from military duty and was in the Red Sox lineup July 16, as the Sox shipped Poulsen back to Winston-Salem. As the Red Sox magically wound their way to the A.L. pennant–with Yaz winning the MVP Award and Lonborg the Cy Young trophy–and then lost the World Series to the St. Louis Cardinals in seven games, Poulsen languished in baseball obscurity in the Carolina League.
By October, his Red Sox teammates had already forgotten about Poulsen when time came to vote on World Series shares. The players decided not to allocate Poulsen any part of the player proceeds, not even a small token gesture to serve as a wedding present. The Boston Globe on October 31 reported that the Red Sox players had voted a one-third share to George Smith, who was injured in spring training and never played an inning during the season, and a flat $1,000 to Ken Brett, a late-season addition from the minor leagues. Jim Landis and Jerry Moses, who both had short stints with the team, received a flat $250 apiece. But nothing was parceled for Poulsen. "Other recipients of Red Sox generosity were two bat boys, a clubhouse boy, two groundskeepers, and a parking lot attendant," the Globe story noted. "All received $750 each." There is no record to indicate why Poulsen was left out of the shares.
Four weeks after the players left him out of the World Series bonus pool, Poulsen was abandoned by Red Sox management when he was left unprotected in the minor-league draft. The New York Yankees drafted Poulsen after taking Minnesota outfielder Andy Kosko. "The New York Yankees, who once dominated the game so thoroughly that they rarely drafted anybody, chose three players and got the pick of the litter," the New York Times reported on November 29. Besides Kosko and Dale Spier from the San Francisco farm system, "the Bombers also claimed Ken Poulsen, a 20-year-old third baseman, from Boston's farm system."6
Boston hardly thought Poulsen was a "pick of the litter" player, according to the team's minor-league director, Neil Mahoney. "I will not be surprised, though, if the Yankees return Ken Poulsen," Mahoney said after the draft, alluding to the fact that the Yankees could get half their money back by returning Poulsen. As the Boston Globe reported, "According to Mahoney, Poulsen–who appeared in five games for the short-handed Sox in July–'retrogressed.' The Yankees seemed stunned by reports they heard after having paid $25,000 for Poulsen."7 Mahoney told the Globe that he had expected Poulsen to be demoted within the Sox farm system in 1968.
Early in 1968 spring training, the Yankees sent Poulsen to their minor-league camp and eventually assigned him to their Binghamton, New York, team in the Class AA Eastern League. At Binghamton, Poulsen played against many of his former Winston-Salem teammates who were now with Pittsfield, the Red Sox Massachusetts-based farm team at the AA level. The next year, 1969, the Yankees sent Poulsen to Kinston of the Carolina League, where he tried to convert into a pitcher, finishing 1-2 with a 3.21 ERA. After returning to the infield in 1970, Poulsen experienced some success as a pitcher with Kinston in 1971 (10-8-3.02) and with West Haven of the Eastern League in 1972 (9-8-2.97). Poulsen's minor-league career ended in 1973 after a season divided among Kinston (6-5-3.20), West Haven (0-1-27.00) and Syracuse of the International League (0-1-infinite ERA).
The miracle Red Sox team of 1967 became part of New England sports lore. Since the Red Sox had lost contact with Poulsen shortly following the 1967 season, he was hard to locate when anniversaries of the 1967 season and team reunions were celebrated.
When the 15th anniversary rolled around in 1983, "only two members of the team couldn't be tracked down," the Boston Globe reported. "One, curiously, is reliever Dan Osinski. The other, not so curiously, is Ken Poulsen, the then 19-year-old third baseman who had five at-bats in the week he came up from Winston-Salem when Dalton Jones had to go to National Guard summer camp. A couple of members of the team didn't even remember Poulsen, although his minor-league teammates recall him mainly as Sally Field's high school boyfriend in Van Nuys, Calif."8 (Although the future "Flying Nun" attended the same high school as Poulsen, she graduated a year earlier.)
Ken Coleman in his 1987 book, The Impossible Dream Remembered: The 1967 Red Sox, reported that Poulsen was working in residential construction in Simi Valley, California. At the team's 25th anniversary in 1992, the Boston Globe again tried to track Poulsen down and at that time reported that he operated a cattle ranch in Oakhurst, California.
Poulsen's parents had retired to a 60-acre ranch near Yosemite, where they raised cattle and had a fruit tree orchard. Following his divorce from Vicki, Poulsen retired from construction and moved out to the ranch to care for his aging parents. SABR member Bill Nowlin tracked down Poulsen and interviewed him in 2007.
Recalling his one major-league hit, Poulsen said: "Yeah, well, that was kind of an accident. I wasn't a hitter that would hit it that way [down the left-field line]. I was basically a pull hitter. I remember that. It was off of Jim Hardin with the Baltimore Orioles. The guy threw nothing but a real hard sinker and I wasn't going to hit it. I forget what the count was, but somehow I hit it and it went right down that line. But believe me, I would have tried to pull it [to right field], but it went that way. It was just one of those things."9
As for the lack of a World Series share in 1967, Poulsen said: "I didn't expect money. I didn't expect a ring, of course. But I sure wish they would have mailed me something, just with a stamp on it, if you know what I mean. But let me tell you, the Red Sox were just so superior in the way they treated everyone, compared to my involvement with the Yankees a year or two later. When I was there [with the Red Sox] that short time, I met Mr. Yawkey [the Red Sox owner]. He made a point of that. He came in the clubhouse. We had a goofy day/night doubleheader when I was there that short time in Boston. He came in the clubhouse [between games] and apparently he knew that I wasn't going to be there long, but he was very gracious."
And as for dating Sally Field, Poulsen recalled: "I knew her, but I didn't go out with her. Well, I might have. I honestly can't tell you. She was a year older, a year ahead of me, and she was kind of into a different thing. To my knowledge, no, I didn't go out on a date with her, … I don't think."
Poulsen became a nostalgic footnote to the Impossible Dream saga. In an August 4, 1985, column in the Boston Globe, Peter Gammons wrote: "Happy 38th birthday, Ken Poulsen, such a vital part of The Impossible Dream." In a May 20, 1990, story about an old-timers game at Fenway Park, Bob Ryan of the Globe wrote about the fielding prowess of first baseman George "Boomer" Scott: "When Frank Malzone's throw came up a foot and a half short, Boomer flicked his famed Black Beauty and the ball disappeared into the leather. At that moment, it was 1967 all over again and you can bet your autographed picture of Ken Poulsen that somewhere in the stands, a father poked a son or daughter in the ribs and said, 'Didn't I tell you? Nobody ever dug 'em out like the Boomer.'" On April 3, 1992, Gammons exhorted, "It might not be a bad idea for some current players to thank Lonborg for drilling Tillotson, … remind Rico Petrocelli how great he was, or remember Ken Poulsen."
The 1967 Impossible Dream team has attained mythical status in New England sports history. "If you were a contributor to the 1967 Red Sox, you will go to your grave knowing you were part of something special," Bob Ryan wrote in the Boston Globe in 2002. "Very few people in sport can say they helped change the course of a franchise's history, but that is precisely what the 1967 Red Sox did. We can speculate about a lot of things forever. But we know when modern Red Sox history began, and the year is 1967."10
His lone major-league base hit on July 14, 1967, may have been a personal dream for Poulsen. Perhaps more importantly, though, Poulsen played a small role in the success of what became the "Impossible Dream" season for the 1967 Red Sox and as a historic footnote to a year that changed Red Sox history.
Poulsen died at age of 70 on December 28, 2017, in Fresno, California. 
On July 12, 2019, two days short of the 52nd anniversary of his lone major-league hit, the Red Sox presented Poulsen's family with a replica 1967 American League championship ring to formally commemorate his role on the "Impossible Dream" team.
Last revised: March 29, 2021 (ghw)
An earlier version of this biography originally appeared in "The 1967 Impossible Dream Red Sox: Pandemonium on the Field" (Rounder Books, 2007), edited by Bill Nowlin and Dan Desrochers.

Sources
In addition to the sources included in the notes, the author also consulted:
"'67: When the Dream Began," Boston Globe. special section, April 3, 1992.
Boston Red Sox 1967 Yearbook.
Boston Red Sox Official Program and Scorecard of July 14, 1967 game at Fenway Park, kept by SABR member Charlie Bevis.
Coleman, Ken, and Dan Valenti. The Impossible Dream Remembered: The 1967 Red Sox (Lexington, Massachusetts: Stephen Greene Press, 1987).
Reynolds, Bill. Lost Summer: The '67 Red Sox and the Impossible Dream (New York: Warner Books, 1992).
Notes
Born
August 4, 1947 at Van Nuys, CA (USA)
Died
December 28, 2017 at Fresno, CA (US)
If you can help us improve this player's biography, contact us.
http://bioproj.sabr.org/bp_ftp/images/PoulsenKen.jpg
600
800
admin
/wp-content/uploads/2020/02/sabr_logo.png
admin
2012-01-04 20:31:35
2021-03-29 05:37:40
Ken Poulsen