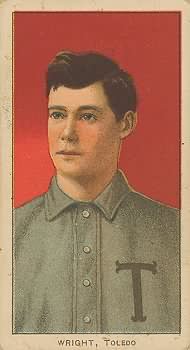 ---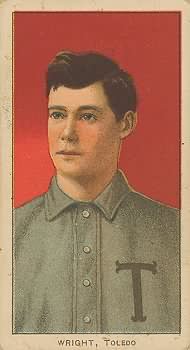 Nicknames in baseball are tricky, especially in the Deadball Era, because the name a player carried while he was active may be different from the one he carries now. James Callahan was seldom referred to as "Nixey," pitcher William Kennedy was called "Roaring Bill" much more often than "Brickyard," and William S. Wright of the 1909 Cleveland Naps was referred to as "Lucky" only very early in his career. Another William Wright who primarily played in the southwest was nicknamed Lucky, but William Simmons Wright was known as "Deacon" in Cleveland and as "Red" to friends in his hometown of Tontogany, Ohio.
William's father David was born in Perrysburg Township, in the northern part of Wood County, Ohio just south of Toledo. David's parents were farmers originally from the state of New York. Red's mother Elizabeth was a British immigrant who arrived in Ohio with her family in the 1850s. Soon after her arrival, she married David Wright, and they moved to Tontogany also in Wood County. Wood County was part of the Great Black Swamp, and was one of the last areas of Ohio to be settled. After the Civil War the area was being cleared and drained, turning into rich farmland. David Wright worked in one of the many sawmills used to clear the swamp.
By 1880, the Wrights were living in Waterville, just across the river and a little downstream from Tontogany. On February 21 of that year, their seventh child and fifth son William was born. The Wrights soon returned to Tontogany, and the small farming community would remain William's home for most of his life. As he later remembered, he began playing baseball "as soon as his fingers were big enough to grip the ball." Sometime during Red's childhood or early adulthood, David Wright apparently died. Date and place of death aren't clear, and it's even possible he simply left his family. In any event in the 1900 Census, Elizabeth Wright was listed as a widow.
Wood County had a history of strong semipro and independent professional teams. During the 1880s, the Weston Buckeyes featuring future major league pitcher Leander Abbott dominated local competition. Weston is only five miles from Tontogany, and young William likely saw this team in action. During Red's teenage years, oil was discovered in the county, though not in Tontogany. The boomtown of Cygnet fielded a strong independent team during the first half of the 1890s, sending at least two players, Jerry Nops and Charles "Dusty" Miller, to the major leagues.
William Wright was too young to play against these teams, but by the summer of 1897, he was one of the youngest members of Tontogany's team. This team was mostly if not entirely amateur, consisting of local players. Still, they were among the best teams in the county for much of that summer. They even defeated an amateur nine chosen from the top players of three strong Toledo teams. The afternoon wasn't as memorable for Red as it was for Tontogany. He was knocked out after four innings.
In late July an all-professional league was formed in Wood County, and Tontogany was included. Initially he was retained on the roster. When league teams started importing experienced professionals Wright was dropped. Before his release, Tontogany played a team from Prairie Depot (now Wayne) led by another seventeen-year-old pitcher, George Mullin. Wright later said of the game, "We were a cocky bunch, but we didn't get a good foul." When the baseball situation returned to normal the following summer, Wright and his catcher Fred Champion were again key members of the "Togs." When not playing baseball, Wright was a railroad clerk in nearby Toledo.
As the twentieth century began, Wright was pitching for the team in the larger community of Bowling Green. The move to the county seat also meant a more experienced catcher. Bowling Green's top player was African-American catcher Chase Lyons. The veteran catcher was a key in the young pitcher's development.
Wright also had a brief professional tryout early in the 1902 season. The Michigan State League was the first Michigan league in organized ball since the 1895 season. William was recommended to the league's Muskegon team by veteran minor league player Joseph Wright. Joseph was very likely a brother, though census records do not confirm a relationship. Will Wright was signed as an infielder, but moved to the outfield when another player jumped the Lansing team to join Muskegon. Wright was in the Muskegon lineup for the team's first four games, but was dropped after a two-for-three game against Lansing on May 19. He was immediately signed by Lansing.
The Lansing team was a microcosm of the league. The team was in a state of disarray with management problems and players coming and going on an almost daily basis. Wright was hitless in his first appearance with his new team, but was retained for a series at Grand Rapids. On May 22, he went two for four with a run scored for his new team, but committed a pair of errors. The following day he had three hits and a pair of runs scored while playing flawless defense. That day's Lansing State Republican mentioned the acquisition of new players including a veteran second baseman. Those players along with Wright were "expected to brace up the team to no small extent." That didn't happen. Wright was moved to the outfield for a single game. He had a pair of hits but made an error. The error was one of five by Lansing, but Wright was released anyway. In just five games, he was eight for twenty with four runs scored but apparently not good enough for a team with a three and eight record. Ironically, he was never given a chance to pitch, although the team was badly in need of pitchers. The Michigan State League folded in late August with Lansing in last place. Wright spent the rest of the season back with the Bowling Green team before receiving another professional tryout, this time in a faster, more stable league.
The Three-I League, consisting of teams in Illinois, Indiana and Iowa, was one of the longest lasting minor leagues. It was already an established league by the spring of 1903, when Deacon Wright signed a contract with the Decatur, Illinois team. He was again recommended by Joseph "Red" Wright. A Decatur newspaper noted a strong resemblance between the two, and William was quoted that Joseph was a brother. (Was he? This is the same Wright that recommended him to Muskegon. The family's 1880 census return shows no Joseph though there are brothers a few years older who might have taken their middle name of Joseph or just liked the name Joe.) Joseph was familiar with Will's abilities. He said, "there is one thing about him that has always stuck out since he was a kid–that he's got the nerve to try anything." That nerve would benefit Wright and the Commodores during the 1903 season.
Wright reported to Decatur in early April of 1903, and was almost immediately tested. After an exhibition appearance against Terre Haute of the Central League, Wright faced major league batters. The Chicago White Sox visited Decatur on April 7, and Will Wright was the starting pitcher. He allowed seven runs in five innings, but the Decatur Daily Review was impressed. "[He] was pronounced one of the kind that will do in most any Three-I team. But for a little bad judgment over the question of who should get a high foul he would not have been scored against in the first. In the fifth he was plainly tired and was touched up." He struck out Chicago regulars Jimmy Callahan and Tom Daly. Charles Dryden was less impressed with Wright and the Decatur team. He said, "Wright was bumped plenty in the first five. With an intent to knock the prowess of the White Sox, we will repeat the stereotyped assertion that Decatur had little practice. The defeated teams like this sort of salve." The final score was 13-2.
Wright's regular season debut came in Decatur's second game, and it was a brief forgettable effort. The Review said: "Red Wright II retired after the second inning, though he was by no means driven to the woods; he was perhaps disheartened by the turn things seemed to be taking and was glad of a chance to go to the bench." He allowed five unearned runs on four hits, walking two in as many innings of work.
A poor debut sometimes resulted in a young player's release, but Deacon Wright showed enough to become a key member of the Decatur roster. He lost his second start, but defeated Rock Island and Bloomington, evening his record at 2-2. Wright also showed enough offensively to get an occasional start as an infielder.
That versatility soon became even more important to the success of the Commodores. Tuesday, May 19 was a day off and the team decided to have a picnic near the Sangamon River. While Wright and most of the team were near the campfire, three went out in a boat they found on the shore. Pitcher Albert Jacobsen swam to shore and another player was rescued by teammates, but left fielder Tony Wittkowski drowned.
Playing in nearly half the Decatur games, Wright was successful on the mound, and held his own when playing the infield or outfield. Certainly his most memorable effort was the game of June 12 at Cedar Rapids. The Rabbits scored three against Wright in the third and led 4-2 in the eighth. The Cedar Rapids Evening Gazette described how the Decatur pitcher won his own game: "The bases were full. Reddy Wright stepped to the plate, struck an attitude and gauged the second ball that Holmes threw to him, hitting it a smashing blow and sending it down into right field. It landed next to the club house, and before Novacek could get to it and field it in the three Decatur basemen scored, Wright coming in just behind them on a home run."
That first professional season is the only one where he was even occasionally called Lucky, and the Daily Review commented on Wright's "luck": "Wright is sometimes known as 'Red, the Lucky,' but that is because some people can't distinguish between luck and science. He wins the games, and he does it so smoothly that the unthinking fan says: 'Ain't he a lucky one? Now if Beany [Jacobson] only had his luck,' etc. Wright won't say so himself, because he is a modest young man; but if you ask a close student he will tell you it is all science. Wright is really a good pitcher, but some of the fans wish he would quit pitching and go to shortstopping, which just indicates he's good anywhere you put him."
Jacobsen was the star of the Decatur staff, but after that fan opinion differed on the quality of the Decatur pitchers. The statistics clearly indicate Wright was a strong second during the first half of the 1903 season. He won seven of his first eight starts, and though he only struck out 37 batters (4.63 per nine innings) he walked just 15 (1.87 per nine innings). He allowed 73 hits in 72 innings during those eight starts. Typical was the start in which Wright boosted his record to 8-1. He allowed Bloomington batters just three hits, striking out three and walking none in a 12-1 win. The only Bloomington run was unearned. He improved his record to 9-1 before an early July loss to Cedar Rapids.
Wright dropped four straight decisions starting with that Cedar Rapids game, and there are indications he was suffering from arm trouble. He was still useful as a general utility player and pitched fairly well in a couple of those losses. He regained his form in a 16-3 win over Dubuque. The Review said: "Wright pitched a masterly game and but one hit was made until the seventh." Wright continued to be used as an infielder, but his batting average dropped, and his infield defense was inconsistent at best. Early August statistics show a .222 batting average and 20 errors in 44 games. His .878 fielding average was virtually identical to that of the team's starting third baseman. The third baseman received a $200 a month offer from Toledo owner Charles Stroebel, so field conditions may have been a factor in Wright's error total. His pitching line was actually improved despite the losses. His hits per game dropped to 8.27 and his walks to 1.73. His strikeout rate was 3.53 per start.
His last outstanding performance in 1903 was an August 15 win over Bloomington. He allowed just an unearned run in the Commodores 3-1 victory. The Review said Wright deserved a shutout in the game. Bloomington center fielder John Godwin probably thought Wright deserved something else. In the second inning, Godwin "was the first man up and Wright soaked him in the head with the ball." The next start was a loss in a well pitched game. "For ten innings Will Wright spoiled the batting averages of Hines' men, but as his teammates didn't seem to be able to do anything he yielded up the ghost, resolved he had done enough to win and was entitled to supper." He allowed seven hits and walked one in the 2-1 loss.
Wright appeared in just one more game during the 1903 season, losing 4-0 at Cedar Rapids on August 27. Wright was "out of the game with a crippled arm" the rest of the 1903 season. He left Decatur in mid-September for a visit in Piqua, Ohio, before returning to Tontogany. Final Three-I League statistics showed Wright appearing in 52 games. He pitched in 22, played third base 18 times and was used at second, the outfield or as a pinch hitter in the others. A late slump dropped his batting average to .192. Pitcher's won-lost records weren't included, but Wright's winning percentage was .600. That almost certainly meant a 12-8 record with two no-decisions. He allowed 8.50 hits per nine innings, struck out 76 and walked 36. He allowed an average of 4.65 runs (earned and unearned) per game.
When William Wright reported to the Decatur team in late March of 1904 he was a changed man. The Review said: "Manager [Monte] McFarland is fond of calling Wright his 'dandy little pitcher', but as Wright is full six feet and this year has grown up to 165 pounds, the name is hardly appropriate and can only be accounted for because of Wright's youthfulness and unobtrusiveness." Wright was still not healthy and played very little in Decatur's exhibition games. However, he was able to participate in another sport. A team of Decatur players won a series of bowling matches from a picked team of Decatur bowlers. Wright's best series was 193, 186, and 166, third among the ballplayers but better than any of the Decatur bowlers. Wright's team won $50 from the Decatur bowlers.
Wright's bowling exploits outweighed his baseball performances during spring training. Used briefly as an outfielder in exhibitions, he didn't pitch until the fifth game of the regular season. Davenport beat Decatur 3-1, but the Review thought Wright pitched well: "He was the careful painstaking worker that brought him through so well last year, and there was no fault to find with him. Barring the one inning in which the scores were made, he kept the hits scattered." He lost his next start as well, and didn't pitch as well. "[T]here really wasn't much to it–except trouble for Willie Wright. He started in an uneasy hesitating sort of way and his face grew longer and more drawn as the rounds were tolled off." When the Commodores left on their first road trip, Wright remained in Decatur.
The small town of Moweaqua, Illinois, is located near Decatur, and in 1904 had one of the better amateur teams in Illinois. The team served as a farm team of sorts for Decatur. McFarland would often send an extra pitcher to the team. On May 17, that pitcher was Will Wright. Wright allowed nine hits in a 4-2 loss to Pana, but enjoyed the experience. "For real old baseball give me the game as it is played for the sport of it between the smaller towns. There's where you get your spirit and enthusiasm." The Review said Wright felt more at home that afternoon than any time since leaving Tontogany. Wright played shortstop in another game for Moweaqua.
In late May, Decatur acquired pitcher Harry Hardy on option from Columbus of the American Association. On June 4, Wright was released by Decatur. The Review said: "A better liked player or more perfect gentleman never put on a Decatur uniform. Last season he pitched winning ball, but in doing it he injured his arm and has never recovered. There was some talk of a trade with Rock Island in which Wright would figure, but that seems to have fallen through and he will be free to go where he likes."
William Wright was out of organized ball the rest of 1904, but played for Angola, Indiana and Jackson, Michigan of the independent Michigan League. He also reportedly played for a team in Clinton, Iowa, before returning to the Three-I League with Bloomington in 1906. Finally healthy, he fulfilled the promise of the 1903 season. Wright won sixteen games with Bloomington and more importantly attracted notice from teams in higher classification leagues. One of those teams, Oakland of the Class A Pacific Coast League, drafted Wright for the 1907 season.
Wright reported to Oakland's spring training site of Santa Barbara, California, in mid- March of 1907. The PCL was a four team league that season. San Francisco, Portland and Los Angeles were also members. The newcomer quickly impressed Commuters manager George Van Haltren. The Oakland Tribune, quoting Van Haltren, said: "The new pitcher Wright is certainly the goods. He is, if anything, a speedier pitcher than [William "Red"] Randolph, and all the fans know Randolph can smoke them over when he wants to. Wright has a nice easy motion, and besides being a good pitcher seems to be a fair sort of hitter."
Observing the work of another Oakland pitcher from Ohio, Bill Reidy, was likely a benefit to Wright as well. Reidy like Wright relied heavily on a curve ball, and was a veteran of the major leagues and the Pacific Coast League. Reidy had also gotten his start in Northwestern Ohio, pitching for a strong Findlay team in 1894-95. Reidy was quickly impressed with Wright. "Wright is surely a fine pitcher. He has everything that any pitcher has and can run and hit the ball like an old leaguer."
Oakland opened the season on April 6 in Los Angeles. Former heavyweight champ James Jeffries took part in the first pitch ceremony, and Wright beat the Angels, allowing seven hits striking out five and walking three. T.P. Magilligan of the Tribune was also impressed. "Wright is a big fellow with plenty of steam, is a willing worker, has the head courage and nerve to make a high class pitcher." Week-long series were the rule in the PCL a century ago, and Deacon lost a game in relief and was beaten 9-3, giving up thirteen hits in a second start against the Angels.
Outings like that weren't typical for Wright. He beat Portland 4-2, surrendering four hits and striking out five in his first home start. He also went two for four at the plate that afternoon. By the end of April he was 4-2, defeating Bay Area rival San Francisco twice. Wright quickly became a key member of the Oakland staff. By the beginning of June, his record was 7-6. He was also becoming a favorite of the Oakland fans, often pitching the morning game of the Sunday doubleheader. Of one of those morning games, a 6-0 shutout of Los Angeles, the Tribune said: "His work was a revelation to the fans. He allowed the leaders only four hits, and his work was so gilt edged that the fire eaters of Frank Dillon never had a look in." A week later he beat San Francisco in the morning game, and the Tribune was again impressed. "Wright was there, like a duck egg in a thunderstorm, and the Tontogany gent was never shirred or scrambled during his vigil. He had a nice assortment of foolers and pitched such a steady breezy game that he flew the ambition out of the gents from across the bay."
His personality was also making him a fan favorite. Magilligan commented on his personality and also began to mention Wright's hometown. "[Wright] is a jolly hale fellow, well met, fine disposition, and a good team worker. And Bill is an accomplished littereteur. He's got discrimination when it comes to culling literary efforts out of printed type. Bill is a yearly subscriber to the Tontogany, Wood County, Ohio, Clipper. The Clipper is the leading paper of Tontogany, and has a circulation of 800, more or less. When the wind is high and the window open, the Clipper usually has a bulge in circulation. Wright contributes some bright sparks of sporting news to this metropolitan paper, and gives it tone and prestige among the 400 of Tontogany."
In early July, Wright shut out San Francisco on four hits. The Tribune's account was typically colorful. "Along comes an athlete named Deacon William Waldorf Wellington Wright, of Tontogany, in the remotest recesses of Wood County, Ohio, and gives the Seals another violent slap 5-0. The name may be somewhat garbled in places, but there is no doubt about Wright, old Deacon, being some hurler. He buckled against Eddie Quick, who does not rely entirely on luck, and beat the human icicle in a blood and thunder game." Wright batted fifth that day for the Commuters and drove in the winning run. "Up to Tontogany Willie, that gent remembered the bagpipes and smote the sphere a mighty smite. It tore some of the real live skin off quick's hand, but that gentleman tossed the Deacon out at first, while Van Haltren registered at the plate." The lofty spot in the batting order was a sign of respect on the part of Van Haltren for Wright's overall athletic ability. Even at the highest level of the minor leagues, he was used occasionally as an infielder or outfielder and it was not uncommon for him to pinch hit.
By that time, Wright had a 13-8 record for Oakland and in the opinion of Magilligan was the team's ace and one of the best pitchers in the PCL. He predicted a major league tryout. "The red-headed lad has plenty of steam, a world of courage, and has a great head. As a fielding pitcher we don't know one in America that can surpass him. He is nimble-footed has the true scent and knows where a play can and should be made after he grasps the ball. Wright has a wonderful command of all the fielding situations that present themselves to him. He is never muddled when he gets the ball, and that is a great point in his favor. If the Tontogany lad has any failing at all it is a slight lack of control, but that is a fault in a pitcher that the big league catchers would quickly remedy. Wright looks like a good investment for some big league club." He was hitting .283 at midseason.
On August 1, Wright beat San Francisco and Quick again, 3-2. He also earned a new nickname from the Tribune. "Wright was in great shape and the Tontogany Terror slipped the Town Pump curve on the Seals with disastrous results to that team."
Later in the month he scattered nine hits, shutting out the Angels 5-0. The Los Angeles Times said, "Reliable Bill Wright came over from Oakland this afternoon with as fine an assortment of twists and curves as one would want to see hurled up to the plate and the result was the Angels could not dent the plate. Coupled with the sorrel top's masterly pitching was some bang-up ball by the men behind him." The Tribune said: "Red Bill Wright, calciminer, took his brush and pail over to Frisco yesterday and gave the visiting ball-tossers from Los Angeles a demonstration of the fine points of his trade." San Francisco hosted Portland in the same ballpark later in the day, creating the unusual situation of the league's entire schedule for the day being played on one field.
Wright was knocked out in the seventh inning of his next start, but was credited with the win, 14-4 over the Seals. He won a second game from the Seals in that series outdueling Barney Joy, 3-2. After that win, Wright dropped five straight decisions and missed time with an unspecified illness. Wright finally beat Los Angeles on September 25 to break the nearly month long winless streak. He beat the league champion Angels a second time in the series. The wins over Los Angeles boosted his record to 21-15. His batting average by late September had dropped to .247. When he beat Joy again on October 30, he finished the long season with a 22-18 mark.
Late in the season, Magilligan interviewed Wright about his thoughts on pitching. Wright believed a pitcher should work on three days' rest. "If a pitcher works more than one game in four it will hurt his arm. Working oftener than that is a great strain on a man's arm and the pitcher who does not nurse his arm and take care of it is a fool and nothing short of it."
Wright felt his best pitch was the spitball. "The spitball is the most effective one to use. Some say it hurts the arm, but I don't think so. Of course when a pitcher uses the spitball it hurts his curve ball but then when you consider the spitball is the most effective of deliveries you can readily see that a pitcher gains by using it. There is no sort of delivery in the world so hard to hit as the spitball. Of course sometimes when an infielder picks it up wrong in fielding it he is likely to make a bad heave but the man who has the spitball mastered is a tough man to hit."
Wright stressed the importance of control: "For a pitcher I should say control is the main thing. You see nowadays the way they play ball a pitcher has to have control of a high order for he is often in a hole. You see a pitcher has to waste many a delivery to break up the hit and run game and also when a runner is stealing."
Wright stressed the importance of the catcher to a pitcher's success: "A good catcher is a great help to a pitcher. The catcher is in a position to see all the plays and if really it he is one of the factors in a winning team. [Johnny] Kling showed just what a good catcher means to a team. He was the biggest factor in winning the world's championship for the Chicago Cubs."
Despite his versatility, Deacon Wright preferred pitching to playing infield or outfield. "Pitching is hard work, but I prefer it to any of the other places on the diamond." Mordecai Brown was the best pitcher in baseball, according to Wright. He also admired the work of Rube Waddell.
Wright spent the winter of 1907-08 in Tontogany hunting rabbits and relaxing. "That hunting business is great sport. You see it rests a fellow up and in the spring he is ready for work and not dragged out as he would be if worked hard during the winter months. I used to think it was all right to work in winter but I've gotten past that now and in the future I'm going to take it easy."
When Wright reported to Oakland's training camp in March of 1908, there were similarities to his first spring with Decatur. The Chicago White Sox were also conducting spring training in California, and Wright pitched effectively in a pair of outings against Chicago. Known as a teetotaler, Wright had at least a little beer that spring–as a cold remedy. The Tribune said: "Bill Wright is suffering from pains and choking sensations in his exposed plumbing, i. e., pipes. Old Doc, [Van Haltren] applied a bottle of soothing syrup in the form of one pint of Budweiser, and the invalid is reported to be recovering rapidly."
Perhaps recovery from this illness wasn't as rapid as the Oakland press believed. Again starting the opener at Los Angeles, Wright was beaten by the Angels, but managed to go 3-4 at the plate with a pair of doubles. Wright lost his next three decisions as well, including Oakland's home opener. He pitched well in that game, allowing a run on four hits. The Oakland Tribune was still impressed with his pitching. "Wright is as good as any pitcher short of the major leagues. The Tontogany boy has something on everything he uses, and any time a hitter gets away with anything on him he has to outguess him badly." The Tribune also commented humorously on Wright's wardrobe. "Bill has picked up a bit of weight since last season, and in his new spring suit, which is striped like a window awning, and his red bean he surely looks like a stick of peppermint candy." After another strong batting day against Los Angeles in early May, he was given a start in left field batting cleanup.
Wright's best early season performance was a May 15 win against San Francisco. The Tribune was particularly impressed with the two-hit shutout. "Tontog had control, curve, nerve, verve and everything else that is needful to win a ballgame. The Tontogany kid stood on the mound and shot them over as though he were curving corn to the poultry." In his previous start, he held Los Angeles scoreless during the last six innings of a loss. Over his next three starts, he extended his scoreless streak to 32 innings. Two of those starts were at Portland, a six-inning game stopped by rain and a six-hit shutout four days later. He was also impressive in a mid-June start there. Portland had an informal working agreement with Cleveland, and those three efforts would have an effect on Wright's baseball future.
As impressive as Wright was in Portland, he was even better during the team's June series in Oakland. On the 16th, he defeated Portland 3-2, allowing just three hits. Four days later, Wright was even better. He pitched his third shutout against Portland in less than a month. The Tribune said: "Wright used his pump handle heliotrope hurdler. This ball defies silence, but what aches the Portland team mostly is that it defied the best intentions of its batters." At that point in the season, Wright had won seven of his last eight decisions, and his batting average of .369 was second in the league.
As impressed as Magilligan had been in 1907, he believed Wright was improved in his second season at Oakland. "Wright is a steady going sort of chap, who gives considerable thought to the game, and he is off the 'heady' sort of pitchers. He has the faculty of mixing them up good and any batter who gets a hit off Wright has to do considerable guessing. He has more stuff than any of the other local pitchers and he is always in good shape to work. The red-headed boy is also a good hitter for a pitcher and a fairly fast chap on the base lines." The writer was also impressed with Wright's "baseball brain."
Magilligan's prediction of a major league opportunity for Wright would soon be realized. During a late-July series with San Francisco, Cleveland scout Tom O'Brien was in attendance. On the 24th, Wright beat the Seals 4-2, with his arm and his legs. "Deacon Simmons Wright played some ball when he beat a bunt in the sixth, took second on a bad peg to first, went to third on Sutor's bad throw and scored on the same bad play. Four days later, Wright won his seventh game of the month, and was again referred to by his most interesting nickname. "Willie Wright the 'Tontogany Terror' showed the fans and the San Francisco athletes that the dry ball in experienced paws is just as good as the slippery pellet in the talons of an artist. The advent of the lime-kiln ball won the game for the Tontogany lad 5-2 and marks the eleventh victory Bill has gained in his last thirteen looks at it."
Shortly after O'Brien left, Cleveland's interest in Wright became apparent. The day after Wright's win streak was broken in the morning game of a July 4 twinbill in Los Angeles, the Oakland Tribune reported the likely purchase. The Tribune said: "He would make a good man for that team for the reason that Cleveland contains the best batters in the American League, and with a team batting behind him Wright is a good enough pitcher to win anywhere." O'Brien believed Wright and Portland's Bob Groom were the two best pitchers in the PCL.
On July 6 it was official. The Tribune reported: "Cleveland has bought Wright outright. The Tontogany Terror will be pleased to go to Cleveland, as that town is not more than a half day's ride from his home in Tontogany. When the home folks learn of Bill's advancement the town pump of that city will surely get another coat of paint and the goat that ate the seventeen copies of the enterprising [Tontogany] Times will be given a square though less intellectual meal than a dish of the Times. Bill Wright's friends propose to feed the goat on pure de fois gras as a testimony to the advancement of their distinguished fellow townsman."
By mid-July, Wright's record was 14-7 and batting .303 when he caught the mumps. The team was in Portland when the illness was diagnosed, and when the team left the city, Wright was still in a Portland hospital.
He missed almost a month before returning to the lineup as a center fielder on August 13. During that time, the Oakland team was missing other players due to injury, accounting for Wright's use in the field. His return to the mound came in the morning game of Sunday, August 16. Wright was hampered by poor control after the layoff and was beaten 4-1. He allowed just four hits, but also walked four Seals at inopportune times. In a practice session a few days later, Wright dislocated a thumb trying to catch a line drive. The thumb took nearly a month to heal; Wright returned to practice the second week of September and to the lineup on September 17.
After missing nearly two months because of illness and injury, Wright's return was impressive. "Deacon Wright the demon hurler from the wilds of Tontogany O., celebrated his return by dishing out a bunch of nine luscious lemons for the 'gents and brows who dally on the payroll of Hennery Berry & Co. Ltd. of Los Angeles [the Angels]. As a consequence of Wright's clever twirling Oakland won the game 'tuh' [two] to nothing. What makes the Deacon boy's victory the more startling was the fact that he slew the league champions." Wright struck out six, two of them in the first inning, but walked five.
In an attempt to draw fans, Wright pitched the Sunday morning game in that series with just two days of rest. The Tribune said: "This will be Wright's last season with the Athenians and the fans will mourn his loss, as he is about the most popular ball player that has been in an Oakland uniform in years." Wright pitched well on short rest, but lost 2-1.
Wright's popularity was such that a fan started a fund to buy him "a fitting token of the esteem he is held in by local lovers of the game." Another indication of his popularity occurred after he was knocked out in the third inning of a home start. "As a rule a pitcher who leaves the mound before his regular day's work is done is given the raspberry, but Wright is so popular, and deservedly so that the fans cheered instead of jeered him."
Fans showed their affection for Wright with their contributions to the gift fund. The Tribune printed a list of fans showing over $25 in contributions, most of them in fifty- cent or one-dollar gifts. By the end of October, a gold watch was purchased and engraved with the inscription: "Presented by the Oakland Fans to Pitcher Deacon Wright November 1."
Although he didn't win very often after his return from illness, Wright saved one of his strongest efforts for November 1. The Tribune described Wright's last appearance with Oakland: "Snugly tucked away in the belt of Deacon Bill Wright, a gold watch was ticking his accompaniment to victory all morning, for the timepiece had been handed the star twirler of the team at the opening of the game, and timed one of his most satisfactory shut-outs. Wright was invincible, showing speed and cleverness that delighted thousands of fans at Freeman's Park and paralyzing the Windsuckers from across the bay." Oakland won 6-0 over San Francisco. Wright allowed seven hits, striking out two and without walking a batter.
In March of 1909, Wright traveled south instead of west, leaving Tontogany for Cleveland's spring training in Mobile, Alabama. He quickly made a favorable impression on another Deacon, Naps coach James McGuire. He also had the opportunity to be photographed for a Cleveland newspaper with Cy Young and Addie Joss. They were among five Cleveland pitchers who stood six foot or taller.
A mid-March exhibition against host Mobile was a highlight. In three innings, he allowed just one baserunner on an infield hit, retiring the side on just five pitches in the opening inning. After another impressive exhibition performance, the Cleveland Leader said, "He appears to be ripe for fast company now." The Leader also commented on Wright's versatility: "During the spring practice in Mobile and New Orleans Wright has worked out at second and third base and he has always covered himself in glory. Besides he has been hitting the ball in good style. Deacon very seldom strikes out, and stands up to the plate as though he means business."
On April 4, he showed both batting and pitching skills to his best advantage. In a win at New Orleans, the Leader was again impressed with the rookie. "Wright took hold in the sixth inning, and not a hit was made off his delivery. The former Oakland star had the best of control of his curves, and showed to great advantage." He also started the rally that led to both Cleveland runs. He "beat out a grounder to [shortstop Edward] Reagan and reached second on [Harry] Matthews' passed ball." He advanced to third on an error, scoring on a grounder to short. That afternoon, Deacon Wright was better than a future Hall of Famer. Cleveland starter Addie Joss allowed New Orleans four hits in five innings pitched.
Deacon Wright made his regular season debut on Sunday, April 18, against Detroit and former Wood County League rival George Mullin. The Leader commented on his major league debut: "Deacon Bill Wright red haired and graceful pitched his initial game in the major league. Wright was effective. He had speed and control and his curve ball worked to perfection, yet the luck of the game was against him and he drew a defeat. He allowed only four hits and these were scattered at wide intervals. In the fifth inning the first two men singled and that was the only time during the game that two hits came together. [The] deciding runs were registered at this time. The daring base running of George Moriarty was what swung the tide of victory towards the Tigers. He was on third in the fifth with two outs when he started for the plate as Wright wound up. He arrived about the same time as the ball. Jay Clarke dropped it, as the pitch was a little high. There might have been some question had he held the ball, but as it was he was credited with that rare occurrence in major league baseball, a steal of home. The steal was what gave defeat to the Naps." At bat, Wright narrowly missed a double: "Ty Cobb had to go into the standing room only crowd in deep right field to make the catch." The final score of the game was 3-2.
A week later, Wright again faced the Tigers in Detroit. This time, he allowed six hits and lost 3-0. He gave up two runs in the sixth, and after that, the Leader said, "They hit Wright hard though but one more tally was added." The Detroit News commented: "It has been an old rule that recruit pitcher is liable to make a great showing against the Tigers on the first time he opposes them, but they are generally liable to win the second time they find him pitching against them. Deacon Wright went in again just one week later–yesterday afternoon. He was invincible for five innings. During the first five rounds only fifteen men faced him and the Tigers were retired in order in all save the third when Wright gave Schaefer a base on balls but Herman was caught trying to steal third and there were only three men to face Wright that inning. But in the sixth things changed. Schaefer had struck out when the irrepressible leading citizen of Coal Hill, Arkansas [Charlie Schmidt] smashed the ball deep into left for two bases." A fly to short right field, an infield single shortstop Bill Hinchman should have fielded scored one run, and a Sam Crawford single scored the other.
Since pitching on the Sabbath seemed unlucky for the Deacon, Wright next started on May 5 against the White Sox. Pitching on a different day of the week didn't change his luck. The Leader said: "Deacon Wright appears to be the hard luck pitcher of the Naps. He made his first appearance before a Cleveland crowd yesterday and did remarkably well but his support was mighty ragged, although he passed a man in the eighth with the bases choked which tied the score. The six runs scored by the visitors were pure gifts." Ring Lardner, writing in the Chicago Tribune, agreed that Wright was unlucky. "It was the third straight defeat for the wrong Mr. Wright of Oakland, California, and according to his teammates it was his third consecutive bit of hard luck. Including today's combat, Wright has pitched three games and allowed fourteen hits, an average of not quite five a game, but he has lost them all." Lardner also noted: "The game marked the first appearance of any season for the singular and plural battery of Frank and Frank [Owen and Owens]." The eighth inning rally gave Chicago a 6-5 win.
Bad luck wasn't a factor in Wright's final major league start. The Leader commented: "He was not long enough in the game to become acquainted with the different batters for the Red Sox, for two singles, and a triple sandwiched in between them made two runs in the first inning and when [Harry] Niles led off with a double to right field on the first ball pitched in the second inning Wright was sent out." The eventual 5-1 loss dropped his record to 0-4 and as it turned out he'd appear in just one more major league game. On May 18, he pitched two innings of relief against New York. He allowed two hits and a pair of inherited runners scored.
On May 25, 1909, a week after that relief appearance, Cleveland sent Wright to their Toledo farm club. Deacon wasn't disappointed. He said: "Am I sorry to leave Cleveland? Not much. I have been treated royally while with the Naps. The management, players, and fans have been very kind to me, but I prefer regular work in a minor league to sitting on the bench with a major club. If I didn't work regularly with Cleveland, I wouldn't improve." The Toledo Blade said his principle flaw was "a windup motion that he has been trying to rid himself of. He tangled himself up so much that, with a man on third, the wise American league base runners worked the squeeze play on him several times and won by it." The Blade thought the proximity of Tontogany to Toledo "should bring quite an outpouring of the masses when he goes to the mound."
Despite his eagerness to go where he could pitch regularly, Wright took his time reporting to Toledo. He asked time off to rest his arm before leaving Cleveland, but the Blade wasn't sympathetic. "The Naps management told Wright he'd have to ask time to rest from [Toledo President Bill] Armour, but the deacon did nothing of the kind. He hustled straight to Tontogany, his home, packed up his pup tent, called the trusty old dog and paddled for the wilds of the Maumee shores. Goodness knows where he is, but if he did a trick like that in the old fashioned school days he would get the rattan where it would do the most good."
He made his first American Association appearance on June 2 at Toledo's Armory Park losing 6-5 to Milwaukee. The Toledo News-Bee said: "Willie Wright broke into the Association with about the keenest brand of excessive wildness that has been placed on exhibition here this campaign. When he wasn't parading Brewers he was getting into the hole on the batters, and, finding they were seizing the opportunity to clout him, he was forced to shove the ball over." The News-Bee was still impressed with his ability: "Wright looks like a mighty fine addition to the local pitching force. He has a fast and sharp break on his curve ball, and a nasty jump to his fast one."
He lost his second start with Toledo before beating Minneapolis 7-2 in the penultimate game at Armory Park. The game was described as "a skillful demonstration of the science of forcing the opposition to pop 'em up and tap out soft bounders." The News-Bee said: "Things have not been breaking kindly for the Deacon, but he exhibited a superior brand of control Monday and it had a whole lot to do with his first success of the year. Getting confidence, Wright placed on view a nifty slow ball, a species he had not shown before. Bill was not chary of using this floater and it helped him on several occasions. He also had nice command of his good curve ball, and rode his fast one through with refreshing accuracy." He also got his first American Association hit when a pop up "fell back of [pitcher Frank] Oberlin, with all four infielders standing around and watching it flop."
He evened his A.A. record with a win at Kansas City but was literally knocked out of the box by a line drive to his leg at Milwaukee. He won at Minneapolis on June 27 for his second victory over the Millers.
When Toledo returned home from the western trip, they returned to a new ballpark. Unlike 2002 when Toledo next switched ballparks, Swayne Field was an improvement over Armory Park. The News-Bee expressed the opinion that the move would be beneficial to Wright, who "was worried a whole lot about that short right field fence, and every ball he pitched was shoved up with the idea of keeping it away from that woodwork groove."
Wright pitched in the second game at Swayne Field on Sunday July 4. It was a battle of northwest Ohio pitchers. Wright was opposed by Sandusky native George Upp, a member of the Columbus pitching staff. According to the News-Bee, "Wright had his own problems, but managed to stagger through by the heavy cannonading of his associates."
Evidently Wright was less than healthy. He didn't pitch again until July 15, and that was a relief appearance. He allowed just four hits and a run in four innings. He was credited with what would be his last professional win.
Five days later he was the starting pitcher in the first Ladies' Day at Swayne Field. He again pitched well against Minneapolis, but Fred Olmstead of the Millers was better. Walks led to both Minneapolis runs in a 2-1 loss.
Apparently pitching in pain, Wright started the first game of a late-July doubleheader against Kansas City. He allowed nine hits and two runs in four innings before being removed from the game. Toledo won the game 8-2. When the Mud Hens left on their last western road trip a few days later, Wright was left in Toledo with a sore arm. He was able to work out just once while the team was gone. Rest didn't help, and Deacon Wright missed the remainder of the 1909 season.
In January of 1910, Cleveland sent him to their Portland Pacific Coast League farm team. The arm didn't come around, and William "Deacon" Wright soon retired from professional baseball.
Wright played semipro and amateur ball over the next several years, though very seldom as a pitcher. He remembered a game in Bucyrus when he was a teammate of Jim Thorpe. Wright said of the game: "Jim Thorpe asked a visiting pitcher to 'take it easy I'm trying to keep my job here.' Later the pitcher walked into Jim and said 'The next one will be fast and straight.' It was and Jim Thorpe didn't lose his job." Wright occasionally pitched before hometown fans at Otsego Park in Tontogany. He beat Pemberville one afternoon "just for the fun of it." "The Pemberville team was thrilled to get a lone hit off the former major league pitcher."
Red Wright never married, living with his mother until her death in 1920. He worked as a house painter and painted portraits as a hobby. He served on the Tontogany Village Council for a number of years, and enjoyed attending high school baseball, basketball and track tournaments. He continued to follow major league baseball and was particularly impressed with the play of Mickey Cochrane and Lefty Grove. In the late 1930's, complications set in after a fall, and a leg had to be amputated. Wright was able to attend a benefit held by the Mud Hens at Swayne Field.
Wright developed cancer of the jaw in 1940 and died in Tontogany on July 7, 1941. He was 61 years old. Bowling Green's Daily Sentinel Tribune printed an affectionate front- page obituary of the former major leaguer. Although the nickname Lucky was seldom used during his professional baseball career, maybe in a sense it's appropriate. Fans in Decatur, Oakland, Cleveland and Toledo as well as residents of Tontogany were lucky to have met William Simmons Wright.
Sources
Wood County (Ohio) Sentinel 1897.
Bowling Green (Ohio) Sentinel 1898, 1902
Lansing (Michigan) State Republican 1902
Bowling Green (Ohio) Daily Sentinel Tribune 1920, 1936, 1938, 1941
Decatur (Illinois) Daily Review 1903-04
Oakland (California) Tribune 1907-08
Boston Globe 1909
Chicago Tribune 1909
Cleveland Leader 1909
Columbus Ohio State Journal 1909
Detroit News 1909
Toledo (Ohio) Blade 1909
Toledo (Ohio) News Bee 1909
Akron (Ohio) Beacon Journal 1910
United States Census, Ohio 1850, 1860, 1880, 1900, 1910, 1920, 1930
Okkonen, Marc, Minor League Rosters 1900-1910
SABR Online Baseball Encyclopedia.
Born
February 21, 1880 at Waterville, OH (USA)
Died
July 8, 1941 at Tontogany, OH (USA)
If you can help us improve this player's biography, contact us.
http://bioproj.sabr.org/bp_ftp/images2/WrightDeacon.jpg
600
800
admin
/wp-content/uploads/2020/02/sabr_logo.png
admin
2012-01-04 20:37:25
2012-01-04 20:37:25
Lucky Wright